So here's the thing: I am not a great artist.
If you asked me to fill in these blank comic book pages with something awesome, you'd probably be pretty disappointed with the result.
I would rather write you a story 100% of the time instead of draw it.
But, I am in the minority here and that's something I learned very early on as an English teacher.
Kids of all ages are often very motivated to draw and would rather share their ideas in art vs. longhand writing.
And that's why I started using my awful artistic abilities to my advantage.
Let me tell you a story…
The Power of Art:
Back when I was a teacher, I had this long-running joke with my students. It would start with the first time I would draw something on the board for the year, such as the progression of a story, a character map, a visual venn diagram, etc.
Right before I would launch into drawing, I would pause dramatically, turn slowly, and tell the class – with a completely straight face – that before we could go any further, I needed to tell them the truth.
Then, I would lower my voice like I was telling them something I shouldn't and say that I was secretly a very talented artist. So talented, in fact, that when I applied to teach at the school, it was for the art teacher position. But, my skill set was so profound, the school was concerned it would intimidate students. They offered me an English position instead and since reading and writing were my next favorite things, I accepted.
By the time I finished waxing poetic on my artistic abilities, students were hooked. And, since our school was a performance art magnet, I was guaranteed to have at least a few actually talented artists in each class that were completely wowed by my so-called abilities.
So, before I had drawn a single thing, my students were sitting on the edge of their seats – just waiting to see what I was going to draw.
Then, I would turn back to my old overhead projector or the board and proceed with drawing and explaining whatever we had been discussing.
And what followed was art so unbelievably bad it looked like the work of an angry toddler.
Because, the truth is: even my stick figures are practically unrecognizable.
But, I would continue drawing, with a completely straight face, as if I truly believed I was drawing something incredible and life-changing.
Sure, it got harder and harder to hold it together while the absolute shock and awe began to wash over my students' faces. I would inevitably start to hear little whispers and murmurs to each other as they checked to make sure that other people were feeling exactly the same as they were – that I had absolutely no talent at all.
This would go on for several minutes until one brave student (usually a student in our art program) would finally speak for the group and say something like, "Um, I'm sorry – but I can't even tell what you're drawing!"
At this point, I would finally crack and start laughing. I would say something like, "I know, isn't it terrible?!" Students would start laughing. The relief that I was just teasing them would trickle through the room and we would all enjoy a few moments of hilarity.
And that would start what would become a year-long joke about my artistic ability. Every time I would start to model something they were going to draw, they would all start joking about my "talent" and would make funny comments as I bumbled through whatever I was drawing.
But guess what, you have to be paying attention to be joking about something that's going on. I had learned something very valuable about art and the connection it can create:
Every single time I would draw something – I had their attention the whole time.
Why?
Because art speaks to people. Even my bad art gave them something to talk about. And, my willingness to do something I was clearly not gifted at made students willing to try, too.
Plus, art encourages expression. My "art" would cause even the quiet students, who usually felt uncomfortable discussing literature, to speak up and express opinions on my creations.
And, the opportunity to draw would bring the students to life who didn't feel confident when writing an essay.
Art is accessible and fun and even therapeutic!
That's why I started incorporating as much art as I could manage into my English curriculum, including these blank comic pages.
How To Use Blank Comic Pages To Encourage Expression: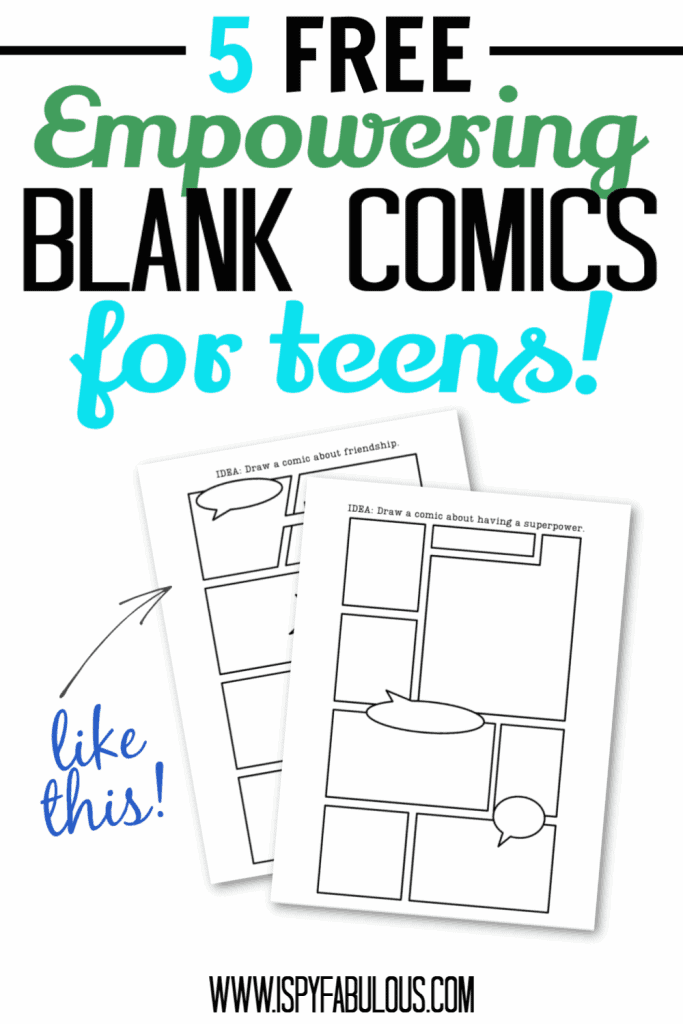 The result was that I would see a lot of thoughts, ideas, and proof of understanding from students who usually felt alienated and inadequate with the typical writing exercises.
And, because they built up confidence with these artistic tasks, when it was time to write, I saw them give more effort and show more progress.
To use these, just print and go. For each of these, there is a prompt at the top that can inspire the comic for that page. Of course, they can always go rogue and draw whatever they want.
Some need the nudge; others don't.
These would work just as well in the classroom as they would at home, to encourage and inspire your teen as they work through the complicated experience of growing up.
Free Blank Comic Pages:
These 5 pages are available here completely free for you to download and use. Please do not share without permission and give credit when you do.
To download, just click on the image below and all 5 of the blank comic book pages will open in a new window.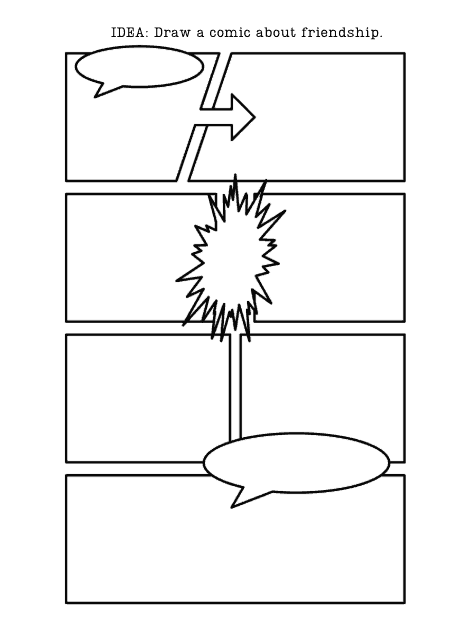 Want More Empowering Activities for Kids?
If you know someone who loves this kind of artistic exercises, there are 15 more pages with unique prompts like these in my workbook:
What's In This Book?
20 Coloring Pages with positive, fun images and powerful quotes!
20 Blank Comic Pages, each unique, with prompts to inspire artwork!
20 Powerful Quotes to encourage, inspire and empower, some from thought leaders and inspiring athletes, including Michael Jordan, Ralph Waldo Emerson and Dr. Seuss!
20 Writing Prompts perfect for young boys, that will fan the flames of creative thinking
I loved writing this book. It made me very nostalgic for my years in the classroom. I always felt it was a privilege to be trusted with a child's education and always worked hard to give them the very best.
You can also check out the version made for girls. I wrote a full review on You Are Enough in this post.
Want More Comic Book Pages?
Want more comic book pages without the prompts or without anything else?
Check out books like this one, with over 100 blank comic book templates ready to go!
****
Do you love free downloads like this? There are so many free printables on the blog.
Here are a few more posts you might be interested in:
If you print and use these, I hope you'll come back to let me know if they enjoyed them!
Have a fabulous day,
E