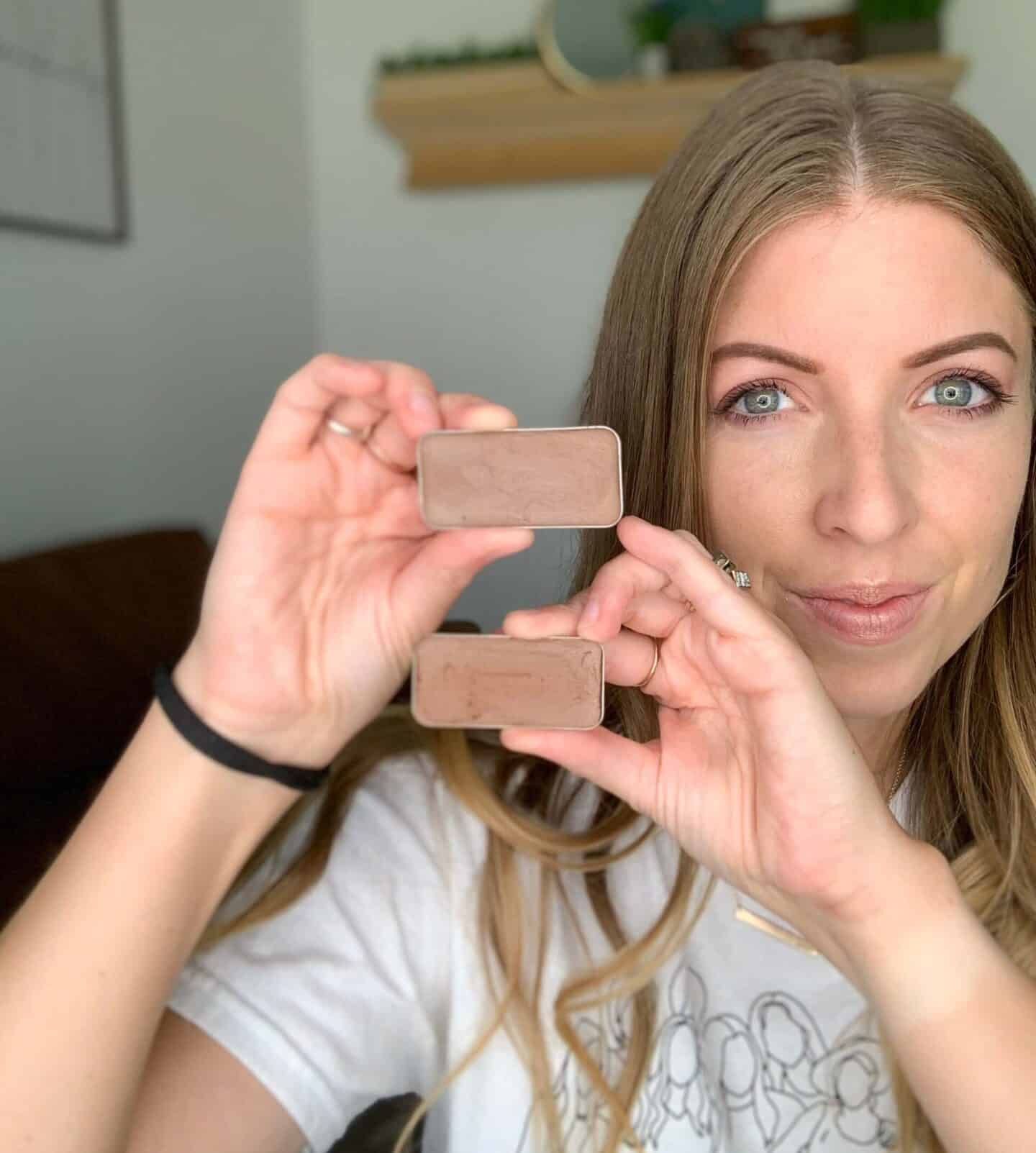 Ever wondered what the difference is between bronzer and contour? These two makeup techniques can seem like they are doing the same thing, but are actually accomplishing very different goals.
Today, my friend Annie is back to walk us through how to contour vs. how to use bronzer – so you can get the look you are going for without the headache.
Before we jump in to the step-by-step tutorial, let's talk about the makeup Annie will be using.
Contour vs. Bronzer Makeup:
There are about a zillion products out there that will help you contour or bronze your face until you look like a sculpted, glowing goddess with the perfect tan. But, matching those colors exactly to your skin tone without looking like you've got stripes across your face or have over-baked your face compared to the rest of your body, can be the real challenge.
In fact, difficulty with color matching is the number one reason my friends say they have stayed away from contouring or baking in general. Luckily, there are easy ways around this.
Annie is using a brand of makeup called Seint Makeup in this tutorial (and her Halloween makeup tutorials, too). I've personally used this makeup and love how creamy and pigmented it is. I was color matched through a photo and it was super easy. In fact, Annie was the one that color matched me and she got it dead on!
While you can achieve both contour and bronzer looks using what you have or products you pick out yourself, you can also check out the all-in-one palette here that has the exact shades that Annie uses. Or, you're welcome to reach out to Annie through her Instagram, where she shares tons of beauty tips and tricks. You can DM her there if you'd like help picking out the right colors for your skin and the perfect brushes to get a flawless contoured and bronzed look.
Individual items:
Contour vs. Bronzer: What's The Difference?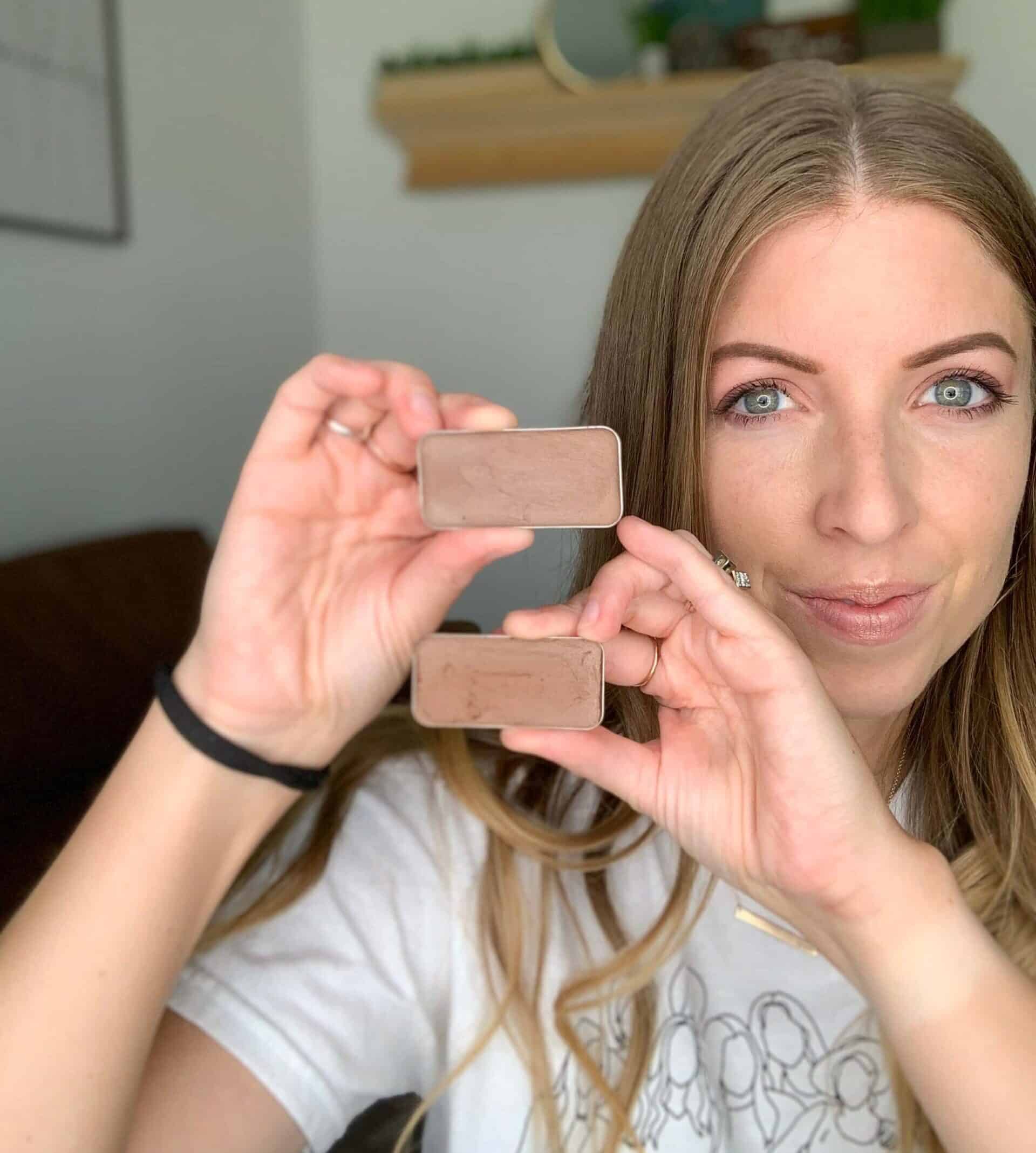 Typically, contour should be cool toned, because we want it to mimic shadows on the face, which will define existing bone structure or even manipulate bone structure (thin the nose or define the jawline). If contour is too warm, it looks more makeup-y and less like a natural shadow. (If you want to learn from the best on highlight and contour, check out
this book
from the man who pioneered the HAC movement over 20 years ago –
Kevyn Aucoin
. )
Bronzer, on the other hand, should be warm toned, because it is mimicking the effect of a tan from the sun. This is for when you want to appear as if you've got that gorgeous sunkissed glow – year round, of course.
Since they are achieving different effects, they can be worn together – or separately. Generally, contour goes on before bronzer, but if you like an all over tan and evening of the skin tone – try adding bronzer lightly first!
1. Contour vs. Bronzer: Cheeks
The biggest difference in where contour and bronzer go is on/under our cheeks.
Contour should go just below the cheek bone, to help chisel it out, lift it and accentuate that natural shadow.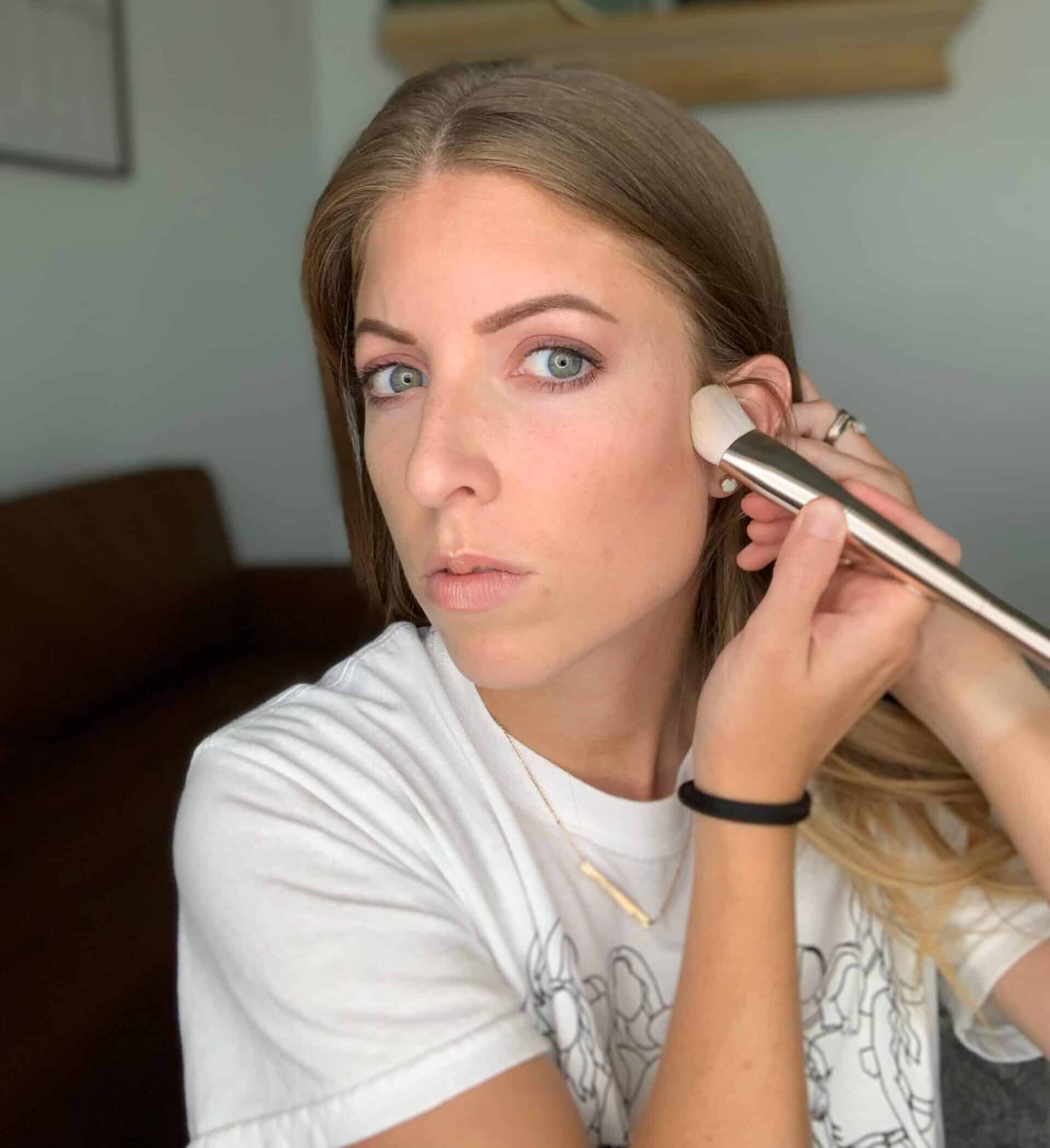 Bronzer in the cheek area should go on the tops of the cheek bones. Think of the sun above us in the sky. Where does it hit your face? The tops of the cheek bones!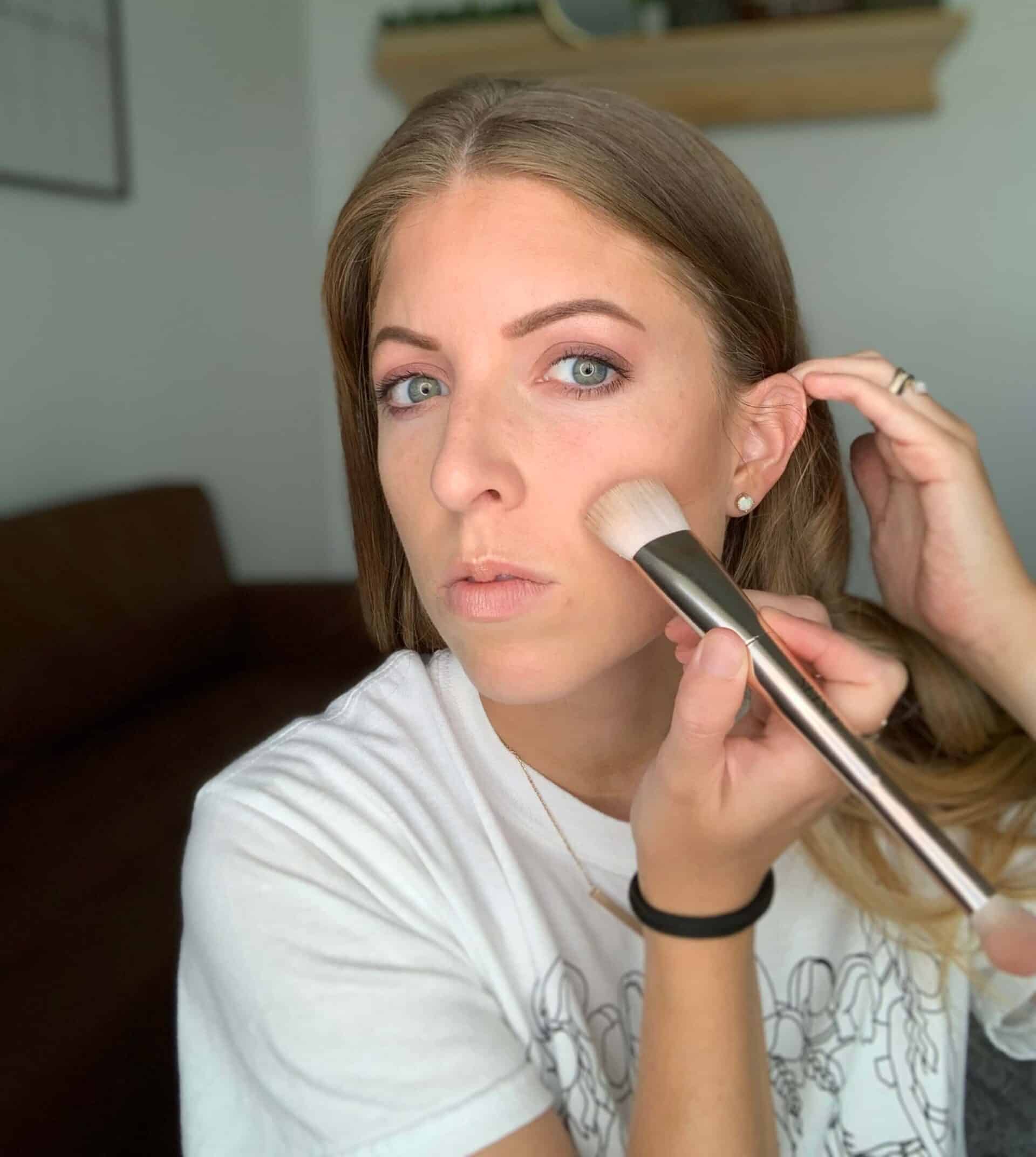 2. Contour vs. Bronzer: Forehead
Contour on the forehead usually goes at the hairline, and then down around the sides of the forehead. When you think of the real meaning of contour, it means to shape something, We can use contour to our advantage to "shape" our faces in our preferred way, whether that means sculpting cheekbones, narrowing a nose, or giving the appearance of a smaller forehead, etc.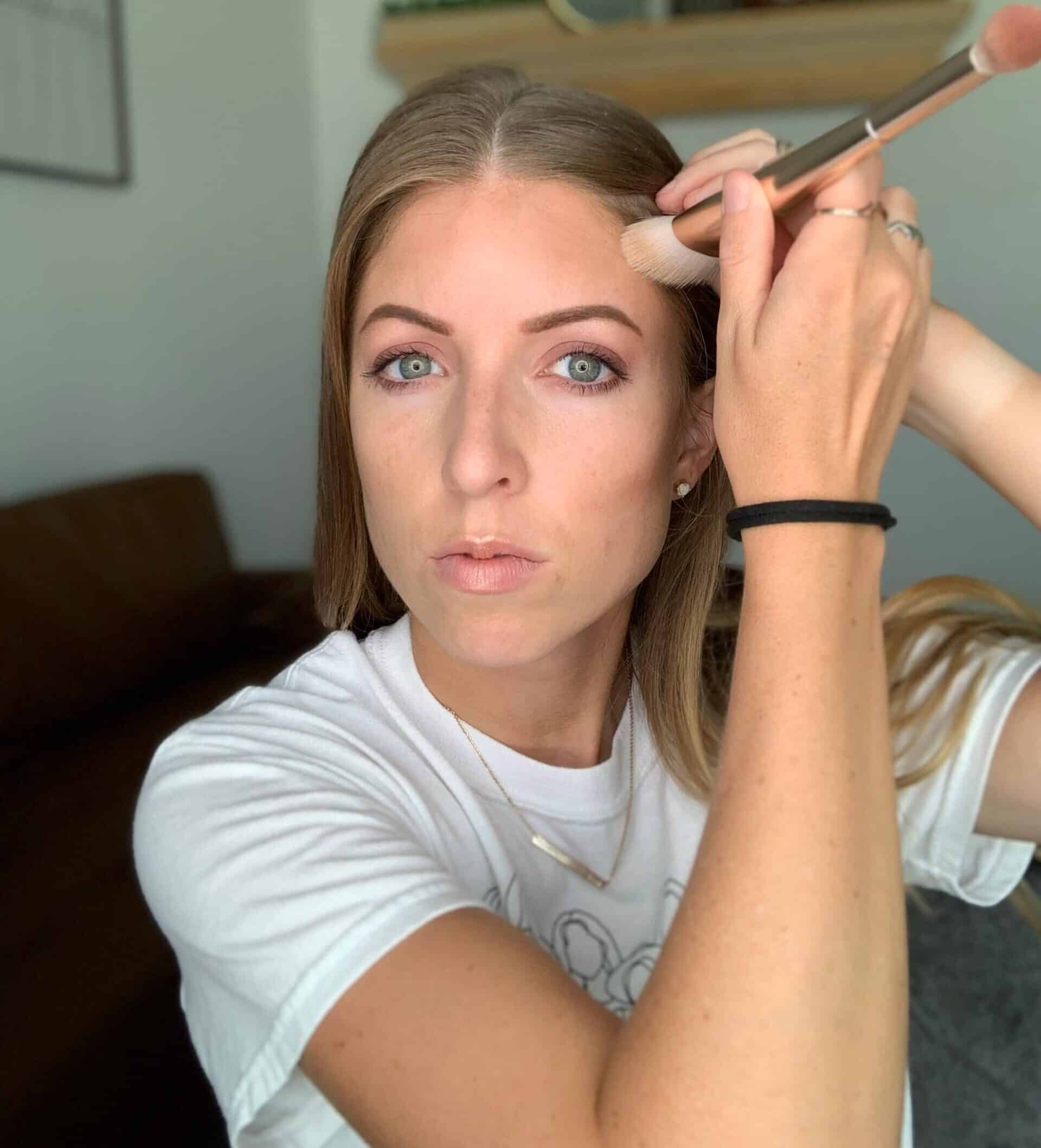 Bronzer on the forehead area somewhat overlaps the contour. Again, think of where the sun hits. The top of the forehead, and the center of the forehead.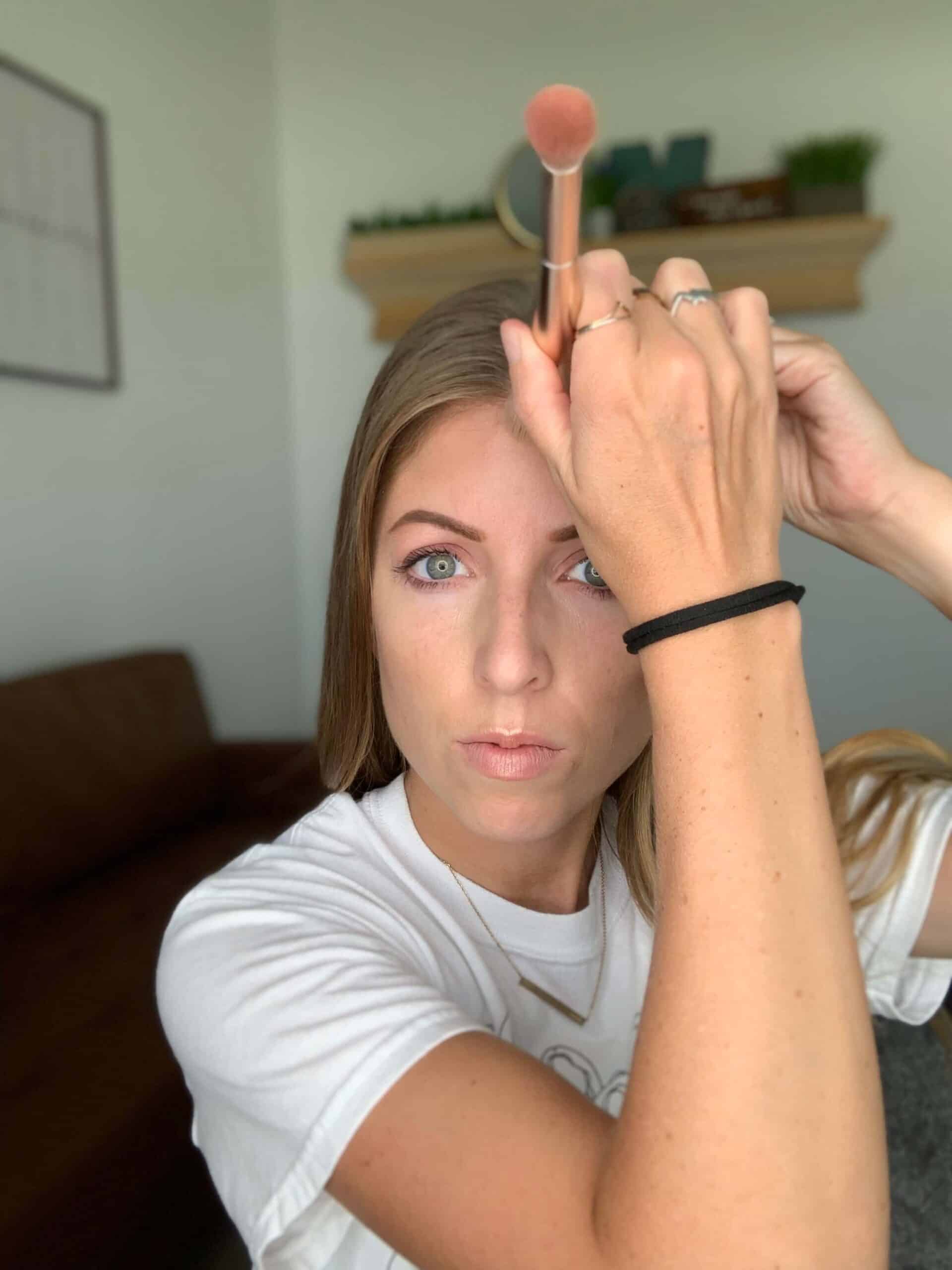 3. Contour vs. Bronzer: Nose
Contouring the nose gives a slimming or narrowing effect to it. We use very thin lines of our cool toned contour right on the edges of the nose (not the sides – that widens!) to create that contrast.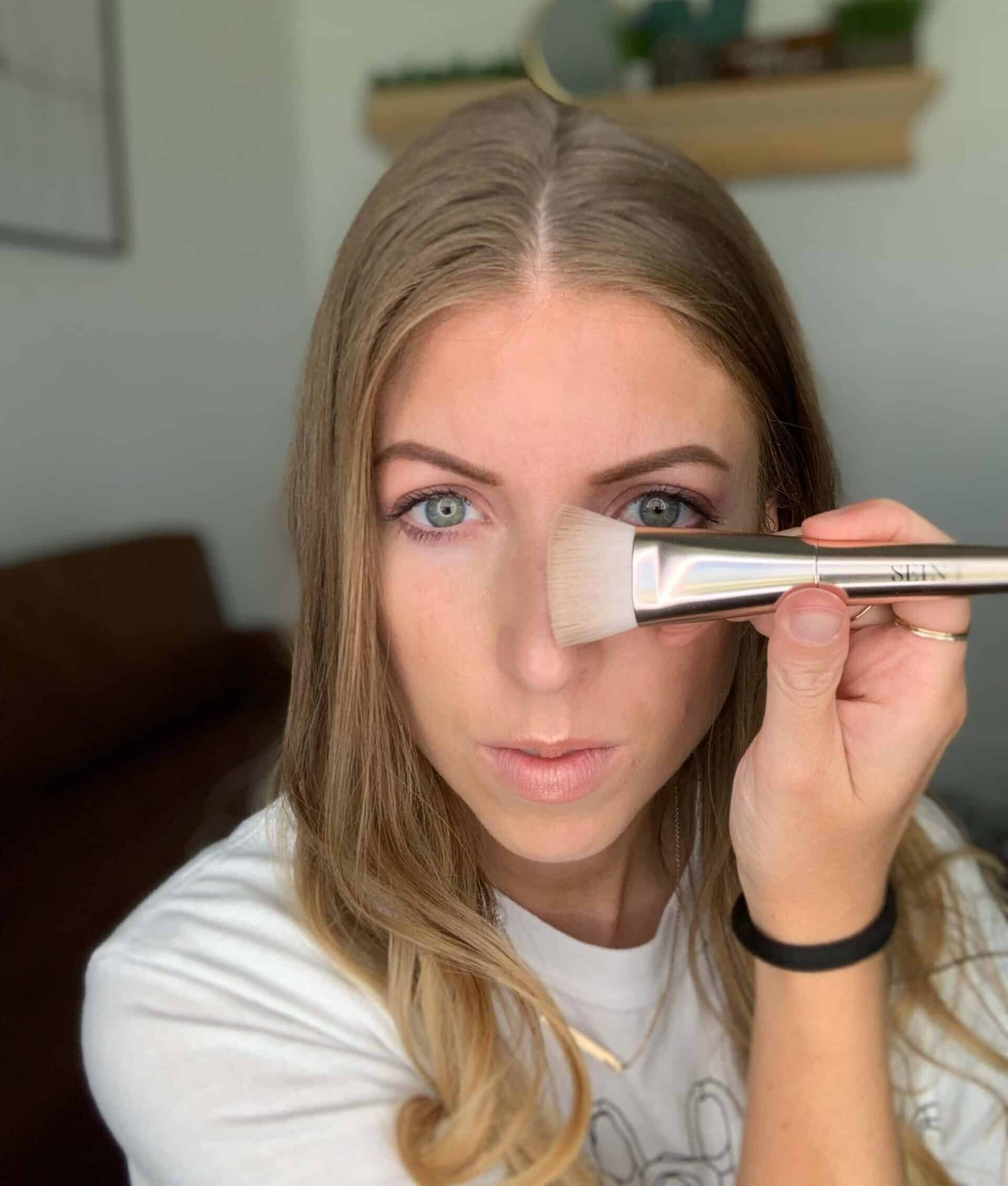 For a natural looking bronze, place bronzer on the front and bridge of the nose.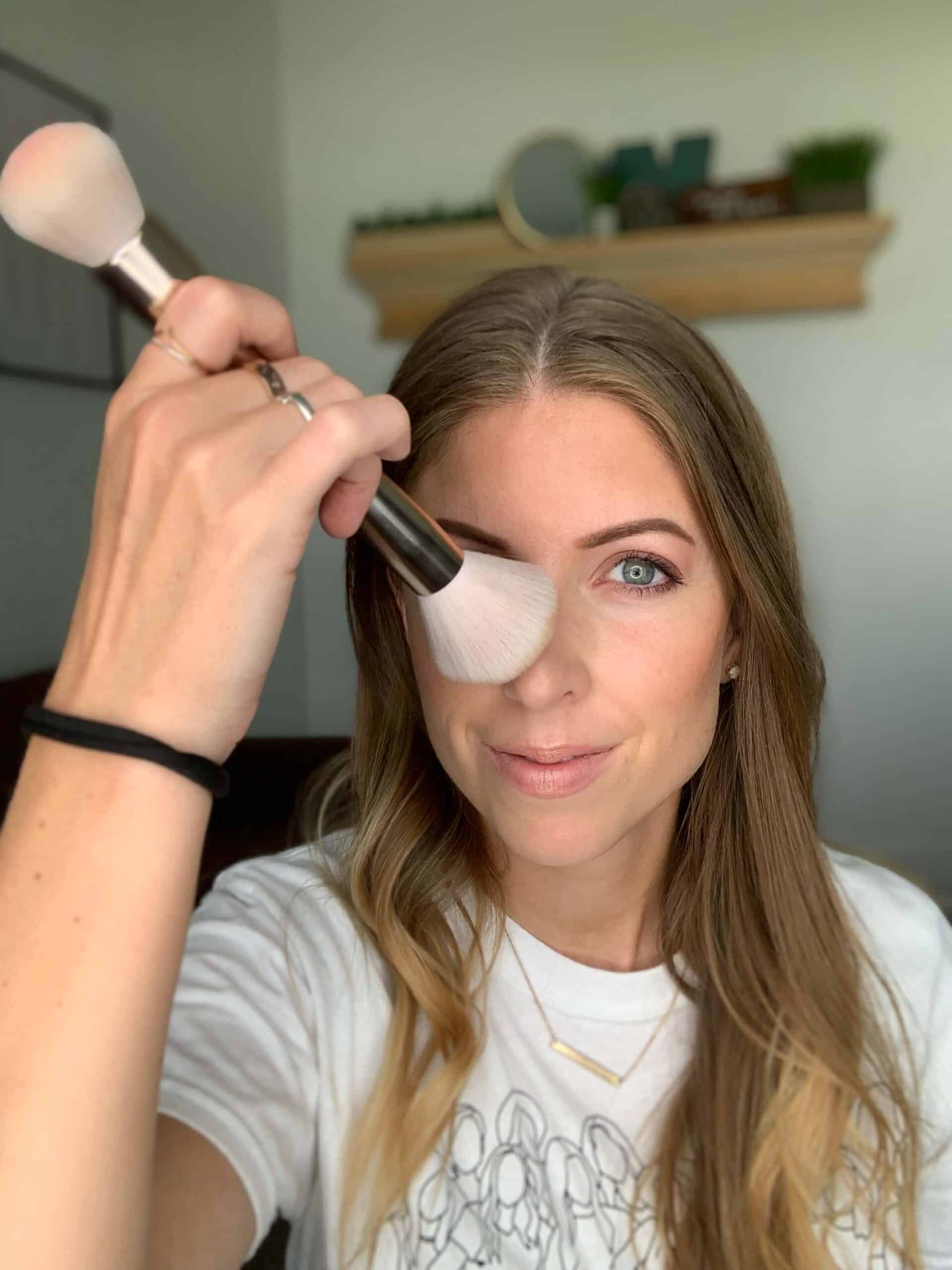 4. Contour vs. Bronzer: Jawline
If you want a strong separation between your neck and your face, contouring under the jaw line can create that.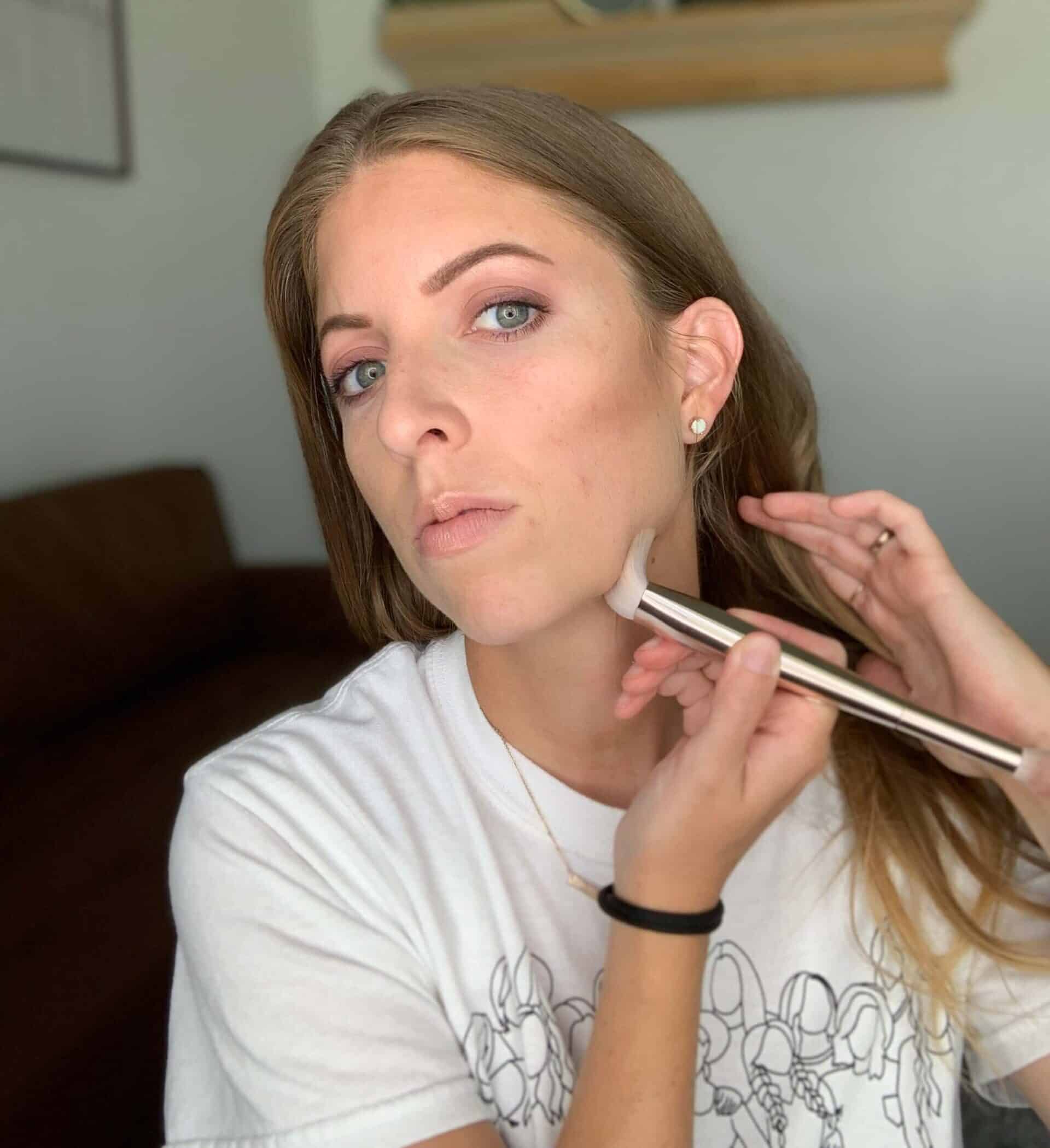 Bronzer can be used on the neck and chest to balance out tones from chest to face, as they are often different shades!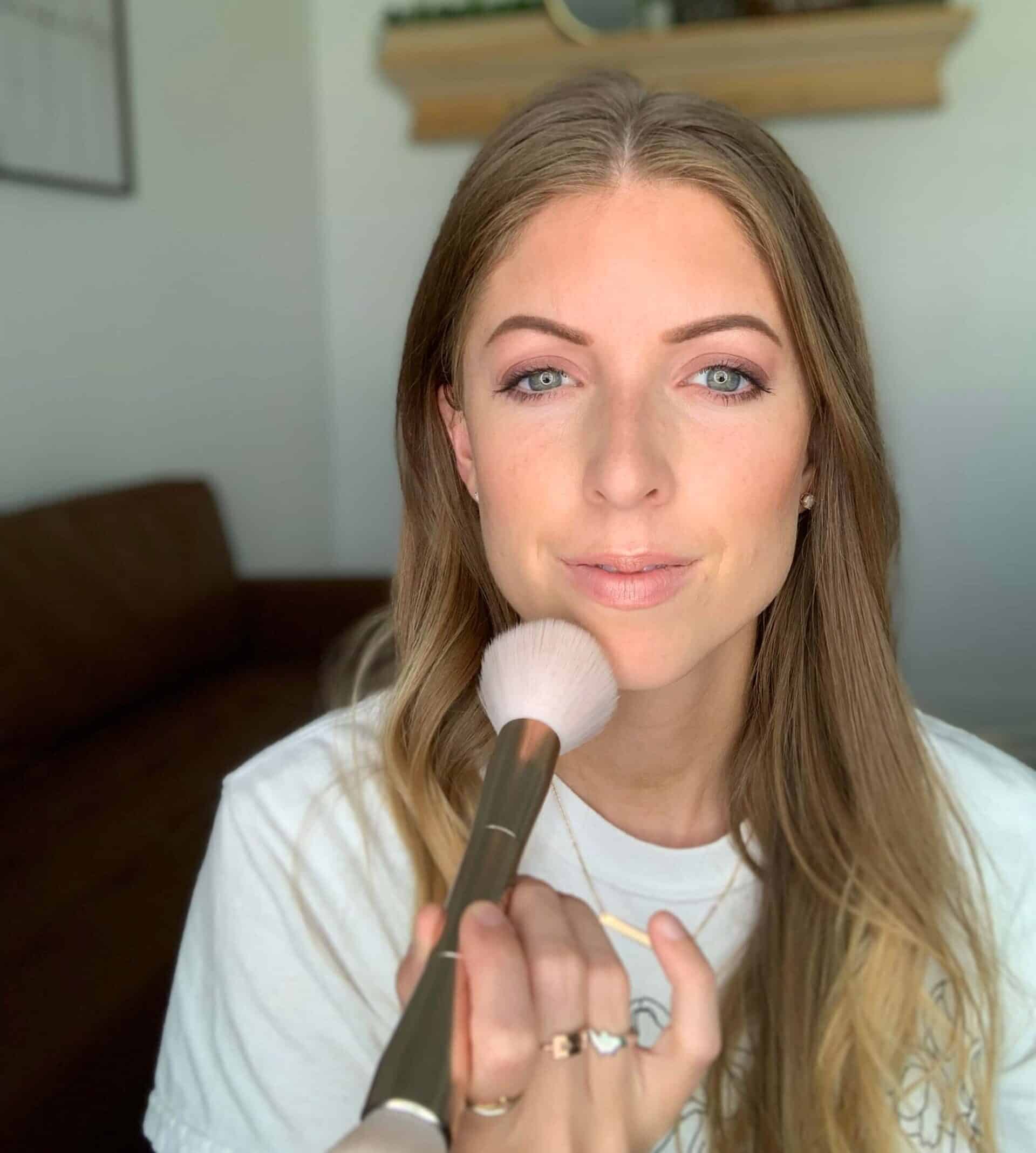 If you're feeling out of balance, sometimes a touch of bronzer on the chin can create that balance between the bronzed upper half of the face.
Contour vs. Bronzer: Brush Placement
Notice the angle of the brushes in the photos – when i'm contouring, the brush is most often scooping UNDER, and the brush is angled down. When I'm bronzing, the brush is most often above the feature and angled up.
****
Contouring and bronzing can definitely take a little practice, but once you figure out the best way to highlight your own bone structure, you'll love it. And, don't be afraid to get your fingers on your face to find those bones! Not sure where your cheekbones really are? Feel for them! It's your face – and you'll learn the best way to contour and bronze your way to a flawless complexion.
So what do you do? We want to hear from you! Do you use contour, bronzer or both?
Stay tuned for more awesome makeup tutorials coming soon! Big thanks to Annie for sharing her skills and gorgeous face with us here on the blog today. Make sure to visit her Instagram and say hi!
Have a fabulous day,
E