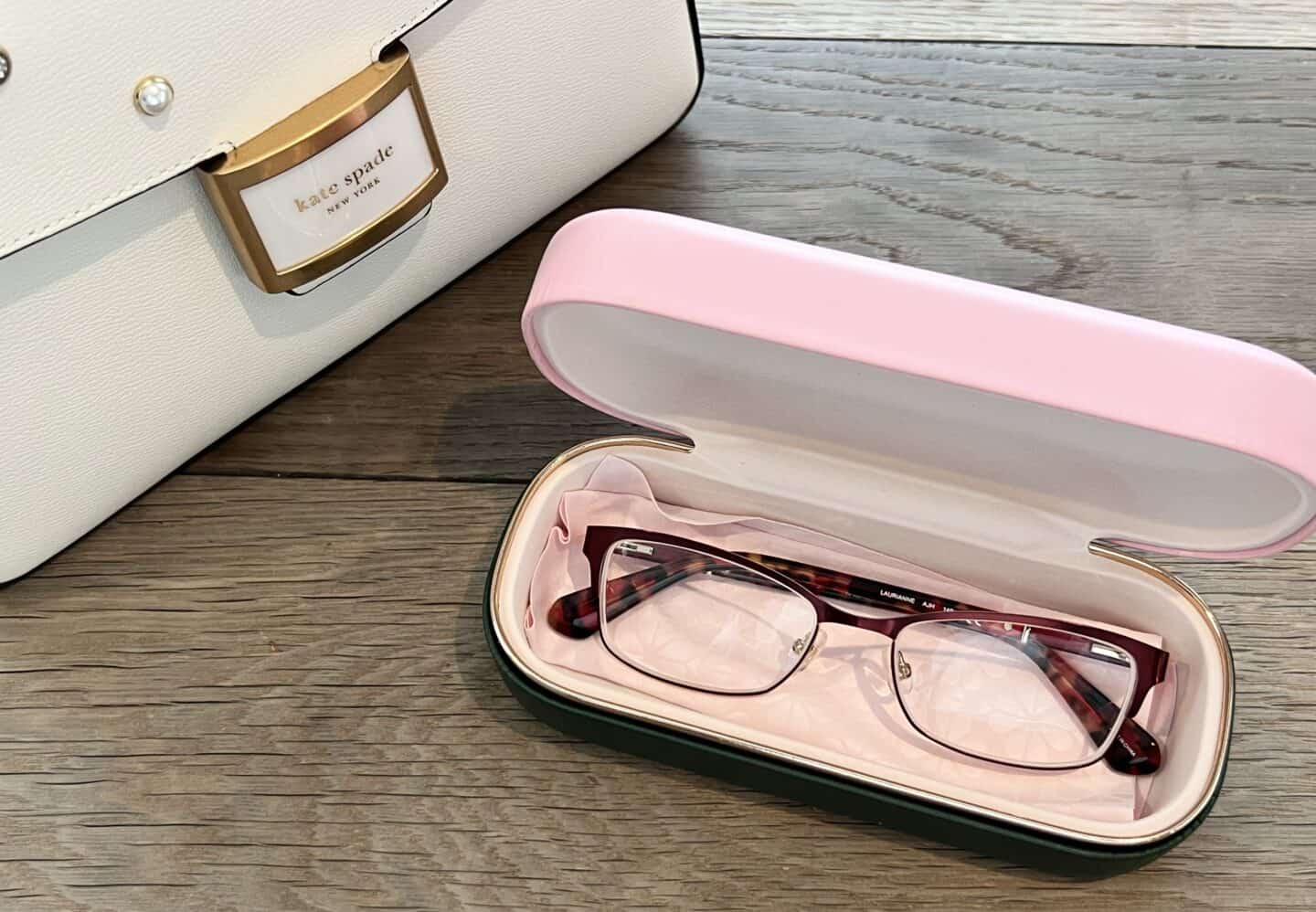 About ten years ago, I got the most beautiful red Kate Spade prescription eyeglasses ever. I loved those glasses. I even had the lenses updated a couple of times to extend the wear and wore them until the red was chipping off and they really needed to be replaced.
Unfortunately, our eye insurance changed and we moved. Our new options didn't offer Kate Spade glasses or anything similar to those red glasses.
Luckily, our online options for prescription glasses has absolutely exploded since then. When I saw that Designer Optics has an enormous collection of designer eyeglasses and sunglasses, including Kate Spade, I immediately started searching for something like those red glasses.
When I found these dark red glasses, so similar to that pair I had ten years ago, it was love at first sight. And, when I saw that they were highly discounted from the original price, plus Designer Optics has additional coupons and free shipping, I was sold. So, I thought I would share my personal experience with Designer Optics with my fellow glasses wearers, since I know firsthand how difficult it can be to shop for prescription eyewear online.
Tips for Ordering from Designer Optics: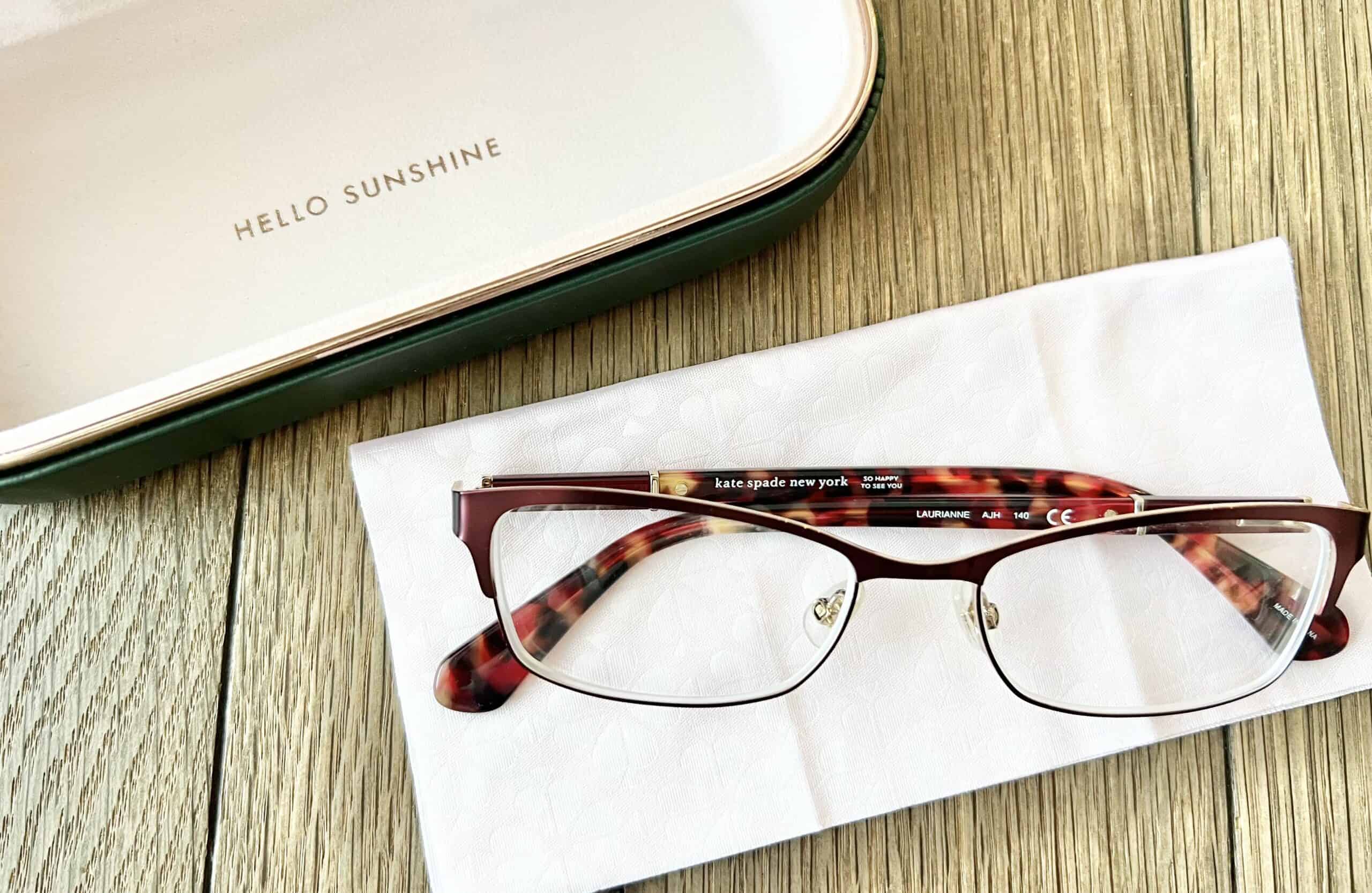 *Affiliate links are used here for eyeglasses I wear and love. If you choose to make a purchase through my links, I may receive a commission at no cost to you. I hope my review helps you make the decision that is right for you.
I've ordered from several online eyeglass retailers now and each one has their own system. Designer Optics has a huge collection and they do a great job of notating the sizes and details of each pair. You do need to have a good understanding of the size of eyeglasses that you prefer and suit your face, though. You can find the size of your current favorite pair usually notated on the inside of one of the arms, usually around where it goes over your ear.
If it's worn off from use, you can go to the site where you ordered them and find it there or you can even call the store where you bought them and they'll be able to look it up for you. Having those measurements is key to finding similar sized glasses that will fit you well.
Usually, when I shop for eyeglasses online, I just narrow the search right away to glasses that will fit my face. No use falling in love with glasses I know will look too big or too small. Then, if I'm looking for a particular brand or color, such as Kate Spade, you can fine tune your search by that as well. Since Designer Optics has over 400 designer brands, it can be overwhelming if you don't have at least some idea of what you're looking for.
Here are some more of the ways you can search:
Search by women's, kid's, men's or blue light blocking
Search by rim type, for example I like full rim
Search by brand
Search by shape, I always search for cat eye
Search by material
Search by bridge type
So, whether you're looking for something super specific (i.e., red Kate Spade cat eye eyeglasses) or just browsing, you'll be able to find a lot of glasses that could work for you.
Once you've selected a pair, you can see all sorts of details on them, such as the materials and detailed size information. You can also read reviews to find out what other people liked or didn't like about them. Then, just put in your prescription info and you're ready to go.
For me, I had to be careful, because my prescription listed some numbers that I actually didn't want included for single vision eyeglasses. By inputting those numbers, it made it switch to a progressive lens, which isn't my preference. If you're not sure, check with your optometrist and/or look up other glasses you've liked.
My Experience With Designer Optics: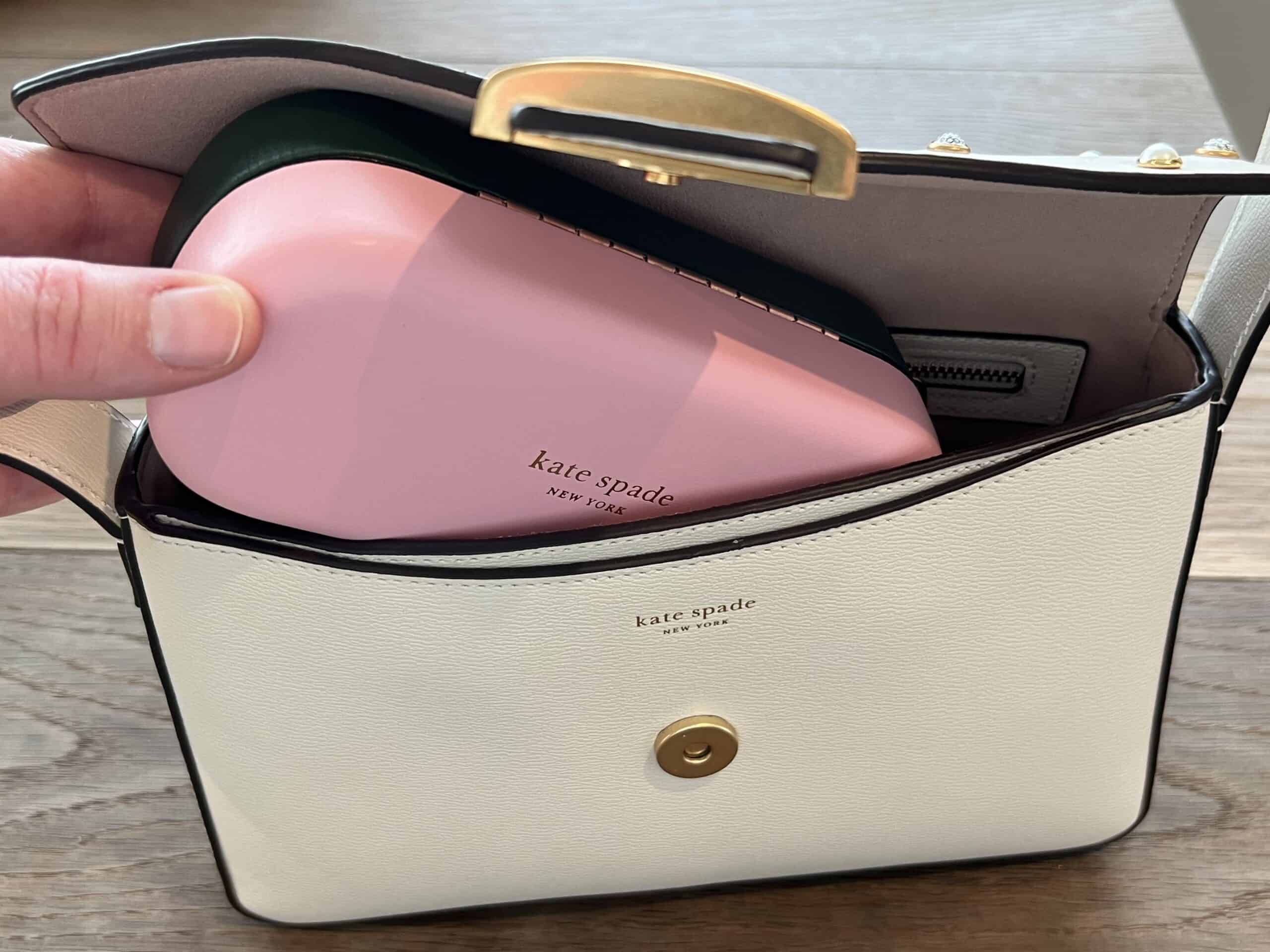 Once I'd placed my order, it was just time to wait until my glasses arrived. My experience with online eyeglass shops is that it does take a few weeks for the glasses to arrive and it was the same here with Designer Optics. They did arrive well packaged, though, and unboxing them was a lot of fun. I made a little reel of when I first got them and shared it on Instagram. You can watch it here:
View this post on Instagram
These are even more beautiful than the original red Kate Spade eyeglasses I had all those years ago. I love the little details on the case, the pretty, pink, monogrammed glass cleaner and, of course, the glasses. The detailing on the sides and arms of the glasses are *chef's kiss*. I love them. The case is on the larger size, but fits easily in a smaller purse with room for my wallet and keys. Perfect.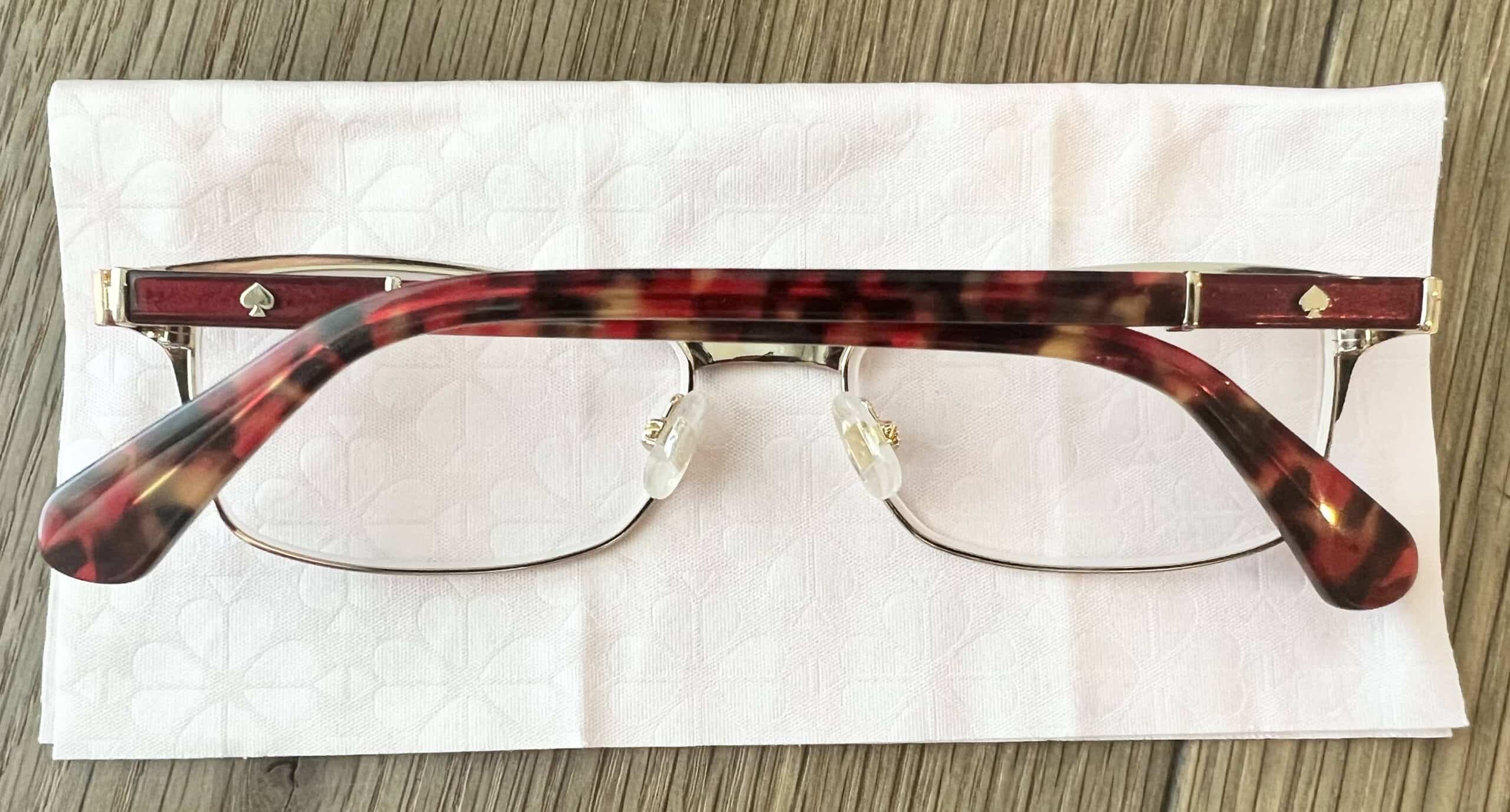 I really love these glasses, the prescription is perfect, and I get lots of compliments on them (not super important, but definitely appreciated). So, if you're looking for an affordable way to get designer glasses, definitely check out Designer Optics.
****
Have you tried ordering glasses online? In the past, I only had one pair of glasses at a time, but now that I've discovered affordable ways to order them, I have more pairs than I've ever had and I love it! It's fun to match my glasses to my outfit.
If you try Designer Optics, be sure to tag me on Instagram @ispyfabulous so I can see the fabulous glasses you picked!
Have a fabulous day,
E