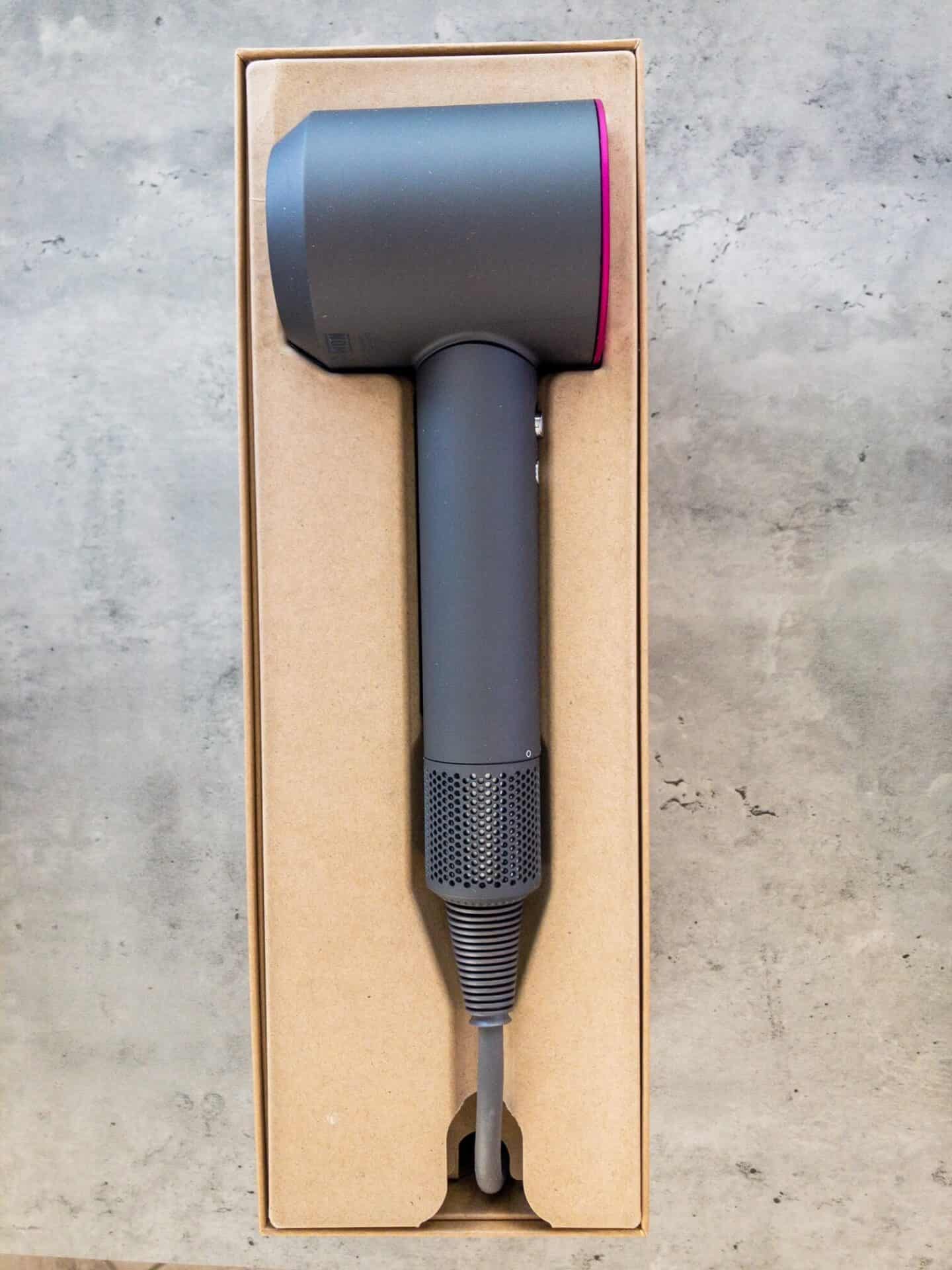 *This post was not sponsored by Dyson, but affiliate links are used, which means at no cost to you, I may receive a commission if you make a purchase through my links. Thank you!
I'm a big fan of Dyson and can't live without my Dyson cordless vacuum – but despite my love for the brand, I haven't had a chance to try out their line of futuristic hair tools. So, when my cousin called and said she'd splurged on the coveted Dyson Supersonic Hair Dyer set – I knew this was my chance.
Luckily, she lives nearby and offered to bring over her special delivery, so we could check it out and answer the big question on everyone's mind, "Is the Dyson Supersonic hair dryer worth it?"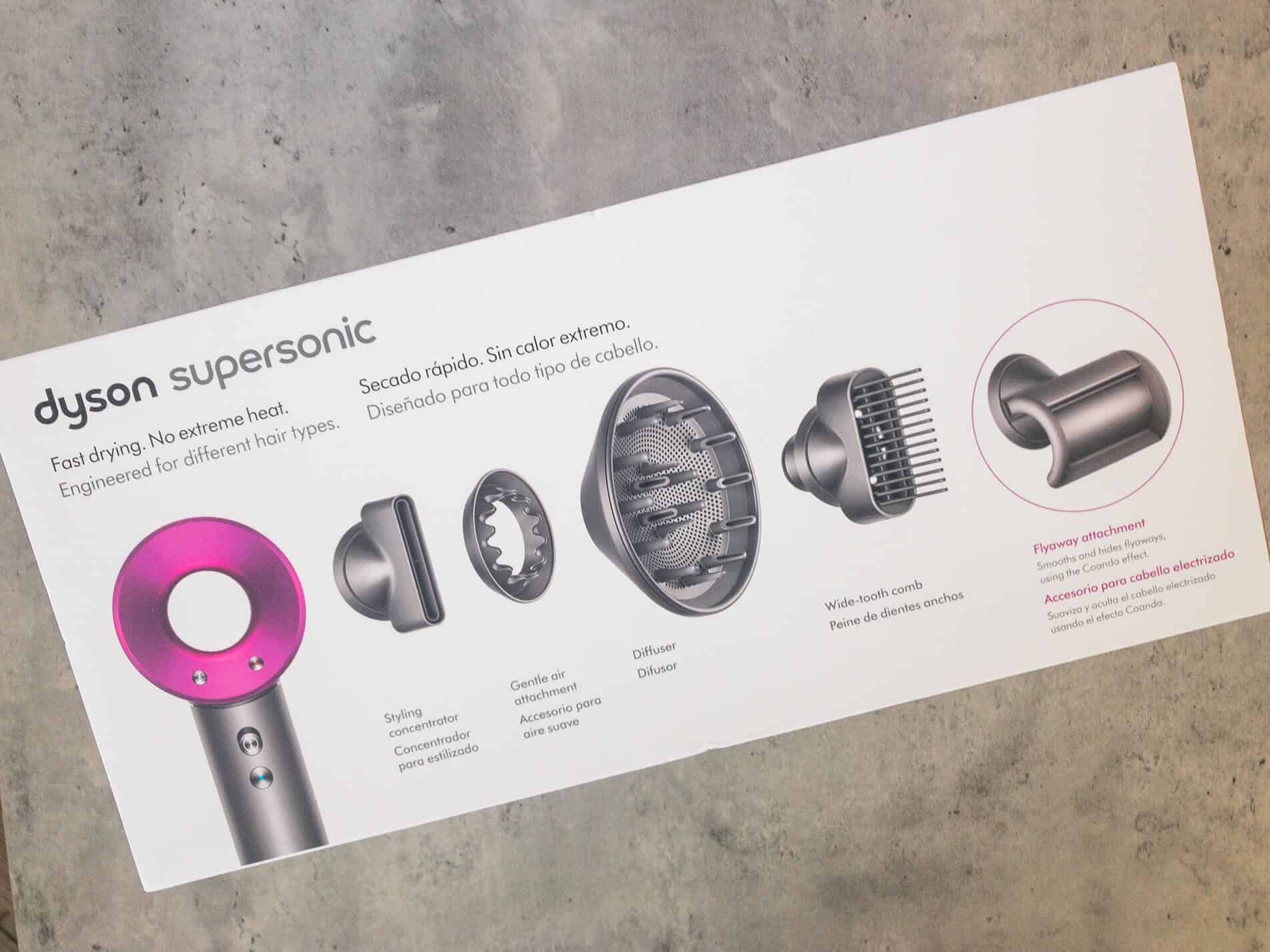 I had to take some pictures just of the box that the hair dryer comes in, because it is just so cool. Dyson is masterful at not just designing products that solve common problems – but at presenting them in a way that creates a real experience.
Unboxing this baby is like going on a treasure hunt. It's unlike any other hair dryer I've bought, where you just have a dryer and maybe one or two attachments in a box. With the Dyson, you just keep unpacking these goodies.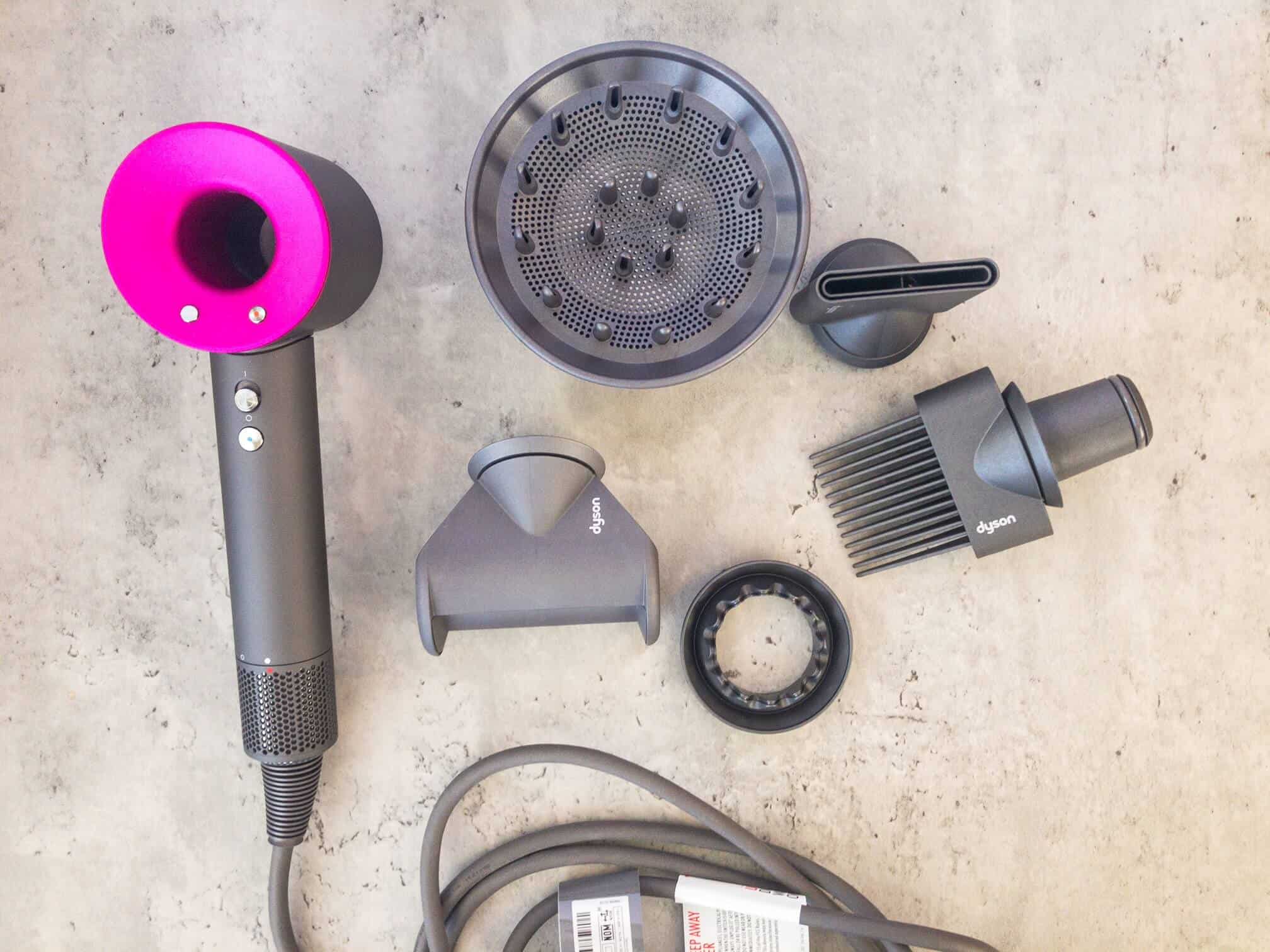 Here's a pic of everything that came with her set. Some of these look familiar – while others, I wasn't even sure what to do with! So, we had to do a little research to figure out exactly what they were for. I'm going to share more details on our favorite attachments in a second, but before we do that – let's talk about the noticeable pros of the Dyson Supersonic after we got a chance to use it.
It's super lightweight. If your hands and wrists get tired quickly or you have inflammation from RA or an autoimmune disease – you'll love how lightweight this dryer is. I don't think I've ever used a lighter one. I think this might be one of the coolest features of this dryer and can definitely see the value for a hairdresser who styles all day or anyone who just gets tired of holding a regular hair dryer. Also, because the head of the hair dryer is smaller, there's less wobble when you move it around, also reducing pressure on the wrists.
The attachments are innovative. Not just a diffuser in this set. No, no. There's a comb attachment, a smoothing attachment, an attachment for sensitive scalps, a diffuser, and a styling concentrator. More on some of these later.
It's quieter. If you've ever been annoyed with the deafening sound of a hair dryer, you'll appreciate this quieter, yet still powerful, hair dryer.
The attachments just pop right on. There must be something slightly magnetized about them, because they just pop right in place in a very satisfying way. If you've ever struggled to get an attachment on your dryer just right, you'll appreciate these magnetic attachments.
Before we dive in to whether or not these reasons are enough to shell out $399 for a hair dryer, let's talk about what some of those attachments do.
The Smoothing Attachment:
This is the attachment that immediately raised questions for both of us. My cousin had watched some cool videos of how it worked and had some ideas, so I popped it on the dryer and started trying it out. There's a little tiny bit of a learning curve with it, but you figure it out pretty quickly when using it on someone else. I think you can definitely use it on your own hair with some practice, too.
Basically, you hold the smoothing tool against your hair so that the opening will suck in some of your hair. You can see how her hair is coming through it in the image below. Then, you slowly slide the attachment down your hair and it definitely smooths the hair compared to just blow drying.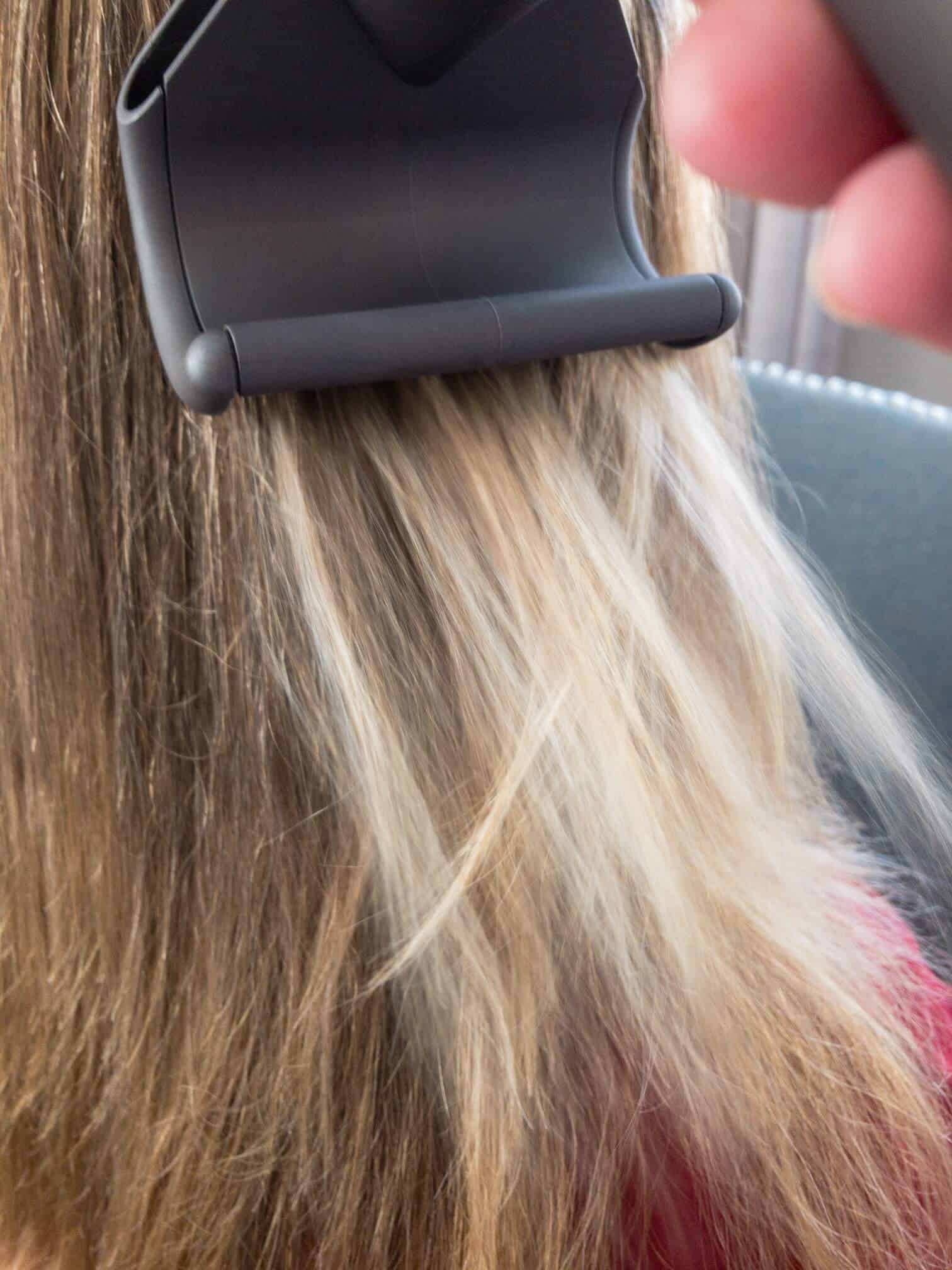 I did half of her hair with the smoothing tool and the other half is just blown dry. It's not as significant a change as you would see with a straightener – but I think it looks really good for just blown dry. The hair is less frizzy, has less flyaways, and just looks smoother and shinier. With a little hair oil or finishing cream along the ends of your hair, you could be done and out the door. Boom. Book it.
Update: My cousin has really figured out this attachment now and she came over today to show me. I thought her hair had been straightened. I couldn't believe she had only used the hair dryer. She says this is shaving 15 minutes at least from her morning routine – which is amazing for the busy woman on the go.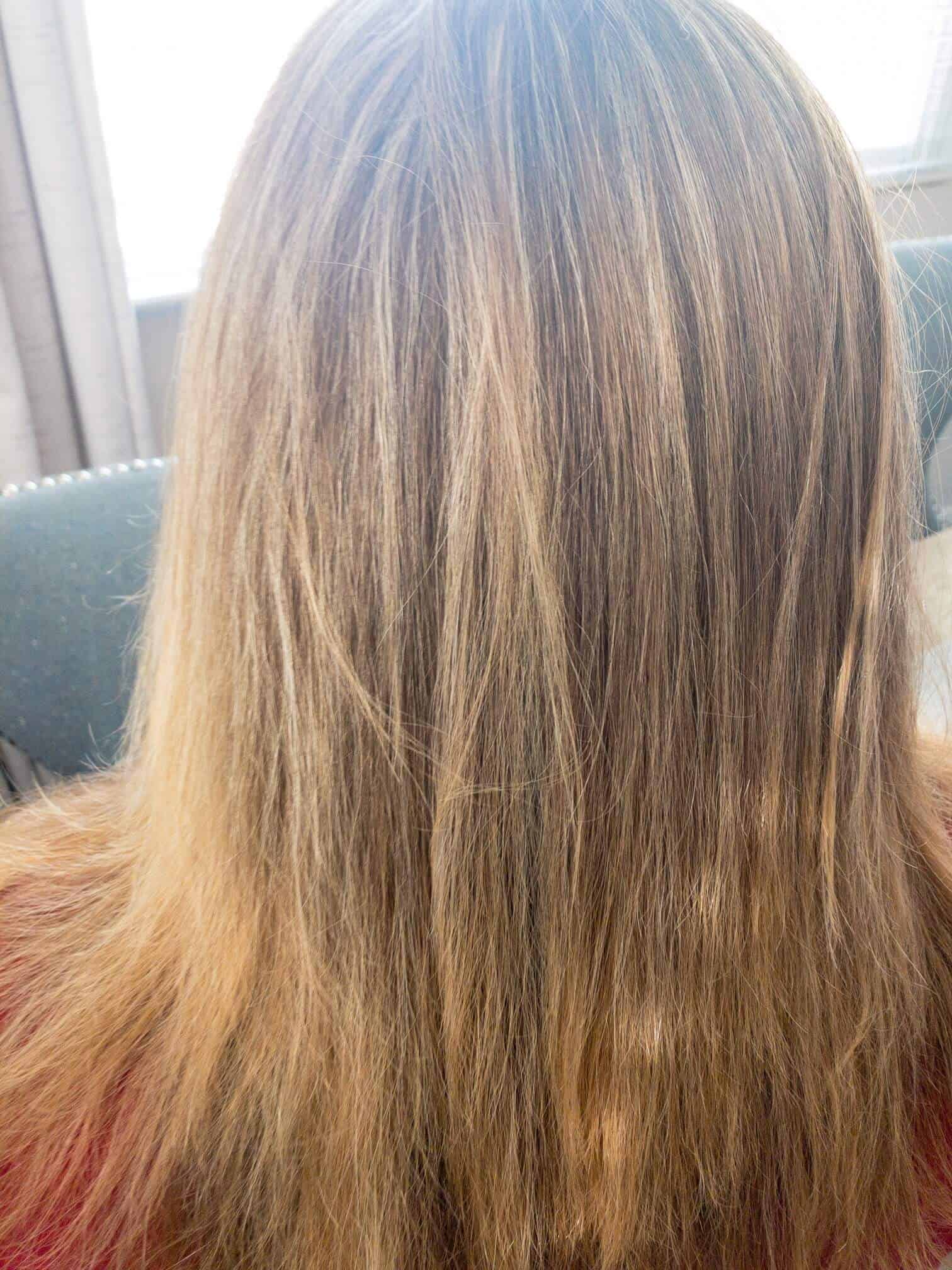 The Comb Attachment:
This one looks odd at first and when my cousin tried it on her own hair, the angle was a bit strange. But, when I started using it on her, it was like a hair dryer and a brush in one. I was worried that it might hurt her head a little, because it's not soft or flexible at all, but she said it actually felt like a little massage.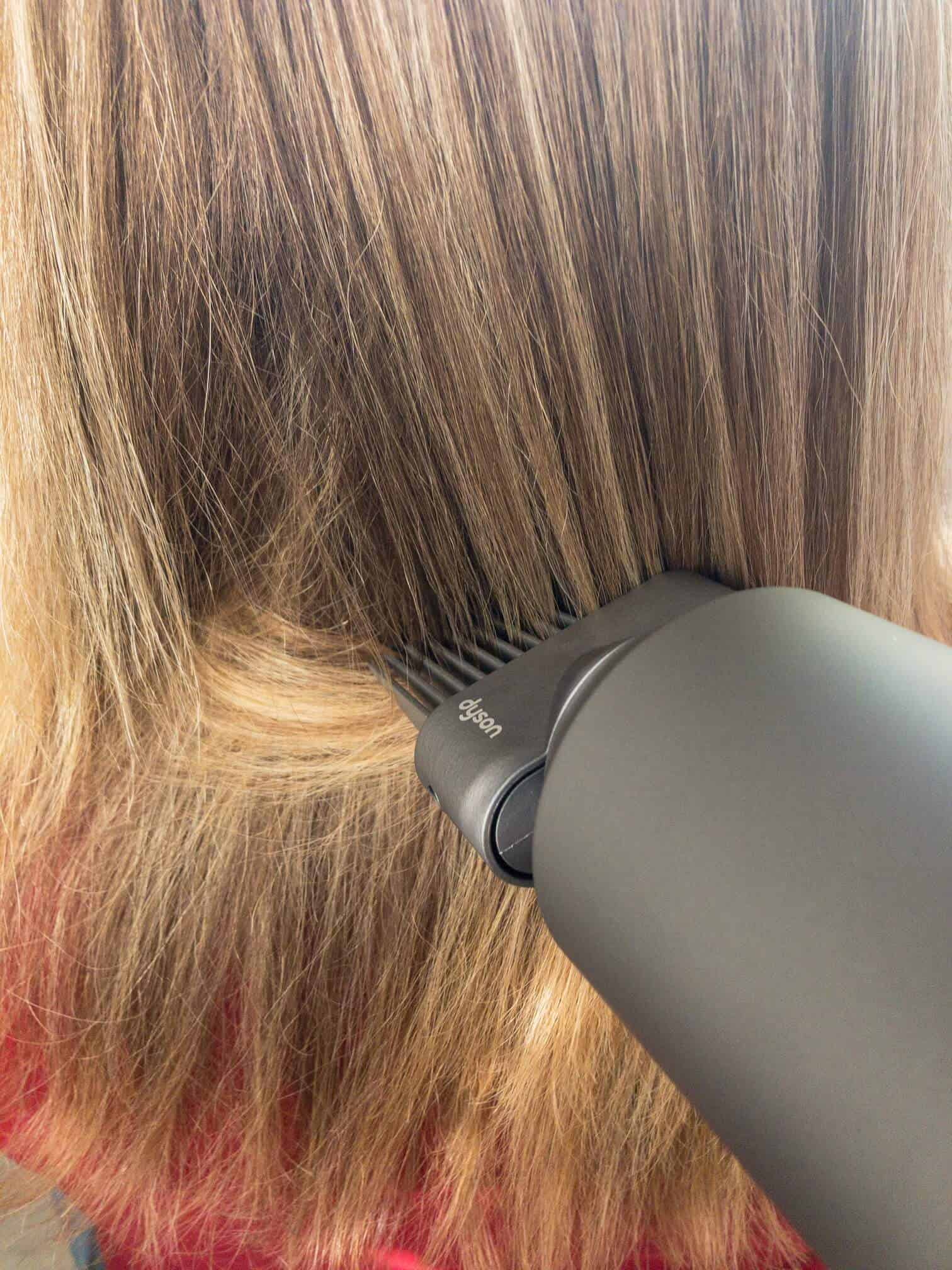 The Styling Concentrator:
This is the magnetic attachment I think I would use the most, because I find that when I use a hair dryer without a concentrator, my hair flies all over the place and it increases flyaways and makes me look like I've been electrocuted. This concentrator really focuses the air and majorly reduces hair from going all over the place. I would definitely use this attachment with blow drying with a round brush or any brush at all.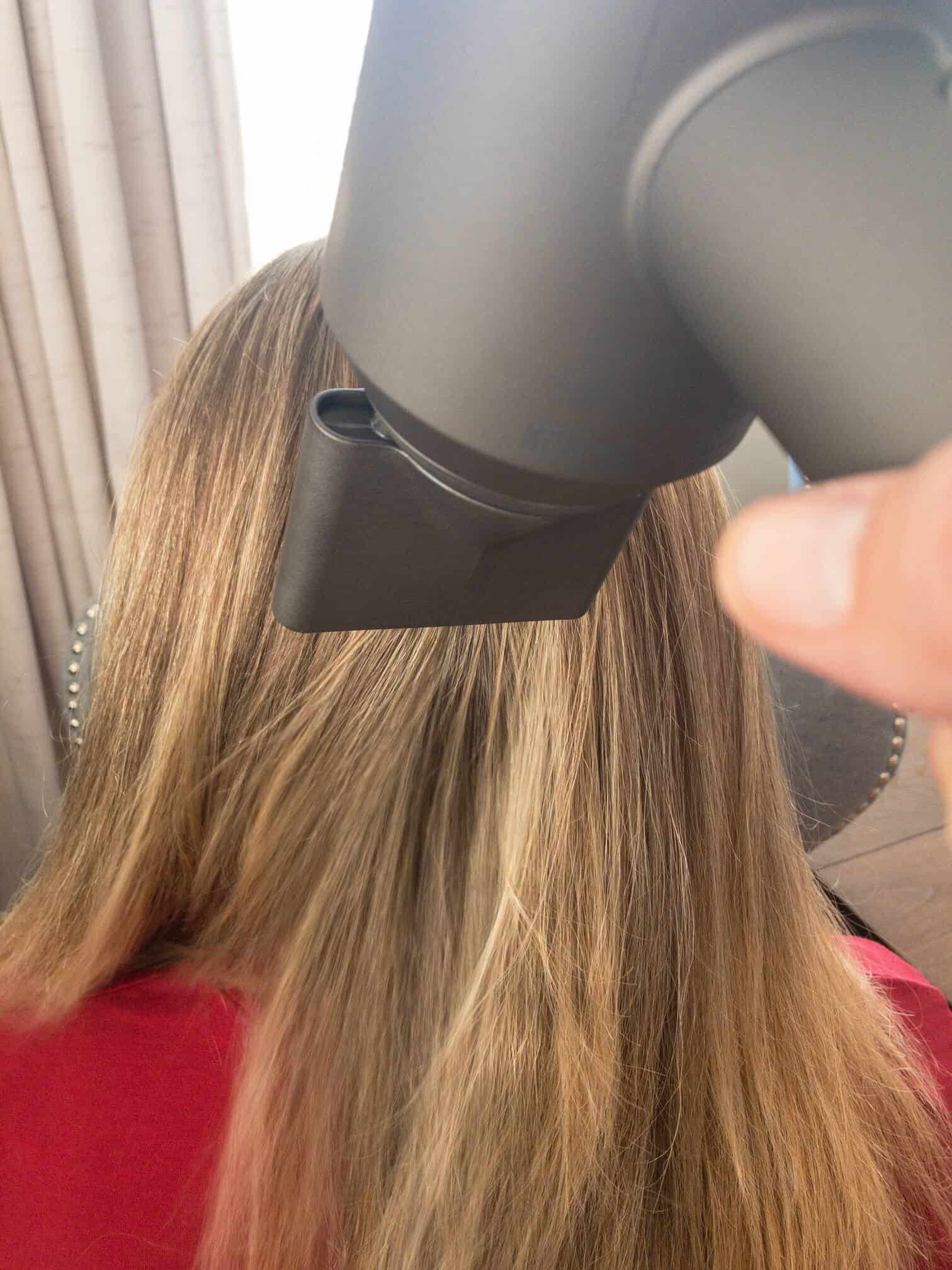 How does the Dyson Supersonic hair dryer work?
Besides being a very cool, well-equipped, lightweight hair dryer, what makes the Dyson so special? Well, they've found a way to dry hair faster without extreme heat using their Air Multiplier technology which amplifies air by three times for faster drying.
Plus, you have 3 speed settings, 4 heat settings and a true cold shot. The heat settings are precise – no mysterious heat settings here:
212 F for faster styling
176 F for regular drying
140 F for cooler drying and diffusing
82 F for constant cold
And, the intelligent heat control measures the temperature over 40 times to prevent extreme heat damage. Having used a popular heat styling tool that really fried my hair from extreme heat, I appreciate this level of detail.
Speaking of detail, this infographic on the box goes into detail on what makes the Dyson Supersonic unique:
Negative ions reduce static in the hair
Glass bead thermistor measures air temperature
Powerful airflow technology amplifies air by three times
Engineered for better balance (it really does have better balance)
Removable filter for easy cleaning (how many hair dryers have you killed because of a clogged filter? No longer!)
Powerful motor is quieter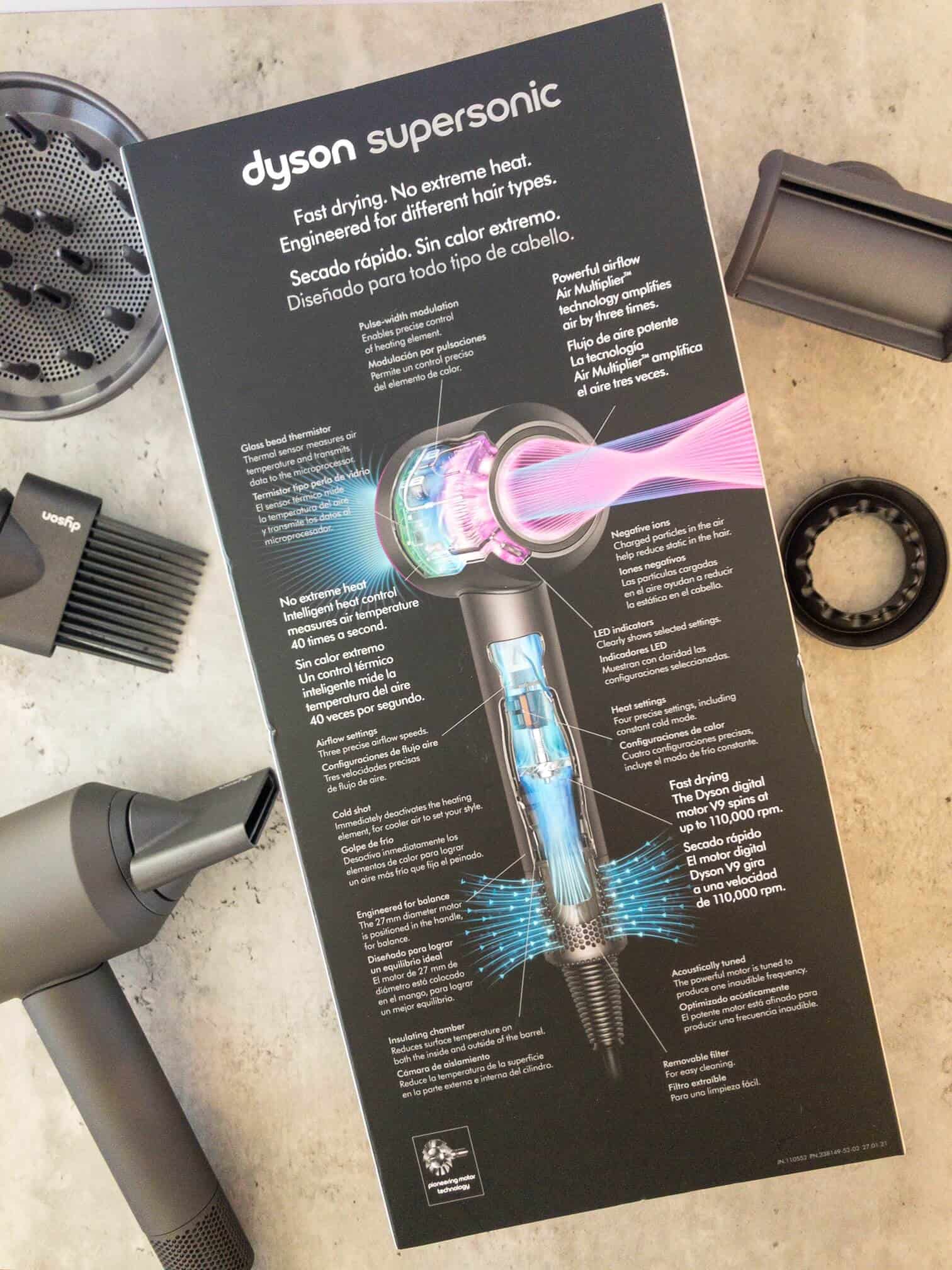 Is the Dyson Supersonic hair dryer worth it?
Ahh, the question we are all asking! I really loved checking out this super cool hair dryer. I can definitely see the reasons why someone would be drawn to this sleek, innovative hair dryer. The lightweight and quiet design is probably the best reasons why I can see it adding value for someone – especially if you have hands/wrists that get inflamed or tired quickly.
But, I also think the reduction in styling time if you're using the smoothing attachment is a major incentive for anyone who wants to sleep a little later or just needs to shave some time off their morning routine because of #kids or #life. You know what I mean?
I also love the array of attachments – although I'm going to guess you'll probably rely on one or two most of the time.
As far as the claims that it dries faster – my cousin does have super thick hair and it dried it pretty quickly. I don't typically watch her blow dry her hair, so I'm not sure what the actual comparison would be – but it was pretty fast. Our hairdresser uses it on us and it does feel faster by a little bit.
Overall, I really loved this hair dryer and thought it was a neat addition to any hair tool collection. My cousin is absolutely thrilled with it and has no regrets with buying it. If it's not in your budget, though, I think you would be quite happy with a number of other hair dryers. I have the T3 Cura Luxe Ionic Hair Dryer and I've been very happy with it. I also have their curling iron, which is my favorite curling iron ever (and I've tried them all, friends, all of them).
Interested in shopping the Dyson Supersonic? Check out these different options below, including a refurbished option that reduces your price significantly:

For more info on T3, a great – more affordable – alternative, check out these links:

****
What do you think? Are you a fan of Dyson? I'd love to know what you think about their hair tools and the Supersonic hair dryer!
I think this would make a FABULOUS gift idea for a lucky person in your life. Definitely keep this in mind if you're shopping for a super luxurious gift idea, too. Or, check out my new post on the incredible CurrentBody LED Skin Mask for another major gift-giving win (even for yourself!).
For more hair posts, you might also like these:
3 Smoothing Tools for Frizzy Hair
Have a fabulous day,
E