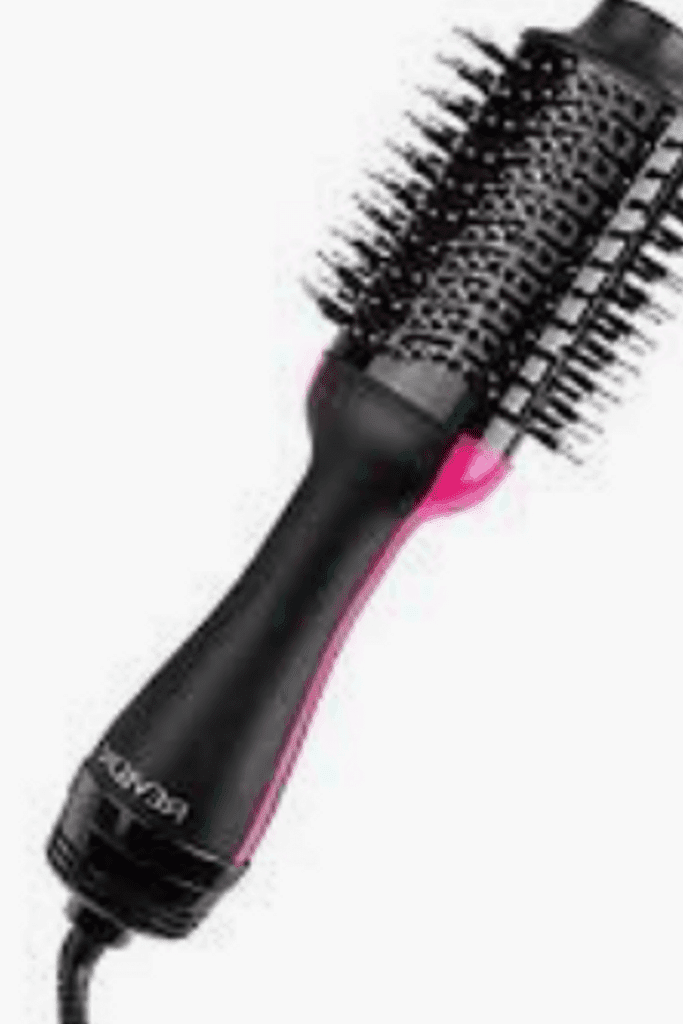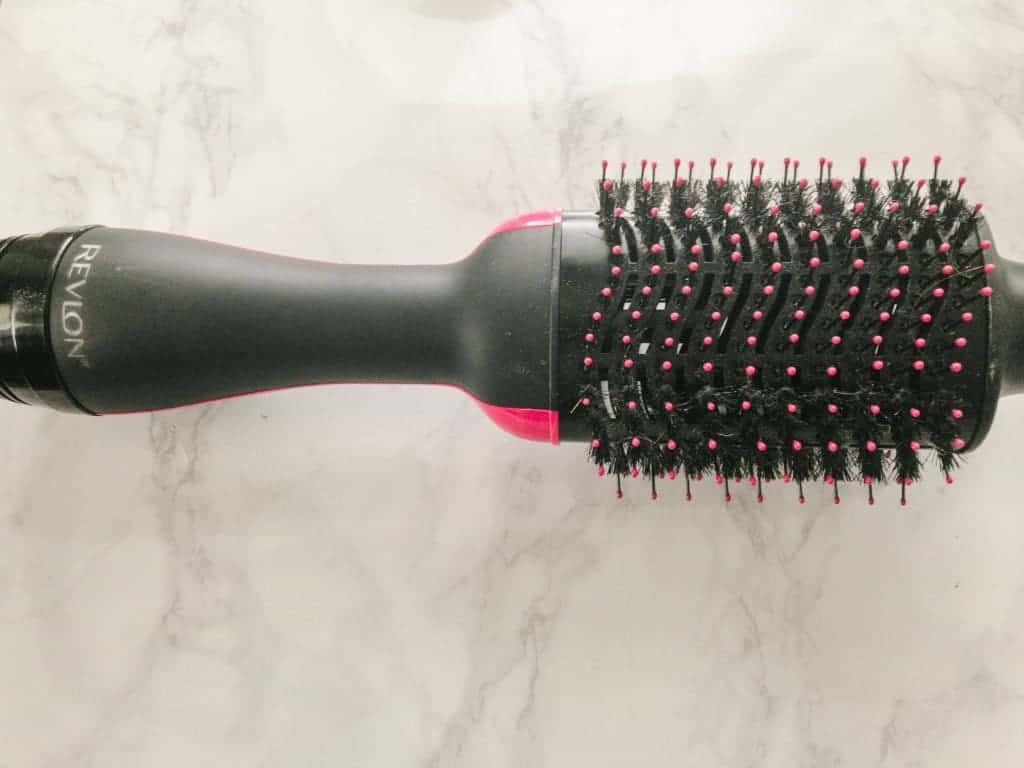 I actually bought the Revlon One Step Dryer & Volumizer before it was a big thing.
It was already gathering dust in my cabinet when YouTube was taken over by multitudes of Revlon One Step reviews.
So, I thought I'd take my drying brush out of hibernation, take her for another few spins, see if anything changed for me, and then give you the totally honest, unsponsored skinny on whether this Revlon One Step is going to replace your blow dryer…. or not.
What is the Revlon One Step Dryer & Volumizer:
While the Revlon One Step is certainly the most popular, it is actually just one of several options on the market that will dry your hair like a blow dryer, while giving you a similar functionality of a round brush.
So, kiss those days of awkwardly trying to use a round brush and blow dryer at the same time goodbye, because the Revlon One Step turns that into… well… one step.
See what I did there?
But, with so many people declaring that the one step is the answer to their prayers and giving them salon blow out results at home, I thought it was time I took mine back out and gave her a few more whirls.
Full disclosure, affiliate links are used, which means I receive a small comish if you purchase, at no cost to you.
How Does the Revlon One Step Hair Dryer & Volumizer Work?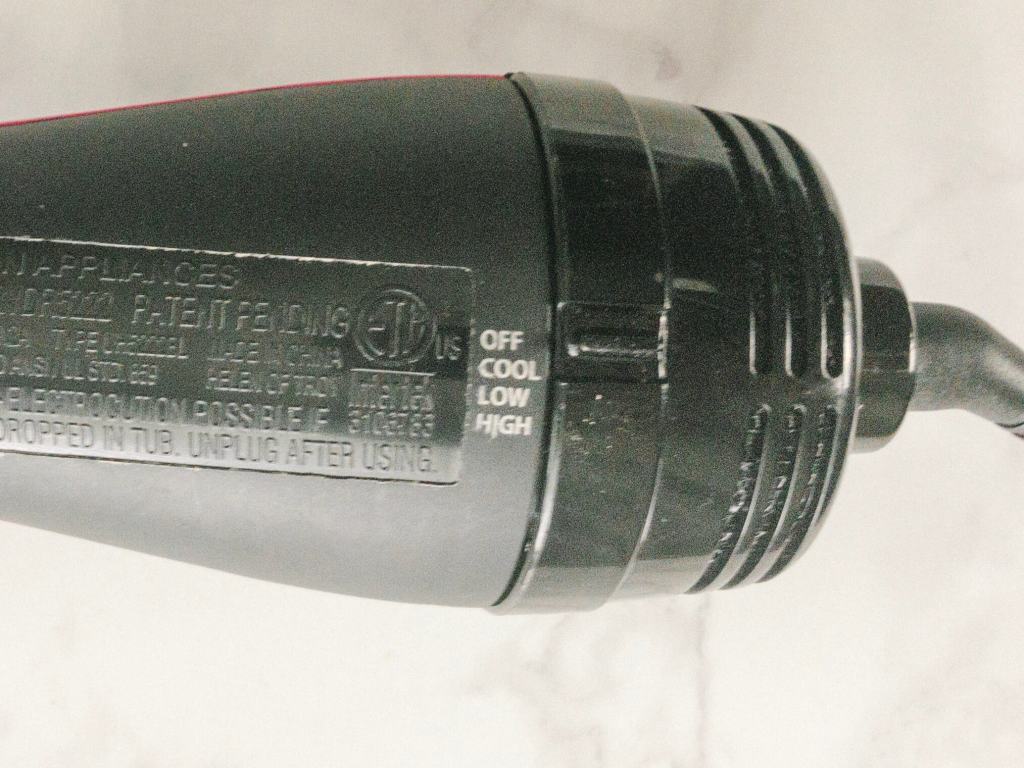 Similar to a blow dryer, you have several heat settings. But, with the brush, they also control the amount of air. So, low heat is lower heat and less air.
I prefer to use high heat, because otherwise, it takes 15 minutes to dry my hair.
Then, you would section your hair similar to a hair stylist, and brush the one step through the hair multiple times, curling under if you want, to get that volumized blow out we are all after.
But, as you can imagine, there are pros and cons to using the Revlon One Step – and I am going to give it to you straight.
The Pros to the Revlon One Step:
Let's start with the positives.
1. Less Bulky: The Revlon one step is certainly smaller and less bulkier than a blow dryer and a separate hair brush.
I like that it's easier to pack and takes up less space. It's great for travel.
2. Smooth Finish: I do feel I got a little bit smoother hair than when I just use a blow dryer.
3. Affordable: The price is also right, clocking in at around $50.
I definitely paid more for my hair dryer than $50 (or, actually, my father-in-law did, because it was a Christmas gift), so I find the price of the One Step to be a very affordable solution for many.
4. Dual Bristles: Because the brush head has dual bristles, you do get that brushed look when you are finished.
5. Easier: Using one tool versus trying to coordinate a blow dryer and brush is just easier. Flat out.
And, SOME people say they get a nice smooth result and do not need to follow up with any more styling tools.
For those people, I would say this is 100% worth it.
I am not one of those people.
The Cons to the Revlon One Step:
1. Noise: I find the One Step to be louder than a blow dryer. And, because it has to stay closer to your head for longer periods of time, in a static position, it's more noticeable.
I find it so loud, I use ear plugs sometimes to drown it out.
2. Frizz: The blow dryer brush is blowing air at all times – but unlike a hair dryer, you are holding the brush in position to get that volume and curl.
I find that the air actually blows my little hairs on the top of my head and around my face up and creates more frizz.
With a blow dryer, I can point it downward and actually blow the hairs into submissions, unlike with the One Step, where I end up with a little frizz halo on the top of my head.
3. Weight: This is not a very light brush. My hands, wrists, and arms do feel more tired than when I use a blow dryer.
Also, because it takes longer to dry my hair than usual, I am holding the brush for longer. Afterwards, I just don't have the energy to straighten or curl my hair, too, but I have to, because it doesn't look finished.
4. Heat: This is not a cool touch brush. The handle never gets hot, but the part that does get hot extends an inch or two beyond the bristles, so your hand can and does easily slip up and fingers can end up on the hot plate.
This happens almost every time I use the brush and I burn my fingertips.
#OUCH
5. Hair Loss: Because of the dual bristles, I do feel I get more hair loss when I use this. Or, maybe all the hair is just trapped in the brush head.
Here's a picture of how much hair I lost by using the brush 2 times.
Sure, there's always going to be hair loss when styling – but it's something worth mentioning.
I feel like this hot tool has it's place in the arsenal of hair tools.
But, am I ready to throw out my blow dryer?
No. Absolutely not.
However, when I went away for the weekend, did I throw this in my bag instead?
Yes. Yes, I did.
So, I would say to know what you're paying for – and don't fall for the hype that this is going to give you salon worthy results at home.
I do feel like it's one step in the process and I need to finish with another hot tool.
Here's a picture I posted on Instagram of what my hair looked like after the Revlon One Step and then after straightening with a T3 Micro hair straightener I snagged at Costco (highly recommend – great deal):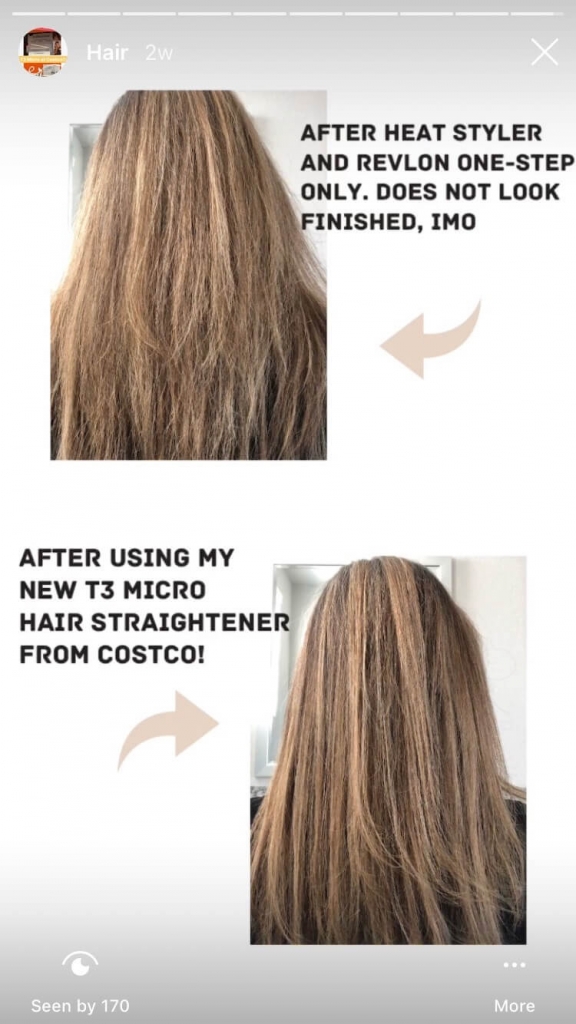 I just don't feel that with my hair the One Step is truly one step.
But, I am also not returning it, because it is fun to use sometimes.
This is not the only blow drying brush on the market.
Hot Tools 24k Gold One Step Blow Dry Styler:
In fact, this one by Hot Tools has great reviews. The plates are ceramic, which should give an even smoother result when finished.
UPDATE: I have actually purchased the Hot Tools 24K Gold One Step Blow Dry Styler since this post was published.
My expectations were that it would be the same exact experience, just a cooler look.
However, I am actually pleasantly surprised that the slightly higher price does equal a slightly better product here.
I find this one to be just a little bit lighter and get my hair a little bit smoother. If I were deciding between the two brushes and price was not an issue, I would buy this one.

Bed Head Blow Dry Styler:
And, there's this one, too, by Bed Head, with a brighter look and an even more affordable price point:
The Verdict:
I love trying new hair tools and having options. At this price, it's worth it if you think you'll use it.
If you love how your hair looks with what you do already, I would say you probably don't need it.
But, if you're like me, and you like to mix it up and try new things – then as long as you go into it with realistic expectations for what this blow drying brush can do for you, I say go for it.
*****
Have you seen the Revlon One Step? Have you tried a blow dry brush like this?
Tell us your experience in the comments below!
And, for something a little different – I recently picked up this Tymo Straightening Brush and it is one of my favorite hair tools ever – certainly one of the best I've tried in a long time! You can read my detailed review in my post on my 3 favorite frizz fighting hair tools!
Have a fabulous day,
E