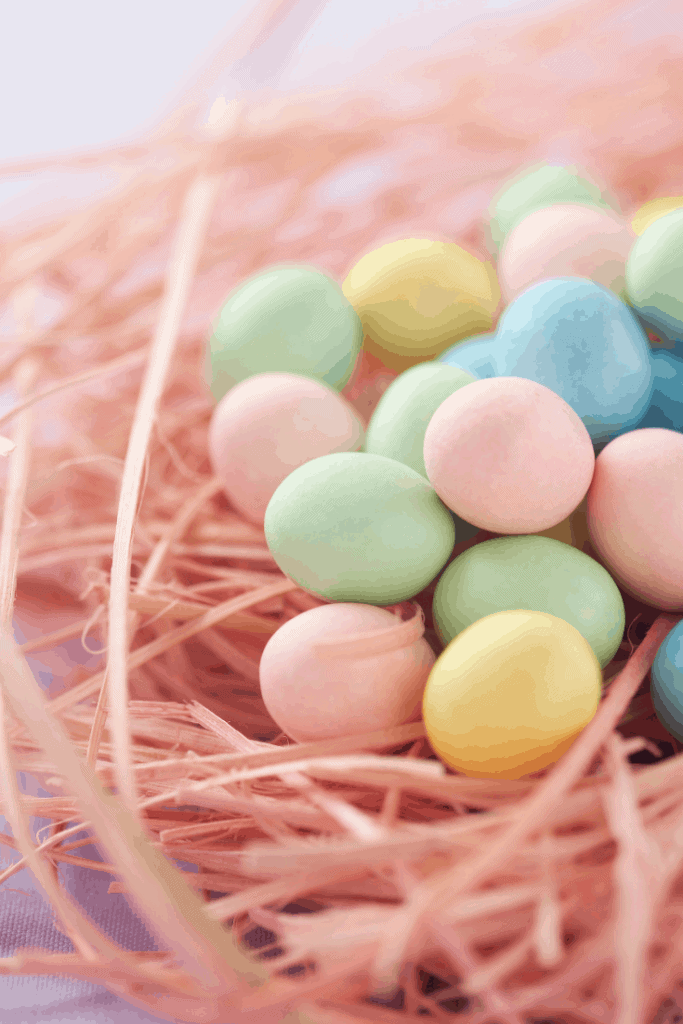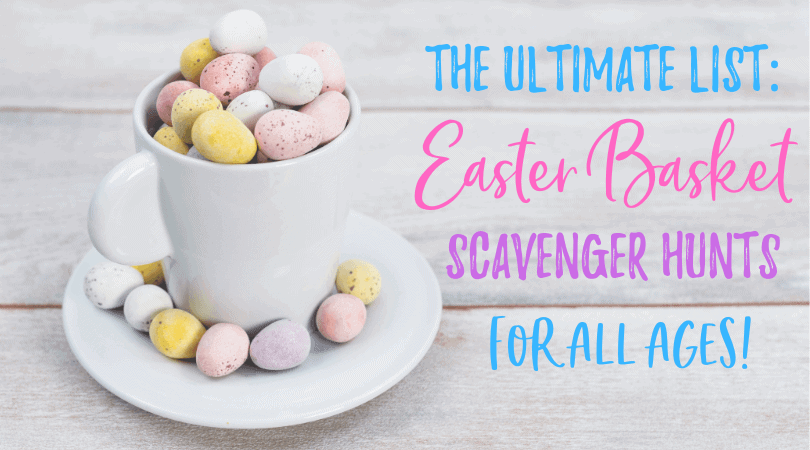 The Easter basket scavenger hunts have a long history in my family.
Back when I was a kid, my mom used to write the clues in the form of riddles, customized to each of us. The baskets were hid in ridiculous places (to my young mind) and every year was a new mystery.
That's one of the reasons that Easter is one of my favorite holidays.
Okay, who are we kidding, I love all the holidays.
That's why I am trying to keep the scavenger hunts alive with my kids…and finding it harder than I thought! My mom made it look easy, but more often than not, I find myself shoving clues into eggs until the very last minute.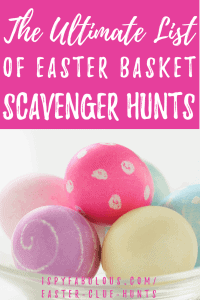 Easter Scavenger Hunt Tips:
I may not have the riddle-writing down to an art just yet, but I have learned a few things about how to make the easter basket scavenger hunts a big win:
1. Use Eggs:
If you hide the clues in eggs, they're more likely to find them. When you shove them inside random objects, small kids struggle to get the exact place. Perhaps older kids will enjoy the additional layer of complexity, but for younger kids it takes some of the fun out of it.
Also, NUMBER THE EGGS AS YOU GO – so you don't forget what order they go in!
2. Color Code For Each Child:
If you're using hunts for multiple kids, put their entire hunt in the same color egg.
For example, your oldest would only find pink eggs, your second only green, etc. Make sure they know NOT to pick up an egg in any other color.
Youngest children should have someone with them to just make sure they are able to find the clues while not disturbing other eggs.
3. Hand Them The First Clue:
Start the game by handing them their first clue in the color egg they are using. This eliminates any confusion over forgetting their color egg when they spot another one and decide to just go for it.
4. Mix It Up:
If you're running several at once, make sure they each get a different one, chosen to match their age and ability. That way, one older kid who is really good at it doesn't find the clues for everybody.
5. Help:
The idea is for this to be fun. If someone is struggling, help them out. I've known a stickler or two in my day that sucked the fun out of an activity because they wanted us to "figure it out".
There is a time and a place for that – but the Easter basket scavenger hunt is not that time.
In my opinion, holidays are too much time, money and effort for them to not be enjoyed to the fullest.
Ready To Print Easter Basket Scavenger Hunts!
Let's all give a quick shout out to Pinterest for handing us ALL. THE. THINGS. on a silver platter! #YAS
I have found my last couple years of hunts ready to go on Pinterest and printed them out not too long before go time.
Cut, shove in eggs, number as you go, BOOM. Baby. You're ready to rock 'n roll.
Let's have some fun:
I absolutely love the soft colors, adorable designs, and short, easy to follow clues.
This hunt will appeal to many different ages.
Just watch out, because if they're anything like my son, they'll love it so much – they'll want you to hide them over and over again :0)
These ones are a bit longer, so they'll be best for solid readers who are ready to start working on their own.
A nice challenge for kids who may be thinking they've gotten too old for Easter scavenger hunts.
(Can we EVER get too old?)
A super adorable set of 8 clues that will entertain children of all ages.
The bright colors and cute graphics are written from the perspective of the Easter Bunny, for an extra cute spin.
I love this one and think I'll use it for my son this year.
These are written in verse and will have your child running around outside.
A great way to put some older kids on the hunt outdoors, while younger kids search inside.
The answer is provided in case any children get stumped and blank cards let you add to the hunt if you want it to last longer.
Another adorable set of clues, beautifully designed and also written in rhyme. These have been updated for 2019, too, making them perfect for this year's hunt.
Something extra special about these ones are that they are also available in a pictorial version as well, for extra young children.
In fact, I will be using these this year for my daughter, who is a little over 2. She wants to participate, but isn't quite ready for the more complex critical thinking.
The picture version will be perfect.

A cute, short, fun scavenger hunt that is perfect for that middle age. She also goes into a lot of detail on ways to make the scavenger hunt special with candies – yum.
Having a little treat in the egg with the clue would definitely be enough of a motivator to keep less inclined basket hunters to stay on the mission.
Well played. Well played.
This easter basket clue hunt is so cute, the clues are shaped like the eggs they'll be in!
Plus, they are super short. But, they will require a bit of searching, as they send you to a more general location – such as "look in a shoe". Well, in our house, that could be a number of places.
So, I would give this one to older kids with the stamina to keep looking.
Just a kind note, you'll need to sign up for emails to obtain the free printable.
With 10 clues, this one is a longer clue hunt for older kids. Plus, this one will have them running all over the house – and even the garage.
Keep 'em busy, mama!
Not just for kids! These egg-shaped, beautifully designed clues are written for your partner-in-crime! Send them on a hunt for their basket, too!
Written with sweet words of affirmation for your relationship, they'll also bring you a little closer on the holiday where you'll probably spend most of your time taking care of other people. Win win.
I know my husband would be so excited to be surprised with this on Easter, so I think I'll take the extra time to print these out for him this year.
While these crisp, black and white, Easter hunt clues are written by an arts & crafts blog that show you how to spruce them up into whimsical, sweet little clues – you could also just print and cut for an easy Easter egg hunt any kid would love.
I really like how modern they look – which could appeal to a child who is distracted by lots of color and prints. Plus, it's a nice way to mix it up if you've already tried some other ones.
If you're doing multiple egg hunts, it'll also be a clear identifier to anyone who gets the wrong egg.
****
There you have it! 10 Easter basket scavenger hunt clue sets for different ages, from very young all the way to your hubby!
Score!
Almost all of these are print and go – with just one asking for an email. Easy peasy.
Just make sure you have ink and paper in your printer – because even a freebie can't help you with that 😉
Hope your Easter is egg-stra special. If you try any of these, please come back and let me know which one you used!
Oh, and check out these other Easter themed posts:
Have a fabulous day,
E