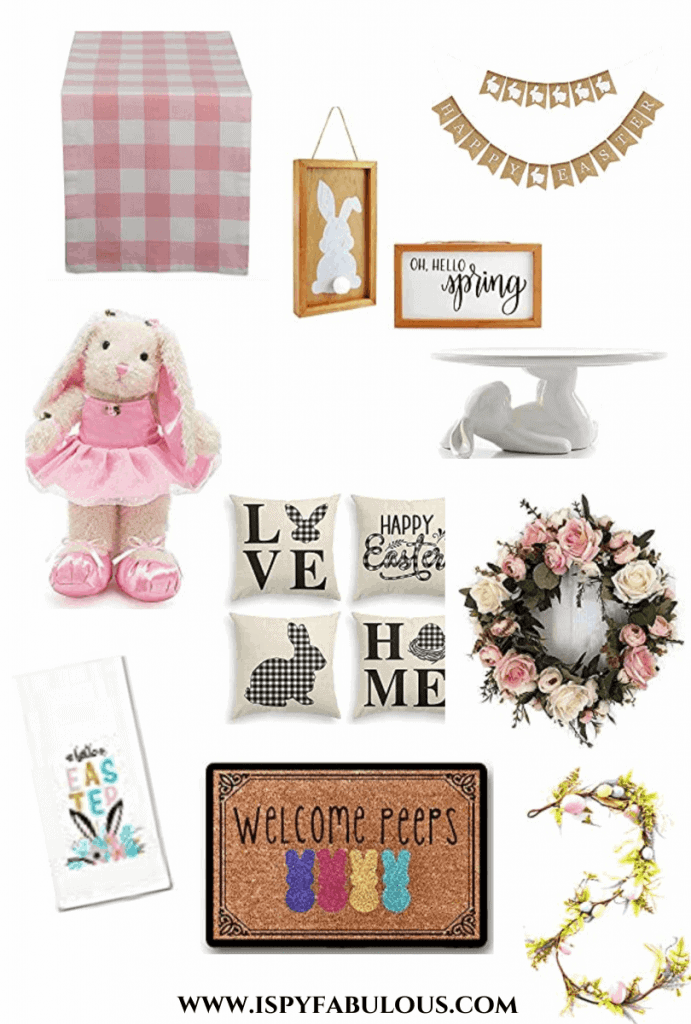 Easter will be here before we know it! And, while Easter might look a little different this year than we are all used to, we can still make it something special and memorable at home.
For us, we had actually made plans to go on a short, fun little vacation on Easter weekend – which is making this change in plans a little more challenging for me to embrace at the moment.
That's why I decided the best way to get in the spirit of the holiday is to do a little decorating to make it feel more exciting.
And, lucky for you, I'm sharing all of the fun Easter finds I found – on Amazon!
Keep in mind that Amazon is prioritizing shipments of essentials, so if you're looking to order things like Easter decor, toys, books, baby products or other things, they will take longer than the usual lightning fast deliveries. Also, these are affiliate links, which means I'll earn a small commission at absolutely no cost to you. Boom. #WinWin
The Best Easter Decor on Amazon:
Talk about cute, cute, cute! I think this would liven up any table right now and make us all feel uplifted.
We use touches of navy and black buffalo plaid around the house, so this would also be a fun punch of color, while keeping with the overall motif.
Love these, too! A touch of wood can warm up any space and these spring and Easter-themed signs are so sweet.
I love a good garland. I have them for most holidays of the year. They look great hanging over a mantel, or even between some wall hangings.
Then, they fold away super small for easy packing!
I'm in charge of the baking around here and so I love finding adorable bakewear and display pieces. This one is just so fun with the bunny holding up the plate!
Pillow covers can get really expensive, but not these. You won't believe the price on this pack of four!
And, if black and white isn't your jam, there's a bunch of different options to choose from.
Just be sure to use pillow fillers that are 2 inches bigger than the pillow size. I write more about pillow covers in my post on Caitlin Wilson Lookalikes!
How cute is this?! It could be a cute decoration – or in my case – it'll be sneaking in to my daughters Easter basket.
Adorbs!
Peonies are my favorite flowers and one of my most favorite things about this time of year, so this peony wreath, which could easily be hung inside over a mirror, too, stood out to me.
A super sweet set of Easter themed kitchen towels. We all spend so much time in the kitchen, why not put a little happy decor here to set the mood?
Love a garland strung down the center of the table or on top of a console table. Adds just the right amount of somethin' something' to pizzazz space for the holidays.
Sure, we hope
any visitors stay 6-feet away right now, but it won't be that way forever. This cute play on the most beloved Easter treat makes this the perfect doormat for spring (because if you're anything like me, your doormat has been there far too long and needs to go!).
*****
So cute! I bet you're feeling Easter-y already, am I right?
If you're looking for more fun Easter activities that are totally free – you'll love these posts:
Have a fabulous day (and a very happy Easter!),
E