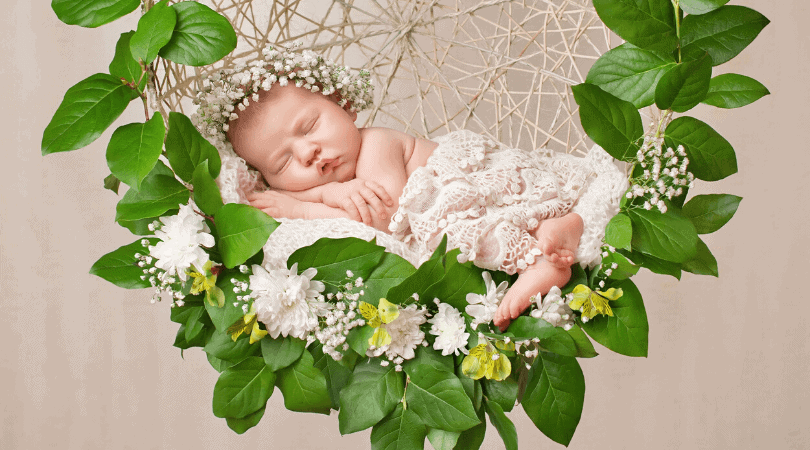 I come from a nickname family. We all have multiple nicknames and when discussing names for future babies, we immediately go to what the nicknames could be.
So, when it came time to name our own kids, you bet we were talking about all possible nicknames!
Of course, sometimes you'll plan for one nickname, only to have another one come out of nowhere and stick.
That's what happened with our daughter. We had a nickname picked out, but my son ended up shortening her name into something else and now that's the name even she prefers!
And, truth to be told, we like it better, too.
So, let's take a look at the cutest girl name and nickname combinations!
Girl Names with Great Nicknames: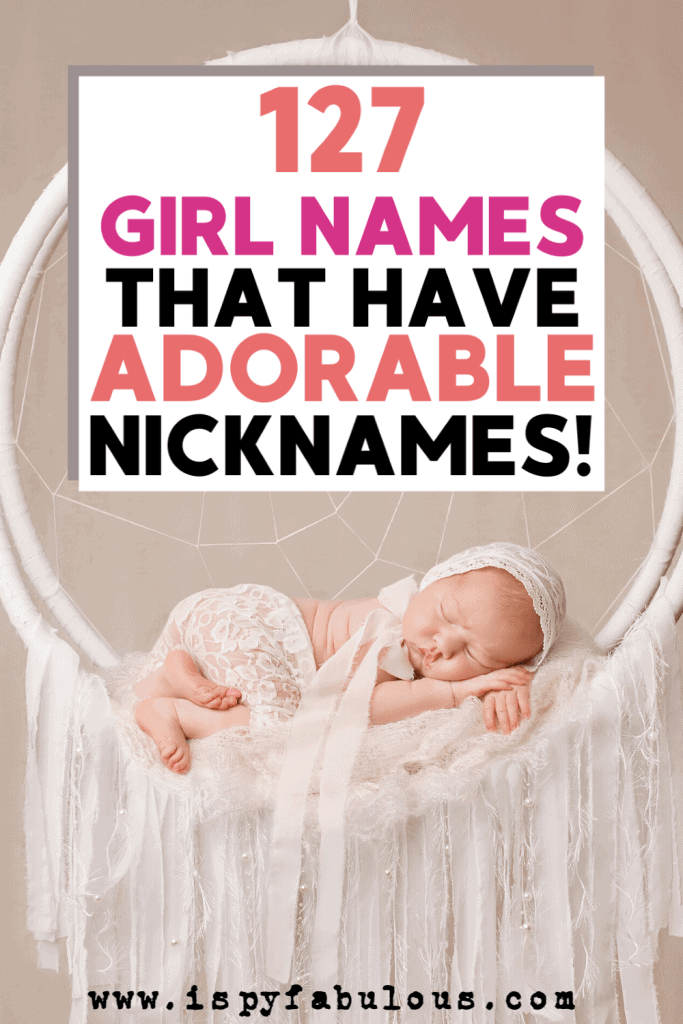 Abigail – Abby, Gail
Addison – Addy
Adelyn – Addy, Lyn
Aviana – Avy, Viv, Anna
Allison – Ali
Alessandra – Lessie, Ales, Sandra, Sandy
Alexandria – Alex, Lexi, Ria
Analice – Ana, Ali
Amelia – Millie, Amy, Mia, Lia
Anastasia – Ana, Stacia, Stacie
Annabella – Anna, Bella, Annie, Belle
Arabella – Ari, Bella, Belle, Ella
Ariella – Ari, Ella, Ellie
Aubrianna – Aubri, Bri, Anna
Aubriella – Aubri, Bri, Ella, Ellie
Bellamy – Belle, Bella, Amy, Mia
Bethany – Beth, Annie
Blakeley – Blake, Ley, Lea
Brianna – Bri, Ria, Anna
Briella – Bri, Ella, Ellie, Brielle
Britney – Britt
Brooklyn – Brook, Brookie, Lyn
Carolyn – Cara, Carrie, Lyn
Cameron – Cam, Ronnie
Camilla – Cami, Millie, Mila, Mia
Cassandra – Cassie, Cass, Sandy, Sandra
Cassidy – Cass, Cassie, Sadie
Charlotte – Charlie, Lottie
Christina – Chris, Tina, Christie, Tia
Danielle – Dani, Elle, Ellie
Daniela – Dani, Ella, Ellie
Destiny – Des, Desi
Delilah – Dee, Lilah, Lia
Desiree – Des, Rae, Desi
Demetria – Demi, Ria
Eliana – Ellie, Ella, Lana, Lia, Lina
Eleanor – Ellie, Lea, Nora
Emilia – Emmie, Lia, Millie
Emmalyn – Emma, Emmie, Mali, Lyn
Esmeralda – Esme, Mera
Evangelina – Eva, Angelina, Lina, Lia
Evelyn – Evie, Eve, Lyn
Fabiana – Fabi, Bebe, Ana
Felicity – Ellie, Lis, Lissy
Finley – Fin, Finny, Ley
Francesca – Frankie, Chess, Cesca, Cece
Gabriella – Gabi, Brie, Brielle, Bella, Ella
Georgina – Georgie, Gina, Gia
Genevieve – Gene, Evie, Genna, Viv, Vivy
Gianna – Gia, Gina, Anna, Annie, Gigi
Graciela – Gracie, Ella
Gwyneth – Gwen, Gwynie
Hadassah – Haddie, Assah
Hadley – Haddie, Ley, Leigh
Harriet – Hattie
Helena – Lena, Lennie, Hellie
Henrietta – Henri, Etta, Ettie
Isadora – Isa, Dora, Issy
Isabella – Izzy, Bella, Belle, Ella, Ellie
Ivette – Evie, Vette
Jacquelyn – Jackie, Jax, Lyn
Jasmine – Jassy, Jazzy, Mina
Jennifer – Jen, Jenni
Jessica – Jess, Jessie
Johanna – Jojo, Hanna, Anna, Annie
Josephine – Jojo, Josey, Seph
Juliana – Julie, Anna, Lia, Liana
Juliette – Julie, Ettie, Jetta, Jules
Kadence – Kadie, Addie
Katherine -Katie, Kate
Kaitlyn – Katie, Kate, Lyn
Katrina – Kat, Katie, Trina
Kendall – Ken, Kennie, Dollie, Doll
Kimberly – Kim, Kimmie, Leigh, Kiki
Laurel – Laurie, Lora
Layla – Lia, Lola
Leilani – Lani, Lei, Lia, Liana
Lilliana – Lily, Liana, Lana, Lia
Luciana – Lucy, Cece, Ana, Annie, Luz
Lorelai – Lori, Rory, Lele
Madeline – Maddie, Lyn, Deedee
Madison – Maddie, Mads
Makenzie – Kenzie, Mak, Kenny, Zie, Zeze
Melanie – Mel, Lanie, Lane, Mellie
Melody – Deedee, Mel
Mercedes – Mers, Sadie, Cedes, Dee
Michaela – Mikki, Kayla, Kiki, Ela, Kay
Natasha – Nat, Natty, Tash, Tasha
Natalia – Nat, Naty, Tali, Lia, Talia
Nicolette – Nik, Nikki, Colette, Letti, Ette, Ettie
Noella – Noe, Ella, Ellie, Nellie
Octavia – Tavi, Via,
Odessa – Dess, Dessie, Essie
Olivia – Olive, Livie, Liv
Ophelia – Fefe, Lia, Effie
Otilie – Ottie, Tillie, Lele
Paulina – Pauly, Paula, Lina, Lia
Penelope – Penny, Nellie, Poppy
Paisley – Pais, Leigh
Ramona – Mona, Ramie
Roslyn – Roz, Rosie, Ros, Lyn
Rosalie – Rosa, Rosie, Leigh
Rosemary – Rose, Mary, Rosie, Romy
Samantha – Sami, Sam
Savannah – Sav, Savy, Vanna, Vanny, Anna
Seraphina – Sera, Fina
Serena – Sera, Rena, Ria
Scarlett – Lettie, Scottie
Sophia – Sophie, Fia
Talia – Tali, Lia, Leigh
Tamara – Tami, Mara, Mari, Ari
Tatiana – Tati, Tiana, Tina, Ana
Theodora – Thea, Tia, Dora
Tiana – Tia, Tina, Ana
Ulissa – Uli, Lissa, Lissie
Valentina -Val, Tina,
Veronica – Vera, Ronnie, Nica
Victoria – Vikki, Tori, Ria
Viviana – Viv, Vivi, Ana
Willow – Willie, Willa, Lolo
Winona – Winnie, Wina, Nona, Nonie
Willamina – Willa, Willie, Mina, Minnie
Yazmin – Yaz, Min, Mina, Minnie
Yessenia – Yessie, Senna, Nia
Yvonne – Evie, Von
Zella – Zelle, Ella, Ellie
Zinnia – Zin, Nia
Did you find your new favorite girl name and nickname combo? Check out the boy post like this, too!
Or, maybe you're looking for a short, strong name – or even a girl name fit for a queen?
Check out these other baby names or download the free baby name list to track your favorites!
Here's a few more baby name posts to inspire you:
If you're still shopping, here's a few of my favorites (affiliate links used):
Have a fabulous day,
E