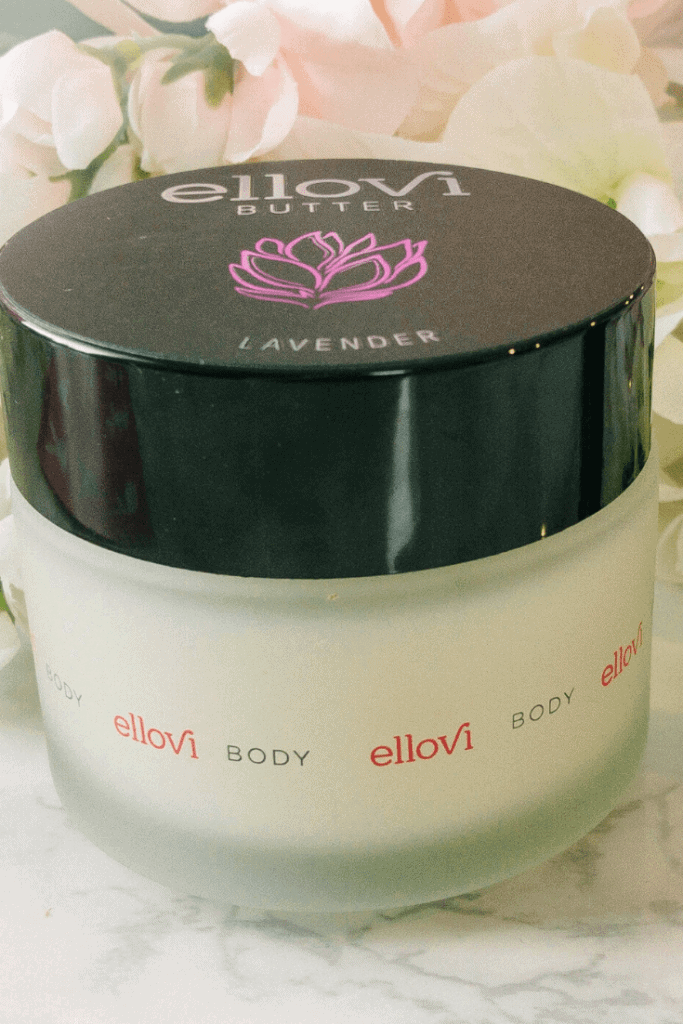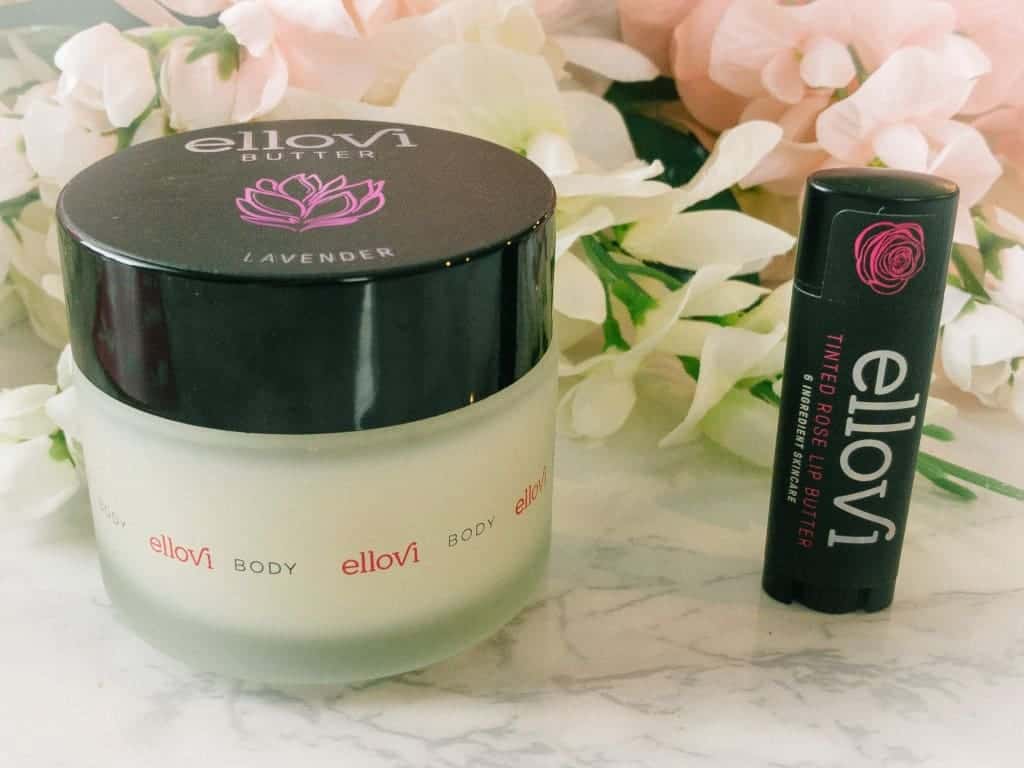 I love me some clean beauty. The cleaner the product, the better I feel about using it.
That's why when I heard of the Ellovi 6-ingredient body butter and lip butter that is so clean you could eat it – I was all in.
Plus, I don't know about you – but this winter is hitting my skin hard. I can usually keep dry skin at bay with my favorite products for dry skin, but this year – it's been different.
And, since this lotion is just jampacked with ultra-moisturizing ingredients that are like superfoods for your skin, I figured maybe this body butter was the missing link my skin has been needing.
So, when Ellovi reached out and offered to send me some products to try, I was very excited. But, I am not an affiliate for their products and will not receive anything from your purchase. Keepin' it real.
The 6-Ingredient Body Butter: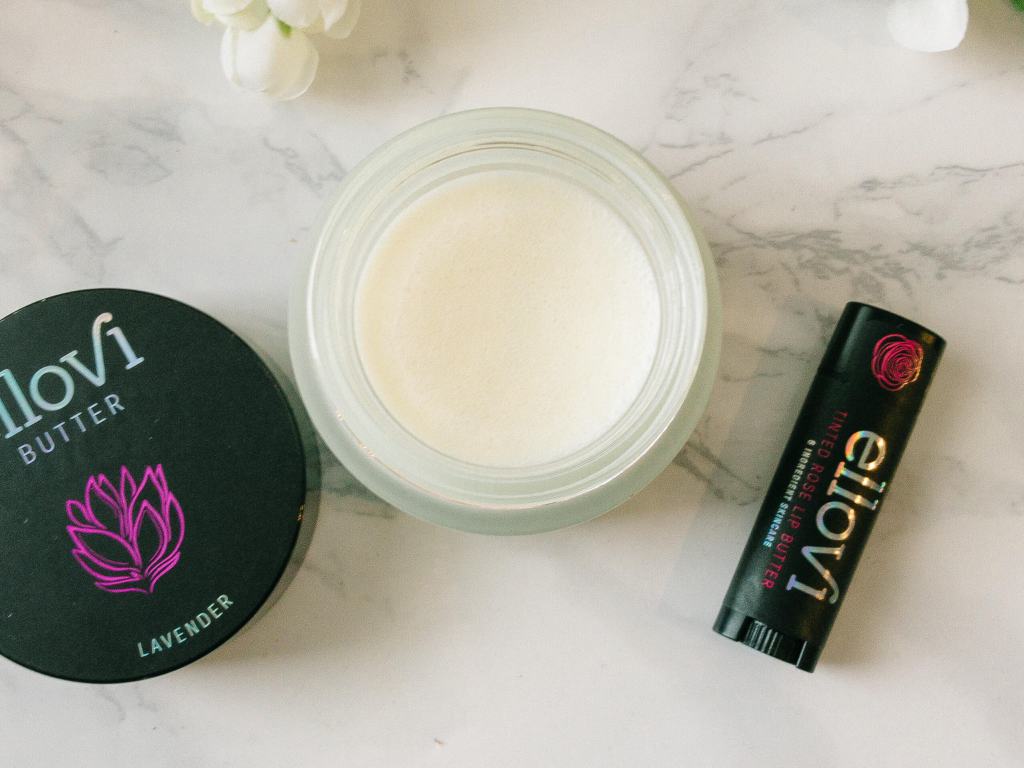 Because Ellovi is made with just 6 ingredients and made without fillers, you are only getting high quality, active ingredients – without ingredients that do nothing for you.
Many products are made with fillers and preservatives because they prolong shelf life and also make them cheaper to produce.
Sure, you can get a much cheaper body lotion or body butter than this, but take a peak and ask yourself – what's actually in it?
Let's take a look at the 6-ingredients and why they are just total powerhouses for your skin:
1. Hemp Seeds:
The ingredients list hemp seeds, but they are probably using the seeds to create hemp seed oil. Or, buying it in the oil form, which is easier to use in skin care.
Either way, hemp seeds are one of the most natural anti-inflammatory foods on earth and are also immensely moisturizing. If you're concerned about them being related to CBD or marijuana, hemp seeds alone have almost no THC, so no mood altering properties. In fact, you can buy them in bags and use them in superfood smoothies, too.
"They are exceptionally rich in two essential fatty acids, linoleic acid (omega-6) and alpha-linolenic acid (omega-3). They also contain gamma-linolenic acid, which has been linked to several health benefits (1). Hemp seeds are a great protein source, as more than 25% of their total calories are from high-quality protein" (source).
Hemp seed oil has been shown to relieve dry skin, improve itchiness, help heal conditions like eczema and other skin diseases.
While we are just beginning to appreciate the incredible superfood of hemp seeds and hemp seed oil here in the U.S., they have been appreciated in other cultures all over the world for a very long time.
I've used lotion with hemp seed oil and put a tablespoon of hemp seeds in our smoothies for years and highly recommend it.
2. Arrowroot:
Arrowroot powder has been used in skin care products for a long time due to its ability to penetrate the upper layer of skin to moisturize more deeply.
Plus, it's loaded with potassium, B vitamins and iron, all nutrients known to promote healthy skin.
Because of this, arrowroot is also used to detoxify and heal skin prone to acne.
As someone who has struggled with breakouts and acne in the past, I am a big fan of arrowroot.
Read more about the uses of arrowroot here.
3. Marula Oil:
Marula oil has become popular lately for being in many new skin and beauty products – but it's actually been used in many cultures for centuries.
Made from the fruit of the marula tree, native to Africa, marula oil is rich in the essential fatty acids that mimic those naturally occurring in our outer layer of skin.
Plus, it's an antioxidant powerhouse, full of vitamin C, vitamin E and flavinoids.
No wonder marula oil is the new favorite oil. Find out more ways to use marula oil in this post.
4. Shea Butter:
We all know about shea butter by now! A favorite for skin care products because of the consistency that it gives to them and the many health benefits, such as: boosts collagen production, fades scars and stretch marks, moisturizers without clogging pores and can relieve conditions like eczema and similar skin conditions.
Shea butter can do this because of its super high concentrations of fatty acids and vitamins, which also make it a major anti-inflammatory with skin healing properties.
5. Macadamia:
The ingredients and site list macadamia as the ingredient, but I am guessing they are using it in the form of macadamia nut oil.
They may be producing it themselves from nuts or buying it in the oil form. Either way, it's another incredible anti-inflammatory that is known to also be a super moisturizer.
Macadamia nut oil is also high in monounsaturated fatty acids, including Oleic Acid (Omega 9), which are very moisturizing and can help regenerate and soften the skin.
6. Essential Oil:
This is the only thing used to offer fragrance, as well as therapeutic properties. My lotion has the lavender oil and it is just the most soothing, relaxing fragrance.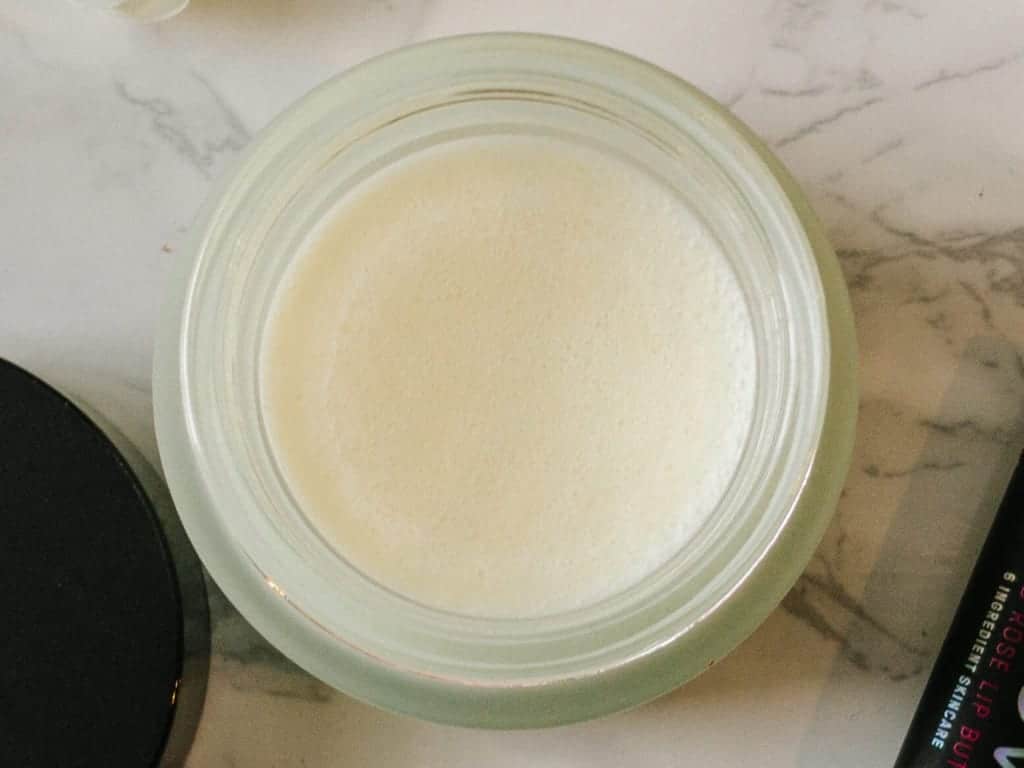 Because this body butter has no fillers, it stays on the firmer side. That means it comes out like a slightly softened butter.
It does have a little graininess to it when you first apply it, which gives it the texture of a very light exfoliant.
At first, you think – are the grains going to sink in?
But, before you can really get concerned about it, the warmth of your skin has already softened them and the butter starts to sink in.
This isn't a super fast absorbing lotion that will sink in immediately. It does take a few minutes to fully absorb – but after, you skin feels super soft and stays moisturized for longer.
On the Ellovi site, they talk about the versatility of the body butter, too, and say you can use it for a lot more purposes, such as:
All-over moisturizer
Healing balm
Makeup remover
Massage oil
Facial cream
After-sun care
Tattoo cream
Hair moisturizing mask
Stretch mark prevention
Ellovi Lip Butter: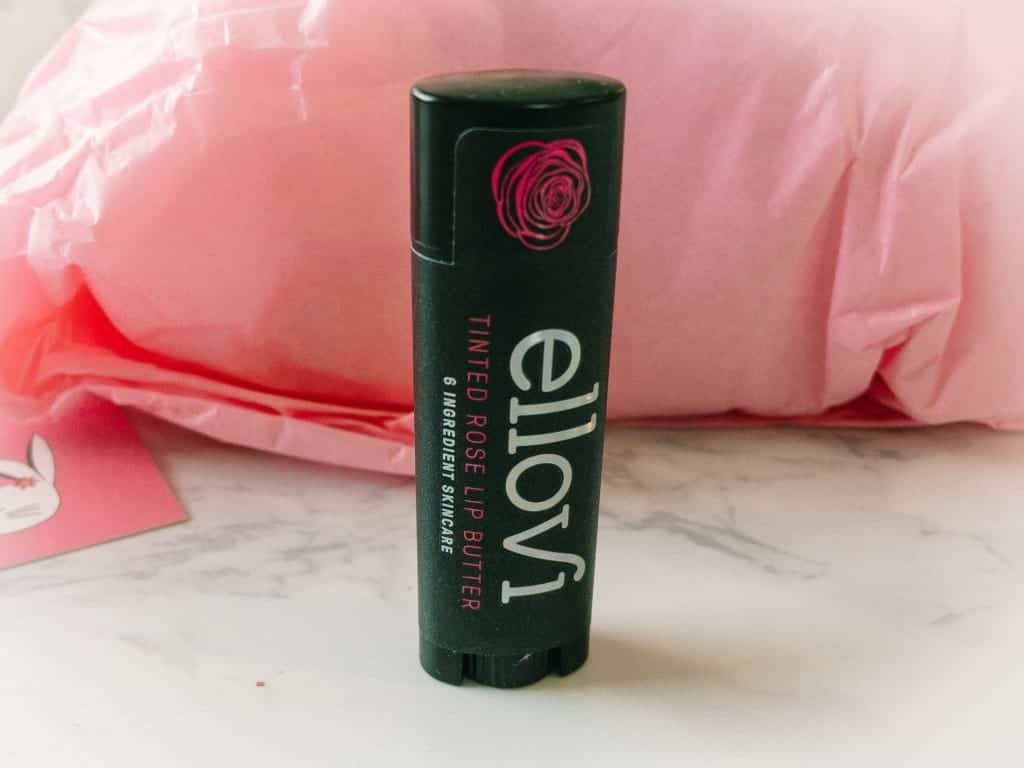 I am such a fan of lip balms and lip butters. I feel like I am always on the hunt for the perfect formula!
This rose tinted lip butter is BOMB.COM.
Also made with 6-ingredients with a few variations, here's the ingredient list: Macadamia Nut Oil, Sunflower Wax, Coconut Oil, Marula Oil, Shea Butter, Alkanet flower.
Lightly tinted the perfect rose color that gives your lips that refreshed, natural look, without looking like lipstick, and a mega-moisturizing formula, this lip butter is my new favorite.
And, priced at just $5 – there is no reason to keep shopping around. #Affordable #Love
****
Bottom line: Ellovi body butter and lip butter is a gift to your skin. Sometimes, taking a few minutes to use a really clean, moisturizing body butter is the most generous act of self-care a busy woman can do for herself. Take care of you then go change the world.
Not only have they perfected their super clean body butters and lip butters, but it's a women owned, women operated business right here in California.
I love all those things.
Plus, can we all agree that the packaging is just fab?
Feel free to check out all the options for Ellovi body and lip butters here and tell me what you think in the comments below!
Have a fabulous day,
E