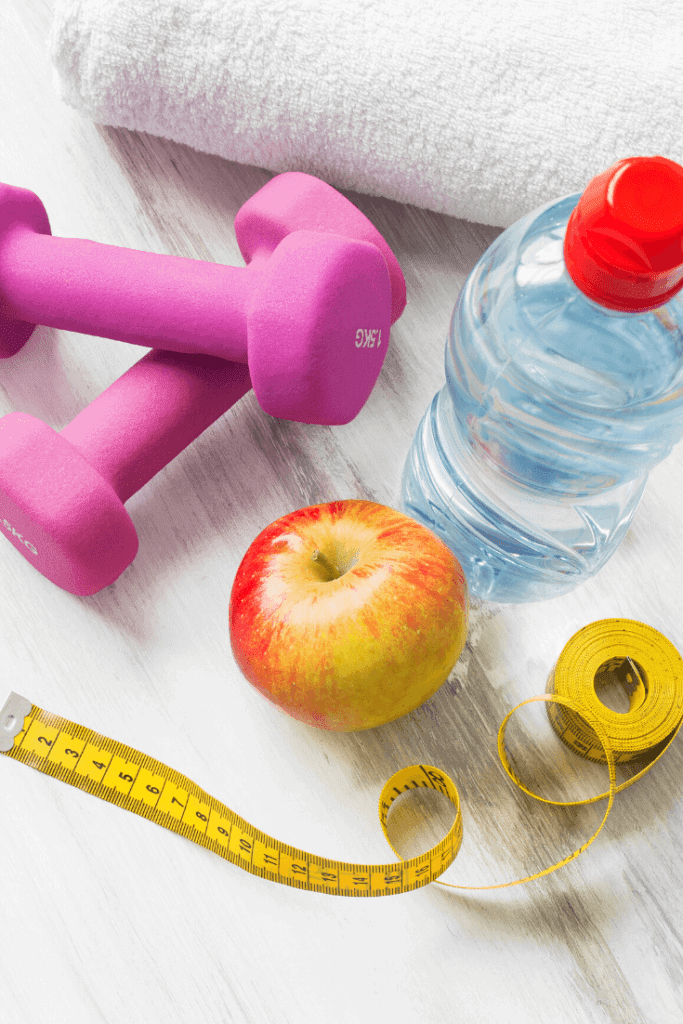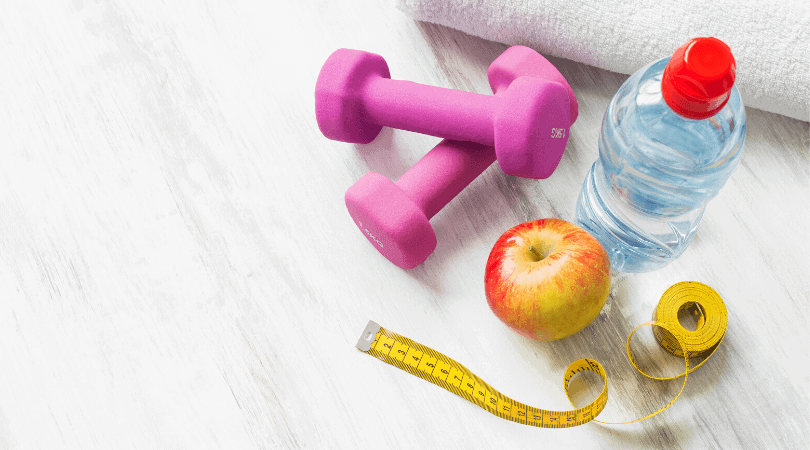 Raise your hand if your New Year's Resolutions included something about getting healthier, working out more or losing weight!
Here! Here!
But, as I've gotten older, I've really learned that balance is important – even with resolutions.
When I start the year with all these drastic changes, I'm less likely to stick with any of them. But, smaller tweaks over time become habits that I just keep doing, with less effort involved.
Enter: the easy workout.
Setting Reasonable Fitness Goals: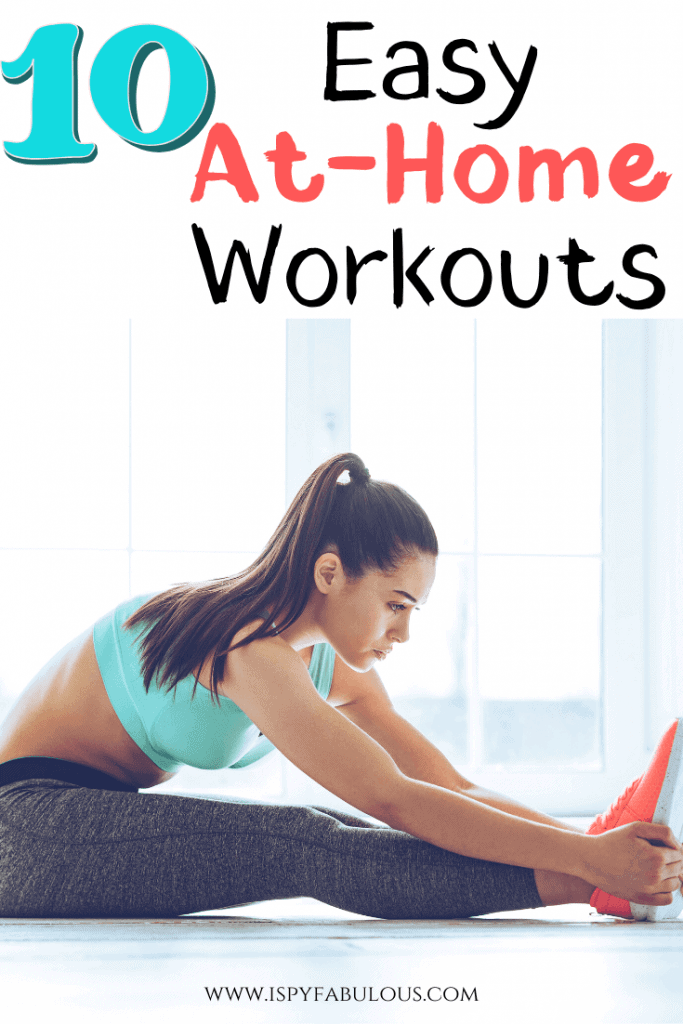 Am I the only one guilty of making huge fitness goals only to realize – yet again – that I have less time and energy to workout than I think?
That's why today's post is all about the easy workout for the busy person.
Because whether you're juggling work and kids, or chasing a bunch of kids all day, or hustling at work all the time, these workouts are for you!
I bet anyone can find at least a few days a week to squeeze in a 15-20 minute video.
And, by using incredible workout videos available for free on YouTube, your new workout routine will cost you exactly $0 dollars.
Getting excited yet?
Easy, Free Workout Videos:
I took some time to source some of the most viewed, highest rated, workout videos available on YouTube.
So, scroll – pick your favorite- and go for it.
All of these workouts can be done in less time than watching a rerun of The Office, again.
#NoJudgement
#TheOfficeForever
Let's get started! Affiliate links might be used below to recommend products I have purchased myself, love and highly recommend.
1. 20-Minute Total Body Pilates
I'm such a huge fan of pilates. I did pilates exclusively for a year when re-strengthening my body after a long hiatus from working out.
I recently transitioned back to a gym to have a variety of classes and I am blown away how strong my body is and how easily I've been able to do all kinds of fitness classes.
This was not the case years ago before I started pilates.
This 20-minute pilates video by PsycheTruth is going to give you a great total body workout with minimal equipment, very little sweating, and less boomerang pain than other workouts.
2. 10-Minute Lower Abs Workout
Just need to get rid of that lower belly fat? It is SO HARD to get rid of!
While you can't spot reduce one area, you can put special effort into an area while working on your overall health.
This 10-minute workout by MadFit is a great way to do something for your body when you are short on time or other areas of your body are in pain.
3. 20 Minute Full Body Workout with NO Equipment!
You won't have to buy a thing to get in shape with this total body workout by Pamela Reif.
With millions of views and great reviews, why not give it a try? 20 minutes is less than a single TV show.
Something I do occasionally is run a workout video on my laptop with no sound while watching a TV show on my big TV.
If I only have 30 minutes to watch a show, why not get my fitness on at the same time?
Exactly.
4. 30-Minute Hip Hop Tabata to Torch Calories
Now this one looks fun.
Also, this one might kill me.
Even still, if you are HIGH Fitness girl or just love to get your groove on, this is a fun, upbeat, dance themed workout by PopSugar that will get you moving and sweating.
The reviews are also hysterical, so if nothing else, go read those.
But also, do the workout.
5. 30-Minute Kickboxing Workout with NO Equipment
10 rounds of kickboxing with no required equipment, other than a decent amount of stamina.
Don't forget to breathe.
Seriously. You'll pass out.
Am I the only one that felt there was a very specific age when kickboxing became a big no for my body?
Sort of like Taco Bell. I just woke up one day and the enzyme required to digest that food was gone.
But, hey, if kickboxing is your thing – get your workout done at home, in 30 minutes, with this video by PopSugar.
Go get it, girl.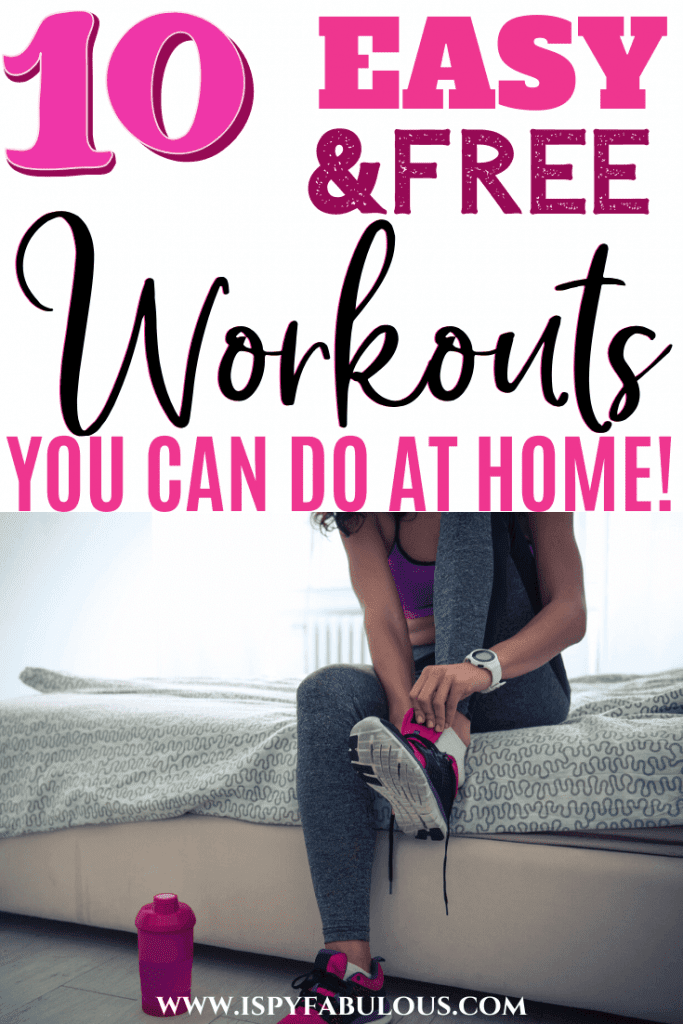 6. 20-Minute Yoga for Beginners
Yoga by Adrienne is a force in the YouTube yoga world. Her routines are really fantastic, which is why I included several of them in my post on yoga routines for chronic pain.
Yoga is such a gentle workout, you don't even feel like your working out (sometimes), but then you wake up the next morning and you're like – oh yeah, I worked out.
If you are struggling to do some of the poses because of wrist pain (I experienced that, too), the WAGS gloves are a lifesaver. Highly recommend.
7. 15 Minute Beginner HIIT Workout
Want to try HIIT, but scared of the jumping?
This is for you.
A no jumping, 15-minute HIIT workout by Emi Wong for beginners – or anyone – that wants to get a workout done fast that will get results.
HIIT workouts are pretty intense, but without the jumping, your knees will be safe.
8. Beginner Low Impact Workout
If you're avoiding working out because you haven't in awhile or you feel you are overweight, this beginning workout is perfect for you!
As you build up your strength and confidence, you can try other videos that will challenge you.
But, when it's been awhile since you've worked out, you want to take it easy on your body and your mind as you rebuild strength.
9. 15-Minute Lower Body Workout with NO Equipment
MadFit is back with this killer lower body workout! The exercises are excellent for strengthening and toning the lower body in a short period of time.
I don't know about you, but my lower body could use this workout. I feel like I just sit more than before and I can feel my muscles getting weaker.
This workout to the rescue!
10. 10-Minute Bodyweight Workout
Ready for a good workout? This 10-minute workout works the whole body.
With classic exercises like mountain climbers, push-ups and even some short, timed rest periods, you'll feel like you did a much longer workout than just 10 minutes.
If you're not ready for something this intense, start with others on this list and work up to it.
If this is easy, check out some of Fraser Simon's ab workouts. Ouch.
****
I have realized as I've gotten older that weight gain and weight loss is usually more complicated than just who works out and who doesn't.
There are so many factors to health and the list only grows as we get older. You might be eating everything right and working out, but inflammation could be wreaking havoc. Or, we can think we are moving a lot, but a few days with a FitBit or step tracker will show us that we are far more sedentary than we think. For others, you can have a food sensitivity that you have never known about, but causes feelings of fatigue, sluggishness, chronic pain or digestive distress that makes it difficult and/or painful to workout.
Being too hard on ourselves and going down the guilt and shame tunnel when we gain weight, eat poorly or don't workout will only slow down our bounce back to health.
Love your body for what it does for you every day. If you have had kids and your body has never been the same, know you are not alone. Learn to love yourself even as you work towards your comfort zone.
Take 10-20 minutes each day or a few days a week to take care of yourself and regain strength and balance in your body.
Consider juicing or drinking smoothies occasionally or daily to restore minerals and nutrients. Buy grab 'n go healthy snacks you can keep handy. Meal prep to eliminate dinnertime temptation to get junk food.
I think we could all benefit from putting a little more time and energy into our own health this year and every year.
You can do this, friends.
Have a fabulous day,
E