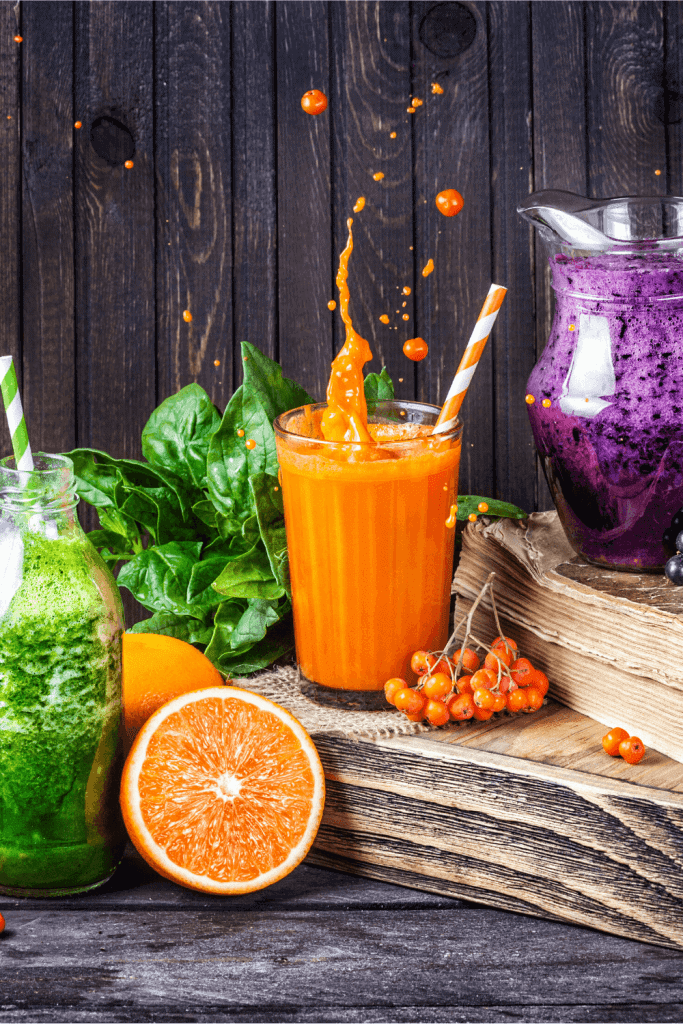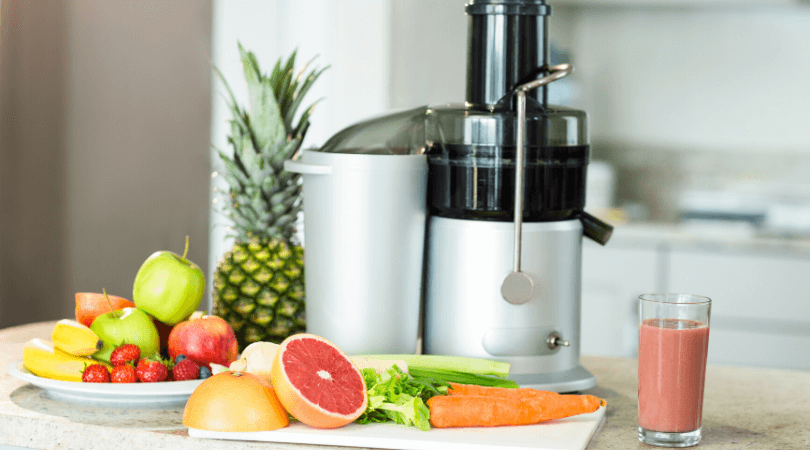 Who's ready for improved health and wellness this year? I'll drink to that!
One of the easiest ways to drink yourself healthy is with a juicer.
I first became interested in juicing years ago when I watched the documentary, "Fat, Sick & Nearly Dead". It's a very compelling look at how our diet is making us sick and that juicing is an easy solution.
We bought our juicer soon after (which we still have) and I started juicing all the time.
Years later, the celery juice trend took off like wildfire. While I'd put celery in my juices, I'd never used celery only, so I decided to do a little experiment with celery juice.
I wrote about my experience drinking celery juice every day for weeks. It's been a popular post ever since, because I think we are all looking for easy, effective ways to feel and be healthier.
Let's look at what you need to juice your way to health this year:
Do You Need a Juicer?
Sure, you can use a blender and then strain it through cheesecloth – but when you're juicing regularly, it just makes sense to invest in a good juicer.
A good juicer is easier and gets you a smoother juice. The flavors will also blend better, too, which helps someone like me that is finicky with that sort of thing.
There are two main types of juicers and while some people are very emphatic on their preference, it really just comes down to what's in your budget and fits in your space. Either are great options.
Masticating Juicer: These are cold press juicers that uses an auger to crush and mash the ingredients to extract the juice. There is no heat involved so the nutrients are all preserved. They can be more expensive (although there are great, affordable options) and take longer to make the juice.
Centrifugal Juicer: These juicers spin the ingredients at a super fast rate while chopping. The fast motion extracts the juice. Because of the speed of the spinning, some heat is produced, which can render some of the nutrients ineffective. They are also faster and more affordable.
With highly rated juicers in every price point, I'm sure there's a juicer that will work for you.
Let's get your juice on.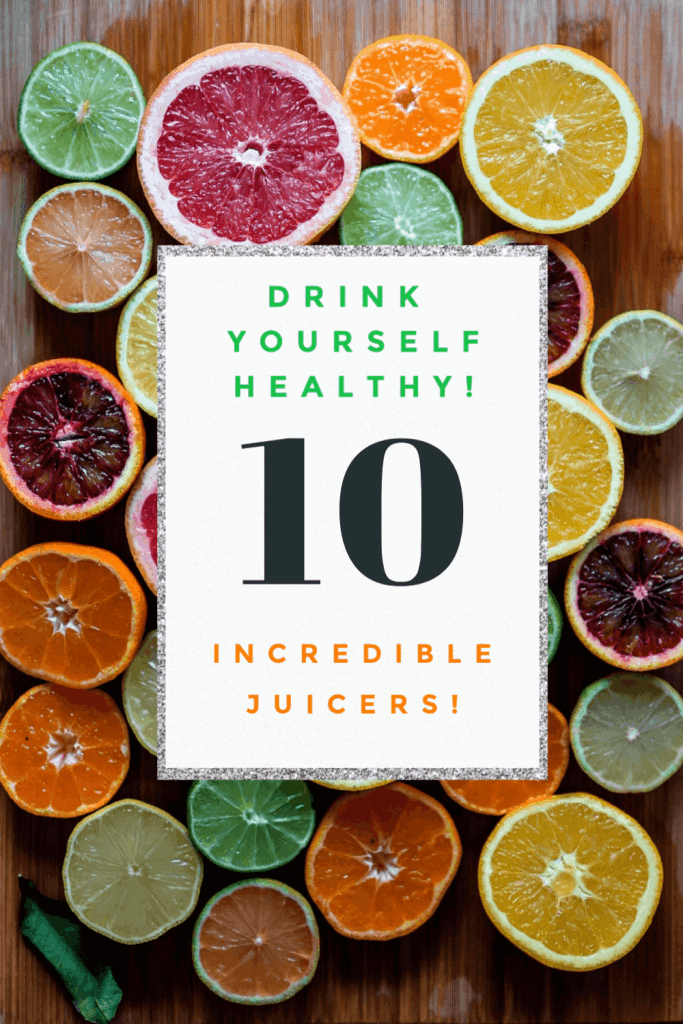 FYI, these are affiliate links, but they did not sponsor this post or pay me to say nice things about them. My opinion is not for sale.
The Best Centrifugal Juicers:
This is the one we have had for literally 7 years. It's still going strong and we love it. The reviews don't lie – it's just a solid, well-made juicer that gets you a nice pulp-free juice.
We have loaned our juicer out to several other people who were dabbling in juicing and they all loved it, too.
Part of what makes it so great is the ease of use. Shove in your washed fruits and veggies, out comes smooth juice. The chute is large enough where you don't have to pre-chop your fruits and veggies, saving time in getting to juice. This is also a centrifugal juicer, but the many positives outweigh that small negative.
This Breville Compact Juice Fountain juicer is easy to use, easy to clean, fast, affordable, and doesn't take up a ton of space.
I also really like this newer version with cold spin technology and a little juice pitcher you can just stick in the fridge.
Keep it easy, folks.
This is the high-end version of the Breville in the #1 spot. It's more expensive, because it has more speed, creates more yield, and can do awesome things like take down an entire apple whole.
Similar to the Compact Juice Fountain, this one has a large chute, is easy to use and clean, and produces a very nice, smooth juice.
You'll pay more for the extra features, but if you're a serious juicer, you'll appreciate them.
Check out the Breville Juice Fountain Elite here.
Since Hamilton Beach is owned by Breville, you'll get the benefits of a company that really knows how to make a great juicer and then simplifies it into this well-made, super affordable option for the beginner juicer.
Similar to the Breville's, it uses centrifugal force to extract the juice, has an extra large chute for less chopping, is easy to clean and easy to use. It's also BPA free and parts can go in the dishwasher. Score.
This Hamilton Beach Pro-Juicer comes with a 3-year warranty, too, in case you're concerned about going with a more affordable option.
This one is sort of a – have your juice and drink it, too – juicer.
See what I did there?
How about an option not made by Breville? You won't believe the thousands of reviews on this thing, priced at a point anybody can afford.
With 1100 powerful watts and a unique anti-drip technology, this award-winning powerhouse is going to get you that juice (centrifugal style) with only the pulp left behind.
This baby makes 16oz of pure juice in 8 seconds.
WOW.
Also easy to clean, also BPA free, also stainless steel, also totally awesome.
Not bad for under $60 bucks.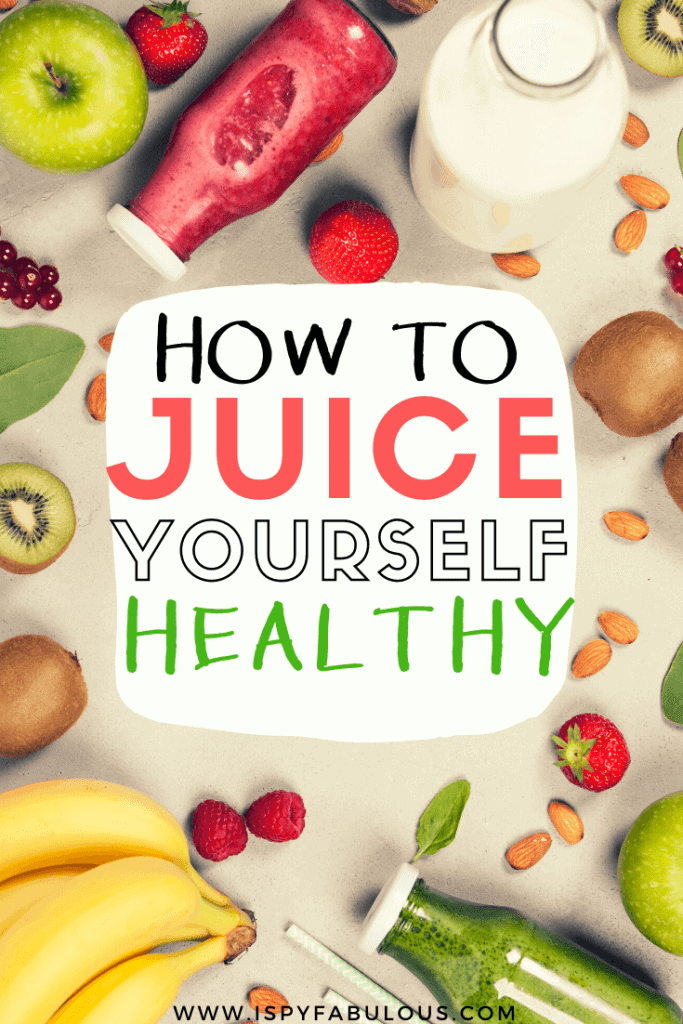 The Best Masticating Juicers:
Wanta go for the big dog juicer, get all those sweet nutrients, and leave nothing but pulp behind?
These masticating juicers will get you there.
5. KOIOS Juicer, Masticating Juicer Machine
I will not lie to you – this KOIOS Juicer makes me want to buy a new juicer.
Just look how chic it is!
Can a juicer be sexy? The KOIOS proves that yes – yes it can!
Plus, it's loaded with features, like slow juice extracting for the highest nutritional value, quiet motor, easy to clean, higher juice yield, BPA free, and more.
Get ready for the juicing big leagues with this sleek, powerful, high-end juicer so gorgeous you'll want to leave it on your counter.
6.
Omega Juicer J8006HDS
Omega Juicer has a little bit of a cult following in the juicing community. They are to juicers what Vitamix is to blenders.
These machines are industry leading machines that use slow speeds to ensure the highest quality juice with the most possible nutrients.
Designed with stabilizing feet, it'll purr along quietly, while it milks every last ounce of goodness from your raw fruits, veggies and nuts.
Yes, nuts – these machines also make: nut butter, extrude pasta, grind Coffee and spices, mince herbs and garlic, make baby food and frozen desserts, and whip up nut milks.
So – it's like a nutritional center/juicer.
Suddenly the price tag makes more sense.
Check out this Omega Juicer here.
Guess what, Mueller makes a masticating juicer, too!
Personally, I like the taller look as it would take up less counterspace.
And, you won't believe the price point on this one. Don't ever let anyone tell you a masticating juicer has to cost you your 401k!
Designed with a large feed chute,
anti-drip design, high juice yield, easy clean-up, BPA free parts and more, you'll get great juice, full of nutrients, and keep money in your pocket.
Hurray!
Who's the fairest of them all?
Yeah, you can't write about juicers and not mention the sleekest juicer of all time: the Hurom Rose Gold Juicer.
#YAS
Now, a quick glide through the reviews will tell you why it has 4 stars, but also, why people are willing to spend this price point for a juicer.
Many of the positive reviews are absolutely obsessed with the Hurom juicer and say they are juicing multiple times per day for large families and have never had better juice with any other machine.
If you're going to juice a lot and you're going to stare a juicer, my god, let it be this gorgeous.
It's not for everyone; but if it's for you – I'm jealous. Send pictures, so I can drool over your Hurom and your perfect juice.
Or, if your love for juice has no budget – Hurom also released this stunning, special edition juicer in navy:
COME. TO. MAMA.
*****
I love juicing. You love juicing. WE ALL LOVE JUICING!
Now, you can pick your juicer by type, look and price tag and up your juicing game in the new year.
If you need help with recipes – there are some great juicing books out there like this one and this one.
And, for storing, I love these glass bottles (with cleaning brush!):
Do you have a juicer you love? Make sure to tell us about it in the comments below.
Have a fabulous day,
E