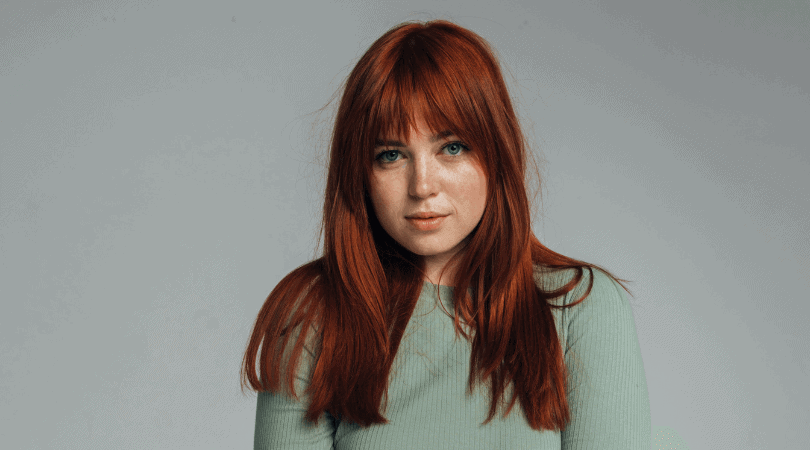 I've had bangs for most of my life, even during times when the hair trends were decidely anti-bang. Now, I have longer bangs than I usually do and only because I've grown lazy with dealing with them and want them long enough to pin back when I don't have the time.
Curtain bangs give you the best of both worlds with a longer fringe bang that is extremely flattering on all face shapes and hair types, but long enough that they are easy to style, very forgiving for bad hair days and easy to grow out when it's time to part with them.
If you've been eyeballing curtain bangs and considering making the cut, let these celebrity examples of curtain bangs inspire you and give you some guidance as to what might work for you. After all, celebrities have access to some of the best celebrity hairstylists in the business, so they make for great inspiration when we are looking for ideas to recreate.
What are Curtain Bangs?
If you're new to this hair style, curtain bangs are also called fringe bangs and curtain fringe and refer to longer bangs with a sexy, '60s vibe, that are often split in the middle and blow-dried using a round brush to the side or down to frame the face. This really accentuates the shape of the face, accenting the cheekbones, and draws attention to the eyes.
They are often easy to style, only requiring a blow drier and a brush, and maybe a large barrel curling or wave wand if your hair is more stubborn. Simple styling products to soften, smooth and hold your style work great for styling them, too. Grow out also is easier, since they're already longer, and even in a couple of weeks, you'll see they've grown out to just look like a longer layer. Keeping them the right length might require quick stops at the salon every 4-6 weeks for a trim, but there are also lots of tutorials online for how to cut your own curtain bangs (just be careful – there are videos of people cutting them wrong, too!)
Curtain bangs are used on all face shapes, hair style types, ages and looks. They might be one of the most versatile, flattering hair cuts out there! If you've been interested in trying them, take one of these pictures to your stylist and talk about how to incorporate curtain bangs into your hairstyle.
11 Curtain Bangs Looks That Prove They Look Good On Anyone:
*hair styling products are recommended below and these are affiliate links. I've bought all of these products with my own money and recommend them. If you choose to make a purchase through my links, I may receive a commission at no cost to you. Thank you!
1. Curtain Bangs on Long Hair: Dakota Johnson
I immediately thought of Dakota Johnson when I started putting this post together, because I just saw her new movie on Netflix and was just totally enamored with her and how beautiful she is. Her hair is so good, too, and her curtain bangs are always on point.
For her look, her curtain bangs are sometimes shorter and sometimes longer. The little flip of the curtain bangs and they contrast nicely with her straight hair. Of course, anything would look good set against those peircing blue eyes, but I digress. If you have a similar face shape to Dakota, you really can rock curtain bangs at any length.
For straight hair, here are some products that will help you achieve this same effortless, slightly flippy look while minimizing frizz: a leave-in conditioner to keep hair healthy, a styling cream before your use heat tools to protect and smooth and an after styling cream to tame flyaways, stop frizz and keep hair shining.

2. Curtain Bangs on Thick, Curly Hair: Selena Gomez
While I've always appreciated Selena Gomez's music, I never really understood quite how talented she is until seeing her on the show Only Murders In The Building. No way I wasn't watching a show with two of my favorite actors of all time – Martin Short and Steve Martin together again (magic!) – and she really holds her own in their little group of three. She's brilliant. And, looking through pictures to find this one for the post, I was also struck by her incredible styling and range of looks.
This picture captures her with curtain bangs and like all the styles she wears, she pulls it off perfectly. Her hair is thicker and curlier than Dakota's hair and her face has a rounder shape, yet curtain bangs are still a very flattering look. Curtain bangs really are the chameleon hair style that can work for anyone. For Selena, the curtain bangs really frame her face and draw attention to her beautiful eyes. The natural curl in her hair gives the curtain bangs a lovely wave that is very soft, but still dramatic.
To style curtain bangs with this hair type here are some products to use as a leave-in to make hair softer and more manageable, a styling cream before you heat style and then a cream after to lock in the look.

3. Blended Curtain Bangs on Long, Layered Hair: Jennifer Lopez
I've been a big J. Lo fan for a long time. She's supremely talented and clearly very hard-working. Back when I was in high school or college, I remember how she ushered in a new era of appreciation for curves – and for that I am internally grateful, lol. It couldn't have come at a better time for me, as a curvy girl growing up in an era of rail thin, pale stick figures with eating disorders heralded as the epitome of beauty. God bless J. Lo and that green dress. Anyway, her new style has tons of glorious layers and lots of shimmering color tones for a look that is dimensional and super sexy. Sometimes her long curtain bangs are curled going back and they look more blended with the layers like in this photo. Other times, her bangs are styled more dramatically in the front, with long waves. This range of options is part of what makes curtain bangs so appealing for all types of hair.
If you haven't seen the documentary about her on Netflix – watch it. It's amazing and very enlightening. Plus, I saw Marry Me in theaters and it was one of the best movies I've seen in a very long time. 10/10 would recommend.
To style curtain bangs on thick, long layered hair, you'll want to keep hair hydrated, use a styling cream to lock in the style and make sure to finish with a finishing cream that will smooth, add shine, and hold them in place.

4. Curtain Bangs on Curly Hair: Yara Shahidi
Absolutely adore Yara Shahidi. She has such impeccable style and that true star quality. She has worn curtain bangs on her gorgeous curly hair in many different ways and they all look fabulous. I feel like my friends with curly hair are always lamenting how much harder it can be to style and that they can't do the same hair styles that friends with straight hair can do – but Yara really proves that theory wrong by rocking the curtain bang with her natural curls and curly curtain bangs . That's the beauty of curtain bangs, friends – they are the ultimate chameleon hair style.
I asked a curly haired friend for product recommendations to pull off this look and these were the ones she shared with me:

5. Curtain Bangs on Blonde, Layered Hair: Hilary Duff
Who doesn't love Hilary Duff? She was amazing in that show Younger. What a great show that was. Her hair is great, too. The longer curtain bangs have grown out more recently, but here they are when they were a bit shorter and a true curtain bang. They look great when blow-dried out to the side a little bet. They're not as feathered or blended as some other styles, which creates some nice separation.
For blonde, hair you want to make sure to use hydrating products that will keep hair healthy and soft. All the dying and heat styling can really do a number on your delicate tresses. Kerastase has some of the best products for blonde hair and for restoring damaged hair. I see a real improvement when I use it. Also, a hair oil that you can use on dry, styled hair like Gisou or Kiehl's soaks in without leaving hair greasy, but helps to seal the hair and keep it from frizzing out.
Start with a leave-in conditioner, follow with a protecting styling cream and heat protectant mixed together, then follow your style with a hair oil that will heal hair. Do a deep conditioning hair mask regularly, too. Including two options for a hair mask that I have used with great results.

6. Shorter Curtain Bangs on Long, Layered Hair: Camila Cabello
Camila Cabello rocks. I just love her music. My daughter and I jam to her tunes all the time. I'd love to see her in concert with my daughter some day. She has gorgeous hair; I am so jealous. Her shorter curtain bangs contrast with her longer, layered hair for a super chic, versatile look.
Styling this look is pretty easy with the right products and grow-out wouldn't be a nightmare either, because in no time at all they would be long enough to look like another layer.
Start with a hair leave-in, add a heat protectant and styling cream, then finish with a hair cream that will keep hair gently in place and stop frizz. A hair oil can add shine and smoothness.

7. Curtain Bangs on Red, Layered Hair: Bryce Dallas Howard
Gotta love a redhead! Bryce is a stunner and her layered red hair with dramatic curtain bangs perfectly frames her face and draws even more attention to her beautiful blue eyes. Face-framing layers on her medium length hair give her a very Goldie Hawn vibe (always a good thing). You can get a similar look with your own hair, too, whether it's red or not. I've always loved dying my hair red, too, because it fades fairly quickly, so it's really fun for a minute but doesn't destroy your hair like over-lightening or going super dark.
To care for your red-haired curtain bangs, use products that will protect hair without damaging the color. Use hair products that understand how to create products for color-treated hair that truly won't accelerate color fading. Also, consider a delicious-smelling hair mousse to add lots of volume.

8. Soft Curtain Bangs: Halle Berry
Halle really can pull off any hair style – and has over the years. When she started rocking curtain bangs – I was in love. Her version had a very soft, blended look on the sides, as opposed to the more distinct juxtaposition between the bangs and the rest of the hair. I really love her version, especially when the rest of the hair is pulled back. It's really timeless and shows how the style can transition to any person, age, style, etc.
Halle has great hair, but keeping it moisturized through all the coloring and styling is going to be really important. Hair masks can help reduce frizz, breakage and improve overall health and shine.

9. Curtain Bangs on Short, Straight Hair: Lucy Hale
We recently watched a cute, older movie with Lucy Hale and we both had the same immediate reaction: the world needs more Lucy Hale. She's adorable! Plus, her curtain bangs on short hair is so good.
To style, use products that might add a little bit more weight to the style to keep it from floating away. Although, if you have thicker, heavier hair – this may not be an issue for you (lucky!).

10. Side-Swept Curtain Bangs: Priyanka Chopra
You didn't think I'd write a post on curtain bangs and not include Priyanka, did you? She's such a stunner! I love how she has a side part and side-swept curtain bangs here, showing the versatility of this style. This is more like how I style my hair and my bangs now, which are slightly longer than hers. Not that my hair is anything like hers – I would be thrilled to have tresses as beautiful as her. The long layers create a soft wave with just a little curl at the ends, blending the bangs into the overall style – for a very mermaid-chic look. Gorgeous.
To style, you could use products designed for thicker, curlier hair or products to reduce frizz and smooth depending on which direction you'd like to go. I've included both here:

11. Side-Part Curtain Bangs: Heidi Klum
I loved watching Heidi Klum and Tim Gun on Project Runway and watched the first season of their new shoe Making The Cut. They are so great together. She's had longer fringe bangs for awhile. I love how she's created a side part here, deviating from the traditional center part with curtain bangs and finished the style with an updo. Personally, I really like the looks of bangs with an updo.
Again, this really just shows the range of styles you can use with these bangs, which is different from other styles where you are pretty locked in to a look and the grow-out is a pain. Curtain bangs are THE way to go if you want to mix it up, but not end up stuck with something that looks the same every day.

Tips for Styling Curtain Bangs (Fringe Bangs):
While product recommendations are made above for each hair color, type, style and length, let's talk about some basics to styling your face-framing bangs. Ultimately, they are a really low maintenance hair style with a lot of options.
You can also put your longer hair back in a ponytail or a messy bun and just style your bangs, which will make you look put together and polished very quickly, with minimal effort.
First, you want to start with a leave-in conditioner that will keep hair soft and hydrated. Then, add-in some heat protectant and a styling cream. I usually do about a dime-sized of each and mix them together into a little hair cocktail. Worth through the ends and at the crown as well.
At this point, assess your hair. What does it need? Do you want more volume? Add a thickening spray or a hair mousse, focus in around the root. Do you want smoother hair? Consider how you blow dry hair and use a smoothing cream after. Do you want hair to hold a curl and it doesn't like that? A hair cream with more hold might be for you.
Then, after applying products, blow dry your hair and make sure to brush your bangs out and away from your face while blow drying. Using a blow dry brush is really helpful, but you can get the same effects with a separate brush and blow dryer.
Then, after blow drying, use a large barrel curling iron to curl hair away from your face if needed or if you're happy with the amount of flip from blow drying, set with a light styling cream to smooth and add shine.
Hairspray bangs with a light hairspray only if needed to keep them out of your face. Ideally, you're not using a hair spray at all or it could get stiff and crunchy.
Here are the hair tools I personally use and recommend:

Tips for Keeping Heat-Dried Hair Healthy:
If you are regularly coloring and/or heat styling, your hair needs some love. I love to use overnight hair masks and hair masks at least 2-3 times a week. Sometimes, I use products like Olaplex, too, but have had better results with other masks.
Here's a variety of products I use regularly to keep my hair as healthy as possible:

*****
Have you tried curtain bangs? I really love the style and have had longer bangs for awhile now. For more great hair posts, check out these other ones:
Have a fabulous day,
E