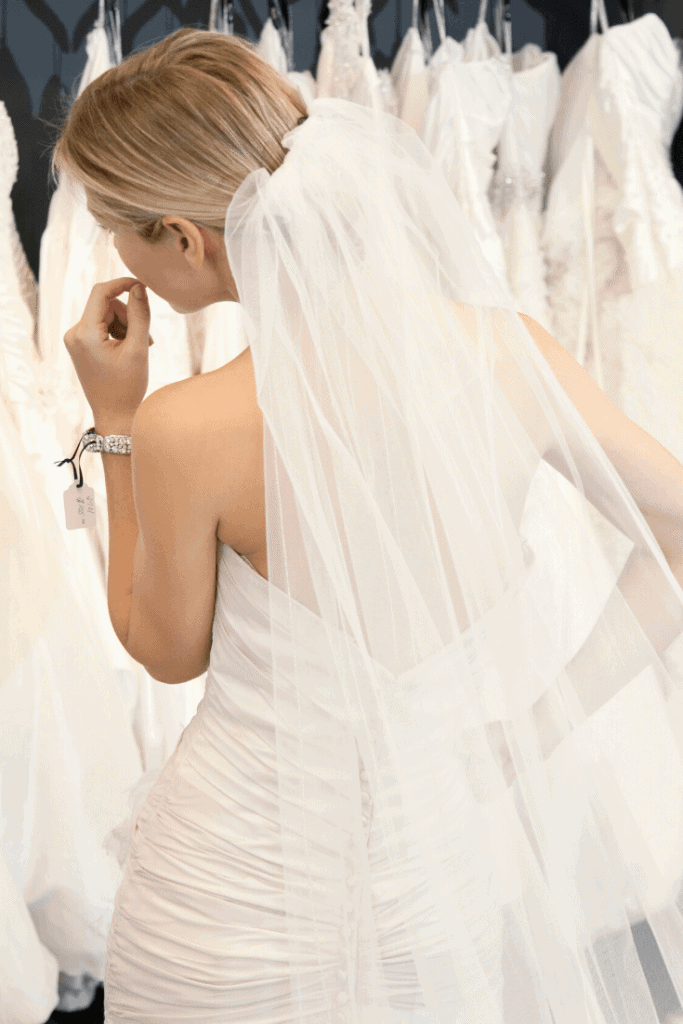 As a former bridal stylist and wedding makeup artist, I've spent a lot of time around women who are shopping for wedding dresses.
I love wedding dresses.
They are flattering and beautiful. The detail is divine. The different shades of colors, the intricate beading, and the various necklines, waistlines, and hemlines are enough to make anyone swoon.
And I don't even like dresses. #Truth
But, there is something about the design and craftmanship of a wedding dress that is different.
That's why, years ago, I walked into the top selling, most beautiful bridal shop in my area and said – I'd like a job.
What I Learned about Wedding Dresses as a Bridal Stylist:
My little stunt worked and I had the opportunity to style hundreds of brides during the years I was there.
I saw the new dress collections come in every season and poured over bridal magazines to prepare for every dress fitting.
I studied what we had – and what we didn't have – so if a girl brought me a picture of a dress we didn't carry, I knew exactly what to show her instead.
Our process worked a little differently than staged TV shows and silly rom-com movies, but that moment when the right dress went on the right girl … magic.
That's why I am sharing with you my best tips for what you need to know before you go shopping for that dress.
Tips for Shopping for Your Wedding Dress:
1. Nothing Looks Like The Picture
There is not a wedding dress on the market that looks like the picture.
That dress has been fitted exactly to that girl's body – or they picked a model that had the exact specifications of their gowns. Then, it is clipped and pulled in areas the camera doesn't show to look perfect. Steamers and set designers are ready to go and photographers are lighting the area to perfection.
Then, after the perfect shot has been taken – editors adjust every single thing to ensure that the dress, and the girl, look so beautiful, every girl rips that page from a magazine and rushes to her nearest bridal store looking for it.
And, almost every time that happens, when I brought in the actual dress, in a sample size that fits very few soon-to-be-brides, and they see that it's not quite what they expected, they feel like this:
It's hard to see the reality after the fantasy.
The truth is – no dress in a bag in a brightly lit fitting room is ever going to look like the picture.
The sample size probably won't fit and you'll be clipped into a dress with these big claw clips that will distract you from the dress and how you feel.
That doesn't mean it won't be beautiful. That doesn't mean YOU aren't beautiful.
It just means you'll want to adjust your expectations.
Very, very few brides that I worked with bought the dress in the picture they bring.
They usually fall in love with something else, that catches their eye in real life, feels like a dream on, and gives them that girlish glint in their eye that says, "I'm a woman in love and this dress was made for me."
Look for that dress.
2. The Sample Sizes Probably Won't Fit
Shops stock dresses in certain sizes. It can vary.
This size fits very few brides.
Occasionally, a shop like David's Bridal will carry multiple sizes.
In fact, even if you are the sample size, the dress may not fit, because the straps could be too long if you're under 5'7 or 5'8, or the neckline too plunging, or the hemline too long or short, or the waistline in the wrong place – or you get the idea.
It's important to try to look past this. Look at the detail. Look at what the dress could be.
Almost every bride needs alterations. Most brides need a lot of alterations.
The dress is a starting point. A canvas. That you can edit and alter to fit your body perfectly.
Many, many things can be changed about a dress to get it to look just right.
Look for fabric that feels good, a dress shape that is flattering and you feel comfortable in, straps that will eventually feel just right for you, and detail that you won't get tired of.
The average bride has at least 2 dress fittings to make these adjustments.
If you're ordering a custom gown, you'll need to anticipate many, many more.
The point is – set yourself up to expect this, and then, if you put on a dress that fits perfect, like magic, you'll be pleasantly surprised.
And you still might order the dress that needs a lot of work.
3. Be Open-Minded
I had a lot of brides who told me what they wanted. I appreciated this. It's nice to work with someone who has done their research.
It's not so nice to work with a bride who only wants to see what they want.
You see, a bridal stylist sees hundreds of gowns, with new gowns coming in each month.
Is it possible she could know of a few dresses you may have never seen that could meet your criteria but absolutely blow your mind?
Absolutely.
So, after you've seen what you came to see – ask every stylist to bring something. Or two somethings. To show you something you haven't seen.
You'd be surprised how many times these were the dresses that brides walked out with.
One of the stylists I worked with was so good at picking the dress, she would not ask what they wanted, or what they were there to see. She didn't ask about necklines, or budgets, or detail, or pictures they brought. She would just talk with them for a few minutes and run off to grab a few gowns.
And she was almost always right.
Your stylist is your friend – who plays with dresses all day. Ask your friend what she thinks.
4. Don't Bring a Crowd
It's very hard to please a large group – especially when the only person who really needs to love it is you.
Bring a few key people and really focus.
If you have a bunch of people who want to participate, consider doing a first run where you just try on everything and give them a show.
Then, come back with only the key players when you have narrowed it down to key styles and faves to make the final decision.
5. Sleep On It
So, you think you've found the dress.
Everyone agrees. It's the dress.
You love the dress.
The consultant wants you to buy the dress.
They'll all hate me for this – but don't buy the dress.
Sleep on it.
See how you feel the next day.
See how you feel in two days.
Unless your wedding is too close and you absolutely must order or risk it not coming in time, take a day or two to let the dust settle.
You'd think after all my time with wedding dresses, I would have known exactly what I wanted.
But, because I knew how many dresses were out there – I was paralyzed by it.
And the first dress I bought was the wrong dress.
I should've slept on it. But, I was tired of shopping, and tired of looking at dresses, and loved it, and wanted to be done.
Luckily, there are things you can do if you realize you bought the wrong dress.
Hopefully this won't happen to you, though, because you'll sleep on it.
6. Stop Shopping
Once you've bought your dress, it's time to block out the noise.
Very seriously, though, you need to stop shopping.
It's very hard to see the new season's dresses coming in and realizing that you were one season ahead of the perfect dress for you. I get it. It happened to me.
When I was shopping, everything was strapless and satin and chic, but simple.
I wanted something more vintage, with a higher neckline and maybe some sleeves. I wanted something more of a dress than a gown.
I was one season ahead of the perfect dress.
But, those dresses would not have been ready in time. I would've walked down the aisle in a potato sack.
Stop shopping. There's nothing you can do about it.
The dress is important – but it's not the most important thing.
Save yourself the stress and after you buy your wedding dress – stop shopping.
7. Don't Break the Bank
Set your budget and stick to it. There are so many beautiful dresses out there. And for each gown you can't afford, there are several that are so similar, you'd never notice the difference.
If you don't have a budget, by all means, have at it.
But, if you have a budget, stick to it. You'll be glad you did when that dress you wore for 4 hours sits in a box for the rest of your life.

8. Consider Ways to Save
For brides who need to keep costs down, there are many ways to save on our dress. I'll get into these in more detail in future posts, but here's a short list to get you started:
Shop consignment bridal shops
Shop wedding sample sales
Shop evening gowns that aren't labeled bridal
Shop bridesmaid's dresses
Shop BHLDN from Anthropologie
9. Don't Forget Your Location
If you're getting married on the beach, that huge satin ballgown is going to make you sweat like a stuck pig and will carry a boatload of sand around in it's hem.
If you're dancing the night away in a huge hall, that simple sheath dress will not stand out.
Wear what you love and what makes you feel good – but also consider your overall theme, the weather conditions, and what will ultimately work for the event.
Your dress is one piece of a grand puzzle.

10. Consider Accessories
It's much easier to consider accessories when you're in the dress. Or, look at how the dress is styled in photos to get ideas.
This doesn't mean you have to buy from the same shop – but it'll give you a running start on things like what style and height of heels look good than if you wait to shop later.
If you can get a feel for the whole outfit while you're in the dress, it'll save you a lot of frustration trying to piece it together while the dress is on order.

11. Start Shopping ASAP
Give yourself a few months before you need to order to shop around and figure out what you want.
Since most dresses require a lead time of 4-10 months, plus shipping, and you'll need a couple months for alterations, it's very reasonable to start shopping for your wedding dress as soon as you are engaged if you're planning a wedding a year ahead.
If you're planning a wedding in less than a year, start shopping right away.
If you're planning a wedding in less than 6 months, expect a rush fee or consider options that are already made, such as consignment shops, off the rack, or smaller design houses, such as off Etsy.
Of course, you don't have to wear an actual wedding dress at all, which brings us to our next point:
12. Don't Feel Stuck
Many brides do not feel good in bridal gowns.
It happens – more often than you might think.
I'm here to tell you that you do not have to wear one.
You also do not have to wear white.
There are so many gorgeous evening gowns, or stylish beaded jumpsuits, or gorgeous two-piece sets, that could be the perfect outfit for you.
If you buy an evening gown, you'll save hundreds or thousands of dollars, and may feel more like yourself and more comfortable than you ever would be in that gigantic pile of tulle.
A wedding dress is an option.
It does not have to be the final word.
Wear what you want. There are no rules. End of story.
****
I sincerely hope these tips help you prepare for one of the most important shopping trips you'll do. A wedding dress is a huge purchase and a big decision.
But, just make sure that what you walk out with feels like you, looks good on you, and makes you feel even more beautiful.
Do you have any other wedding dress shopping trips I should include? Leave them in the comments below!
Oh, and don't miss the other posts in this series:
To a chic wedding,
Erica