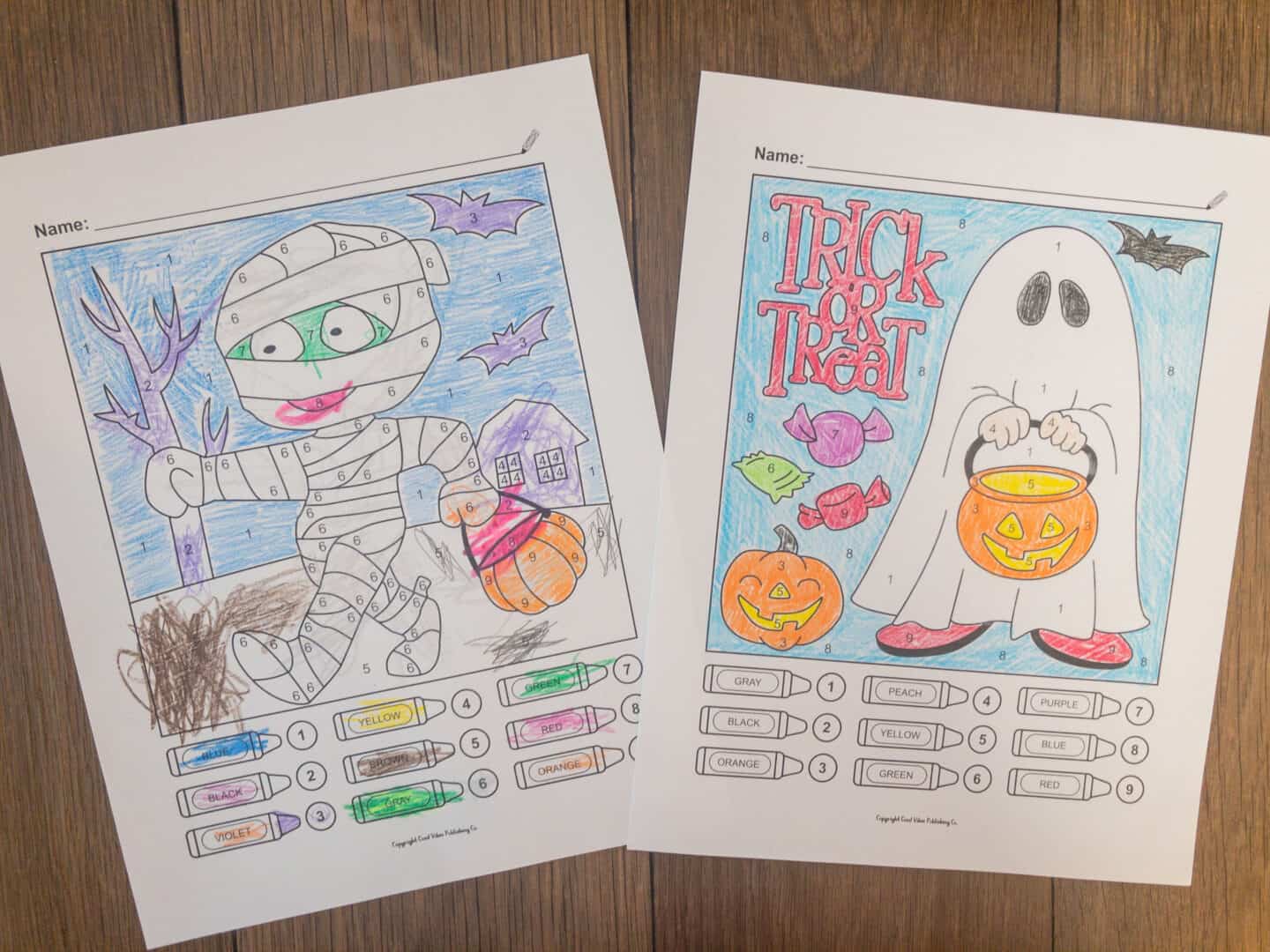 Can you believe it's almost Halloween? We spent this past weekend setting up all of our Halloween decorations. The older the kids get, the more excited they are to see it all come to life – which definitely makes it worthwhile. It's so nice to have cooler weather, too, after what felt like an endless summer.
As the weather continues to cool, we'll be spending more time indoors – and that means creative ways to entertain the kids inside. They loved the fall color by number worksheets, so I decided to whip up some Halloween themed pages that incorporated some spooky characters.
Benefits of Halloween Color By Number Worksheets: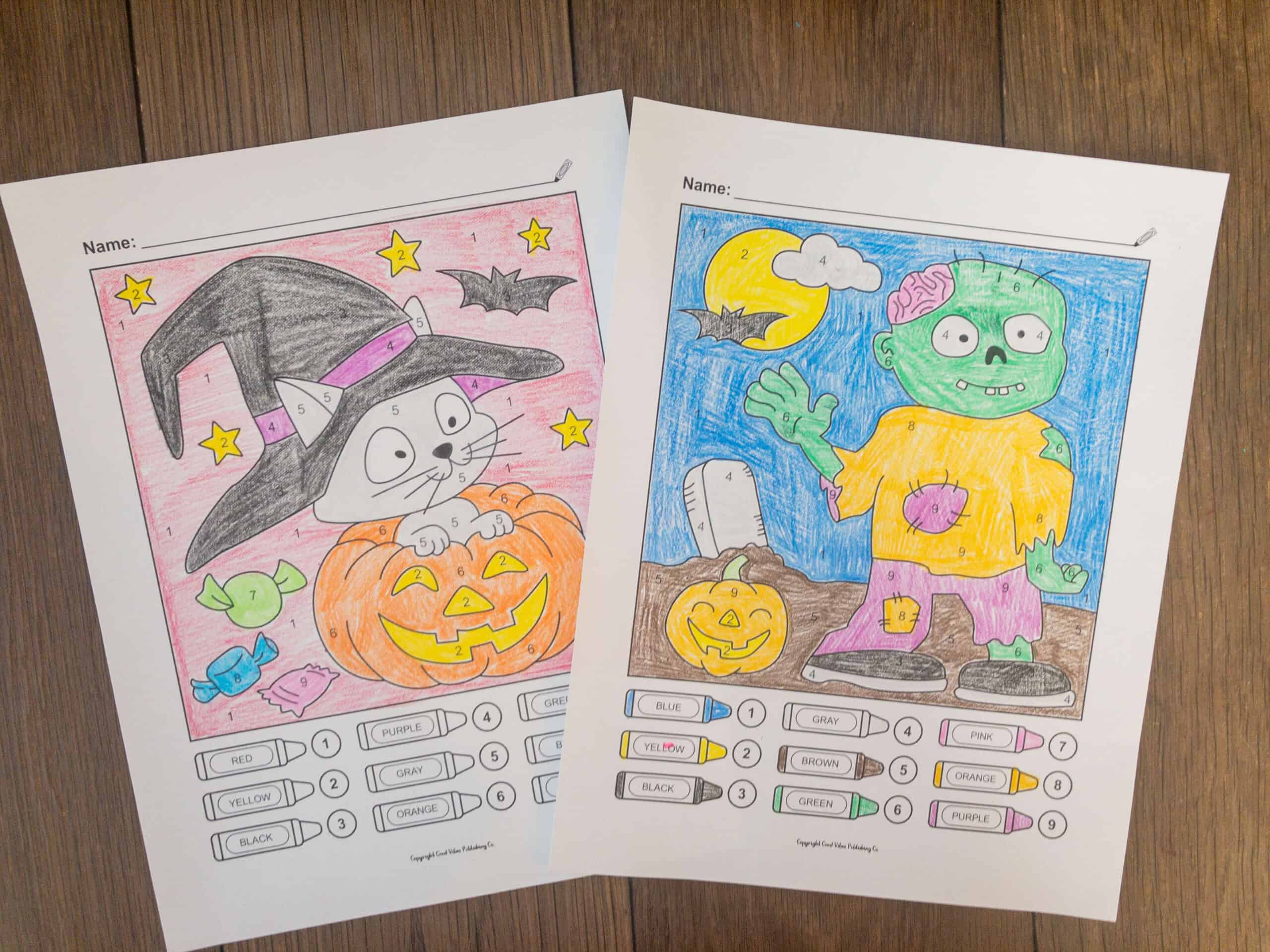 I love the ease of these color by code coloring pages, because they give kiddos enough direction to stay focused, but don't overwhelm them with too many lines. The traditional color by code templates are designed with so many additional lines and that can be frustrating for young artists. These take a bit more of a paint by number approach – which I find works better.
Plus, while they're coloring, they're also practicing number recognition, colors and fine motor skills. Yay for hidden learning! Can you tell I'm a former teacher? lol Always looking for easy ways to sneak some skills in there.
If you're a classroom teacher, these are easy ways to incorporate almost no prep activities into those days leading up to holidays, when kids are squirrely, attendance is a little spotty and you need quick filler activities.
10 Halloween Color By Number Coloring Pages: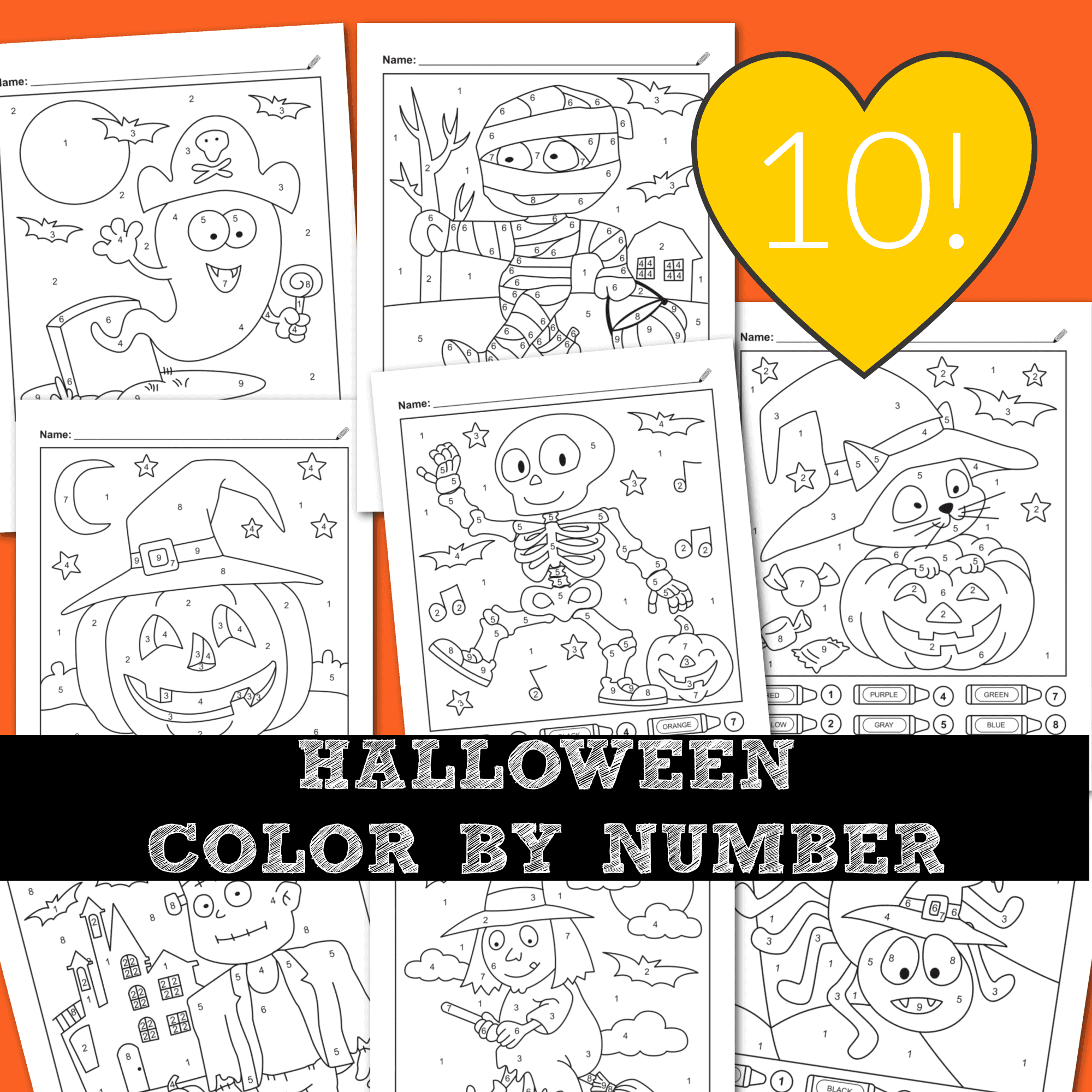 This particular set has 10 spooktakular designs that are Halloween themed without being scary. I think they turned out so cute! Each kid grabbed their favorite right away and started coloring. I even sat down with them and enjoyed the fun. My kiddos span toddler through early elementary and they all enjoyed these. It's not always easy to find something that entertains all of them 😉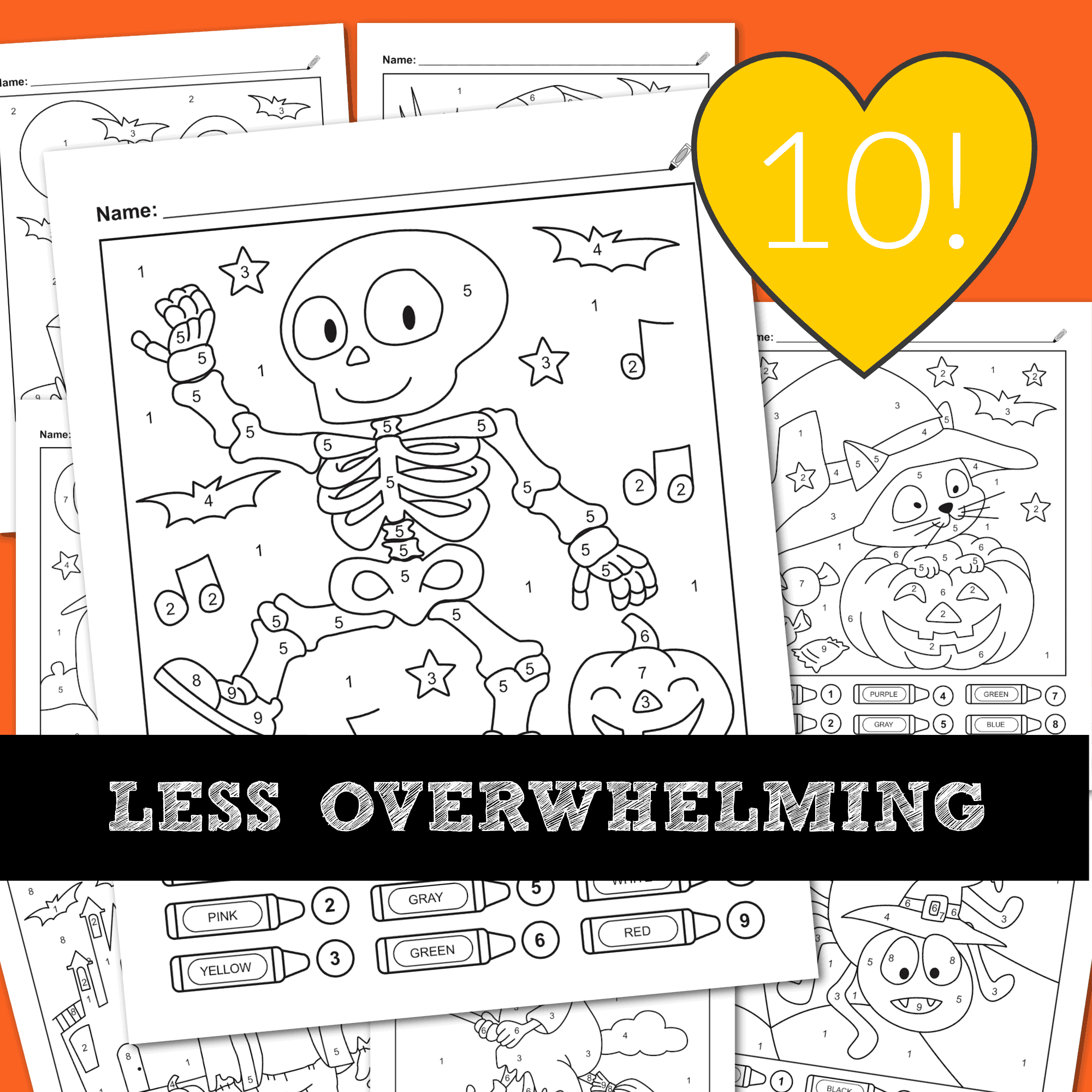 While I love each design and it's hard to choose a favorite, I picked the trick-or-treat ghost to give you as a freebie. I hope you and yours enjoy coloring it this Halloween! To grab the whole set of 10, go here.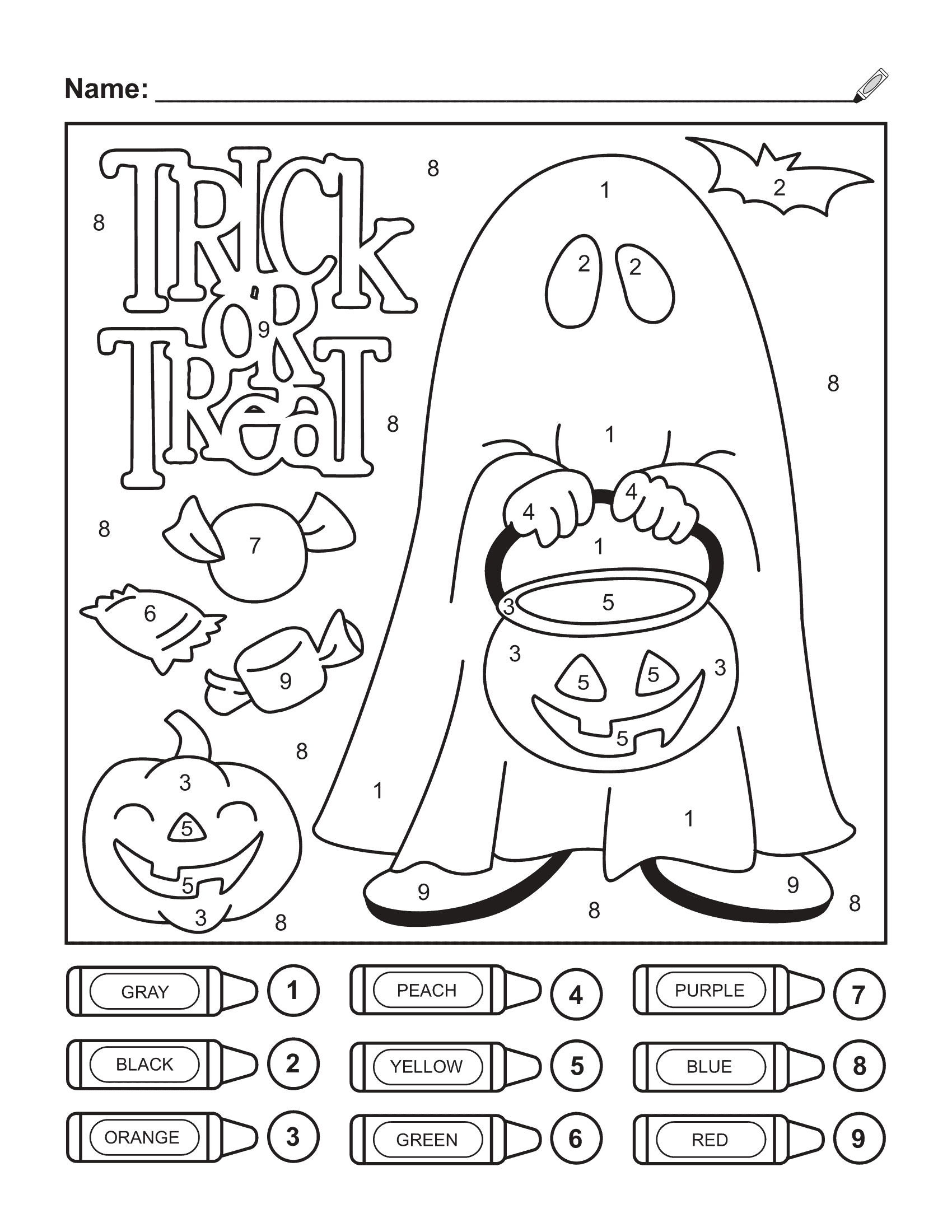 More Easy Halloween Fun:
Looking for more ways to stretch the fun of the holiday season? From a Halloween scavenger to hunt to a Halloween I Spy game, there's plenty of freebies on the blog – check out this post with 5 more Halloween activities.
Or, grab some goodies and start the Boo in your neighborhood. Have you been booed before? It's such a fun tradition! You leave a bag of treats on someone's porch with a sign that they've been booed and instructions on how to keep it going. Kids absolutely love leaving (and receiving) the gifts. Download the Boo set for free in this post.
If you prefer more fall/autumn related activities, you may love this fall word search and fall coloring pages.
I hope you're able to carve out some time to celebrate the start of the holiday season – to get the full set of 10 Halloween color by number pages, don't forget to click here.
Have a fabulous day,
E