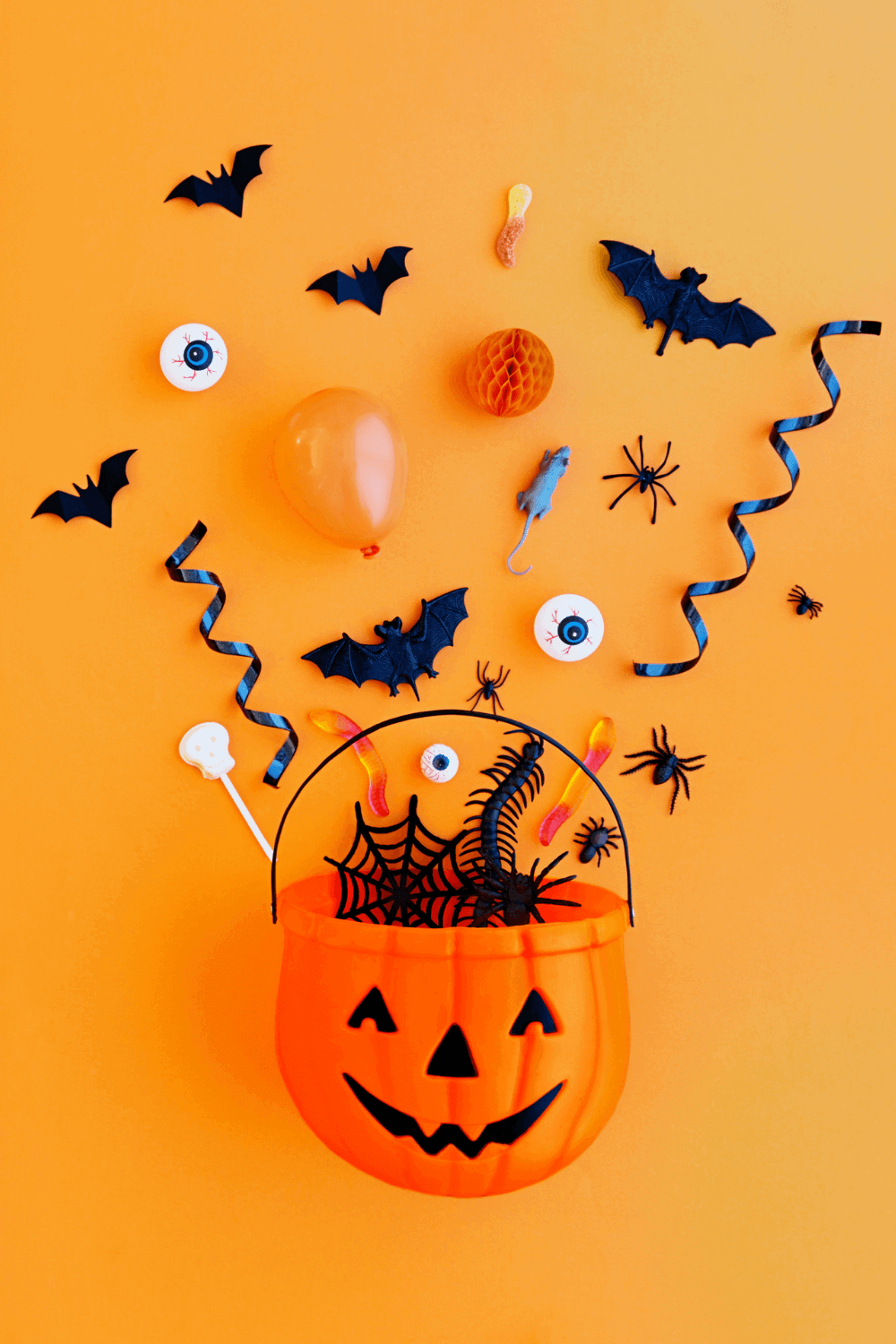 Can you believe it's October? I know this year has been strange. I'm certainly wondering how the holidays will go and if we will see massive shutdowns during the happiest time of the year. I hope not – particularly around Halloween, when the whole celebration of the holiday is centered around being together in public. And hey, it's a holiday that thrives on face masks, so that requirement should be a breeze.
I love celebrating holidays with traditions that our kids can grow up with and maybe even carry on with their own families. But, it can be a challenge to constantly come up with new, creative ideas all the time, you know what I mean? Mama is TIRED.
That's why whenever I come up with something cute, I like to come on here and share it with y'all. Over the last couple of years of running the blog, I've released 5 totally free Halloween printables that work for a variety of age groups. They are as simple as print and go, mama. That's right. No work required.
#BringItOn
Let's take a look at the posts. Feel free to click on any of them to go to the original post and download the freebie! Hey, you could even download all 5. No judgement.
1. Halloween Countdown Printable: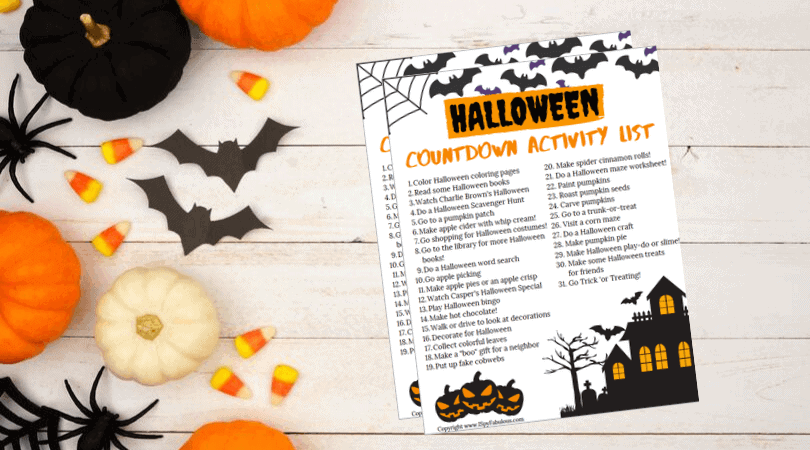 Let's start with the best one! This 31-day Halloween countdown or bucket list has 31 days of activities you can do with you family to celebrate all month long!
Plus, the post has additional links and resources to where you can find certain things suggested in the bucket list. Hurrah!
This works for a lot of ages, but if you have teenagers or older kids, you may need to make some swipes here and there – unless they are still into slime, in which case, carry on!
2. Halloween I Spy Printable: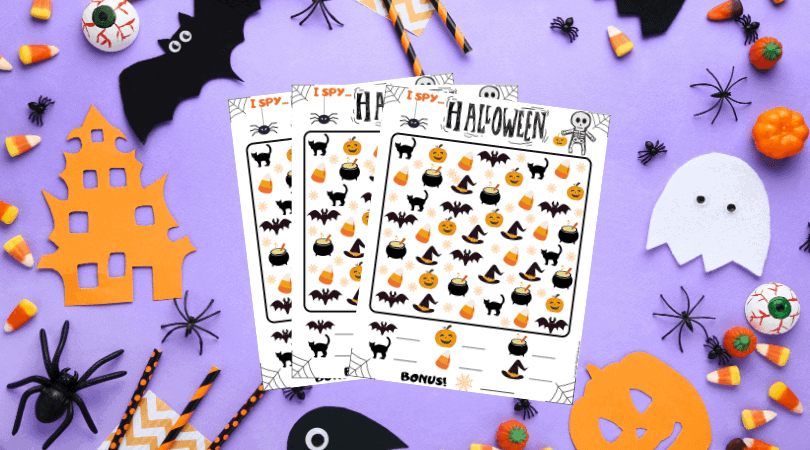 I made my first I Spy last year for Earth Day and it was a huge hit – not just with my readers, but also with my own kids! I Spy activities are just a little less common than other types, so they keep attention.
And, you can even argue that they teach basic math – so you can make them count for a little homeschool work if you've got young kids.
Make it work, mama. lol. Let the good times roll.
3. Halloween Word Search Printable: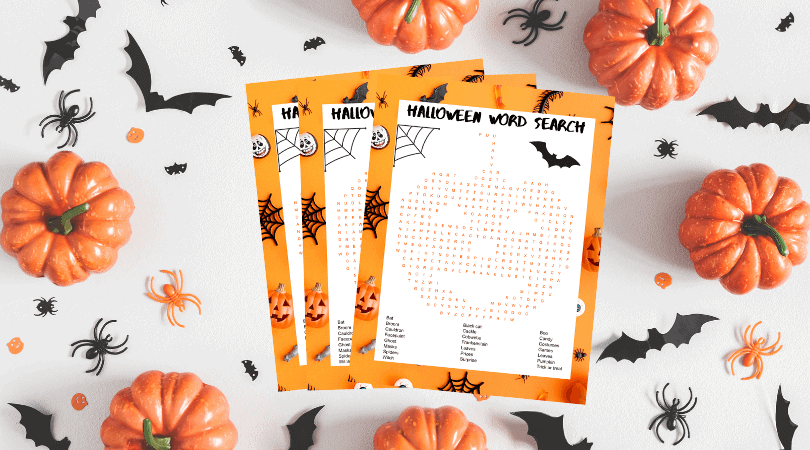 The very first Halloween printable I created and put up is still the most popular! Gotta love a word search. So great for those car rides to grandma's house or to keep a classroom busy on the last day before break.
This one is super colorful and pumpkin shaped to give it extra pizzazz! I love it!
Granted, not super great if you don't have a color printable. I hope to create a black and white alternative soon for some readers who requested it. Until then, you can have this adorable, colorful, festive pumpkin-shaped word search for free.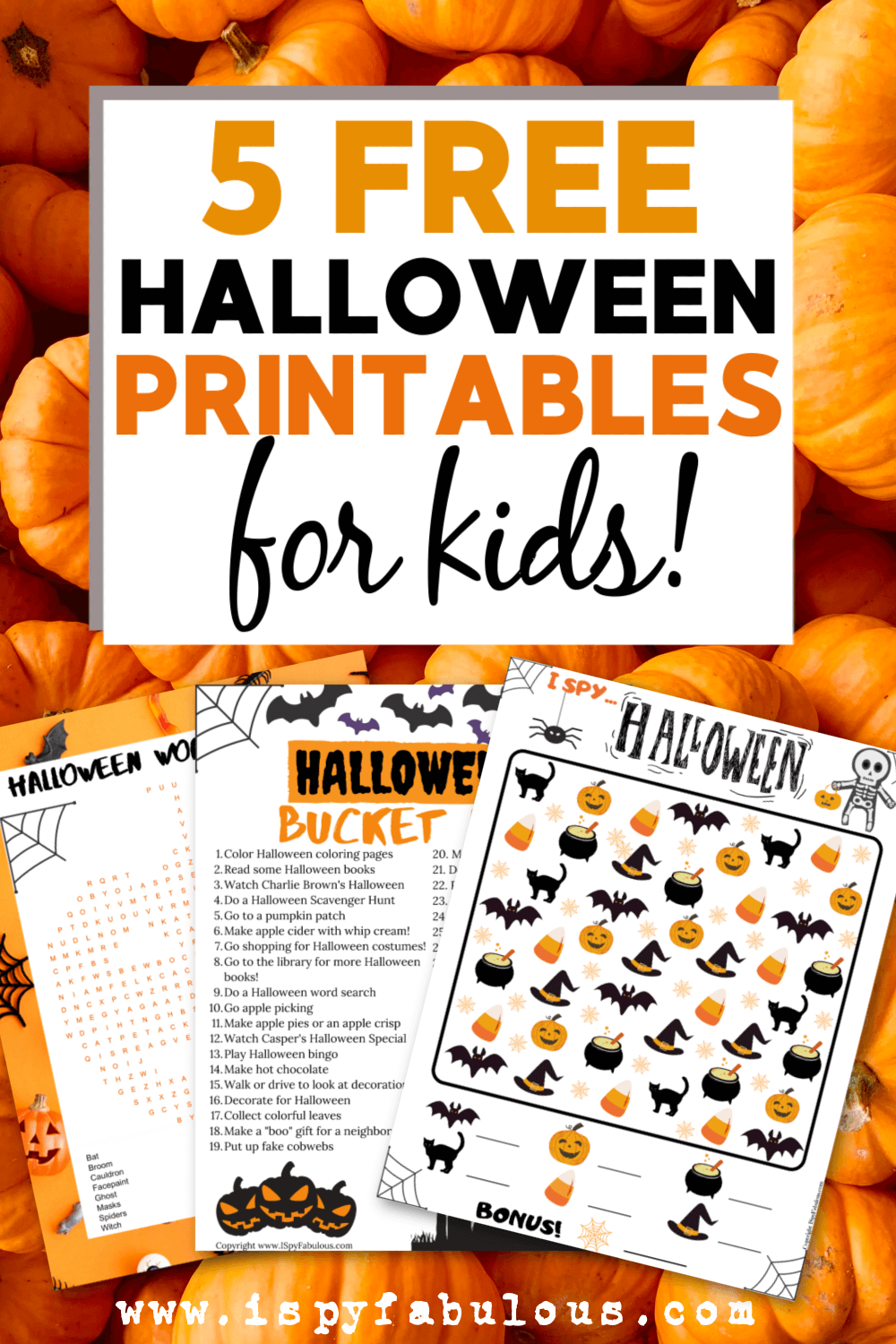 4. Halloween Scavenger Hunt: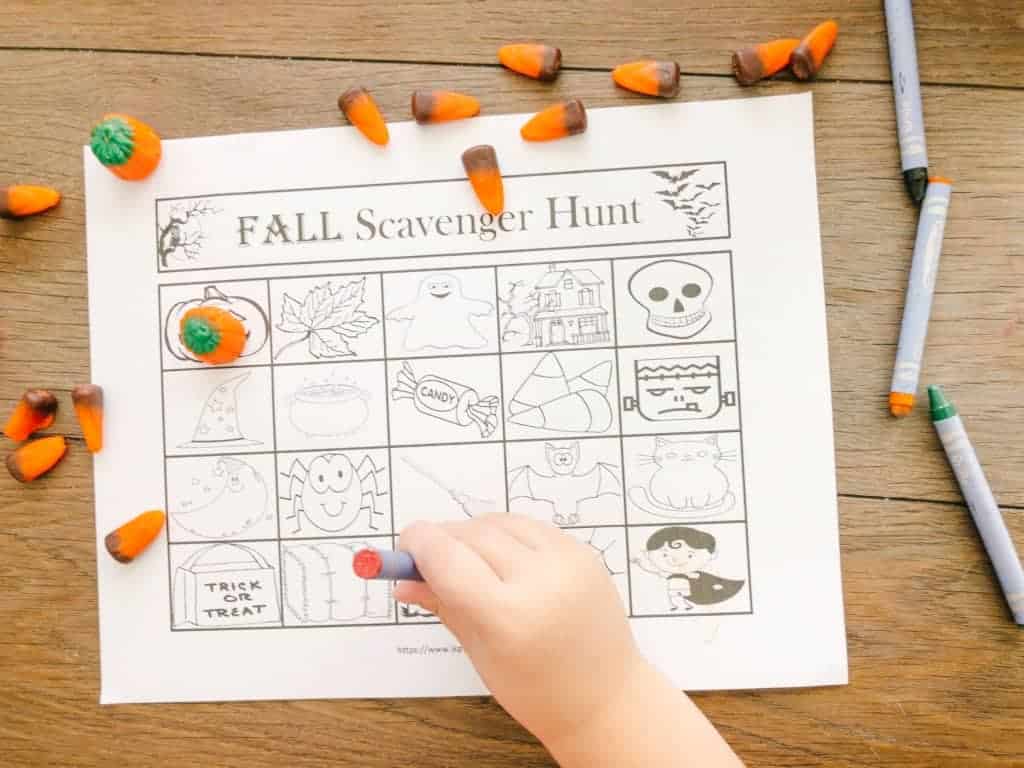 My kids are little and they were even more little two years ago, which meant a lot of the ideas and activities that came to mind were too advanced for them.
But, one thing they absolutely LOVE to do is drive around after it's dark to see all of the house decorations for Halloween (and we do it for Christmas, too). To add a little element of fun, I whipped up this colorable scavenger hunt for them to start coloring in when they found something on it.
I also use it at home with our own decorations, because we have a lot of fun with decor and they can find a good amount of them just racing around the house.
It's black and white, so they can color them as they find them – which keeps them busy longer.
You're welcome.
5. 6 Halloween Coloring Pages: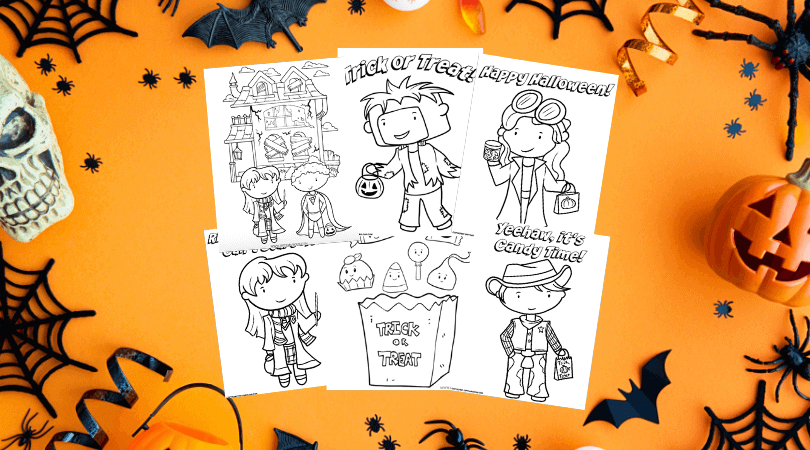 I love these cute little Halloween coloring pages. I created them because a lot of the ones I found online were a little scary for my little ones. I love the creative elements of the holiday – but stay away from anything too scary (even for myself). Fear is not fun to me – personally (although I went through a major scary movie phase as a teenager….).
These 6 coloring pages are totally free to download and have kids in costumes, fun phrases, a trick or treat bucket with candy and more. Print what you want – as many times as you want. Easy.
*****
How fun is this? 5 free Halloween printables for kids to keep them busy every day of the month. If you're looking for even more halloween fun – you might love this adorable set of 10 Halloween color by number printables: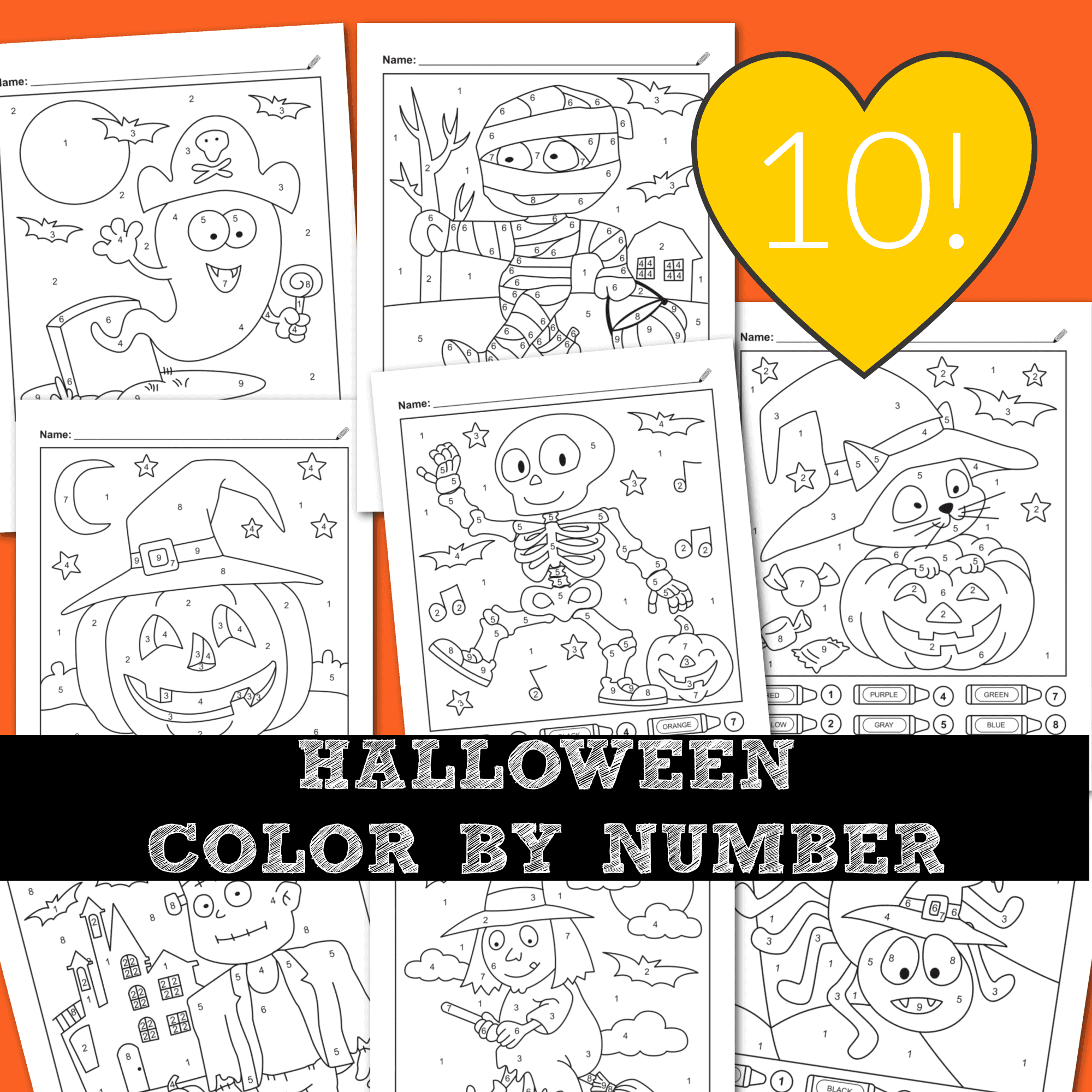 If you'd like to check out even more freebies, you might love this fall word search and these 5 fall coloring pages, all free to download!
Make this a month to remember – even if the holiday is celebrated a little differently than normal. And, if trick or treating gets canceled, I'll probably set up little games around our house and yard that they can play for candy. Gotta great creative, right?
Share your favorite Halloween traditions below!
Have a fabulous day,
E