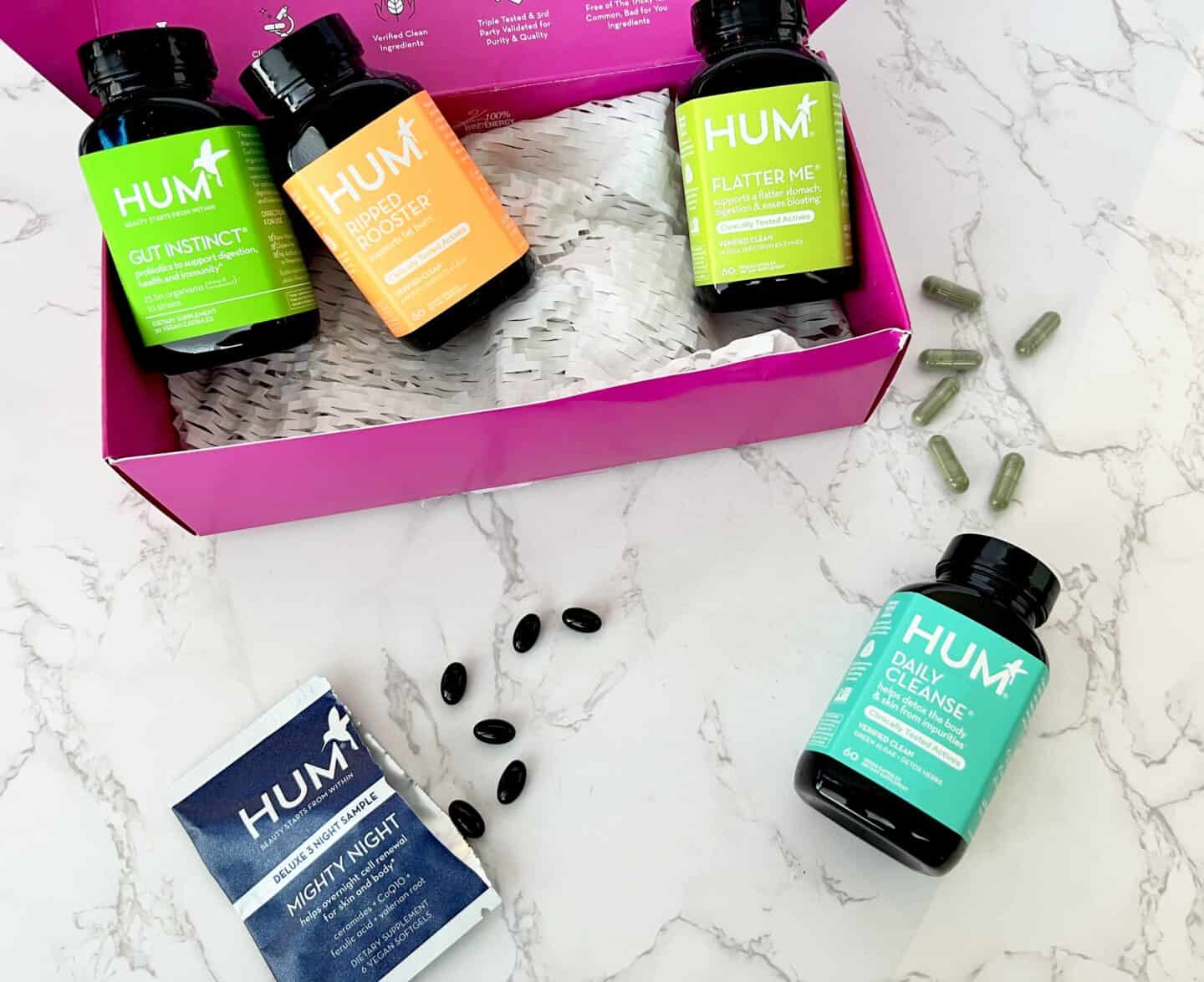 It's no secret that I'm a big fan of supplements. I've shared a lot about how I use anti-inflammatory supplements and foods to help combat the symptoms of 2 autoimmune diseases – and of course, just the side effects of getting older (they're a doozy).
So, when I saw a YouTube video by a woman in her 40s who was sharing how Hum supplements have been a huge part of her reclaiming her health, I decided to give it a try. I ordered a handful of different supplements to replace ones I've been using for awhile and were running out soon and then jumped in.
Because of how long I've been testing out different products like this, I have a pretty good idea of what works and doesn't work for my body and also know to introduce new things slowly and one at a time, that way if I do have a reaction, I know where it came from.
Here's the 5 Hum Nutrition supplements I tried, in the order that I tried them, and what I think! Also, I bought these with my own money and this is not sponsored, but these are affiliate links, which means if you try something through my link, I will receive a commission at no cost to you.
1. Hum Nutrition Gut Instinct Probiotic: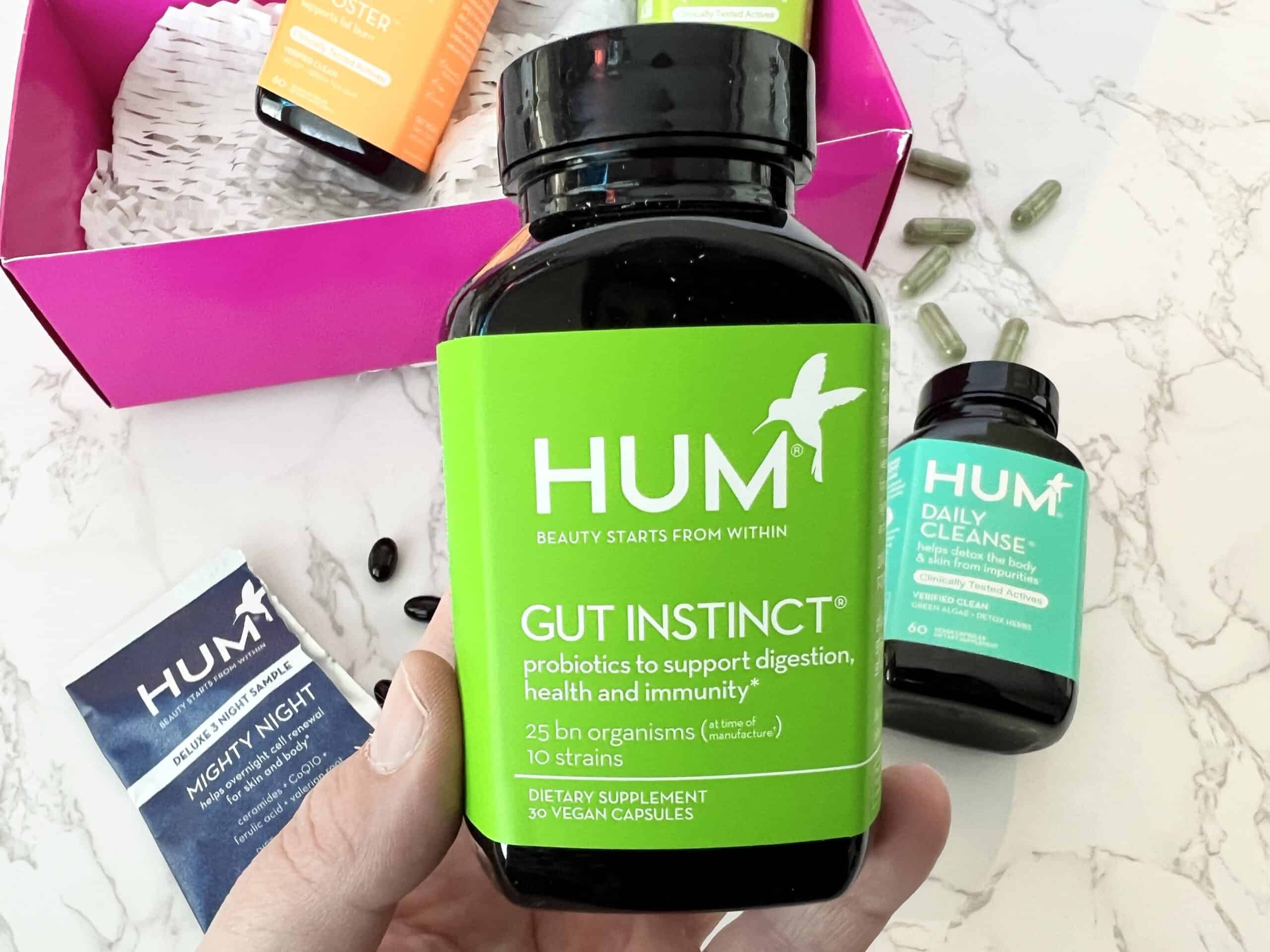 I'd recently run out of my probiotic and didn't replace it, because I really had doubts that it was working as effectively as it had in the past. The thing about gut health is that our gut conditions evolve based on all sorts of factors, like diet, supplements, antibiotics/meds, age, etc. I knew I wanted to mix it up and when I found Hum Gut Instinct, I was excited to give it a try.
They are fully transparent about the probiotic strains that are in this formula, which you can find on their website, and it was definitely a different balance than what I've been taking. Personally, I take my probiotics at night, so they have the longest period of time in the gut without me eating or drinking anything. So, I started taking this and within a few days I noticed small, but impactful, improvements in my digestion and gut health. It's definitely one of my favorite probiotics that I've tried and I've added it to my HUM auto-shipment, which saves me 25% on my order. Since it's already priced affordably, compared to some probiotics I've bought over the years, I call that a win.
2. Hum Nutrition Daily Cleanse: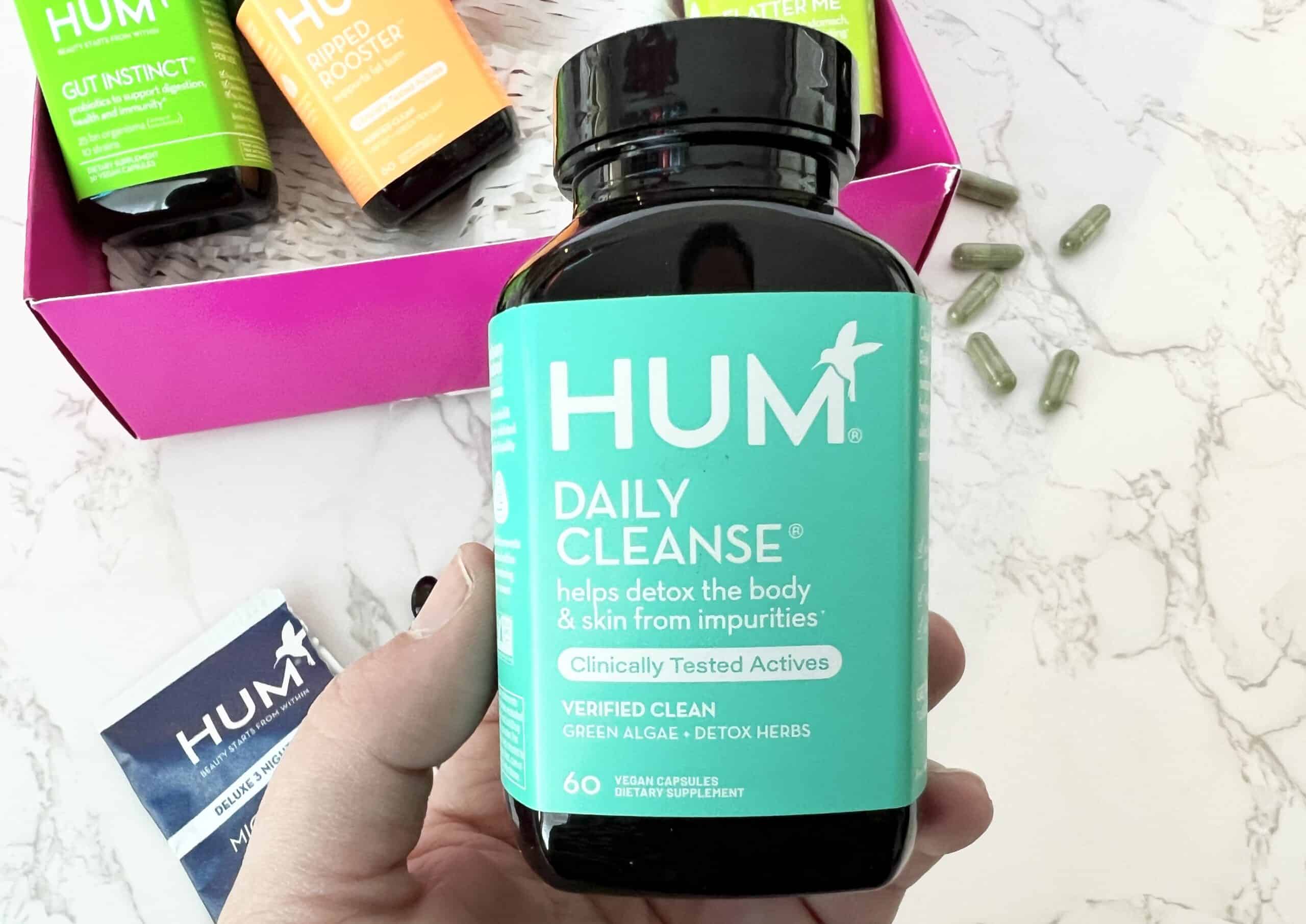 The second product I added to my routine was the Hum Daily Cleanse. I took a supplement called Liver Detox for a long time, and still recommend it, that had milk thistle for helping detox the liver. I absolutely noticed a difference when I was consistently taking it versus not, but I was having issues with getting shipments consistently and shipping took a long time, so I eventually stopped taking it. Not a great idea and I started noticing more breakouts on my face in the liver zones and the side effects of a more sluggish liver.
When I saw that this Daily Cleanse had 14 detoxifiers, including chlorella, spirulina, and milk thistle, it was a quick add to cart. I've been adding blue spirulina to my anti-inflammatory smoothies for a while, because chlorella and spirulina are two of the most powerful anti-inflammatories available in the world. Adding the milk thistle, and even more, in one capsule? Sign me up.
Other powerful ingredients include: dandelion root, zinc, selenium, matcha green tea powder, alpha lipoic acid, copper, manganese, MGM, red clover, beetroot and more. Seriously, one of the most impressive, best anti-inflammatory supplements I've found. I love this little pill and I take it at night as well. For more info on all these ingredients and what they do for your body, check it out on their website.
3. Hum Nutrition Flatter Me: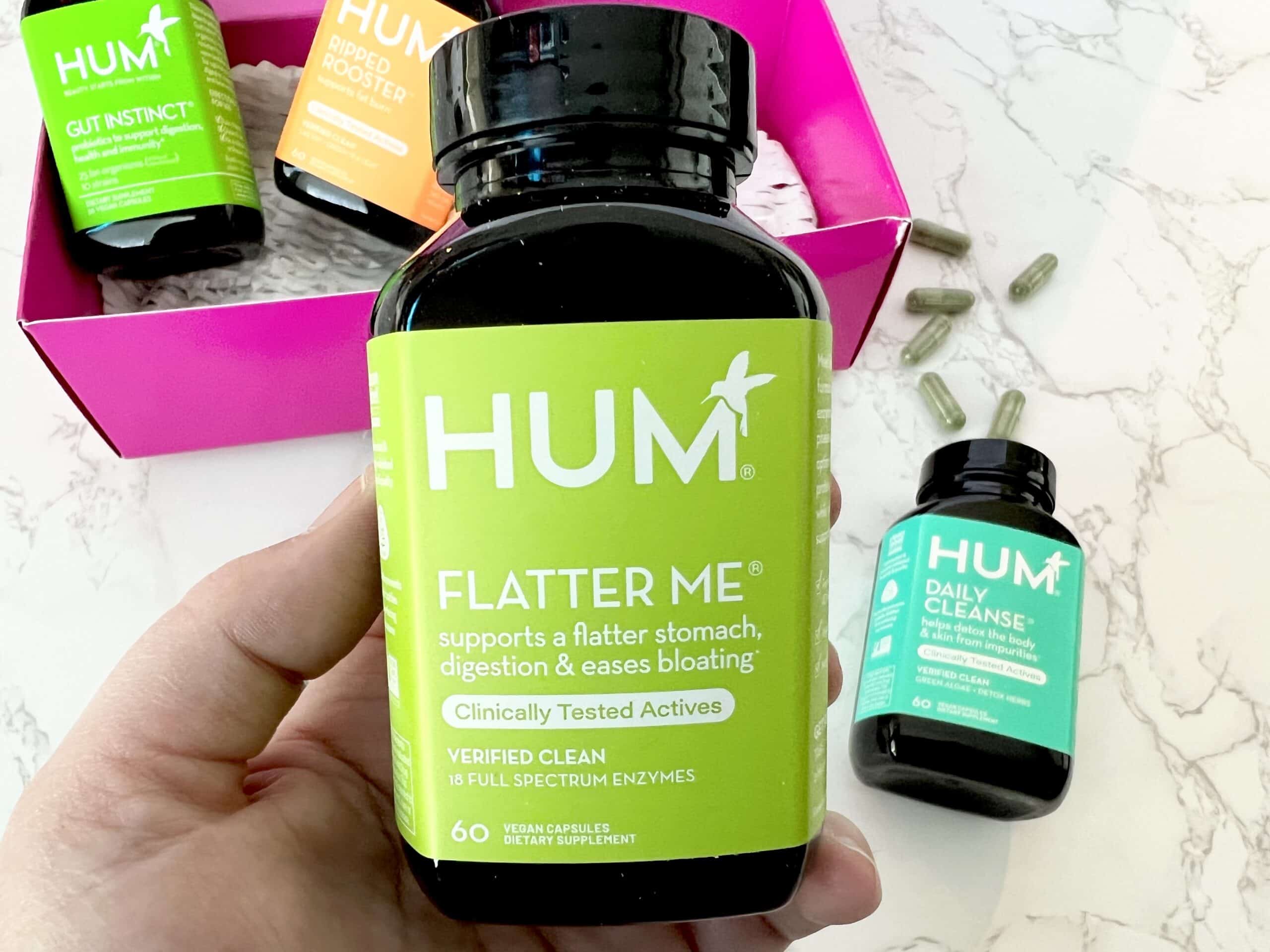 The third supplement I added was Flatter Me, by far one of their more touted supplements on social media. I have never been a person with a perfectly flat stomach, no matter what I did or how much weight I lost, so I didn't worry too much about a little bloating here and there. But in the last couple of years, I've really noticed it get out of hand. If I eat, pretty much anything, I notice bloating, digestive discomfort, etc. I've removed so many foods from my diet, but at a certain point, you just have to eat something and the aftermath of pain and bloating would just make me cringe.
I started reading about digestive enzymes and noticed a recurring theme with Flatter Me popping up, so I ordered it. I take one pill with my main meals and it has been a really great addition to my arsenal. Flatter Me uses 18 full-spectrum digestive enzymes to help break down food for better digestion and reduced bloating. It actually, really, noticeably works. At least for me. If you're struggling with the same thing, or you're a woman of a certain age (ahem!) and need more support, check it out. I think you might really like it.
4. Hum Nutrition Ripped Rooster: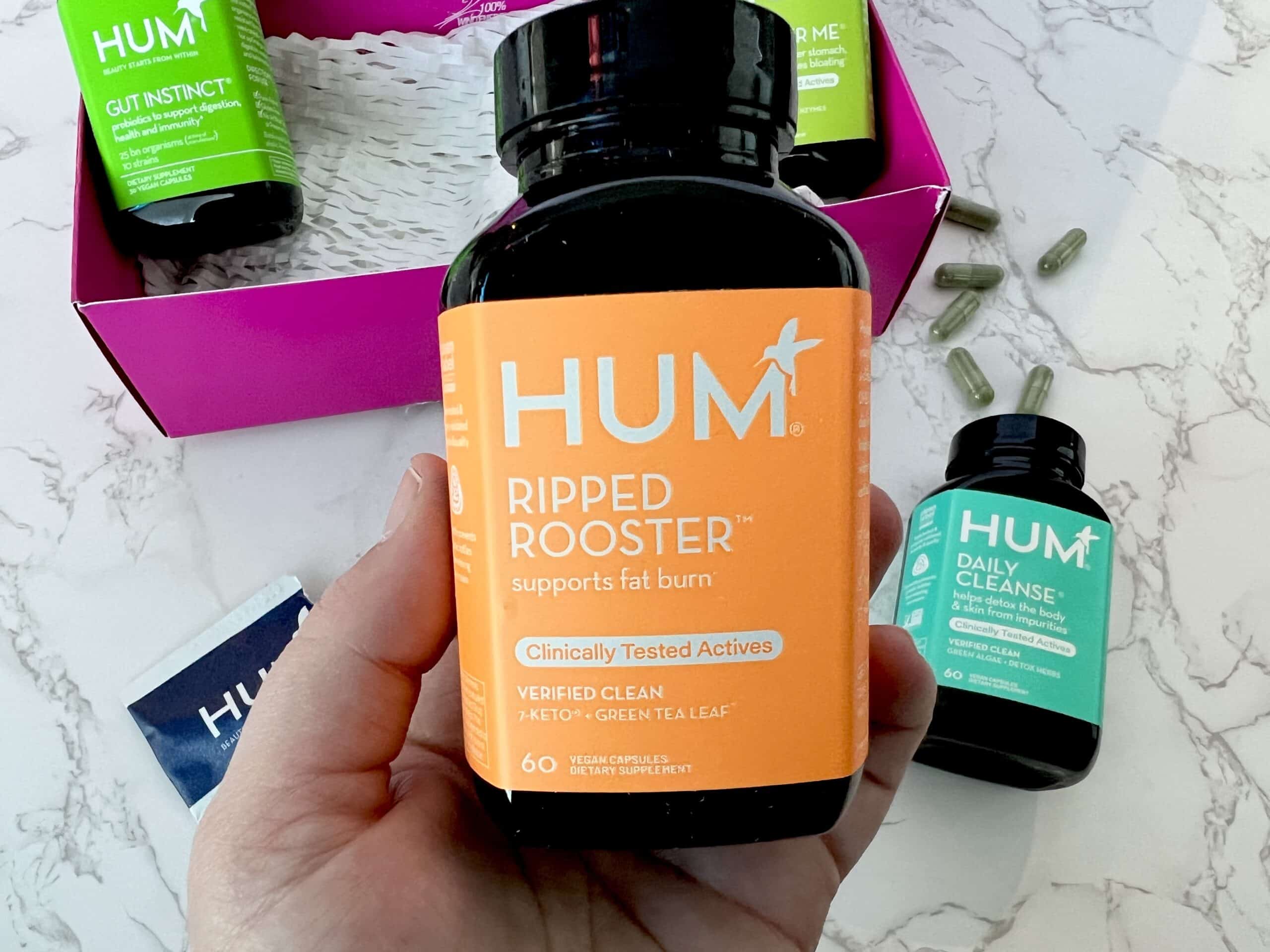 I'd like to preface this by saying I rarely take weight loss specific supplements and the few times I have tried over the years when I've been truly desperate have made me very sick. One even gave me a stomach ulcer, so this is by no means a raving endorsement of putting this kind of thing in your body. This one drew my attention because of the more mild formula, the clean ingredients, and the many, many reviews that shared how they had no noticeable side effects, yet felt it really support their efforts. If you're trying everything you can to get healthy and just not seeing results, you can really struggle to keep going. A little support in that department can make all the difference, if that product isn't doing more harm than good.
I don't take this regularly, but when I do, I notice a slightly more elevated energy level, like a very low hum of it, that stays pretty steady. This alone is attractive to me as a mom with young kids. Have I noticed a landslide of weight loss? No, but I'll take the increased energy without side effects, with the hope that it'll also help my metabolism get off the couch and get to work. I think if I can remember to take it regularly, I'll see more results.
5. Hum Nutrition Mighty Night:
This one came as a free pack in my box. I love samples, don't you? Plus, this one was right up my alley. I take a sleep aid, just magnesium, every night, but it's not always enough to outpace my running mind.
With ingredients like valerian root and ferulic acid, Mighty Night uses a combination of clinically-tested nutrients to promote skin cell turnover, healthy-looking skin and optimal sleep. Ceramides and CoQ10 help with skin moisture and combat free radicals known to cause signs of aging. Plus, the small pills are easy to take, which is a blessing on nights when I just can't bear to take any more big pills.
I really liked having this around on days that have been particularly stressful and I didn't want to toss and turn for hours. The valerian root is a fave ingredient of mine for getting a good night's sleep and I've drank a bedtime tea with it for years, but being able to swap out the tea for this was a nice change. I'll definitely keep this in stock, too.
Hum Nutrition Final Thoughts:
Overall, I've been really impressed with Hum Nutritions supplement range, the ingredient transparency, the clean formulas, and the easy shipping. I'll definitely keep ordering the supplements I love and trying new ones, too.
I also like that I get 25% with auto-ship. Getting rewarded while also not having to think about re-ordering? Sign me up!
I'm always willing to use myself as the guinea pig to try out these new things so that I can share products with you that really work for me and might work for you, too. If you're interested in checking them out, go their website here.
Have you tried Hum? Which one is your favorite?
Have a fabulous day,
E