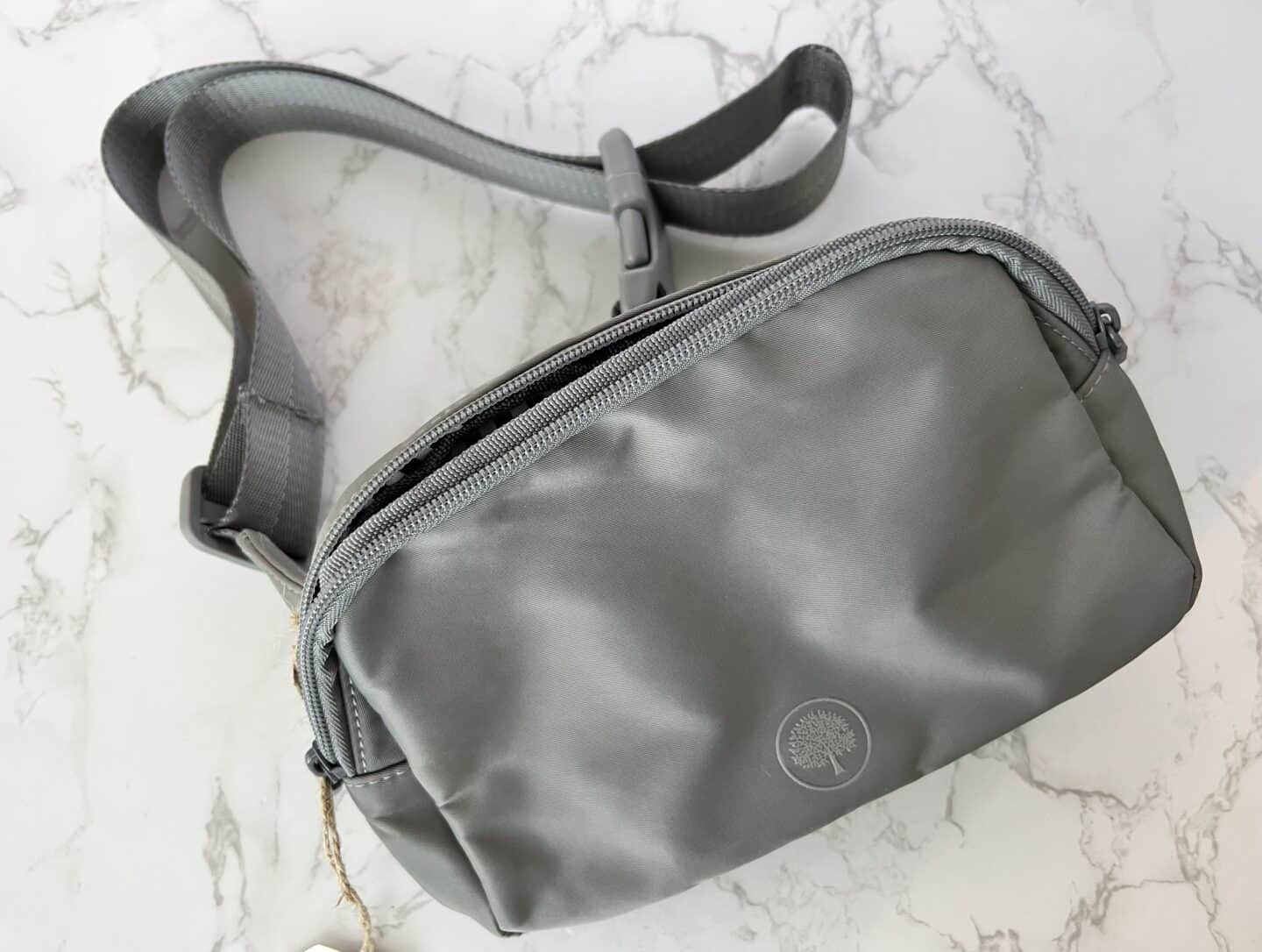 I'm just going to say it: I was surprised to see the fanny pack come back into style. Of course, it's now been rebranded as the "belt bag" and given a chic new look, but in my mind, that didn't stop me from just seeing a fanny pack from the 80s. There have been other things, too, that I've thought were better left in other decades, like shoulder pads, crop tops and mullets, but here we are. Everything old becomes new again.
But, as all the cool new belt bags kept coming out and stylish users reveled in the convenience of being hands free instead of lugging around bags and shoulder cutting crossbody bags, I caved and bought a really affordable one. "Just for when I walk the dogs," I told myself. It didn't take long for me to find more reasons to grab the belt bag instead of any other ones.
I'm not ashamed to say my collection has grown since then. And, there are a few more on my wishlist, too. So, I thought I'd share some of my favorite belt bags in case you're in the market. Ranging from $15 and up, there's a belt bag here for everyone.
Now, let's just all collectively hope that MC Hammer pants stay staunchly in the past.
12 Best Belt Bags from $15 and Up: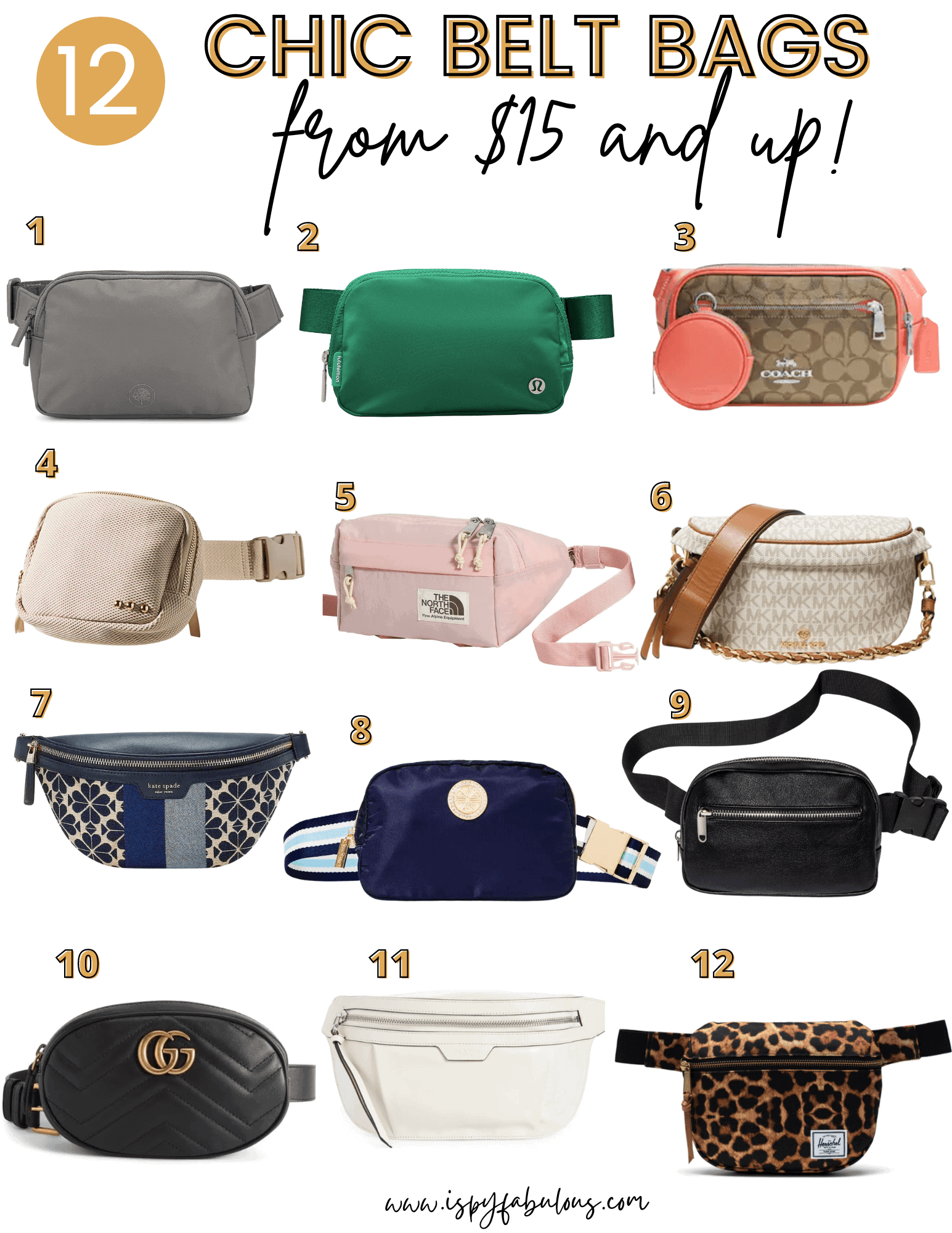 I have this one in gray and I totally love it. Since I have their diaper bag, too, I knew it was a safe bet and I'm glad I went with it. It comes in three colors, but gray is my personal favorite. Just like the diaper bag, the inside has a striped pattern that I really like and the bag holds a surprising amount. There are some organizers to keep things separated, which helps, too. This one is so cute, even my young daughter tries to steal it. I guess that makes me cool? Maybe?
Under $40, available in lots of colors, but this emerald green is gorgeous. The Lululemon bag has been pictured all over and is popular with Lulu lovers.
Two tone belt bag available in three colors. Since it's available on the Coach Outlet, it's also more affordable. I've been fortunate to have some Coach bags over the years and they are super high quality and last a long time.
Anthropologie has several belt bags, but this one stood out to me. This neutral cream with gold details is so chic, but if beige isn't your jam, it also comes in several other colorways. All under $40.
It's North Face, but make it pink. Get all the outdoorsy perfection of North Face in this sweet pink belt bag, or crap the rust color. Three other neutral colors, like a classic back, make this accessible or anyone.
This uber chic belt bag has contrasting leather straps and lots of fun details. It's technically a sling bag, that you would wear slung over your shoulder, almost like a crossbody, so if you're looking to wear it around your waist, this may not be a great it for you.
This one is so gorgeous. It also comes in a pretty pink stripe, too. The detail on this is so good. I've seen this pattern in different bag styles and have always had my eye on it, so seeing it in the belt bag was fun.
If you love the whimsy and color of the Lily Pulitzer line, this may be the belt bag for you. This navy colorway is my favorite, but you've got a lot more colorful options than this.
Under $20 and so cool. I have the faux leather black one and I love it. Also comes in olive green, which is so good, it'll make it hard to choose. Whats nice about a black belt bag is that if you're also wearing black, it kind of blends in. If you don't want to draw attention to your bag, because you're out walking alone or you're on a trip, then inconspicuous is the way to go.
Listen, this is not a budget option – at least not for my budget. But, Gucci makes everything gorgeous. So, if this is in your wheelhouse, get it, use it, tag me on Instagram so I can be excited for you.
Love the white leather version, but you can also grab this cool belt bag in black. It's also very generously sized, so you'll be able to take everything you want with you and stay hands free.
I mean, I'm a huge fan of anything animal print, particularly leopard, and this print makes this classic belt bag a lot more fun. Definitely at the top of my list or my next belt bag.
*****
I resisted the belt bag for a long time, because as a child of the 80s, it really read "fanny pack" to me. However, as a mom with kids and dogs and all the things, it's extremely convenient. Plus, they've been redesigned, reinvented and taken up a notch. These aren't the belt bags of my childhood.
So, if you're tired of lugging big purses around or hate how crossbody bags dig into your shoulders, give belt bags a try. With some of these starting at just $15, it's a low cost to see if the trend is for you.
Have a fabulous day,
E