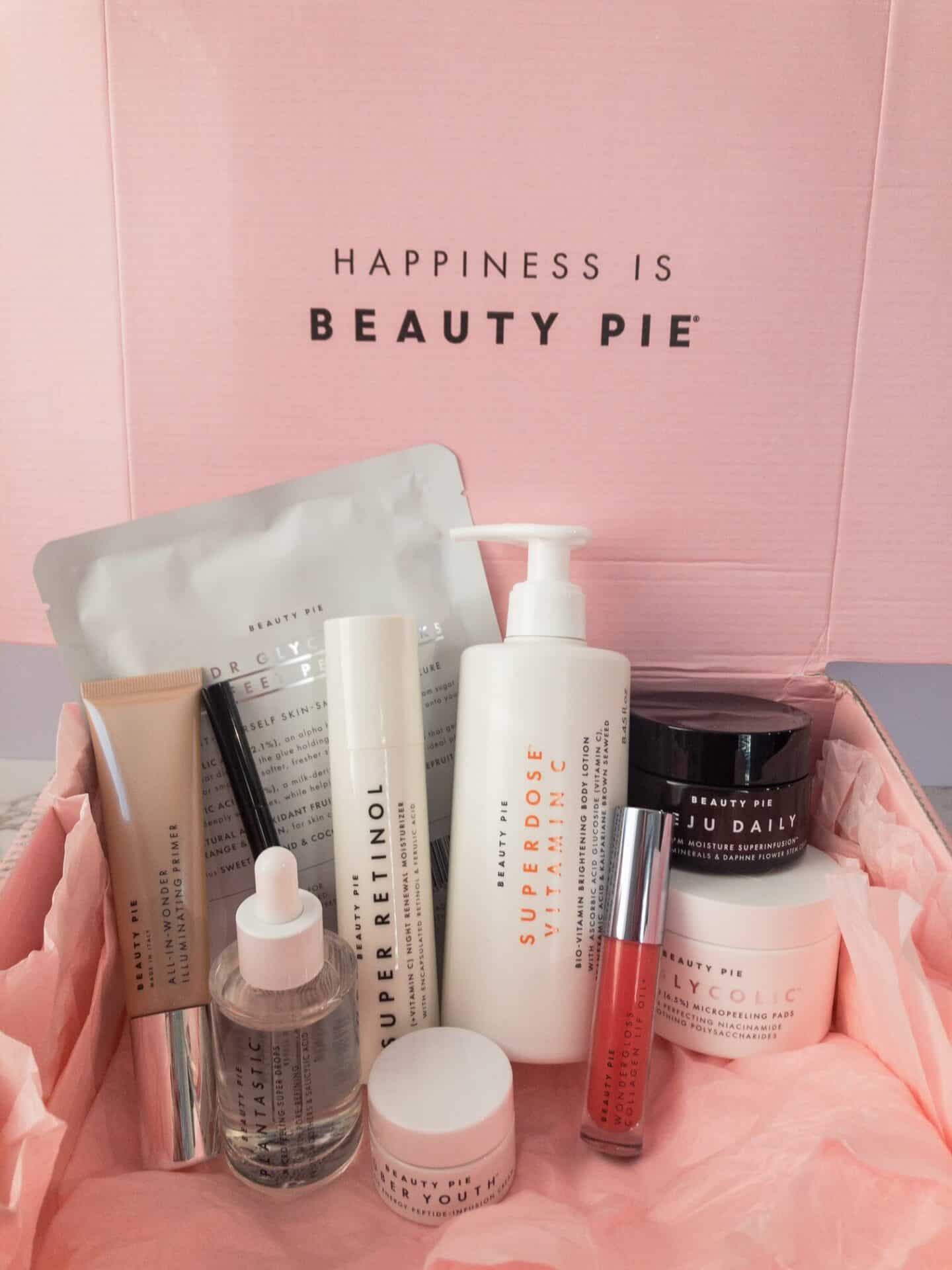 I've written a lot about my Beauty Pie hauls over the past year. Then, something strange happened. My account stopped working. For months, it wouldn't let me add things to cart or take things out of my cart. There was some kind of voodoo curse on my account and even though I reached out to customer service a few times, they clearly had never heard anything like what I was saying and didn't know how to help.
Finally after 4 or 5 months of a frozen account (that I was still paying membership dues on), I was able to empty my cart, add in new products and PURCHASE. The good news is that I also had over $400 in credits that I could use to buy products. That's why this is the BIGGEST Beauty Pie haul I've ever purchased!
It was actually really fun to get so many products – both restocking ones I've used up and trying new ones.
Since the summertime has brought back some of my melasma, despite my best efforts, I was really focusing on vitamin C and exfoliation.
Let's take a look at the 10 products in this BeautyPie haul and I'll be sharing what I recommend and what I don't. Also, know that I am not paid by BP to post these. I pay for this with my own money. Like everyone else on BP, I have a referral code I can share with you that will get you a free membership month with BP and also it sometimes means I get a free gift, too. Although, I've noticed referral credits and gifts are spotty (i.e., they disappear).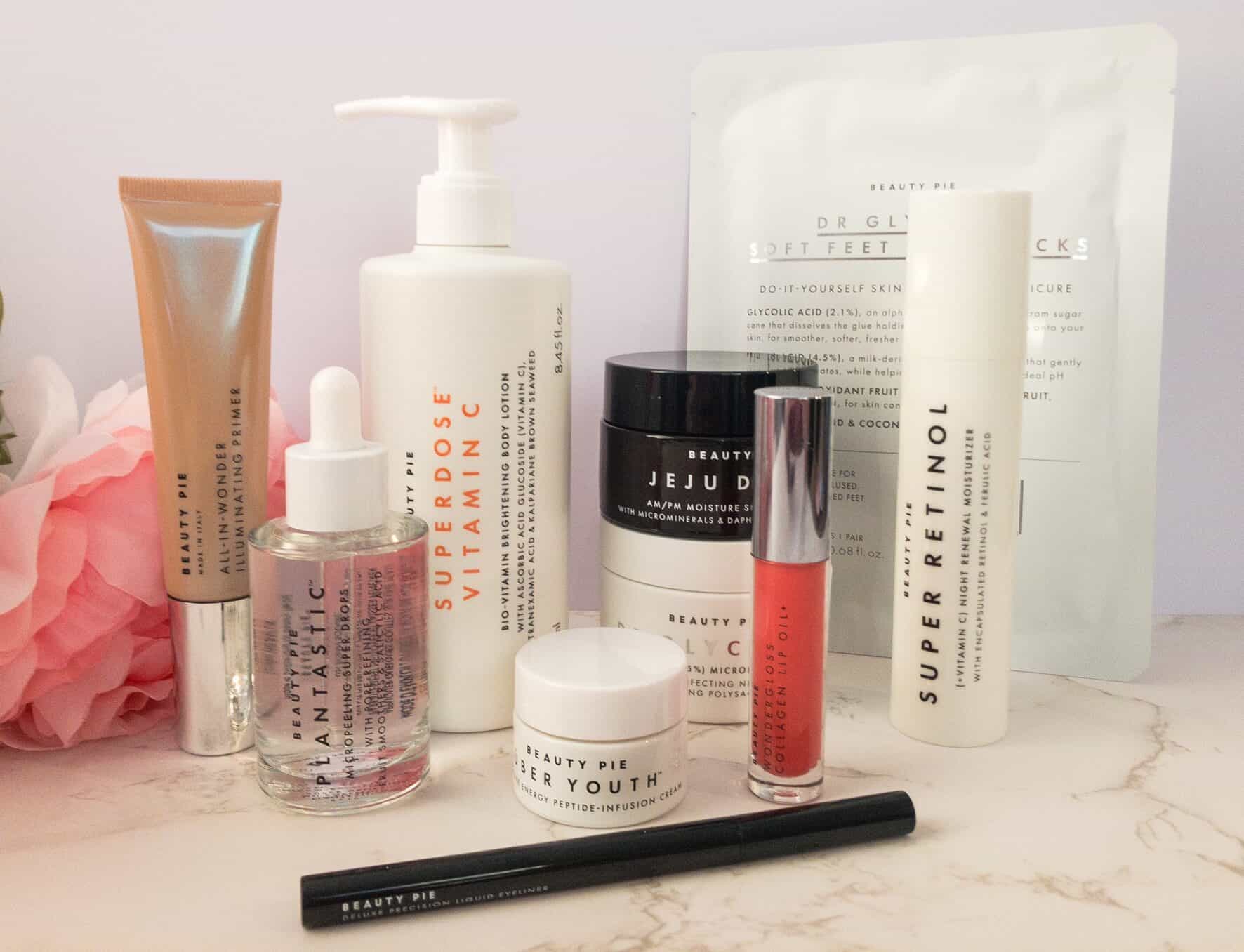 1. Dr. Glycolic Micropeeling Pads: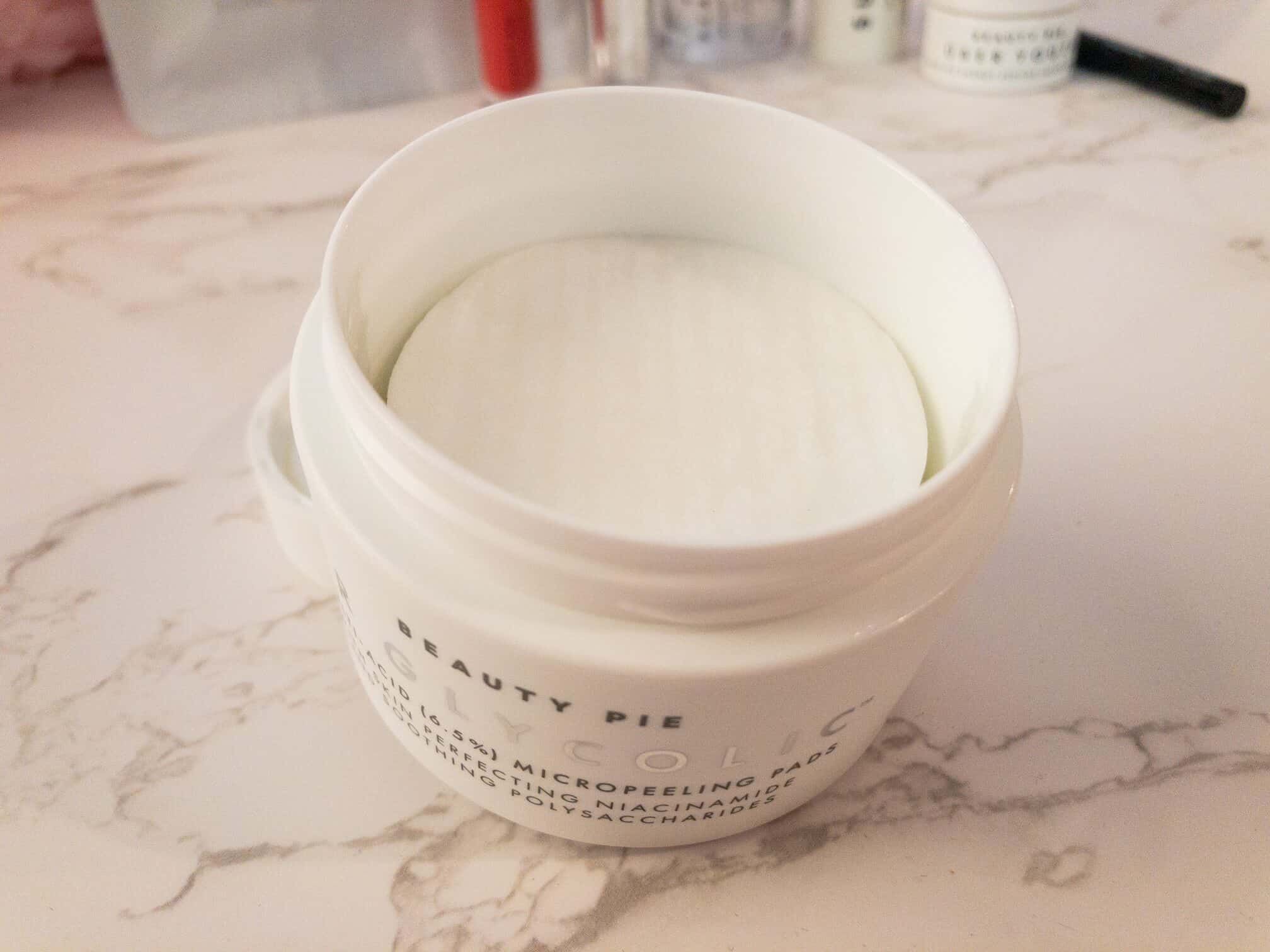 I love the ease of exfoliating with glycolic pads and these are some of my faves. I've restocked this twice now, because they are just as good as more expensive versions and are much cheaper.
I keep them in my beauty fridge for an easy 2-minute facial almost every morning. I talk more about exfoliators I love for sensitive skin in this post.
2. Superdose Vitamin C Body Lotion: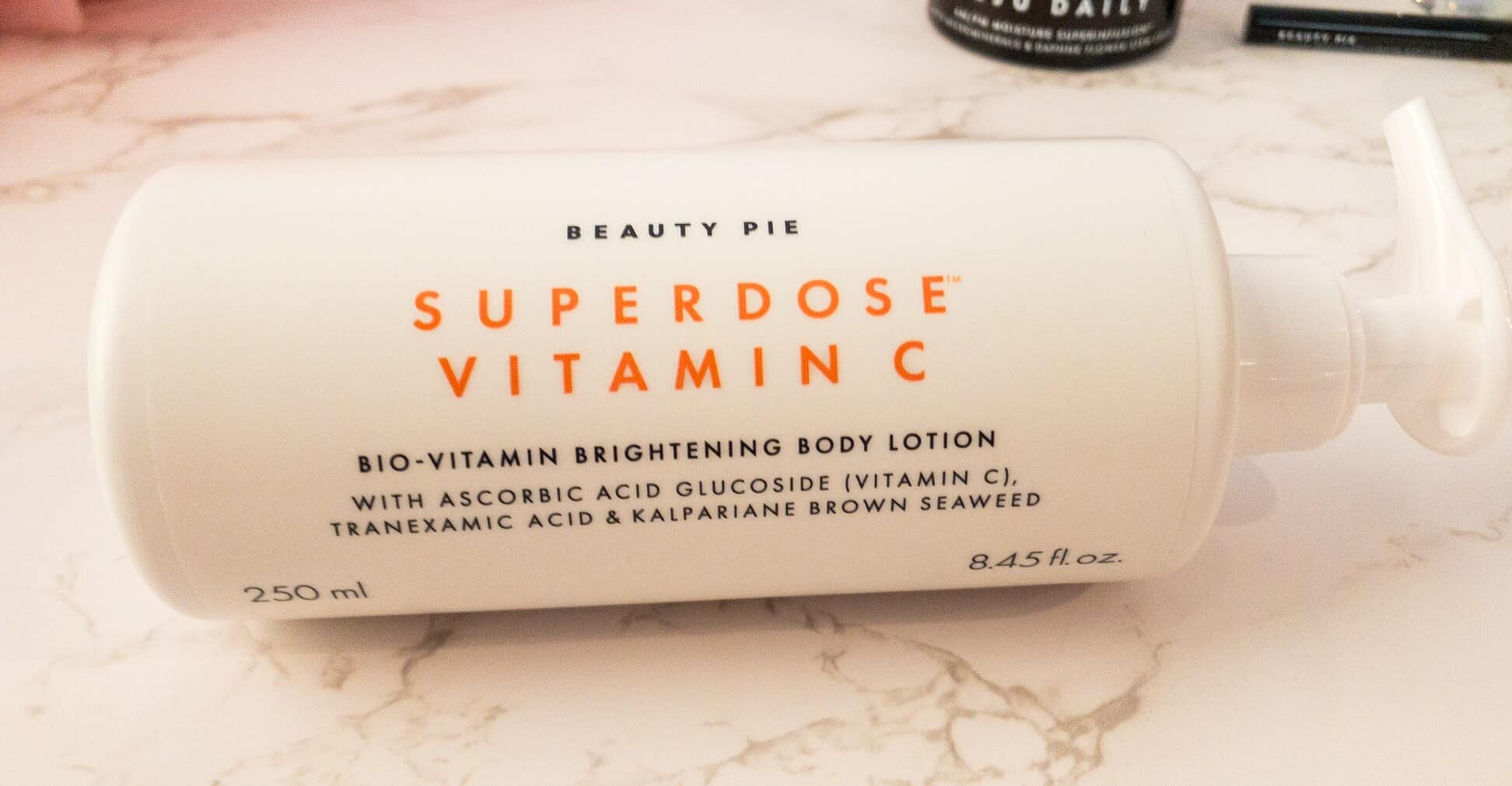 This was a new purchase for me and I LOVE IT SO MUCH. The lotion is light, but creamy, but soaks right in, but has a lovely texture. It's unlike any lotion I have tried before and I find myself struggling to describe it exactly.
Bottom line: buy it. Come back and tell me how much you love it.
3. All-In-Wonder Illuminating Primer: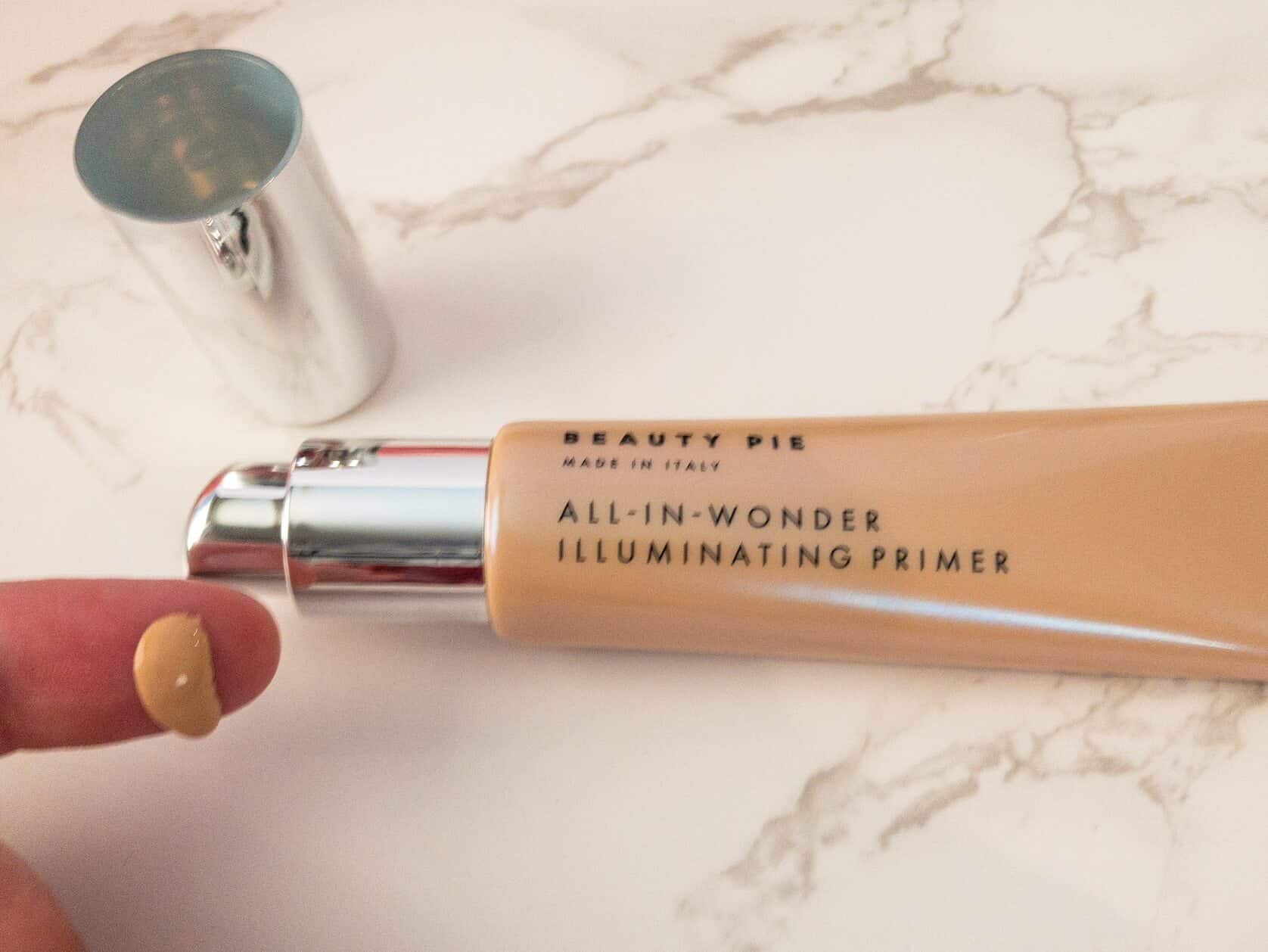 Ohhhh girls, I am IN LOVE WITH THIS SO MUCH. This is the PERFECT summer tinted moisturizer. It is a primer, with some skin colored illuminators, with a tinted moisturizer type texture.
I really love this. I use this on my skin after my daily lotion with SPF and then dust with the Beauty Pie pressed powder. Boom. Done.
The light tint really camouflages uneven skin tone and the glow it gives your skin makes it look hydrated and illuminated. It's pretty great.
4. Super Retinol with Vitamin C: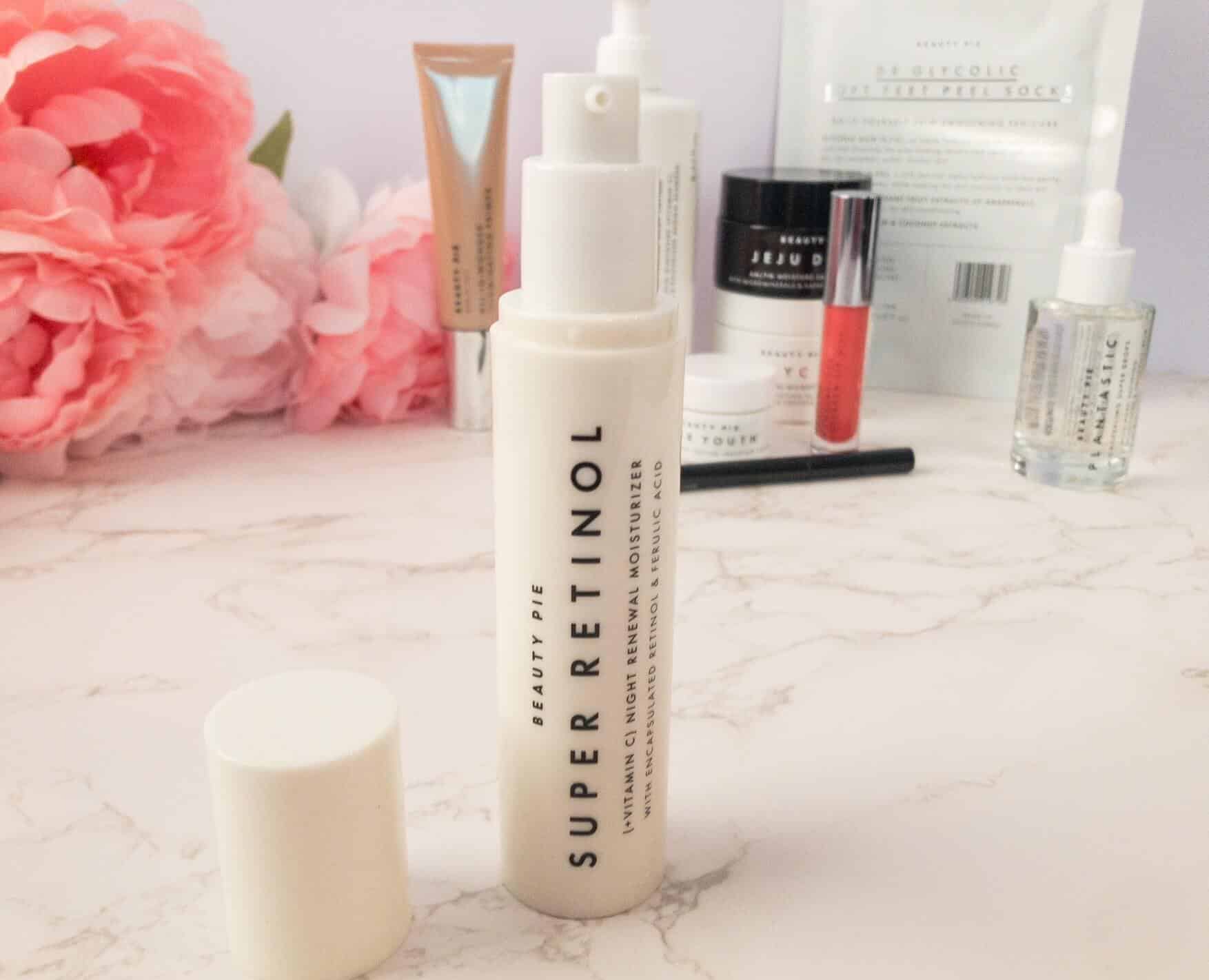 I'm very sensitive to retinols and my skin loves this. LOVES. I am really in love with the even skin tone it is slowly giving my skin. I use this at night, under night lotion, and then in the mornings, I use the glycolic pads.
I really think this 1-2 punch of vitamin c and exfoliation is really helping my skin course correct from the hyperpigmentation. And, bonus points for it feeling really luxurious and creamy on the skin. If you struggle with dark spots, too, check out this post.
5. Uber Youth Eye Cream:
This feels delicious on your skin. I have really sensitive eyes – and even have an autoimmune condition that attacks my eyes – so it's difficult to find products I can even get near my eyes.
This is really good, friends. I want to add it to my post on best eye creams for sensitive eyes. I am feeling this one in a major way lately.
6. Plantastic Micropeeling Super Drops: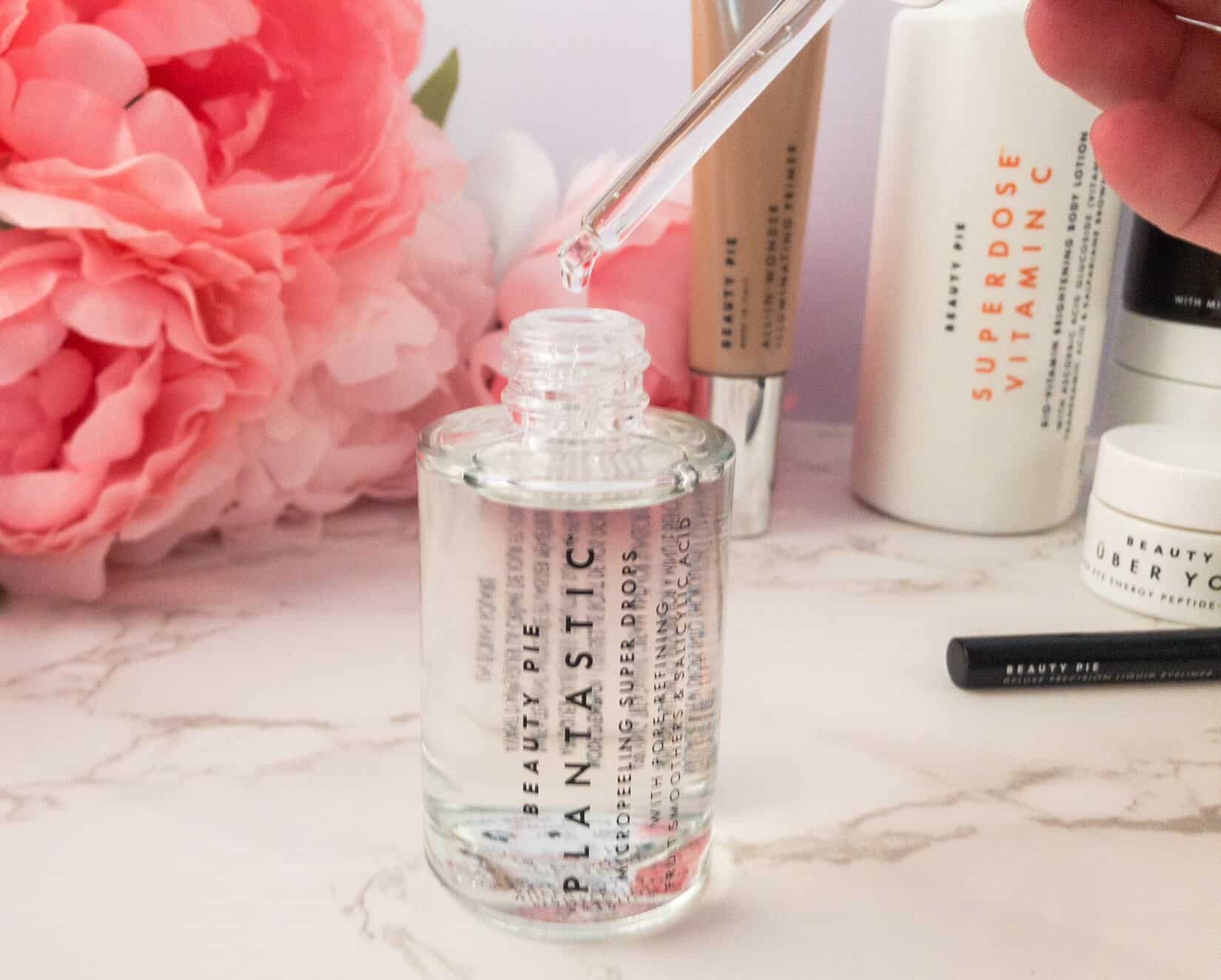 I wasn't totally sure what this was when I bought it, but it seemed like a super exfoliator and that's exactly what I needed, so I went for it.
Turns out, it's also packed with hydraulic acid for smoothing and pluming and also salicylic acid for those pesky zits. You know you're getting old when you're getting gray hairs AND breaking out. Thanks, Mother Nature.
This is really light, soaks in, and plays well with others. I've been doing this on fresh skin, then the super retinol, then a night cream.
Yeah, it's a lot, but my face is smooth like a baby's skin.
7. Jeju Daily Moisture Balm: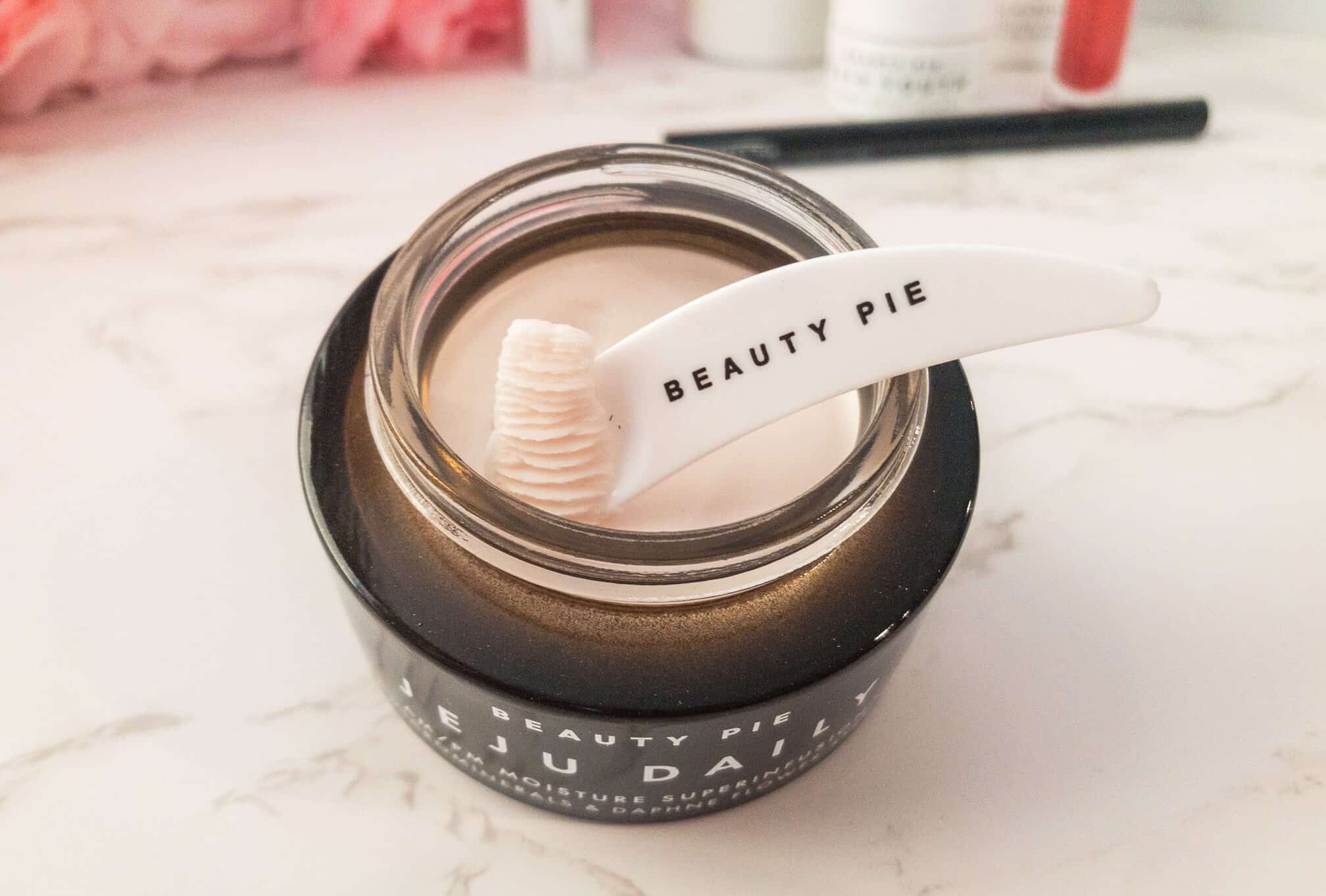 Oh boy, this one is like butter. The consistency is thicker, so it's definitely a night cream. The smell is lightly fragranced, but amazing. It's a very spa-like, luxurious experience to use this moisture balm.
The only thing is, I feel like it's too heavy for my acne-prone skin and I think it was suffocating my skin a little. I have to try it again in a week or so and see if the results are the same.
Otherwise, it's really incredible and I want to bathe in it.
8. Deluxe Precision Liquid Eyeliner: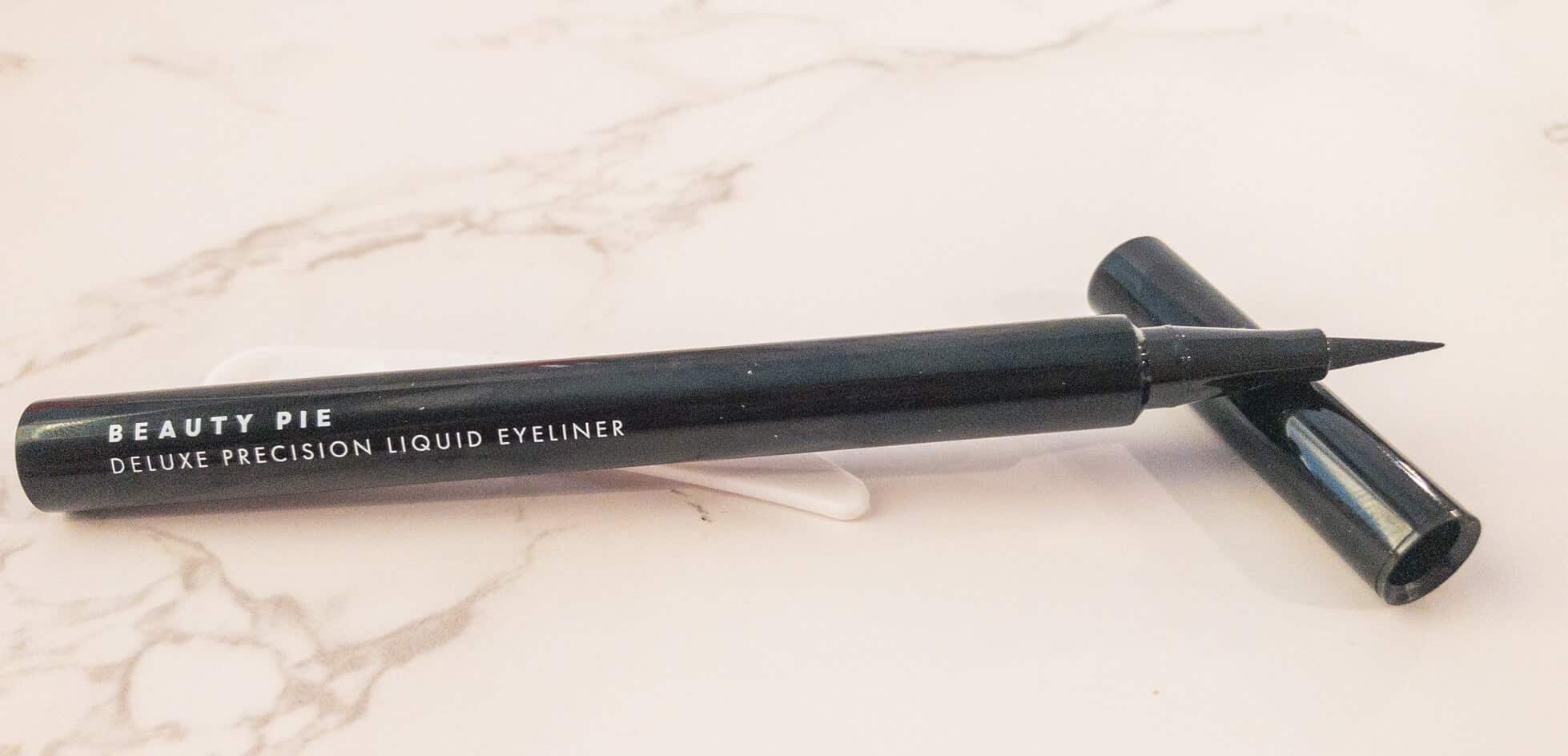 I'm hot and cold on this one. Similar to their kohl pencil, I do get some light eye irritation. It's not too bad, but it's not good.
This is also a bit harder to control and has a thicker tip than the liquids I gravitate towards. Not sure I would reorder. But, other people love it.
Check out my recommended eyeliners for sensitive eyes here.
9. Dr. Glycolic Soft Feet Peeling Socks: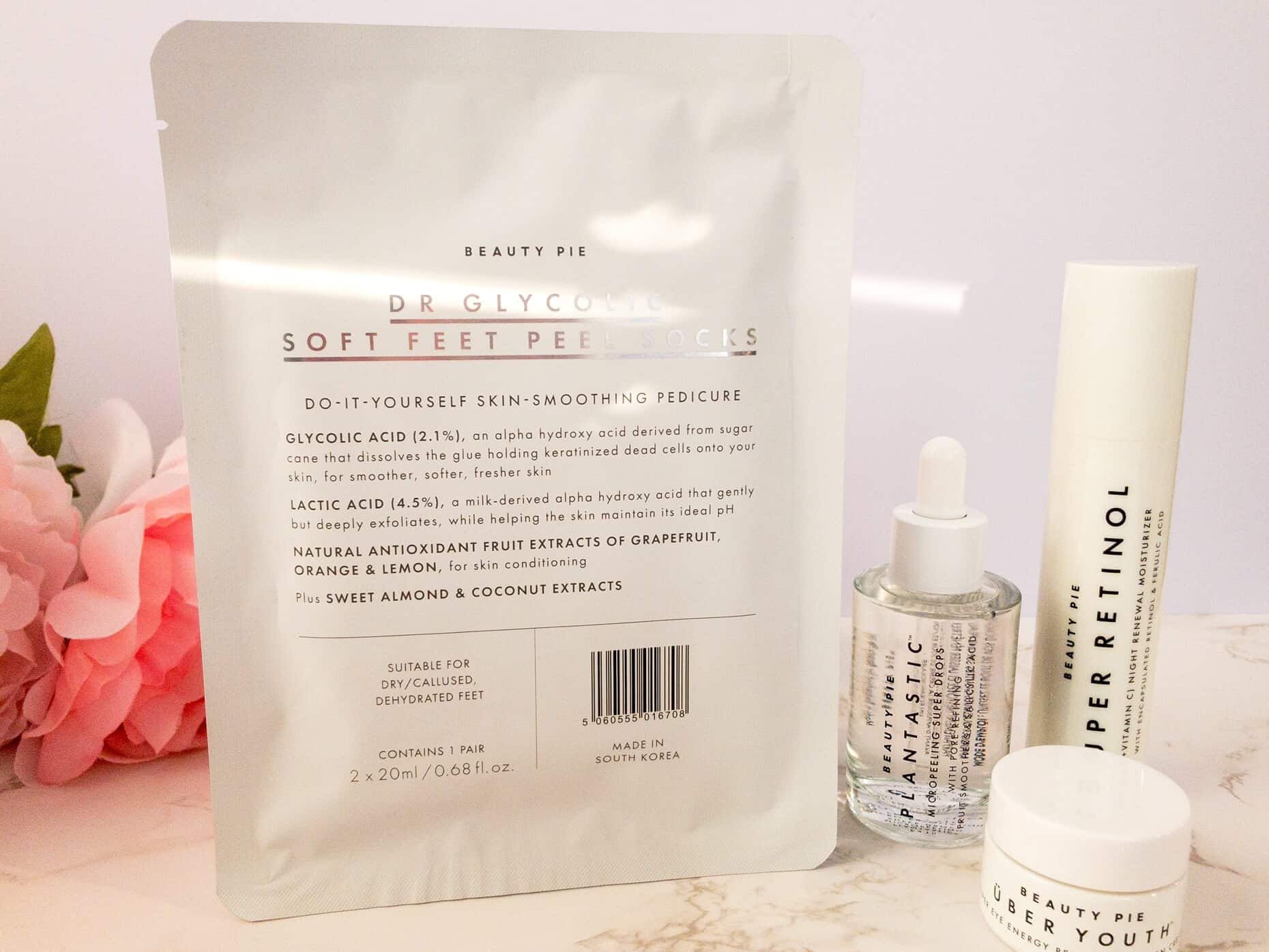 Yup, these work. They make your skin nice and soft. I needed it after a summer of flip flops. But, I also don't really love these peeling socks. I've tried them before and I will say that I liked this version BETTER, however, I think regular foot cream and socks is a better option for me.
Luckily, BP makes my favorite foot cream, so it's easy to add to cart. Bottom line, if you love the peeling sock thing – you'll like these a lot.
10. Wondergloss Collagen Lip Oil: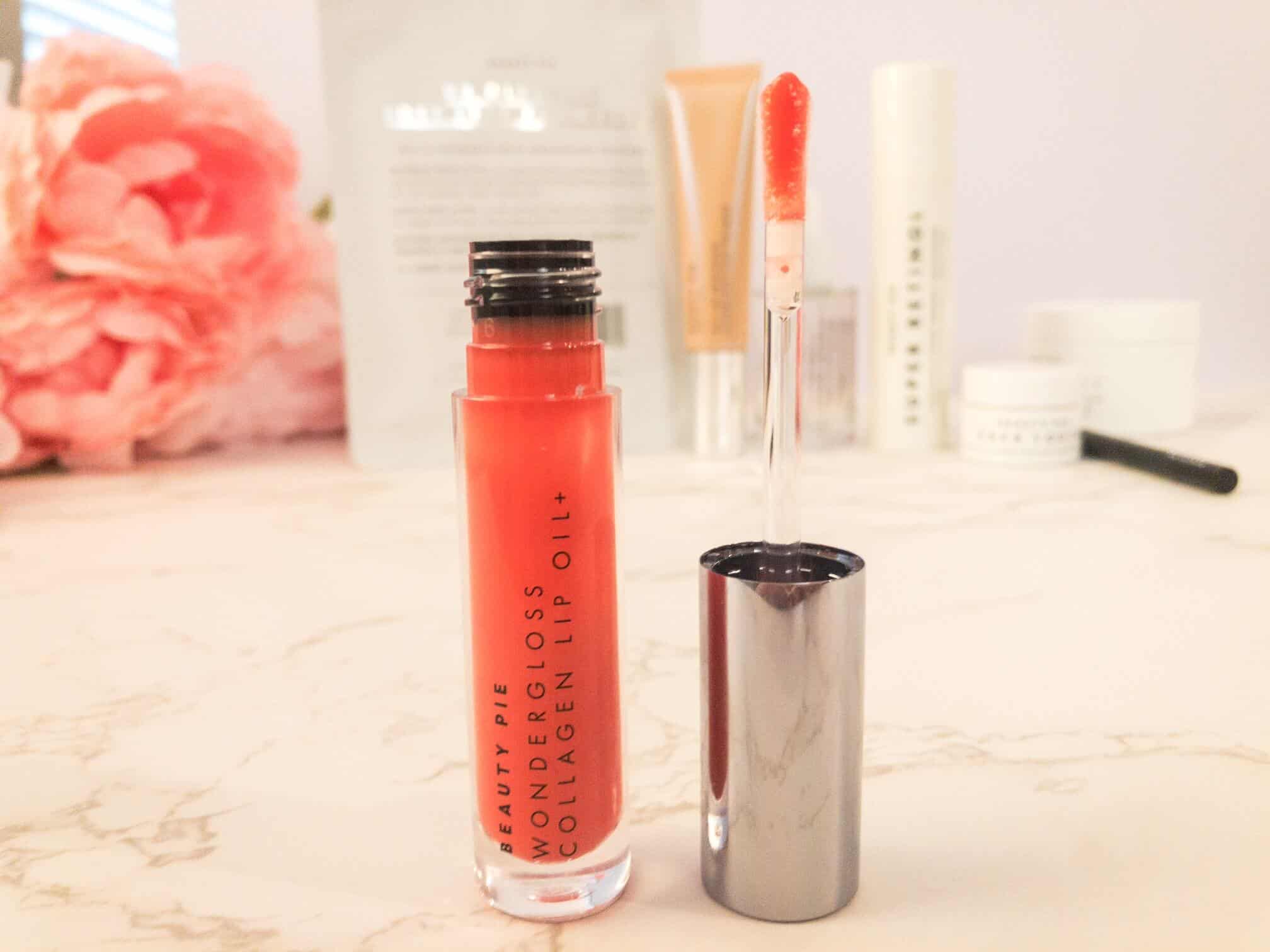 Obsessed. Love this so much. The collagen and oil combo is my jam. It's my new favorite lip oil. I almost exclusively use lip oils because they don't get sticky and actually improve the texture of your lips as you wear it.
I really love this light color and the formula. Will definitely be buying more.
****
That's it for this super Beauty Pie haul! If you'd like to try Beauty Pie for yourself – feel free to use my referral link to get a free membership month. Sometimes, they add other goodies to it, too, depending on when you catch this post.
If you want to read more Beauty Pie hauls – go here.
Have a fabulous day,
E