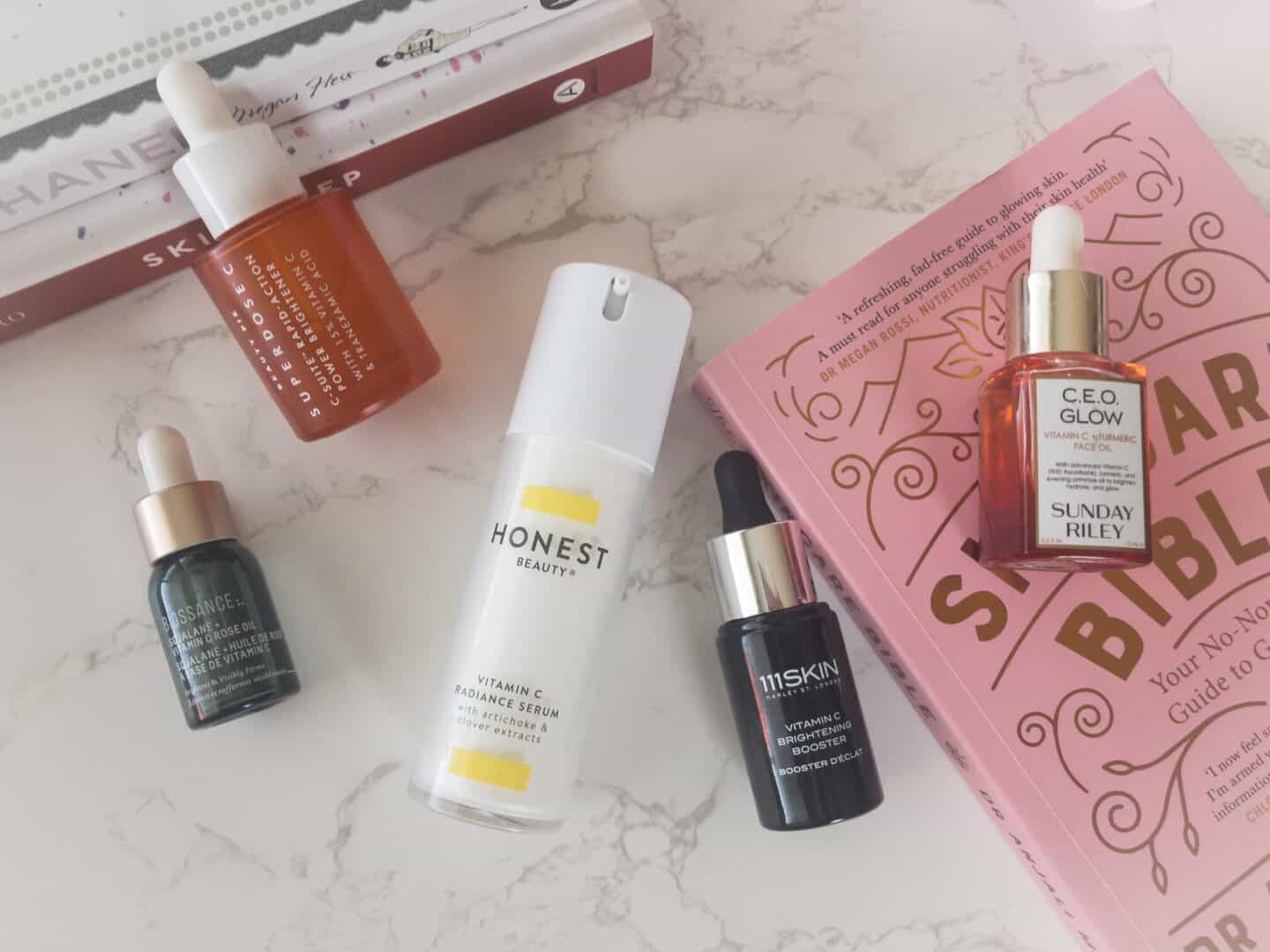 I remember the first time I woke up to find dark patches on my skin. Like any normal person, I rushed to the internet to figure out what the heck was going on, and got smacked in the face with a barage of new words like dark spots, hyperpigmentation and melasma.
I was less concerned with what it was and more concerned with how the heck to get rid of it. So, I rushed in to my dermatologist to try and fix it, and was given a strong prescription cream that certainly lightened the dark patches of skin…but at a cost. They irritated and dried out my super sensitive skin, causing even more issues.
That's why over the years I have tried all sorts of gentler solutions for restoring and maintaining skin tone. I've found vitamin C to be one of the best ways to do this without damaging my skin's ph level.
I've tried a ton of vitamin C products and am sharing my favorites for how to even out skin tone and improve the quality of your skin!
What Causes Dark Spots on Your Skin?
Before we dive into the 5 vitamin c serums I have and use all the time, let's chat about what's causing those dark spots in the first place.
Dark spots are a form of hyperpigmentation, which just means your skin is producing more pigment in certain areas than others. There are different types of hyperpigmentation, from sun spots to melasma.
Melasma is driven by increased estrogen levels and is typically triggered by birth control or pregnancy. Sunlight can also trigger melasma in women prone to this pigment disorder, meaning that summer can really be a trigger for it to flare up. You can read a ton more about hyperpigmentation in this post.
The good news? There are definitely treatment options, from vitamin c serums to more aggressive options like laser treatments.
How To Prevent Hyperpigmentation:
The bad news? Once your body starts to develop pigment disorders, they can flare up again and again. This means it's a good idea to find what works for your skin and keep it on hand, as well as take care to prevent more flare ups in the future, by:
Wearing a daily face lotion with sunscreen (here's my favorite I wear every day)
Protecting skin when out in the sun with higher SPF and reapplying often
Consider wearing a hat when in the sun, too
Limit time out in the sun when possible or sit in the shade
Regularly treat skin with gentle exfoliating treatments
Regularly use vitamin c serums and other topical treatments
I remember the first time I had a melasma flare up. I was totally terrified that I wouldn't be able to restore my skin tone. Now, I've learned how to protect my skin from flare ups and know what to do when a week in Hawaii fires my hyperpigmentation back up.
Because my skin is super sensitive and prone to inflammation, I only use products that work without creating more issues. I hope they work for you, but always do a small test before using a new product all over your face to check for a reaction. If your skin becomes irritated, stop using the product and return it!
The Best Vitamin C Serums for Sensitive Skin: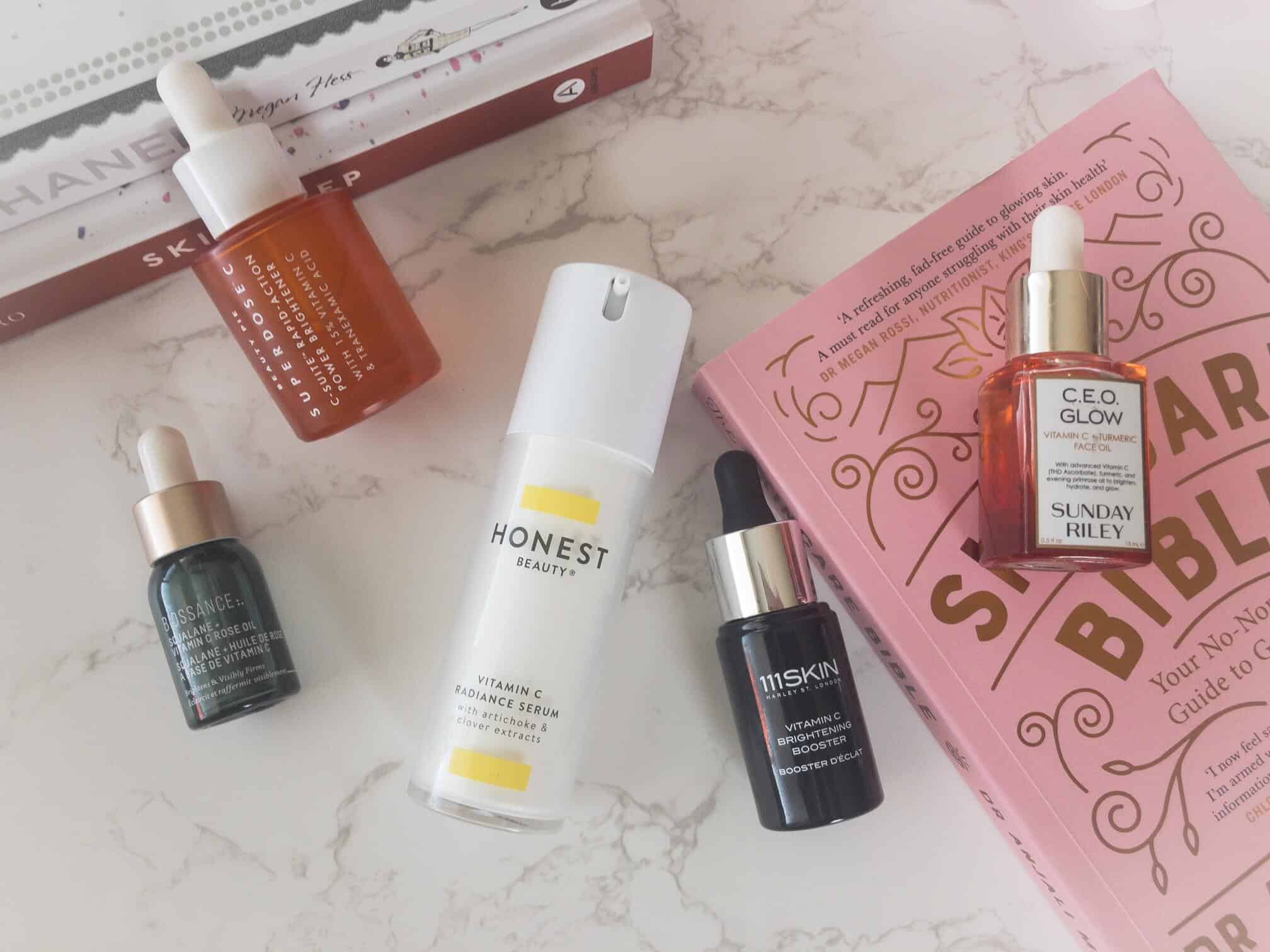 Here's my favorite vitamin C serums for evening out skin tone, fading dark spots and restoring skin texture. I use one of these at least a couple of times a week and don't have any irritation at all. I find my skin responds best to using vitamin c serums regularly instead of occasionally using a very strong, potent skin lightener. Prevention of dark spots is key!
Also, while none of these brands have sponsored this post and I bought them all with my own money, there are affiliate links used below, which means I'll receive a small commission at no cost to you if you purchase through my link. I only share products I use and recommend.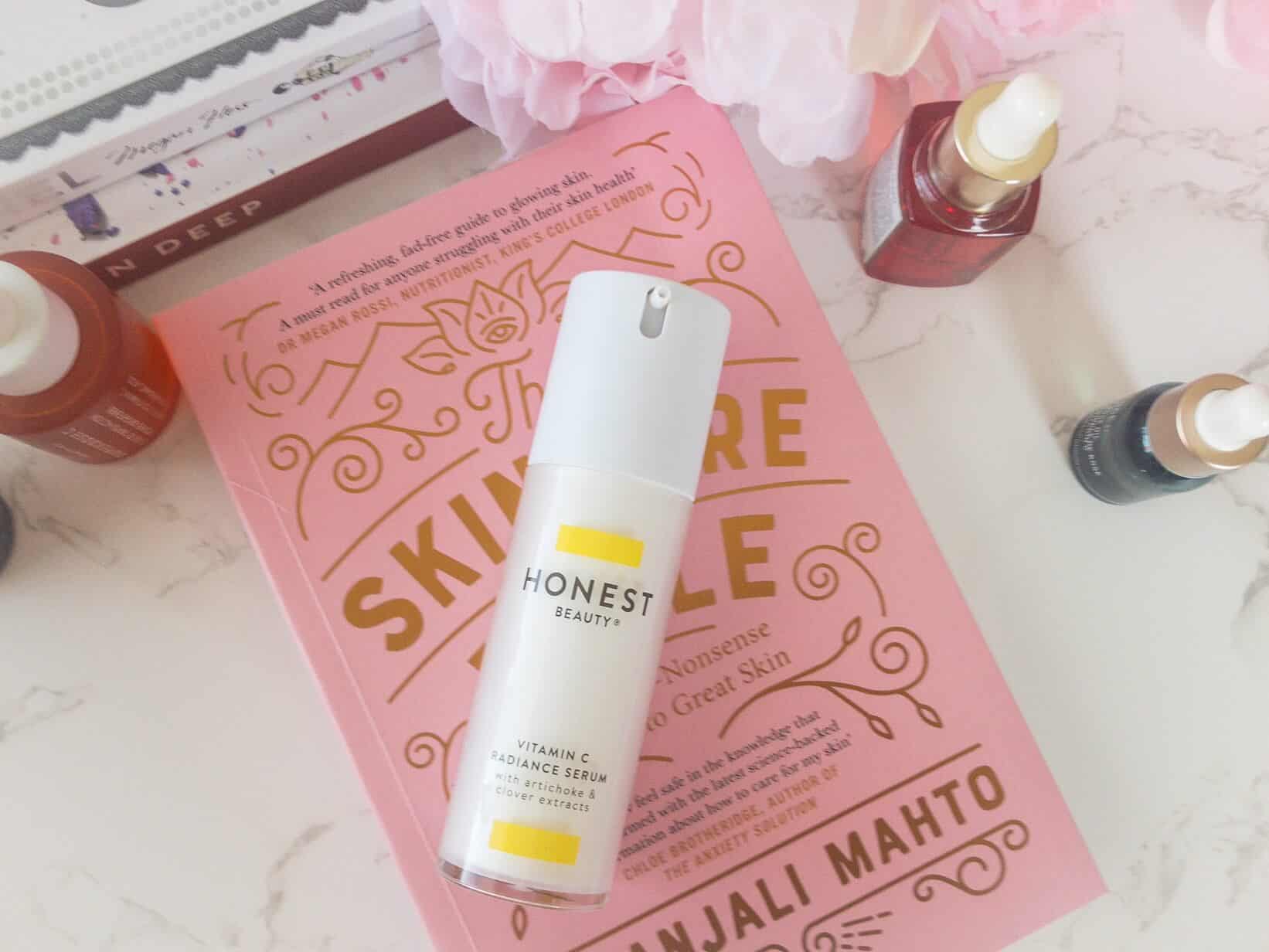 This is the most affordable and cleanest option on the list. I really like this one for using regularly, because it's so gentle on my skin. This is not a serum that will show a dramatic difference in one night, but with regular use, you'll notice smoother, more even skin, thanks to the vitamin C, artichoke extract, hyaluronic acid and light reflecting pearls packed in this serum.
I always layer a night cream over my serums at night and you can layer this with the Honest Hydrogel for an evening, smoothing, brightening combo that is safe, super gentle and affordable.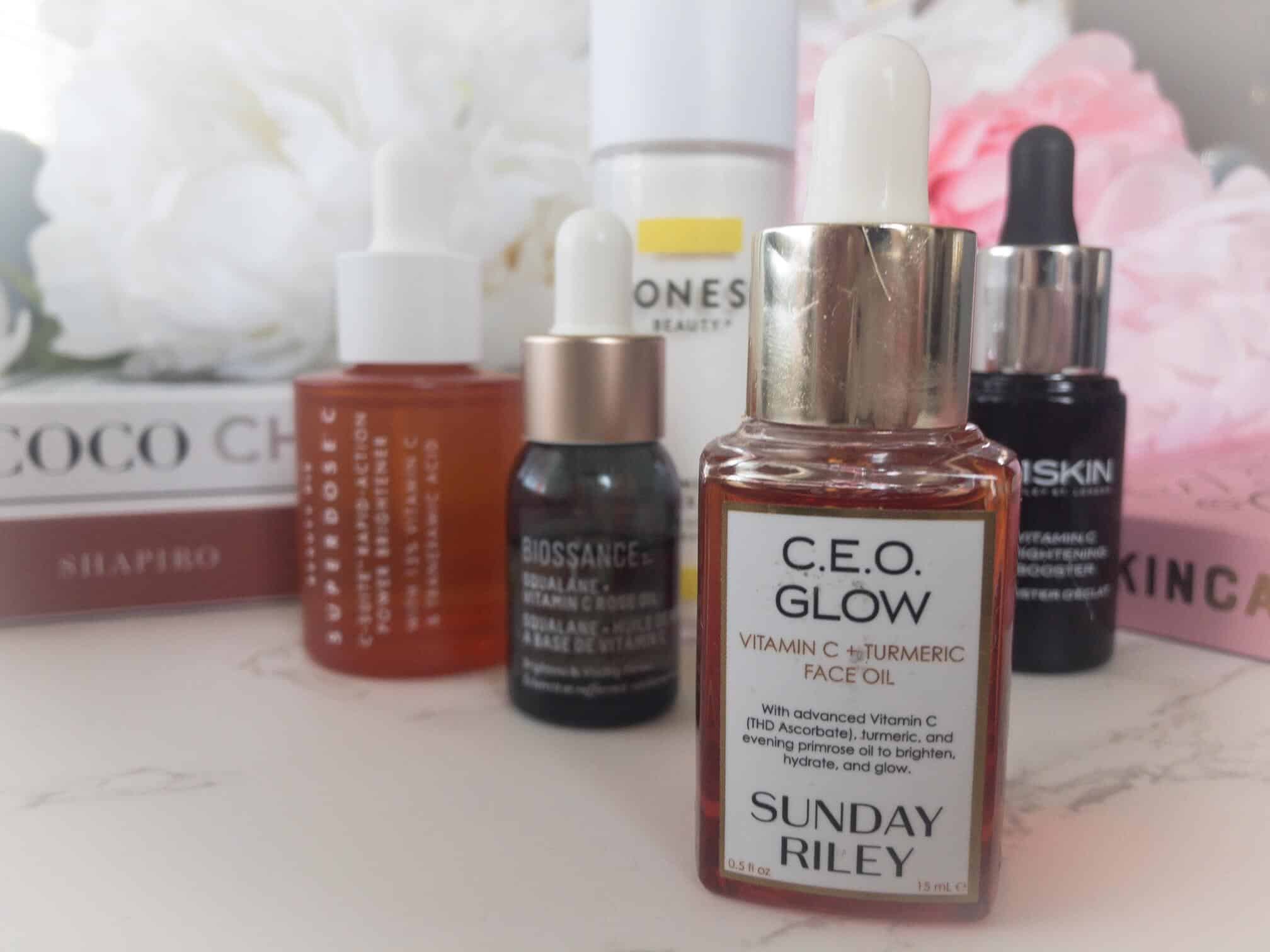 Wow, Sunday Riley just kills it time and time again! This CEO glow packs two of my favorite skin care ingredients: vitamin C and turmeric face oil, for a powerhouse combo that will decrease inflammation and brighten skin! If you haven't jumped on the turmeric train, read my post on the many benefits of turmeric to get on board. Plus, they added evening primrose oil in here, too, for some serious support against signs of aging.
This one is super powerful and I feel a little bit of warmth in my skin when I use it. The sensation does go away and don't experience any irritation, but I certainly see some improvements in the morning. I would definitely recommend using this one at night and then layering a really soothing, calming face lotion on top of it.

Are you getting Beauty Pie yet? It's such a fun monthly club to be part of. I've written a lot about the products I've tried from my Beauty Pie hauls, but this is one of my favorites. They have come out with a couple more vitamin C products, too, that I want to try – but for now I'm using this one and loving it. This powerful concoction is a combination of high-dose, stable vitamin C, sandwiched with 'super' actives Ferulic Acid and Tranexamic Acid, for some serious brightening action.
Even better, the serum is super lightweight and doesn't feel like much more than water. It's not often that I find a high-performing product that feels like, well, nothing on my skin. I can get so used to having sensitivity to products that when this happens – it feels like a major score.
Plus, if you're part of the Beauty Pie club, you'll get this for under $15. Read some of my reviews of Beauty Pie here.
Get a free month of membership with my referral code for Beauty Pie here.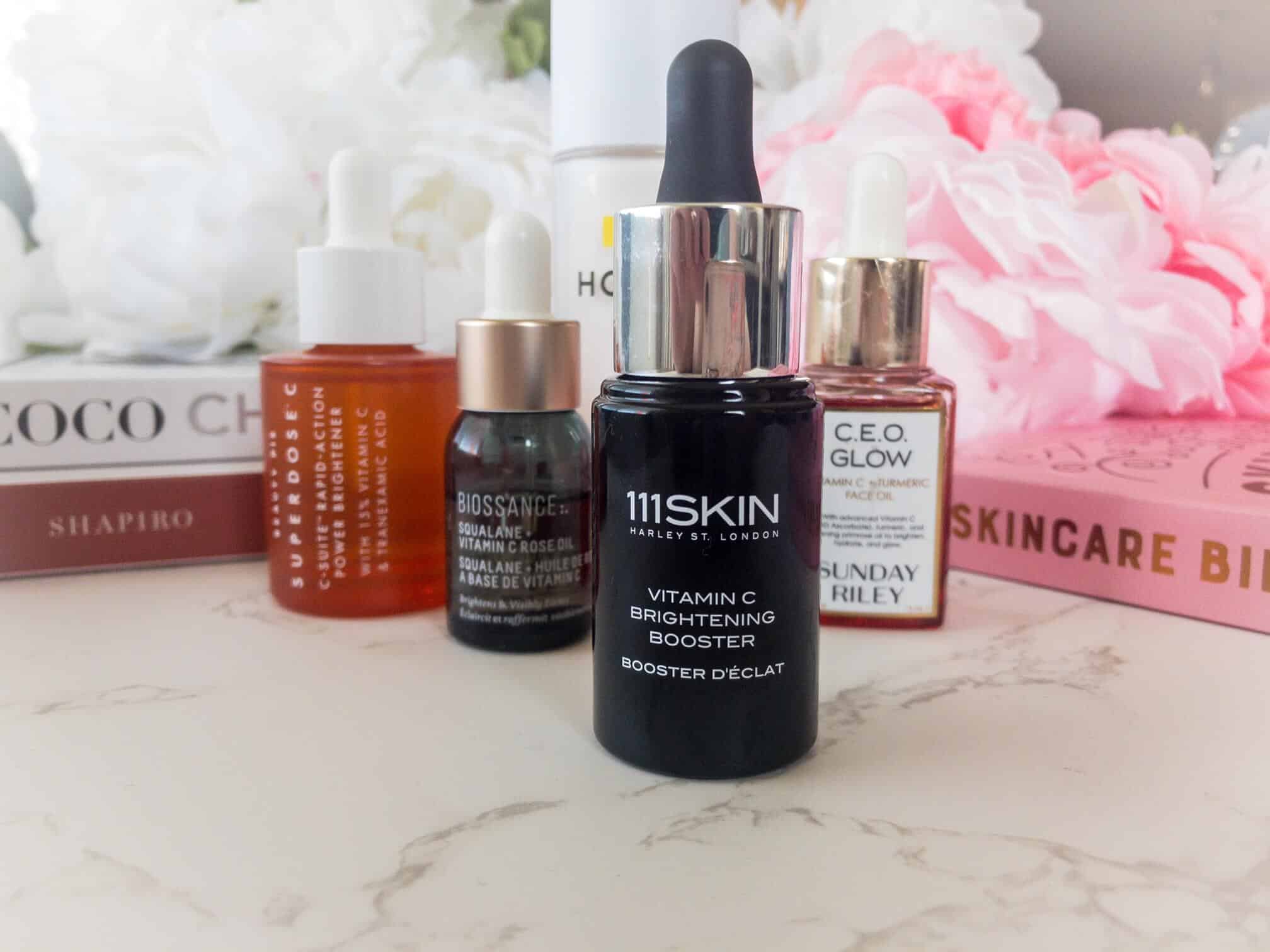 I'm a newbie to the 111Skin line, but starting noticing them more when I received 3 different products from them in my beauty boxes that I get each month. The Vitamin C booster was one of them and I was super psyched to get it.
111Skin is a line that would traditionally be outside my beauty budget, with products typically ranging in the $150 range. When a product charges that much – I take notice. I like to know what exactly they're doing with that formula and if it's worth the price.
In this case, this vitamin C serum is super concentrated and designed specifically for people with hyperpigmentation and melasma. Plus, the active ingredients actually inhibit tyrosinase production, which reduces and prevents discoloration. Over time, this booster is supposed to even out skin tone and protect against future episodes.
It's also super gentle and feels great on the skin. If I was trying to really dial back a current episode and not just maintain – this is the one I would reach for. It works.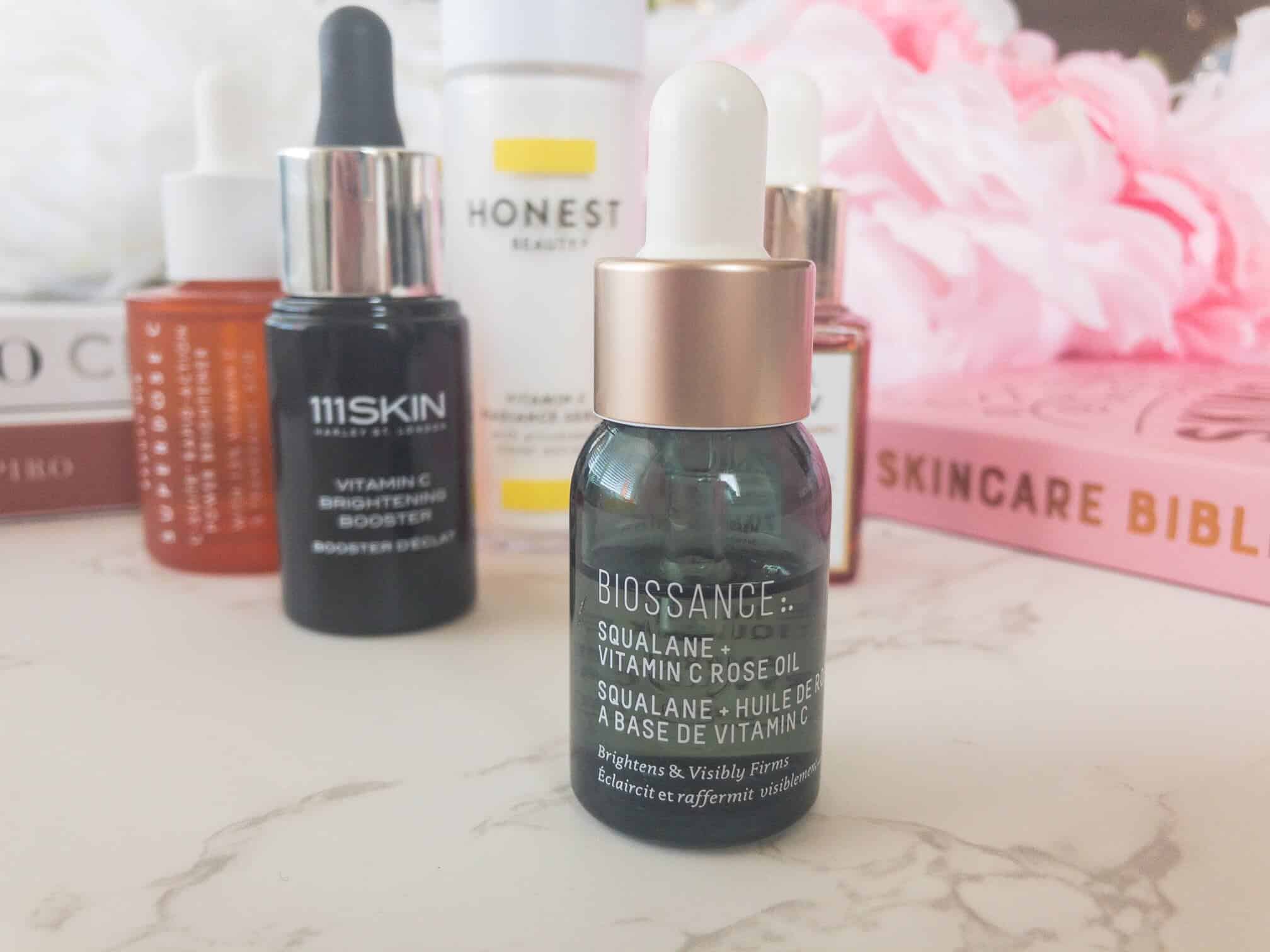 I love me some rose oil, baby. Add in the super hydrator squalane and this is the most oily of the bunch. This one is great for hydrating super dry skin, while also treating dark spots, and it's a clean formula like all Biossance products.
This small bottle might surprise you at first – but don't worry, it's also highly concentrated and you'll only need a few drops to get your whole face. That means this puppy lasts and lasts. I've had this one for a year – maybe more – and you can see how much is left. I don't use it every day, though, but still, I feel like it's a good value. In fact, I've had this so long, they've updated the bottle of this bestseller and it's now a gorgeous rose pink color. #jealous
The powerhouses in this one are hydrating squalane oil, brightening vitamin C, firming chios crystal oil and brightening rose oil. Together, you'll see smoother, lovelier skin.
****
There you have it! The 5 vitamin C serums I pulled out of my own skin care drawer to share with you today! I rotate between these and mix it up with some other serums, unless I'm battling a hyperpigmentation flare-up, in which case I'll use one every day at night.
Then, I layer a moisturizing night cream on top and voila! Skin soft like a baby's butt in the morning.
If you're curious what's so great about serums – check out my post on serums. And if you're obsessed with skin care, too, you may also like my posts on maskne, undereye cream or what order to put your skincare!
Enjoy!
Have a fabulous day,
E