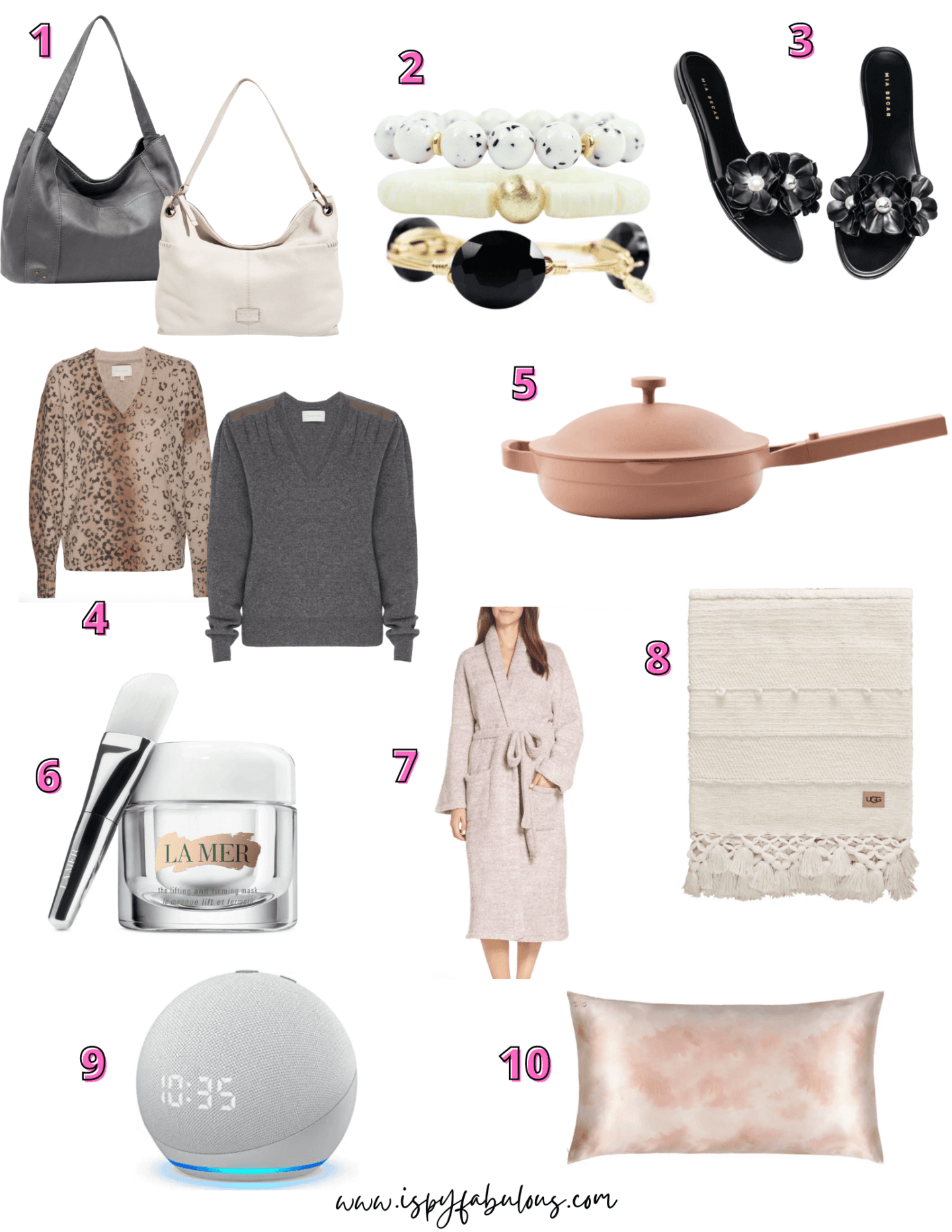 This is one of my favorite times of year. I love when all the flowers are blooming and the weather is turning warm, but not burning us to a crisp yet. Special, but not overwhelming, holidays like Mother's Day and Father's Day are on their way and offer an easy reason to get together with some of our favorite people who have touched our lives in immeasurable ways.
I start thinking early about gift ideas for those special women in our lives that cannot be replaced. Whether this is a mom, aunt, friend, grandma, or a woman who impacted your life in a major way, this is a great time to celebrate them and what they mean to you.
I've done a lot of gift guides on the blog with affordable, but still super thoughtful, gift ideas, so today I am focusing on more luxurious gifts for those years when you want to go all out.
Whether you're shopping for a cook, a shoe lover, or a woman with a bag collection that would make us all jealous, there's something for her here.
10 Luxurious Mother's Day Gift Ideas:
All of these gifts take gift-giving to the next level, not just in quality and design, but also in packaging. They are packed and shipped with love and care for a truly memorable gift experience. While these are affiliate links, I have personal experience with each of these brands and highly recommend them.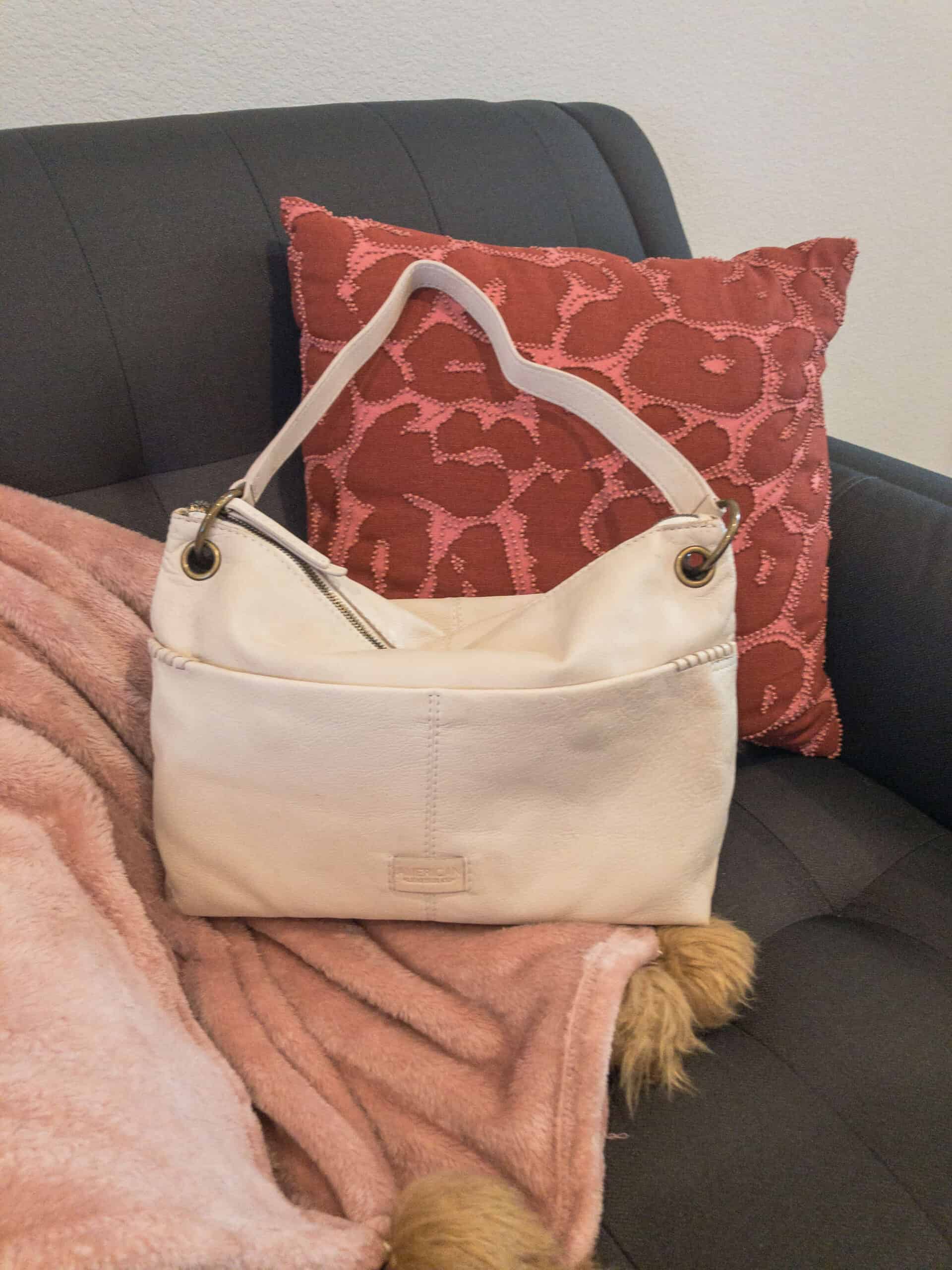 I adore this bag company. Their bags are absolutely beautiful and super well-made, but they're not overly fussy. In fact, they are super functional. This is a welcome departure from a lot of bags that I own that just don't really hold anything or they look great, but feel terrible.
Not these bags. The 100% genuine American leather is soft and the designs have clean lines, but thoughtful details, such as antiqued hardware, whipstitching, and lots of pockets to keep things organized.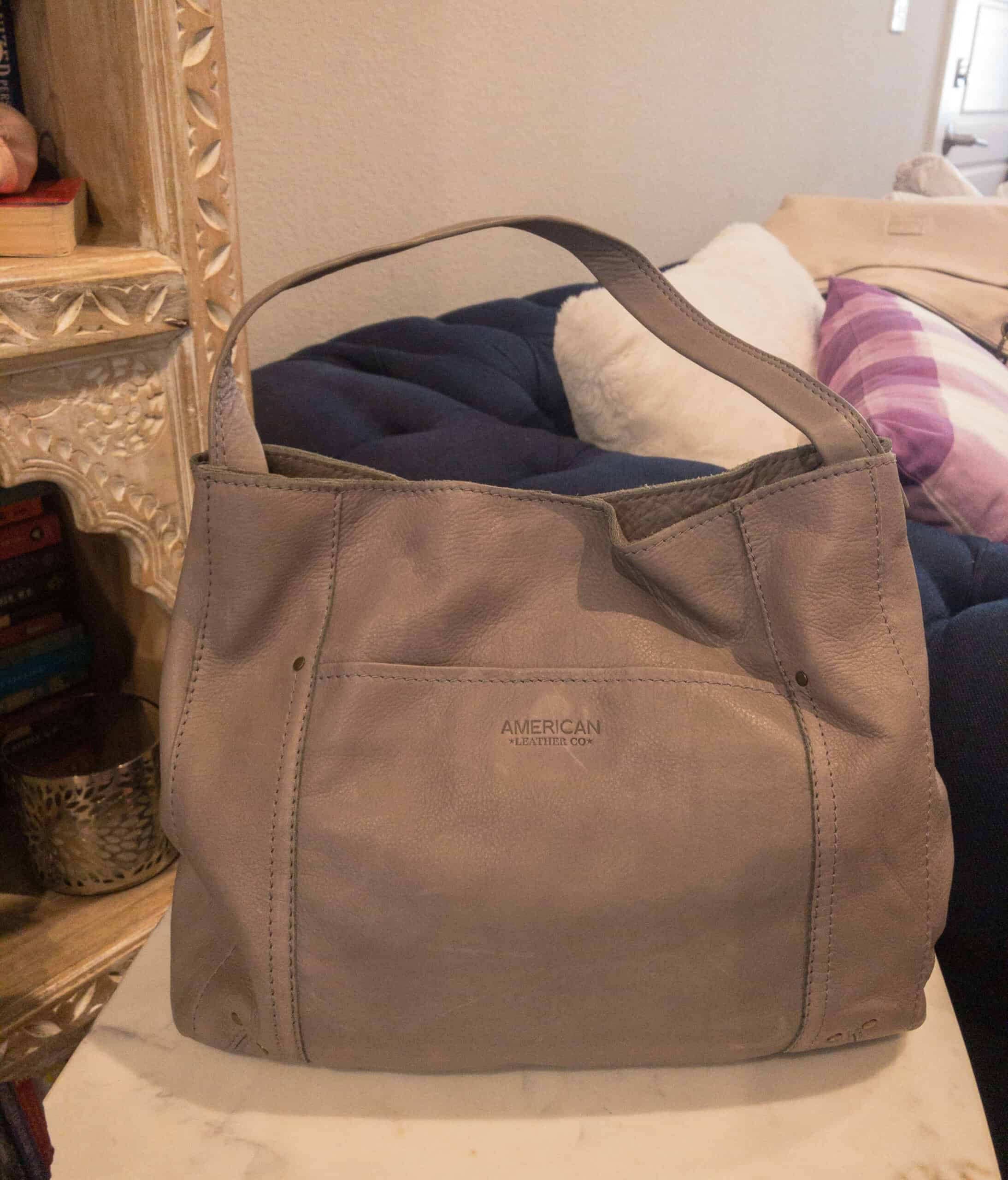 While I am drawn to the Davenport Hobo in stone and the Philadelphia Hobo in ash grey, there's a design and bag for every woman in your life here.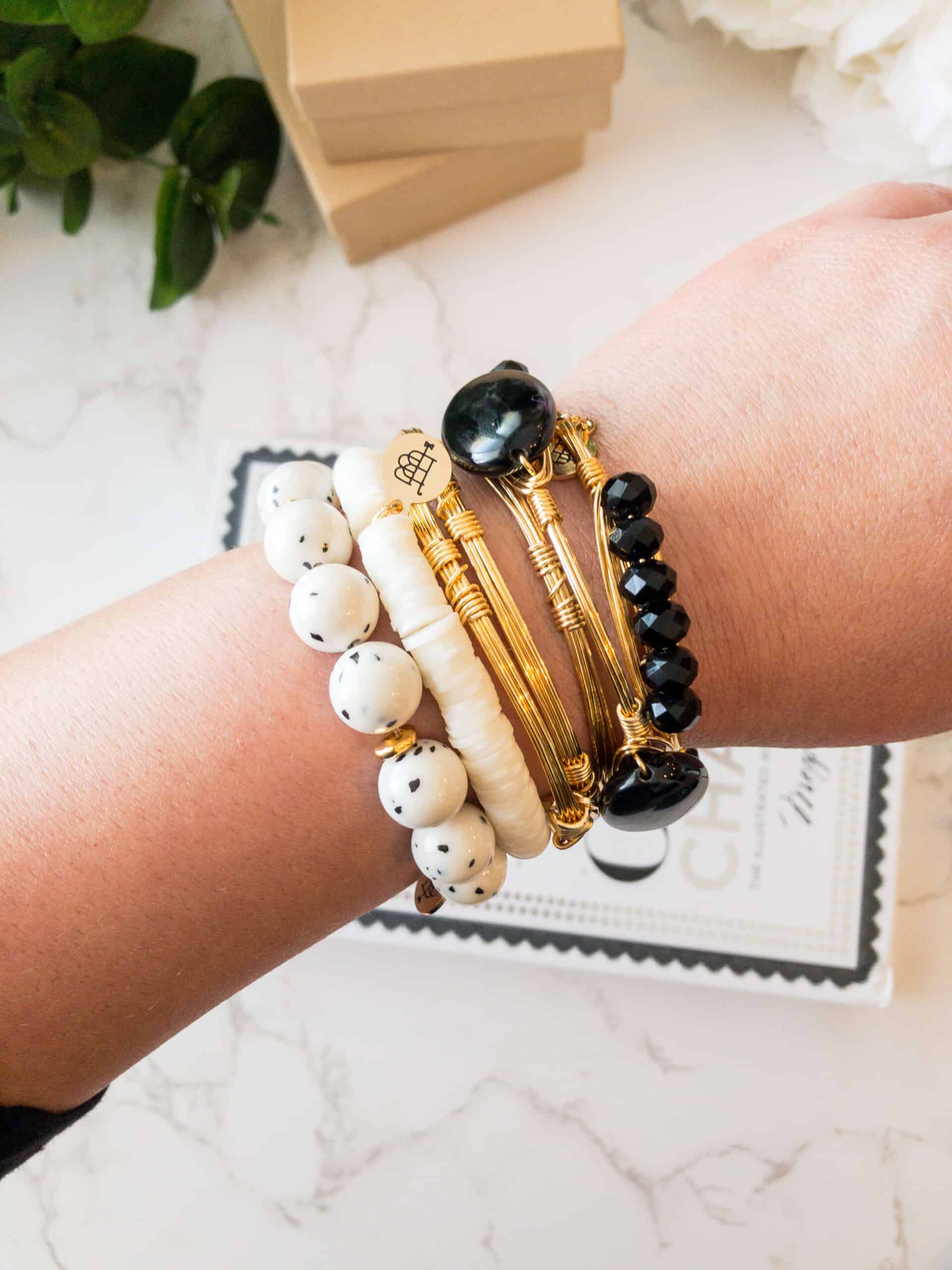 Accessories make a great gift! The reason is simple – you don't have to know someone's size or what they already have to pick them a sweet pair of earrings, a cute statement necklace or a stack of bracelets that will make any outfit infinitely better. And, if you're going to pick a stack of bracelets – you should do it at Bourbon & Boweties – because they have mastered the art of the perfect bracelet stack.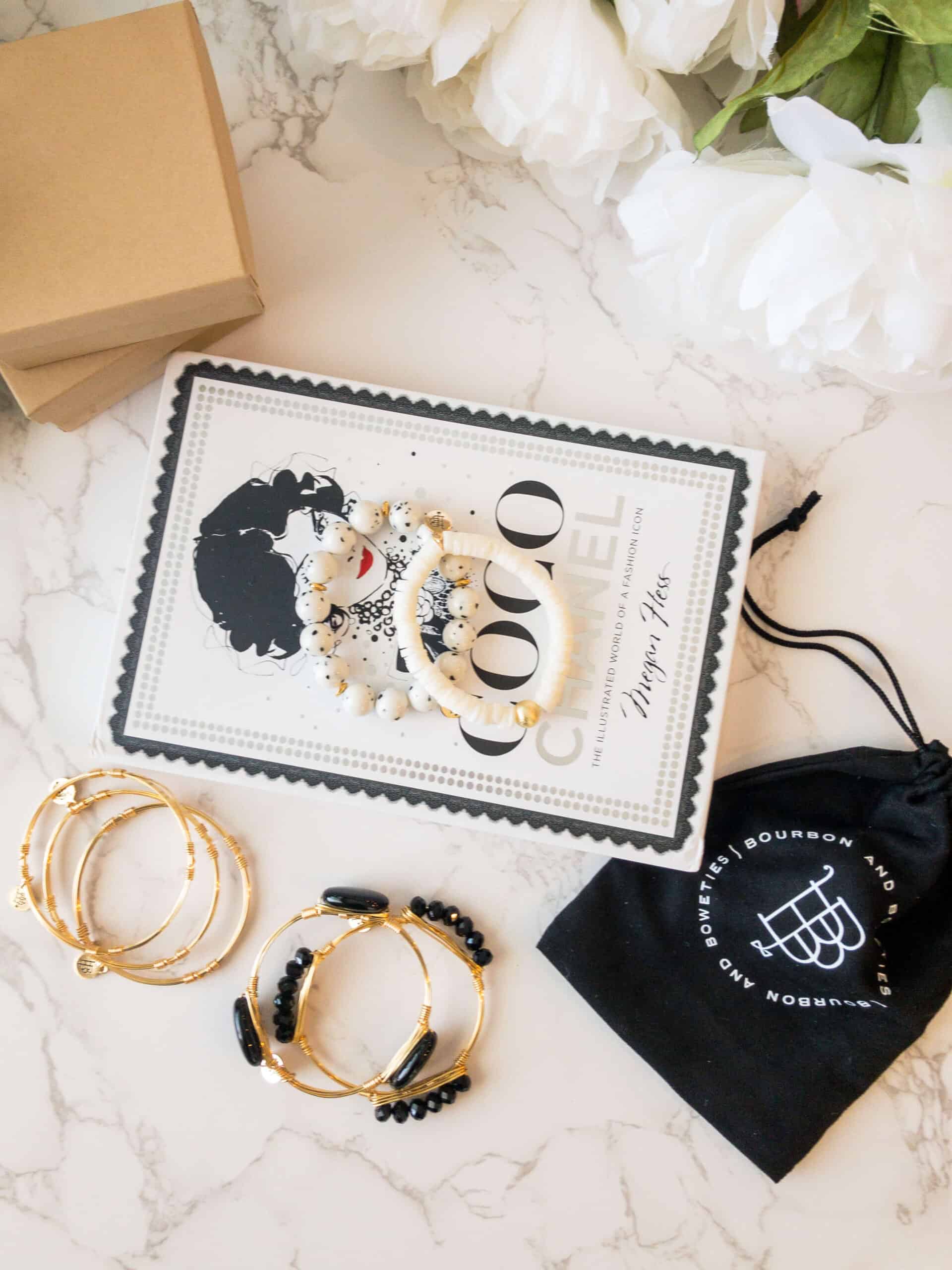 I am totally obsessed with this combination of bracelets from them. The combination of gold, beads, and stones is chic and versatile. It's that perfect cool girl combo that looks both put together, but effortless. These are all the bracelets in my stack above:

Choosing a fun collection of bracelets would be the perfect gift for anyone on your list and B&B will ship it to them in beautiful boxes ready for gifting.
Shop the best collection of accessories from Bourbon & Boweties.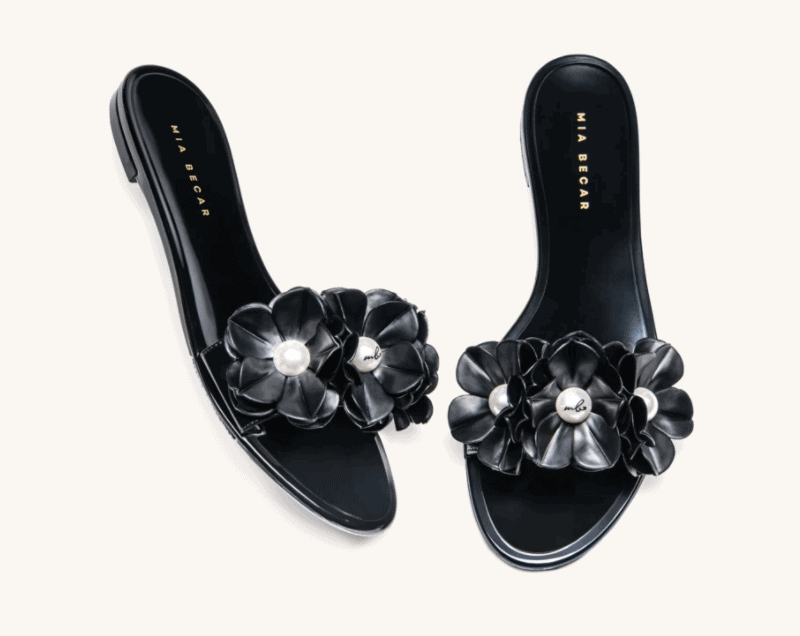 Ooohhhh, these are so beautiful. I sure love shoes – and really, what women doesn't? Can you ever have too many pairs? Ever? No. The answer is no, especially if you don't have a pair yet from Mia Becar. These are expertly crafted, handmade Italian shoes that will elevate absolutely any outfit.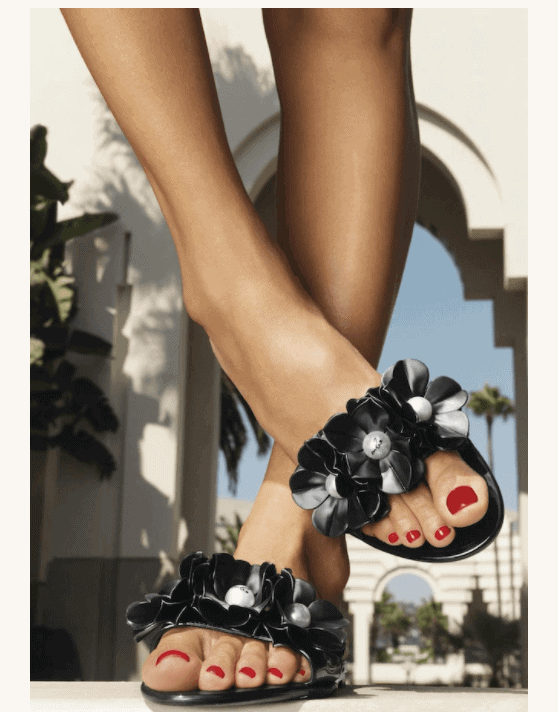 These Maggie sandals are so, so sweet, with black flowers and Mia Becar pearls on a classic slide design that will go with loungewear to dresses, for a truly versatile gift.
Plus, a slide sandal design, such as the Maggie, will be an easy fit for most women, making it the perfect shoe to gift to the shoe lover in your life.
Explore the Maggie Slide and more from Mia Becar shoes.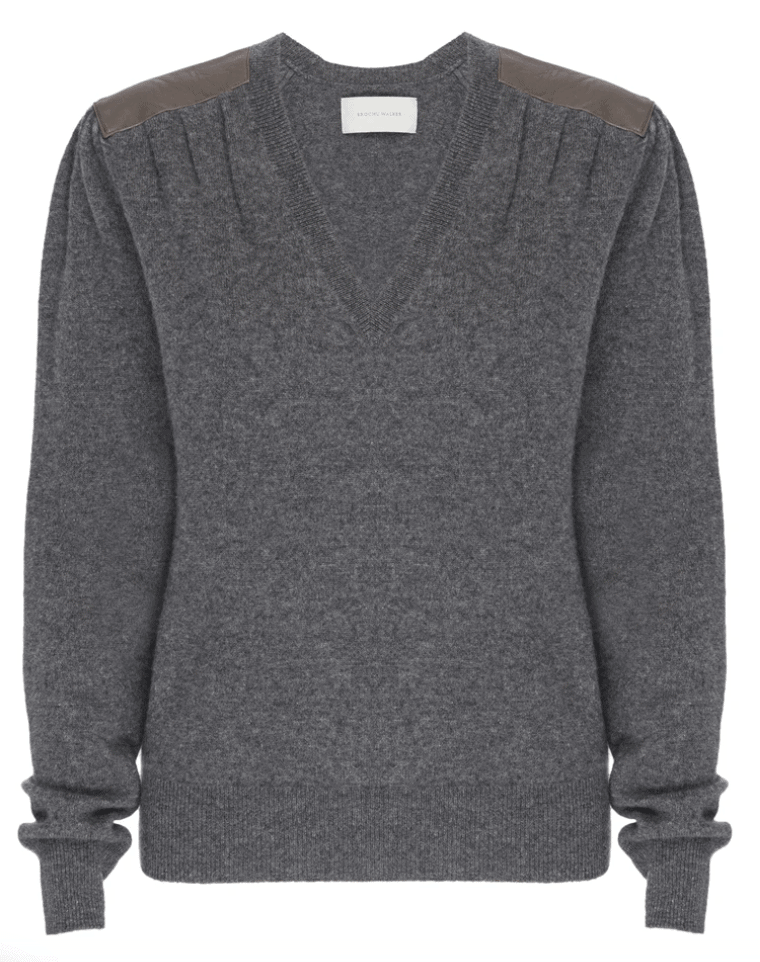 I am still so madly in love with my cashmere and lace sweater from Brochu Walker that I am sharing another one of their stunning pieces in this gift guide, too. Okay, fine, two more of their pieces, because I couldn't choose just one! These sweaters are the epitome of luxury.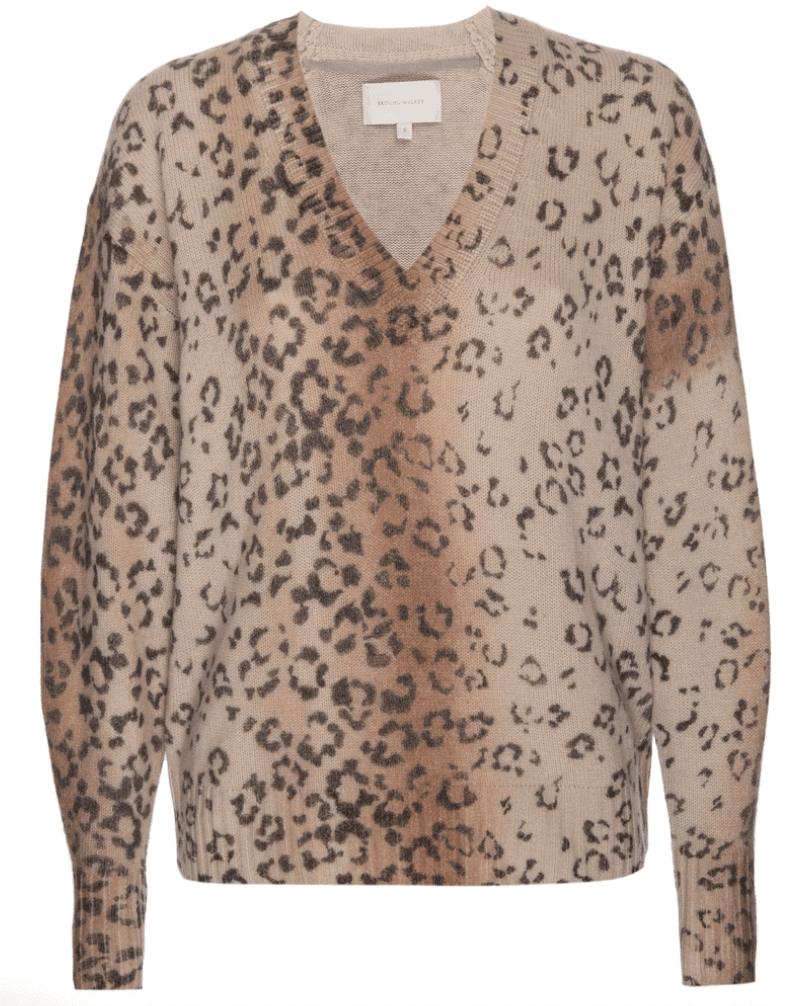 The beautiful designs, luxurious fabrics and special details make these sweaters true outfit makers. Buying clothes for someone can sometimes be tricky, but these sweaters have an easy fit that is universally flattering and the packaging is just divine. Just look at how my sweater arrived when I first collaborated with them (which is why there is a hand-written note):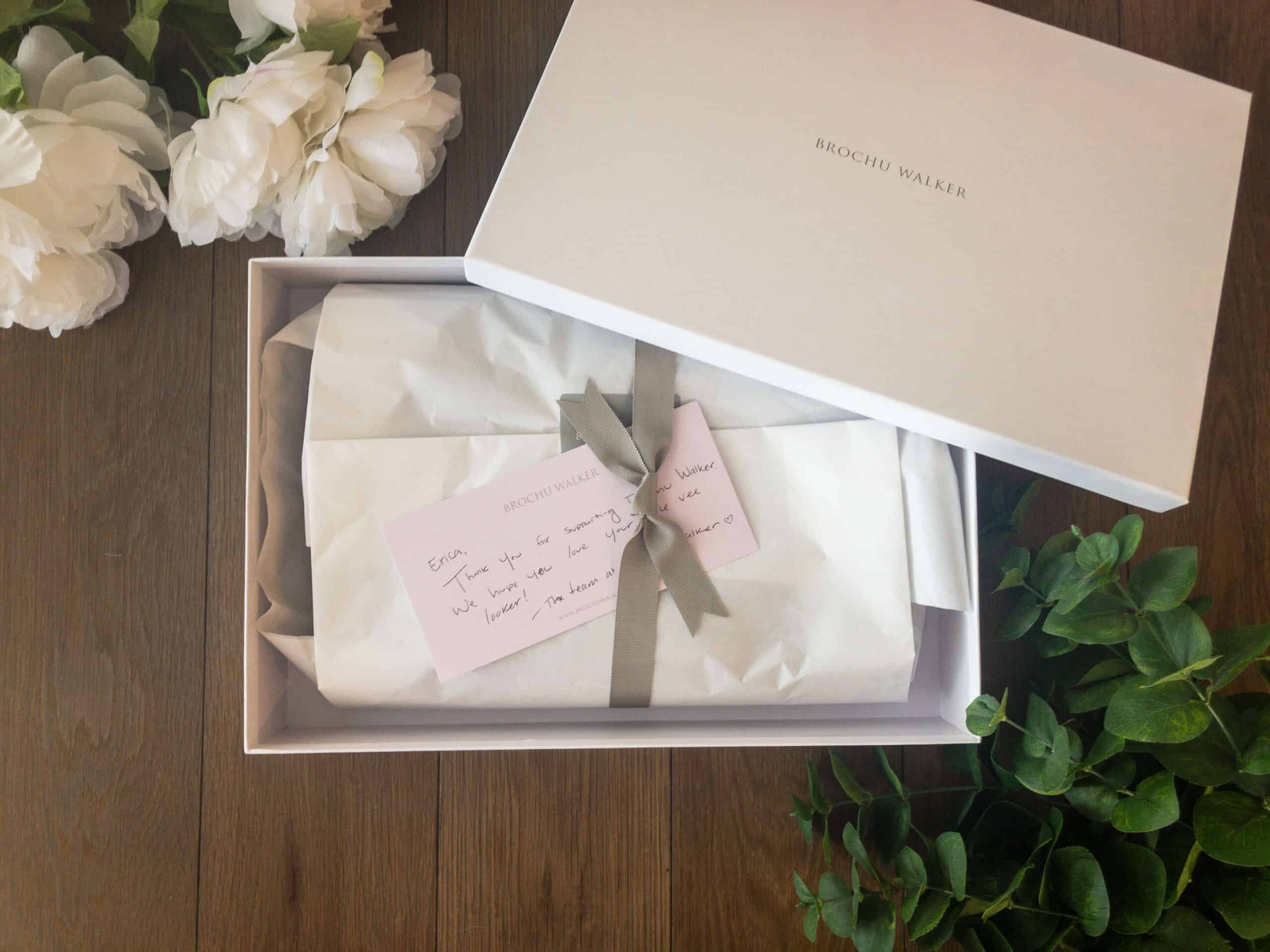 While you can't go wrong with anything from their collection, the Marcel Patch Vee is perfect with the vegan leather shoulder patches, v-neck and pleated shoulders. Or, for the animal print lover, get them the Millie Printed Vee, in either the brown or gray custom leopard print, and you'll be their favorite forever.
5. Perfect Pan from Our Place:

Alright, listen, I had to buy this thing. I was seeing it everywhere and everyone was raving about it, so when they had a Black Friday deal, I jumped on it and got it for the cook of the house (hint: it's not me). And, even though we have a nice set of cookware that isn't that old – guess which pan is always being used?
Yup, that's right – this perfectly designed pan from Our Place. It's actually kind of unbelievable how smart it is, from the non-stick, non-toxic ceramic coating to the little spoon rest for the included beechwood spatula. It's a dream to clean, too, no matter what you cook in it.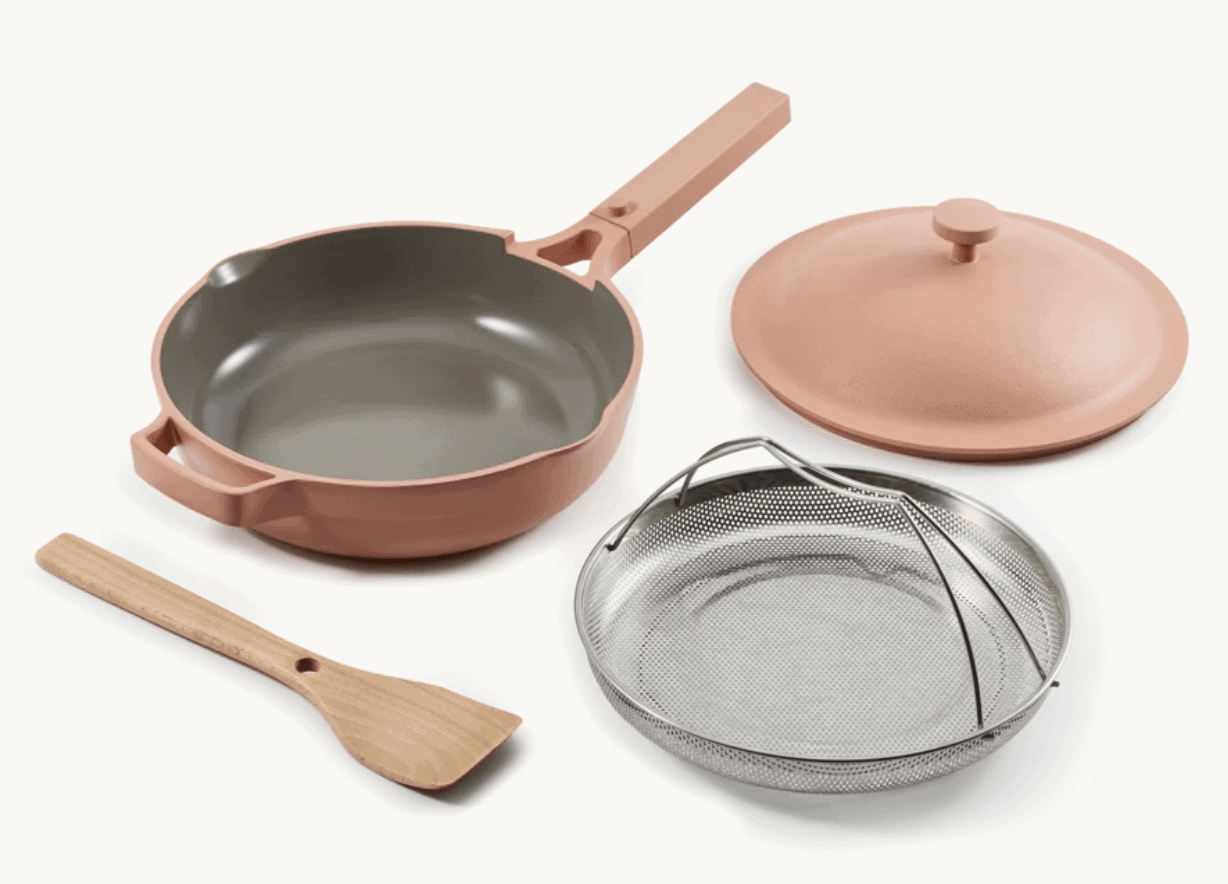 I can't say enough good things about this pan, I just wish they had a full set of them. If you are shopping for someone who loves to cook – grab this pan in one of 8 different colors. Or, if this is out of your price range – you have to see the new Beautiful line of kitchen accessories by Drew Barrymore at Walmart.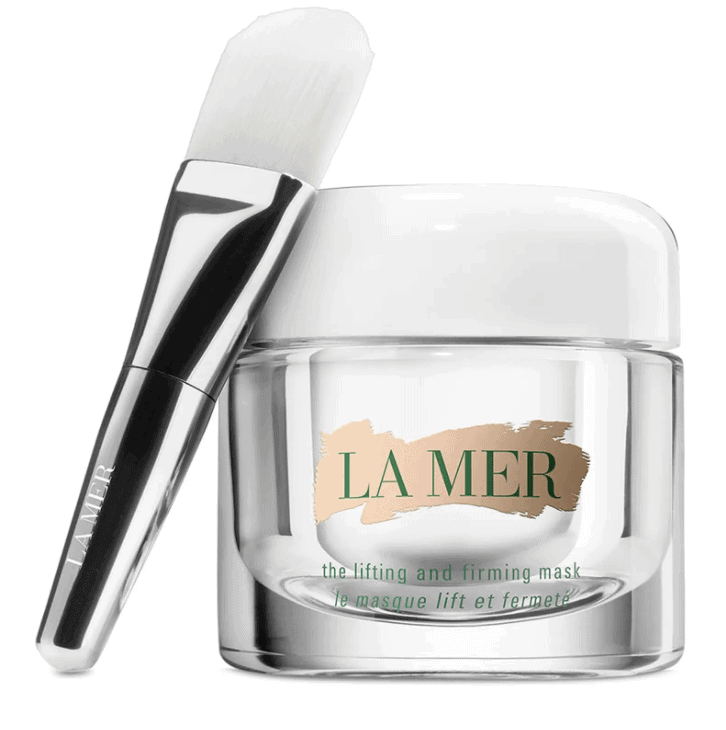 Skin care makes a great gift and if you want luxury, you want La Mer. Their cult favorite product line is beloved because, quite simply, it works. I have only tried their products in sample size form, but I squeeze every last drop of them out before giving up, because they feel absolutely sublime on your skin and you wake up glowing like you've been airbrushed.
This lifting and firming mask set is such a perfect gift, because it comes with the little brush and the mask is designed to firm and uplift the face and neck. Have you applied a face mask with a brush? I've recently started using brushes to apply mine and I will never go back. It's like a mini-facial at home. It just takes the whole mask experience to the next level.
Give the gift of beautiful skin with La Mer.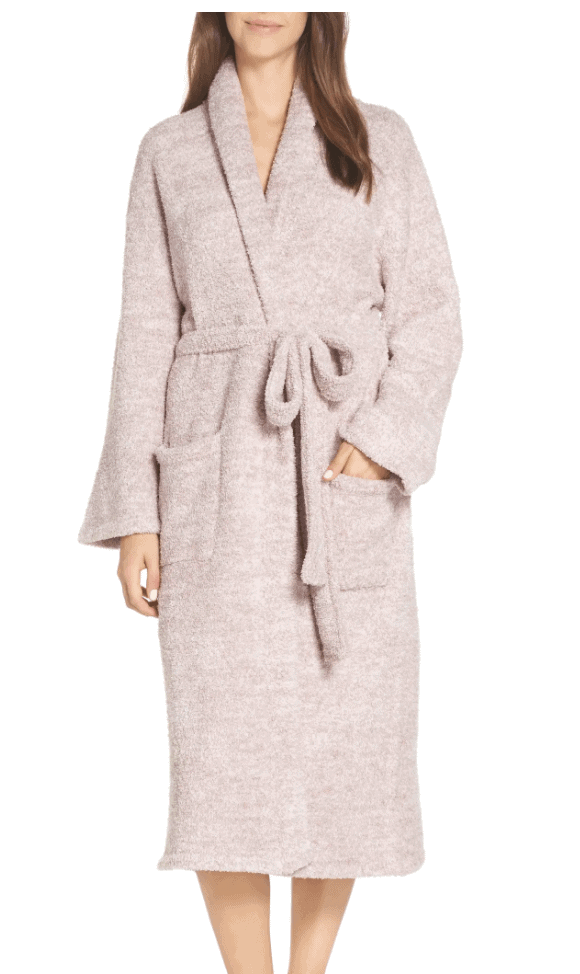 Everyone has fallen in love with the uber-soft cardigans from Barefoot Dreams. They sell out super fast every year during the Nordstrom Anniversary Sale, too. Then, they went and turned their dreamy fabric into a robe. Yes. Yes. Yes. GIMME.
Available in 8 colors and so soft they'll never want to take it off, the CozyChic Unisex Robe would make an incredibly cozy gift. Know someone that works from home? Robe. Have a special woman who could use some relaxing time? Robe. Love a lady that takes care of everyone else all the time? Robe. There is no one on your list that will not love this robe.
UGG's super soft blankets are to die for, but this chic throw is everything! With tassel detailing and textured stitching, it won't just be a blanket they'll want to tuck away. No, no, this blanket is designed to be looked at.
Whether it is draped on a chair for a reading nook moment or carefully folded along the back of a couch that is separating two open spaces, this cotton blend throw blanket is as functional as it is gorgeous.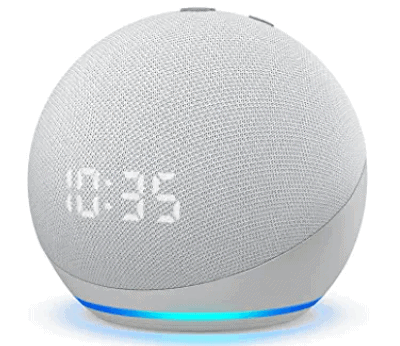 I am obsessed with my Alexa Echos and I just grabbed this new dome-shaped one. It has a clock, which is amazingly convenient, and a dome-shape that blends in more with my decor, for the perfectly useful device that I find myself talking to every day.
I decided to gift some of these last Christmas and everybody was so excited about it. Now, when we talk, they love sharing the different questions they've asked their Echo or how they're using it to live a more hands-free, device-free life. They are a hit!
Plus, with thousands of great reviews, they can't all be wrong. Giving the gift of technology is an easy win.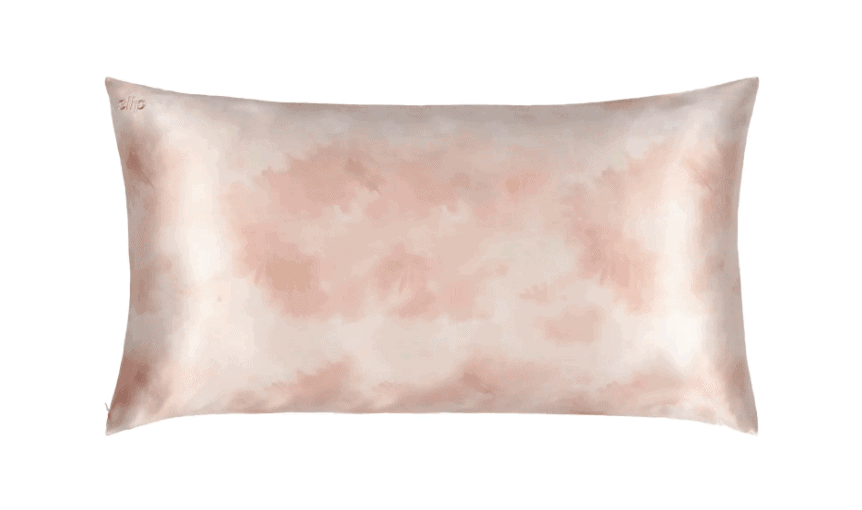 We all have to sleep, why shouldn't the special lady in your life sleep on silk? Exactly. That's why I gifted several women silk pillowcases last year and they've all told me how much they love it.
Silk pillowcases protect your skin while you sleep from signs of aging, as well as helps prevent breakouts. And, silk helps protect your hair, so you'll be able to go longer between washes. It's really just a super simple way to take care of yourself without doing any more work. I think every woman in the world can appreciate an easy life hack that makes life a little easier (or makes her look a little better).
And, bonus, there are a ton of colors available and all are shipped in sweet little boxes for easy gifting.
Give the gift of beauty sleep with the Slip Pillowcase.
A Note On Shipping:
As we all know, sometimes shipping can be unpredictable and take much longer than expected. Don't let that hamper your enthusiasm for the perfect gift.
What I love to do is print a picture of the item I purchased and place it in the card that I give them in person or that I mail to them. The card will almost always arrive much faster than the gift and then they'll be so excited for the package, whenever it arrives.
This way, you don't have to compromise on what you wanted to order for them, regardless of shipping times or when you buy.
******
Are you buying any gifts for special women in your life this year? If you're looking for even more gift ideas, you might love these posts, too:
I hope you find the perfect gift!
Have a fabulous day,
E