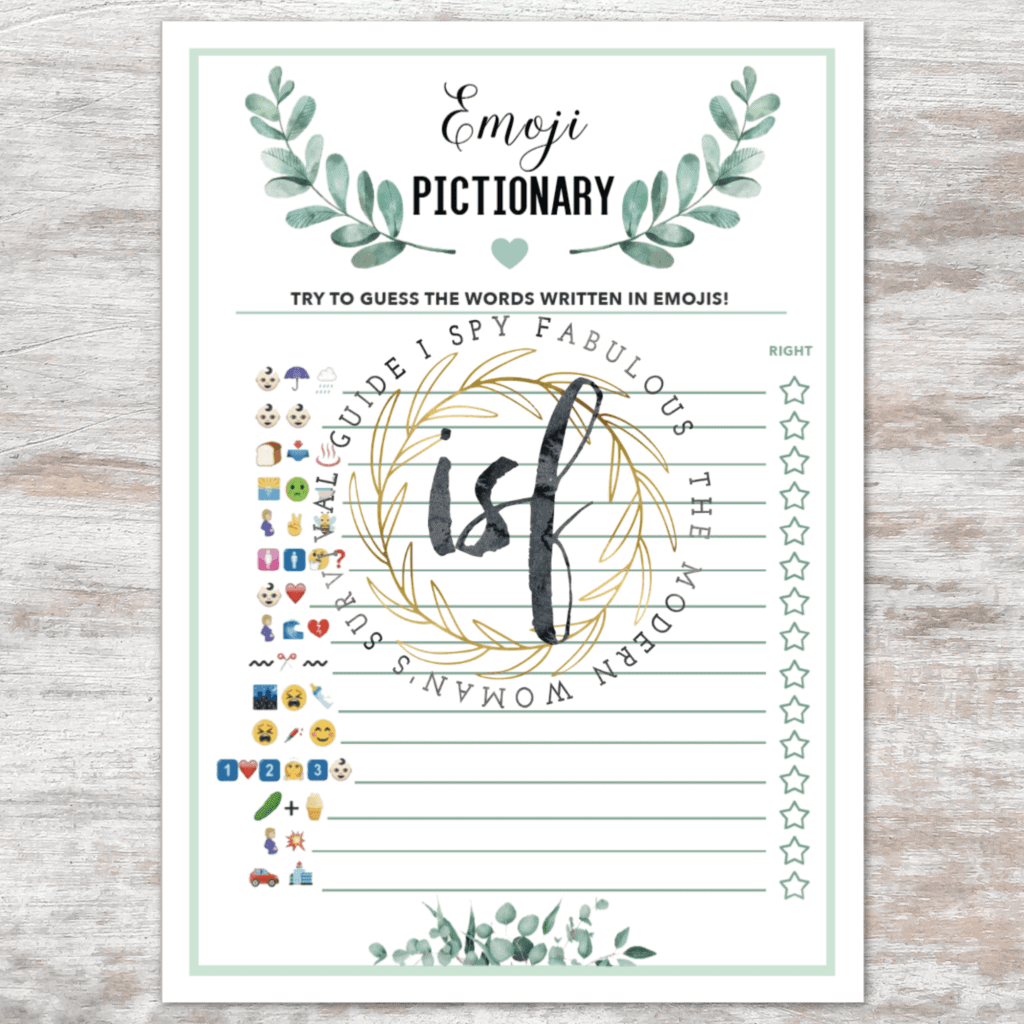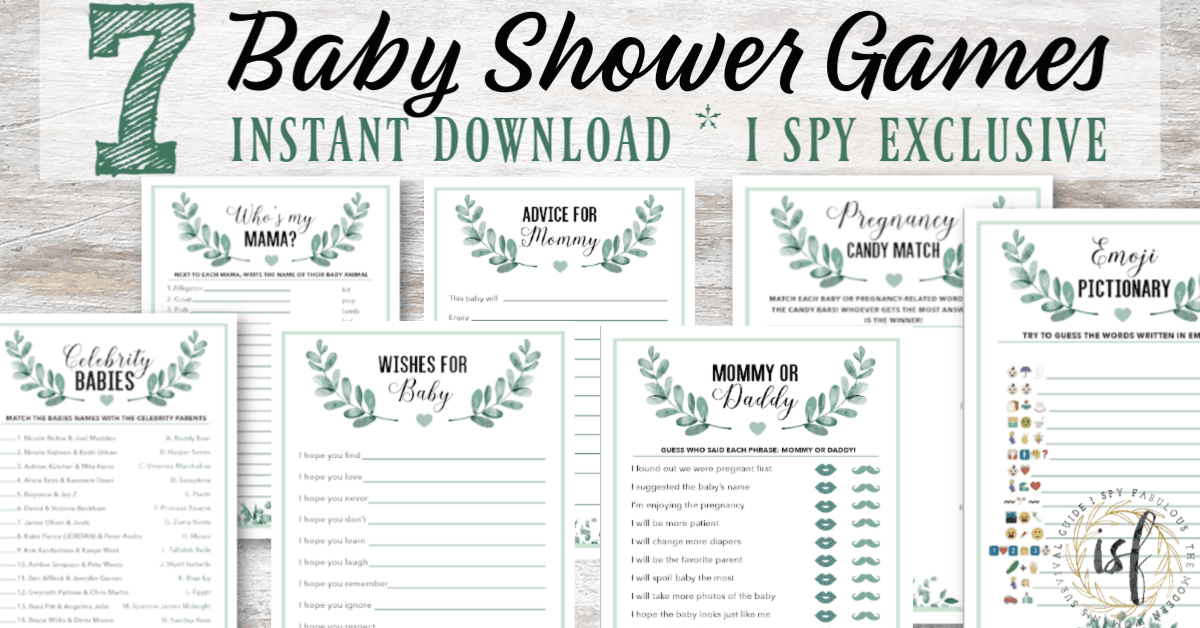 Looking to throw a sophisticated, gender neutral baby shower for the new arrival? This greenery-inspired set of printable baby shower games is perfect for any baby!
The greenery inspired baby shower is so chic.
Just imagine gorgeous faux and real greenery all over with shimmery linens and touches of gold in candlesticks, silverware, and more.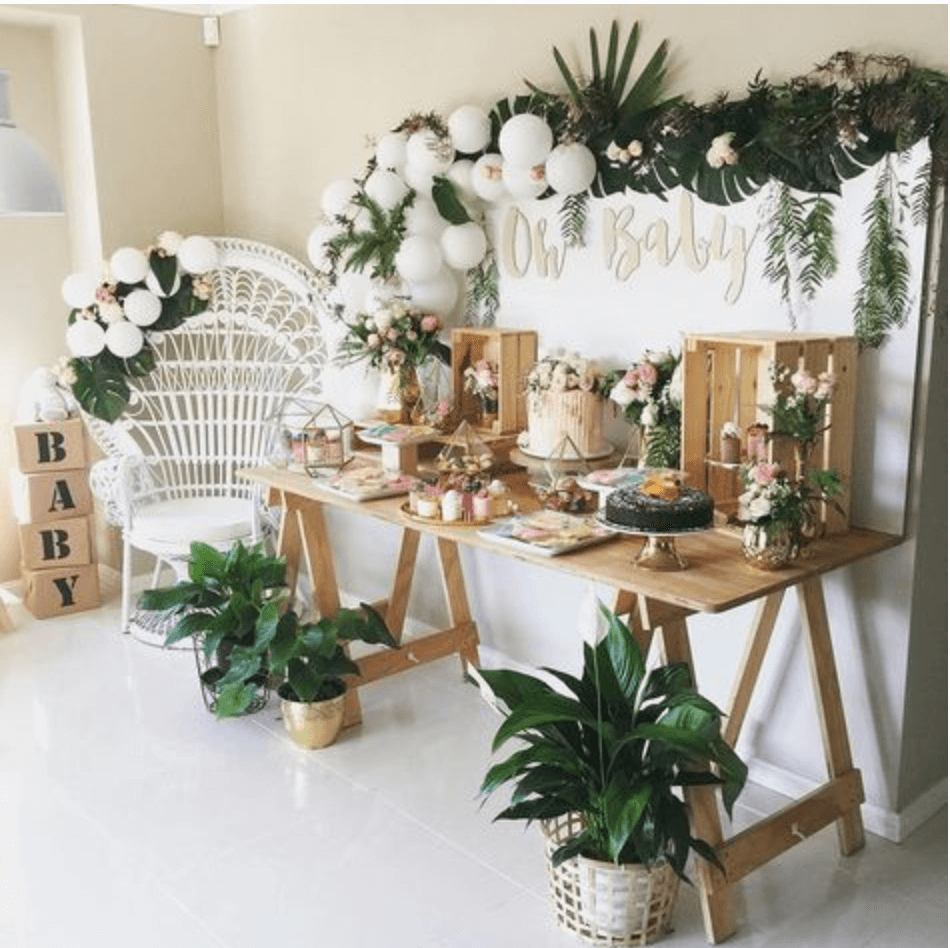 Add a bounty of fresh food and juices, as if it were from a home garden, to entice all your guests to eat, drink and be merry as they celebrate the newest little member of the family.
Greenery inspired baby shower games are also perfect for the farmhouse chic loving mama.
Add in delicious treats, gorgeous florals and greenery, and vary the heights of the food to add drama.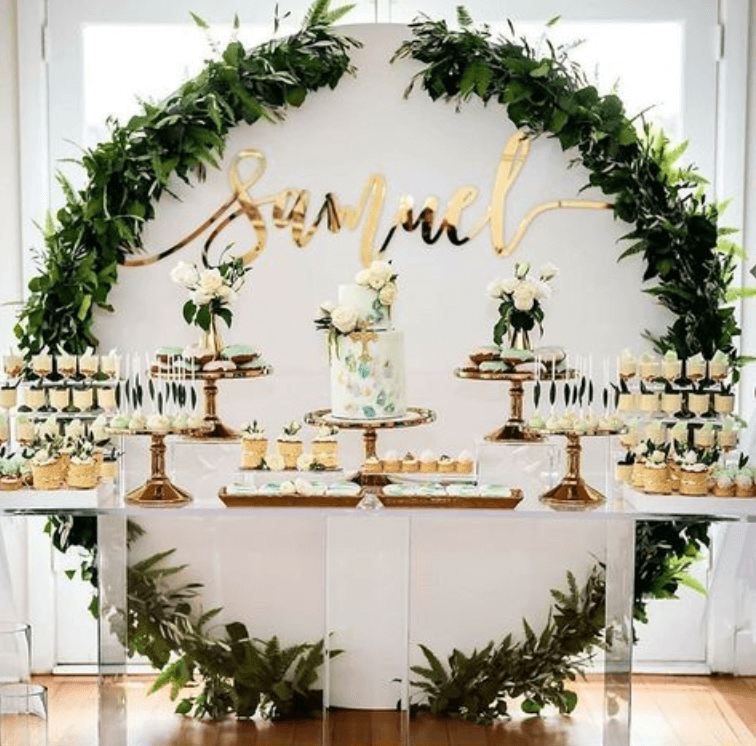 These 7 baby shower games match and can be easily printed at home on nice cardstock for some easy baby shower fun!
To find them, you can just click on each of the individual links below to check them out or you can buy them as one quick downloadable set with the answer keys all included!
None of these games require any extra pieces, so you'll be ready to print and go.
Get all 7 from the link below for less than the price of 2 coffees: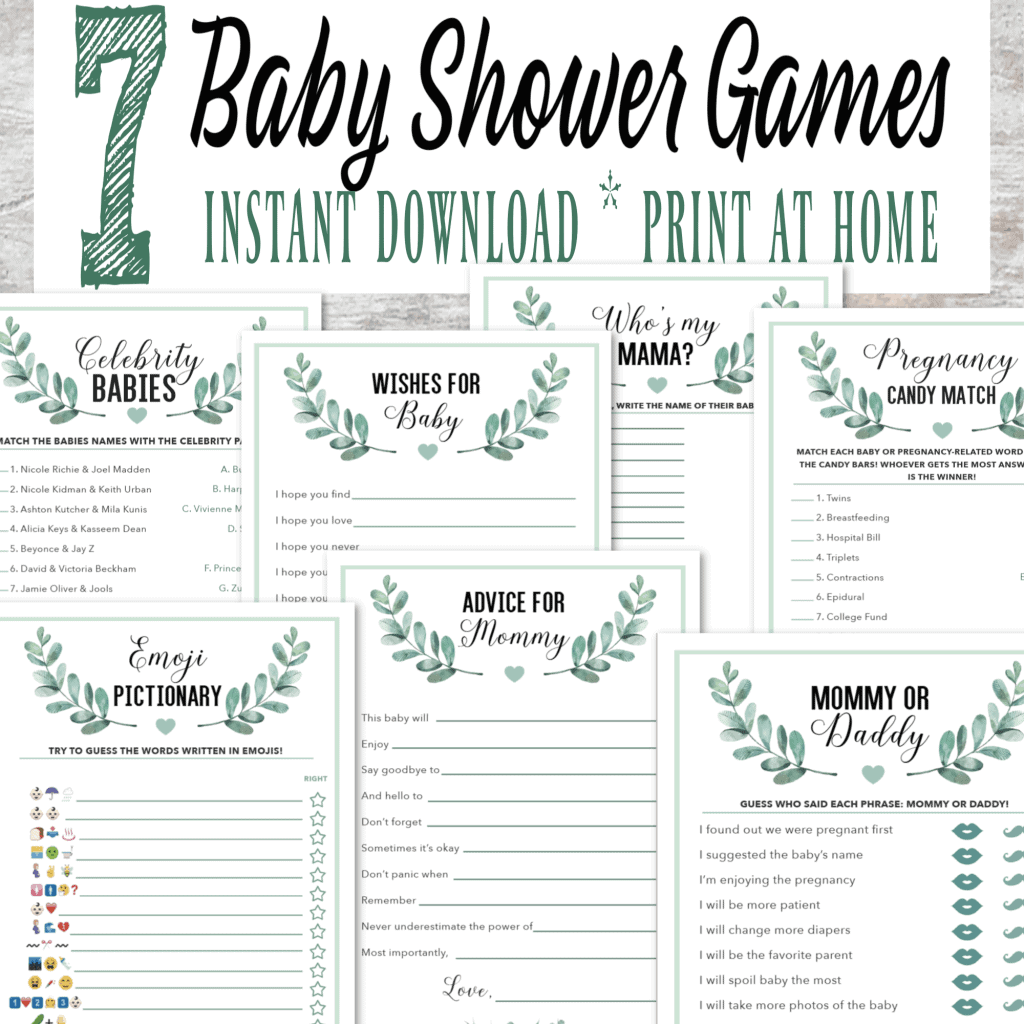 These are all of the games in the set – answer keys included:
Baby Shower Emoji Pictionary – plus use the free YouTube version along with it!
Pregnancy Candy Match
Mommy or Daddy
Who's My Mama? – also has a free YouTube version along with it!
Celebrity Baby Names
Advice for Mommy – 2 sizes!
Wishes for Baby – 2 sizes!
To download all 7 games, you can purchase the quick download. Some of the games are also available individually! Here are all 7 games: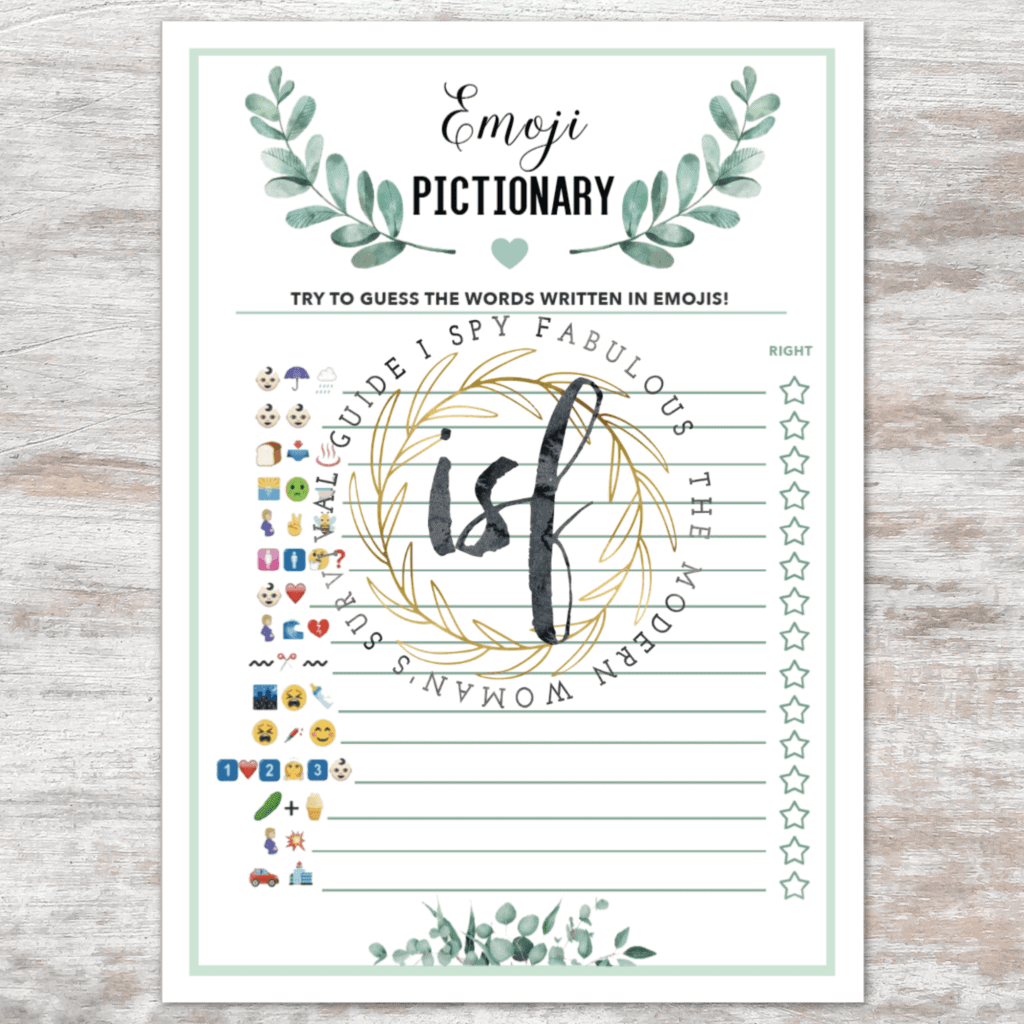 This fun game has taken baby showers by storm.
Using the popularity of emojis, guests try to figure out what each set of emojis means when it comes to baby showers and babies!
For example, the first one is – baby shower!
I've also made a free video of this game that you can play in real time, using the printable for them to record their answers. Check it out here: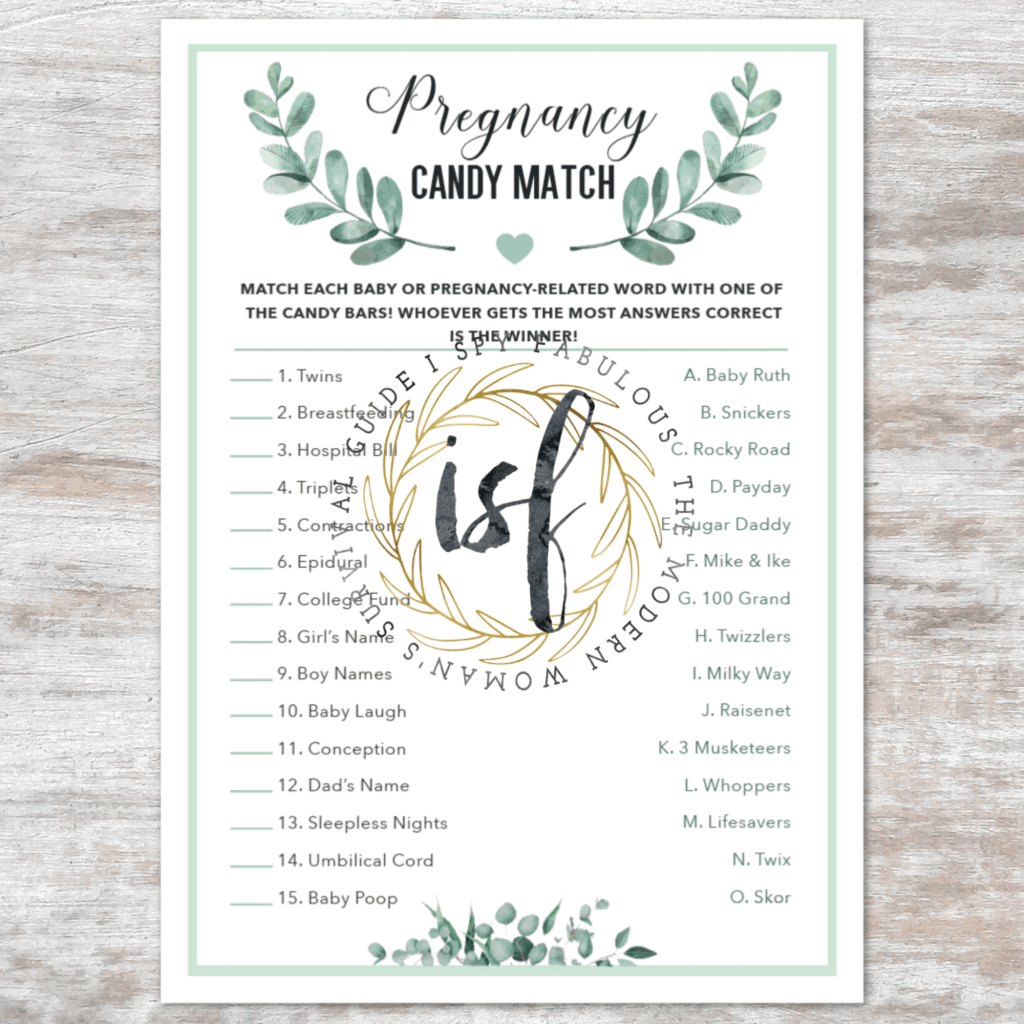 I wish this had been around when I was having a baby shower, because it is so funny!
You match the pregnancy related word to the right candy bar.
For example, "Twins" is matched with "Mike & Ike!"
A hilarious game for all to play!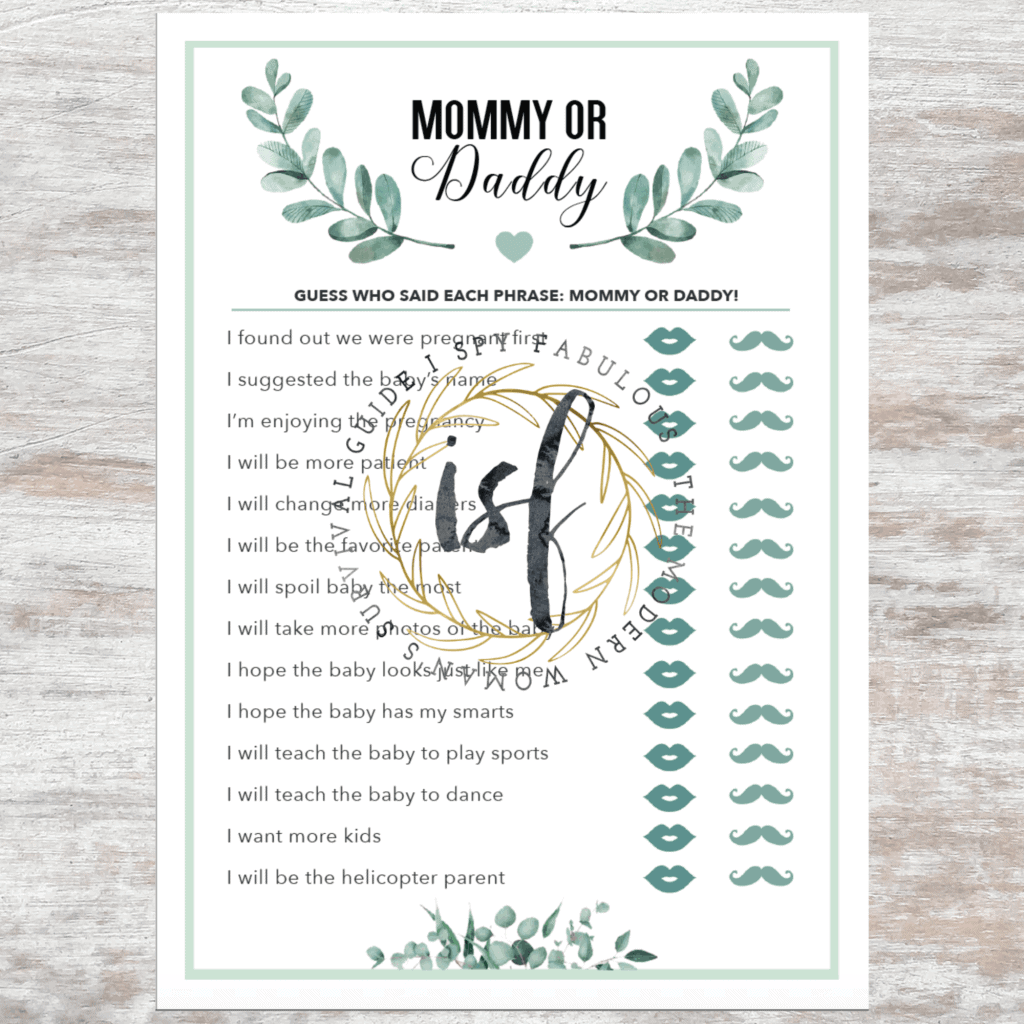 In this game, guests try to decide which parent will be most likely to do the item on the list.
For example, mommy might change more diapers but daddy will be the helicopter parents!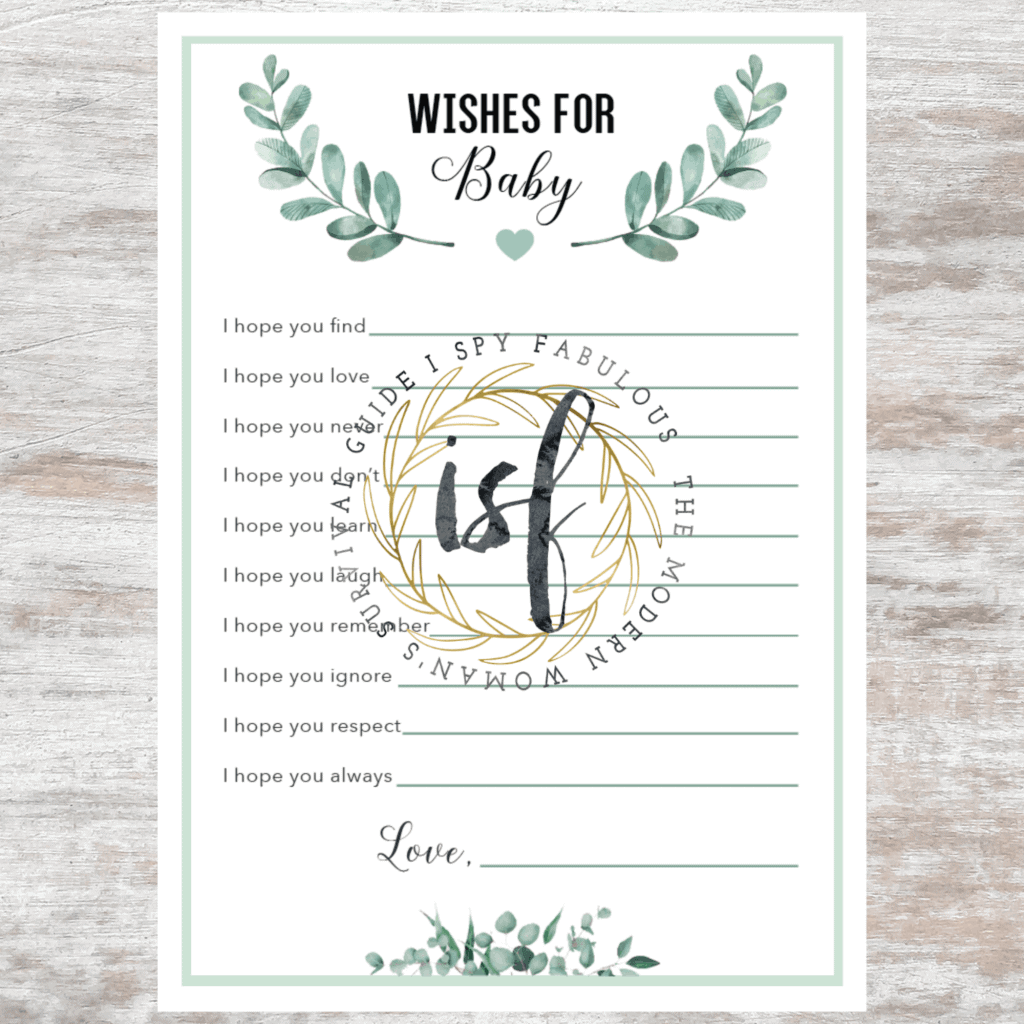 In this sweet game, guests give wishes for the baby and their future. This one comes with a full page and a 2-per-page option for your choice on size.
These are perfect to put into a scrapbook and save for the baby to read as they get older.
If you'll be cutting them, consider grabbing a paper cutter. I use mine more often than I thought for parties and other crafts.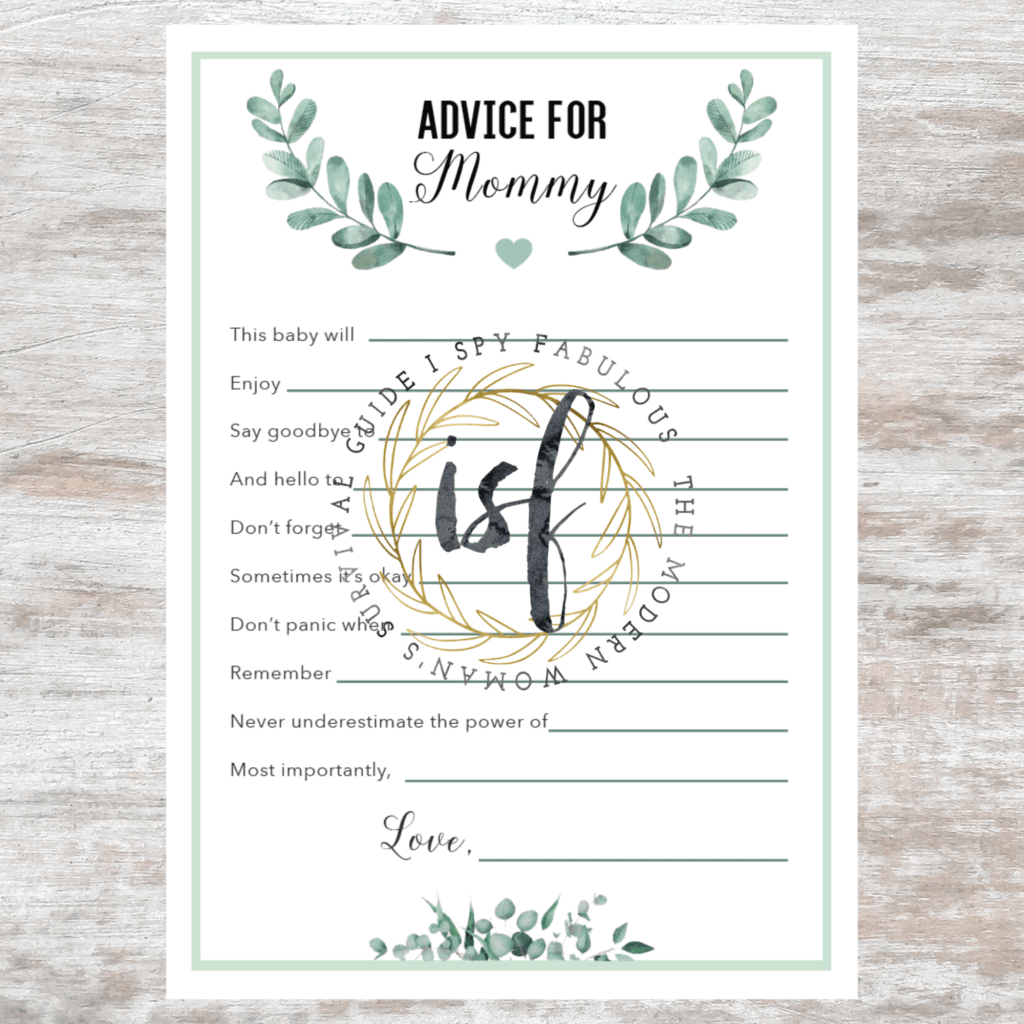 Another game with 2 options, with a full size and 2-per-page printable included, your guests cna give advice for mommy to inspire her on her transformation to mom.
These are so sweet to send to guests that cannot make it to the party, along with the wishes for baby, so they can send in their thoughts and participate without physically attending.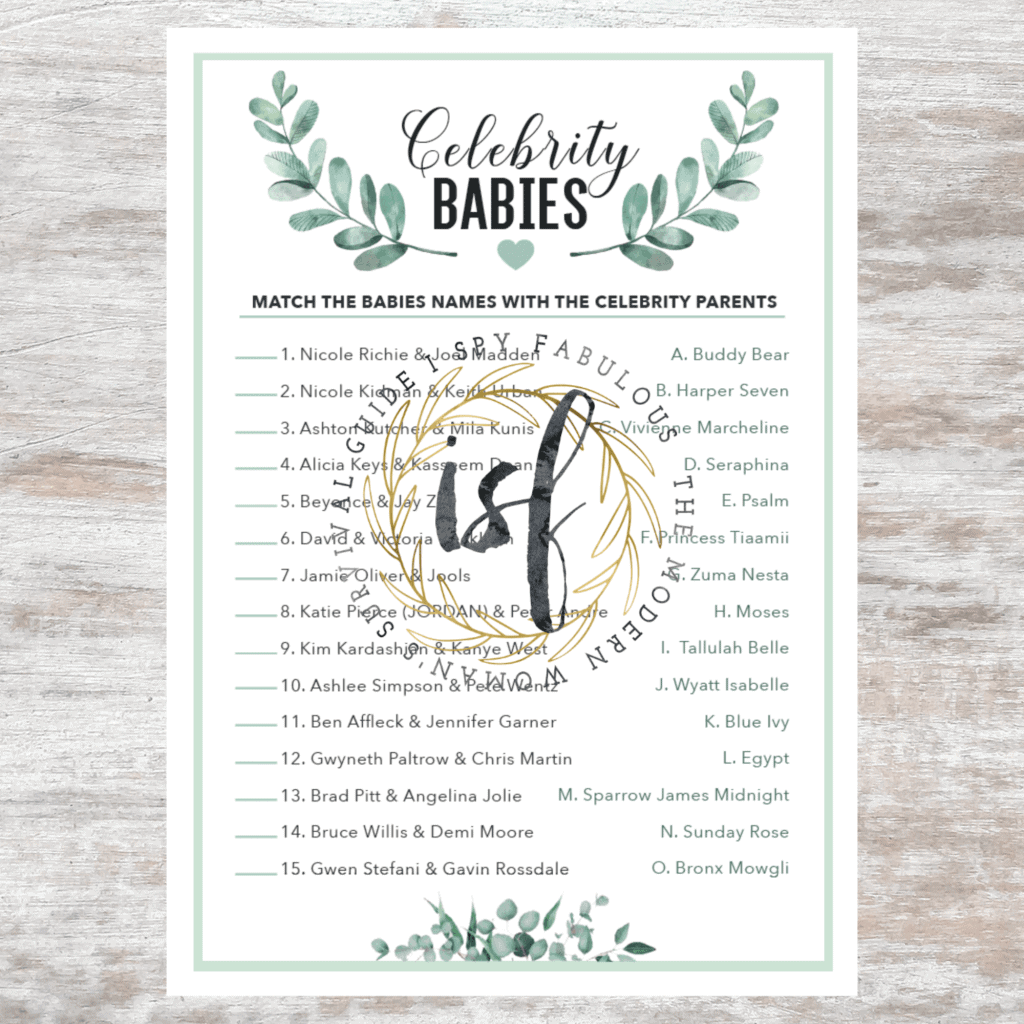 You all know I love me some celebrity baby names! I've written two posts on the unique and weird names that celebrities choose for their babies!
In this game, guests are tested on their pop culture knowledge by having to match the celebrity parent with their baby name!
In this sweet game, you match the mommy animal with the name of her baby.
For example, the mama kangaroo is matched with her joey!
*****
Gorgeous Greenery Themed Decor:
Here's what I would use to decorate a greenery themed shower (affiliate links used):
This is a great set of games to keep your guests busy and engaged for an entire baby shower, without any crazy games that might be too much for your sophisticated mom-to-be or relatives in attendance.
You can add in some more physical games, too, to round out the party. Here are 35 hilarious and fun baby shower games.
Here are more FREE downloads for the mom-t0-be, too:
You can only find these here as they are my own exclusive designs, so be sure to save this post for later in case you ever find yourself needing to plan a beautiful, memorable baby shower.
What's your favorite baby shower game? Let us know in the comments below!
Have a fabulous day,
E
PS. Go ahead and take 10% off the pack of baby shower games with code FAB10!