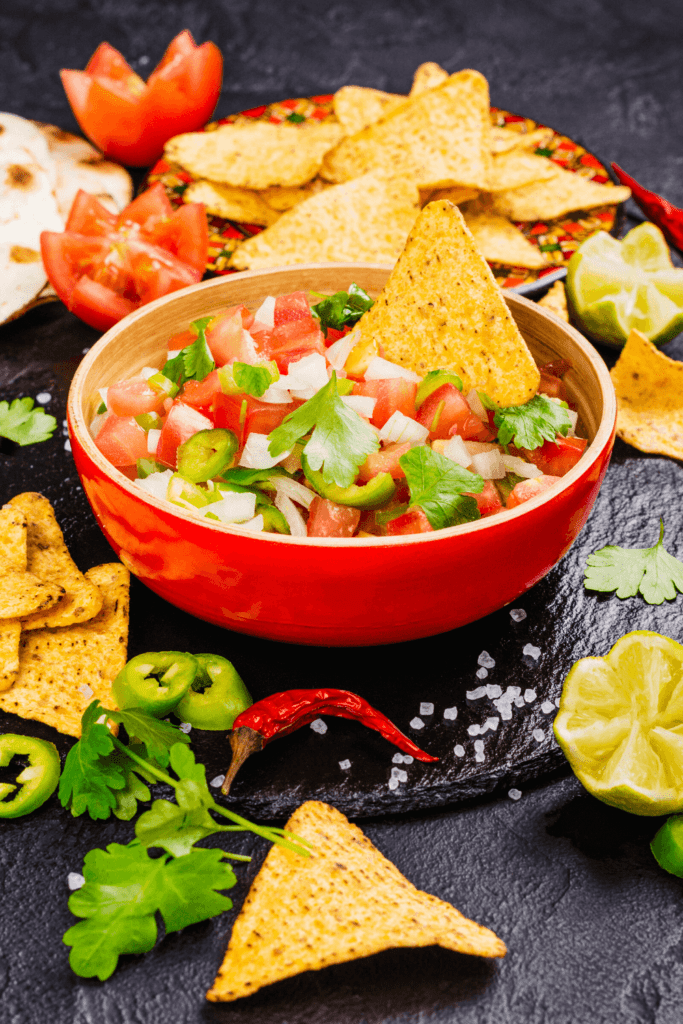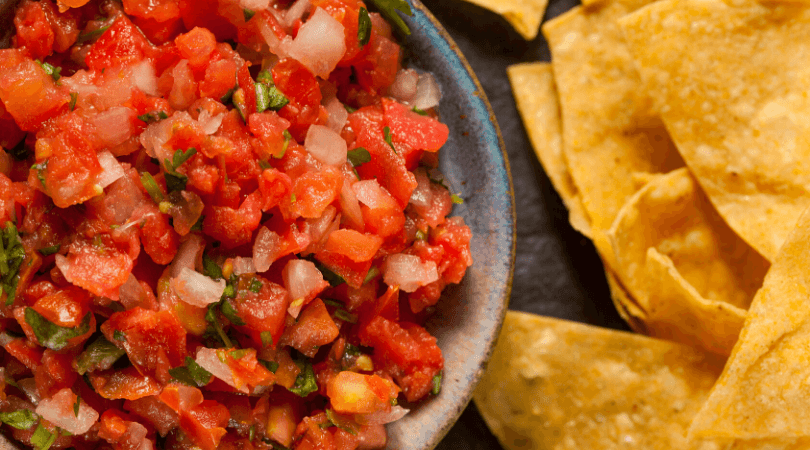 I'm a big fan of salsa. Even though I don't like mine spicy, which frustrates other people in my house that prefer to burn the skin off their tongue, I do like a nice, flavorful salsa that is not too watery.
That – and a big pile of warm, salty chips is pretty much the best snack on the planet. Are you with me?
Luckily, salsa is also pretty low calorie and low carb. Those chips aren't, but sacrifices must be made.
And, while I do have my own easy blender salsa recipe that remains my all-time favorite salsa – ever – there are a lot of really delicious salsa recipes out there that will blow. your. mind.
In fact, I rounded up 21 delicious, mouthwatering salsa recipes that are going to make you want to run into your kitchen and try them all.
Since we have plenty of time at home, nobody would be able to judge you for holding a salsa making contest either.
You do you, booboo.
21 Delicious Salsa Recipes To Make At Home Today:
Let's check out the 21 salsa recipes – from salsa verde to a strawberry salsa that you'll want – STAT.
Okay, maybe not my personal favorite, but I can totally admit that this looks delish. If you want something spicy – without kissing your Weight Watchers points buh-bye – then get to work. This one's for you: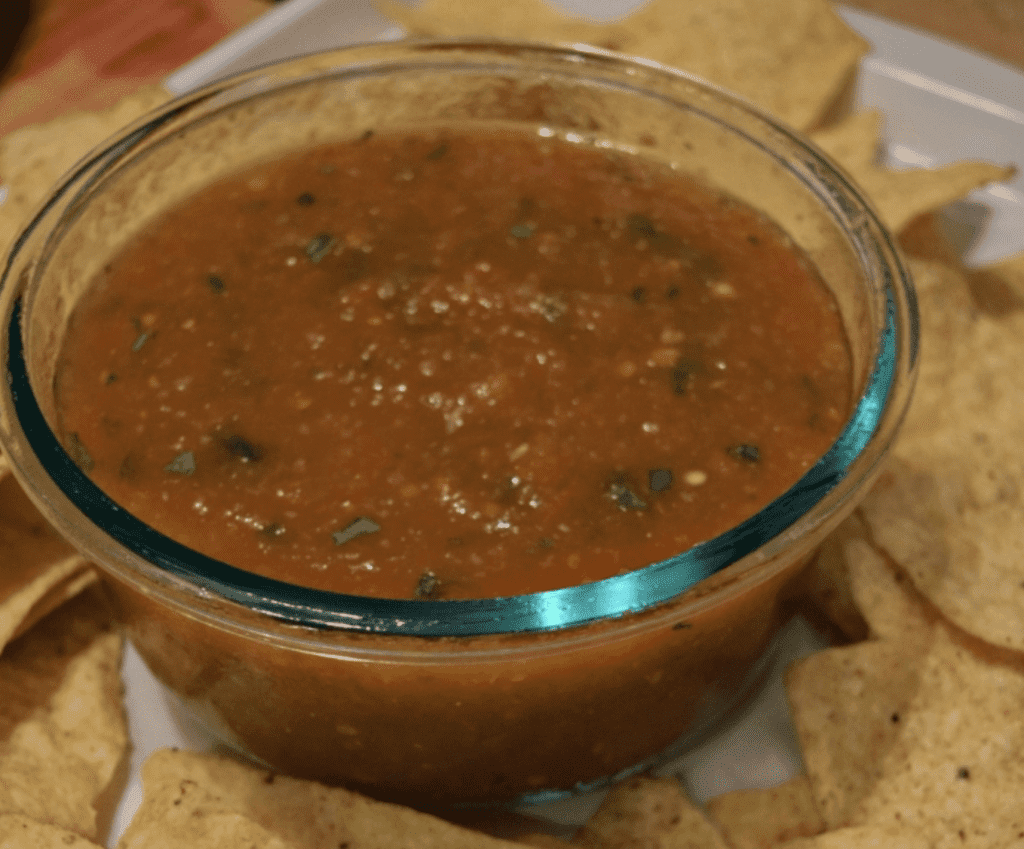 Pico de Gallo is pretty much my salsa heaven, so this tropical version is right up my alley. With a bevy of tropical flavors, this salsa is bursting with summery flavors that make a perfect compliment to many simple dishes – or just serve on chips.
I like restaurants; but we can't go to any – so what's the next best thing? Restaurant food at home.
#YAS
Since I live with a classically trained chef (it's the real reason I married him…shhh), I am always sending him recipes with little emojis begging him to make them for me.
It usually works.
You bet this recipe is next up on the list. Yum.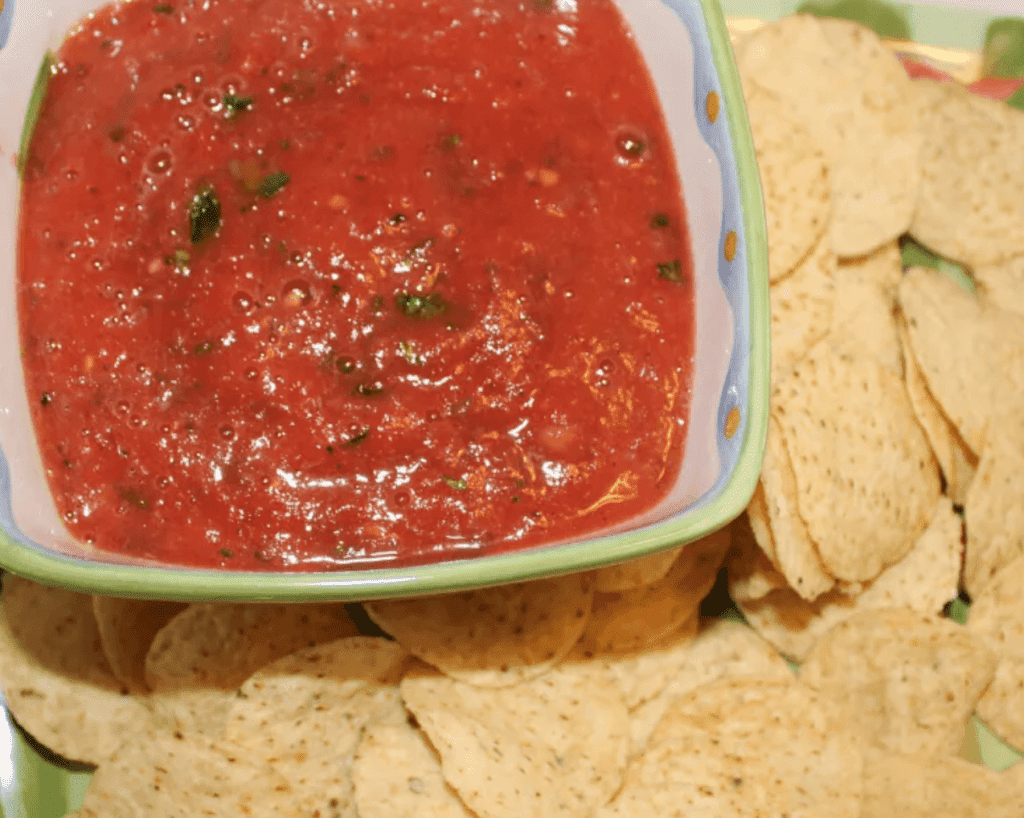 Listen to me, I love pineapples. Like….loooooove me some pineapples. This pineapple salsa takes a fruit I already love and mixes it together with other things I love, like cilantro, bell pepper, scallions and more.
I feel like this just elevated pineapples to a whole new level.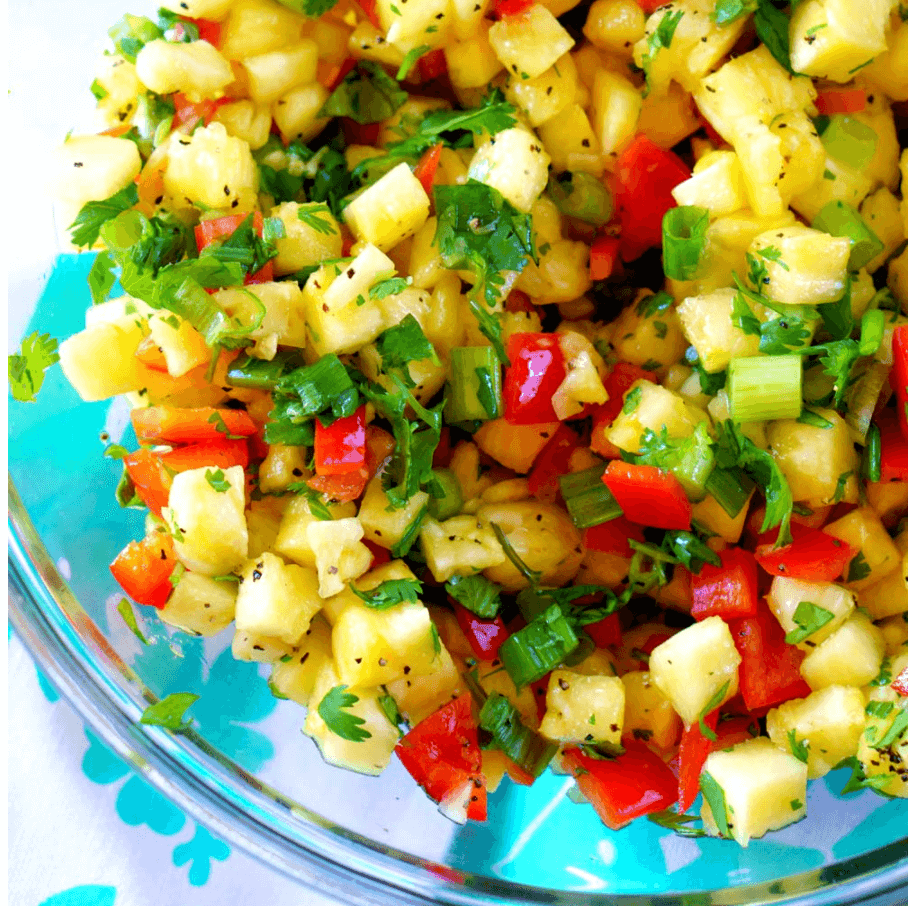 This salsa is easily made with produce you can grow right in your garden. Did you also start an apocalypse garden? I feel like everyone I know was carving out little spaces to start growing food "just in case".
I mean, after all the toilet paper went missing…it was a natural thing to do, right?
Right. So, you should have everything you need to make this salsa right away.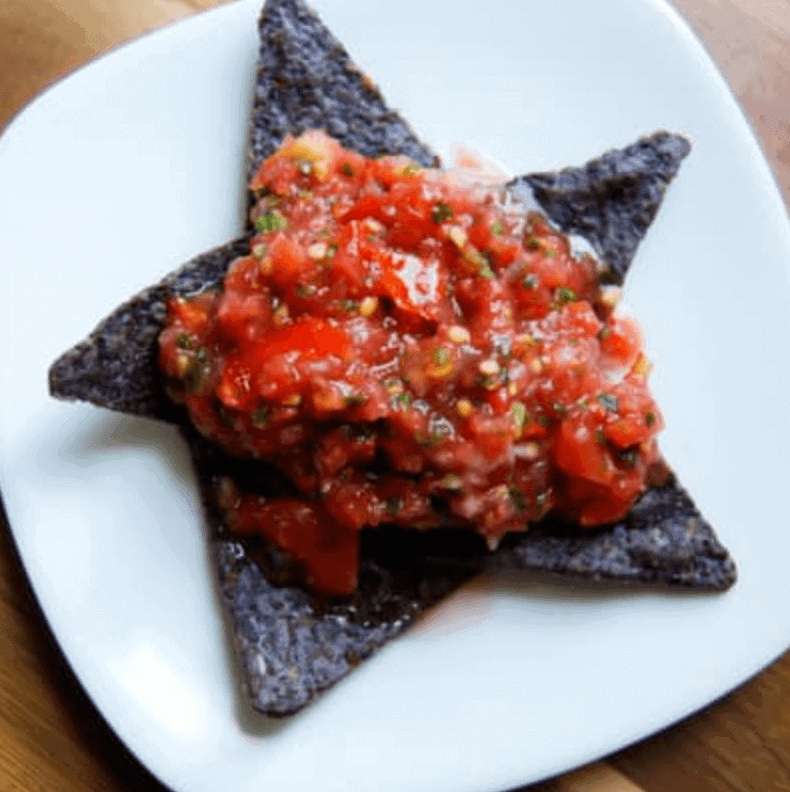 Do you have five minutes? I feel like I've got 100 kids here and yet I know I can find five minutes to make this fresh homemade salsa. Just toss tomatoes, limes, cilantro, onions, garlic, a fewother things, all in the blender and BAM – stay at home life just got infinitely more delicious.
Are you hungry yet?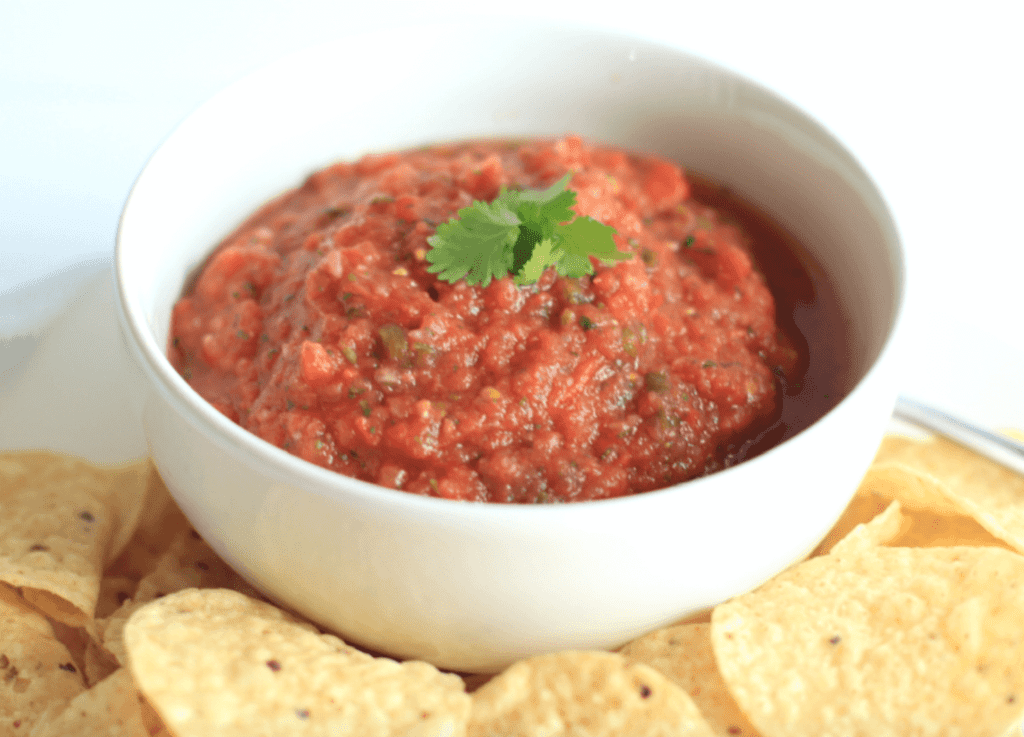 This salsa gets the award for integrating all the textures into one salsa – crunchy, smooth, salty and sweet. Yum.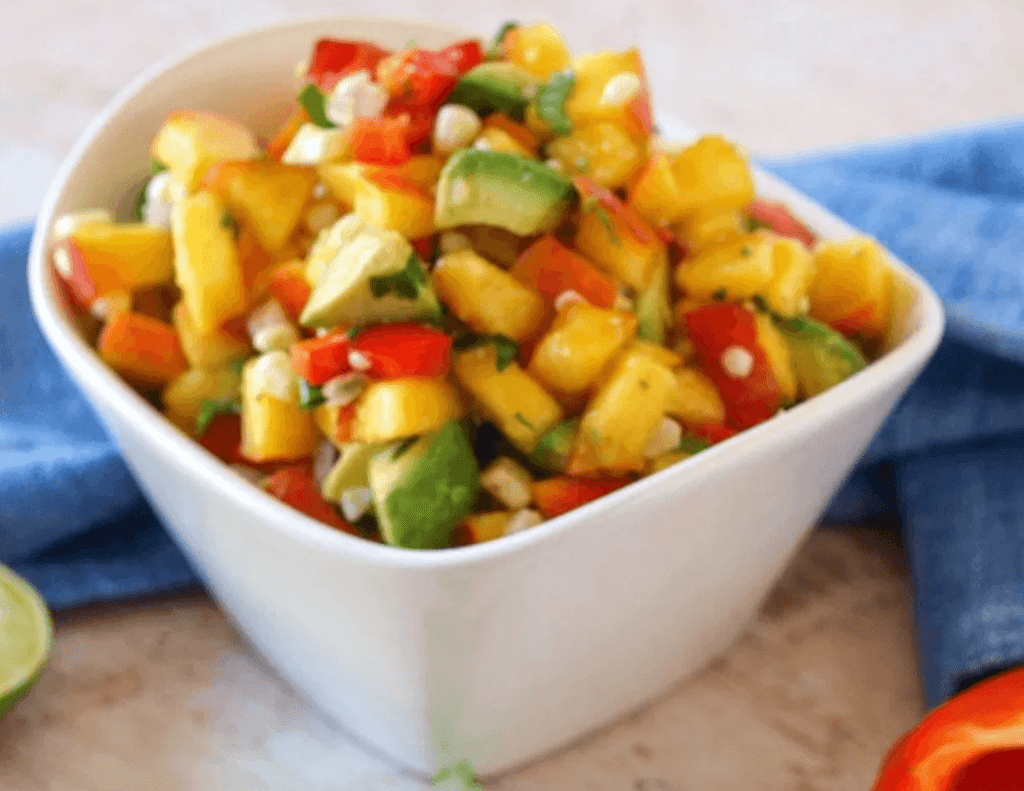 One of my best recipes is chicken enchiladas – and I truly believe that what makes them so darn good is a combination of green and red sauces. Everybody loves them.
So, this spicy salsa verde is just genius. Plus, I keep thinking how good it might be when mixed with my enchilada recipe.
#Genius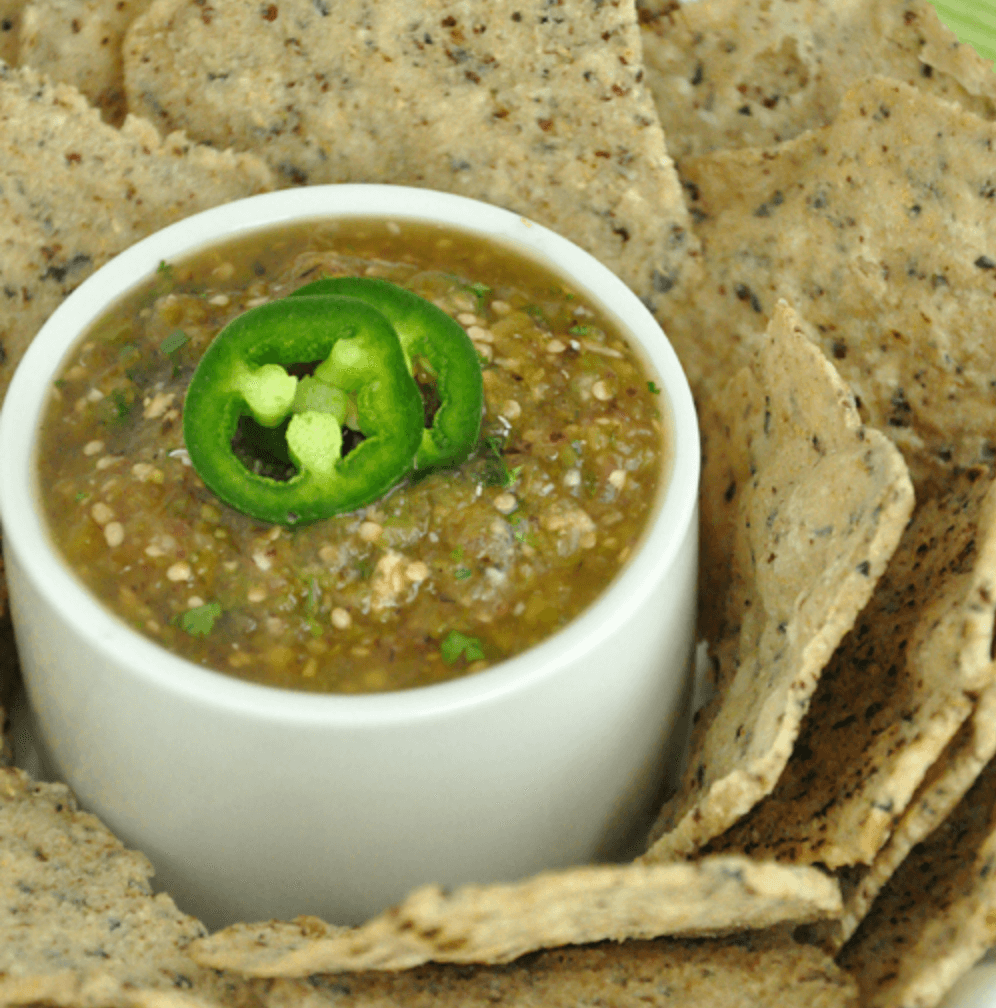 I love mangoes. The place we got married at had these huge mango trees that hung over the place. They put hanging lights in them and it was truly magical. I will never forget that and it's given me an extra special place in my heart for mangoes.
This mango salsa would be so divine as a garnish – or just to eat by the spoonful.
No judgement.
Do you adore watermelons as much as I do? Then this one is for you. I am loving all of the new watermelon recipes that are coming out – from watermelon frose to watermelon salsa.
This watermelon salsa looks absolutely divine and the combination of foods looks like it would back a total flavor punch.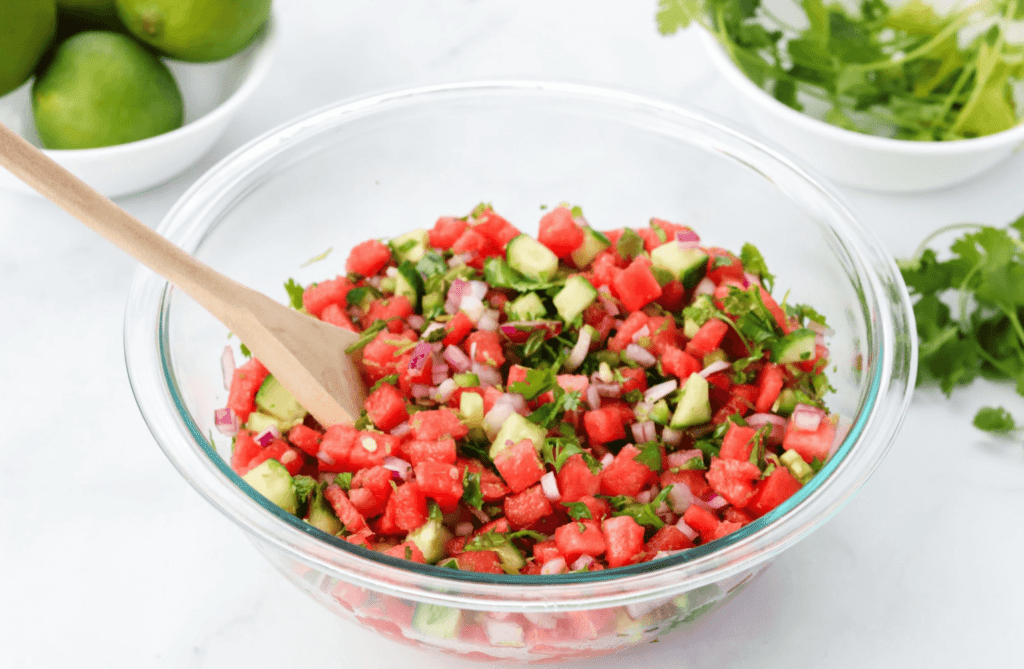 The biggest issue for me when it comes to pico de gallo is getting it to taste like the restaurants (plus all that chopping…I'm a slow chopper). This recipe simplifies the whole process without sacrificing flavor – and that's a recipe I can really get behind.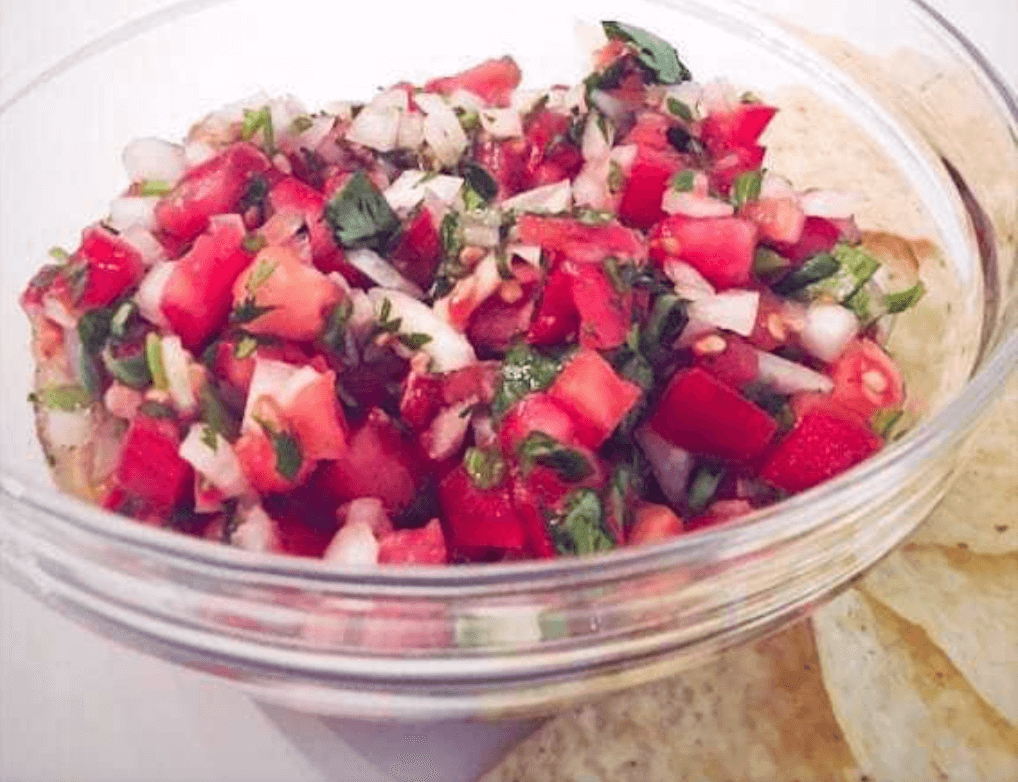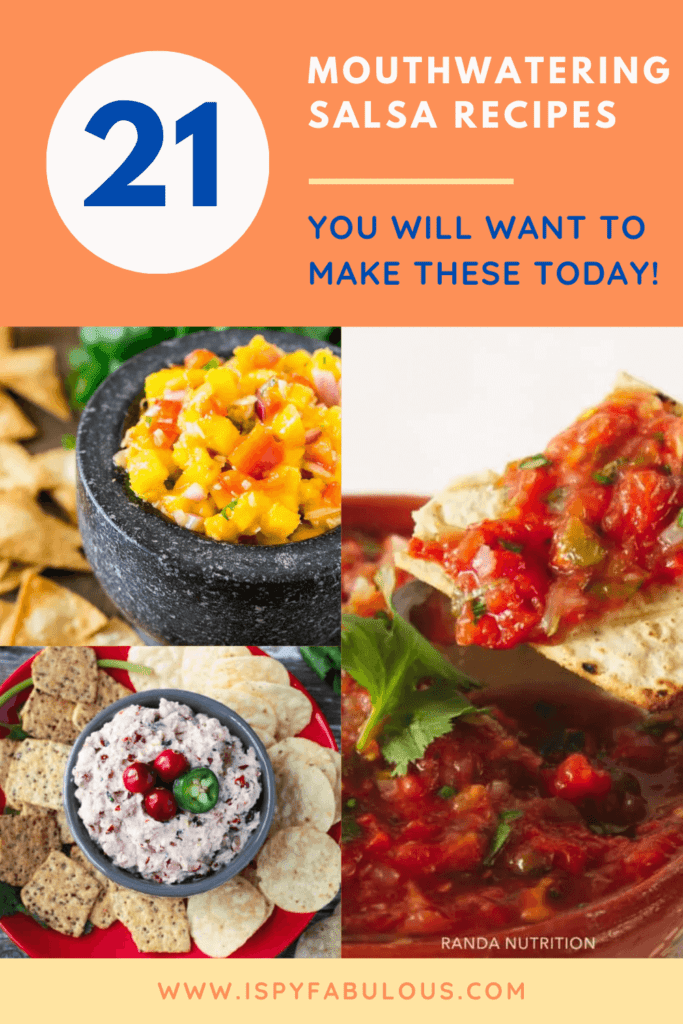 Sometimes you just want to stay more true to the ingredients and not blend them all into one big sauce. You know what I mean? When you have a pile of fresh, beautiful heirloom tomatoes in a variety of colors – slow that roll, don't toss them all in a blender – and make this fresh, delish heirloom salsa.
You're welcome.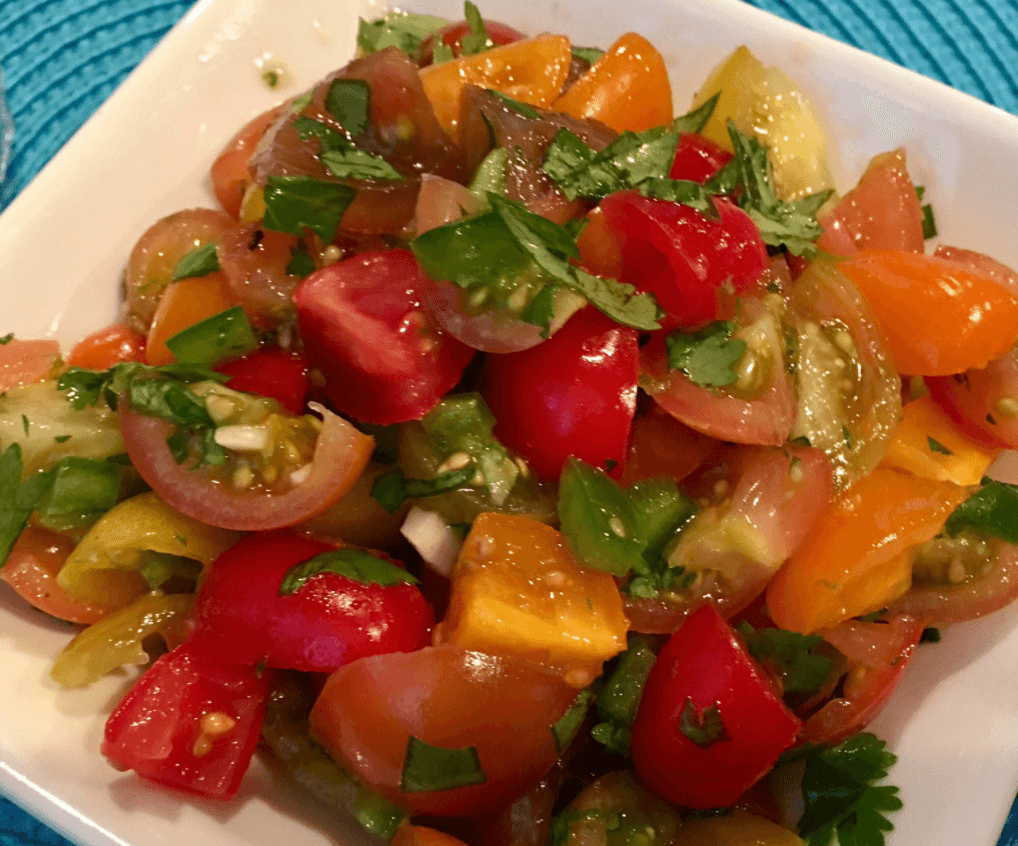 If you've ever had Texas caviar, you are going to be so excited to see this one. I have family in Austin, so I am all about this one. A crowd favorite every time, Texas Caviar is a don't miss recipe on this list.
Plus, by including beans, you'll turn that salsa into a meal.
Yep, I said it.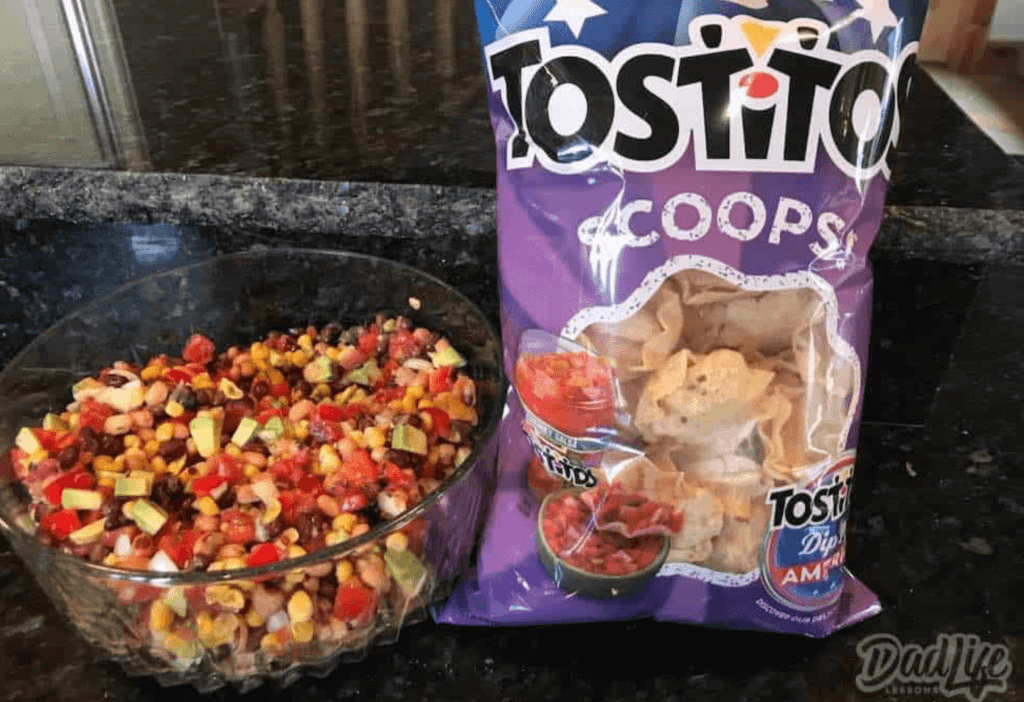 Avocado? Check. Corn? Check. Tomato? Check. Olives? Check. Seasoning? Check.
Yup. That's happening.
Join me, will you?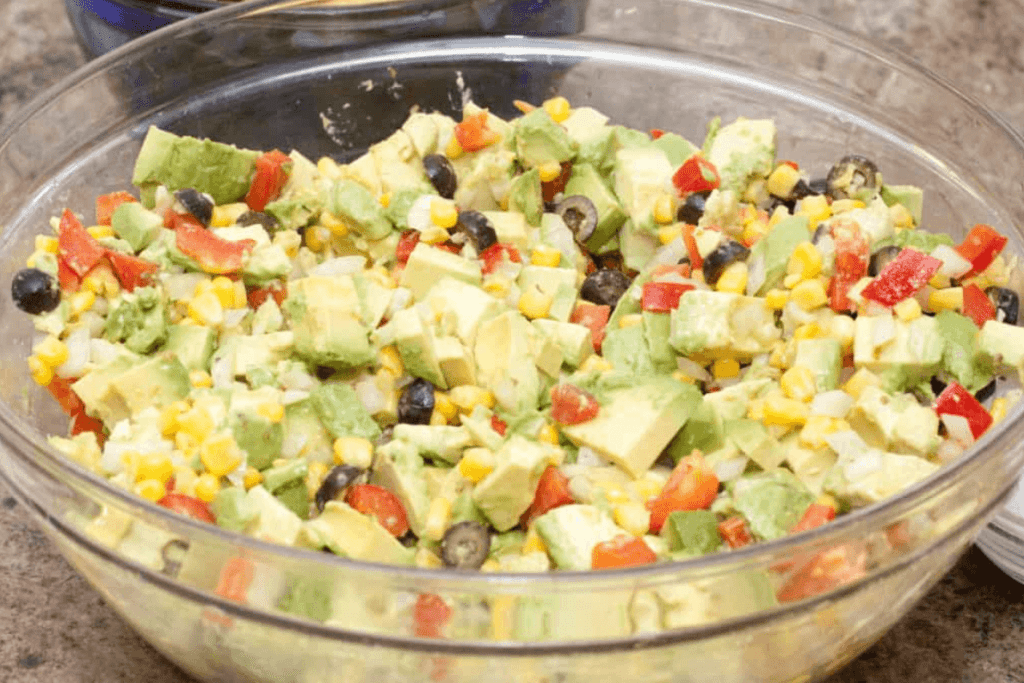 Wowa, this one floored me. So much goodness in this cranberry salsa dip. How perfect to add a little somethin' somethin' to your holiday table, am I right?
Too soon to start talking about Christmas?
No? See – you get me.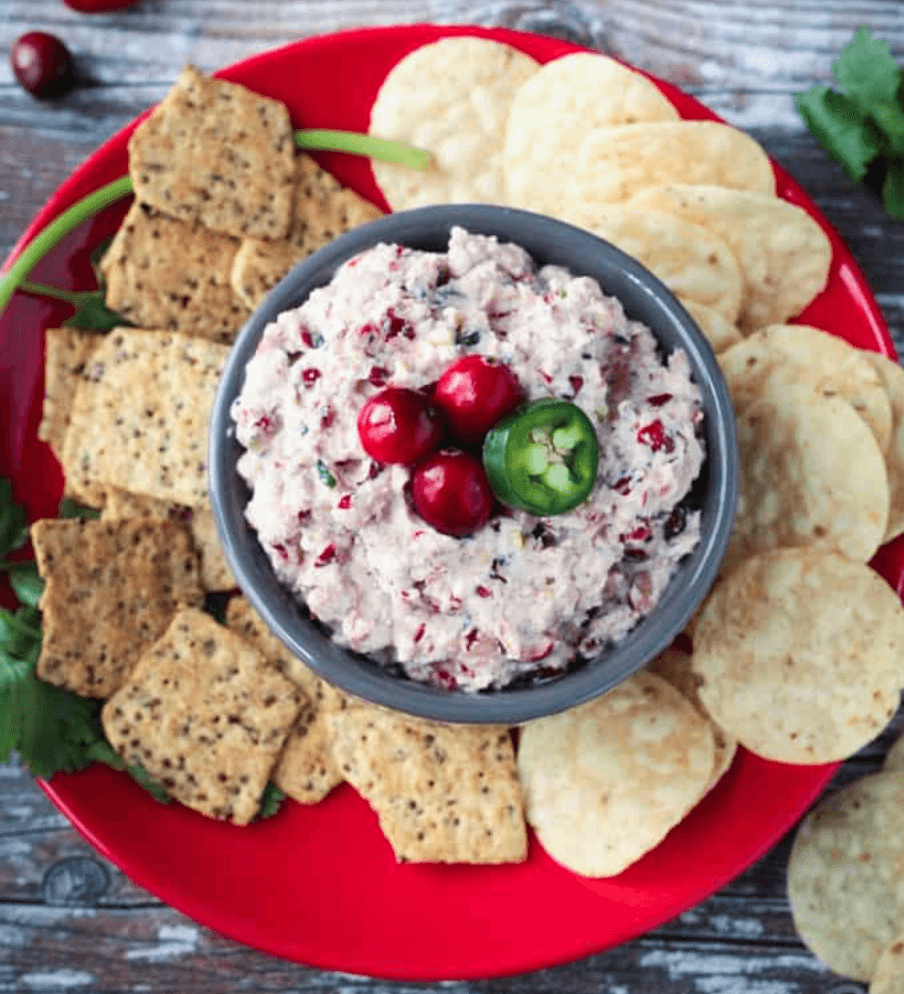 Another green salsa in the line-up! This cilantro-free recipe (yes, seriously, some people do NOT like cilantro… like what?) is perfect if you want a sightly tangy, slightly spicy, vegan green salsa.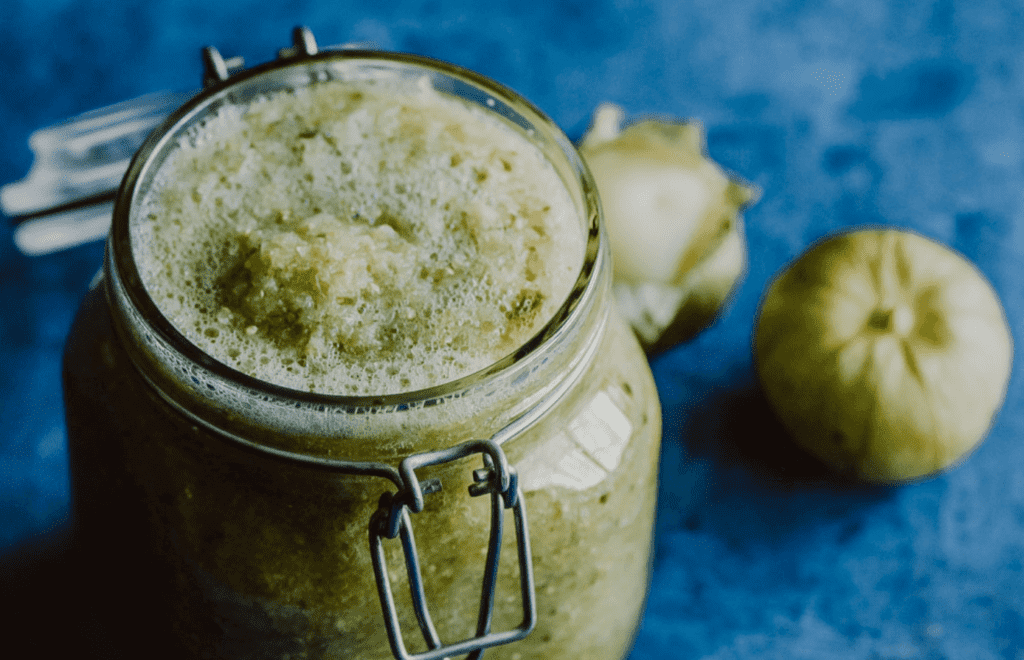 I really love using my blender. I love blending things so much, I have two – a Blendtec and a Nutribullet.
This restaurant style blender salsa would let me use my favorite kitchen gadget to make one of my favorite appetizers ever.
Winning!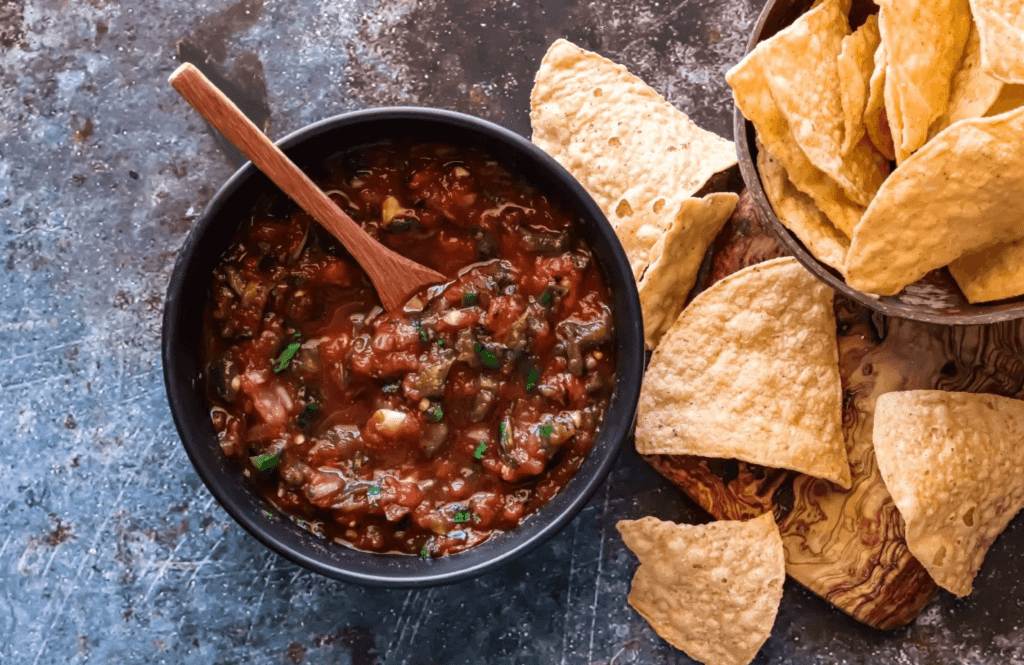 Eating healthy, particularly eating Whole30, is not typically very fast or easy. In fact, eating according to any diet plan is not easy, especially when you have kids, who are just not going to eat that stuff anyway – so you're essentially preparing two meals for every meal of the day.
Listen, I'm exhausted just talking about it.
That's why this super fast Whole30 salsa is going to be your jam.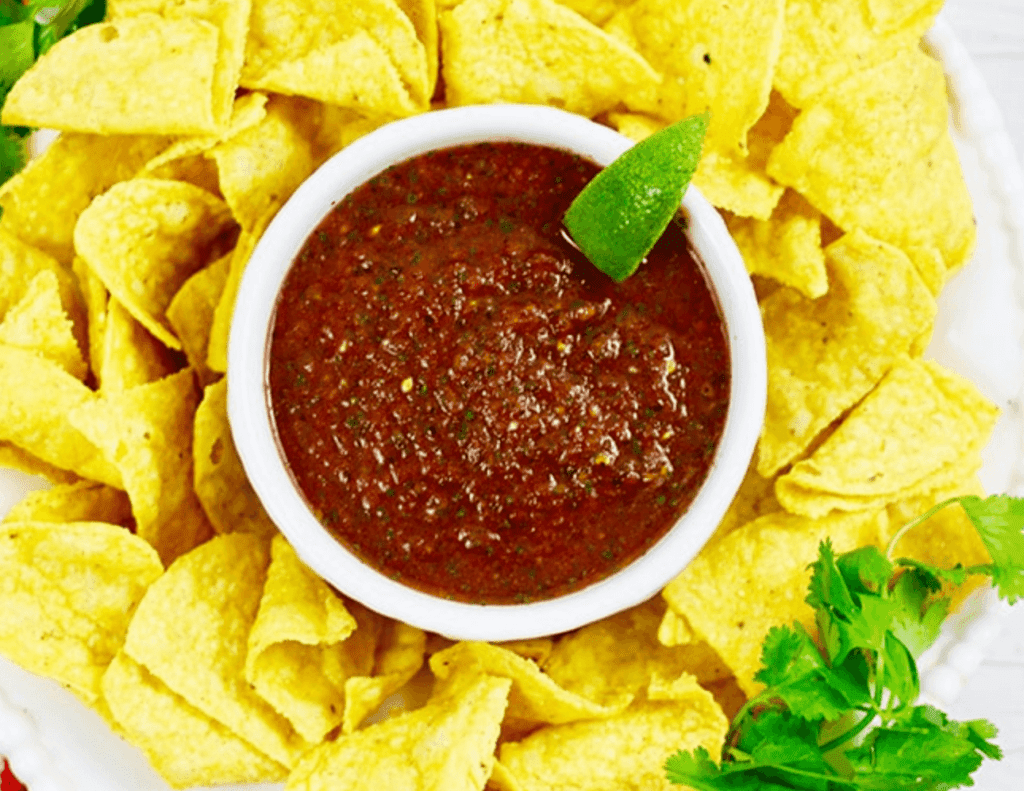 Wow. This one mixes together a few of my absolute favorite things into one dish. Strawberries. Mangoes. Basil. Salsa. Yes.
GET IN MAH BELLY.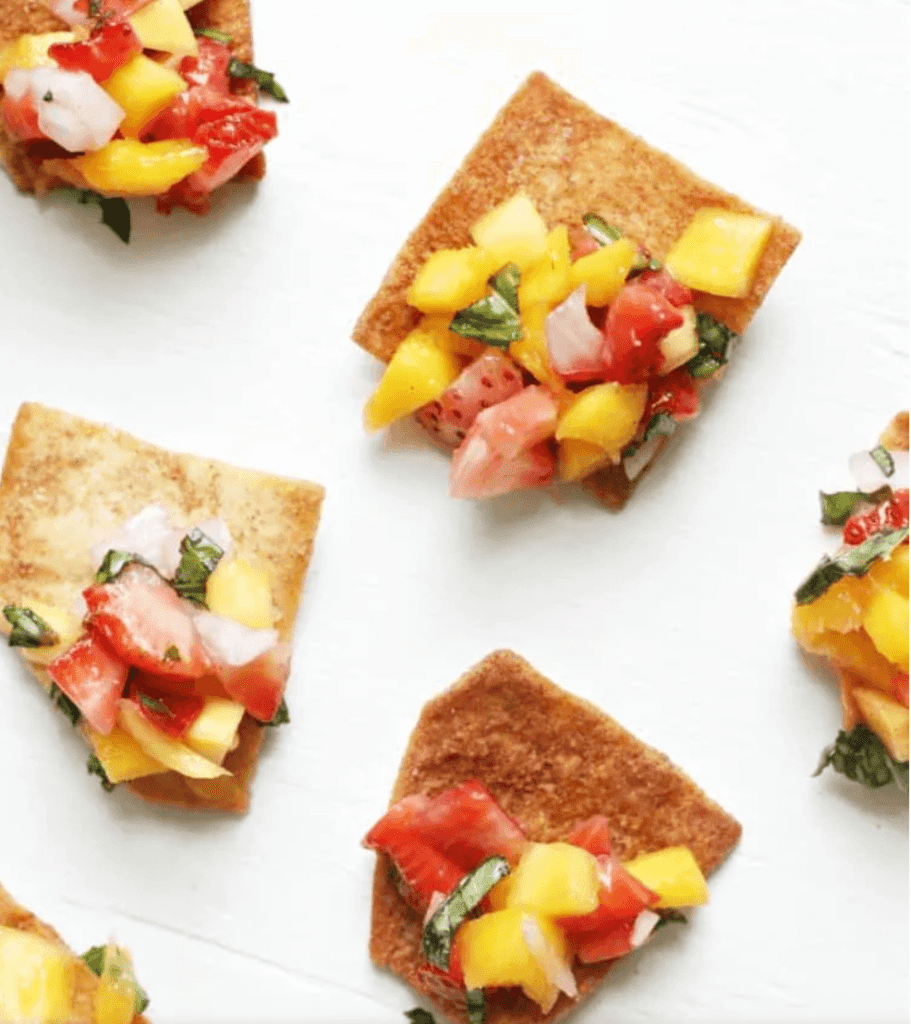 Have you gotten aboard the air fryer train yet? I grabbed one for the chef and while we don't use it as often as we should, whenever we do use it, we say, "Oh, we should use this more."
We have even made delicious cheddar biscuits in the air fryer. No joke. They're seriously good.
This salsa looks amazing, too, and it would give us another reason to use our loved, but sadly forlorn, air fryer more often.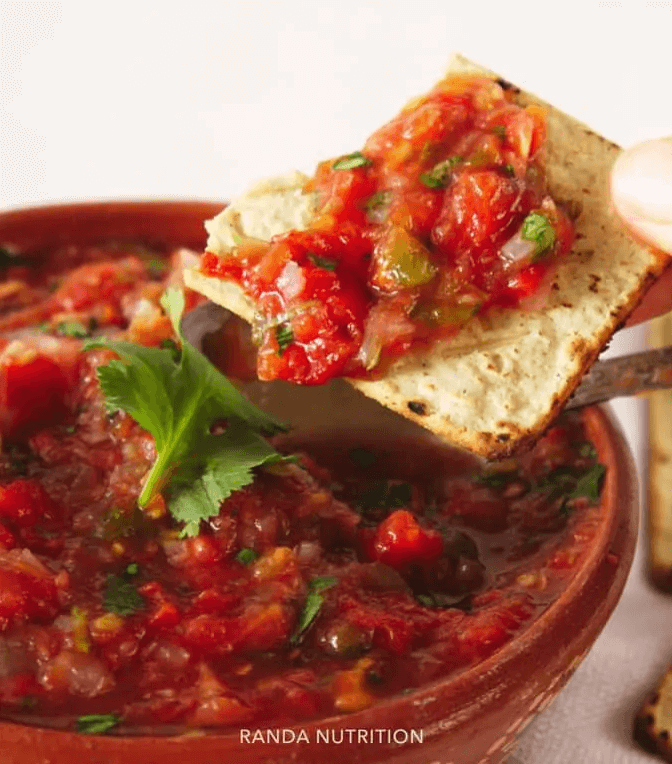 We love corn in this house. LOVE. IT.
This is a corn salsa recipe even my kids can get behind. She says it's addictive and the perfect accompaniment to any Mexican food. The sweet roasted corn makes a perfect pairing with smoky chipotle peppers. Such an amazing and fresh side dish recipe for summer gatherings or Cinco de Mayo!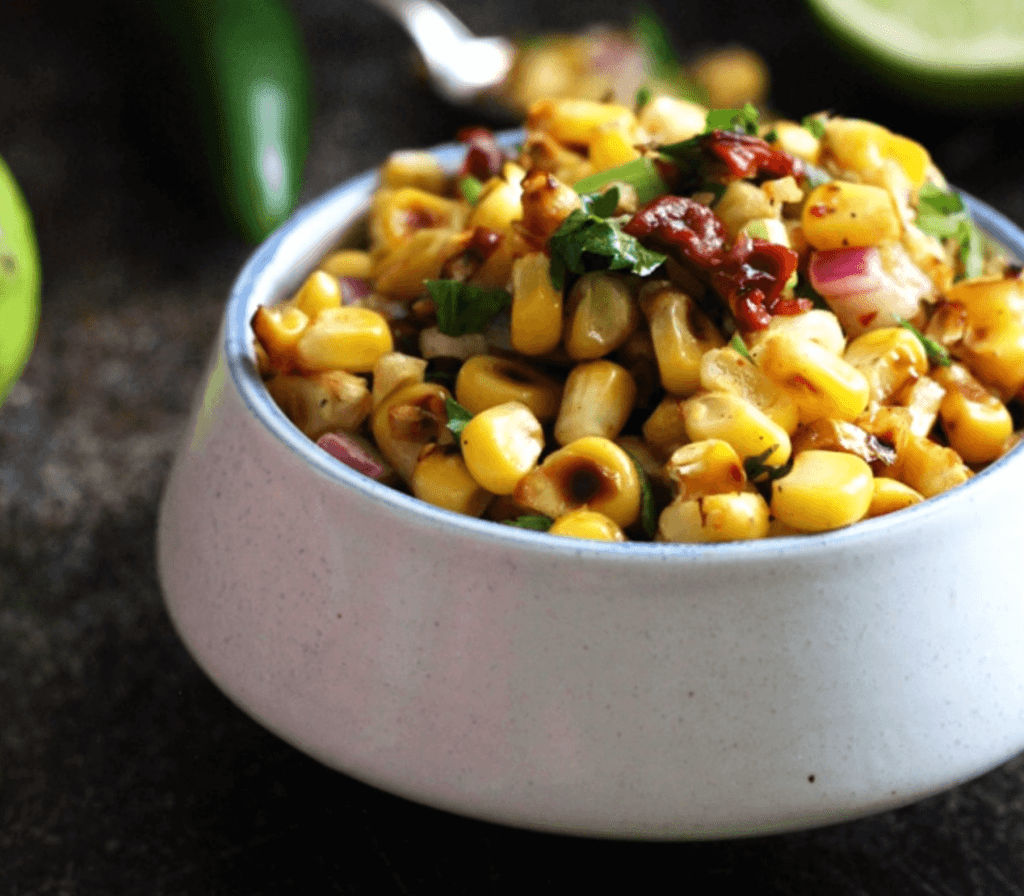 ****
Wow, I really need to go eat some salsa after finishing this post. Which one of these recipes is next on your list to try? Tell me in the comments below!
And, hey, if you like to eat – there's more food posts here. Check these out:
SO. MUCH. GOOD. STUFF.
Have a fabulous day,
E