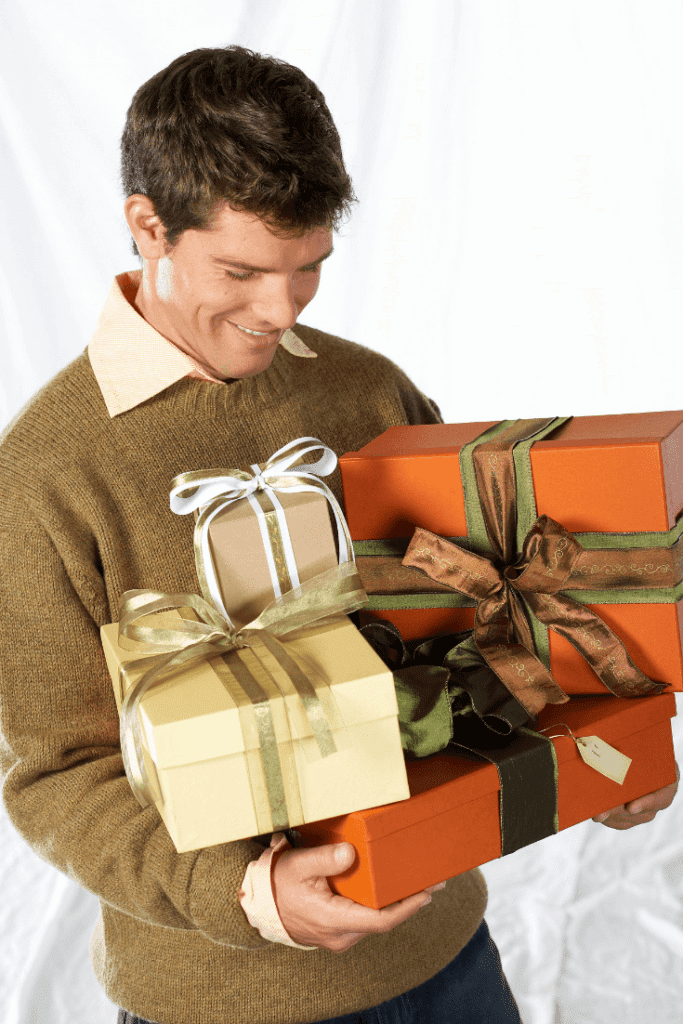 Gifts for the Guy Who Has Everything:
Let's talk about the hardest person in your family to shop for first: THE GUY WHO HAS EVERYTHING.
Oh, we all have one of these. If you're lucky, you have several.
But, guess what, I got you booboo.
Here are 10 super creative, totally unexpected gift ideas that are sure to light that guy up like a Christmas tree. And, there isn't a single gift card idea or hard to find item on the list.
In fact, every single one of them you can order from the comfort of your own home. That's right. Say goodbye to crowded shopping malls and Black Friday stampedes.
Believe me, this gift guide is going to save you – not just for Christmas, but for the next ten times that you have to shop for that person. That's like – 2 years of gift ideas.
I mean, if you think about it, that's the best gift anyone could give YOU this year, now isn't it?
You're welcome 😉
How Do I Know What You Should Buy Him?
Let me put it this way, if you've never sent your loved one a duct taped box that needed to be opened with a crowbar – are you even really trying?
I pride myself on creative, unexpected, and sometimes, downright unbelievable gift giving experiences. Because these people – these hard to shop for men – are usually the ones that deserve this the most. So, let's surprise these special guys in our lives.
Get those pajamas on, girl, and let's get shopping. Also, affiliate links are used, which means I may receive a commission at no cost to you if you purchase through my links. I only recommend products and companies I have purchased from here with amazing results!
This is a gift like no other. One of the times I have sent one of these was to my dad for his birthday. His retelling of the story goes something like this:
"I opened the front door and found a duct taped box sitting on my doorstep. There wasn't a card, or an explanation, or even instructions on how to open it. The return address was the absolute bare minimum. For a second, I thought I was getting pranked, so I started looking around to see if someone was hiding in the bushes watching me."
What happened next came from my stepmom, who told me how he took the box into the garage and began prying it open with a crowbar.
Finally, he won the war against the duct tape and pried open the crate underneath it, to find this gift:
By the time he got his meat-lovers paradise of a gift, he and my stepmom were in such hysterics, they could barely even tell me what happened. My stepmom was laughing so hard, she couldn't even hold the phone to film my dad. Aww, that video would've been priceless.
Folks, when you get a very successful grown man to tell you that "this was the most unusual, creative gift he had EVER received" – you know you did good.
They have a crate for every guy – from the hunter to the maker. To check out the different ManCrate options, go to their product page.
But, absolutely, 100% spring for the Diabolical Duct Tape Cocoon on checkout.
Oh, and if you freeze when you have to write a gift card note, they give you all sorts of funny ideas on how to make it memorable.
How's that for a nice gift?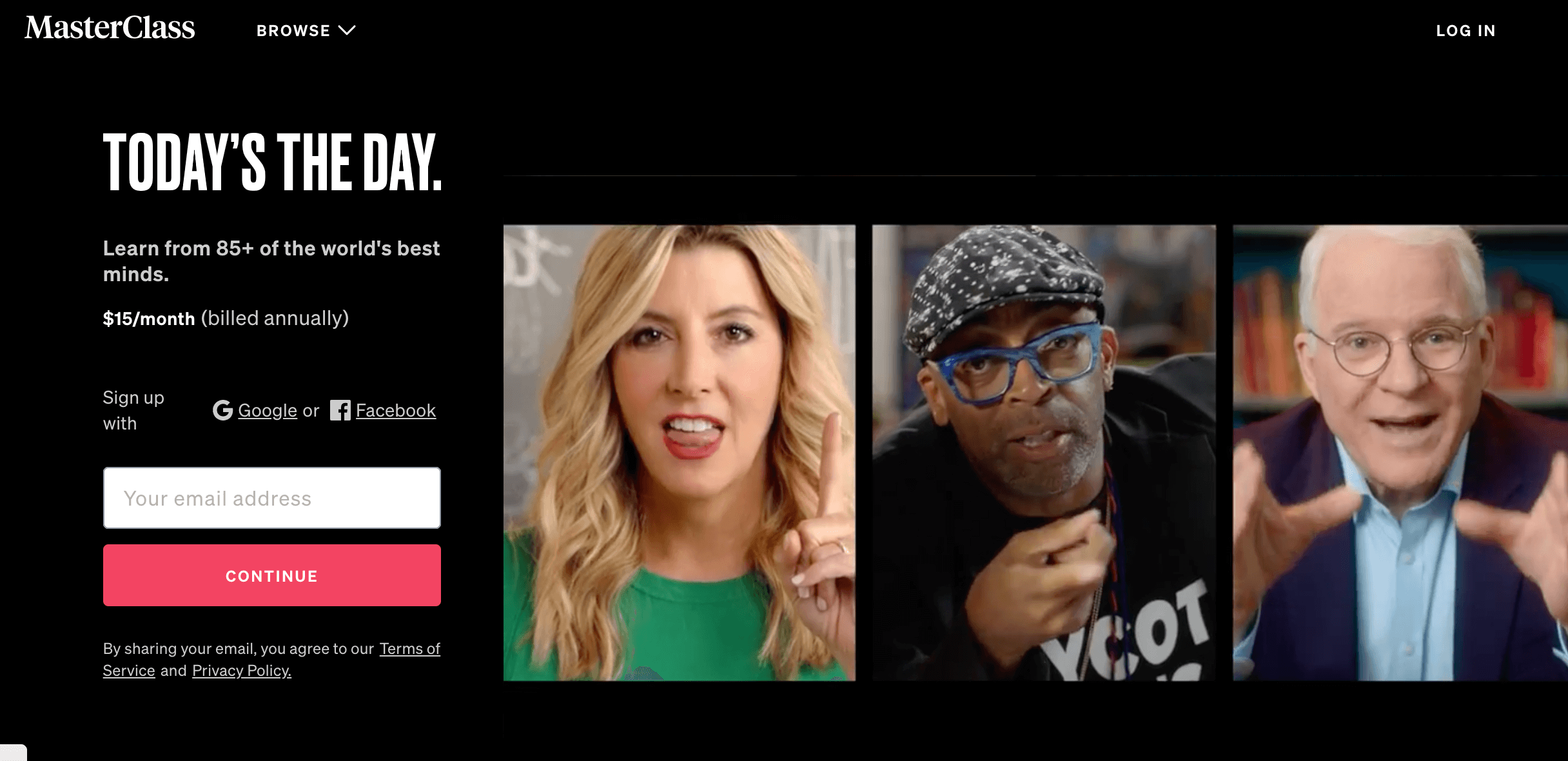 This is seriously one of the coolest gifts you can give right now. I have given 3 gift memberships to three different guys over the last year or so and everybody loves it. One of those was to my own guy and so I've been able to experience it firsthand through his subscription and I am obsessed!
Masterclass is an incredible learning platform where you can do short courses with the absolute best and brightest in their industry. It's amazing and you can't get the content anywhere else.
Here are some of the classes you can take – and they are all available with the subscription, so it's a pay once and access everything sort of thing:
Cooking with Gordon Ramsey
Basketball with
Humor/Comedy with Steve Martin
Negotiation with FBI lead hostage negotiator Chris Voss
Storytelling with David Sedaris
Ballet Technique with Misty Copeland
Makeup and Beauty with Bobbi Brown
Business Strategy with Bob Iger
Entrepreneurship with Sara Blakely
Music for Film with Danny Elfman
Poker with six-time world champion Daniel Negreanu
and seriously so much more. Because of the breadth of courses available, this is something that gives to them all year long. Plus, you can also gift this to a couple – such as your parents – and hit two birds with one stone.
Don't you just love it when that happens?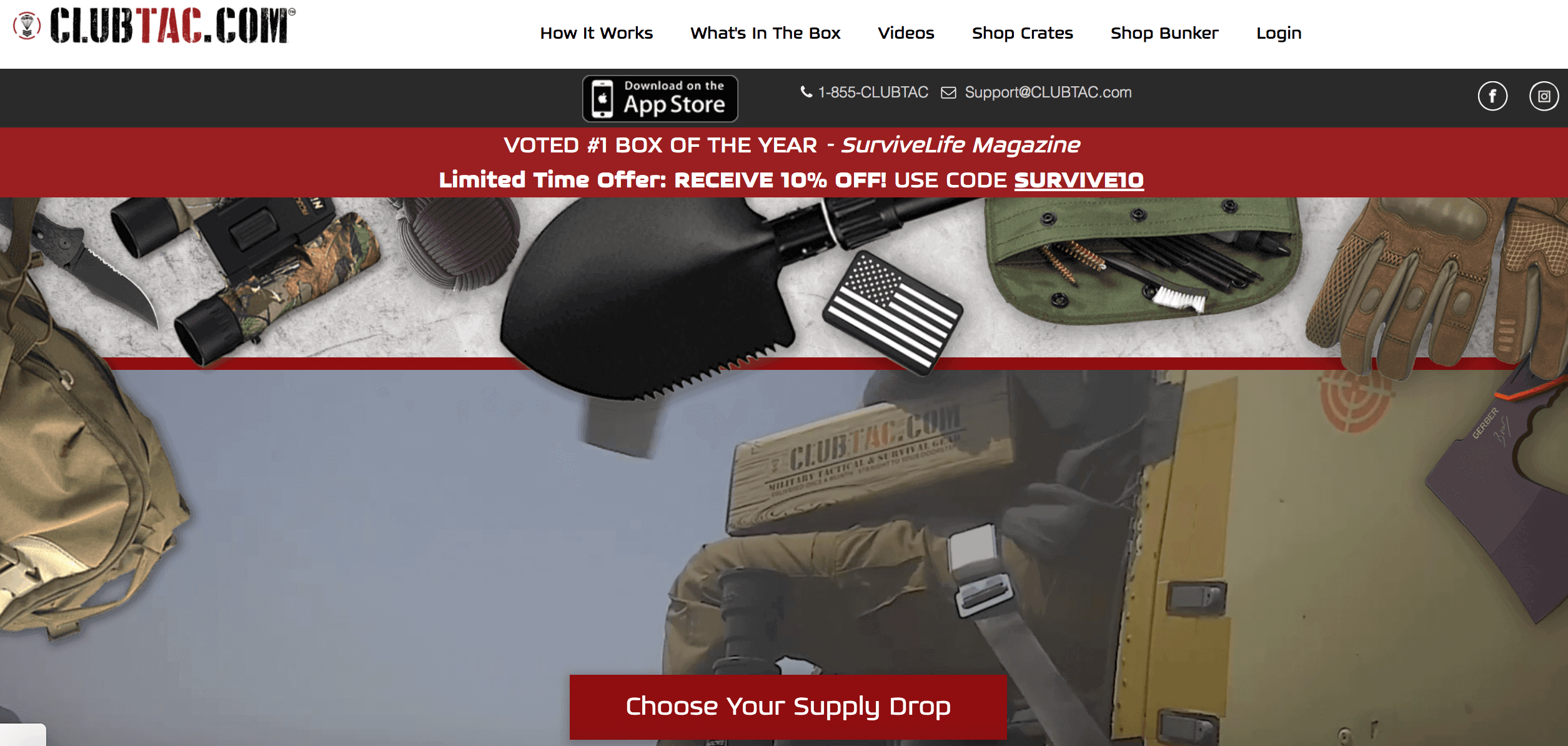 Got a guy who's prepping for an apocalypse? Have someone around who's obsessed with Bear Grylls, Survivor, Lost and the idea of being lost in the mountains for days with only what he can find for food?
He might absolutely love a ClubTac subscription box. Voted #1 survival box, ClubTac lets you choose what type of crate you would like to send and shows you what might be included in the crate. Then, you can decide if you want to send it monthly, pay for 6 months, or buy a whole year of crates. The more you pre-pay, the better the deal.

This kind of gift is so cool, because it's not something they would find in a store or likely buy for themselves, but they will totally love it. Even my guy, who is not outdoorsy AT ALL, would totally love this, because he likes to prepare for the very unlikely scenario of a global pandemic combined with crazy wildfires threatening us at every turn.
Oh, wait…..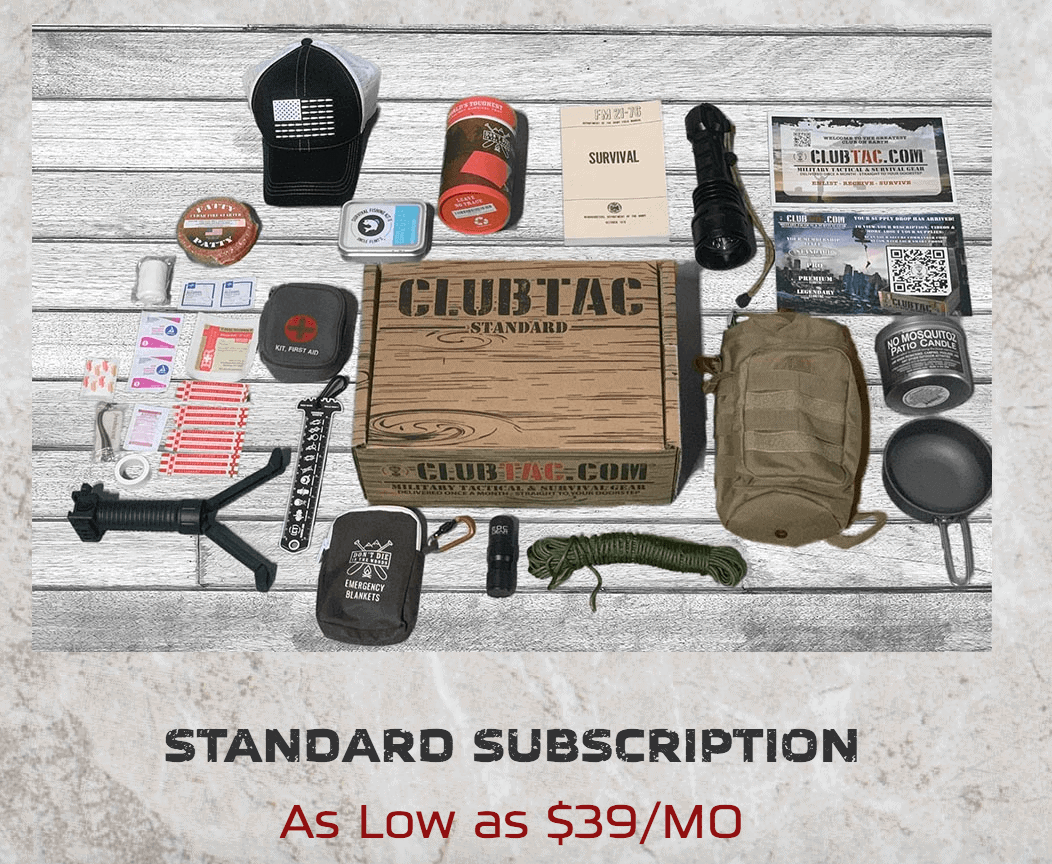 Anyway, the time has never been better for a military tactical and survival gear gift, wouldn't you say?
World Traveler? Whiskey Drinker? Guy that enjoys an evening aperitif?
We got you.
This ship in a bottle decanter and globe etched tumbler set is perfect to be showcased in a man cave, on a bar, or just in a kitchen.
What a fancy way to enjoy a nightcap, am I right?
I also really love this globe version, by Godinger. Very classy and a great gift for the world traveler!
This is a very chic, refined gift for the man who likes to retire in his library with a single malt.

I feel like there comes a time in every man's life when he wants to make his own beer. Or, they want to at least say they are making their own beer and feel really cool while saying it.
That's why I got this gift for a relative who puts his life on the line every day at work. I figured, he should have the coolest glass of beer to come home to, and what's better than one you made yourself?
He absolutely LOVED this gift, proudly shared his beer creations with his other cool friends, and has since purchased more beer making packs to feed his new hobby.
Plus, with several package options in different price points, you'll be sure to impress your loved one while staying in budget.
Well played, I'd say. Well played.
What about the man that can cook in your life? Or, the guy that "mans the grill" (said in a deep, gravely voice). He would probably really love The Big Green Egg.
I first heard about this when my dad, who had just designed and installed a built-in outdoor kitchen and BBQ, then went out and BOUGHT THE EGG ANYWAY.
Apparently, if your guy wants slow-roasted ribs or brisket that pulls apart when you just look at it, then this is the daddy bbq for your guy.
You may want to grab some of the corresponding cookbooks, too, since it is a unique cooking method. I picked up the two mentioned here for my dad as a gift and he gave rave reviews as well.
I know what you're thinking – a t-shirt? COME ON.
But, I picked up this t-shirt for my husband as a gift and not only did he LAUGH OUT LOUD, but EVERY. SINGLE. TIME. he wears this out – he gets stopped. People have so much to say about this shirt. They laugh, they high-five him, they ask him where he got it. It's a major conversation starter – and for good reason. This shirt really stares a double-standard between moms and dads right in the face.
Or, right in the chest.
Either way, it's a fun gift to give. It'll be both well-received by the recipient, and by all who see them wear the shirt out in public.
Get it for the deserving dad in your life and pat yourself on the back for doing your part to change double standards for all who see it.
Give the gift of a great neck massage to relax the hard-working loved one in your life.
I bought this for a family member who gets chronic migraines and headaches and they loved it so much, I bought myself one, too! You can even make a "get rid of headaches" gift kit using all the items I suggest in this post on how to get rid of headaches fast.
Of course, I have to try to pry it away from my husband, who has claimed it as his own. I guess it's just another one of those gifts that absolutely everyone wants!
And, isn't that exactly the kind of gift you wanta give this special guy in your life? Or, you can check out my post with the absolute best, highest rated massagers on Amazon for one that might be a better fit in this post.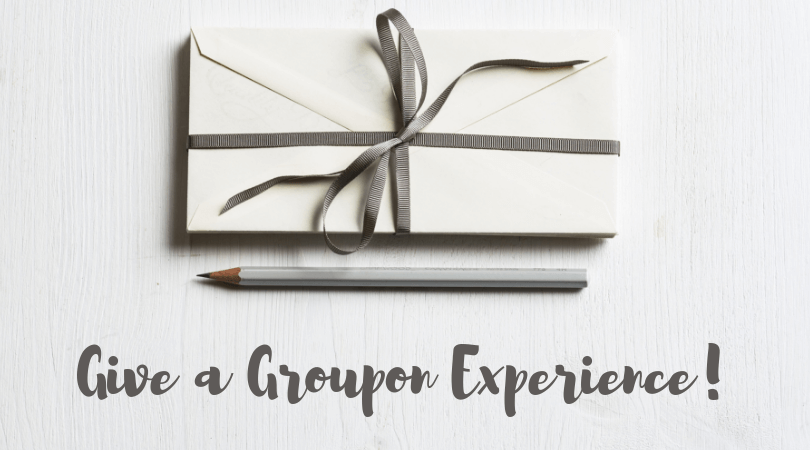 I have used this one a number of times, because with the revolving door of Groupon options, you can use the same gift trick, without repeating the actual gift.
And WHY GROUPON, you ask?
Because they make it so easy to find: really unique class ideas, for a really great price, that are little-to-no-effort to use.
Here are just a few of the class ideas I have given as gifts over the years:
Indoor Kart Racing Experience: Super fast, adult sized go-karts on an indoor track
Fencing Lessons: A month of weekly fencing lessons, all needed materials provided
Archery Experience: Indoor archery lesson and shooting practice
Beekeeping Experience: Learn how to make and harvest your own honey
Indoor Trampoline Experience: We've all seen these, but kids still love to go!
Hornblower Cruises: Doesn't matter if you've been, going again is always suhweet
Seasonal Activities: Plays, horse-drawn carriage rides, outdoor ice skating, paddle boarding
Car Detailing: A luxury that car aficionados will appreciate
Photography Session: Families with kids usually love this if they haven't been able to for awhile
Date Nights: So many options – Murder Mystery Dinner, Escape Rooms, Massages, Cooking Class
Listen, the sky is the limit here, folks. All you have to do is go to the Groupon Events page, search events within a reasonable distance of where this person lives, put in a price limit, and go shopping!
NOTE: Be sure to read the fine print, though, to make sure they have a reasonable amount of time to use the certificate before it expires, there are no surprise fees or requirements, and that they will have what they need to do the experience (i.e., equipment, physical strength, etc.)
Really think about the person and their unique interests and bucket list when making these choices.
True story: I have purchased one of these every year for my husband as a stocking stuffer. He now looks forward to finding out what his "adventure" will be for that year. I can't wait to surprise him with this year's idea!
Oh, and to wrap it: simply print out the email that they send you with the class information, fold it nicely, and put it in a pretty envelope. You can wrap the envelope in a bag or box, too, if you like, slip it into a stocking, or just hand it to the person.
Pick a Groupon Experience here.
10. BOX OF LOTTO SCRATCHERS:
I can't even really take credit for this idea. But, it's such a good one.
Back when I was in high school, you know, in the dark ages (lol), we had this Christmas party every year at a friend's house. The highlight of the evening was always the infamous White Elephant Gift Exchange – where you can steal a gift from someone else when it's your turn.
I can't even tell you how crazy people went over the box of scratchers. Every time. Without fail.
Something about that possibility, that question mark, that dream, of winning a ton of money….people loved it.
I never forgot that, and whenever I am really pressed to pick a gift for a hard-to-shop-for person – I got to the store, buy as many scratchers as I can afford, making sure to mix them up and get different types, and I wrap them in an envelope with something they can use to scratch away with.
Even if you only spend $20, there's a possibility they could win hundreds! OR MORE!
It makes it so much fun and the person usually really enjoys it. One time, the receiver won over $500.
Now that's a good gift 😉
**EXTRA! SURPRISE GROUP GIFT**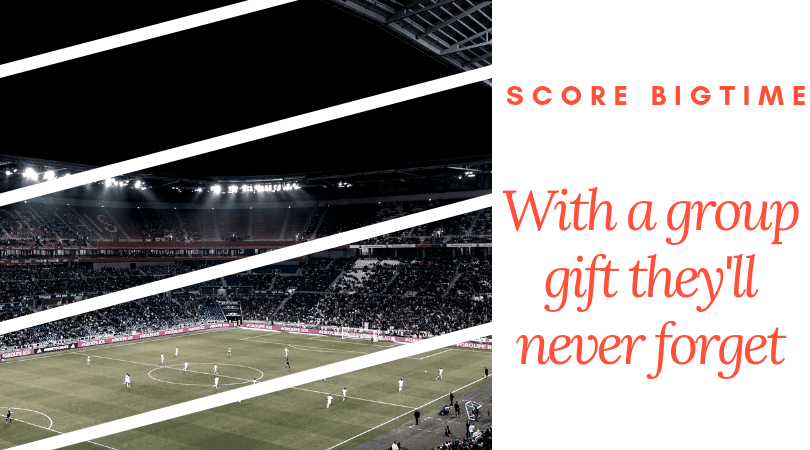 Are you still with me? Of course you are. You love all these ideas. I don't blame you.
This bonus option is for the brave gift givers, because it is the most difficult to pull off – but it always, always gets The Reaction.
The sky is the limit here on how you can do this. Use what is near to you and available and in your budget. Also, consider the interests of the people involved, but don't worry so much about that, because the big idea is the group surprise aspect.
Let me explain: the truth is, if you've got ONE hard to shop for guy in your life, you probably have TWO. And if you have TWO, you might even have THREE. Or, maybe you and ALL your sisters and mothers and cousins are ALL married to guys that are impossible to shop for.
This is when you group up. You work as a team.
Bust out those schedules, find a way to get all of the guy's schedules to sync up on one glorious day and time, and find out what show or sports game or concert or special event is happening near you.
Buy ALL OF THEM a ticket to the SAME EVENT. Of course, make sure that their seats are together.
Wrap them differently, so the boxes or envelopes don't look the same size.
Try, if you can, to give them ALL their gifts AT THE SAME TIME.
One year, my sister-in-law, my stepmom, and I pulled this off with Sharks hockey tickets for the men in our life. The reaction was PRICELESS.
PLUS, they all had a total blast going together.
It's been years since we have been able to pull something like this off, and something makes me think it's time to dust this one off again. Hmm….
***
Alright, there you have it. 10 CREATIVE, INCREDIBLE, MEMORABLE gifts for the guy that is IMPOSSIBLE to shop for that he will LOVE, REMEMBER, and TALK about for years to come.
If you use any of these, please let me know. If you have more to add, send those, too!
Looking for more affordable ideas for holidays like Valentine's Day? I wrote a whole post on Valentine's Day gifts for guys!
And, for the other people on your shopping list, check out these other gift guides:
And, if you know someone who struggles to find gifts for that certain person – pass this along!
Sharing is caring 😉
Have a fabulous day,
E