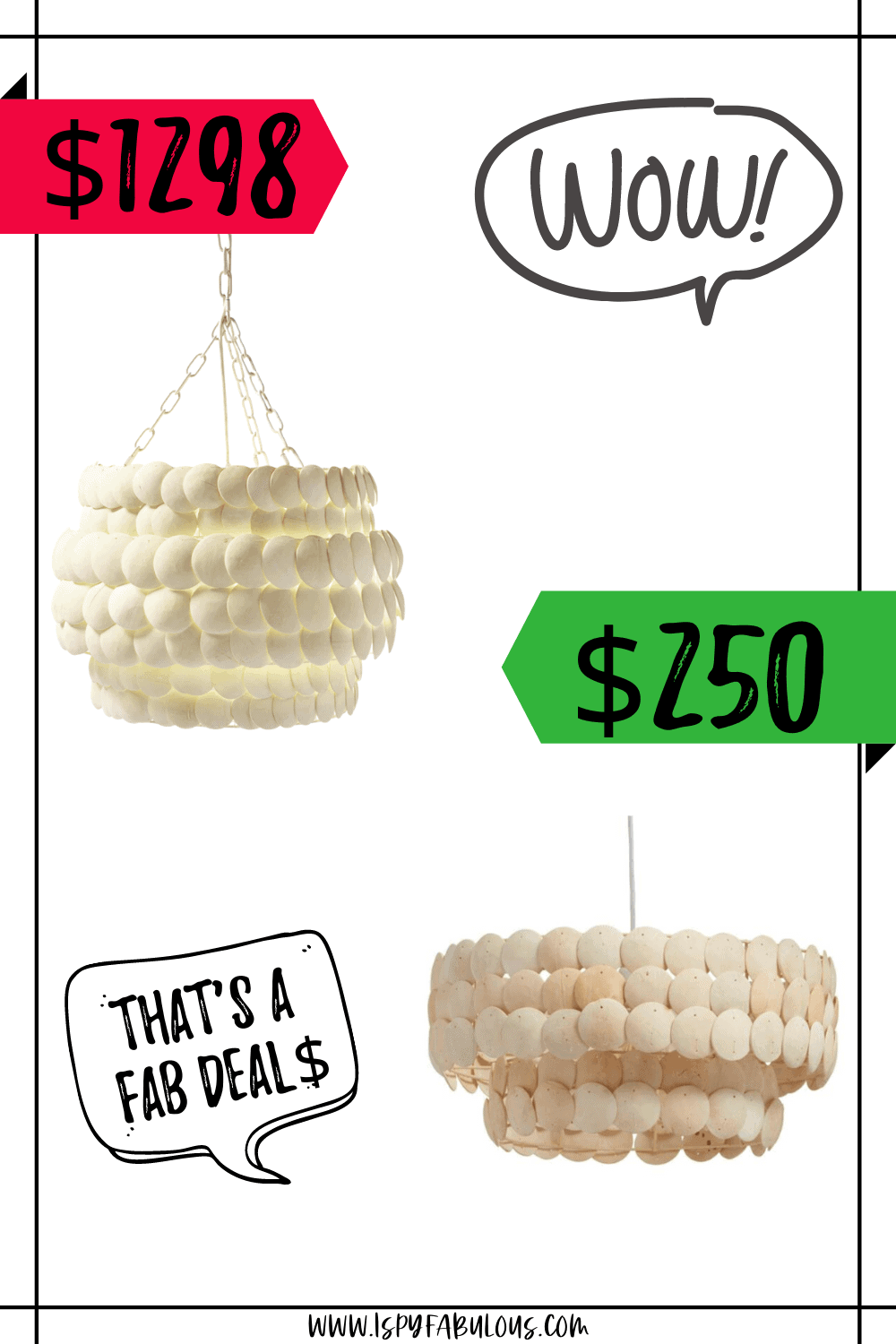 Ooooh, girl. I've got a good one for you today!!! Awhile ago, I saw the absolutely stunning Serena & Lily Pescadero Tiered Chandelier and fell instantly in love. #swoon
I know firsthand how incredible lighting can be at transforming a space and I can imagine this taking center stage in so many places: a breakfast nook, a bedroom, an office, even a laundry room.
Let's take a closer look at this jaw-dropping fixture:
Serena & Lily Pescadero Tiered Chandelier: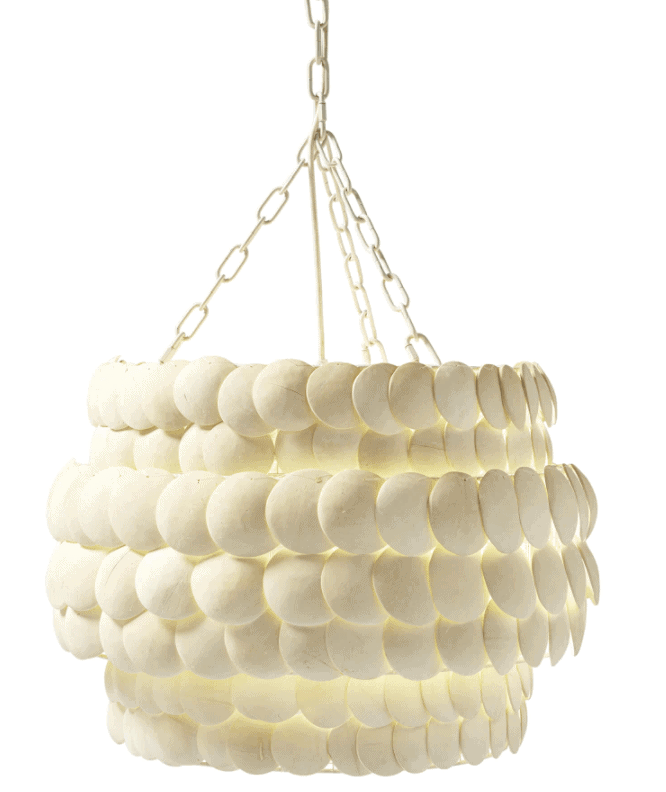 *Affiliate links are used in this post, but these brands did not sponsor this post. This means that if you choose to buy something through one of my links, I may make a commission at no cost to you!
Made of coconut shells with an iron frame and white canopy, this gorgeous piece of lighting is 25 inches in diameter and 17 inches high with an adjustable frame.
The details share that it's not a great fit for areas with excessive moisture – so that rules out placing it over a tub. But, other than that, go crazy.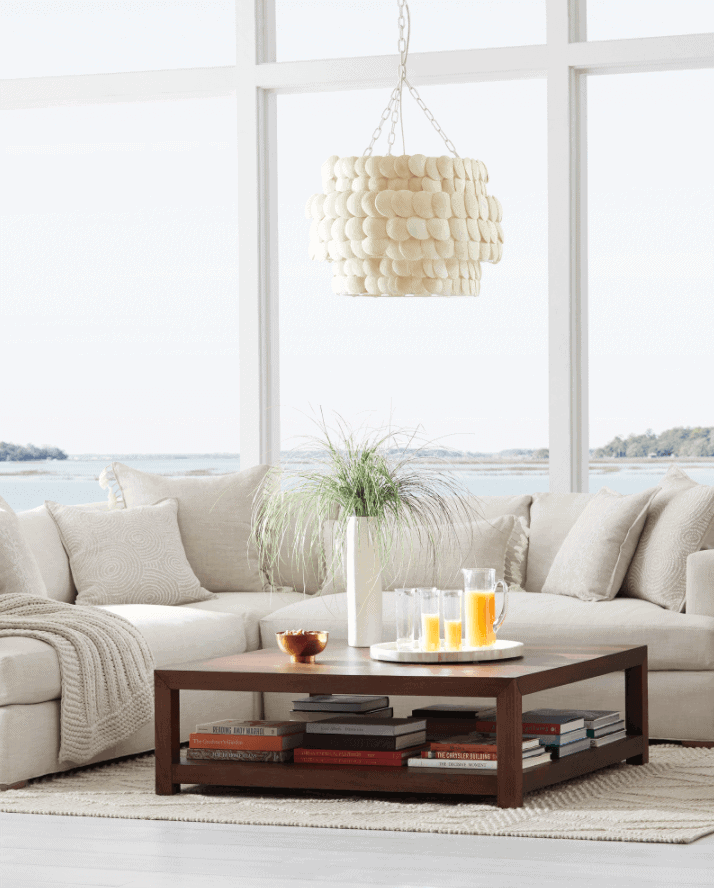 So chic. So understated. Such perfect texture. But, the price, for some, may feel steep. This beauty will set you back $1298 at time of posting.
I was starting to think I might have to shell it out (pun intended) – until I saw this:
World Market White Coconut Shell Two Tier Alana Pendant Lamp: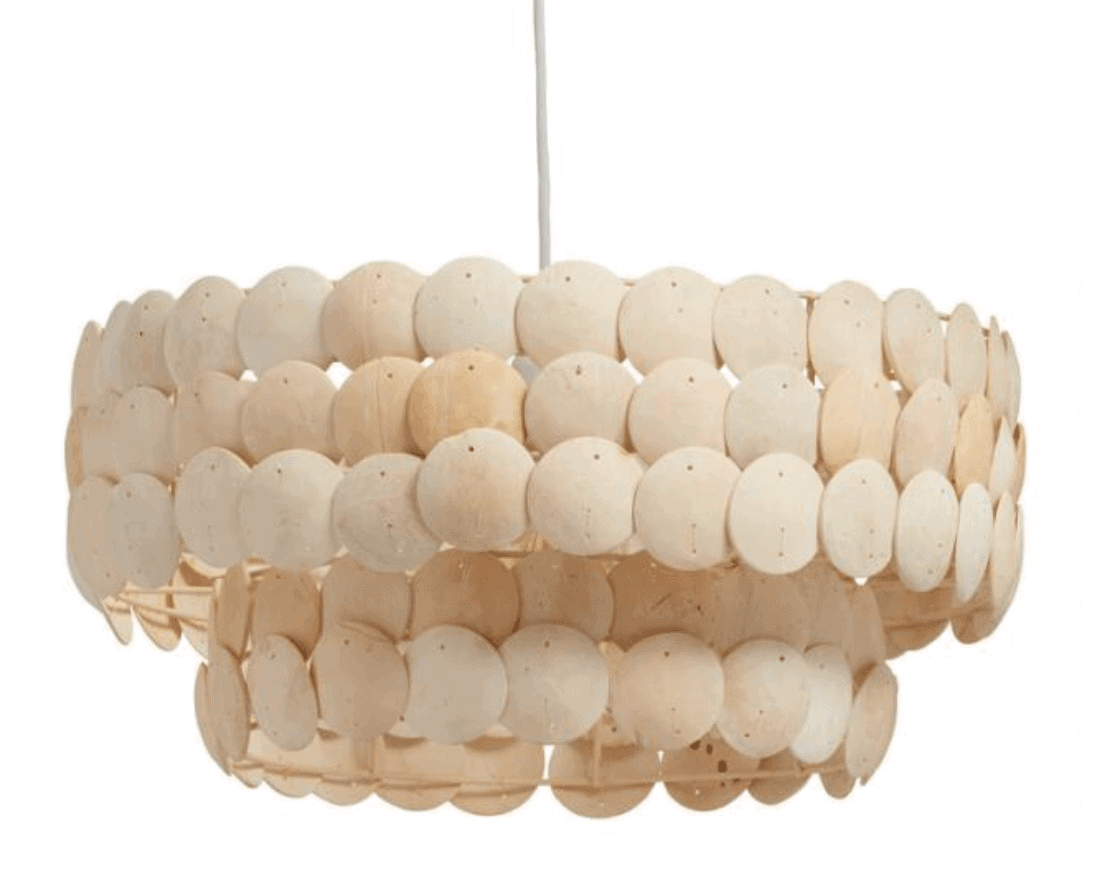 Ooookay….now we are talkin'! With two tiers of coconut shells and a warm iron finish, you get a verrrrry similar look here for an absolutely killer price…. are you ready for it? Really? You sure?
$249!!!!!
It is slightly smaller at 18 inches in diameter and 12 inches high, but for most spaces, that difference will not be noticeable.
In fact, I think it would be so chic to hang 2 or even three of these over a long table. Yes!
The reviews are also incredible for this shell chandelier with people calling it "stunning" and "easy to install".
*****
Something I love about finding a good deal is that you can save money, while still getting the look and vibe you want. While some lookalikes are dead ringers, others take their own spin on it. For example, check out my post on the arched bookshelf trend where you can capture the look of the infamous Anthropologie arched cabinet for much less.
Personally, I like to see a dupe with a unique spin. But, sometimes, a dead ringer can be fun, too. Just look at this dupe of the Lulu & Georgia plaid bed. I looooove this one!
And, one of the bestseller dupes on my site are these Caitlin Wilson rugs.
If you are shopping for a home and looking for steals, there's a lot more fab deal$ here. Feel free to check out these posts:
Have a fabulous day,
Erica