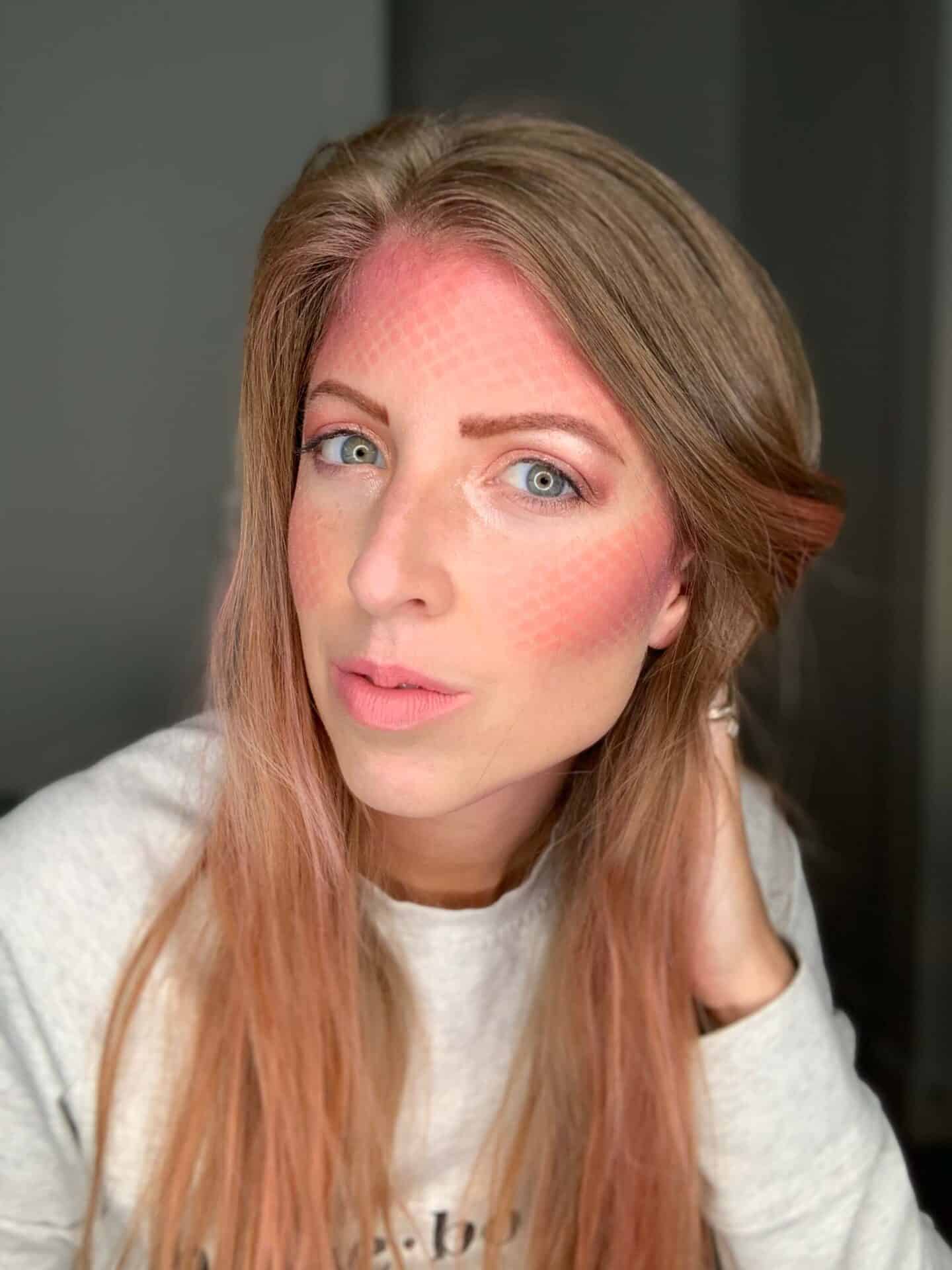 Sure, it might be a little early to start talking about Halloween, but really, do you need a national holiday to walk around looking like a magical mermaid? Well, maybe. Unless it's this shimmery pink and slightly subtle magical mermaid look, in which case, you might find excuses to wear it year-round – like, say, Sunday brunch.
And, if you've been seeing mermaid makeup tutorials and wondered – how do they get that mermaid scale texture – well, you're about to find out. My friend, Annie, is a gorgeous makeup goddess and she is sharing her step-by-step tutorial (with a sped up video, too) to guide you through the creation of your own stunning mermaid makeup.
What You Need for Mermaid Makeup: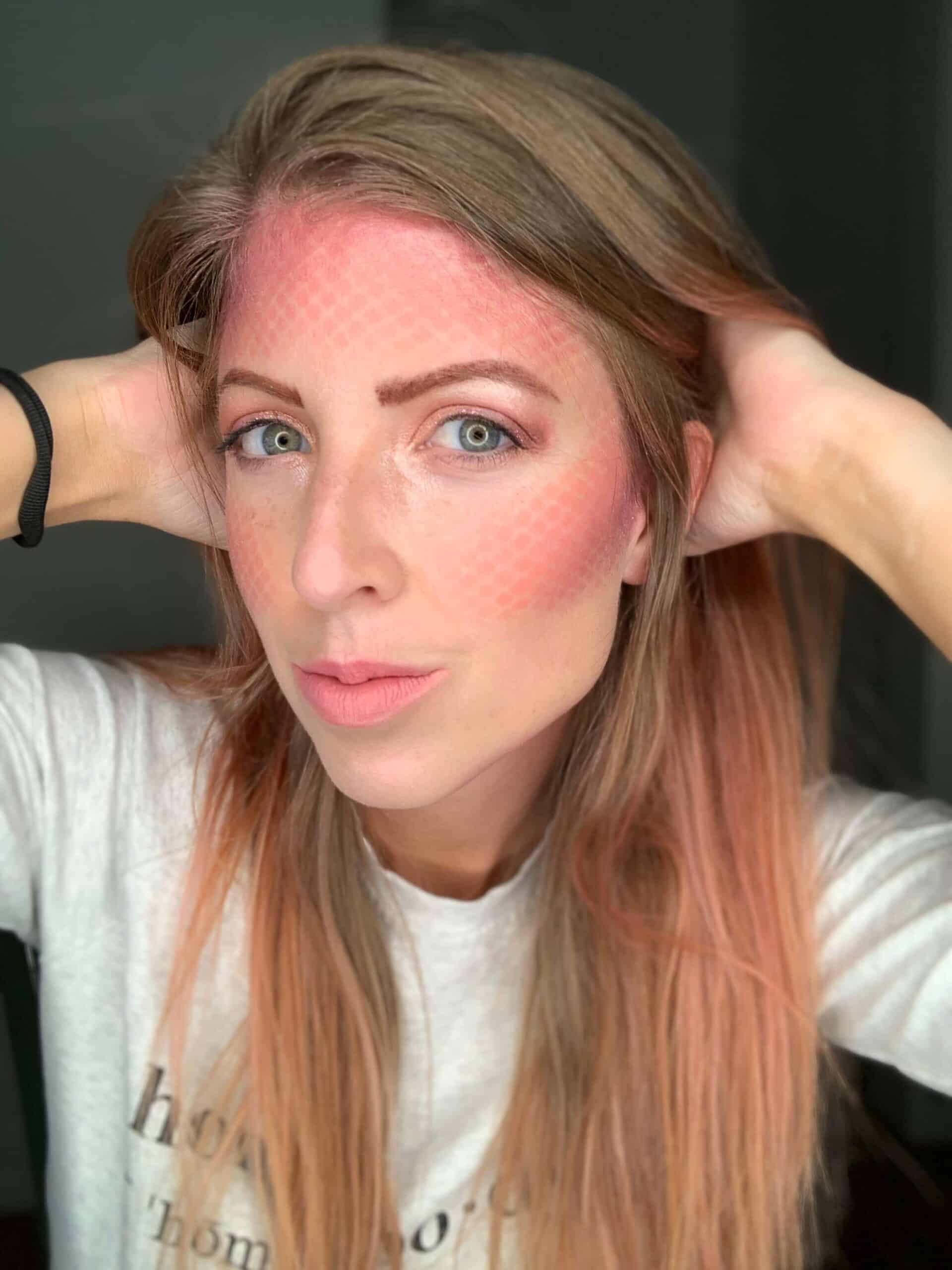 Something I love about all of Annie's makeup tutorials is they use actual makeup, not costume makeup. So, you don't have to invest in a bunch of makeup that will drain your bank account and destroy your skin. Nope – this makeup is going to be so versatile, you'll be able to use the colors in different combos for every day looks, too.
Plus, having used this brand of makeup myself, I can attest to its incredible quality. The eyeshadows are highly pigmented and the foundation easily blends for a natural, but better, look.
I'll be listing all of the sources for what Annie uses to create this look. Affiliate links are used, but mostly because Annie is a rep for the makeup, because she loves it so much. And, if you wanted to chat with her about color matching for your skin and makeup objectives, she can help you pick out the perfect colors for your skin, too, or you can just grab the exact colors she uses to create this gorgeous pink mermaid look. Either way, check out her Instagram, where she shares tons of makeup hacks and tricks, and you can DM her there if you'd like help picking out the right colors for your skin.
Mermaid Makeup Tutorial:
Are you ready for the ultimate mermaid makeup hack? Get ready. We're going to break it down in pictures with links to the products, so you can recreate this at home. Then, we'll share a to see it in sped up video that shows you how she uses a hair net pulled down over her face to create the scale texture of a mermaid – BRILLIANT.
Mermaid Makeup Step-By-Step: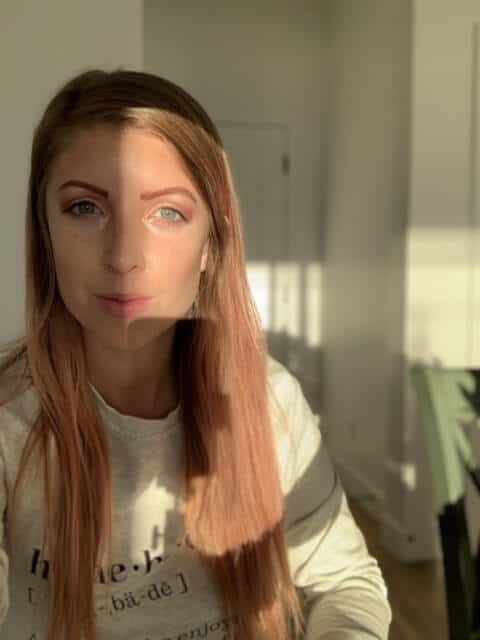 Since this look uses a pink ombre approach, you'll want to do layer the colors and blend, blend, blend. Let's break down the order of events:
1. Start With Eyes: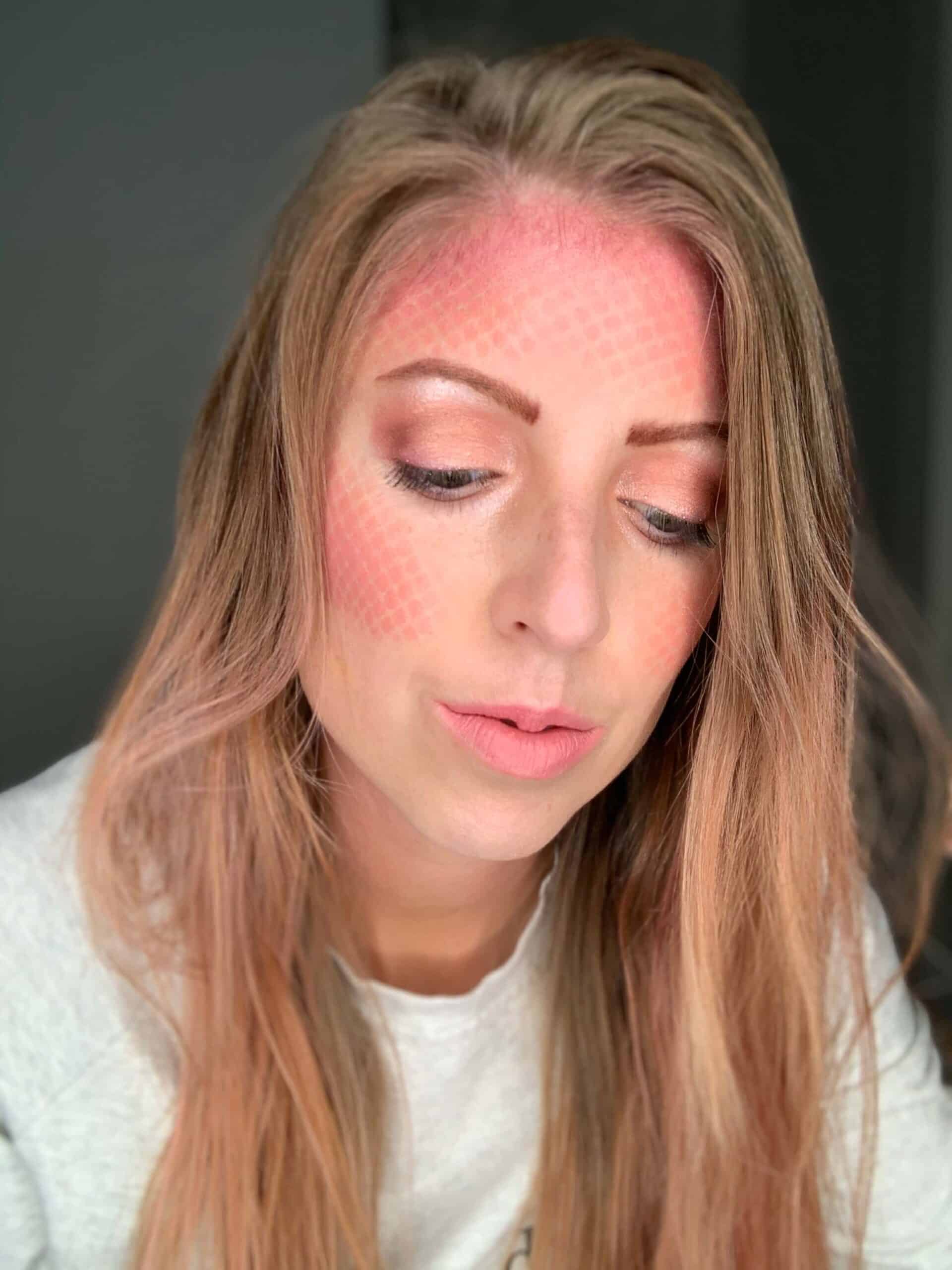 To get this look, here's the step-by-step:
2. Apply Foundation: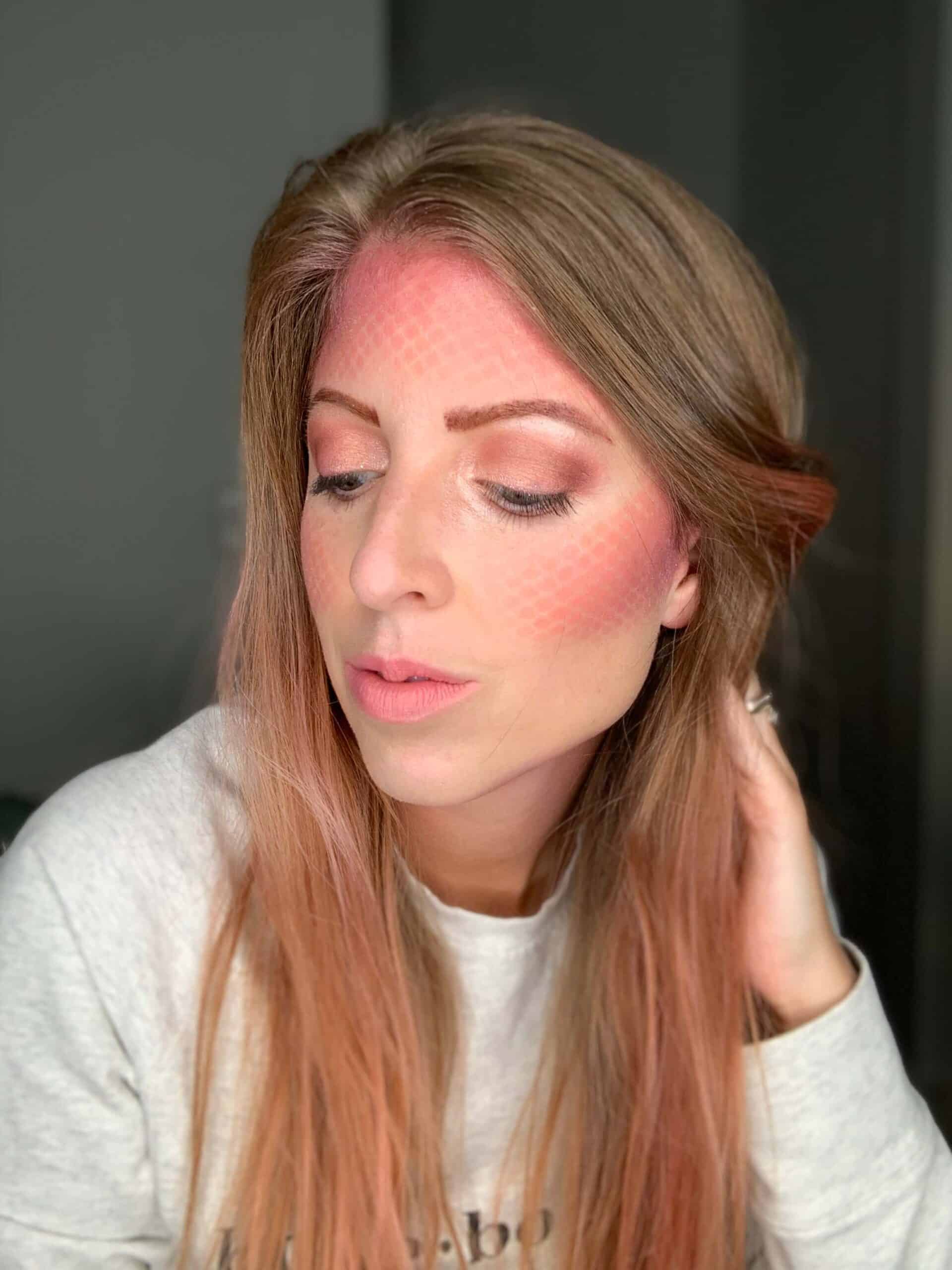 Now, get your base on. For this, Annie used an all over foundation for coverage – Candlelit from Seint.
3. Time to Apply the Mermaid:
It's mermaid time. The video above takes you from this point to the end to show you how to get the mermaid scale effect.
You'll pull a hair net down over your face and start applying the colors from dark to light, creating an ombre/fade look. Place the darkest color where contour would normally go and fade to the lighter colors as you move away from the darker color.
And, can we talk about Annie's cheekbones for a second? Gah!
4. Spray The Hair:
Finish the look with a spritz of this Kristen Ess Rose Gold Temporary hair tint. Easily washes out, so it's a no commitment situation.
Mommy & Me Mermaid: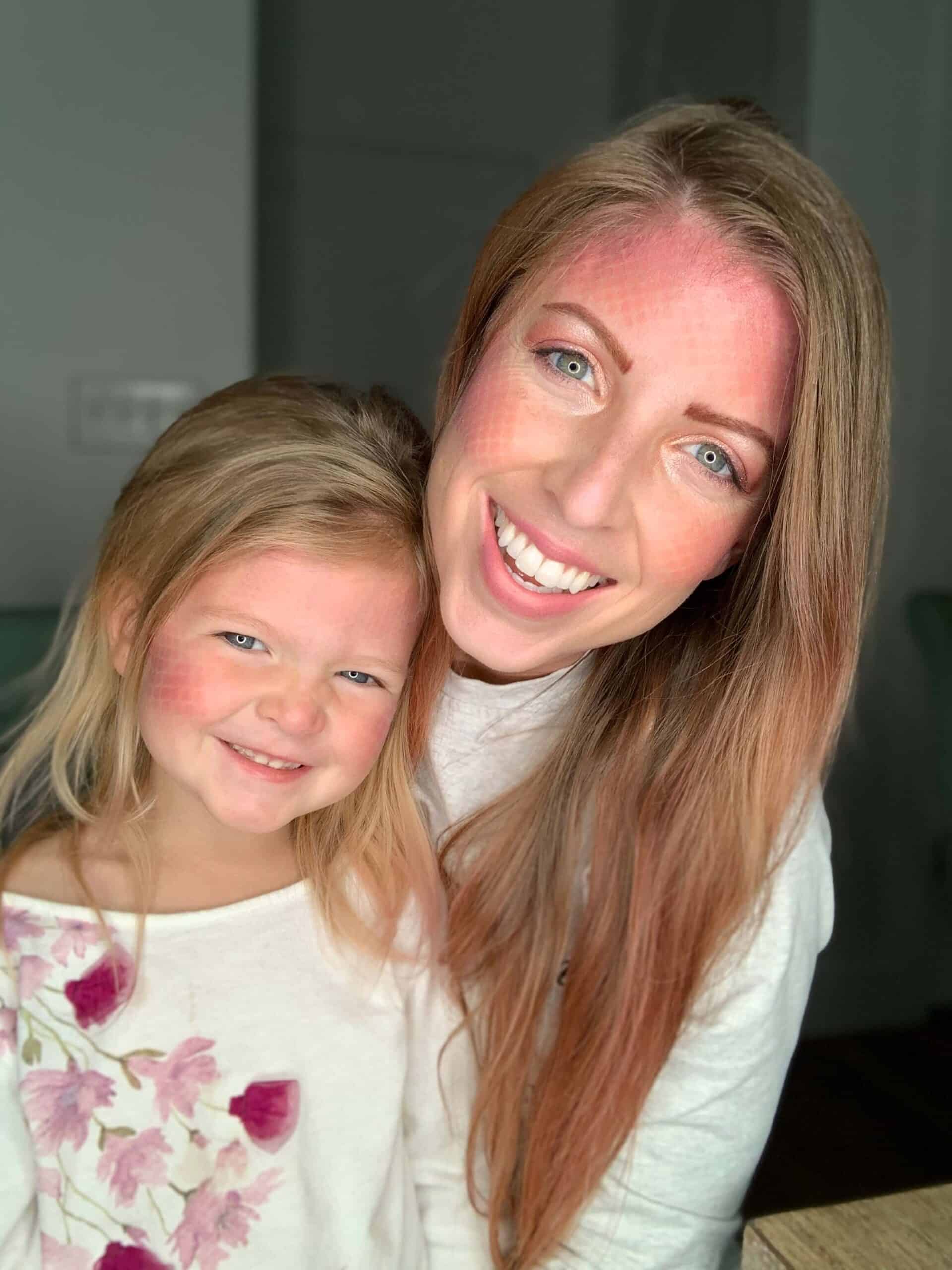 Do you have a mini-me who loves to be matchers? You can both be mermaids together! For little ones, just skip straight to the hair net part and add some light color to her contour areas to give her a little mermaid glam.
******
What do you think? Would you try a mermaid makeup look for Halloween? If you check out Seint makeup and want a little guidance – be sure to reach out to Annie.
For more costume makeup looks, check out the super cool skeleton makeup or the new deer makeup tutorial – it's a-doe-able!
We've got some more Halloween makeup collabs coming, so check back soon to see what's next!
Have a fabulous day,
E