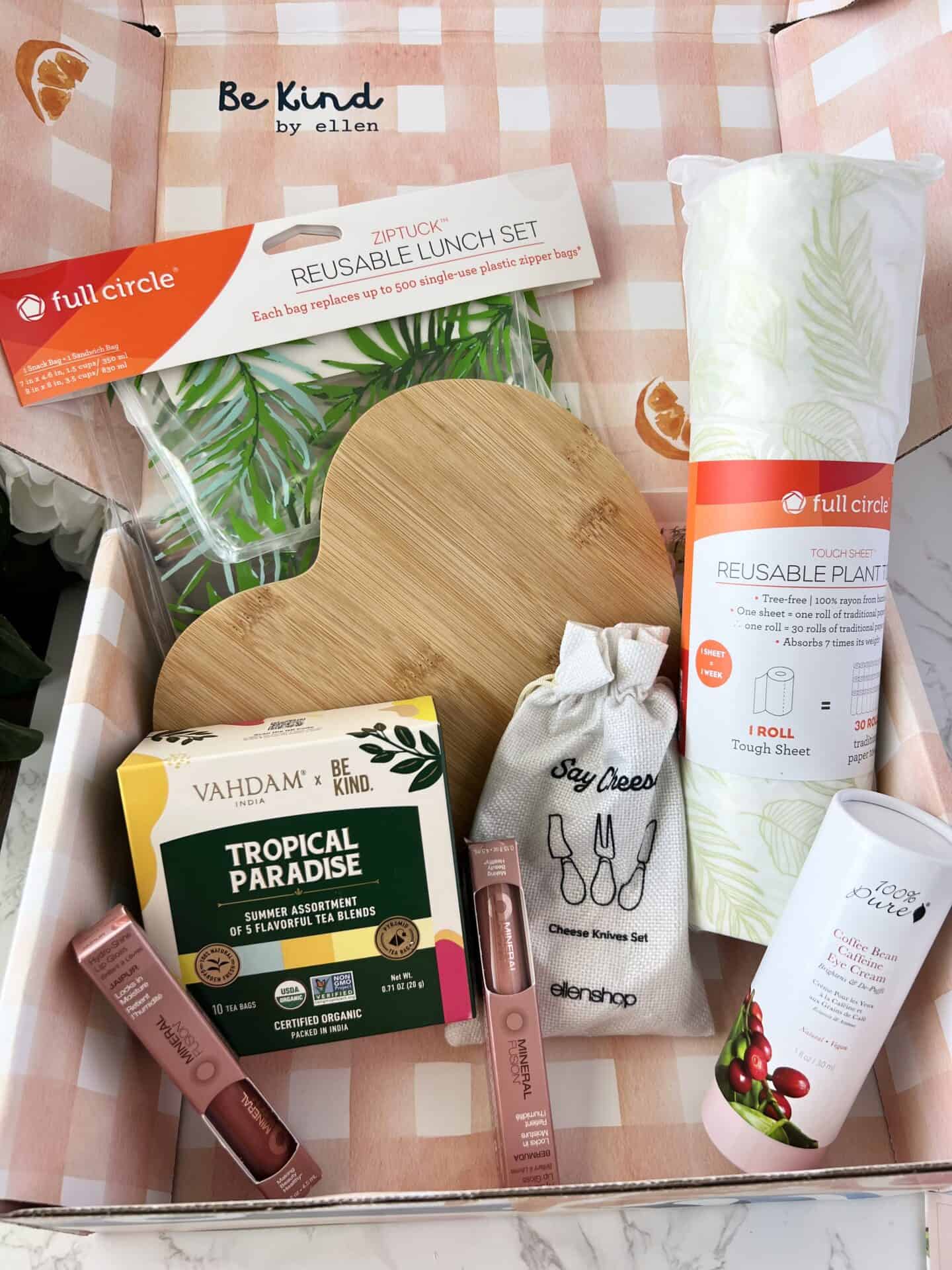 It's always a good day when I open my front door to find the colorful Be Kind By Ellen box on my doorstep. The summer box is out now and I think this is my favorite one yet.
Full of super useful, high end products (one I've used before and absolutely love) for a crazy affordable price. Plus, if you buy before July 14th, you'll BOGO free. Use the extra box as a gift, use what's inside as stocking stuffers and small gifts, or keep it for yourself.
Let's take a look at what's inside!
WHAT IS THE BE KIND BY ELLEN SUBSCRIPTION BOX?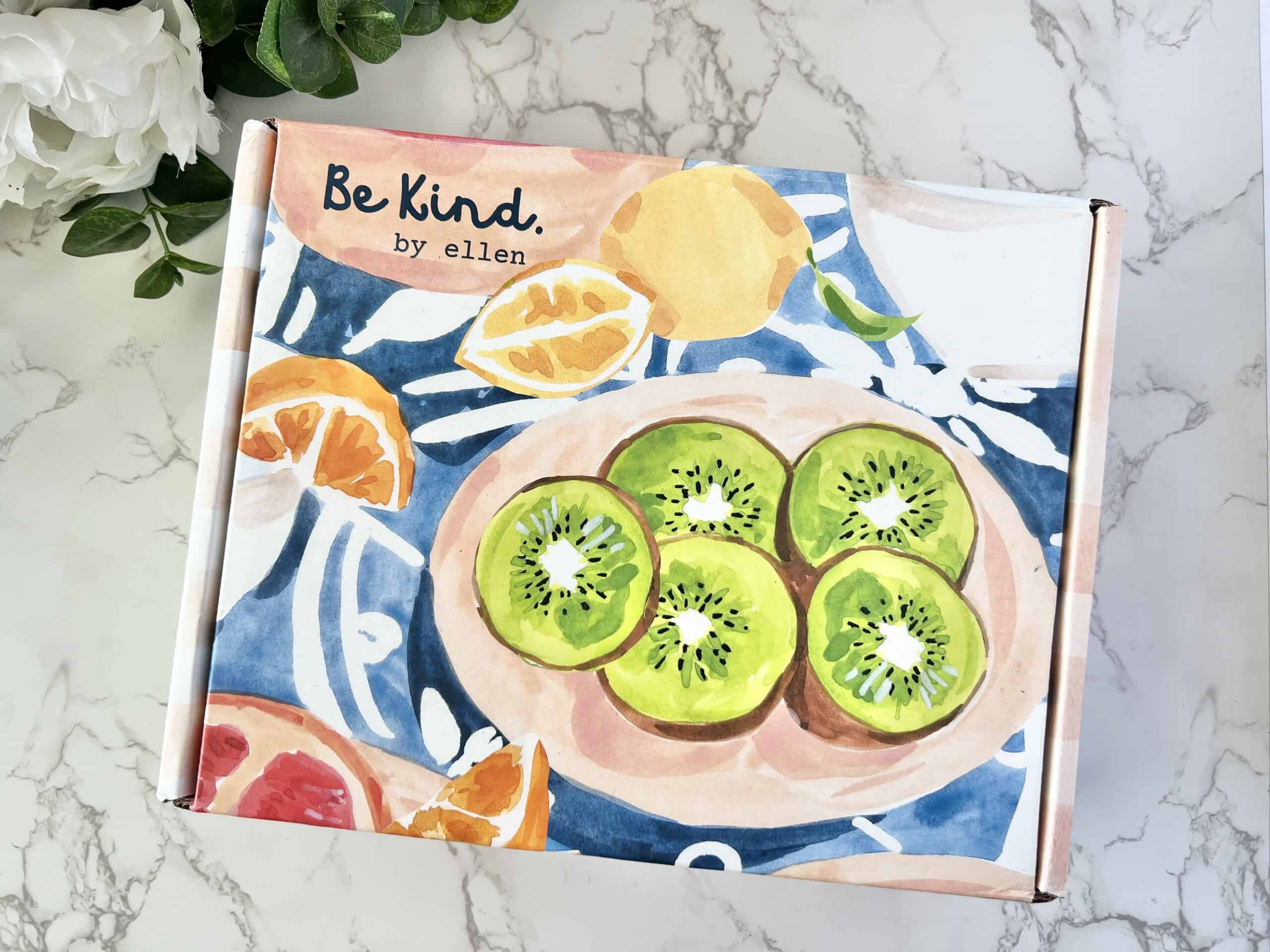 If you're new to the Be Kind by Ellen box, let me share a little bit about how this subscription box works and what you can expect. If you're just here for the spoilers, keep scrolling and I share everything in the box with you below.
Be Kind is a quarterly subscription box curated by Ellen Degeneres. She chooses 6 products with a purpose and they are delivered 4 times a year. This one is being sold for $54.99. If you buy before July 14th, you'll get two boxes for that price, which brings each box down to around $27. Crazy. You can cancel anytime and shipping is free in the US.
Also, I love the transparency of this box – you see what you're getting in each box, with no surprises, so you know what you're investing in. If you've ever bought a subscription box because of a couple spoilers that got you excited about, only to find a whole box full of stuff you'd never actually buy (or worse, repeats from items in an earlier box) then you will love the Be Kind box, because every single one has unique items and you always know exactly what you're getting.
I posted a quick video on my Instagram that shows all the items in this box. You can really see all the items and how nice they are. If you'd like to watch that quick video, check it out below:
View this post on Instagram
For more detail, let's check out each item!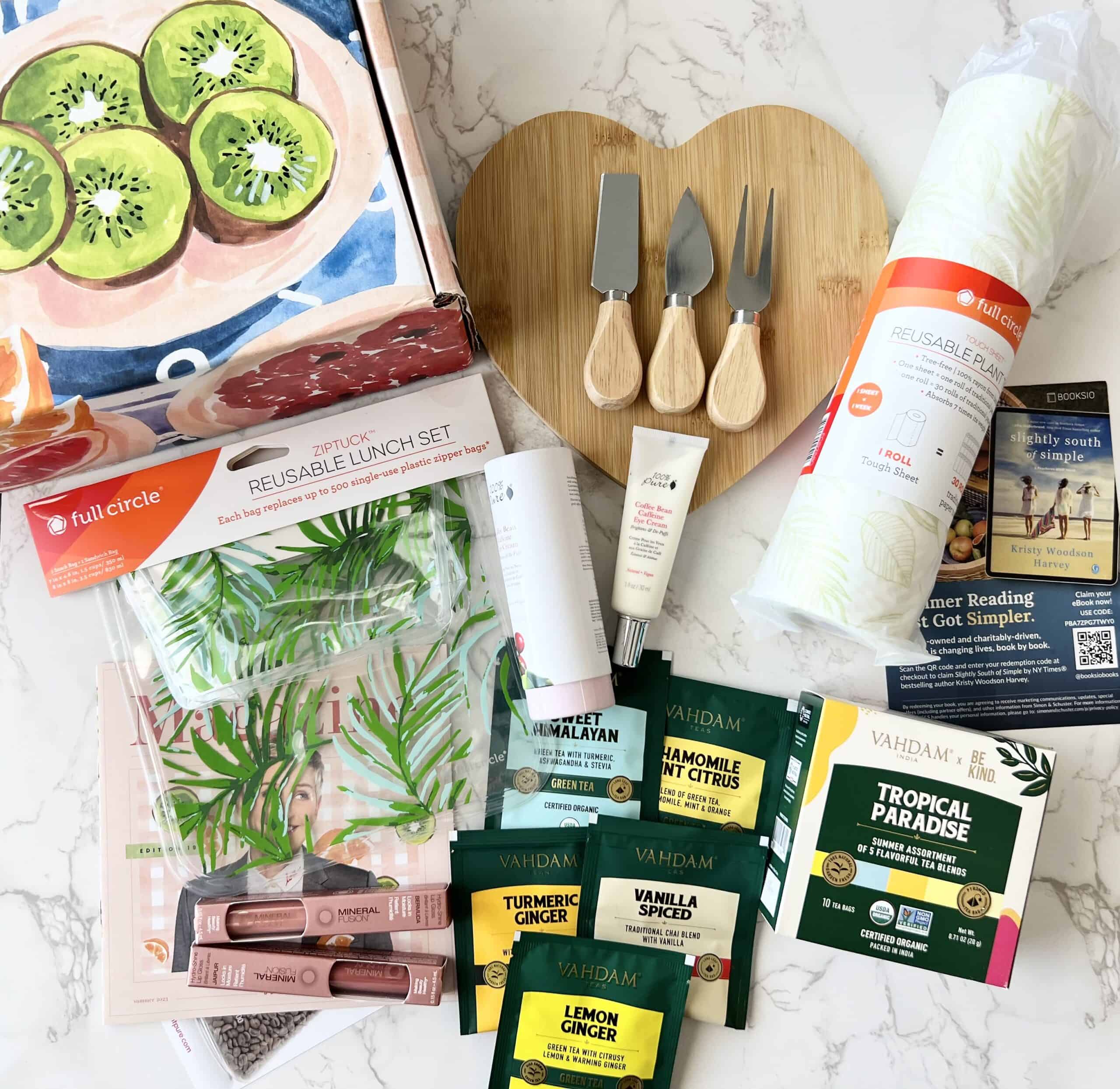 1. FULL CIRCLE HOME: Ziptuck Lunch Bag Set and Tough Sheet – Reusable Plant Towels
I love both of these items. The reusable plant towels are so soft and really absorbent. Much more luxurious than paper towels and over time, they'll save us money from buying paper towels and help the environment. Win win. I did have to figure out how we'd store them after using them so they don't get thrown away. We just clipped a reusable bag to the inside of a cabinet door under the sink. We drop them in there and then when they're all used, or the bag is full, I take it upstairs and dump it straight into the washing machine.
Value: $7.99 and $9.99
2. VAHDAM TEAS: Tropical Paradise Summer Tea Assortment
I love a good cup of tea. Big fan. This collection has a great assortment of tea flavors, including vanilla chai, which I'm very excited about it, and others like: lemon ginger, chamomile mint citrus, turmeric ginger, and sweet himalayan. I'm very picky about my tea, especially after reading how many of them have micro plastics that we then heat and eat. Not safe. Vahdam tea is handpicked in India before being packaged at peak freshness in plastic-neutral packaging.
Value: $35
3. ELLENSHOP: Heart Cheese Board & Cheese Knives Set
I'll be the hostess with the mostess with this adorable heart shaped cheese board and knife set. I immediately pictured making cute little snack trays for the kids after school and using this for a little Valentine's Day charcuterie. The options are endless. The board and knife set also makes a fantastic gift for a cook in your life or as a new home gift for someone you love.
Value: $40 plus $15
4. 100% PURE: Coffee Bean Caffeine Eye Cream
I've used this before, absolutely loved it, and was very excited to see not just the eye cream, but the coupon in this box! This eye cream is so good, it made my list of my favorite undereye creams for sensitive eyes! It smells delicious, like freshly made coffee, and the caffeine is so good for plumping the undereye area. Im a big fan of 100% Pure and they're line of super clean beauty and skin care products.
Value: $29
5. MINERAL FUSION: Hydro Shine Lip Gloss Bundle (2 Colors)
I was super excited to see not just one, but two, hydro shine lip glosses by Mineral Fusion! These buttery lip glosses are super hydrating and feel great on my lips in this hot, dry summer. One color is more natural, perfect for every day, and the other has a little bit more of a punch for when I want more color. I love them both and I love that Mineral Fusion is hypoallergenic, vegan, cruelty-free, gluten-free, and has no harsh ingredients, artificial fragrances or parabens.
Value: $30
6. BOOKSIO: "Slightly South of Simple" By Kristy Woodson Harvey – E-Book or Audio Book
I have never downloaded a book from BOOKSIO and was excited to see this free download for an ebook or audio book of this sweet summer read. I've been reading a lot more over the last six months or so and can't wait to add this book to my list! BOOKSIO donates 10% of their monthly profits to charity each month, too, and I love buying from companies that give back.
Value: $35
*****
Overall, this was one of the best subscription boxes I've ever received. I loved every single item and have been using them all! I can't believe you can get two for the price of one right now, which is amazing.
If you're looking to check it out, feel free to click this link here. I'll receive a commission if you purchase through my link at no cost to you.
Looking for more subscription box reviews? Check these out:
Have a fabulous day,
E