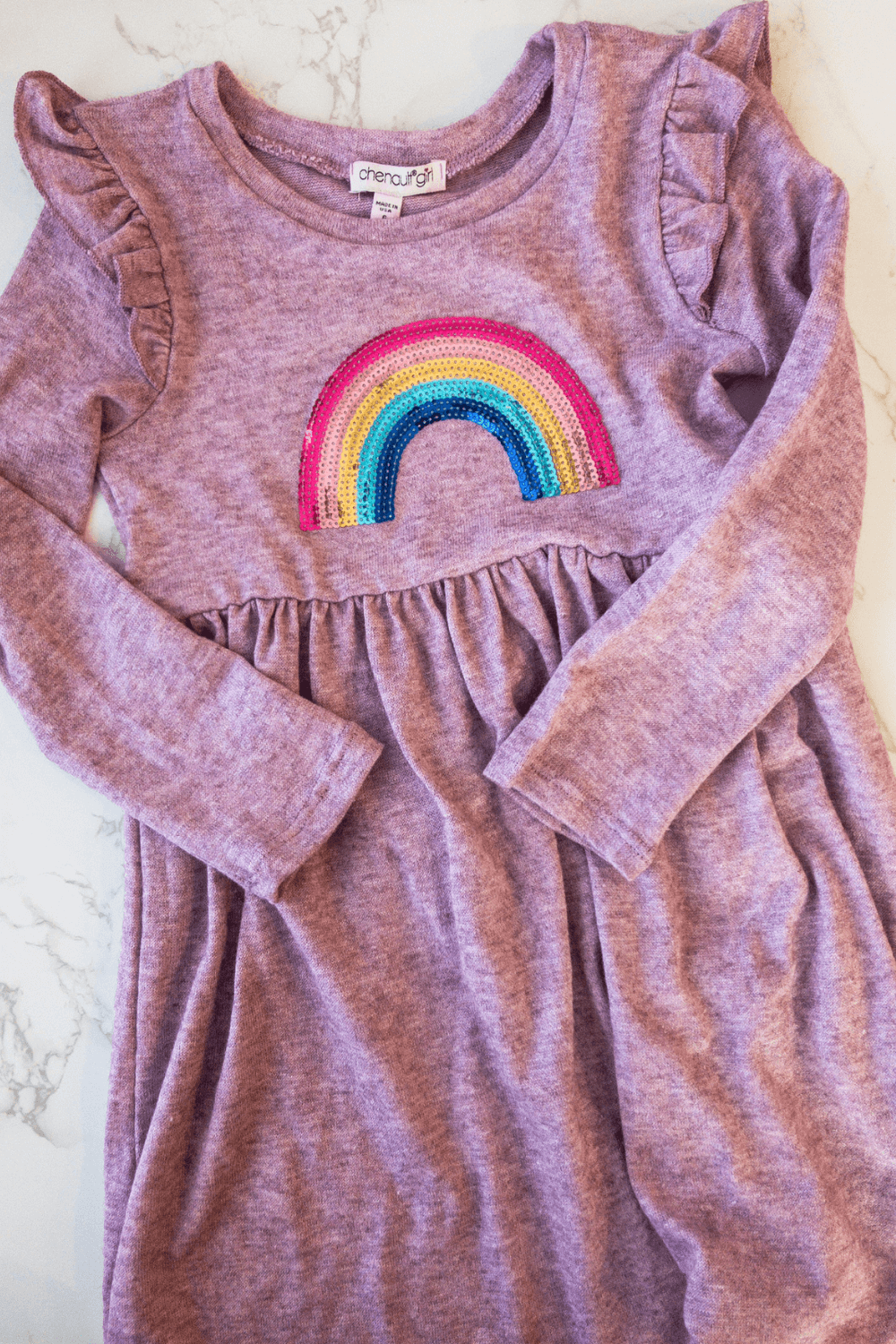 I have no idea why I waited so long to try Stitch Fix for Kids. I've been getting subscription boxes for years, yet I hadn't started wading in the pool of clothing subscription boxes for kids.
Now I'm kicking myself for waiting so long.
But, that just means I get to make up for lost time, which is why I ordered both a Stitch Fix for Kids and a Rockets of Awesome in the same month! (Stay tuned for the comparison post between the two soon!)
So, today, I'm giving you the total breakdown of our first super adorable Stitch Fix for Kids box. This post is not sponsored, but I am sharing my referral code with you – which will give you a shopping credit on your first box and I'll get a credit for referring you, too. Win win.
This box was for my daughter, who likes to dress like a living Rainbow Bright doll. It's rainbows on faux fur on sequins on sparkles for her – every day, all day. To her – more is definitely more.
When I fill out the notes to stylists, I go into as much detail as possible. For example, I let them know how much she likes color, but also that she doesn't like anything restrictive. She also has very sensitive skin and will not wear anything that isn't super soft, even if she loves it.
With that in mind, this is what she was sent in her first box.
1. Rainbow Faux Fur Pink Satin Lined Bomber Jacket: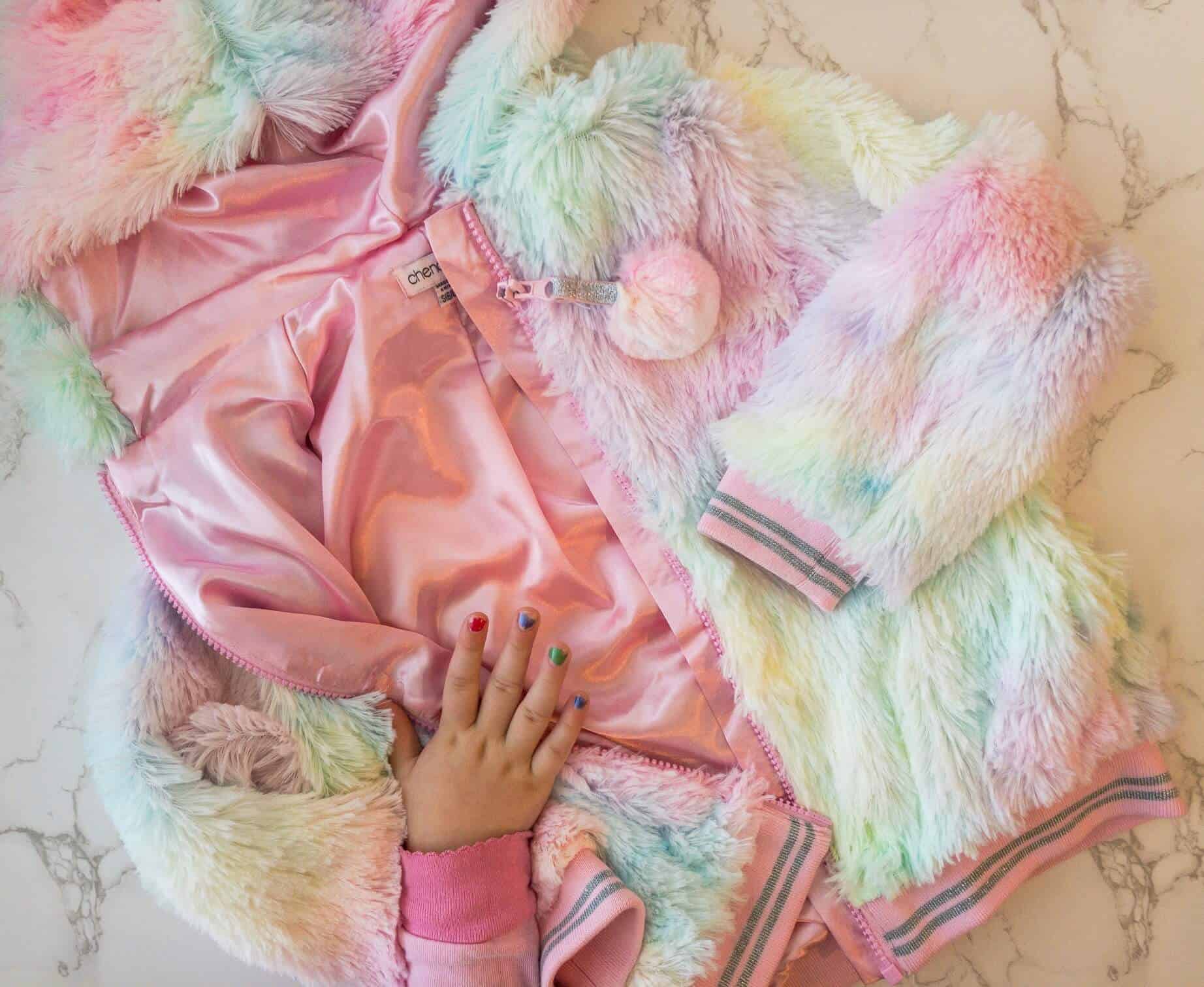 BAM! Let's start out with a bang! She could not grab this super duper soft, totally adorable, pastel rainbow bomber jacket fast enough. With a pom pom tassel on the zipper and pink satin lining – it's as comfortable as it is cute.
I was surprised to see an affordable price tag of $34.00. Hurray.
2. Rainbow Dress: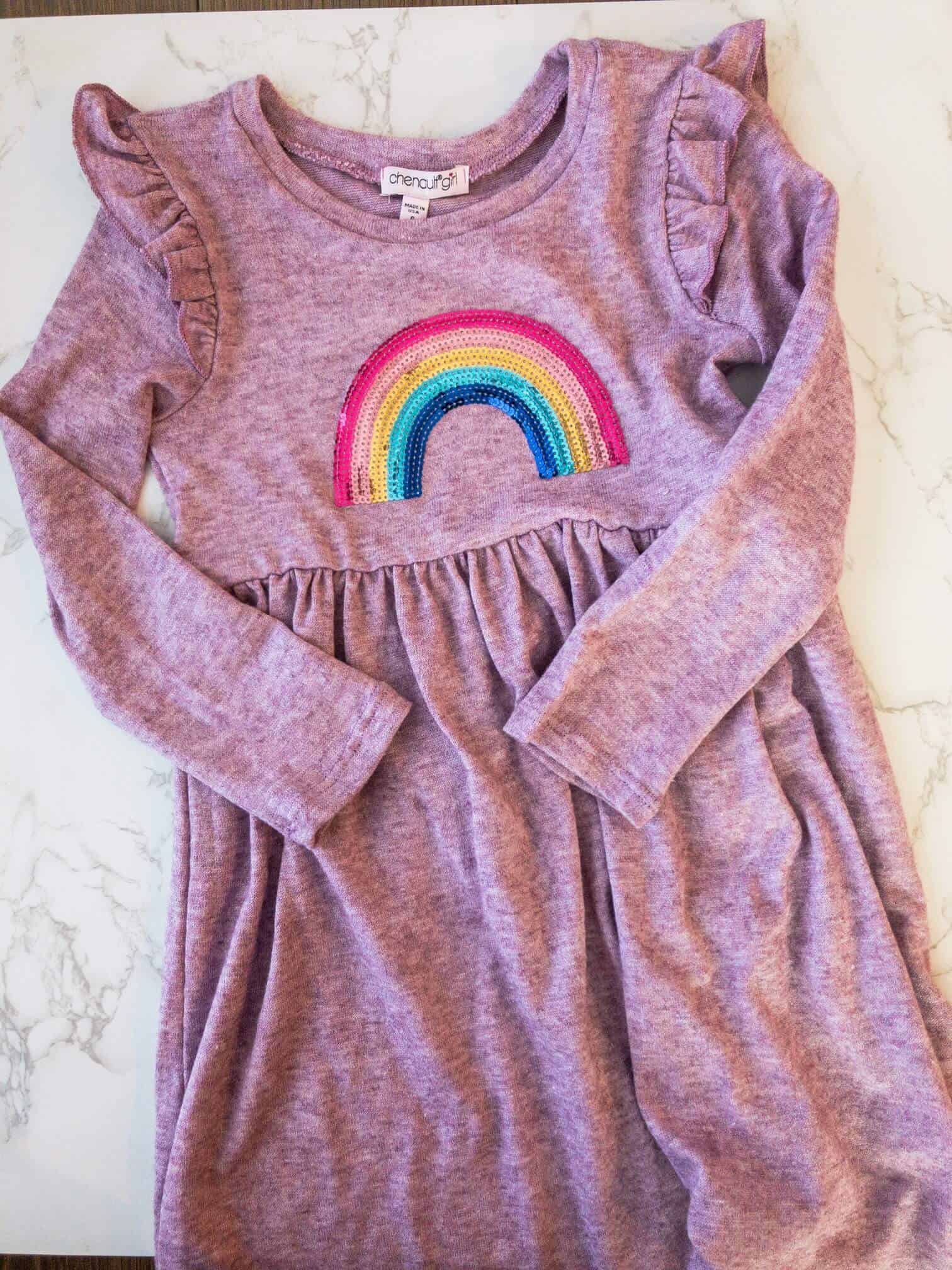 Another huge win. A sequined rainbow? Yes, please! Plus, a super cute longer dress with ruffles on the shoulders and a soft french terry material. We wear it with leggings underneath for a warm and adorable play outfit.
Price: $26.00
3. White Sequined Unicorn Hoodie: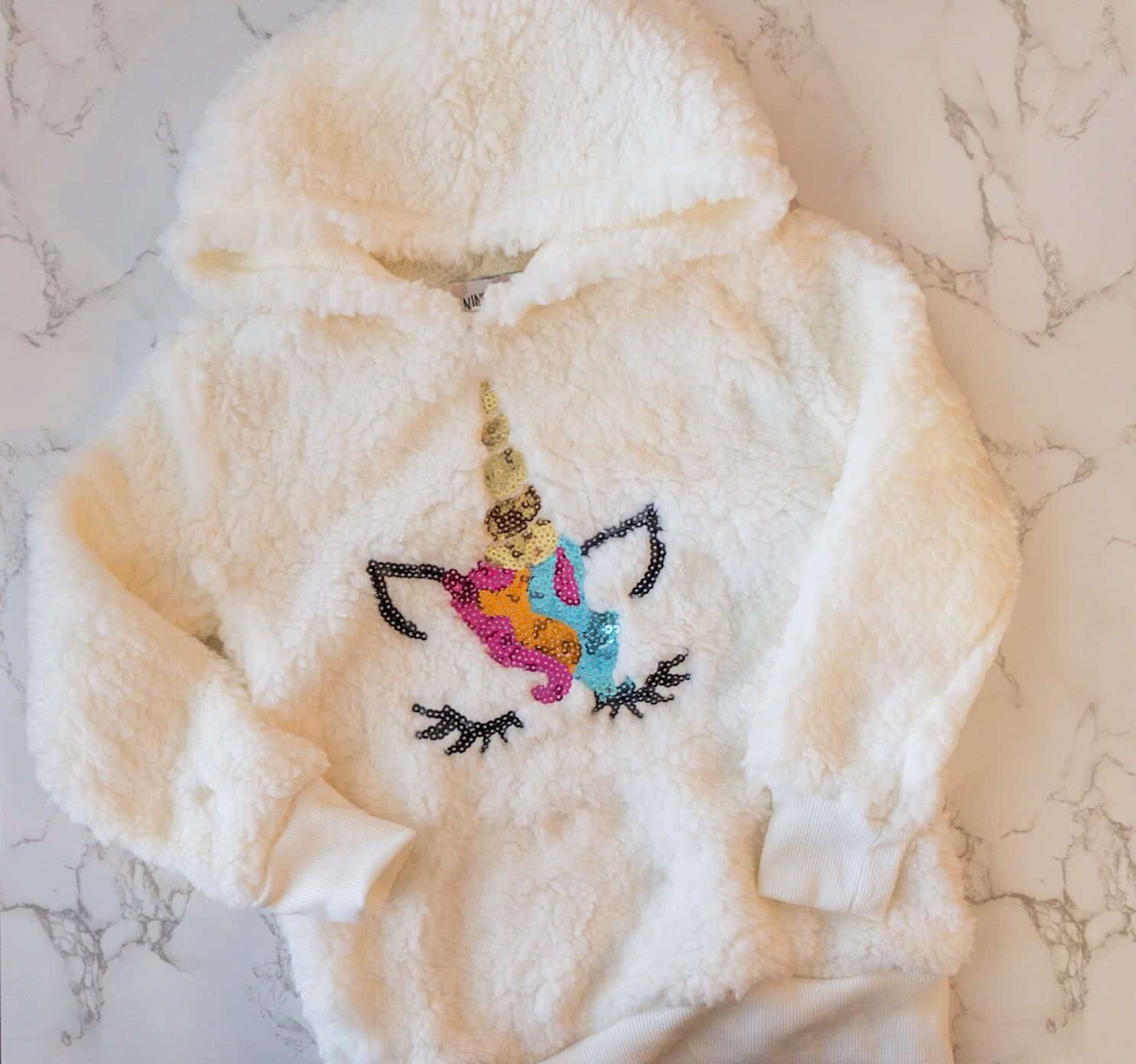 Okay, so they were just reading my mind then? Because this soft as a cloud, fuzzy hoodie with a sequined unicorn came out of the box and the jumping up and down and squealing came from the little person next to me.
Extra points for it having enough room to be comfortable and last awhile.
Price: $24.00
4. Blue Star & Heart Sweater & Cat Jeggings: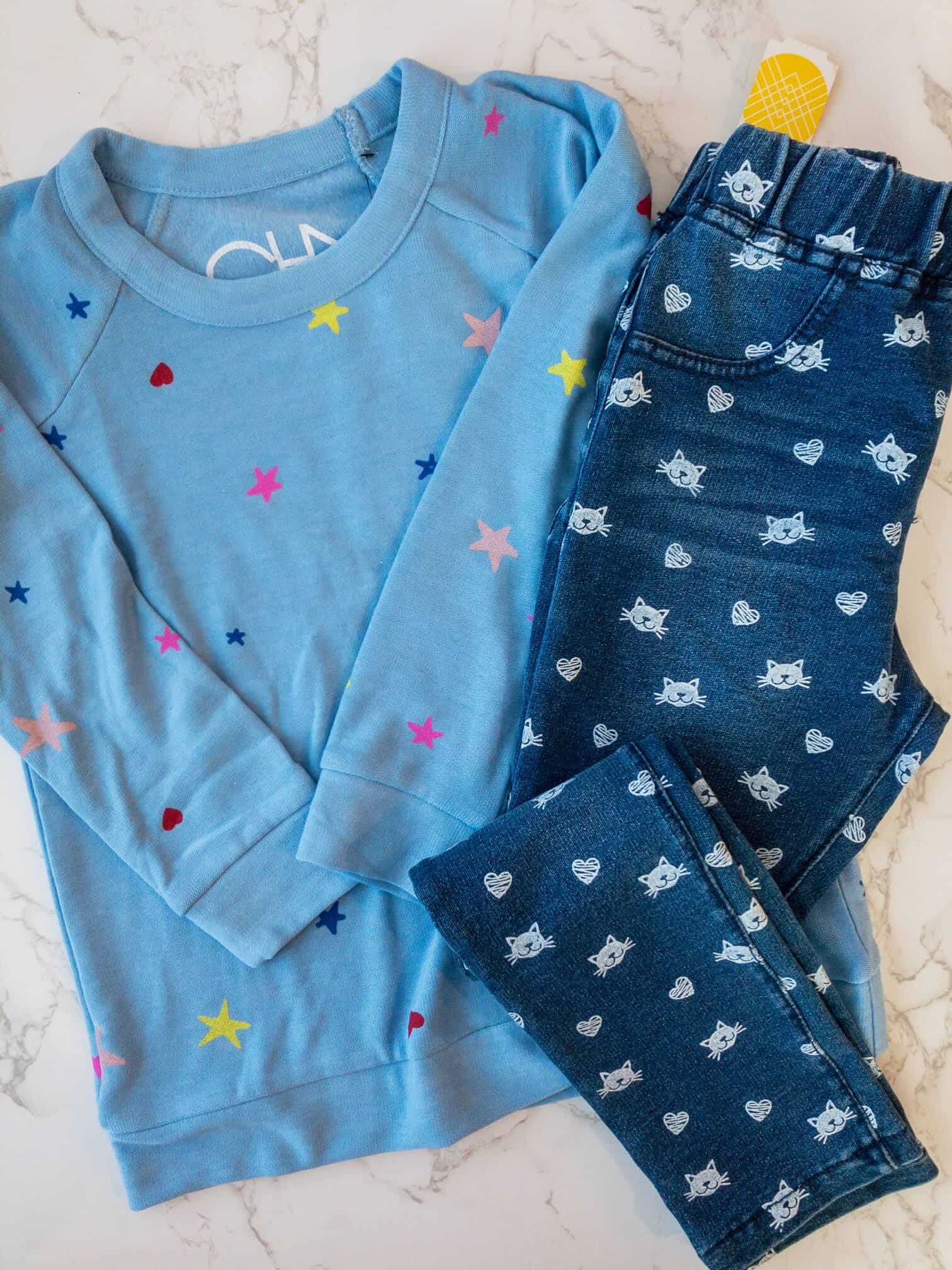 What a cute outfit, am I right? The blue sweater has just enough design and detail to be fun and also versatile. The cat jeggings would go just perfectly with it – but they were a little too tight for her, so we decided to gift them to a cat-loving little friend and she was very excited.
Blue Star Sweater: $24.00
Cat Jeggings: $24.00
5. Red Penguin Sweater Dress: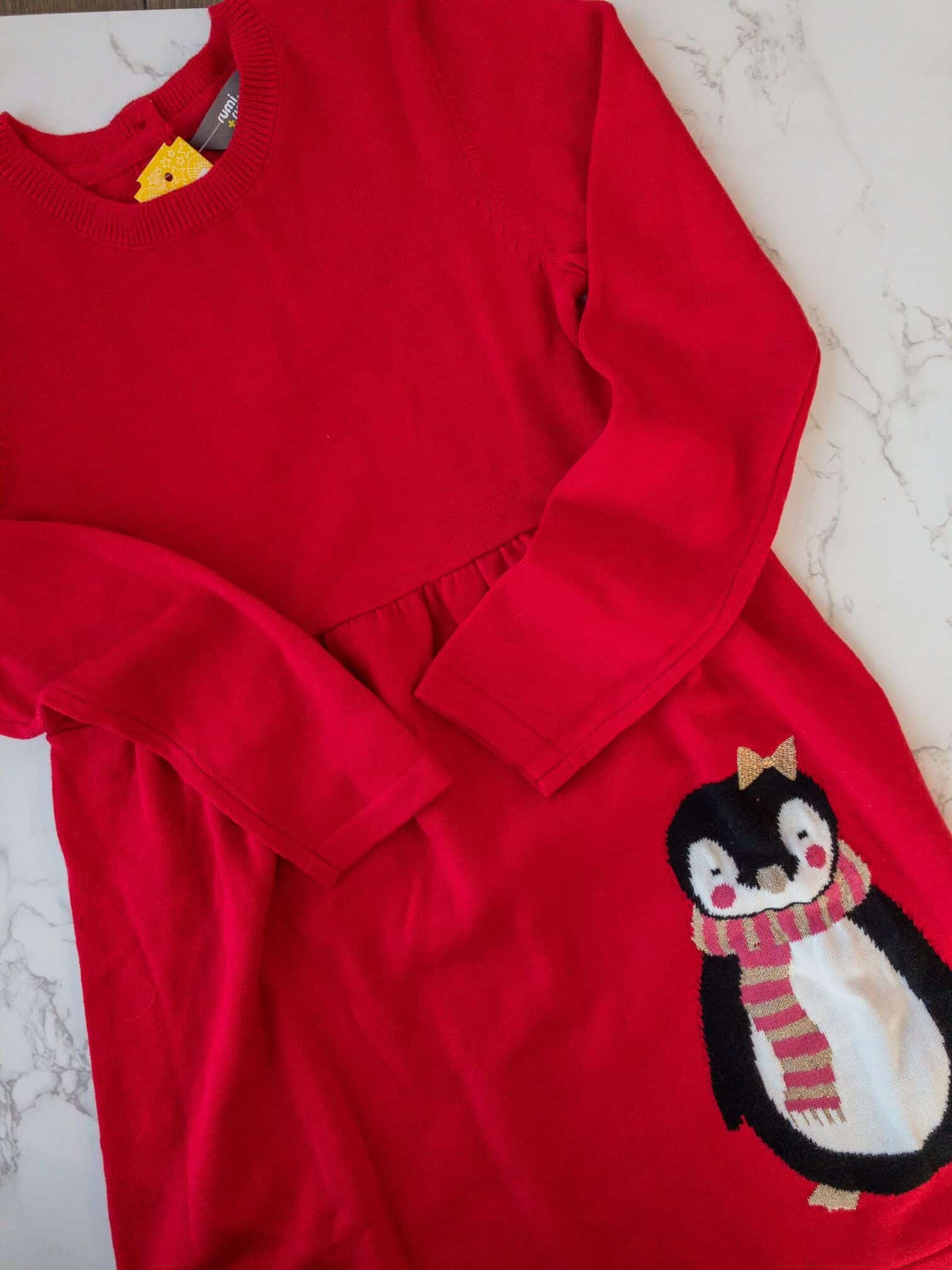 I absolutely loved this one. Just perfect for winter and nice enough to be great for a small family get together or celebration.
The sweater material is soft with a great weight to it, without being stuffy or scratchy. Red happens to be my favorite color and my little buddy says the same, so this was definitely added to the wardrobe.
Price: $30.00
6. Butterfly Long-Sleeved Tee and Playful Pants: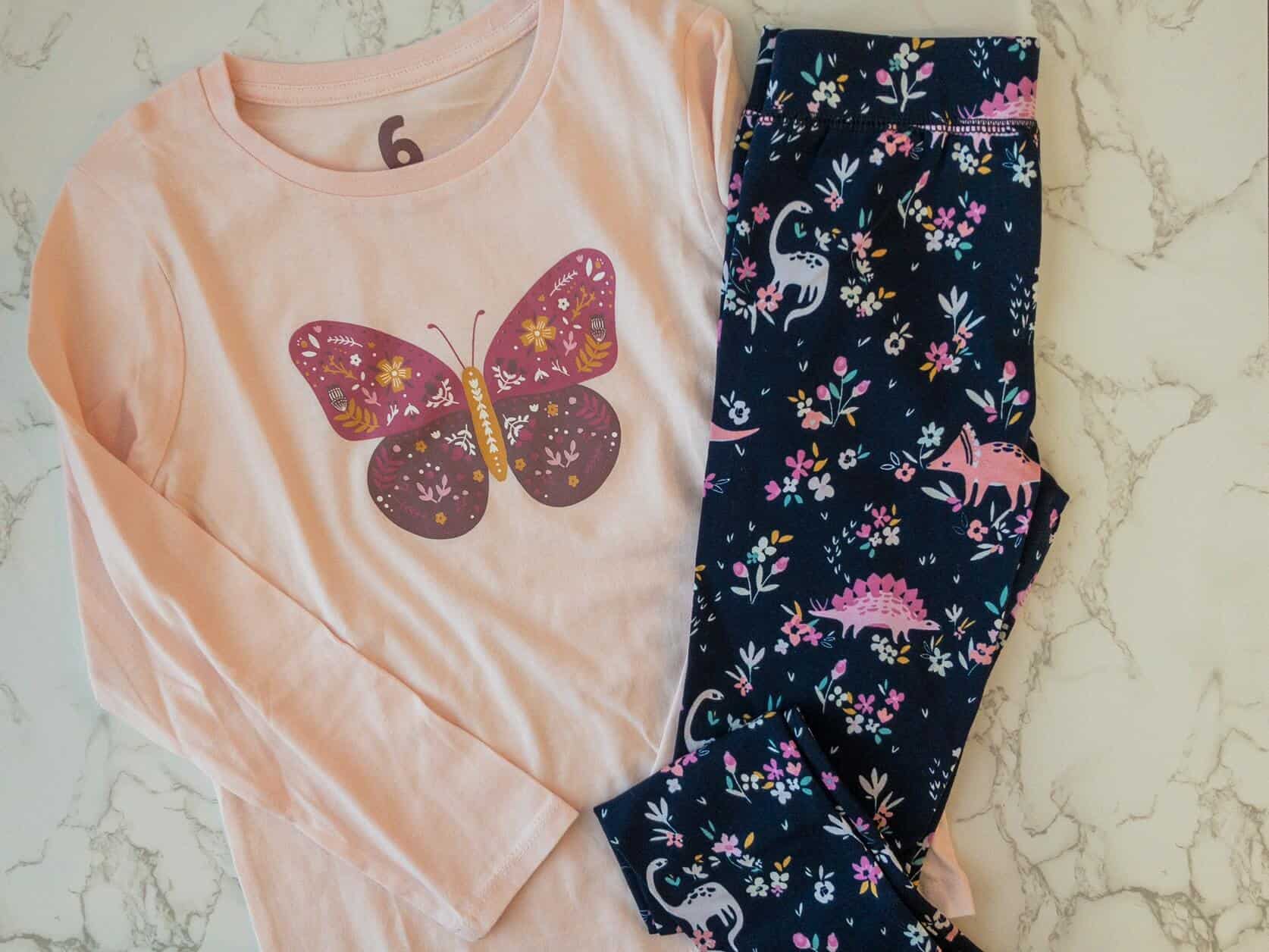 This sweet outfit has been on regular rotation around here. The pattern on the pants is just so sweet and the pink butterfly long-sleeve is soft and light enough where she's warm, but doesn't complain. You feel me?
I love this set and the pants were stretchy and substantial. I really get annoyed when play pants are cut extremely slim or small without saying they are cut that way. We don't need to start body issues in preschool, am I right?
Butterfly Tee: $14.00
Play Pants: $12.00
7. Black Fleece Lined Ruched Jogger:
Oh yeah, big fan. Can't have enough joggers, right ladies? These pants are super, duper soft and have a ruched detail on the ankles to give them a little extra somethin' somethin'. She had just blown through the knees on her other pair of black pants, so I was thrilled to see these in the box. Plus, the design and material make them a cut above.
Price: $20.00
8. Dr. Scholl's Floral Velcro Sneakers: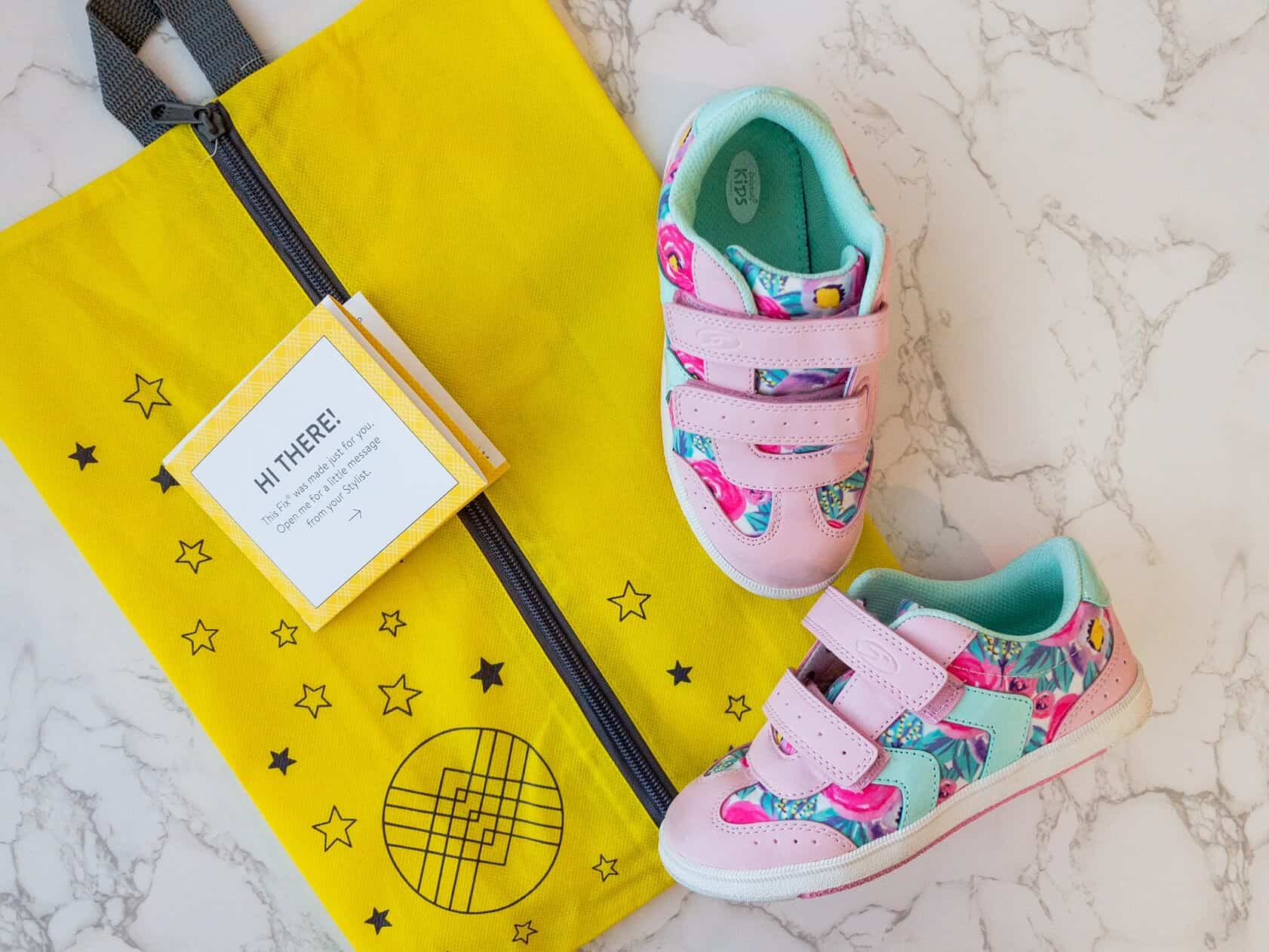 Winner, winner, chicken dinner! She is rough on her shoes – but also picky. I love Dr. Scholl's, which you can also buy at Nordstrom Rack, because they are so comfy, designed with kiddo-feet and activities in mind and pretty affordable.
The pink and floral design on these meant they went right on the feet and were not coming off.
Price: $28.00
******
Overall, this box was a HUGE hit. Only the cat leggings didn't work out great. Initially, I was thinking of sending back the cat jeggings and one other item, but with the discount for buying the whole box, I would've spent more that way.
Here's how the price worked out with the discount:
Total: $236.00
Buy all discount: $59.00
Styling fee credit: $20.00
Tax: $12.85
New Total: $169.84!
I love how easy these boxes make it to infuse the wardrobe with some new, season and style specific clothes without having to spend hours on line or looking in stores. Plus, you can't find a lot of these in stores, so you get the added bonus of something fresh and fun.
Overall, highly recommend Stitch Fix Kids if you're looking for some new clothes for your kids and I'll totally be doing it again!
If you're looking for more box reviews, you might also like these posts:
Have a fabulous day,
E