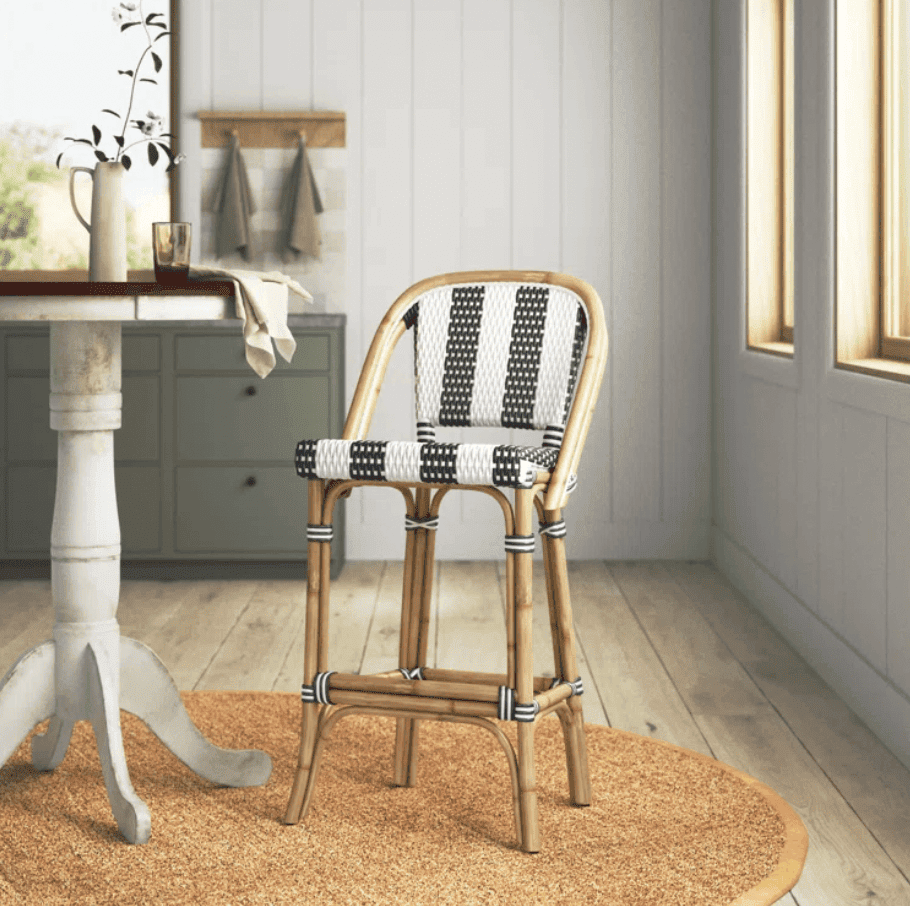 I'm obsessed with the beach. My long-term plan is to eventually downsize, buy a little beach house walking distance to Carmel beach, and retire there. So, it's probably no surprise that I'm drawn to home decor that has a coastal vibe, from various shades of blue to materials like rattan.
I'm not the only one. When Serena & Lily released their Riviera rattan bar and counter stools, they became a huge hit and instantly started popping up in homes everywhere. Now, years later, there are a lot more options for coastal chic bar and counter stools that will give you that look in a variety of price points.
So, today I'm rounding up my favorite coastal bistro counter stools that I've been deciding between for our own kitchen and maybe you'll find the one perfect for yours, too.
The Best Coastal Counter Stools: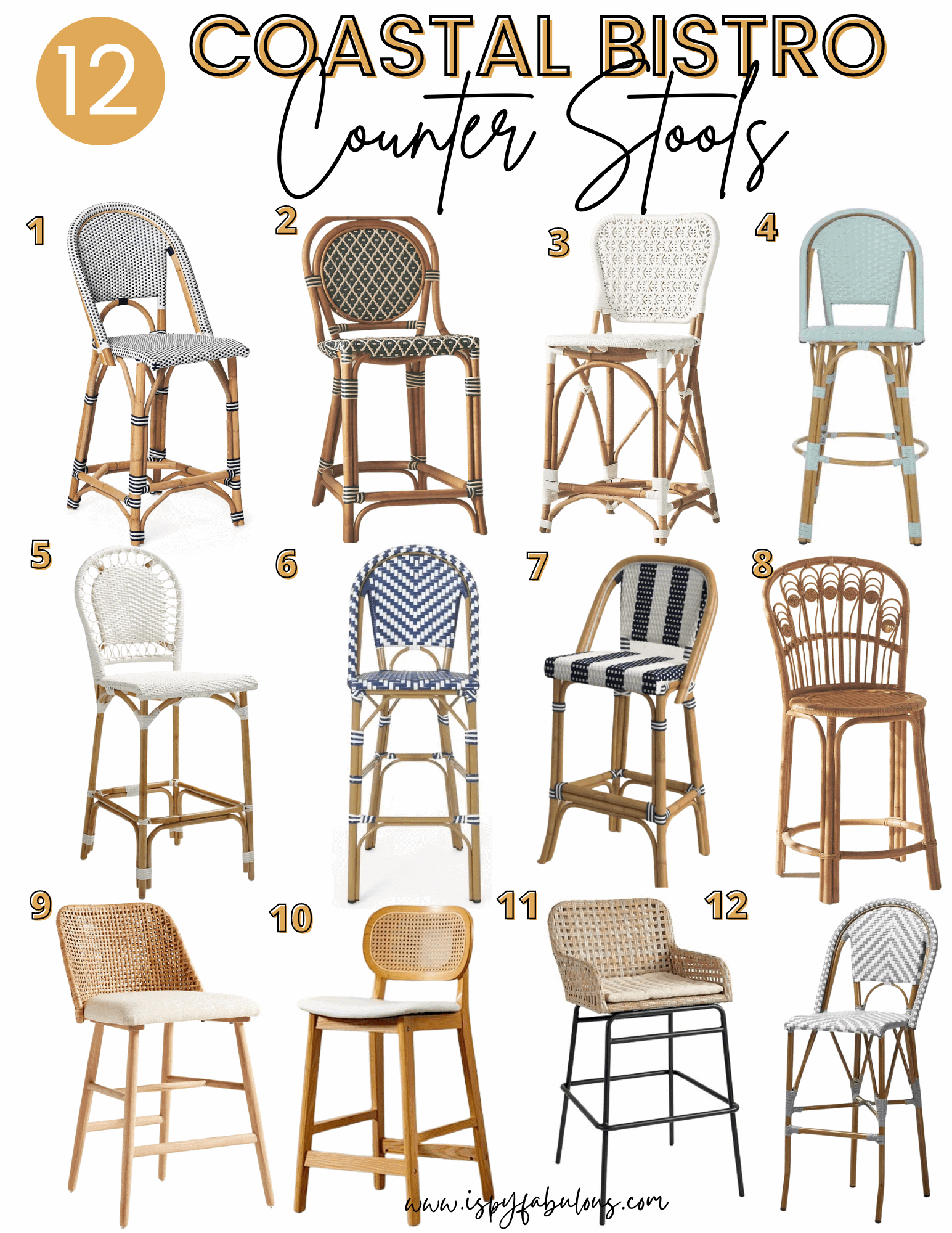 Let's start with the icon here. Available in a variety of colors, including some prints, as well as a swivel and backless option, there's a Riviera for everyone. Average price is $398 per stool, but is currently on sale!
This chic option has a chunkier, boho vibe and comes in a dark green and pinkish red. Priced at $298.
This ultra white rattan counter stool has my heart. I just love how it would brighten my space. Priced at $368 a chair.
This cool option comes in 4 colors, including this light aqua, and is super affordably priced at $323 for 2 chairs, bringing the individual chair price down to under $200!
Another white option, this one with some really intricate, beautiful detailing on the back of the chair. Priced at $116 a chair! Amazing deal!
Would you believe me if I told you that you can get four of these stools for less than $600? They're also available in four great color combinations: white with black, navy with white, white with navy, and white with rust. Amazing.
I'm loving this thicker stripe on this one. So cool. These look solid and well-made, too. Priced at $398 a stool.
These are unlike anything else I've seen on the market. The peacock rattan design in the back of the chair is a showstopper. Priced at $848 for 2, that brings the chairs to under $500 each.
These are refined and luxurious. The upholstered seat ensures comfort and the natural color palette will go with anything. I love these and think they'd be perfect in so many spaces. Priced at $449 a stool.
I am loving the cool simplicity of these rattan bar stools. The circular back softens them and the padded seat will keep them comfy. The whole vibe here is casual coastal cool. Plus, you'll love the price, you get 2 for under $200!
I've loved these for a long time and they're currently on sale. Everything about the shape of the back and how it curves around to the armrests and the removable, washable seat pad, is perfect. I love the contrast with the black, modern legs, too. Priced at $227.40 – on sale now!
These herringbone rattan counter stools are the epitome of coastal cool. Available in a gray and white as well as a navy and white option. Affordably priced under $200 a stool.
*****
For many years, I've had super solid, comfortable, easy to clean counter stools because my kids have been young. As they get older, I've got my eyes on one of these chic rattan stools and I can't wait to swap them out!
If you're still shopping for the perfect counter stool, check out these other round-ups.
HOW TO SAVE MORE MONEY ON HOME DECOR:
No doubt about it: decorating a home is expensive. One way I save money on almost every purchase I make is by using Rakuten. I've gotten over $500 cash back in just the last year on purchases I was going to make anyway. So, don't forget to use Rakuten if you're making purchases online. They also run deals for new referrals where you can get $30 cash back after making your first purchase of $30 or more, so you can save even more if you're new to using them. Sign up here.
COUNTER VS. BARSTOOL: WHAT'S THE DIFF?
If you're looking at these and wondering what the difference is between a counter and barstool height, it's just the height of the seat.
Most kitchen islands are counter height, so you'll need counter stools instead. Sometimes, this is not the case, so you'll want to measure from the floor to the bottom of the island and then check the legs of the barstools you like to make sure there is enough space to sit on the chair without smashing your legs or jamming the seat into the bottom of the counter.
Even with counter stools, you'll see some variance in how close the seat is to the floor, so just measure twice and make sure it'll work. Worst case scenario, most of these places have exceptional exchange policies and you should be able to get something that will work.
Have a fabulous day,
E