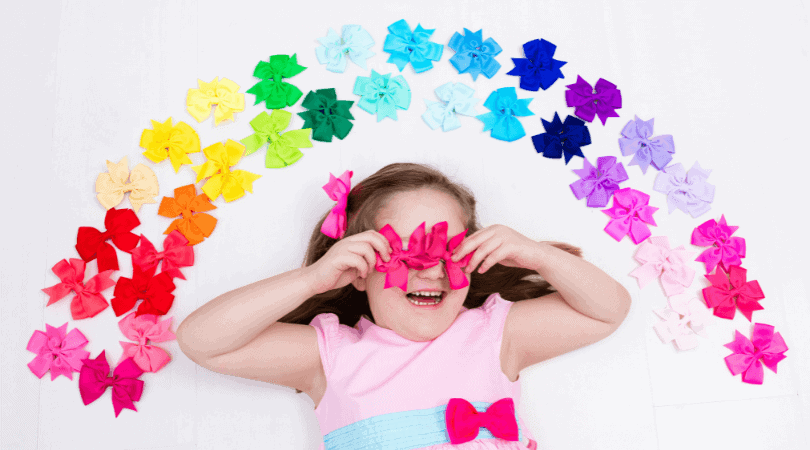 Since having my daughter, I have amassed an astonishing amount of hair bows, hair ties, hair tools and hair bow organizers. I'm even amazed myself when I look at it all – and I'm the one who bought it!
But, I love it. I think it's such a fun part of being a girl and my daughter and I love our little hair time every day where she gets to pick the bows and then we decide on a hair style together.
I shared some great little girl hairstyle videos awhile back that I use for inspiration, but also – a simple ponytail or pigtails can be easily dressed up with sweet velvet bows or bunny ear scrunchies.
So, today, I am sharing where I get our super cute, but affordable, hair bows, including pigtail sets, and how I've managed to keep them organized so we don't lose them and they don't get damaged.
Best Girls Hair Bows:
At first, I sourced hair bows and hair bands from sweet, specialty shops. While I still think that's a fun thing to do, I quickly learned that bows don't always last very long and I needed a more affordable way to keep up. Enter: Amazon!
Not sure if you know this, but a lot of the bow retailers are sourcing their bows from the same place as Amazon. Plus, you can get huge assortments of high quality bows for a fraction of the price. Here are some of our favorite bow sets that we've gotten on Amazon. Also, affiliate links are used, which means at no cost to you, I may receive a commission if you purchase through my links.
This pack of 20 velvet bows are my all-time, absolute favorite bows They are so soft and sweet in person. The colors are really beautiful and the alligator clips stay in all day. I buy the pigtail sets, because we do doubles more often and also because if you lose one, you still have a bow to use.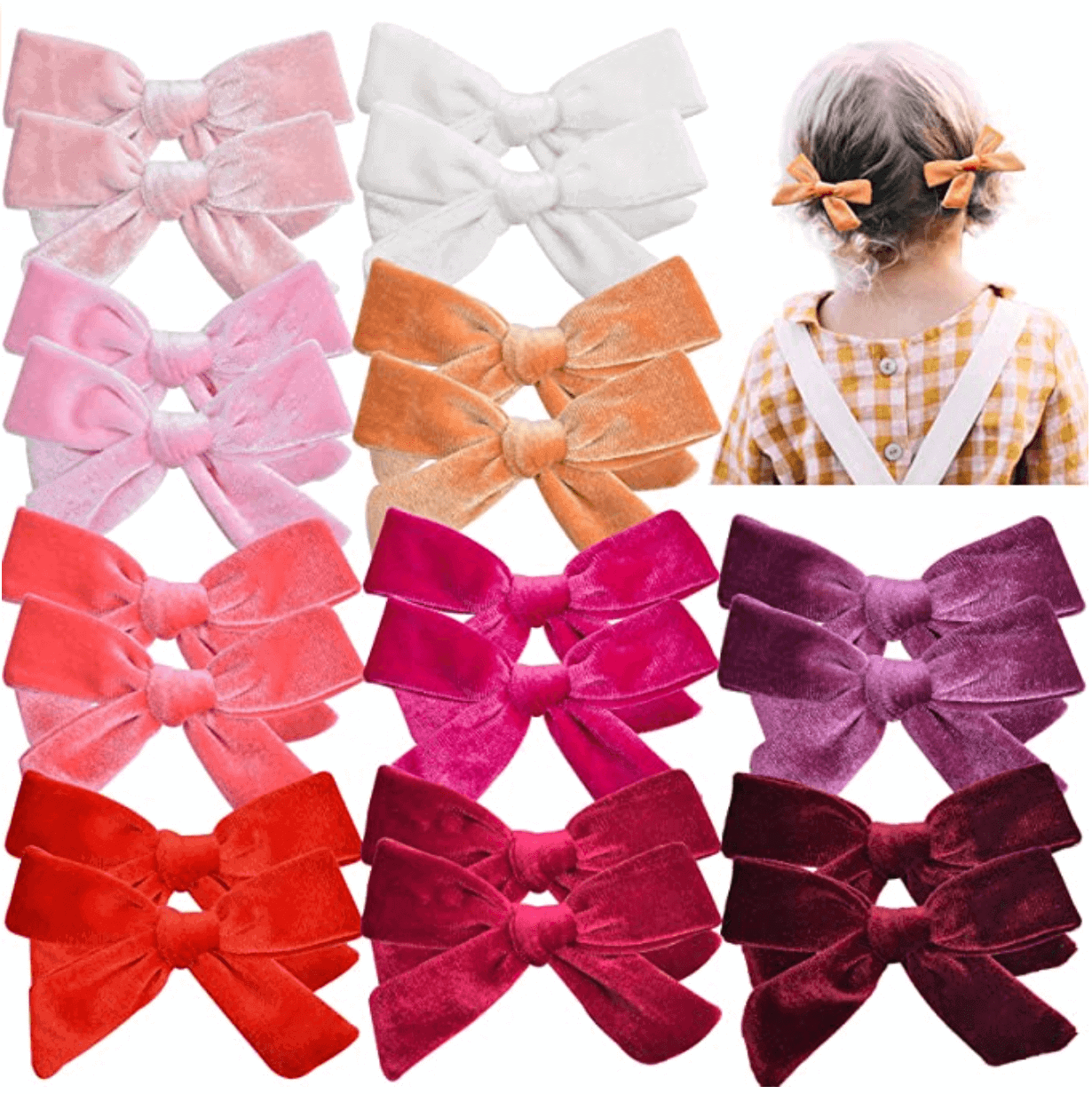 Cannot beat the price, either.
If you want a larger, drapier velvet bow that is perfect for special occasions or to match that new outfit, these larger versions of the velvet bows are just perfect. They come in a pack of 10 single colors. They do sell out, but hang tight, they'll come back in stock and then grab them!
These sets are so cute, with a variety of different designs, like mermaid scales, unicorns, donuts, etc. These make perfect play-time bows. The material is a bit more sturdy than the velvet and holds up really well at preschool and the park.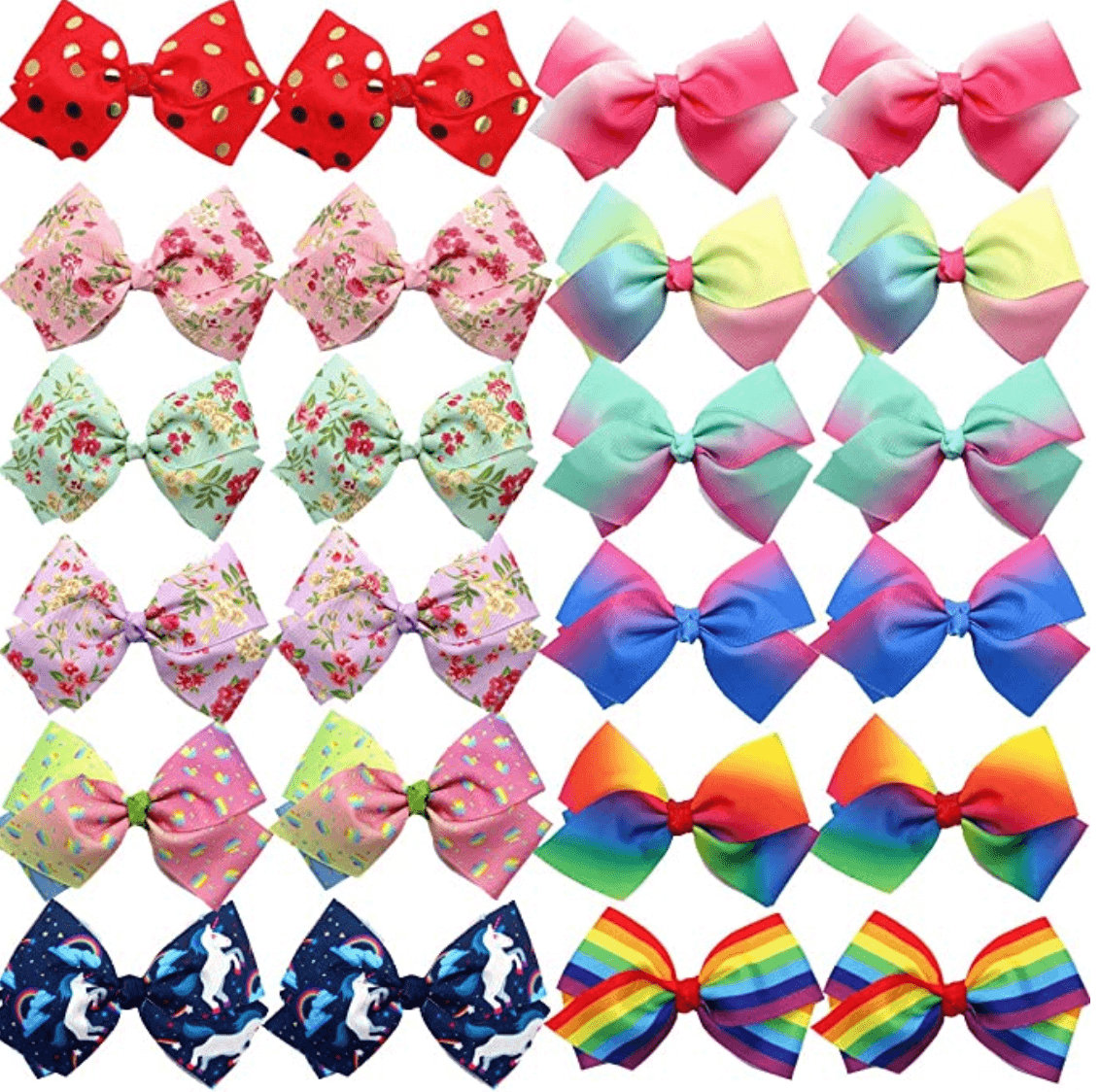 These are such a fun way to wrap ponytails. The little bunny ears stick straight up when you're done. The double sets make them especially cute for pigtails.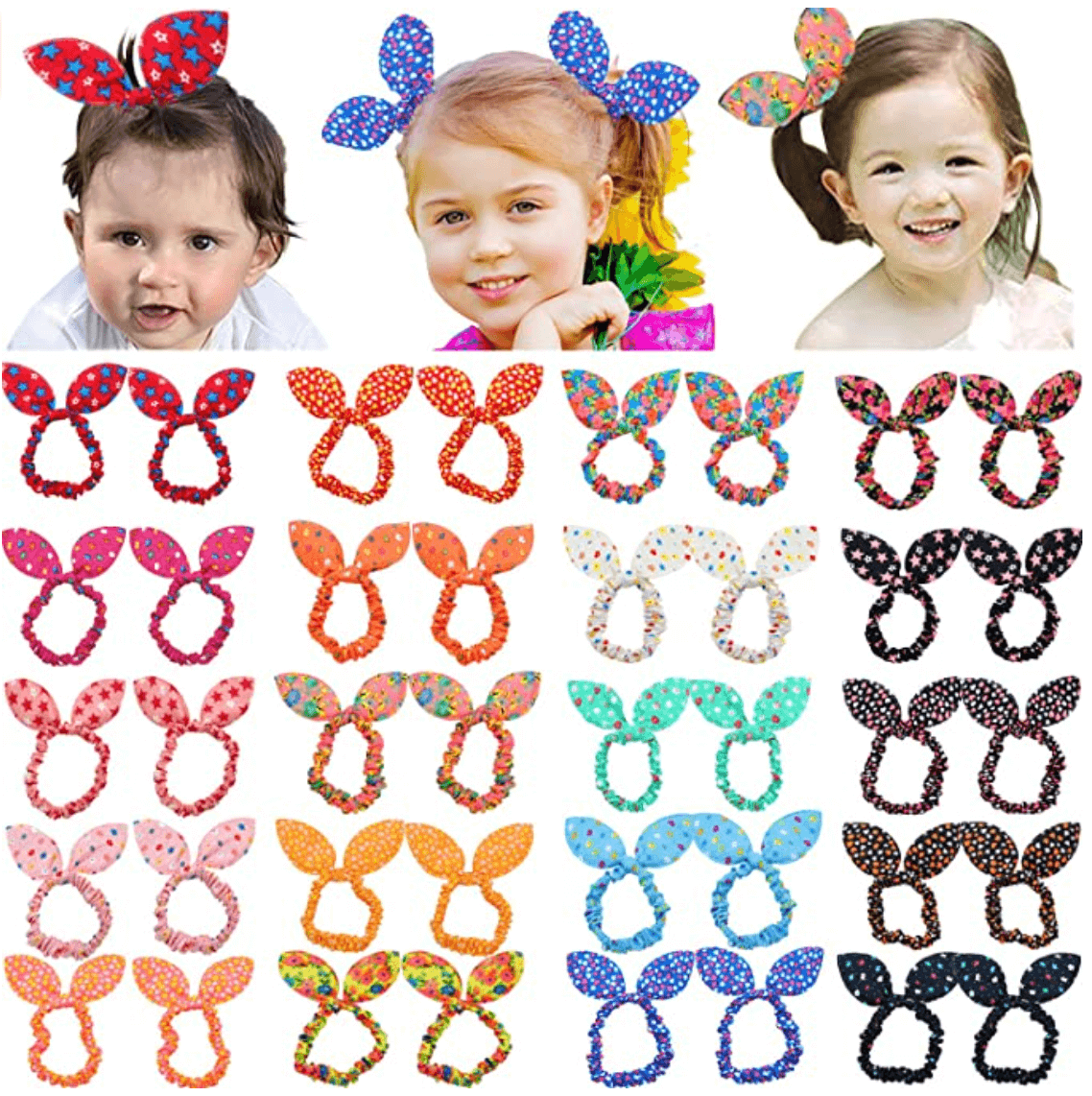 Sometimes, you just want a cute, simple little bow in their hair. I still layer these over a smaller hair tie to make sure they stay in place.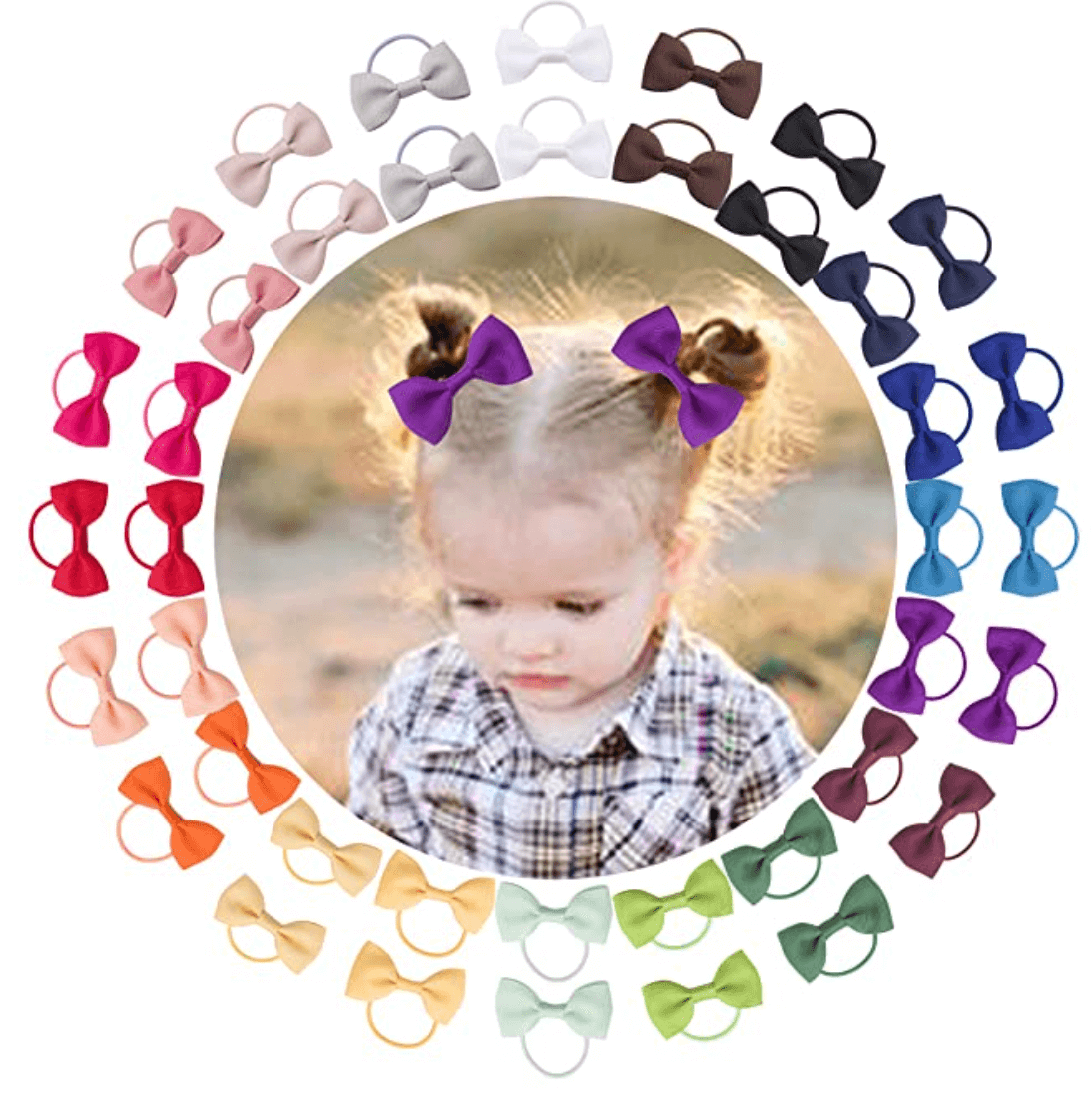 I love a good pom pom. This pack of 12 has a variety of colors, in pairs, and you just clip them in. I usually put hair in little ponies first and then clip these in front.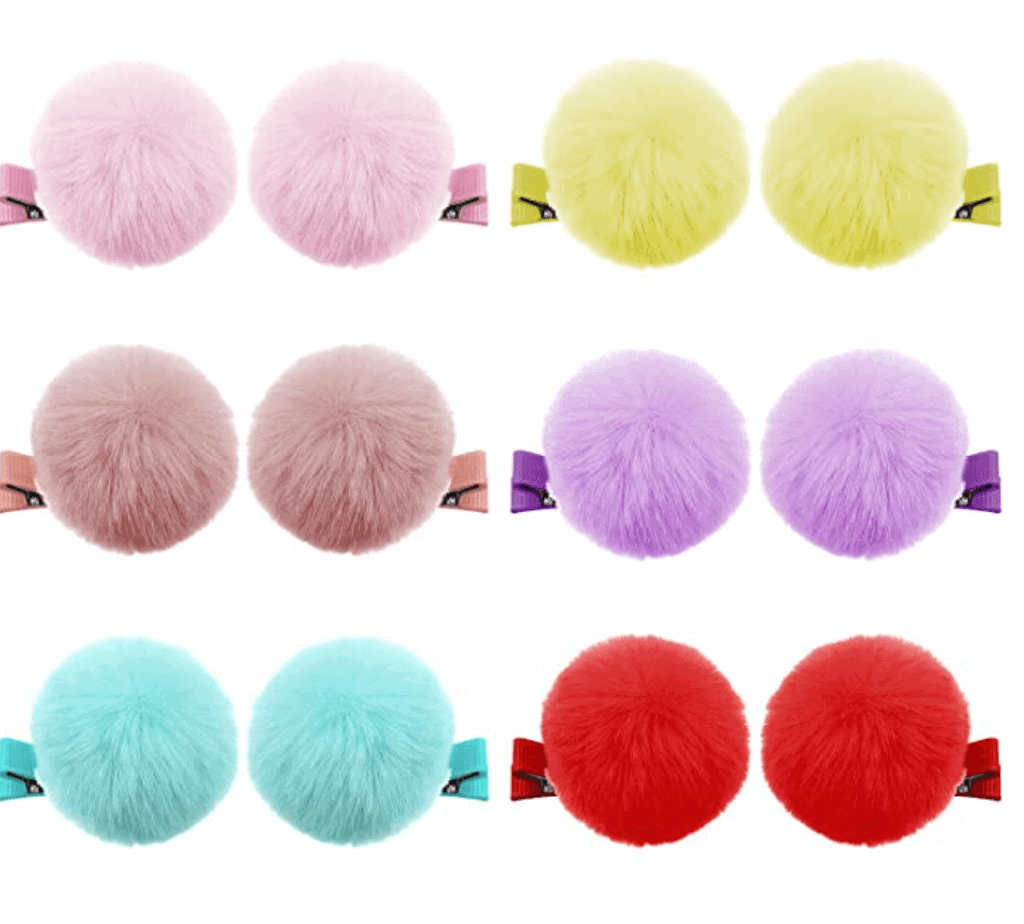 I've used these for years. I like the 4 inch for everyday and the 6 inch for special occasions. You get 30 bows in a set, which is a LOT of hair bows! A great set!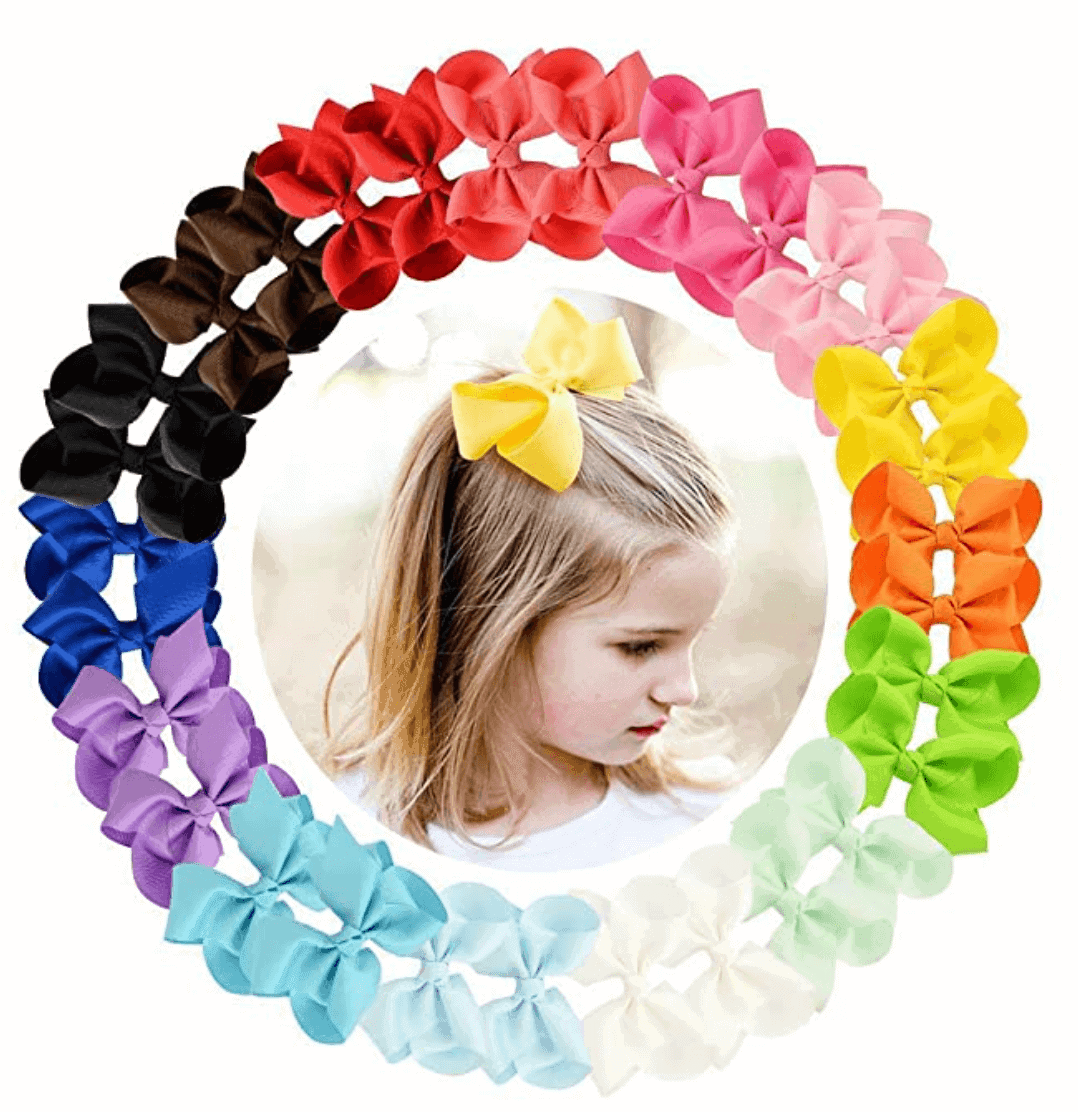 This adorable set of 10 headbands has bows on them in colorful patterns like rainbows and unicorns. Sometimes all you have time for is to brush hair and put in a headband. No shame in that game when the headband is this cute. If these are too much for you – they have a bunch of different options, many solid colors, too.
Best Hair Ties:
You'll need something underneath bows and scrunchies to keep the hair in place and protect hair from the clips. I have found a few really great sets with a generous amount of hair ties on Amazon, too:
Get 100 soft elastic ties in this set. I've used these for years. They are super affordable to replace after they've all gone missing. I get the colors, but you can also get just black. These are gentle on their hair and don't hurt to remove. Big win.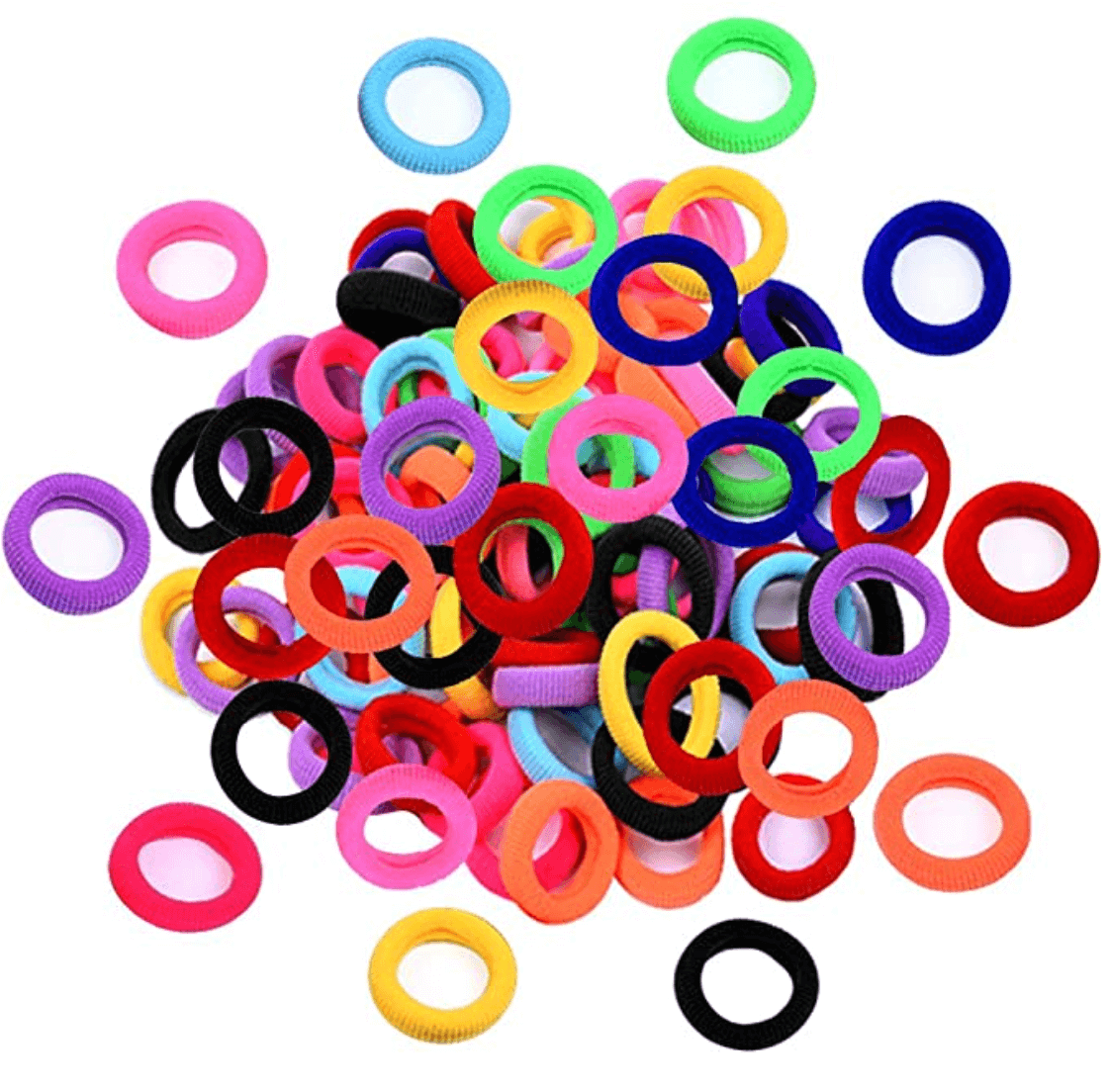 Sometimes you need a lower profile hair tie that will not show at all – such as for certain hairstyles or you're taking family pictures. Then, I use these – which come in a set of 1000. Lots of color options. Huge set. Super affordable. I do find you have to remove them carefully to not rip hair and they often break when you're removing them, too, but for the price and the amount, it's a great set.
Best Hair Styling Tools:
When it comes to styling hair, you'll need a few tools. I keep all of ours in a basket and just take carry the basket over when it's hair time and then put the basket back. Keeping it all in a central location has been key to making it work. Here's our favorites: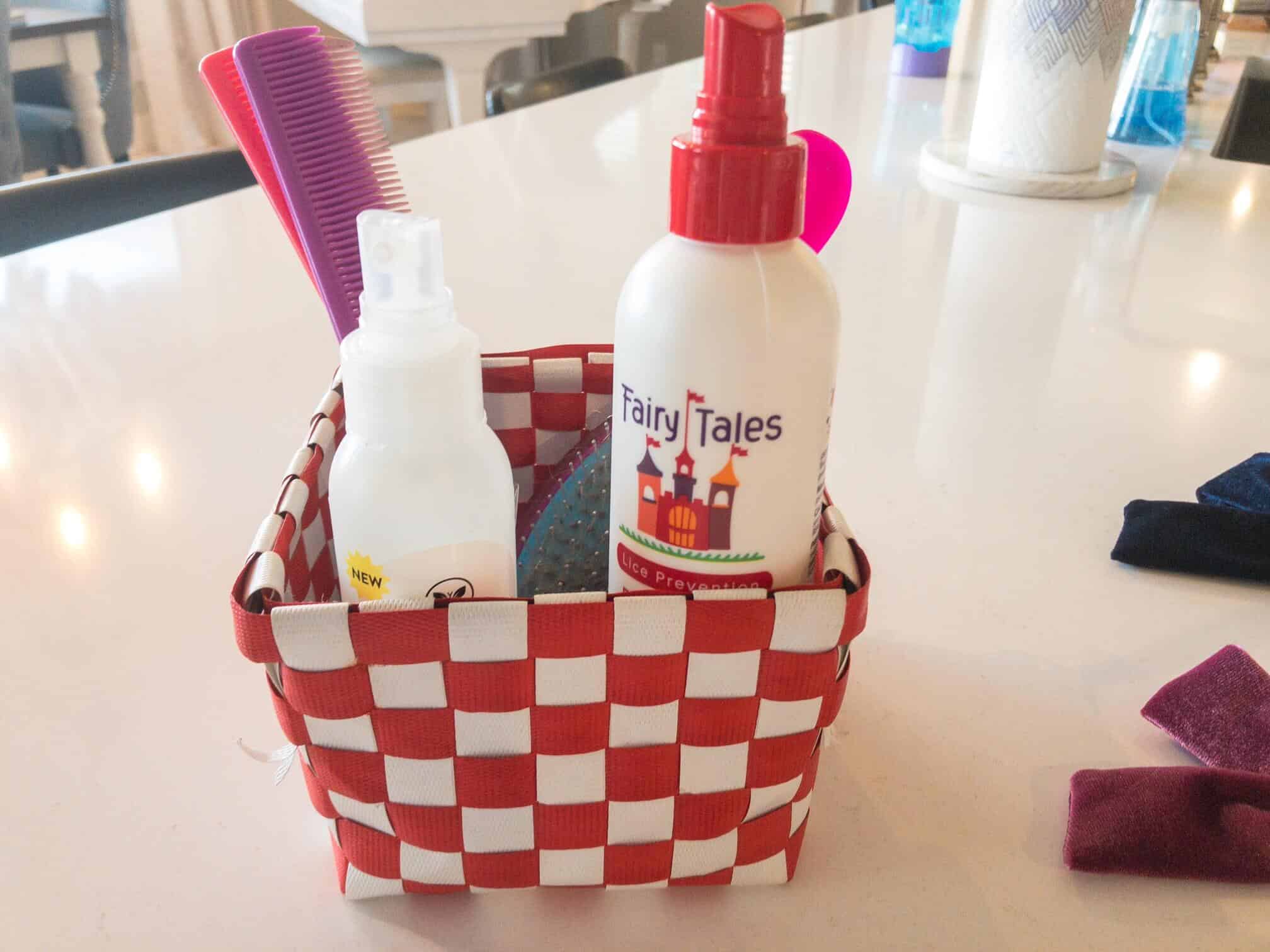 How To Organize Hair Bows:
Now, what do you do with all those hair bows? For me, I use a combination of wall storage and basket storage. I've found organizers in a lot of places, so here are some of my favorites.
I picked up this super affordable hair bow holder on Amazon. I love the minimalistic style since it's not in her room. It holds quite a few bows and scrunchies can be clipped on the bottom.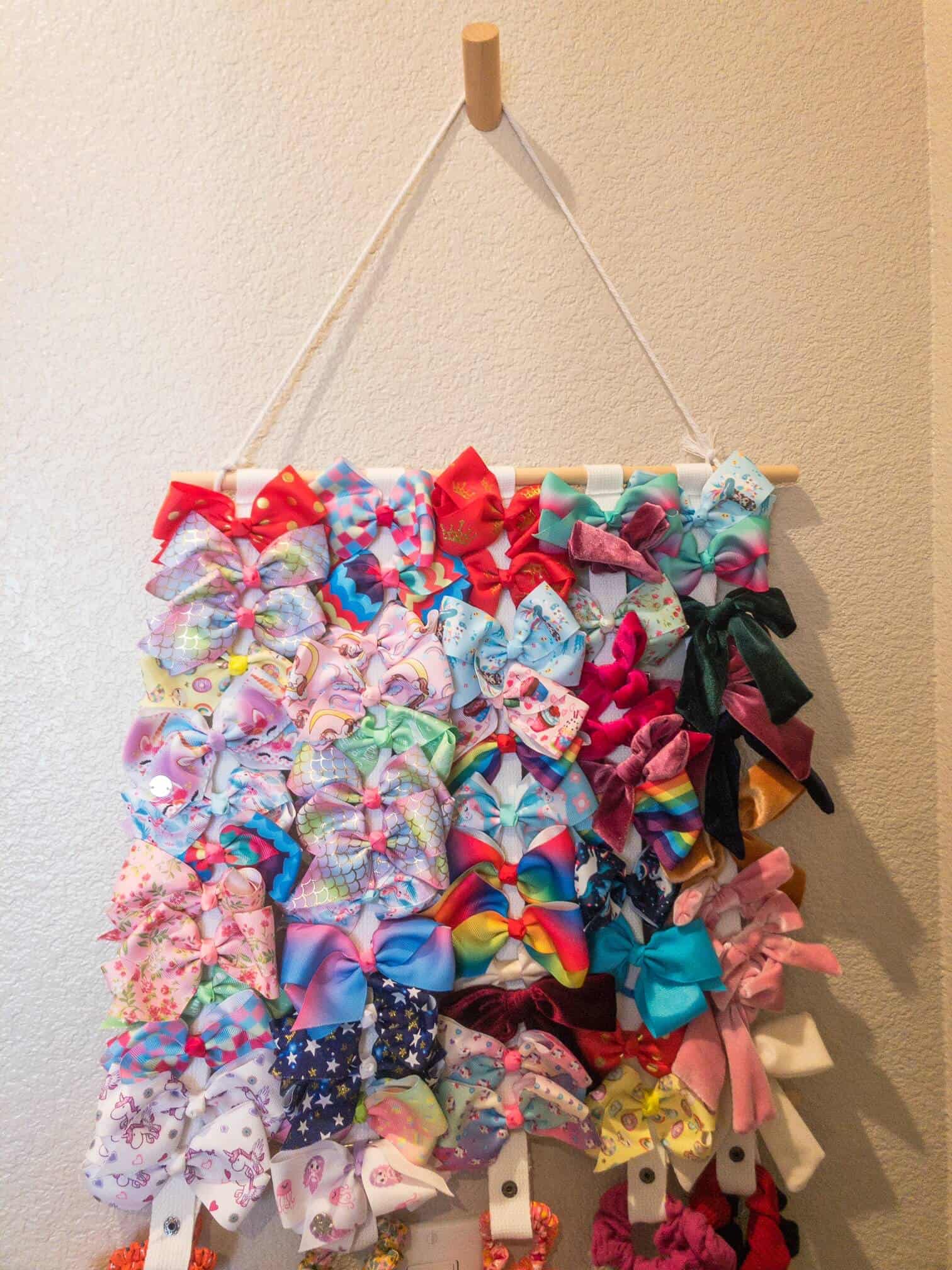 2. Wood Bow Holder:
I picked up this sweet bow holder for her room. Also a great place to hang bows. I got this on Etsy awhile ago, but it's no longer available. However, there are TONS of ADORABLE hair bow holders on Etsy now. Check all of them out here.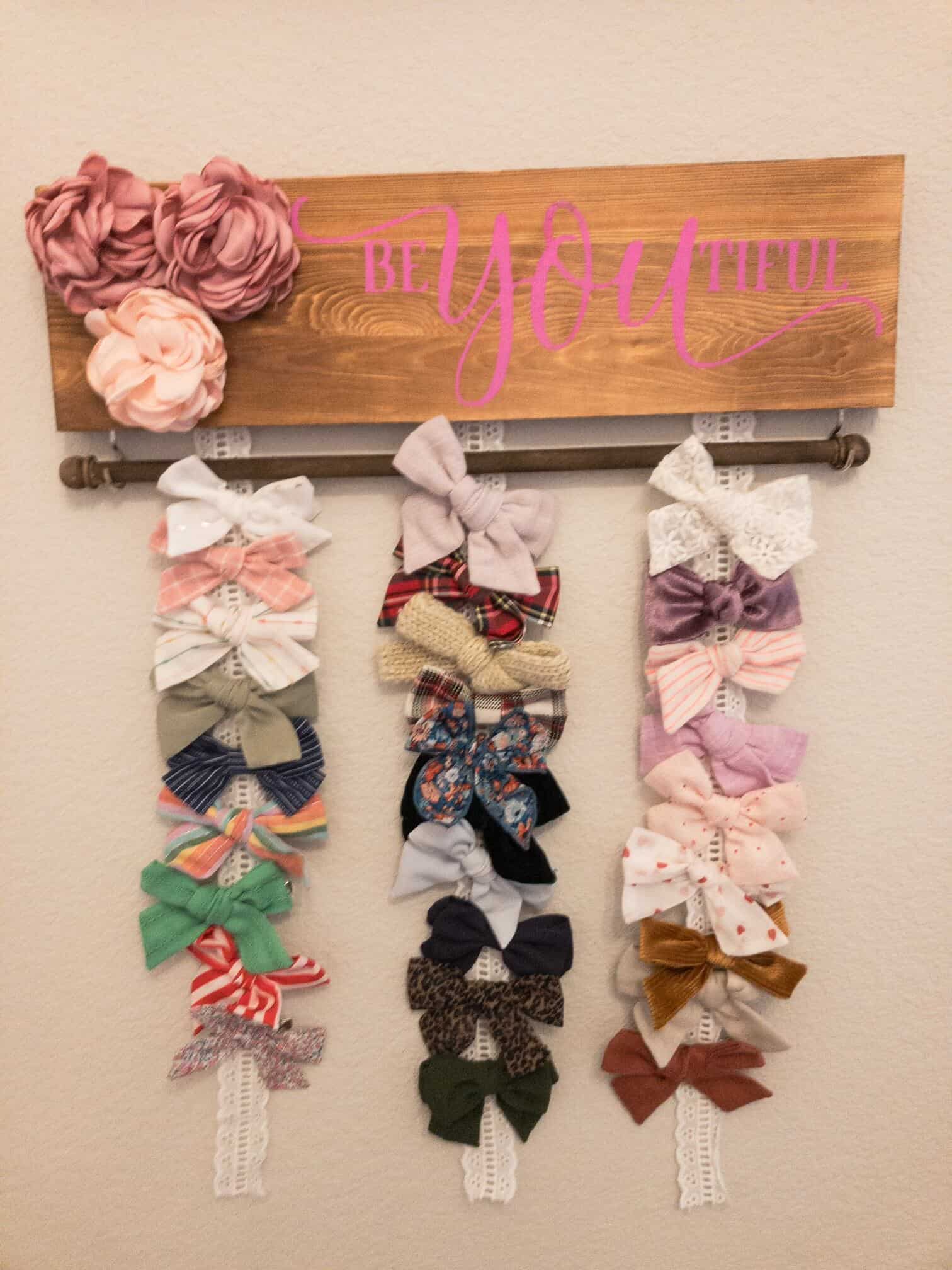 3. Padded Bow Holder:
The padded bow holder next to the mirror was the first one I bought and we've had it for years. Also an Etsy find.
4. Jewelry Holders:
Something else you can do is pick up jewelry holders for necklaces and use them for headbands instead! I found these girls jewelry hooks at Homegoods and just used them for headbands.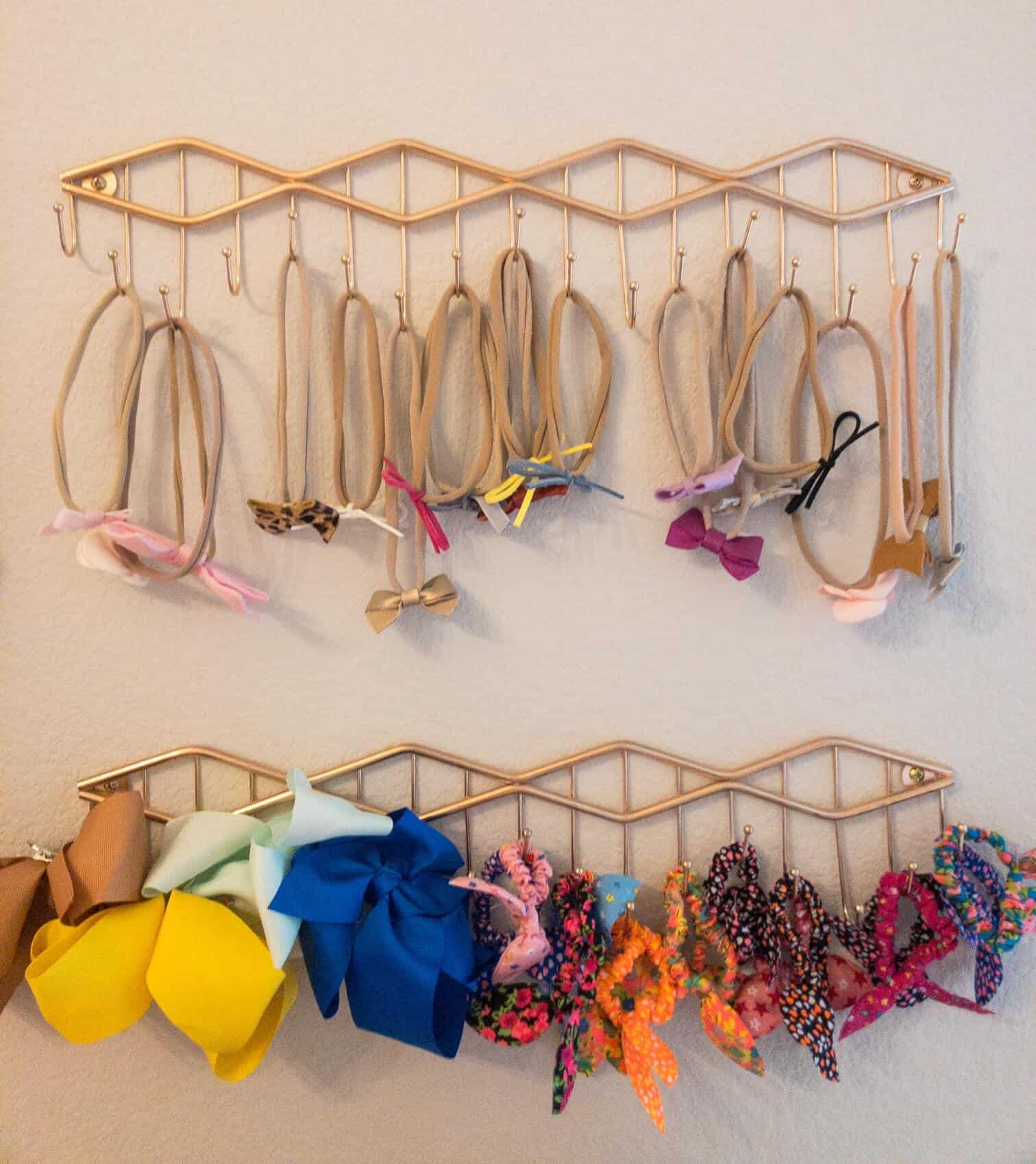 A padded jewelry holder like this is also great for headbands. Another Homegoods find. You could use an acrylic jewelry stand like this one the same way.
5. Baskets & Mugs:
Some bows are too big or won't stay on a holder. I just put those in a basket. You can pick up super affordable baskets at Target.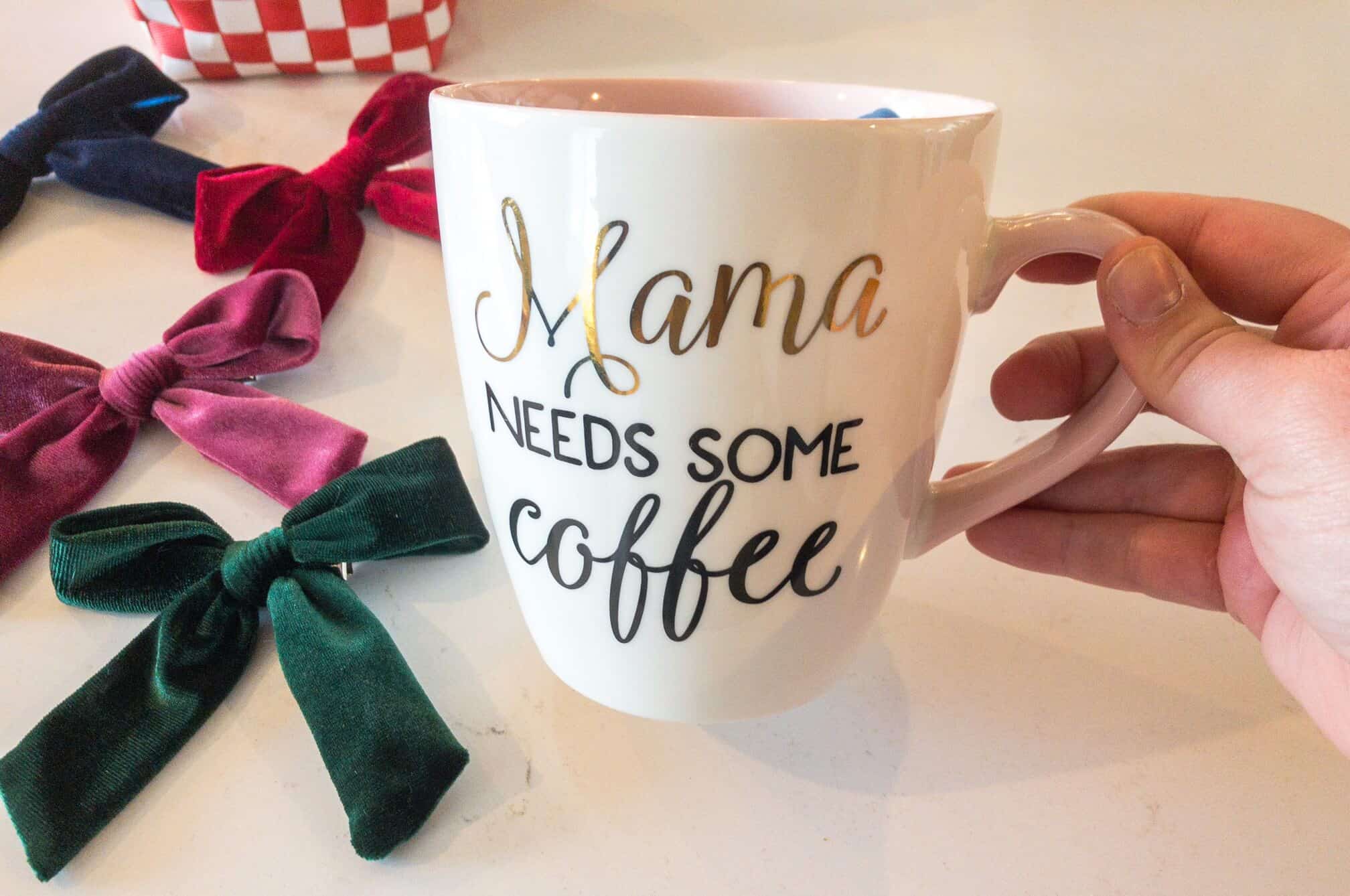 For all those little hair ties? I use a giant coffee mug. The phrase makes me laugh (so true) and it keeps all the ties in one place. You do lose the ties and occasionally vacuum them up. It's life. That's why I buy big sets every so often and don't stress about it.
Tips for Styling Little Girls Hair:
Before we go, I'd love to share my top tips for styling your little girls hair. I also shared these in my post with 60 girls hair styles.
DISTRACTION: The name of the game here is distraction. And, maybe some bribing – considering how long you think it might take.
This is the time to bust out the tablet she rarely gets or put on her favorite cartoon. Put her favorite snack in a bowl and make it as fun as possible.
EXAMPLES: Find cartoons where the characters are doing each other's hair or buy her a doll that has hair you can style. If she is styling her doll while you are styling her hair, it'll be like your very own mini hair salon.
LOCATION: Choose a location that will allow both of you to relax and focus. Find a quite, comfortable spot where she's sitting in a comfortable position and you are at the right angle to reach her hair. Experiment with different places until you find your spot and then stick to it. That routine will help it go more smoothly.
PRACTICE: It'll take time to get better and for both of you to make it part of the routine. Start with basics and don't be afraid to stop a style that just isn't working for either of you. The more you practice, the better you both will get.
Expect that the style won't last forever and will get messed up with play and daily life. Let it go and look forward to your next style the next time.
The more enjoyable the experience, the more likely you both will want to do more of them in the future. There's no reason for it to be a nightmare; plan in advance for ways to make it fun and memorable.
*****
I hope this gives you some fun ideas for how to get affordable hair bows and hair ties, while creating an organized space that doesn't make you go crazy.
Have fun with your own home hair salon and make some fun memories together!
Have a fabulous day,
E