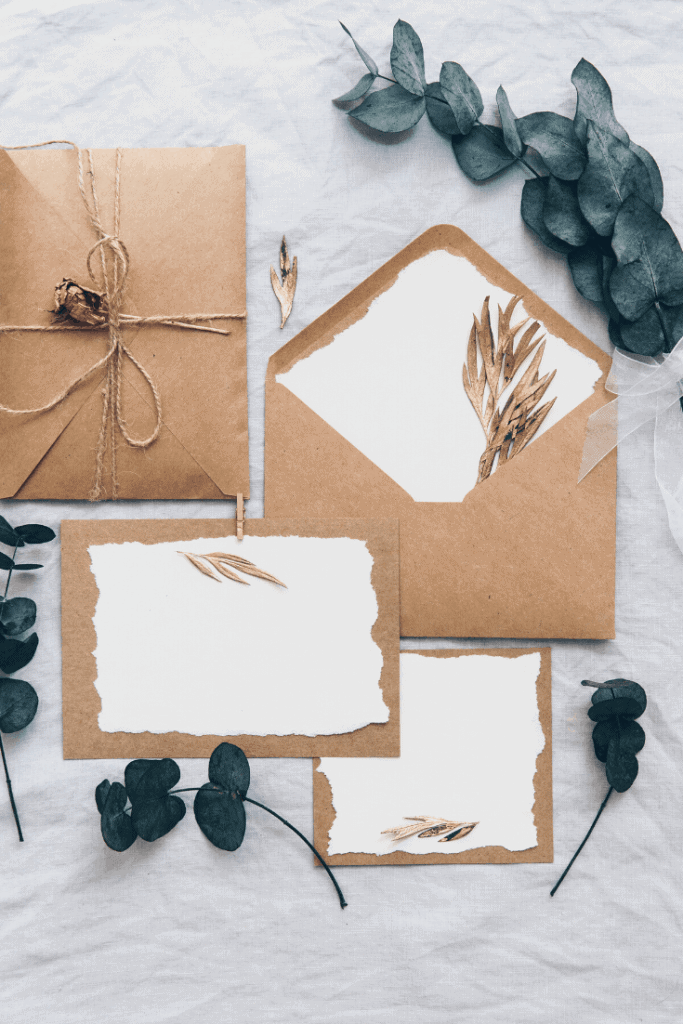 The invitations are always one of my favorite parts about planning a party. Wedding invitations, in particular, are so spectacular.
Of course, they are also a lot of work – and require so many different components to get just right.
But, when you find that perfect set of wedding invitations – it's the beginning of a perfect wedding design plan.
I often feel like once you've decided on the wedding invitation, it all starts to become real and you start to feel like…
Let's take a look at 10 of the most stunning wedding invitation trends for 2019 and beyond – so you can get that party started 😉
1. Acrylic/Vellum Paper
I am totally obsessed with the acrylic wedding invitation trend. I have wholeheartedly embraced the acrylic design trend in all aspects, which is why I have an acrylic ceiling fan in my great room.
Did I also want to buy a 75,000 acrylic grand piano?
Yes, yes, that was me.
But, I digress, the acrylic, or more specifically, vellum paper invitation trend is going strong and the designs are gorgeous!
The sheer acrylic gives the design room to fully shine, without any competition from the paper.
If you love this trend, do a quick search for " acrylic or vellum wedding invitations" and you'll find them!
2. Greenery and Botanical
These gorgeous nature-inspired wedding invitations invoke the beauty of nature in invitation form.
Form detailed greenery wreaths and geometric shapes…
to saturated, luscious florals…
these nature-inspired wedding invitations are perfect for the outdoor wedding, the garden wedding, or the outdoor wedding.
Talk about an invitation that will wet your appetite to see more.
3. Minimalistic
The minimalism movement is extending past our wardrobes and reaching right into our events.
Sort of like the Marie Kondo of wedding invitations.
Clean, sophisticated, graphic, minimal, stunning.
Perfect for the couple that wants a crisp, sophisticated affair, such as a black and white black tie soiree.
Yassss.
4. Laser Cut
Quite the opposite, the laser cut wedding invitation trend is all about more is more.
More detail, intricate laser cut details and stunning designs that you just have to see to believe.
Laser cut details in envelopes, invitations and more.
Can you imagine receiving one of these in the mail? I honestly think if I were getting married right now, these stunning navy blue, laser cut invitations would be my pick. The laser cut design looks like lace! Amazing!
And what about this?
My god.
5. Beautiful Envelopes
No longer are the envelopes the stepchild of wedding invitations.
They are coming front and center in a serious way.
The wedding envelopes are packing a serious punch these days – with coordinating colors, exquisite lining options, and other details that are majorly upping the "at-first glance" game of your wedding invite.
With envelopes this chic, you must consider a calligrapher to hand address your envelopes.
This whole suite is so beautiful I want to cry.
6. Metallic Foils
The metallic trend really hit our holiday card strong these past couple of years and now it's moving into the wedding invitation circuit with incredible mixed metal invitations and rose gold designs that'll make you say "yes" all over again.
The shimmer of a metallic foil is really second to none in presentation.
I'm a huge fan of metallics, in general, with rose gold being my newest favorite because….
I mean, obviously, right?
And, by the way, can we talk about how stunning a wedding color palette of rose gold and gray would be? #CHICAF
If you're using a metallic foil in your invites, try to weave the same metallic into your wedding color palette for cohesiveness.
7. Glitter
It's more than a bad Mariah Carey movie.
Glitter is everywhere now, and it's here to stay.
This is not the glitter of our youth.
This is sexy, sophisticated and glam.
Even just a glitter trim on wedding invitations is huge:
But, glitter can be used in other ways too for real impact:
If you're into glitter – don't shy away. Glitter trends are on the rise and you're getting married at the perfect time to maximize on it.
8. Unique Shapes & Inserts
Why should your invitations be square if you're not?
Uniquely shaped wedding invitations are trending, too:
It's not just the invite, either, consider your wedding invitation inserts, too.
With specialty shapes guiding your guests to the wedding location, who needs a boring list of directions?
How fun would this ticket design be for a destination wedding!
And look at these watercolor, map-themed invites with a shaped RSVP card:
Talk about an invite that'll be a conversation starter.
9. Wax Seal
Seal it with a … wax seal.
This old-timey, vintage touch is waxing poetic with your wedding invitations.
A beautiful way to close the envelope and get your invites attention right away.
A sweet way to introduce a fun theme, such as a wedding with tons of candles or personal menus in each place setting also enclosed with a wax seal.
Keep your wax press, too, and seal your wedding thank-yous to bring it all full circle.
10. Deckled Edge Paper
Are you seeing a trend here? So am I. Another way we are veering from traditionally shaped invitations is by using deckled edge invitations.
This is where the edges are not a clean cut, but have a bit of that – ripped from a scroll feel to them.
Absolutely perfect for a shabby chic or vintage themed affair.
Or a wedding set in a place that is very old.
For example, we were married at the gorgeous Haiku Mill in Maui, an event space built in the ruins of an old sugar cane factory that had almost burned to the ground.
If that's not the perfect place for a deckled edge invitation, I don't know what is.
****
Wedding invitations are so much fun, especially with these incredible new designs trending.
In fact, many of these examples combined 2 or 3 of the 2019 invite trends into one stunning combination.
Gorgeous wedding invitations don't have to be expensive.
Don't feel like you have to spend an arm and a leg.
Affordable invitations can be found, to be sure, on sites like Minted, Etsy, Basic Invites,
Or, you can always make them on your own, with wedding invitation suite software or kits available at local stores like Staples.
What's most important is that the invitation reflect the type of wedding you are planning and the couple that you are.
That's what makes a beautiful, unforgettable invitation.
Oh, and don't forget the other posts in this wedding series:
To chic weddings,
Erica