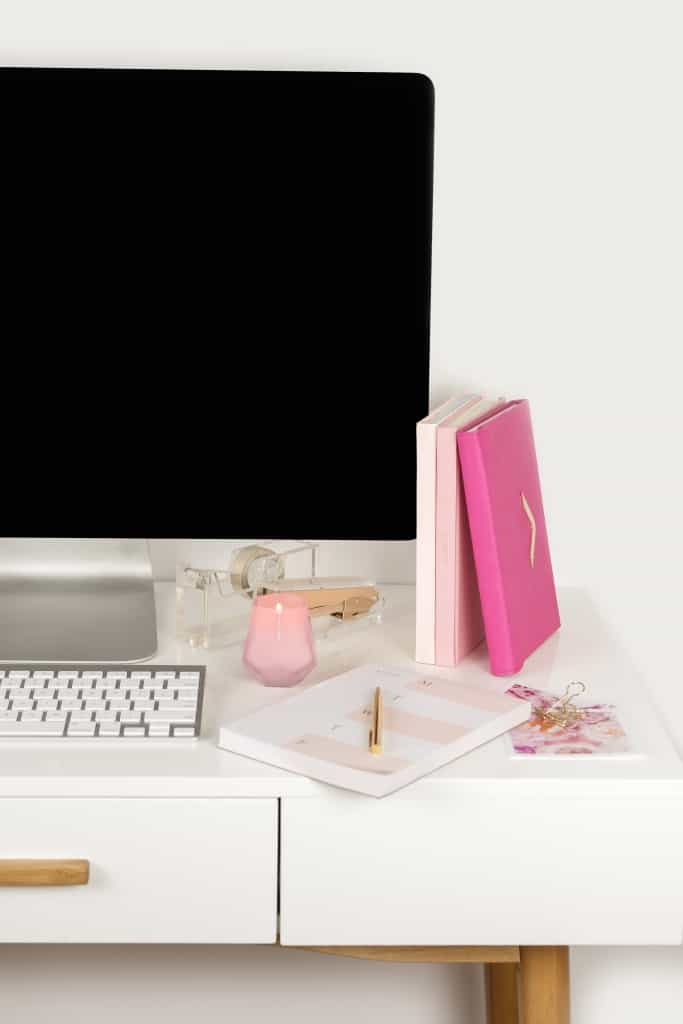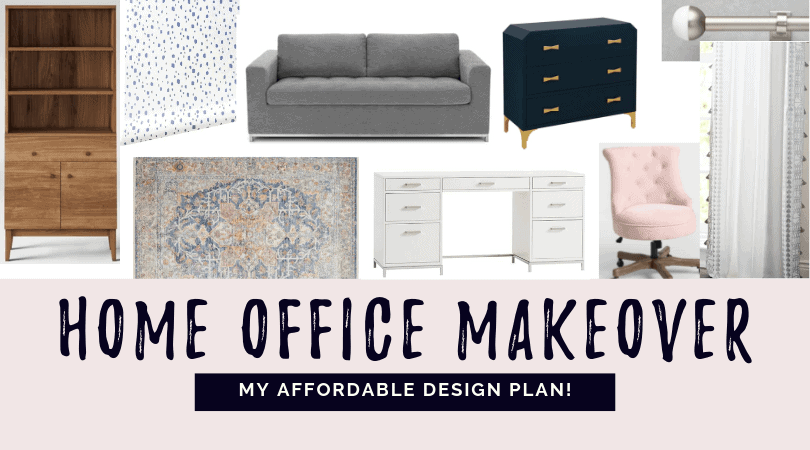 Even though I haven't written too much about home decor and design, I am pretty much obsessed with it.
I can't even count the hours and hours I put into researching everything we bought for our new home .
By the time we had closed on our home and moved in, I had almost everything measured and picked out and it was just time to start paying the big bucks.
But, there's one room in our house that has been an anomaly.
Home Office – Current Condition:
Here's what it looks like right now. This is the room attached to the casita, which is like an attached in-law unit. It has it's own kitchenette, small laundry, bathroom, and living area.
Right now, the room part of it is pretty much a catch-all for books we haven't unpacked, baby toys I am trying to sell, and the equipment I use for blog and shop photography.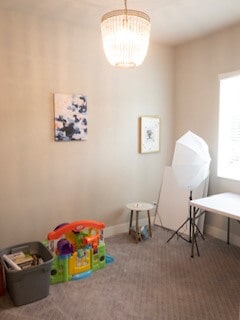 The only thing good about this room at the moment is that the walls are a lovely, soft gray color, the carpet is also a nice gray and I adore the light fixture.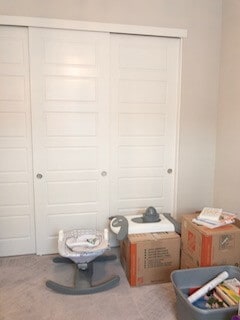 When we updated the lighting throughout the whole house, I picked out this light – lovingly referred to as Final Sale Fiona – and it's one of my favorites in the whole house.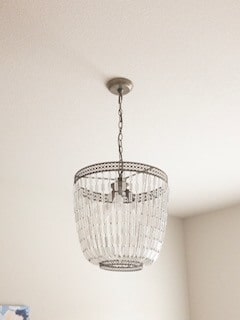 When we moved in, I had earmarked this room as a future office, but before I could decorate it, my sister and her baby needed to come stay with us for awhile.
So, I quickly set it up as a guest room.
After they left, we just didn't need it anymore, so I sold everything and it has sat like this ever since.
Now it's time to make her shine. This is the design plan so far: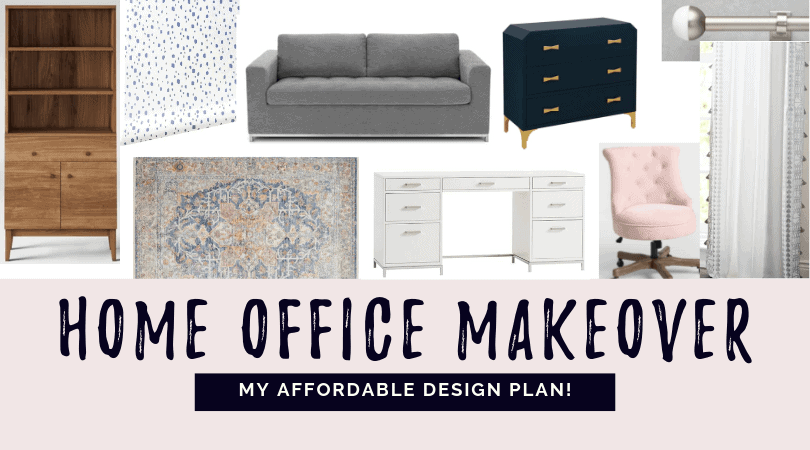 I have spent months sourcing these affordable pieces that are similar to the style and design of much higher-end brands that I won't splurge on for a room only I will really use.
The couch by Article (in dawn gray) converts into a bed that has high reviews for being very comfortable. Which is why this is the only piece in the room I am going to spend a little money on.
The bookshelf is a mid-century modern look from Target, usually priced around $160.00. Much more affordable than gorgeous alternatives from West Elm.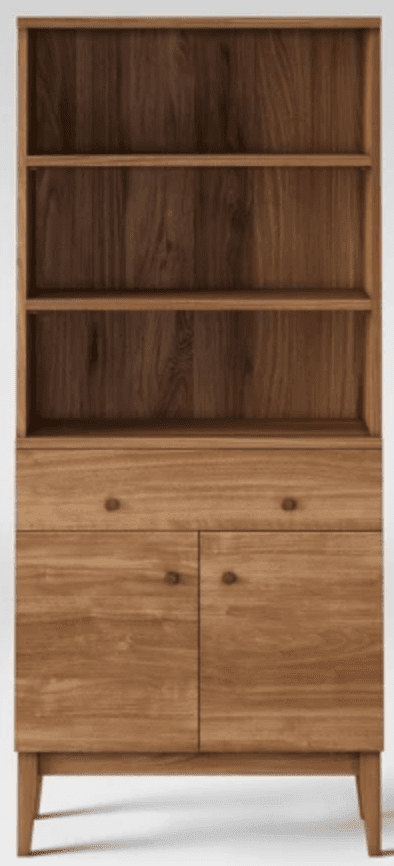 The Magnolia Ophelia rug is a Pier 1 find – and believe me when I tell you it is so much more beautiful in person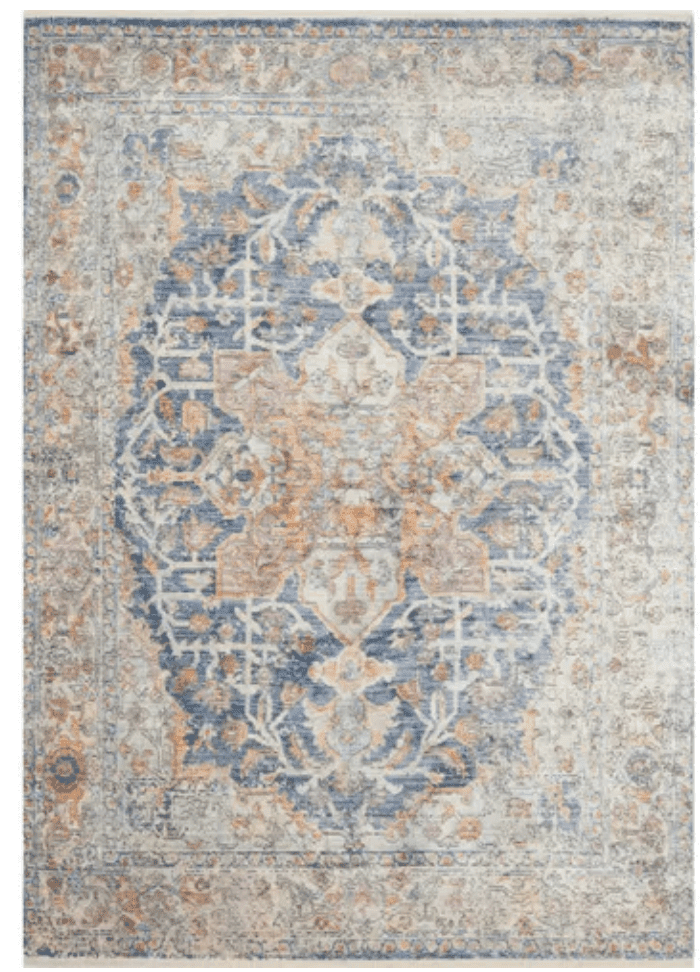 I was originally planning to go with a Caitlin Wilson rug, since I used two of them in the other room of the casita – where my desk currently is. While the Caitlin Wilson rugs are gorgeous, high-quality rugs that are deep and soft and made to last – they are just not in the budget for this project.
If you're curious, the blue is the infamous Kismet Rug in navy and the other is Blush & Navy Medallion Moroccan Rug.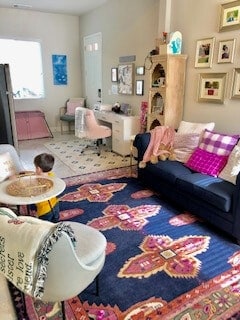 This Pier 1 rug will be perfect and if I buy during a sale, I'll get it for well under $400.
Because I do use my office for lots of purposes, I need a chest of drawers to store supplies, photography props, office stationary, and more.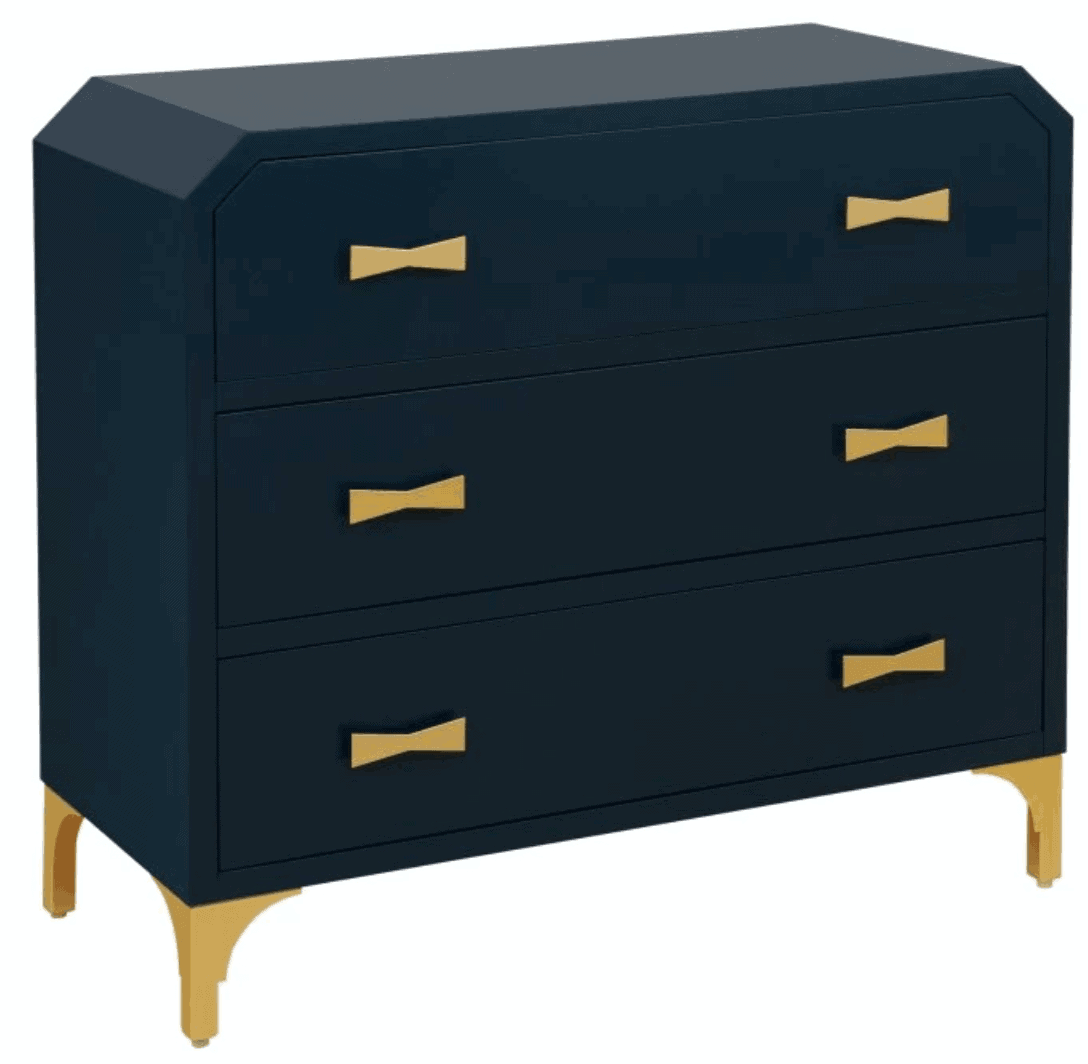 I saw this gorgeous blue steel chest in an issue of HGTV Magazine, ripped it out and immediately pinned to my design board. Must have – and affordable at $299 before discounts.
My desk and chair are going to be moved in here, and I am very happy with both of these so far.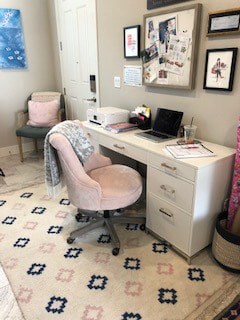 The desk is from Pottery Barn, bought when it was on deep discount. My desk chair is so comfortable, swivels and rolls, and is a tufted blush pink from World Market.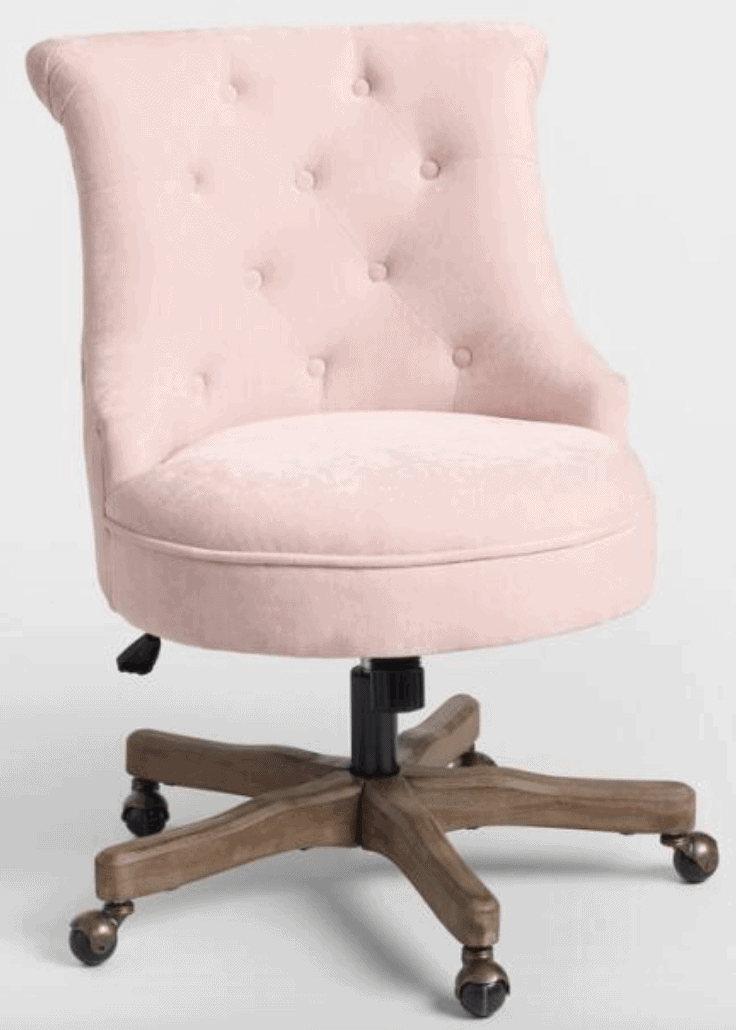 I know it sounds silly to say that I love a printer, but this little white Canon Pixma cube printer is so much more attractive than the obnoxious printers of my past. She sits quietly on my desk, connects to my computer via WiFi, and has an Energy Star rating. Highly recommend.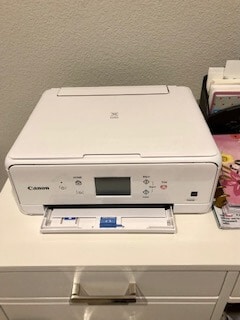 The last piece of the puzzle is wallpaper. I want to paper the back wall behind the couch in something that goes with my design plan, but will also convert nicely when we transfer the room to my son in about 5 years. When I am going to stick something to my wall- I always go with high quality. It's just worth it in the long run.
Right now, I am stuck between these three different options. Which one do you think goes best with my design plan? The first is the Caitlin Wilson, and the second and third are from Serena & Lily.
If you're curious, we do not install our own wallpaper. We currently have it in two other rooms, my daughter's room, and then in our kitchen. For both, we used a local wallpaper company who did a tremendous job for an affordable price. If you're in Northern California, I 100% endorse PhD Wallpapering.
****
So, that's the plan! Excited to have everything picked out. Now, I'll just watch for sales and probably grab things one at a time as I catch deals.
Here is the price breakdown for this project (these are the original prices before any sales – but I am assuming I'll get around up to 30% off each). Affiliate links used:
Drapery Sheers: Sold out, need to find a replacement
Grand Total: $2077 – BEFORE any discounts and not including wallpaper and install.
I would guess I can finish this home office makeover project for around $1500.00 with some smart shopping. Not bad for an entire home office/guest room.
****
That's all for today!
I'd love to know which wallpaper you think would look best!
Tell me in the comments below.
Have a fabulous day,
E