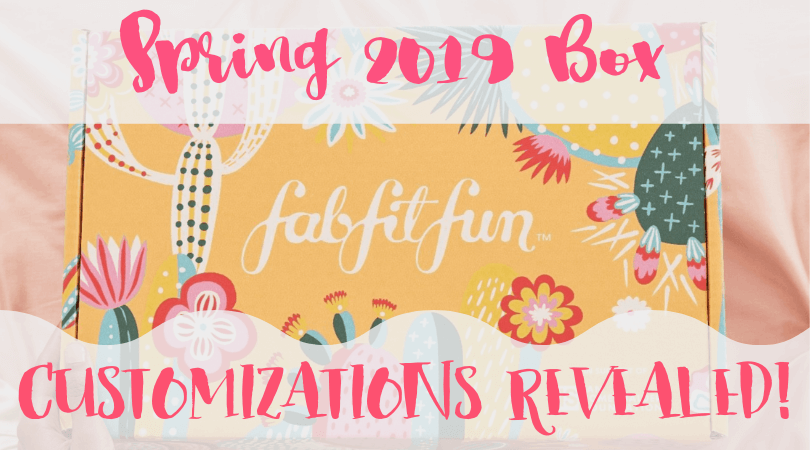 Where my FabFitFun girls at?
If you're not already on the FabFitFun bandwagon – you're missing out! It's no secret I love subscription boxes. I've written several posts on my other favorites and even a gift guide on giving them as gifts.
The FabFitFun box is one of my favorites of the year. It's also the most expensive one that I get (and I do buy it – I don't get it for free), priced at $40-50, (get 10$ off your first box with code SPRINGLOVE) but the value of the box is always in the hundreds and it's packed full of new, full-size products I've never tried!
Plus, if there is something you already have and love – you've got a back-up.
And, any products you don't really want will make excellent gifts for friends, moms, sisters, etc.
#WinWin
**UPDATE May 12, 2019, the summer box is out now – so use code BEACHBABE to save on the new one! You can find the customizations for the summer box here.*
Now that Spring box customizations are open – there are tons of spoilers are out on what is in the upcoming box.
You still have time to reserve your box, even if some of the customization opens will start closing soon.
With all of the options looking fab – you really can't go wrong with or without the option to customize.
So What Are the Spring Box Spoilers?!
I won't waste any more time. Let's dive right in:
Spring Box Customization Option #1: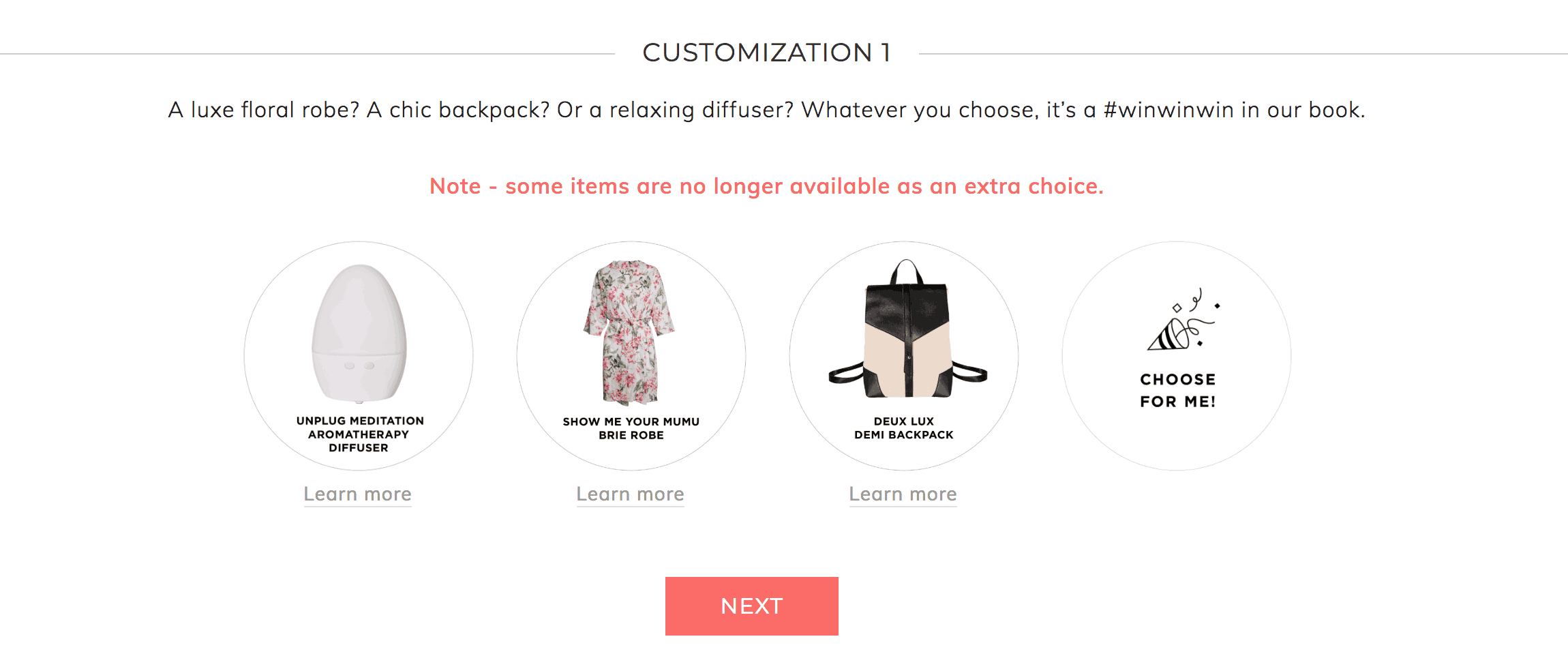 For this option, you get to choose between these three products.
Personally, I was really stuck between the robe and the bag – because the robe would make a fabulous backdrop for photos of my products in my shop (here and here), but the bag is so practical. What mom doesn't always need a bag, you know what I mean?
#EXACTLY
Spoiler Alert: I picked the bag.
Spring Box Customization Option #2: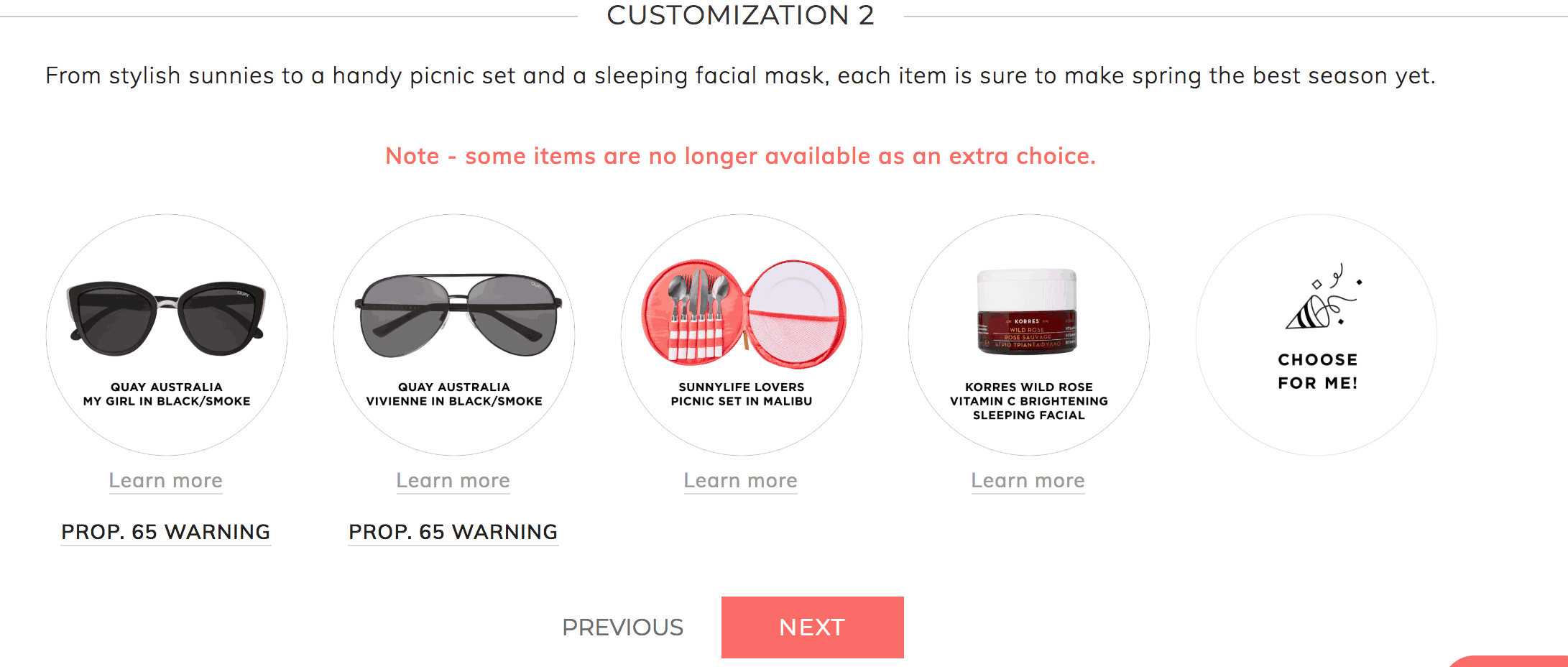 This was another difficult decision! I wanted them all!
But, I wear prescription sunglasses – so the cute sunnies were out. We already have a nice picnic backpack (but I LOVE how compact and adorable this one is). And, I always love trying new skin care products.
Spoiler Alert: I went with the Korres Wild Rose Vitamin C Sleeping Mask and I cannot WAIT to try it.
Spring Box Customization Option #3: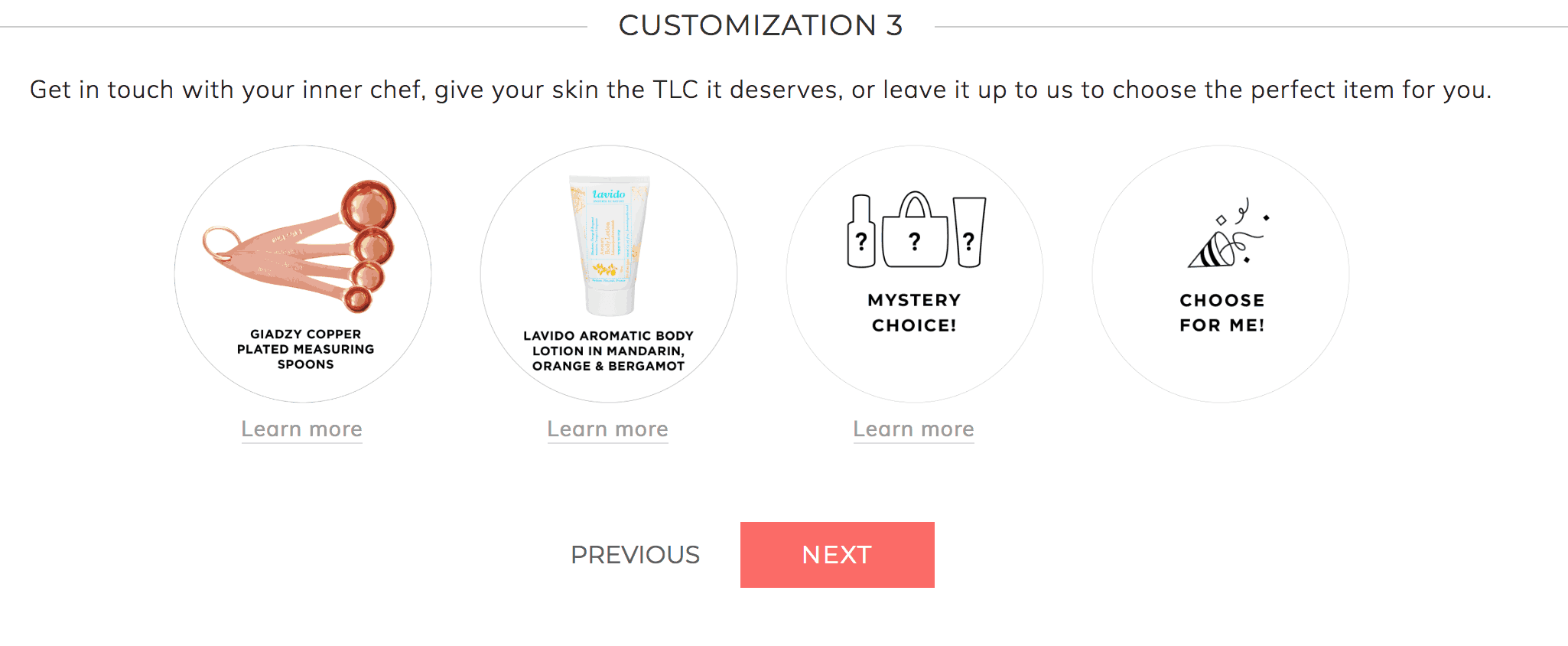 They're killin' me with these great options!
But, we have a very strange problem keeping sets of measuring spoons around. We have 2 or 3 partial sets and, yet, still don't have one that is a full teaspoon sized. Like, wth?
So, I went with the copper glazed measuring spoons. My chef-husband is going to love that they match his beloved copper pots and pans.
If you've checked out the FFF site, you know the add-ons are awesome.
If you order early, you can add customization options you can't decide between for a small price.
But, also, there are additional add-ons you can get amazing deals on compared to the retail prices and they ship free with your box.
The add-ons this time are awesome. I didn't choose to add any, because we are trying to cut back on spending, but if you've got some extra cash burning a hole in your pocket, here's a spoiler of the add-ons you can choose from: 
There are – literally – dozens of add-ons. Top brands like Living Proof, Murad, Kate Somerville, and more – for amazing discounts off retail.
You can also consider items as gifts for teachers, friends, Mother's Day, birthdays, and more.
*****
The FabFitFun box continues to be an incredible value. It's such an exciting box – especially since so many brands clamor to get in the box and get their products out there.
If you're not already signed up, you can still grab a spring box at a discount with code SPRINGLOVE.
Are you a FFF-er? What did you pick for YOUR customizations? Tell us in the comments below!
Have a fabulous day,
E