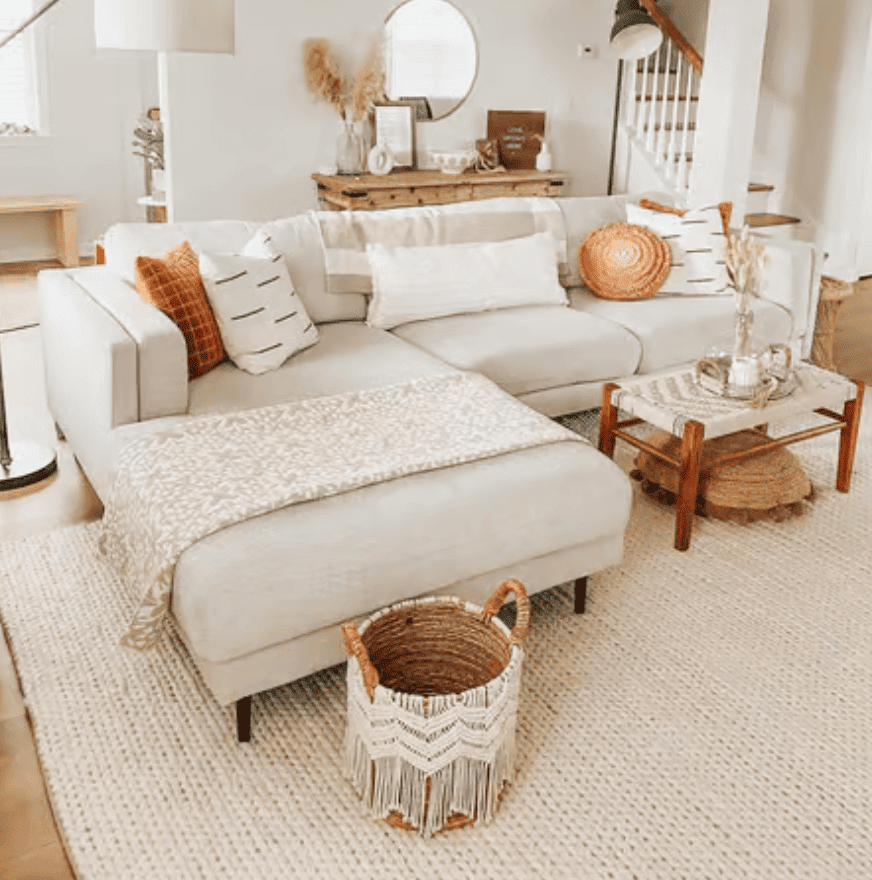 I'm seeing the off-white braided wool rug all over the place and several different places have their version of it. The Serena & Lily Braided Wool Rug has a bit more of a cream color to it compared to the West Elm Braid Stripe Sweater Rug, but the good news is, there's a lookalike for both of them for a fraction of the price.
This gorgeous off white wool braided rug is actually one of the bestselling items on the blog! The softness and texture adds so much to a space, without overwhelming it with more color or a busy pattern. This makes this neutral rug a great fit for almost any room, from nurseries to living rooms. Reviews say how soft and beautiful it is in real life and I've had some readers reach out, too, and say that they bought the lookalike and just love it.
So, if you're in the market for a wool braided rug or have fallen in love with more expensive options, take a look at these choices and find the wool rug that's right for you and your space.
Shop The Look: Serena & Lily Braided Wool Rug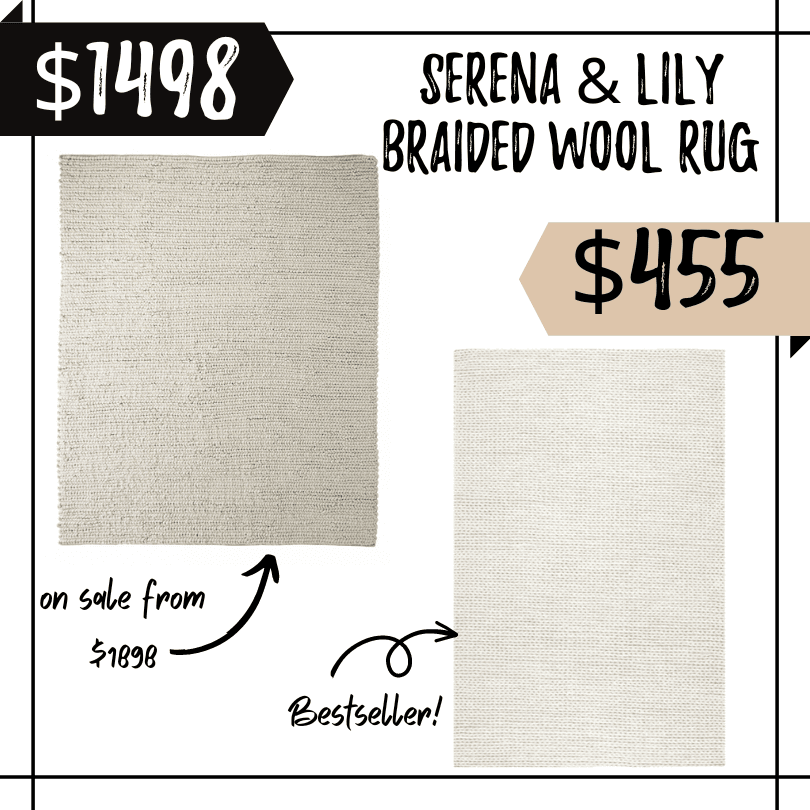 1. Serena & Lily Braided Wool Rug – $1898 for an 8×10, but on sale at time of posting! Available in lots of sizes and two colorways.
2. Rugs USA Off White Veronica Wool Braided Rug – $455 for an 8×10, sales run often, available in 7 colors and many, many shapes and sizes
*Affiliate links are used here, which means I may receive a commission if you purchase through my link at no cost to you. Thank you!
More Splurge or Save Home Decor Options:
Still shopping for that perfect piece? There are tons of decor and deal round-ups on the blog! Here are just a few more you might be interested in:
HOW TO SAVE MORE MONEY ON HOME DECOR:
No doubt about it: decorating a home is expensive. One way I save money on almost every purchase I make is by using Rakuten. I've gotten over $500 cash back in just the last year on purchases I was going to make anyway. So, don't forget to use Rakuten if you're making purchases online. They also run deals for new referrals where you can get $30 cash back after making your first purchase of $30 or more, so you can save even more if you're new to using them. Sign up here.
*****
I hope you found what you're looking for at the price you wanted to spend.
Have a fabulous day,
E