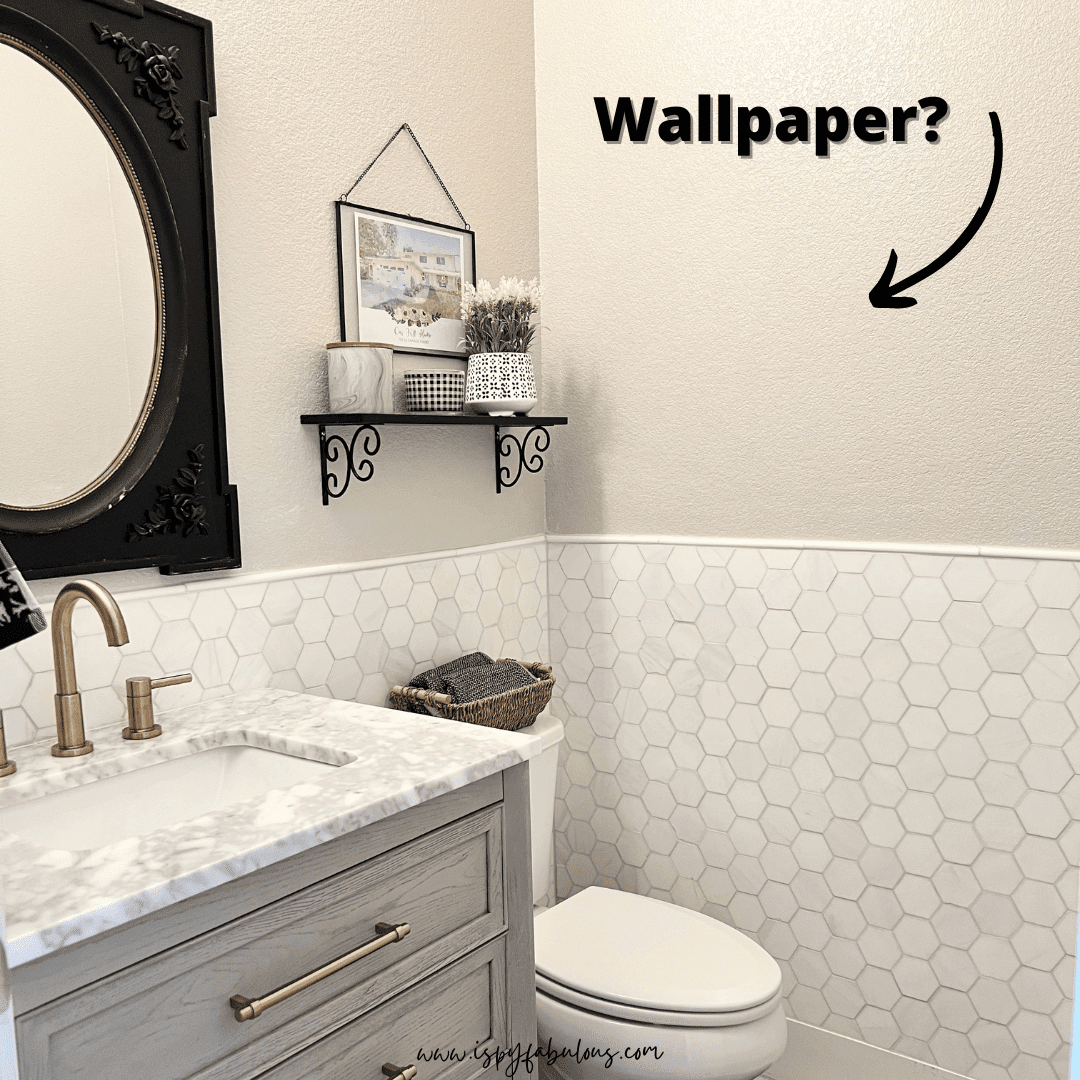 For the last couple months, we've been slowly working on a bathroom facelift. When we bought this house, it was new and the downstairs powder room was perfectly fine, but just very basic. It came with a pedestal sink, which worked for awhile, but we now have three kids getting ready for school in the mornings and need some counter space and more storage.
Black and White Wallpaper:
All of the other cabinetry in the the house is black, which I love. It gives the traditional design a bit of a modern edge. I want to bring a little bit of black into the bathroom through the use of a black and white wallpaper. I've used wallpaper in other places in the house to bring some character and personality to spaces. I used gorgeous blue and white floral wallpaper in the kitchen and a sweet blush plaid in my daughter's room.
While shopping for the perfect wallpaper, I rounded up 9 of my favorites and have been using this to help me decide which one I want to go with.
I figured, maybe you are shopping for black and white wallpaper, too, and this collection could help you decide on one for your space as well. Keep reading to see before and during pics of our bathroom renovation.
9 Best Black and White Wallpapers: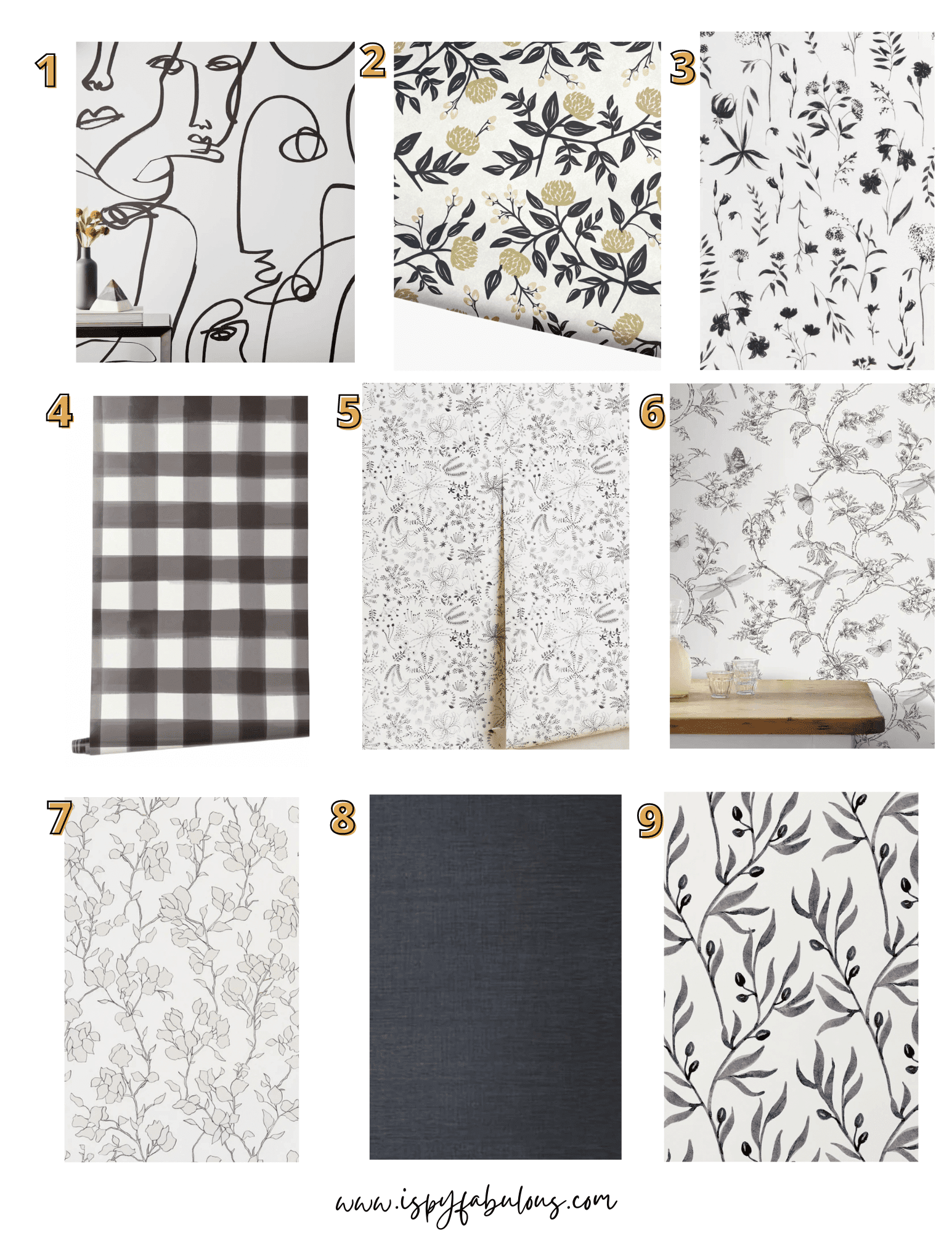 Rifle Paper Co. White & Black Peonies Wallpaper (The peonies are a champagne color that use metallic ink that catches the light!)
McGee & Co: Juno Wallpaper (A long-time favorite – love it)
Caitlin Wilson: Burnside Buffalo Check in Black (I use her Highland floral paper in my kitchen. Stunning paper. And I use buffalo check patterns upstairs, so the symmetry would be nice.
Graham & Brown: Natural Trail White Mica (The beautiful woodland design with butterflies is really speaking to me)
McGee & Co: Blair Sketched Wallpaper (A softer design with touches of black. I've seen bathrooms that used this one and they are stunning)
Caitlin Wilson: Noir Grasscloth Wallpaper (Why not a jet black grasscloth? Depth, texture, moodiness? Yes!)
Pottery Barn: Olive Wallpaper in Black (Not gonna lie, pretty obsessed with this one)
Which one is your favorite?
Bathroom Design Refresh: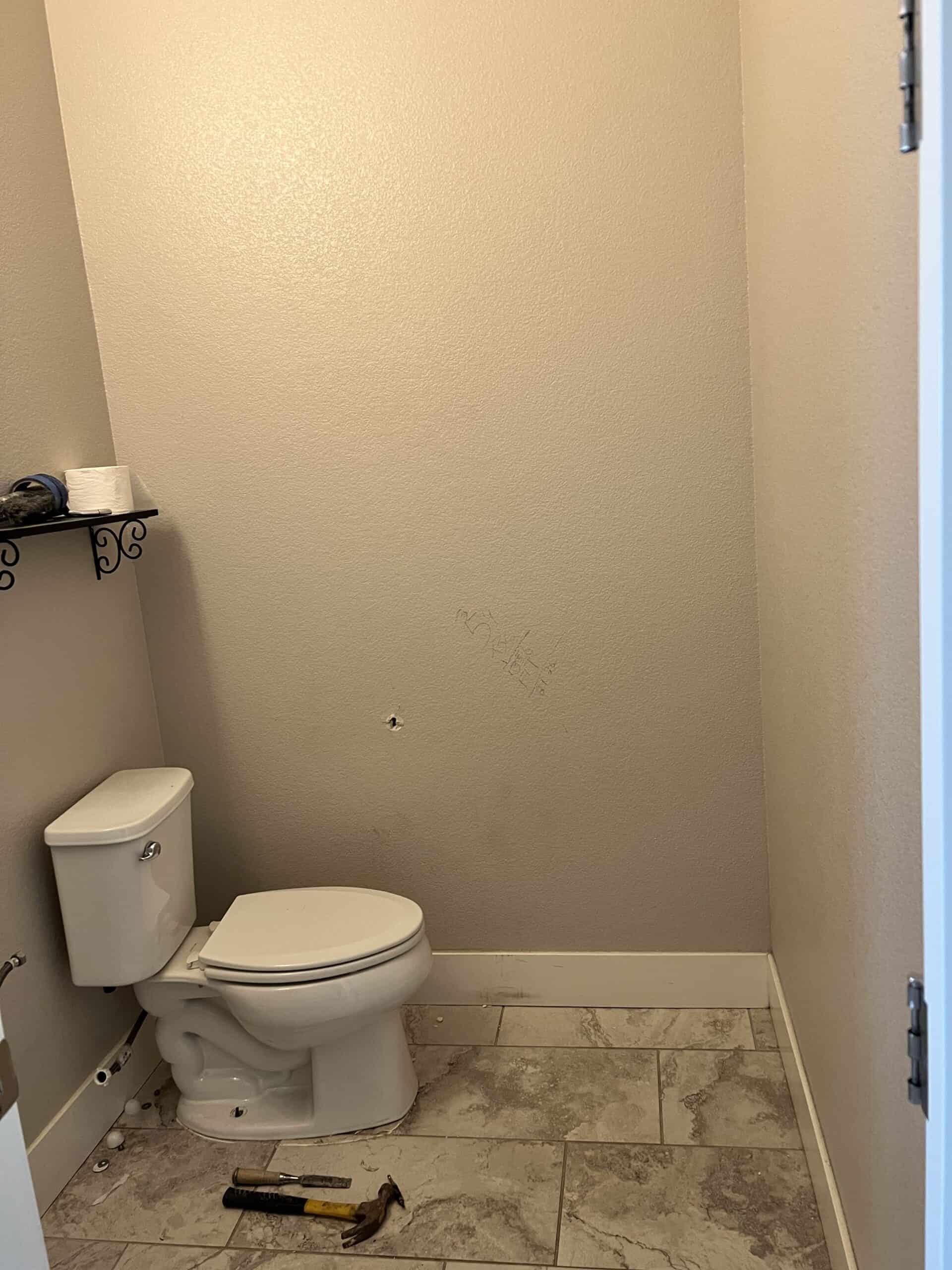 This is where we started after the pedestal sink got ripped out. A simple, builder grade bathroom. Great for guests, but not so great for getting everyone ready in the morning.
In addition to wanting a new bathroom vanity , I loved the look of bathrooms that used wainscoting, with either wood paneling or tile, and then wallpaper from the top of the tile to the ceiling. A new light and some other decor touches would finish off the transformation of our hard-working powder bathroom.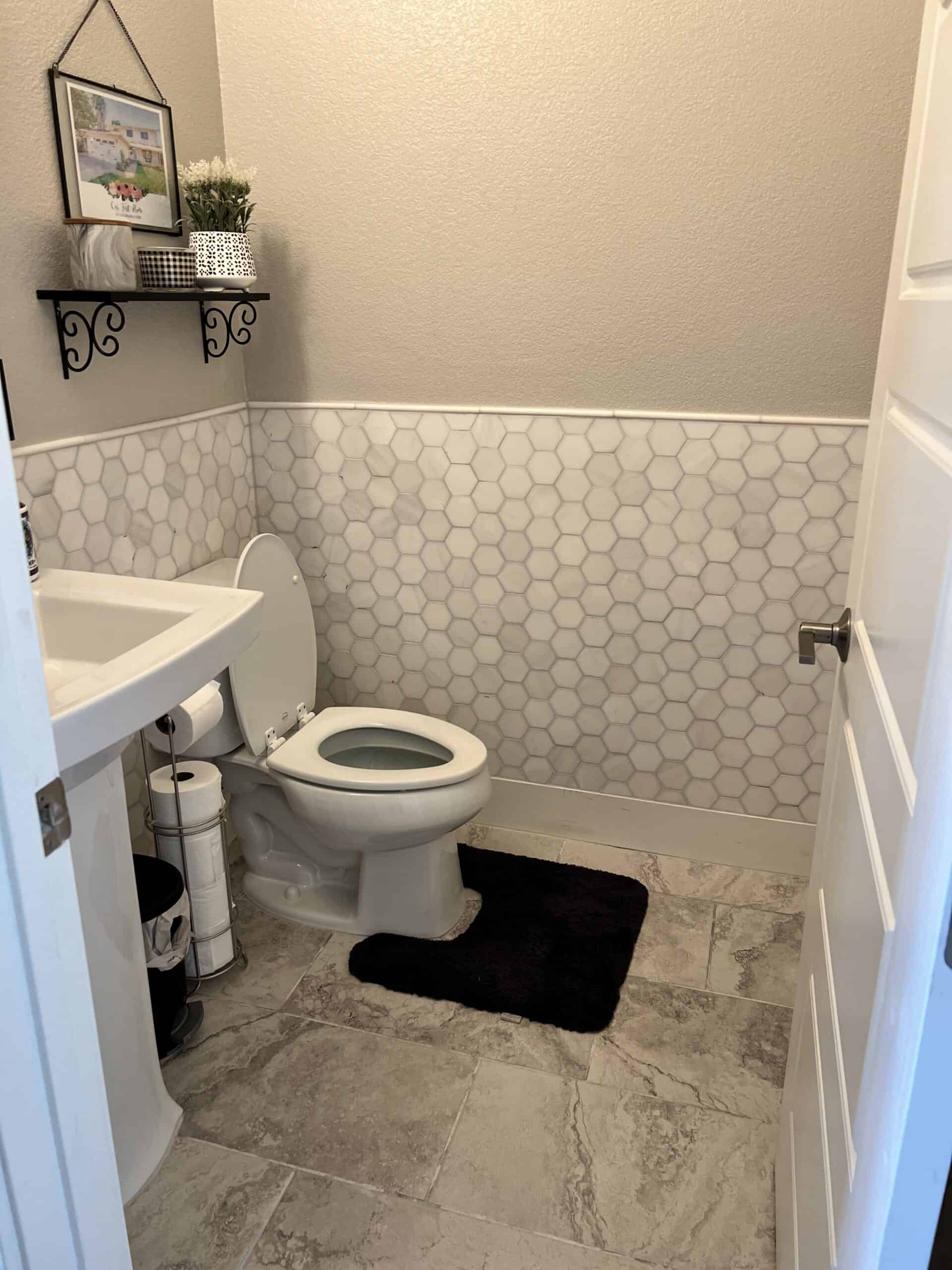 So far, we've checked a few things off the list: tile wainscoting is in, the vintage mirror has been up for awhile and the new vanity looks great and has transformed our mornings. I can't believe I got this vanity at Home Depot – it's as nice (if not nicer) than the one I was going to buy at Pottery Barn.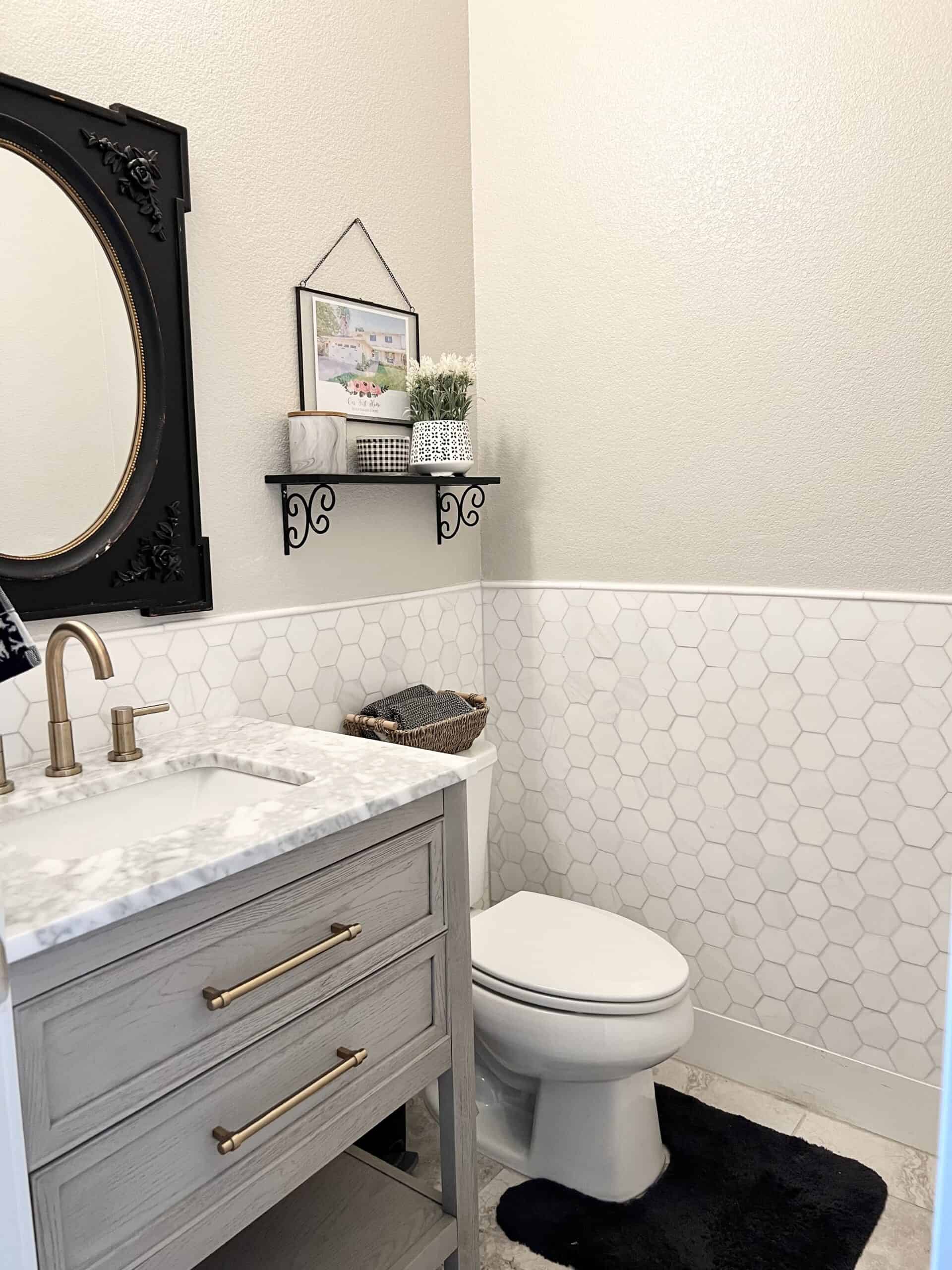 Now, I'm on the hunt for the perfect black and white wallpaper, a new light fixture, towel hook and other accessories. The vintage black mirror is something I already had and is no longer available.
She's coming along, slowly but surely, and I'm excited to infuse this simple space with a little more of our style.
*Affiliate links are used in this post for products and services I paid for myself and recommend. If you make a purchase through my links, I may receive a commission at no cost to you. Thank you!
******
So, which wallpaper do you think would look best? I'd love your help making a decision! Does anyone else get decision paralysis?
I started working on this bathroom right after finishing the kitchen counter and tile install, which was a real mess of a project. We did that one right after finishing our backyard pool build – which was crazy!
By the time I got to the bathroom, my brain was turning to mush. I hope to finish the bathroom by the end of this year and then take a break before starting another big one: my closet!
Have a fabulous day,
E