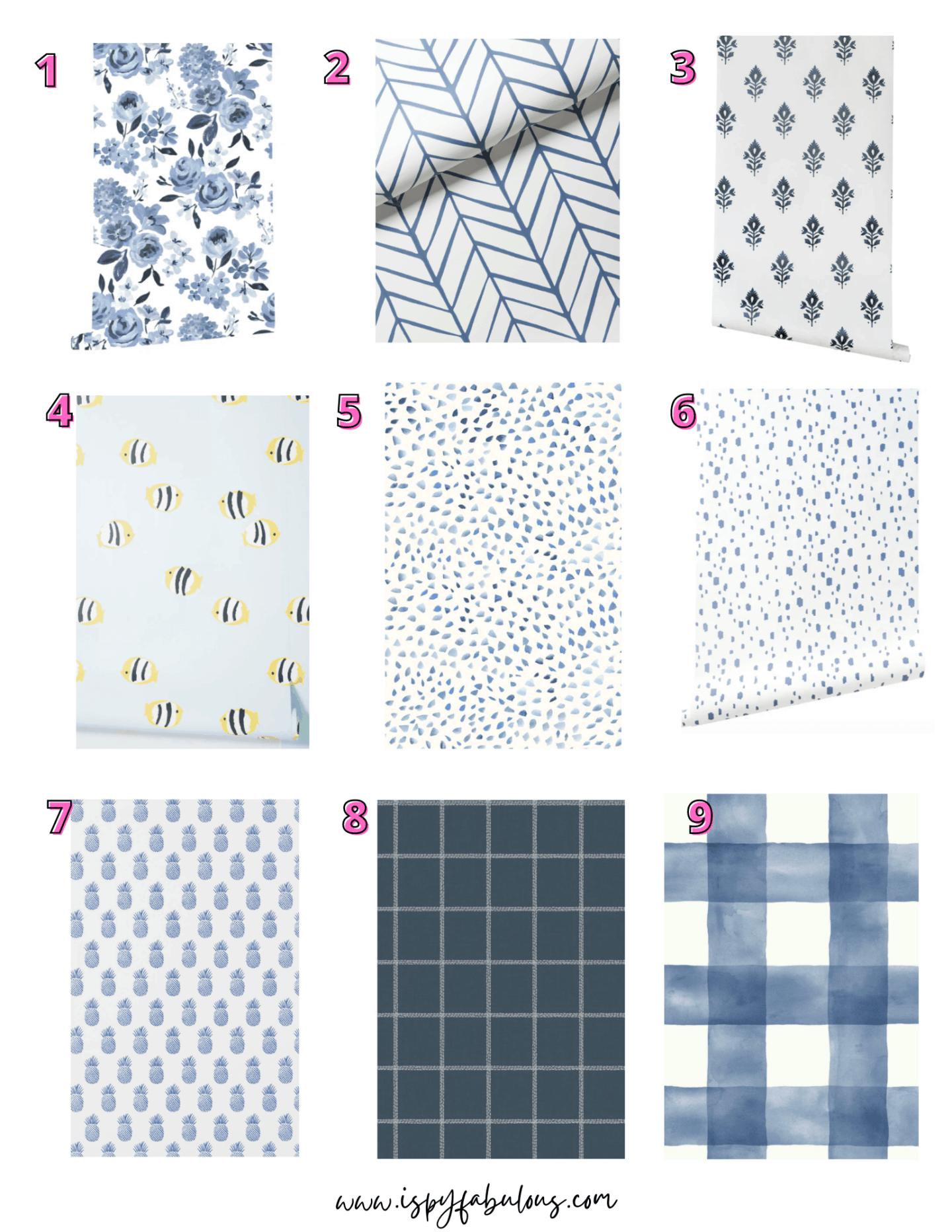 Oh, how I love a good wallpaper. I suppose I can trace this obsession back to my childhood, when my dad and stepmom lovingly applied Strawberry Shortcake wallpaper all over my childhood bedroom. I was in heaven. Now, as a parent, I realize what a gift that was… I'm not so sure I'd be willing to spend hours gluing Paw Patrol wallpaper to my kid's room, lol.
But, my love for wallpaper took a short break when we were renovating my husband's childhood home and 20-year-old wallpaper was still so glued to the walls, we had to have professionals texture and paint over it. There was no way we were getting that stuff off. Of course, wallpaper has come along way and now most wallpapers can be removed with almost no damage to the wall (or your mental health) at all, especially when applied professionally and correctly.
Choosing Blue Wallpaper: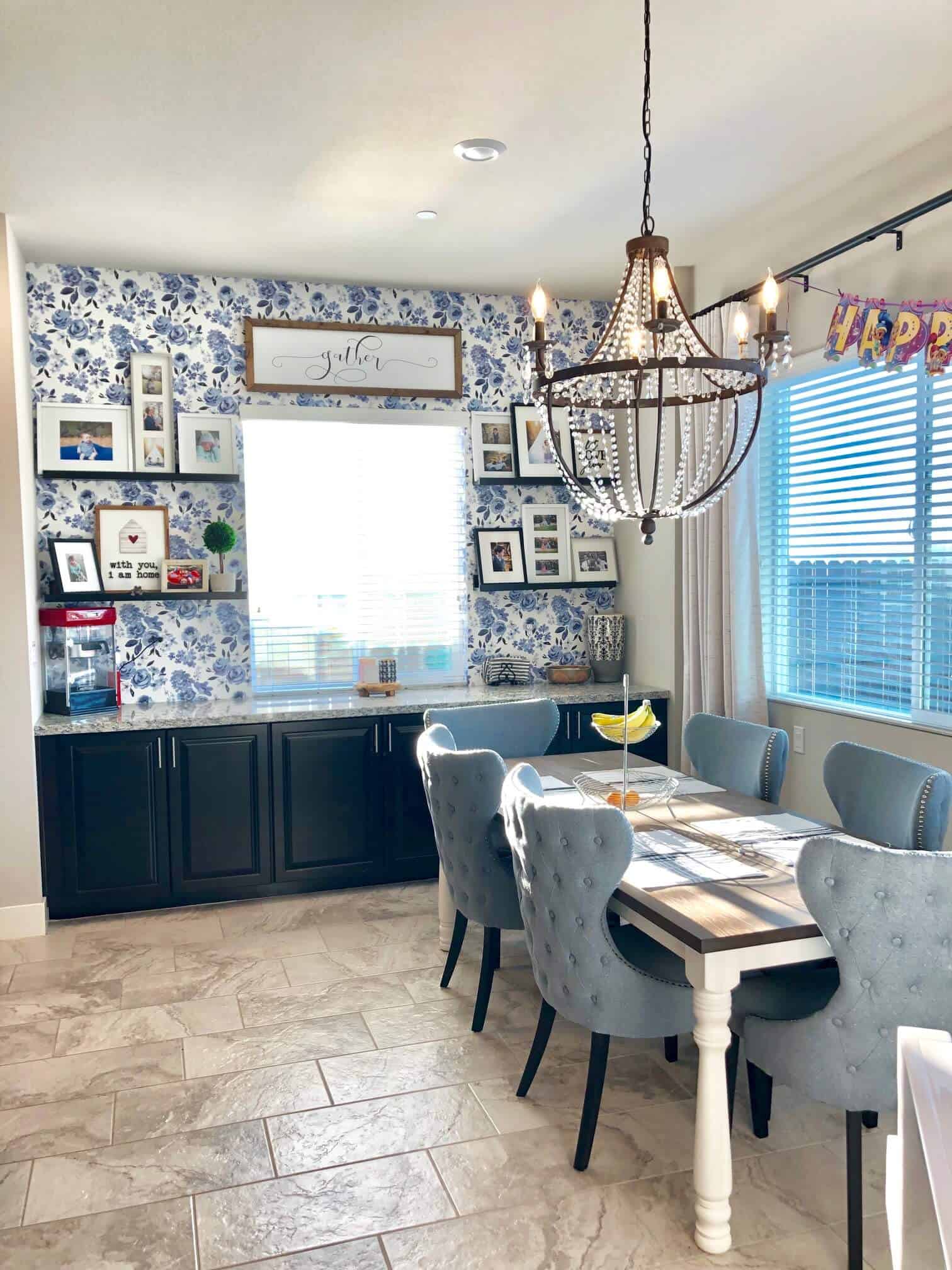 In our new house, with brand new, untouched walls, I had no doubt I was going to be applying wallpaper. I started with two spaces – my daughter's room and a kitchen nook (see picture above) that needed to feel some love. Initially, I imagined something more neutral, perhaps even a shimmery grasscloth for texture. I must have tried a dozen samples.
Then, I received some Caitlin Wilson samples I was considering for my office, to go with the gorgeous Kismet rug, and I just decided one day to stick them on the kitchen nook wall for a look, too.
That's when it happened: the perfect blue floral wallpaper chose it's new home. I never, in a million years, would've thought of putting a blue floral pattern in my modern kitchen, but sometimes the wallpaper chooses you, not the other way around.
I still love this wallpaper and the way it softens the black cabinets and white subway tile and adds a touch of femininity and whimsy. If anything, it's shown me that it is those little design risks that usually pay off the most.
So, today, I am sharing some more blue wallpapers that I absolutely love. I hope to use some of these in other areas of the house. I know my pantry is crying out for some love and my downstairs bathroom is builder grade boring. (Update: the bathroom has been updated and I am currently choosing one of these black and white wallpapers for it. Read all about it here.) All of these are from brands I've purchased from and had great experiences with. Affiliate links are used, which means if you choose to make a purchase through one of my links, I'll receive a commission at no cost to you. Let me know your favorite wallpaper in the comments below.
9 Gorgeous Blue Wallpapers: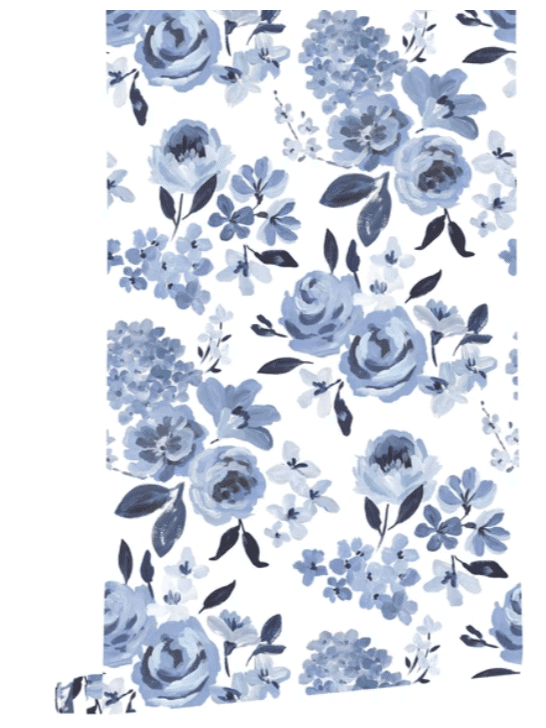 This is the blue floral paper I put in my kitchen nook. I really didn't think I would ever put something like this in a main area, but it really adds so much personality to the space. It was a little bit bachelor pad chic, to be honest. And, when it was first applied, I thought – maybe this wasn't such a good idea – just take a look: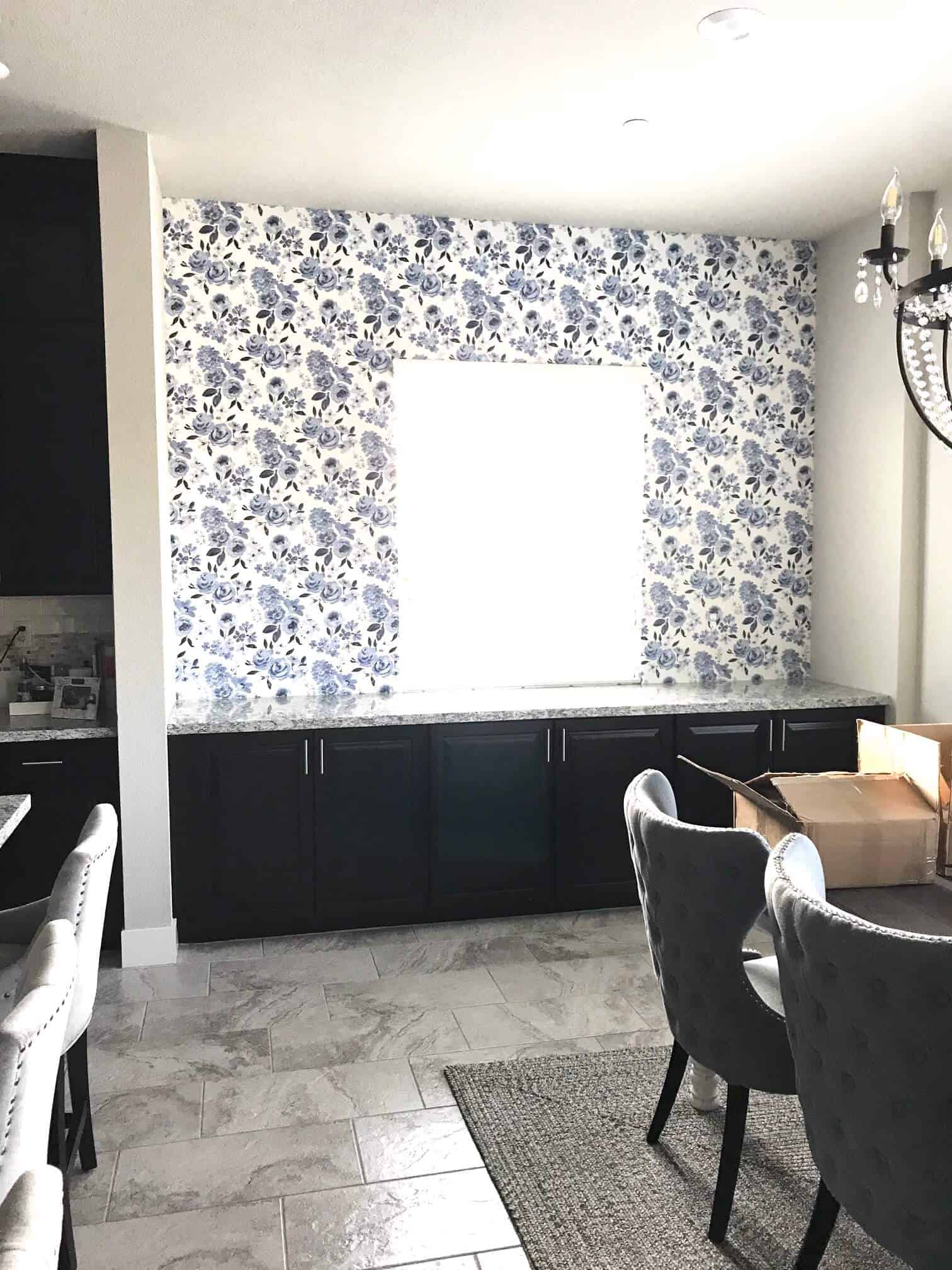 But, then after I added shelves and decor, I was sold. It was exactly what the space needed.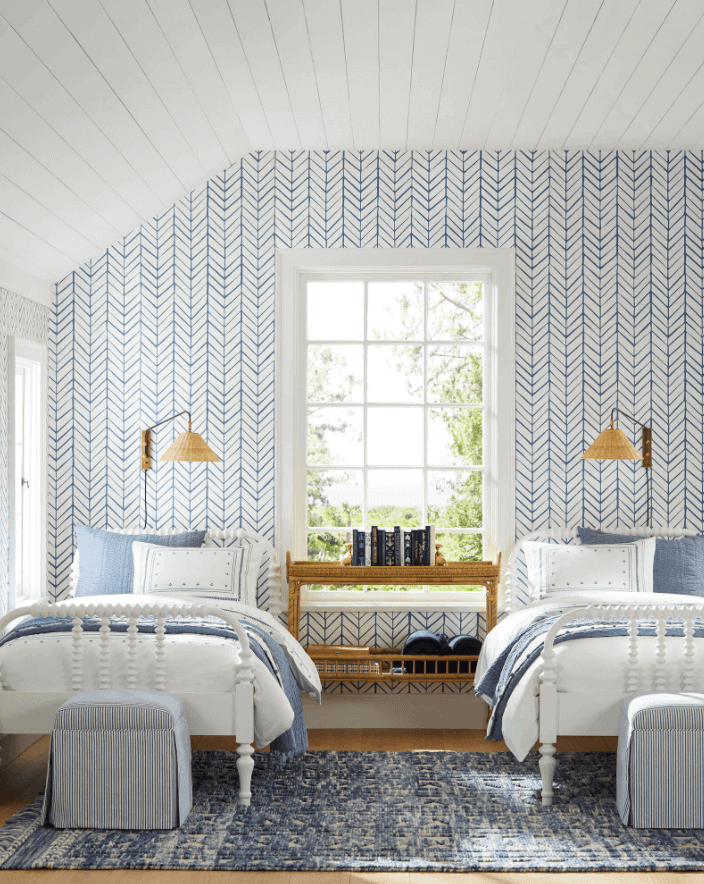 This herringbone is so, so good. Just a classic pattern that could be used anywhere. Available in 4 beautiful colors, I am most drawn to the Denim color, which is almost navy.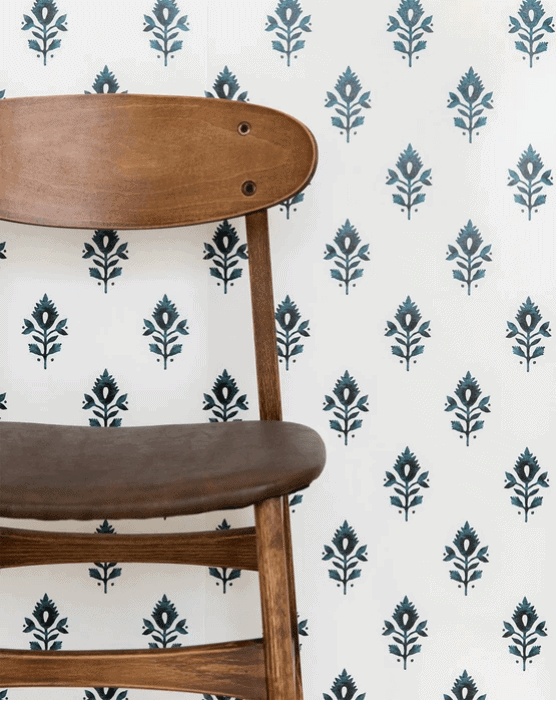 I'm obsessed with this one and will find a place for it. The pattern is also available on pillows, though, which might be another way to go if I can't find a place for the wallpaper. They have so many gorgeous wallpapers, too, that I want to put them everywhere.
I love this one. I am either going to do a wallpaper in my kids' bathroom or tile up the wall behind the sink. If I wallpaper, this is a hot contender. I just love this one.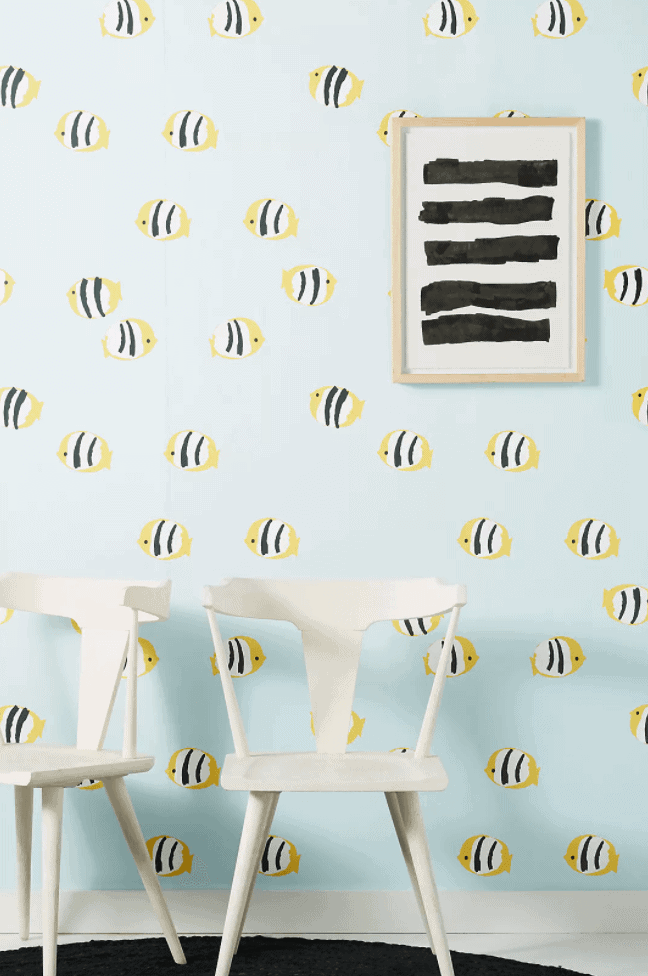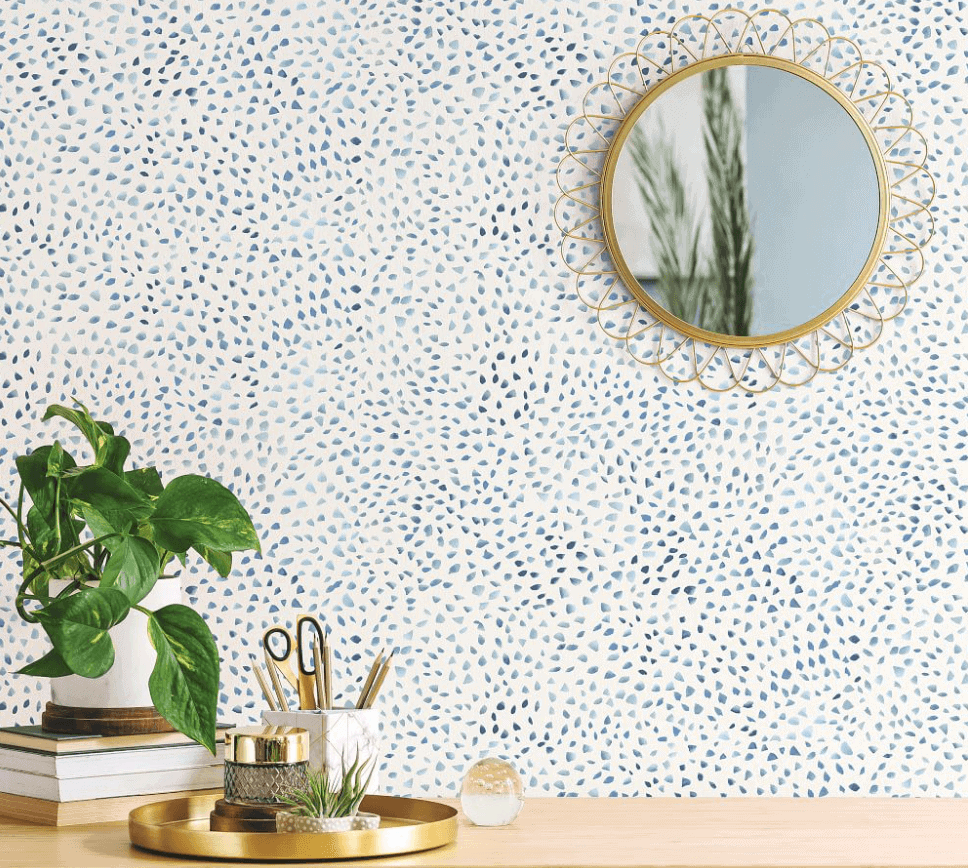 This paint splatter in various blues is almost like a blue terazzo pattern. Very chic and easy to design with.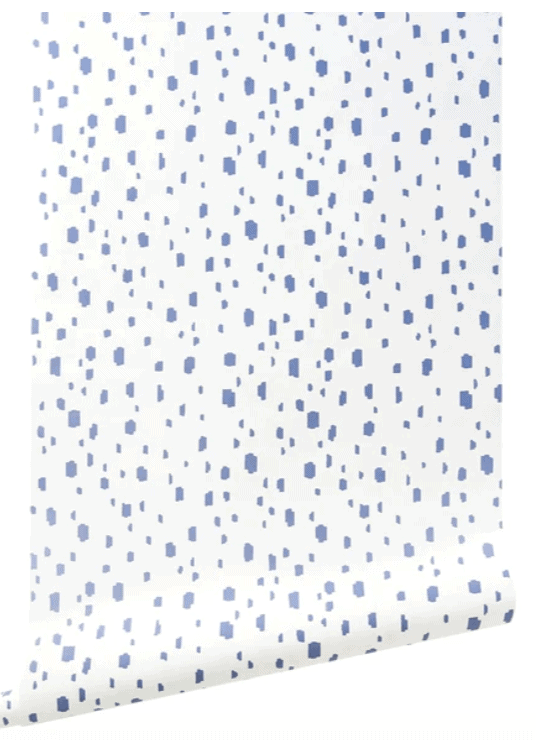 This is one that I'm considering for behind our bed in the main bedroom. I either want to do some wood detail work and paint it french blue or use this wallpaper. Still deciding. Either way, I think this wallpaper could work in a lot of different rooms and styles. The french blue color is a classic Caitlin Wilson touch and it's so, so good.
This adorable pineapple wallpaper is so good. I have a sample and really want to put it in my pantry. How fun would that be? Also looks great in a bathroom.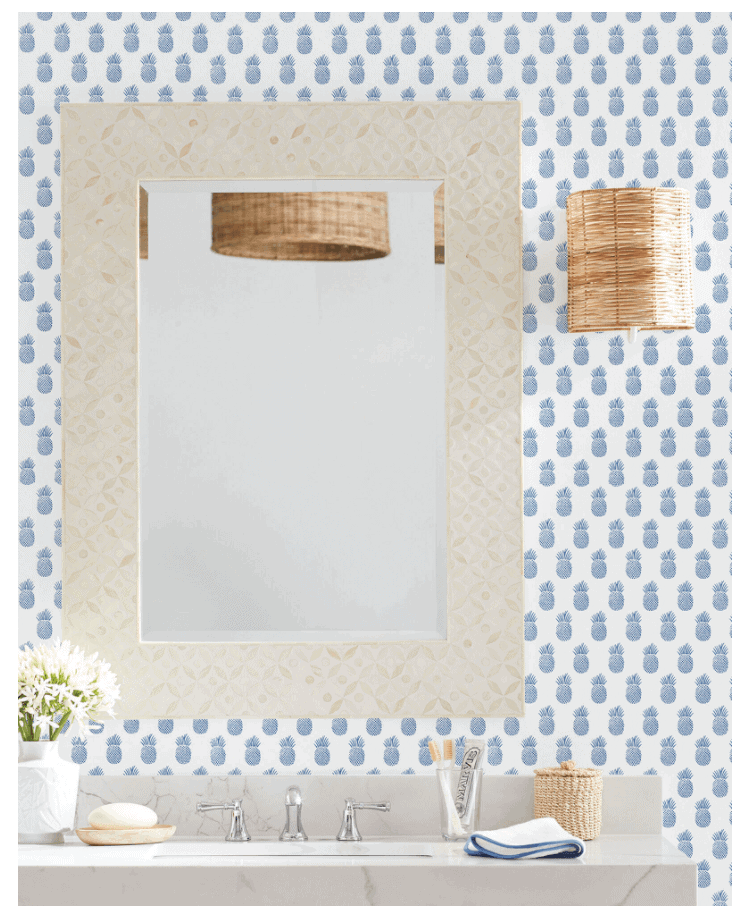 Comes in black and pink, too.
Ohhhh, how I love a blue plaid! This navy plaid wallpaper is SO SO GOOD. Perfect for a moody office or bedroom. I LOVE IT. We had such great success with the Magnolia pink plaid and even the wallpaper designers said it was very high quality. Four years later and it still looks perfect, so I would definitely use a MH wallpaper again.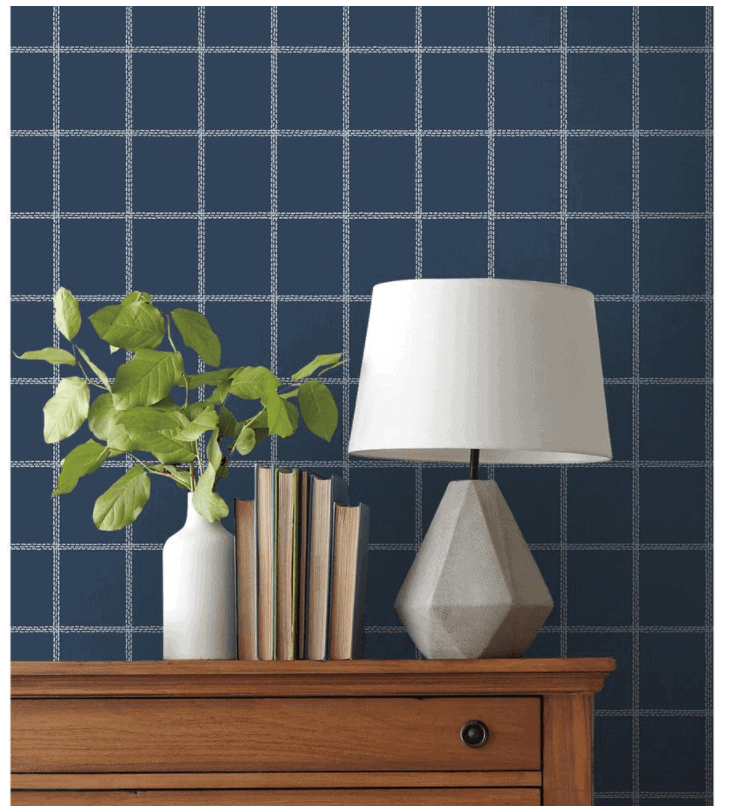 Buffalo plaid is one of my favorite patterns. I have it in pink on my daughter's wall and on pillow cases in black and blue. Big fan. This peel and stick wallpaper is an affordable, low commitment way to have some more buffalo plaid in your life.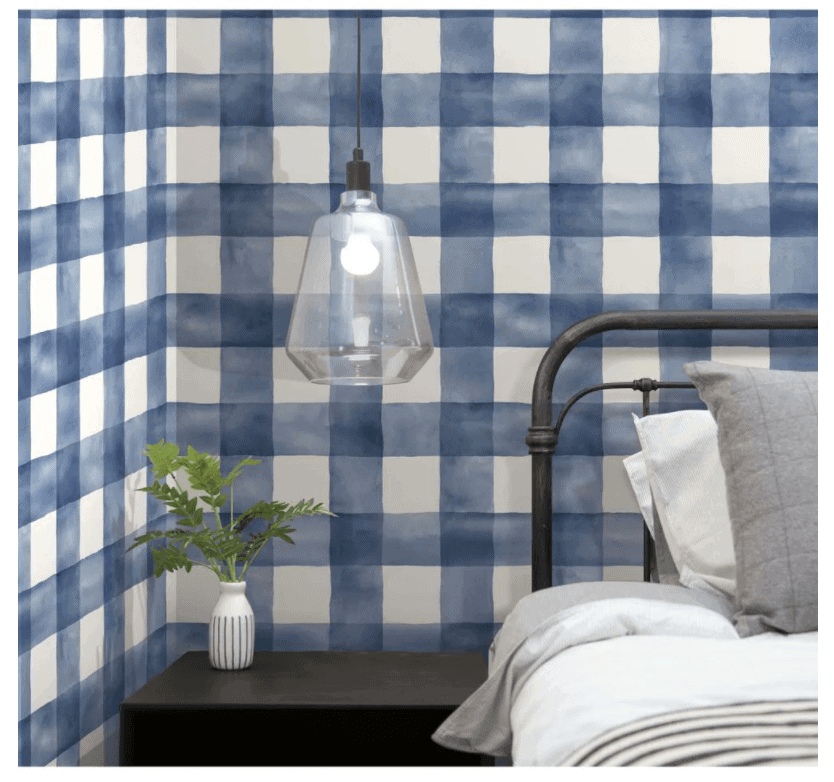 ******
These are all SO SO GOOD! I can imagine each one of these in a different space.
Have you used wallpaper anywhere in your home? Share your favorite place to find wallpaper in the comments below.
If you love home decor, you might also like these posts:
Have a fabulous day,
E