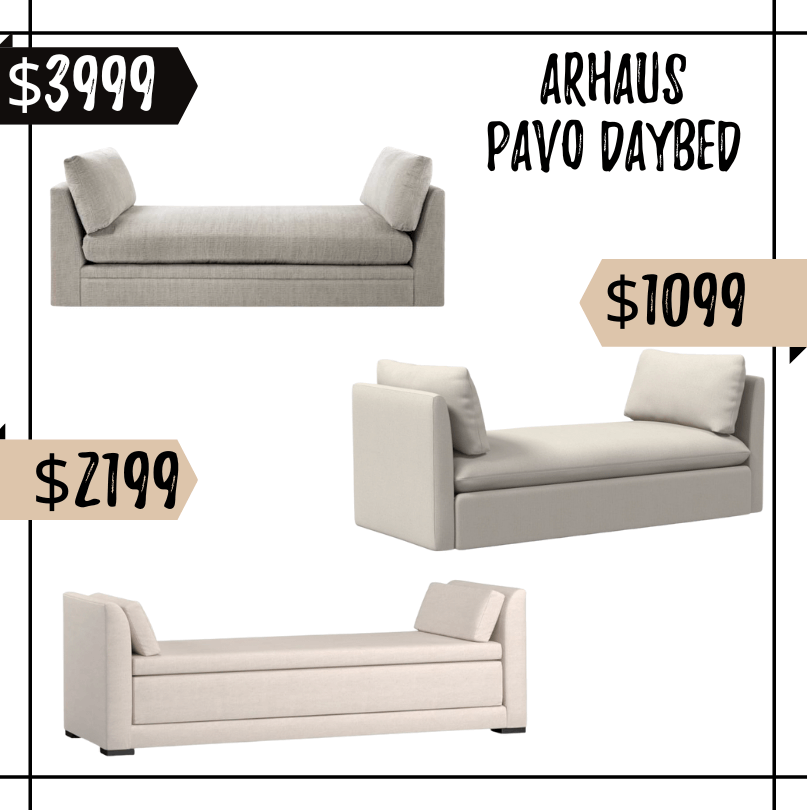 Daybeds can add so much coziness to a space. We added a daybed to the side of our bedroom, not only to fill in some space with something we could relax on, but also because it doubles as a place to sleep for our kiddos when they all pile into our room in the middle of the night.
Lately, I've even been seeing daybeds in living rooms, instead of separate chairs and ottomans and it's a real vibe.
Arhaus has such incredible style. I love so many of their pieces and their Pavo daybed is divine. Available in a dozen fabrics with deep seating you'll want to nap on and recycled steel springs, it's certainly a piece worthy of the splurge.
But, there are other daybed options with a similar look and slightly different offerings, so you can find the daybed that works for you and your space.
Arhaus Pavo Daybed Lookalikes:
West Elm's Shelter daybed is very popular, thanks to its super comfy design available in dozens of fabrics. The price will depend on your final fabric choice.
Pottery Barn Luna folds out into a sleeper that can fit two people, giving this daybed even more functionality. So great for an office that doubles as a guest room or a kid's room for someone who loves their sleepovers.
*****
These are all great daybeds and can be customized to fit your decor style. It just comes down to the look you want, how you'll use the piece and the price you can afford.
Looking for more great Arhaus pieces? Here are some more posts you might like:
****
I hope you found something you love today!
Have a fabulous day,
E