Follow my blog with Bloglovin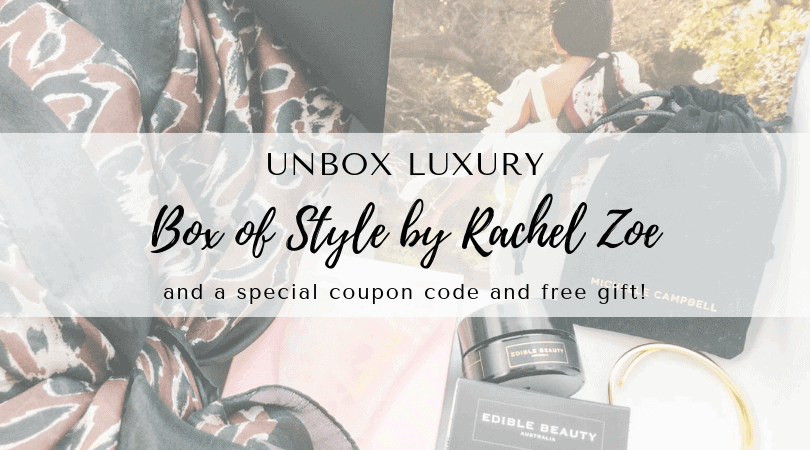 It's no secret that I adore a good subscription box – which is why I've written about quite a few already that I get regularly and love. .
So, when I had the opportunity to check out the #1 luxury subscription box – I was ALL. IN.
I've had my eye on the Box of Style by Rachel Zoe since they started making them. I knew about her from her reality TV show years ago and loved watching her stylist talent in action.
Plus, whenever I get the opportunity to try products curated by an expert in their field, I am like – YUP. GIMME THAT.
While I am not being paid to tell you about Box of Style, I will receive a small commission – at no additional cost to you- if you choose to purchase one with my links. Of course, don't forget to use my coupon code to get $25 off your first box and your free gift.
My first impression when I unpacked the box was surprise. It is definitely the most attractively packaged subscription box I've received yet. This one came in a white, textured box with gold lettering and a magnetic close.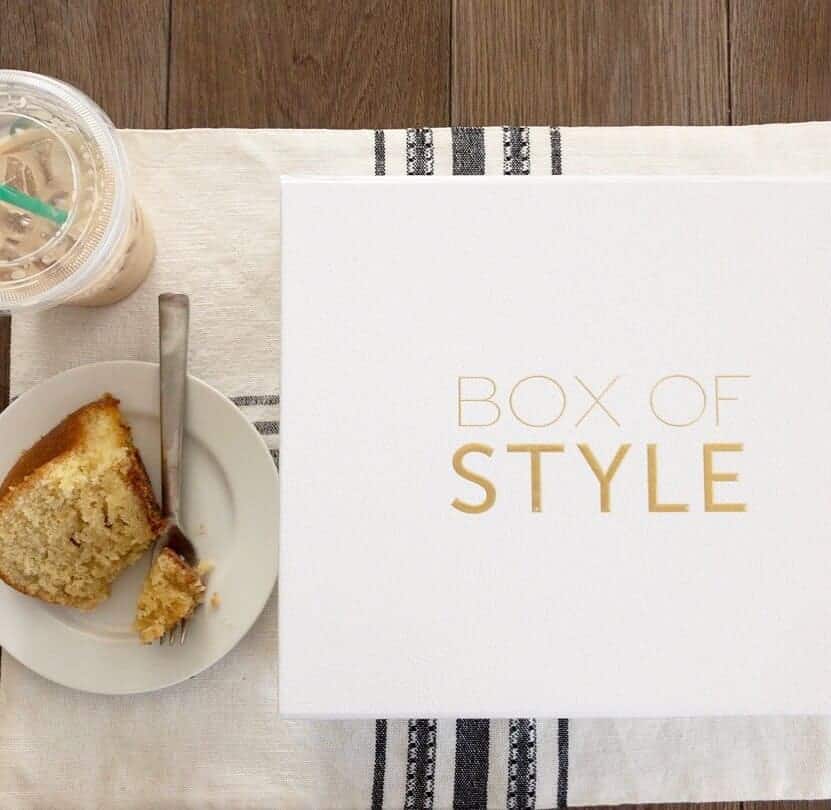 When you open it, gold letters greet you with a, "Hello Gorgeous".
Well, hello to you, too 😉
As a person who thrives on flattery, this won big points with me.
Open Sesame: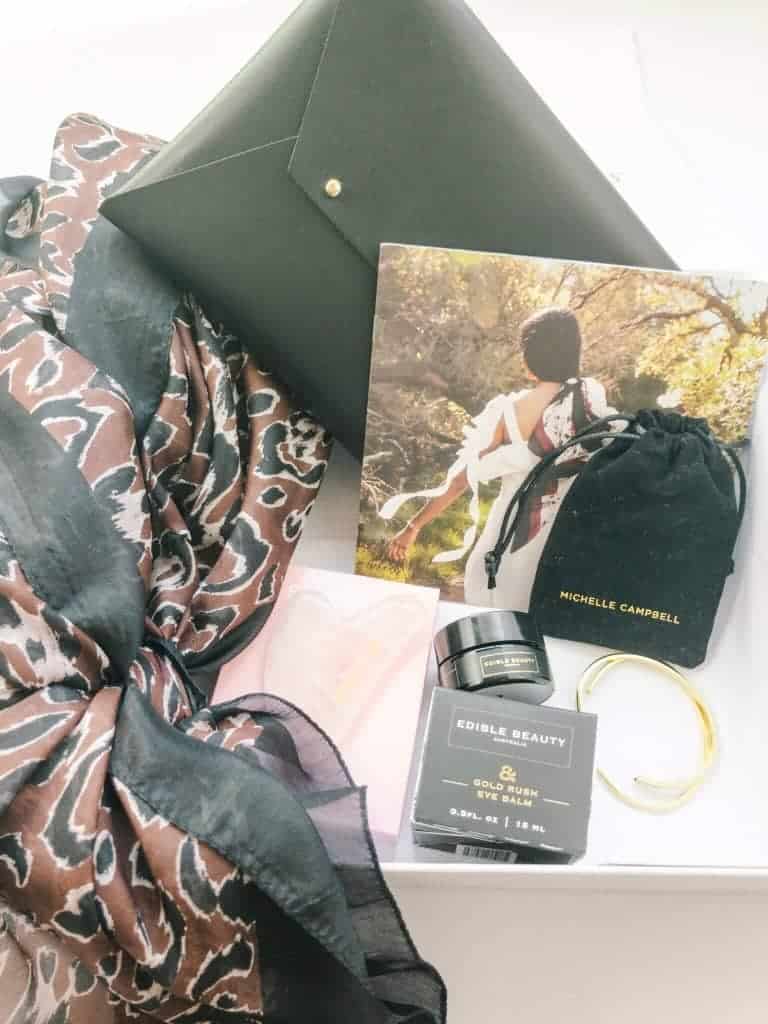 Unveiling the contents of the spring Box of Style was very exciting for me, because I tried not to read too many spoilers in advance! For my FabFitFun box, I log in early to check out customizations and write posts, so I wanted to appreciate this chance to be surprised.
But, you don't want to be surprised. You want to know everything in this gorgeous little box of luxury, don't you?
I support you.
1. The Stylish Staple: Chan Luu Silk Scarf, Exclusive
Retail Value $125
Every Box of Style offers at least one edition of an item designed exclusively for the Box of Style, and in this box – one of them is this chic, 100% silk scarf by Chan Luu, valued at $125.
I've never had a 100% silk scarf and I can tell you that I like it.
In fact, this was the first thing from the box that I used and I wore it the next day to an appointment and received multiple compliments. Pardon the not-so-great picture, but here's what I wore: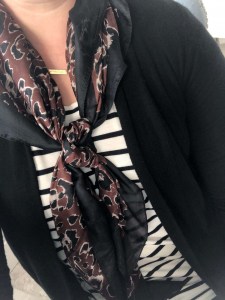 Living in California, scarf season is very short – so my normal scarves don't get much mileage. This gorgeous staple is so lightweight and effortless, I'll be able to wear it much more often.
Plus, I adore the take on an animal print, as I love all the animal prints.
There are 2 different patterns available, either one could be in your box, but I am really glad I received this one.
Just with this one item, you've surpassed the cost of your box, which is just $75 after you use coupon code: CROWN25.
2. The Feel-Good Fashion: Tribe Alive Leather Clutch, Exclusive
Retail Value $78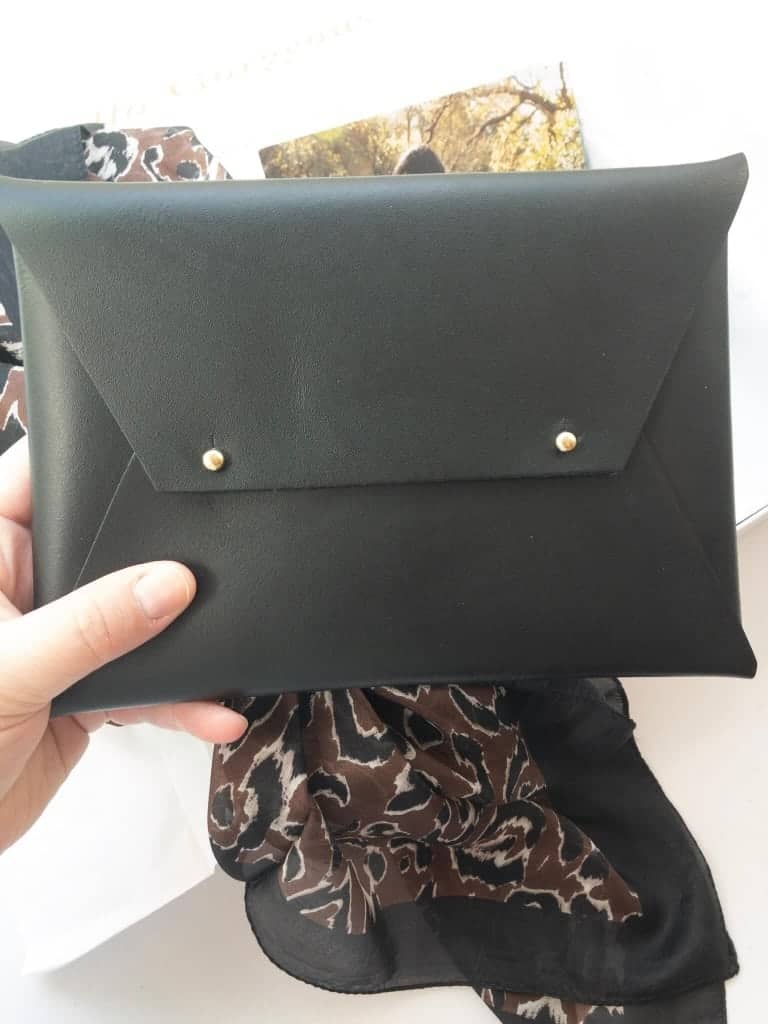 Look at that, another exclusive item! This sophisticated leather clutch is a really nice size and the design has enough structure to hold it's shape even when full of your VIP belongings.
It's so cute, my cousin – who was with me when I opened the box – went, "Ohhhh, I LOVE that!"
I will say that the little push closures can sometimes be a bit tricky, but the leather is also stiffer at first and will soften over time. I am not sure that I would use it as an every day clutch, but it would certainly be adorable under my arm for a lunch or dinner date.
3. The Skin Smoother: Skin Gym Rose Quartz Heart Gua Sha
Retail Value $32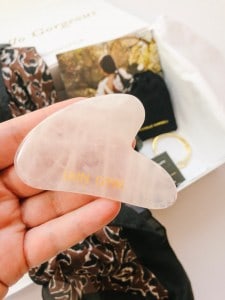 I love it when these kinds of things happen. I literally just wrote a post on Skin Care Tools you can use at home for serious results. Then, I open this box to find one that I have never even heard of before!
Talk about kismet!
This rose quartz gua sha is used similarly to a rose quartz roller, except you hold the gua sha and use it to massage your face in an upward motion.
Designed to drain puffiness, increase circulation, help with absorption of serums or lotions, and can be used cold to cool delicate areas, such as under the eyes – this gua sha is an easy way to show your skin some love.
Here's a detailed post on what a gua sha is and how to give yourself a gua sha facial at home.
4. The Gold Standard: Edible Beauty Gold Rush Eye Balm
Retail Value $61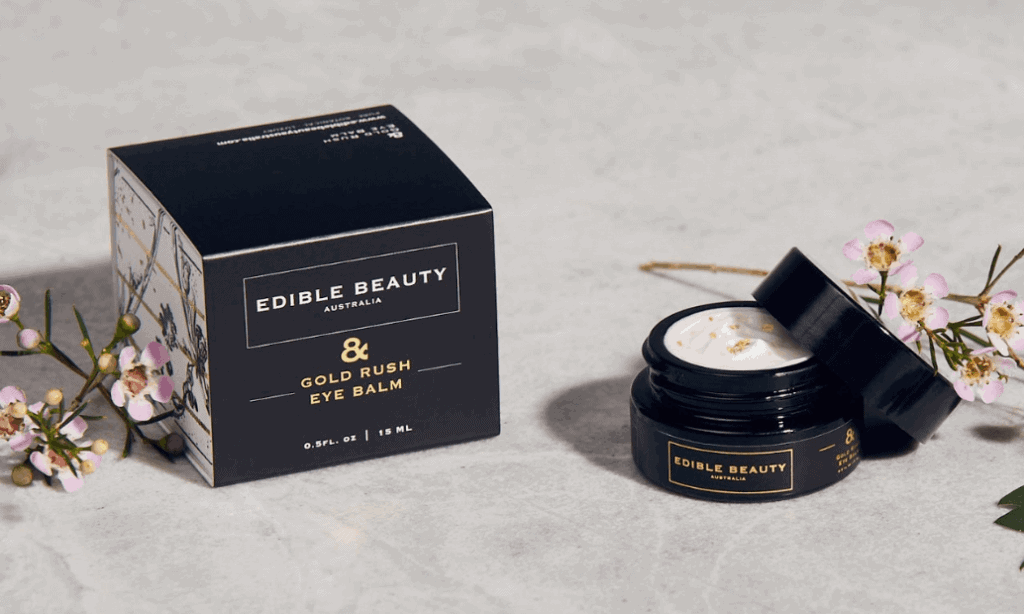 Another perfectly apt inclusion – as I wrote a post a few weeks back on Undereye Circles and ways to treat them – and then I receive this super luxurious gold rush eye balm that is designed with all-natural ingredients that decrease undereye puffiness!
#SCORE!
Some of the powerhouse ingredients include gold leaf, coffee and cucumber extracts. They work together to reduce puffiness and inflammation.
I tried it before writing this post and it feels very nice and relaxing on your skin. I didn't have any irritation issues and it didn't make my eyes water, which is pretty common with most eye creams.
After a few hours, I did feel like my undereye area looked a little plumper, so I am excited to keep using this.
5. The Stackable Statements: Michelle Campbell Gold Talon Bracelet Set, Exclusive
Retail Value $215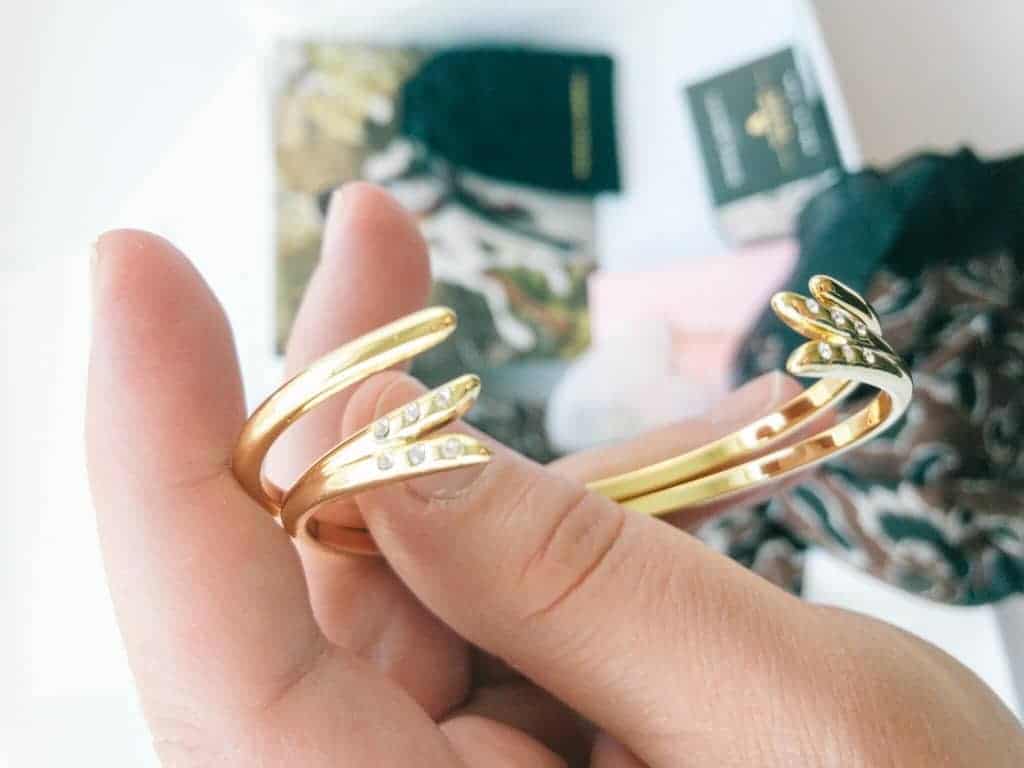 Wow, these are gorgeous! This set of two Michelle Campbell open bracelets are lightweight and beautifully made with unique details.
While I really like these, I am actually setting them aside to give as a gift to my husband's aunt, who is the classiest woman I know and loves gold jewelry. These will go perfectly with her overall style and since they are priced at $215, they are a much more expensive gift than we could typically afford for her.
I love setting aside items from my subscription boxes that I know I may not necessarily use enough, because they make very thoughtful, creative gifts for the people you love.
*****
There you have it. Close to $500 in value in the spring Box of Style, which retails for $99.99.
But, not for you.
You get this box 25% off, so for just $75 – if you use my coupon code: CROWN25.
PLUS, new subscribers will also get this Jules Kae Tote, with a retail value of $150, while supplies last: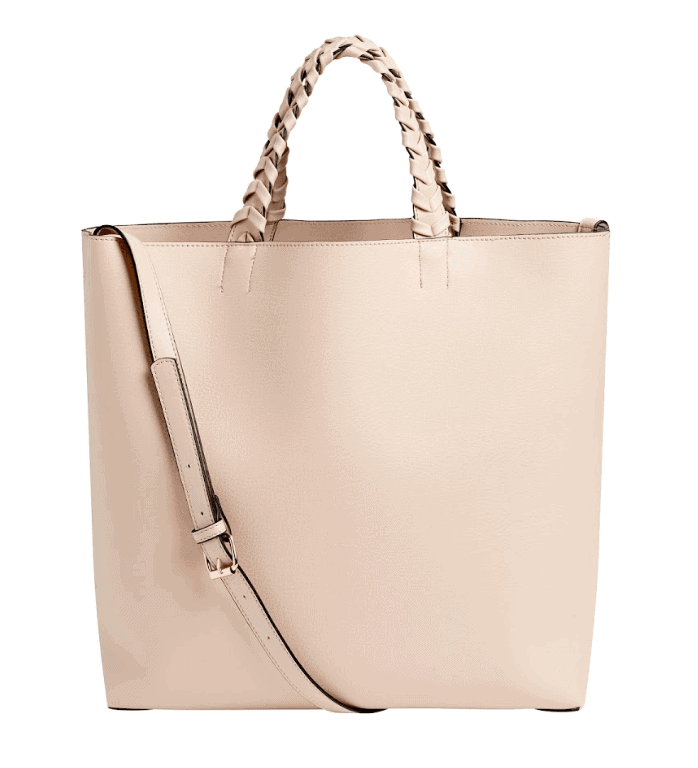 I did not get this tote – and I want it. So, go get it and then tell me how great it is 😉
*****
Something like this is such an act of self-care, particularly for those of us who spend so much of our time taking care of others. The Box of Style would also make a great birthday gift or Mother's Day gift for your favorite leading lady, too.
Have you tried the Box of Style yet? Let me know in the comments below!
Have a fabulous day,
E