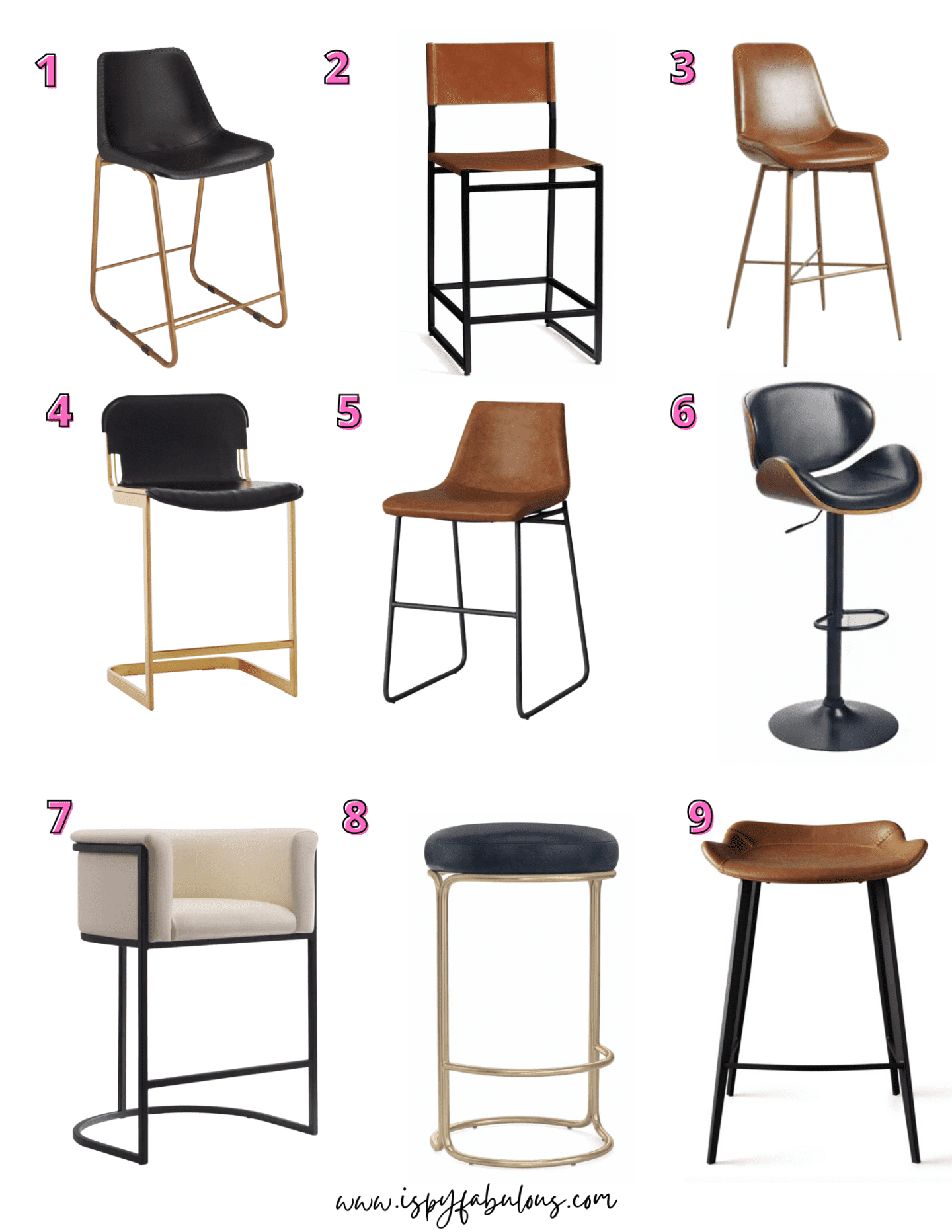 I'm a big fan of leather and faux leather counter stools. They are not only chic and comfortable, but they are suuuuper easy to clean.
With littles (and pups) around here, easy to clean is pretty much top of my list. When we first moved into our house years ago and I saw the big, glorious kitchen island, I immediately wanted some of those cool rattan bar stools, but I couldn't stop thinking about all of the food that was going to get lodged in each of those tiny crevices. #NoThanks
So, cleanbility (is that a word?) took priority, but that doesn't mean you have to sacrifice style. Leather bar and counter stools are still very trendy and stylish. Now, after having some faux leather counter stools for a few years, I can 100% recommend them as a great option for your island.
Today, I've rounded up my favorite 9 leather and faux leather bar and counter stools to help you outfit your kitchen.
Best Leather Bar & Counter Stools:
If you're not sure if you need bar or counter stools, keep reading to the bottom where I give you some tips on how to get the perfect stools the first time. Also, know that affiliate links are used. I only recommend brands and products I have personal experience with, so at no cost to you, I may receive a commission if you make a purchase through my links! Thank you!
1. CB2 Roadhouse Leather Bar & Counter Stool: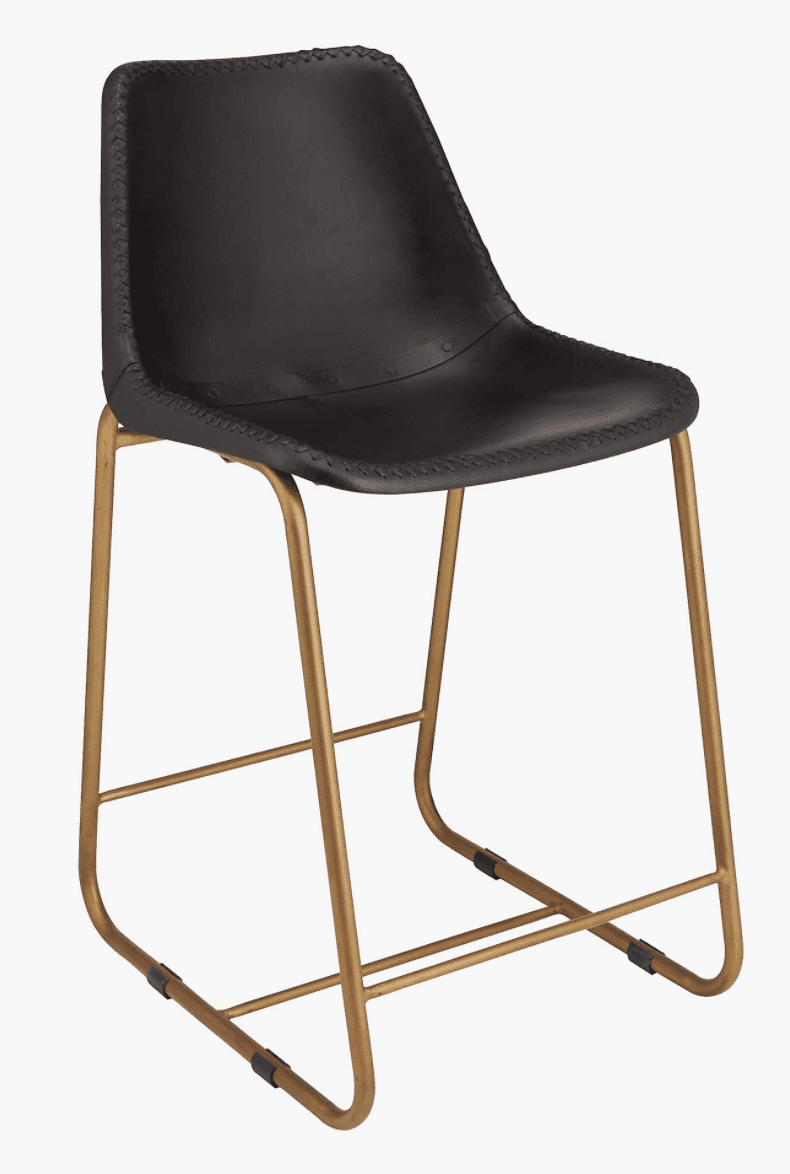 I absolutely love this uber chic leather bar stool with gold legs. The stitching detail around the edges gives it so much extra pinache.
Plus, I love how study the legs are and the no-slip pads will keep it in place while also protecting your floors. I'm all about preventing concussions in my home, so I think about things like that now. #MomLife
These are really stunning and they also come in a cool whisky brown. I also found some incredible dupes for these, so you can score the look for less, too. Check out the dupes in this post.
Shop the CB2 Roadhouse Leather Stools here.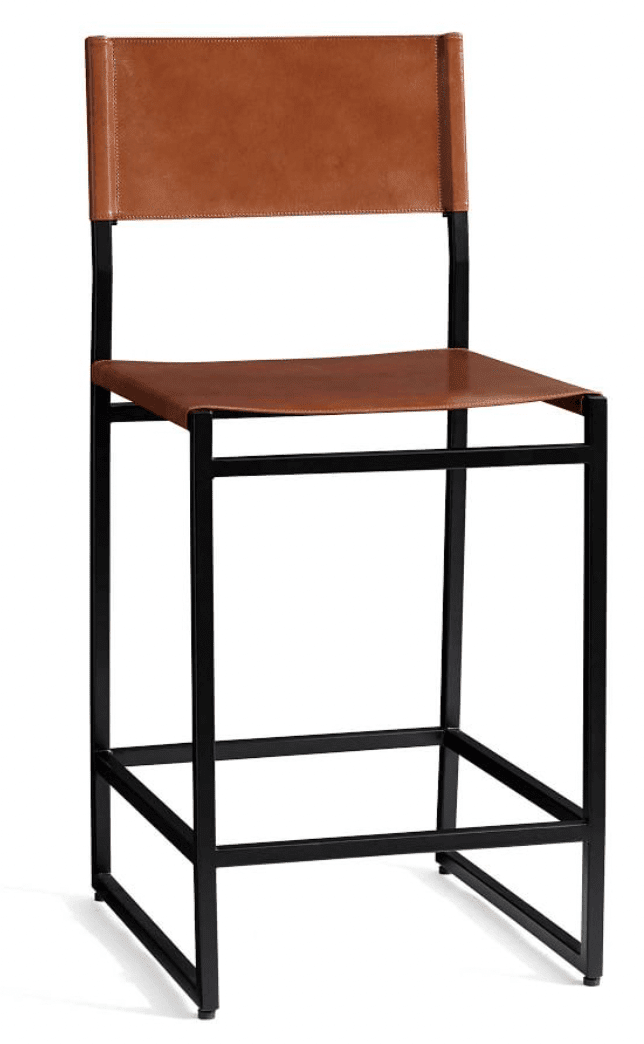 Obsessed. These bestsellers are just gorgeous. The perfect marriage of hard and soft with the squared off metal frame juxtaposed with the soft leather panels. Available in 4 colors: all white, all black, black with gray leather and black with honey leather as shown here. You can get a totally different look and vibe with each combination – giving this stool so many design possibilities!
This one is also fair trade certified, which is awesome, and a bit minimalistic in the design, so it'll flow nicely with a lot of home decor styles. And the reinforced base is going to mean these are sturdy, durable, and go the long haul for you. Score.
These are just so, so good. This one also appeared in my post with 10 counter stools perfect for families with kids.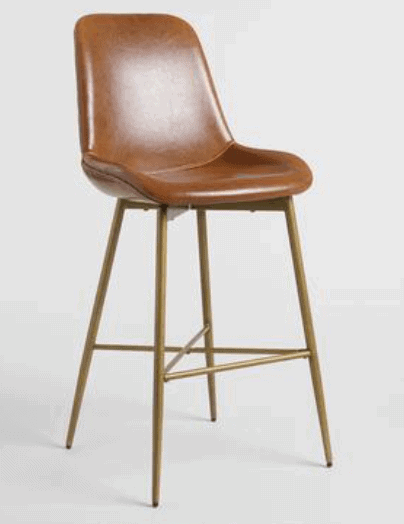 I shop World Market a lot and I love them. I also really love this combination of gold legs and brown leather. It's very fresh and chic and would be a gorgeous addition to any home decor.
The x-base on the bottom is going to keep those legs strong, which is also ideal and the tips of the legs have non-slip bases.
The seat looks easy to clean as well, while still having great lines that won't be an eye sore. Available in bar and counter stool height.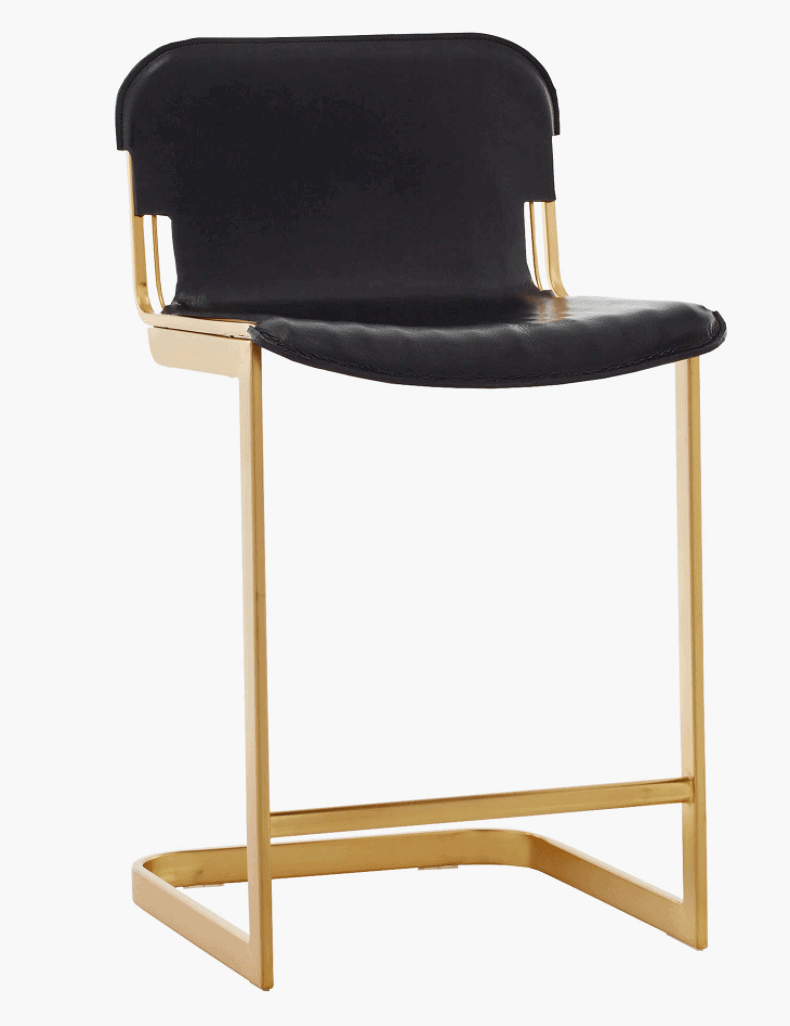 Oh, yesssssss, honey. Now this is high style. Form, function and beauty all swirled together in one stunning chair.
They are just such a sleek, sexy design – while still being super functional for families. That is the unicorn, friends.
These counter stools are a vibe and I am HERE. FOR. IT.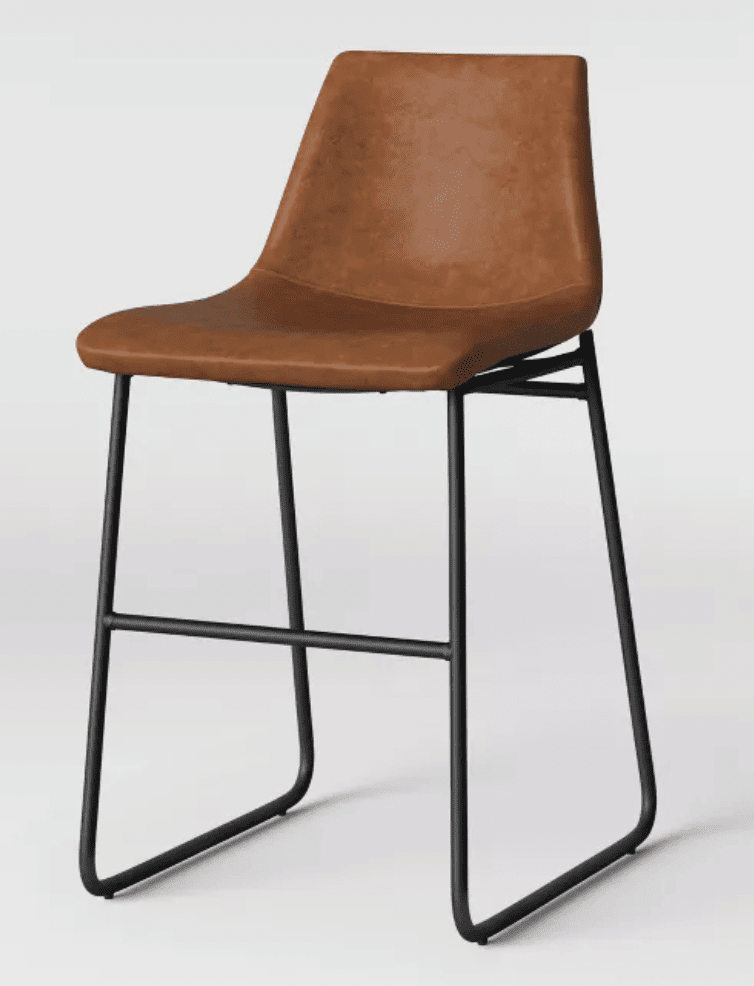 These uber-affordable, but very cool faux leather counter stools are part of the Project 62 collection at Target. I love the Project 62 line. They really blend function and modern style together.
I can't believe how affordable these are at just $90 each or less if you buy it in a bundle. They have 4 colors, but they can come in and out of stock depending on when you find this post.
I think Target is just owning in the home decor department. Opalhouse, Threshold, Hearth & Hand…. come to mama! I recently shared the new Opalhouse arched cabinet in this post and I just wish I had a place for it.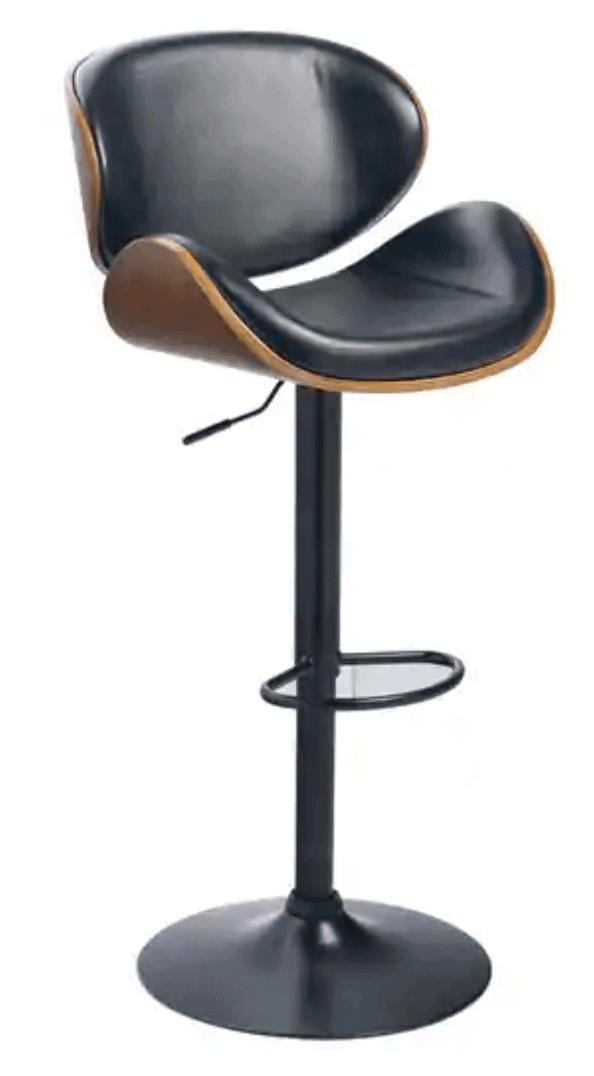 Okay, you've got to see both sides of this beauty to really understand how good it is. It's beautifully carved wood on the back, leather on the front. Talk about just 360 degrees of good looks.
I can see this in a kitchen, but also in a den, at a bar, in a man's den – anywhere! The way the seat curves up and kind of cups you would also be a solid choice for littler kids that you don't want falling out. Can you tell I have nightmares about my kids on our counter stools? Yes. Yes I do.
7. Overstock Carbon Loft Keir Cosmopolitan Counter Stool:
Give me one second while I throw all my current bar stools out on to the lawn with a "FREE" sign and order these ones STAT.
I LOVE THESE!!! Available in up to 4 colors, but this cream is SO good (*kissing fingers). I think they would be perfect for kids, but not compromise on style. The faux leather is going to be so easy to maintain, so if you're a fan of lighter furniture, but don't want to walk around with a bottle of Scotch Guard in your hands at all times – faux leather is for you.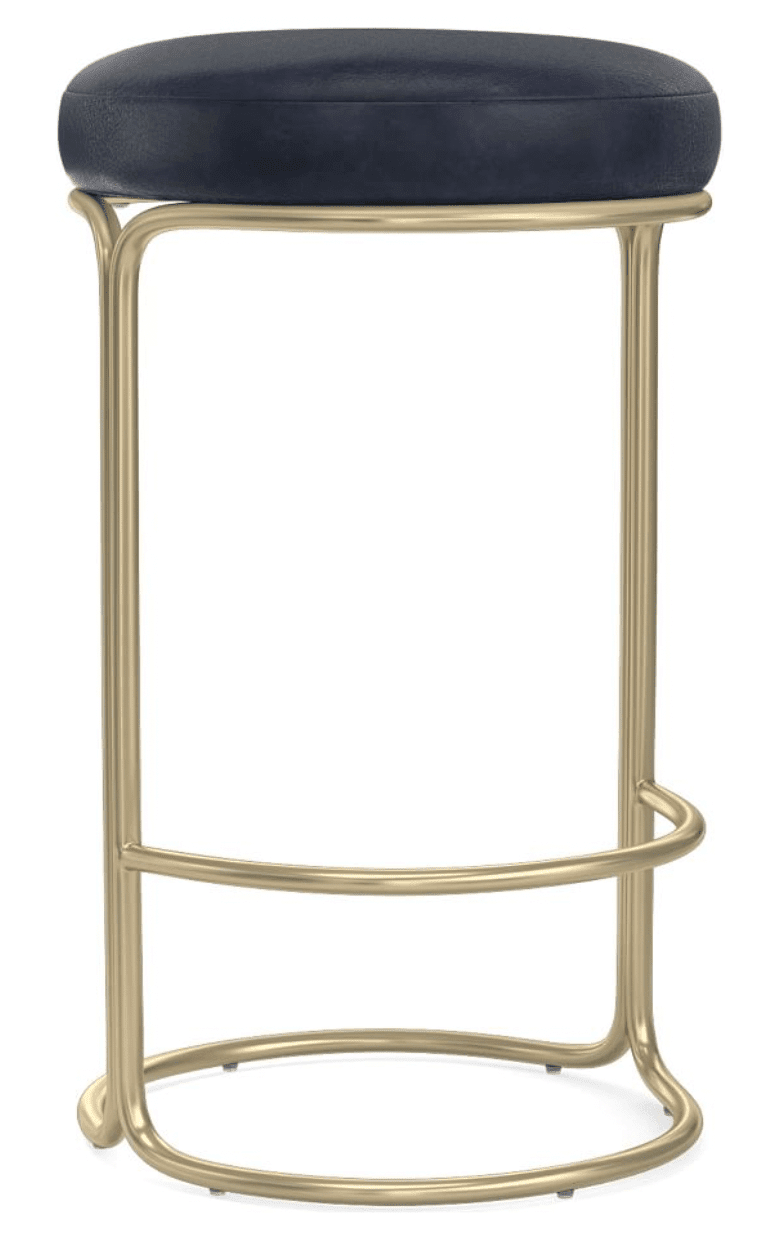 My cousin recently challenged me with finding cute backless bar stools. She almost bought a house that had an island that went out into the living room, so big, obtrusive bar stools with backs would ruin the line of site. There are definitely layouts that need a backless stool that need to be tucked under the counter.
You don't have to give up your hopes and dreams of gorgeous counter stools when that happens, friends. These gorgeous stools come in a bunch of colors – 10 to be exact – and 2 leg options, this light bronze and a gunmetal color.
I am partial to this navy with bronze legs. They are soo good, nobody would even notice they don't have back. Bonus points for currently being on clearance.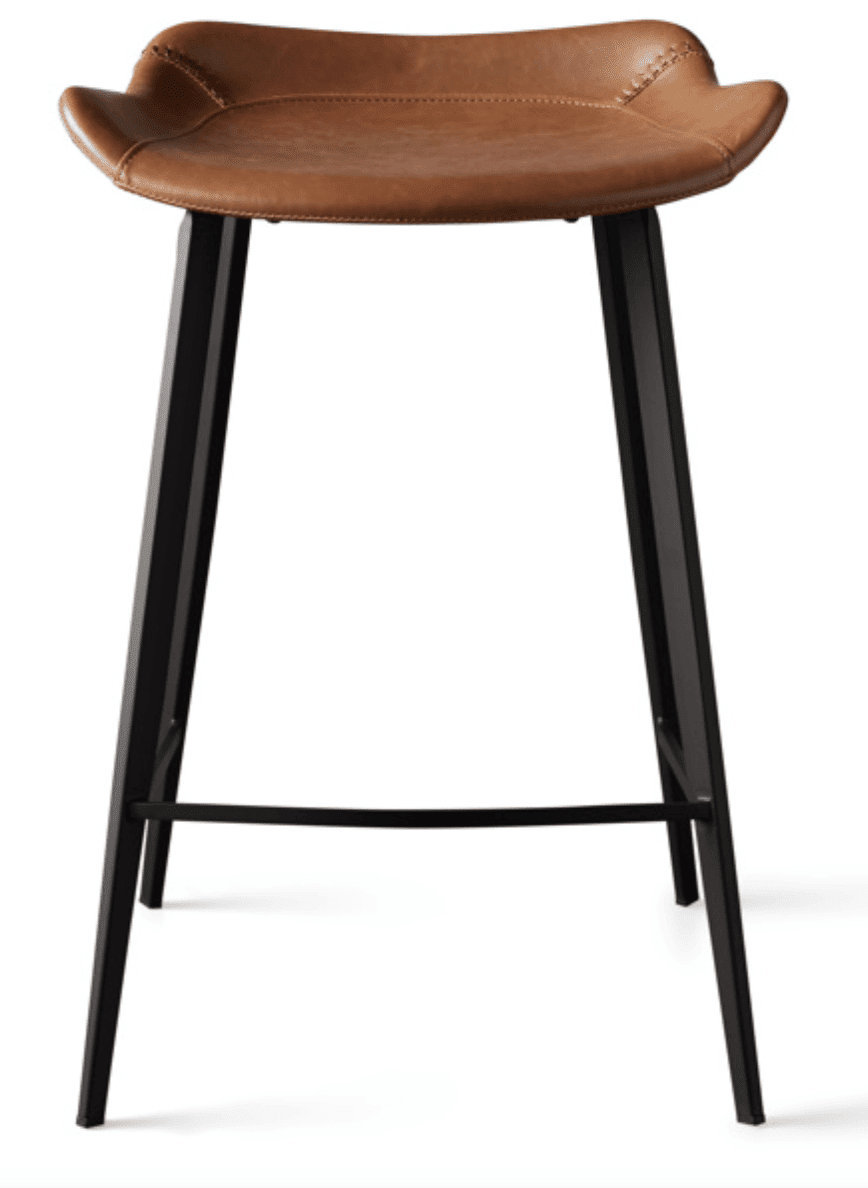 Leave it to Arhaus to come up with their own version of a backless counter stool that is like a piece of art. In their own words, "Gate features an iconic scoop-seat silhouette accented by baseball-style stitching." Yup. Love.
Finished with a faux leather available in 5 colors and a seriously sturdy iron frame, this is not just a stool, but a piece of living art.
Counter vs. Barstool: What's the Diff?
If you're looking at these and wondering what the difference is between a counter and barstool height, it's just the height of the seat.
Most kitchen islands are counter height, so you'll need counter stools instead. Sometimes, this is not the case, so you'll want to measure from the floor to the bottom of the island and then check the legs of the barstools you like to make sure there is enough space to sit on the chair without smashing your legs or jamming the seat into the bottom of the counter.
Even with counter stools, you'll see some variance in how close the seat is to the floor, so just measure twice and make sure it'll work.
Worst case scenario, most of these places have exceptional exchange policies and you should be able to get something that will work.
*****
Wow, I love them all. I think I need to go into interior design so I can use all of the beautiful pieces I fall in love with online. There's a home for every one of these, for sure.
For more great decor, check out these posts:
Have a fabulous day,
E