I love daybeds. I was lucky enough to have one as a younger girl and so I think I gravitate towards them now when designing my daughter's room.
Plus, her room is long and narrow, making a daybed the perfect option to maximize the space.
While I played with the idea of a canopy bed or one of those cool little house looking beds, I think a daybed is going to last her the longest.
So, I decided to share with you the different daybeds we are considering for her upcoming room refresh!
Here's what her room looks like right now. You can read more about the wallpaper and design details in this post.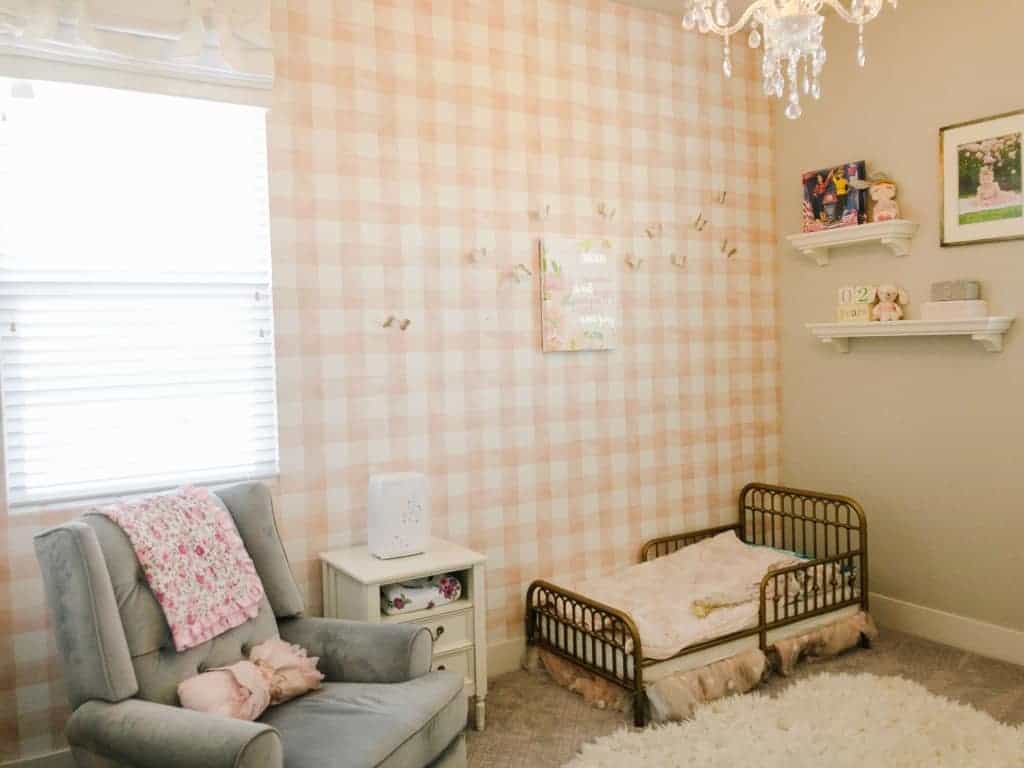 Finding the Perfect Daybed:
When thinking about her room, which now has a little gold toddler bed, I am divided between going with a pink daybed or something white.
I also love the idea of a tufted bed, not only because they provide a lot of texture and warmth, but also because she is a bit of a mover while sleeping and I think it'll be more comfortable for her to bump into.
But, I'm also really drawn to the clean, modern lines of a spindle daybed similar to what I had.
Here are the final contenders! Affiliate links are used.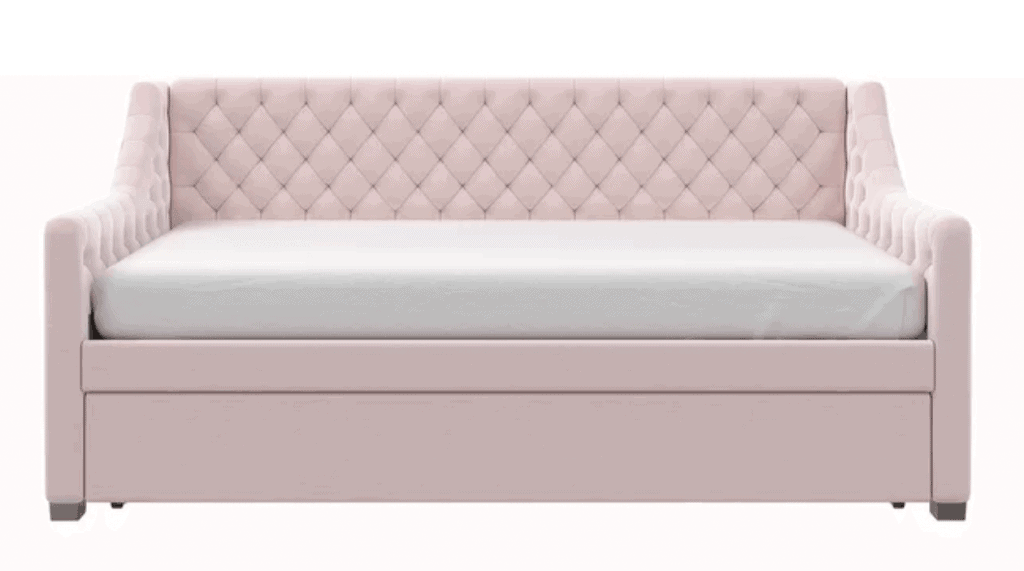 Love this tufted daybed. Little Seeds is one of my favorite bed manufacturers for kids.
This one is adorable.
And, I feel like this would really grow with her over time. I could see her using a bunch of cute pillows to give it a fun couch look when she's older.
I mean, I would sleep in one of these.
Wouldn't you?
My daughter currently has the Blythe dresser and nightstand in her room and I just love the detail, design, quality and beautiful creamy white color.
I think this daybed is just perfect.
But, I don't love the price.
PBD does have great sales. In fact, at time of posting it is 25% off – which makes it more in our price range.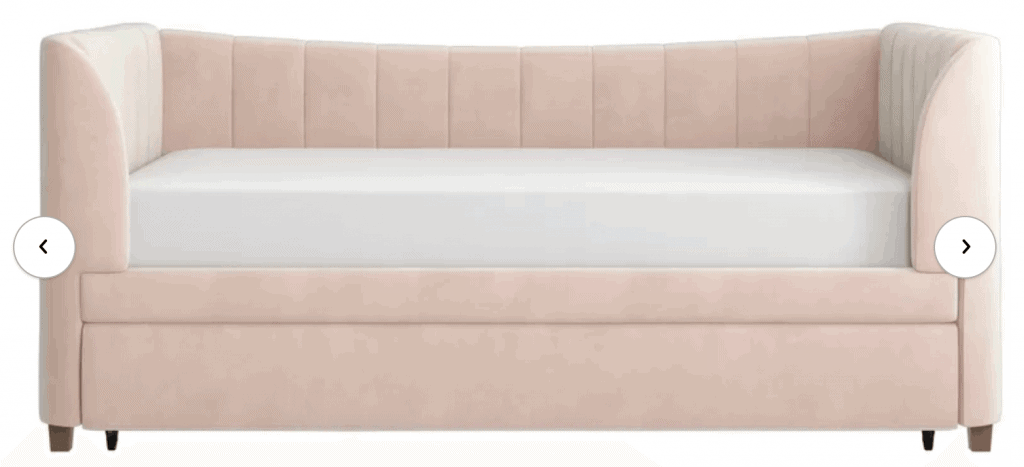 Obsessed with this one. It has the perfect blushy pink to go with her room, plus, I like that it is soft in case she thrashes around.
And, the design will sort of wrap around her, which will hopefully give her a feeling of security.
I really can't believe this one is so affordable.
Love. Love. Love.
I love a good spindle bed and nobody does it better than Jenny Lind.
This ultra white Jenny Lind daybed with clean lines and gorgeous spindles is fantastic.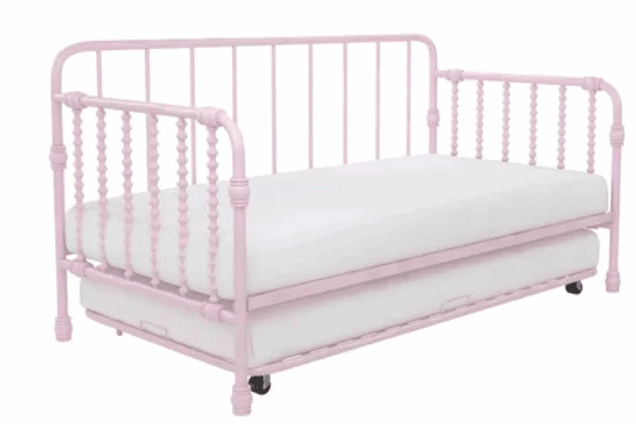 I can't believe the deal on this one.
It's the daybed version of her current toddler bed, which we love.
Plus, it comes in 4 colors – so there are plenty of options.
I just don't know that I love seeing the trundle mattress.
Hmm…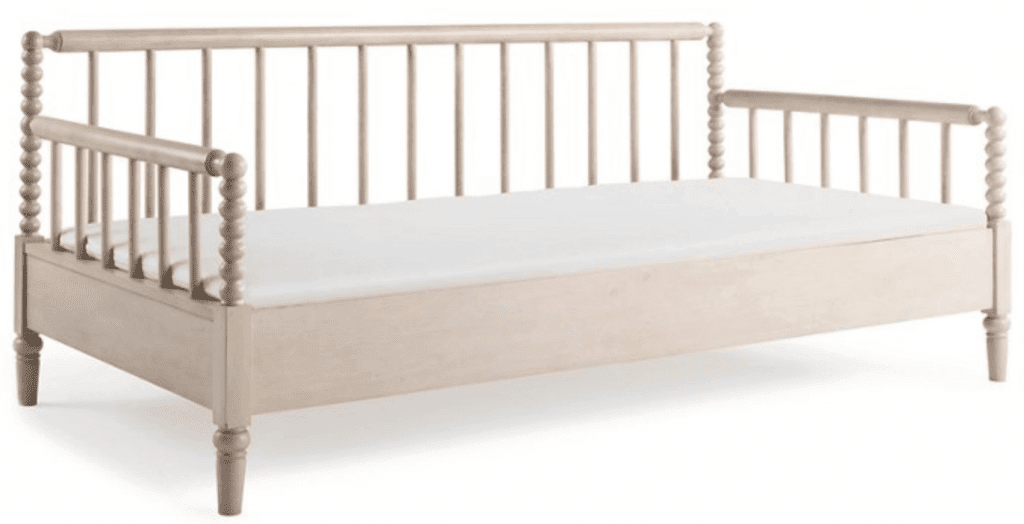 Also love this one, which reads more sophisticated to me.
Maybe if she were older, I would be more drawn to this one – but even though I love it, I am leaning towards something a bit sweeter for her.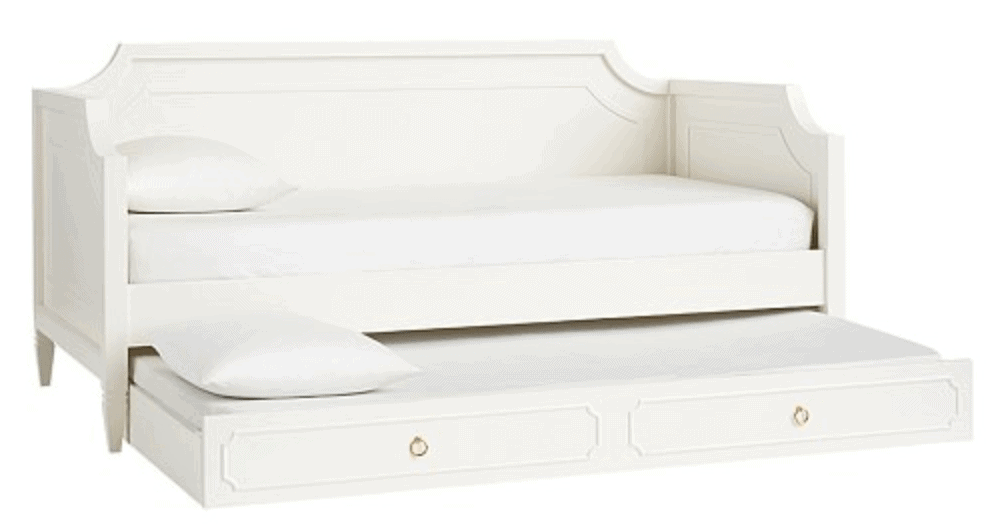 Another winner from Pottery Barn Kids.
This Ava daybed is so chic.
I think this is a design that could really grow with her.
The modern lines and chic details like the gold hardware is just right on trend right now.
8. Whitewash Zarah Daybed from Cost Plus – $550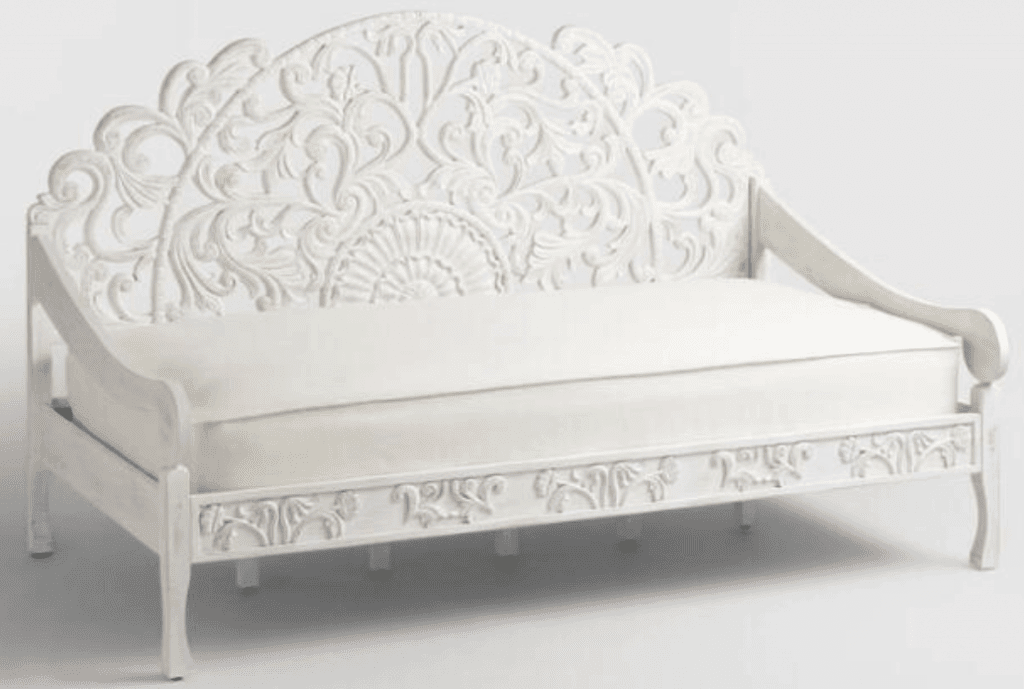 I think this is so beautiful.
I have a bookcase from Cost Plus that has a similar vibe and it is one of my favorite furniture pieces.
If you buy during one of their big sales, you can get this daybed for under $400.
I mean – come on.
I will probably regret it – but this isn't the one that I bought.
****
After a long deliberation, I finally made a decision.
This daybed had the texture, color, softness, design and price that we were looking for. And, my daughter loved it. Then, a 51% off sale sealed the deal.
Here's the winner.
Are you ready?
Drumroll, please…..
Now, we need a mattress.
Update June 2020: We ended up getting her a Helix Mattress! Read the full review in this post!
****
Maybe once we get this all set up, she'll stop rolling in to the sides of her bed at night and we'll all get a little more sleep 😉
I love that you can order great mattresses by mail now. Shipping straight to your home, no middle man mark-up. Here's a great list of options if you want to order your mattress by mail.
From one mom to another – this kind of info is like gold, am I right?
*****
Which one of these adorable daybeds is your favorite? Do you like daybeds?
I'd love to hear your opinions in the comments below.
Oh, and follow along on Instagram to see more updates as we transition her room!
Have a fabulous day,
E