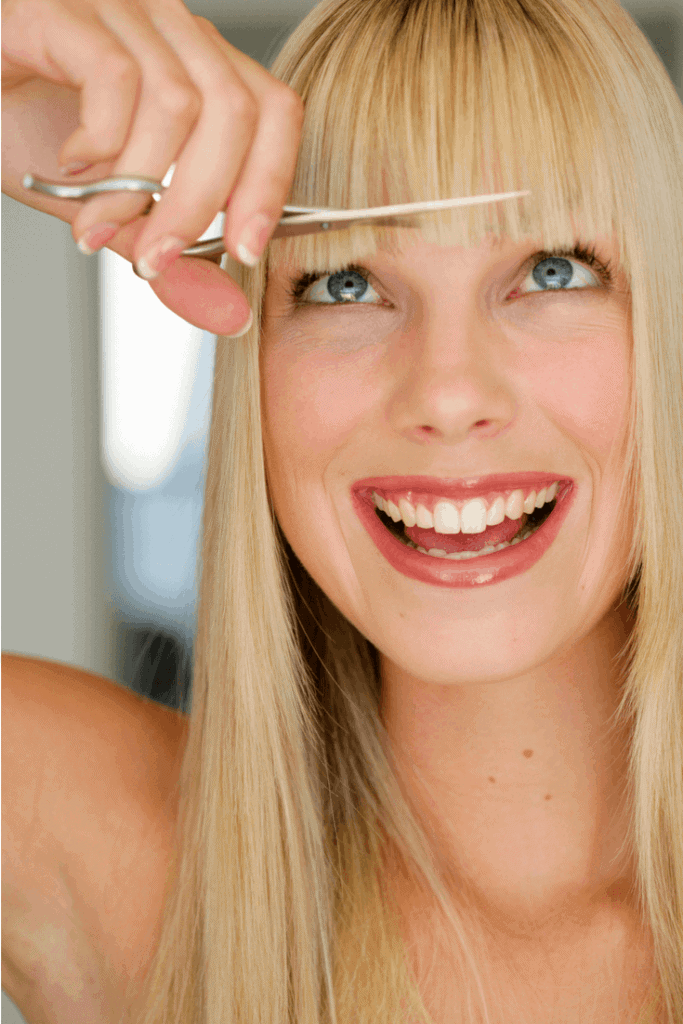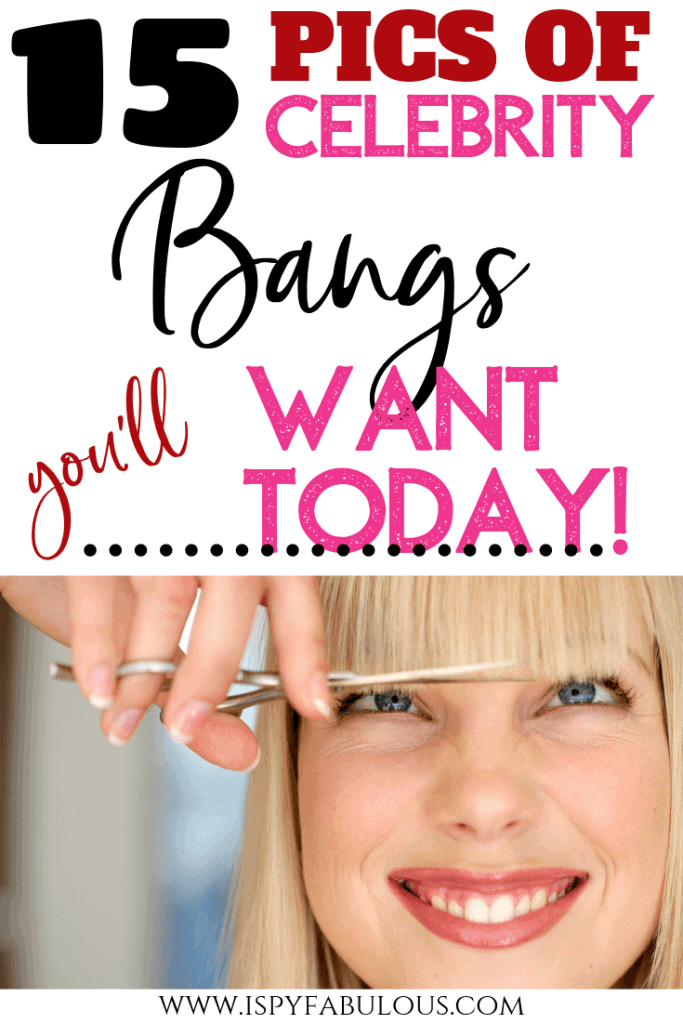 Should I or should I not get bangs?
That is the question.
Cutting bangs might be the most polarizing hair decision there is!
As a person who has had bangs for almost my entire life, I happen to be very pro-bangs. And yet, I definitely understand the reasons not to have them, too.
But, before diving in to the reasons why you should – or shouldn't – get bangs, let's check out some bangin' celebrity inspo.
Pun intended.
Sometimes, seeing what bangs look like on someone with a similar face shape and hair type as you can be the answer you need to decide whether or not to make the chop.
Should I Get Bangs: Celebrity Inspo
1. Jessica Biel: Blunt Bangs
Jessica Biel is, arguably, one of the most beautiful women in the world. She has rocked many hairstyles and colors over the years and her blunt bang style was definitely a fan favorite.
To pull this off, you really need to have smooth, healthy looking hair.
In more recent photos, she has softened style, in both color and cut, to create another fab look:
2. Rashida Jones: Choppy Bangs
Oh, Rashida Jones, how do I love thee – let me count the ways.
I just love everything she does. She has starred in several of my absolute favorite shows of all time.
Her choppy bangs deserve an award, too.
Long, fun, not overwhelming, but definitely there.
Personally, I've had choppy bangs and they irritated my eyes. I did not rock them like the cool girl that Rashida Jones is.
Would you do a choppy bang?
3. Taylor Swift: Soft Bangs
Swift – what a babe. Just love her and her hair.
Her full, soft bangs have a little bit of a fresh 60s vibe. Taylor has worn various versions of bangs over the years – all of them fab – but I think this most recent version is my favorite.
This is a lot of bangs, though – so if you have thinner or more fine hair, consider how much thickness you would lose to do this look.
4. Kendall Jenner: Bang Clip-Ins
The lovely Jenner and Kardashian girls are known for their many hair changes. Here Kendall rocks the clip-in bang trend for some temporary fringe.
If you're really on the fence, take a queue from Kendall and try a temp bang, too.
You'll get a much better idea of how they look and feel on you and your facial structure.
Fierce modeling pose not included.
5. Reece Witherspoon: Side Bang
The longer side bang is a very versatile bang style.
In fact, it's the one I have been wearing lately.
In the past, I was more a soft, full bang-wearer, like Tay Tay, but for the last couple of years, I've found this longer side bang to be a very face flattering, versatile style.
With longer side bangs, you can pin them back or to the side when you don't want to deal with them, they never get in your eyes, and they give your face a lovely frame when you style them.
Best of all the bang worlds.
6. Camila Cabello: Long, Wispy Bangs
Camila is just a DOLL. Her bangs aren't bad, either.
This longer, wispy style is just so chic and a bit edgy.
It is softer than a blunt bang, but still has a lot of impact.
When pushed to the side a little, they give your hair an extra layer.
Very sexy.
Get thee a red dress and wispy bangs and go chase your dreams, girl.
7. Jennifer Lopez: Long, Layered Bangs
Was I the only one that gasped when J. Lo wore the green dress again?
I mean – are you kidding me?
#FIERCE
Her many hairstyles are proof that she's the queen, too. Like this soft, layered look with bangs.
Stunning.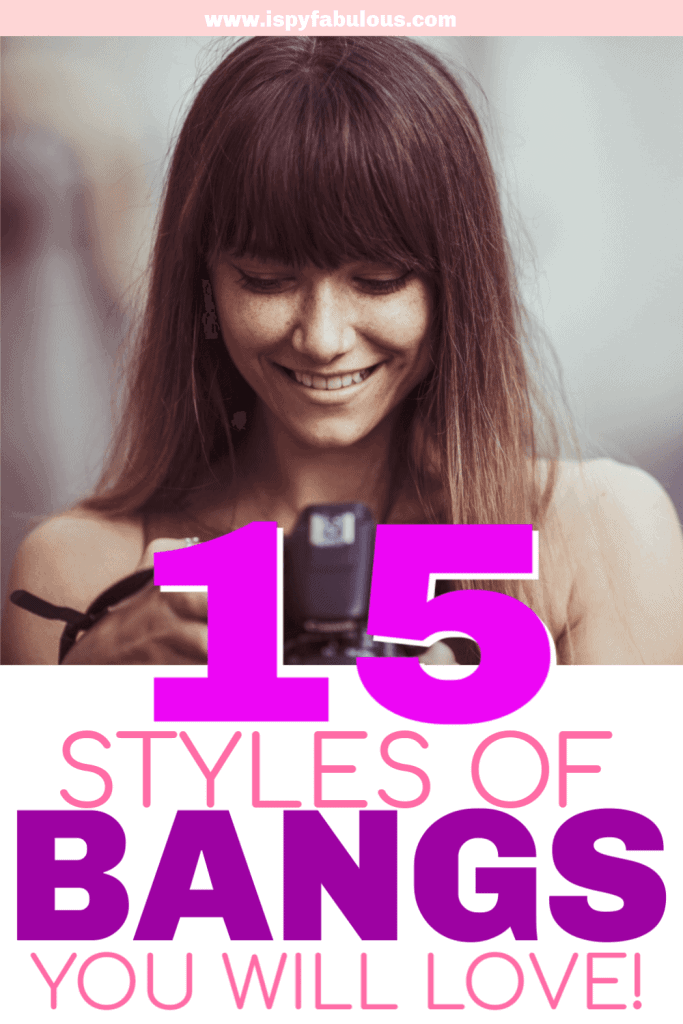 8. Sandra Bullock: Blunt Bangs
This picture might be a few years old, but the look is timeless. The dark, rich hair-color combined with a blunt bang is a vibe.
She's wearing her hair in a blunt-cut bob now and still looks chic AF.
I would expect nothing less from the infallible Ms. Bullock.
9. Dua Lipa: Chunky Block Fringe
London born singer, Dua Lipa, is rocking the chunky block fringe look so well, I want to run to my stylist and cut my hair off.
Are you coming?
10. Charlize Theron: Soft, Wispy Bangs
Even though Charlize Theron was garnering lots of positive attention for her super short mini-fringe bangs, she recently unveiled this new lighter, shorter, slightly softer do and I am here for it.
Charlize has always wowed with shorter looks and while I wish I could look half as good as her with short hair, I always wish I had her bone structure, so it is what it is.
#QUEEN
11. Ciara: Natural Hair w Bangs
In case you were wondering if curly haired girls can wear bangs – Ciara proves that yes, yes you can.
This look has so much personality and sex appeal, it makes me want to perm my hair so I can cut my bangs and channel this look.
Curly haired girls? Make like Ciara and go for it.
12. Ariana Grande: Micro-Fringe
Ariana Grande always keeps us guessing, sometimes surprising us with silver hair and then lopping off her bangs for a micro-fringe moment.
While they are starting to grow out again in this picture, have no fear- her next look is near.
13. Bella Hadid: Side-Swept Eyebrow Skimming Fringe
Bella's side swept bangs are a sweet departure from the more sleek, angular high fashion looks we most often see her in.
She makes these soft bangs look runway ready, though, especially with an unforgettable red dress.
14. Zooey Deschanel: Long, Side-Swept Bangs
I just love Zooey. She brings her own unique vibe to every role she plays.
But, one thing that doesn't change? Her love of bangs.
She has many hairstyles and haircolors over the years, but she almost always wears a longer bang.
A woman after my own heart.
Zooey, let's be friends.
15. Jameela Jamil: Curtain Bangs
If you're not in love with Jameela Jamil and watching every episode of "The Good Place" – what are you even doing with your life?
Curtain bangs work best with thick hair like Jameela's and then you just part them in the middle and push them aside – garnering them their nickname.
Call them whatever you want. Jameela is fab.
****
Did any of these images give you a good idea of what kind of bangs you would like?
Here are some things to consider before making the chop:
Face Shape: You want to pick a bang length that will be flattering for your face shape. Compare your face shape to the celebrity you're inspired by to see if they are similar.
Time: Bangs do take extra time to style. If they are long enough, you can pin them back, but even that can take time, too. Unless your hair has a nice weight to it and your bangs will stay in place regardless, you'll need to spend at least a few minutes styling them – even on ponytail days.
Thickness: If your hair is super thin and fine, cutting off some of that hair might not be the best idea. You can always get clip-ins or extensions, though, to get the fullness you want.
That's it!
Bangs have a lot of great benefits, too. For example, having bangs most of my life has resulted in a forehead that is surprisingly youthful looking despite my age. No botox required!
Also, I love that even a ponytail day still looks pulled together, because the bangs give my hair instant style.
Plus, the hair on the front of my head just grows more foreward, making bangs a really natural style.
****
That's it! I hope this has helped you find the answers to the question, "Should I get bangs?"
If you decide to get them, let us know what type and what you think in the comments below!
Here are some more hair posts you might be interested in!
Have a fabulous day,
E