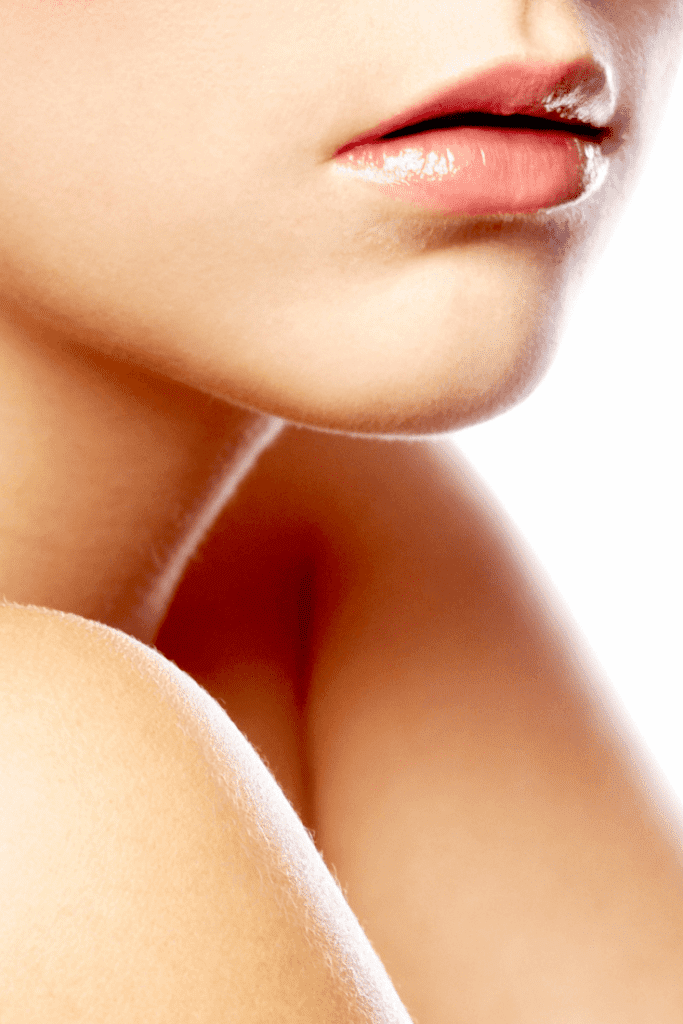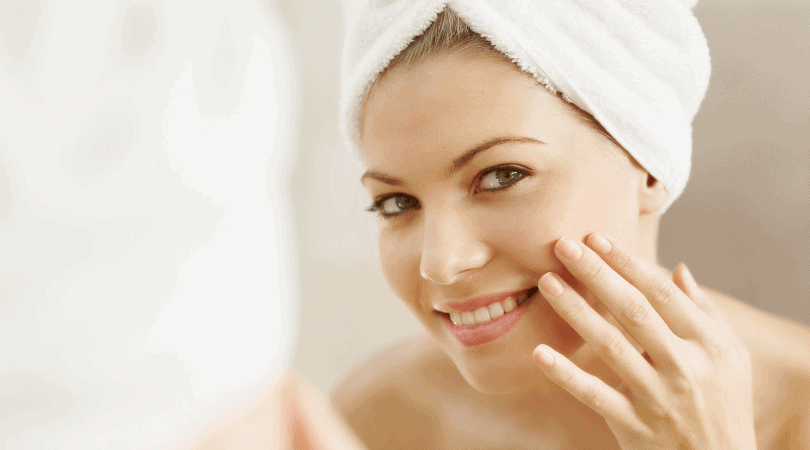 Listen, I've been there.
You've got a million things going on and you're wearing all the hats for everything – and your skin is just NOT. GETTING. WITH. THE. PROGRAM.
Luckily, I've been trying out a zillion skin care products for years and have narrowed it down to the key ingredients your skin needs to effectively treat whatever your skin problem is – so you can get on with your life!
Let's get on with it! Also, please know some of these are affiliate links, which means i get a small commish at no cost to you. Over time, this will hopefully help cover the cost of running this blog. Gracias.
How To Fix Your Skin Fast:
Start by picking your issue and then scroll down to find the solution!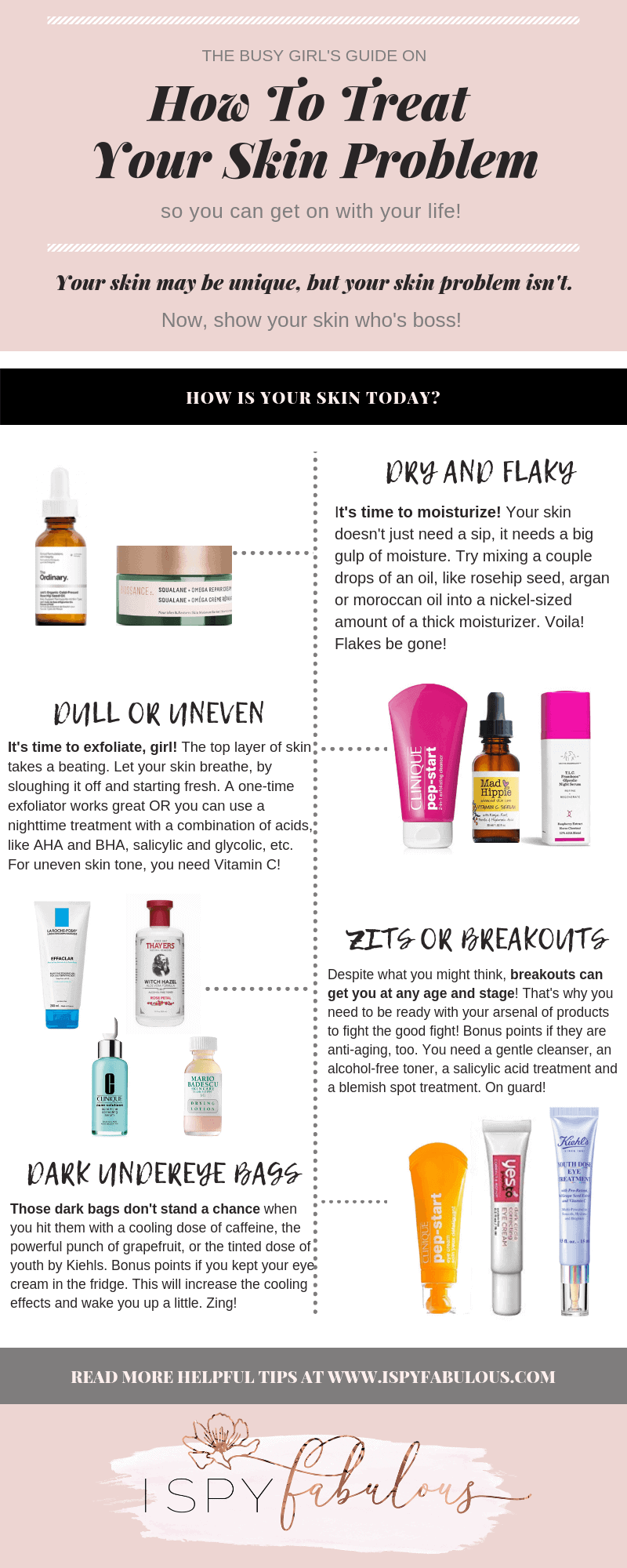 1. Fix Dry and Flaky Skin:
Moisture is the name of the game.
Skin oils are a GREAT wait to motherload moisture.
Choose wisely, though, the wrong oil and you will rid yourself of dryness in exchange for a different problem 😉 I prefer rosehip – but argan, virgin marula and others are popular, too.
Here are some incredible skin oils to get you started:
Then, layer a nice thick moisturizer on top:
2. Fix Dull or Uneven Skin Tone:
When dull skin strikes, it's time to exfoliate. For melasma, hyperpigmentation and other uneven skin tone issues – you'll want to use an exfoliating acid that will help renew skin by increasing cell turnover.
There are many types of acids and you'll probably need to figure out which ones get you the results you prefer through a little trial and error. I have very sensitive skin and always start with the gentlest. For me, I prefer hylauronic acid and glycolic acid.
Daily Acids:
Exfoliators (Use 2-3x a week):
Slough off that old skin, so your skin can really glow! Exfoliators are great for this:
Masks (2-3x a week):
I loooove a good mask. There are quite a few I highly recommend and have written about.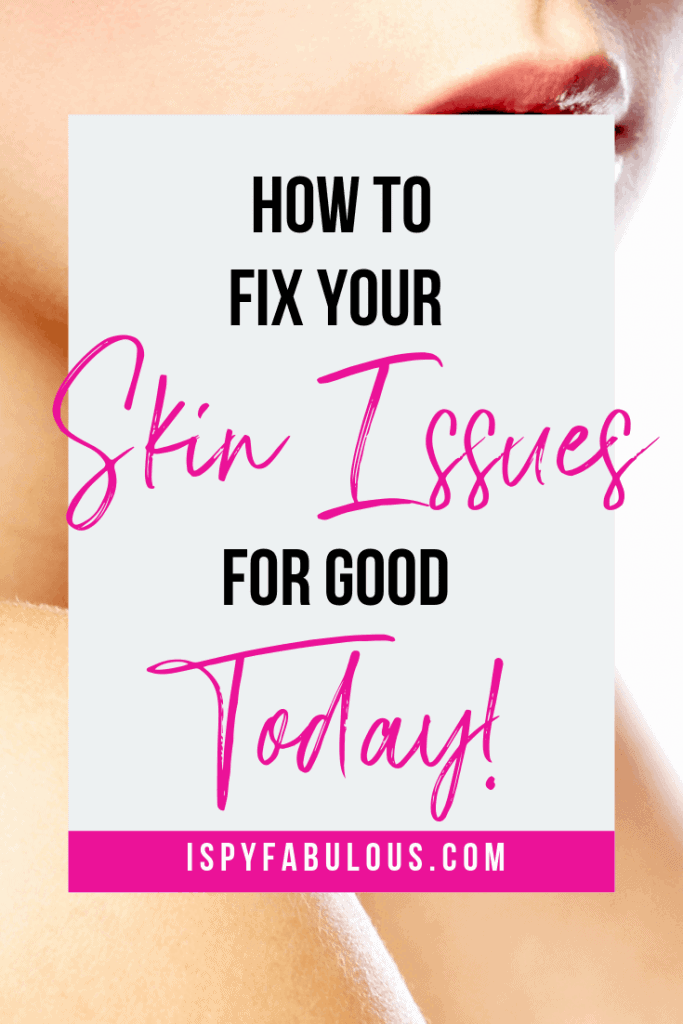 3. Fix Zits or Breakouts
Such a pain – sometimes literally. I got adult on-set acne in college. That was fun.
Except it wasn't. I did too much to try to get it to go away and it made things worse.
I've since learned that a combo package of skin care and gut care is required to do this effectively and gently
. Consider a probiotic – they are tasteless and don't have any side effects (other than good ones) and you will see a difference if you are consistent. Ideally, take your probiotic with water before you go to bed, so it has all night to do its "bit-ness".
For your skin – you need to use a gentle gel cleanser, get rid of bacteria, and use a treatment. A spot treatment is used for blemishes. Try not to pick your face.
Cleanser:
Toner:
Thayer's Rose Petal Witch Hazel Toner – CULT FAVORITE: CHEAP & AMAZING
Treatment:
Spot Treatment: Follow instructions carefully – these are a little weird, you will look like you have chicken pox, but they WORK.
With the 1-2 punch of gut health and good skin care, you should see your skin heal over time. Also, drink lots of water and don't pick.
4. Fix Dark Undereye Bags
Remember that calcium is your best friend if you're struggling with these. And sleep. But, for some of us, we can't really control how much sleep we get (which is not much) #momlife
I wrote an entire post that goes in-depth on dark circles and what you can do to battle them, plus a Kim Kardashian make-up hack that'll really help. Check out the post here.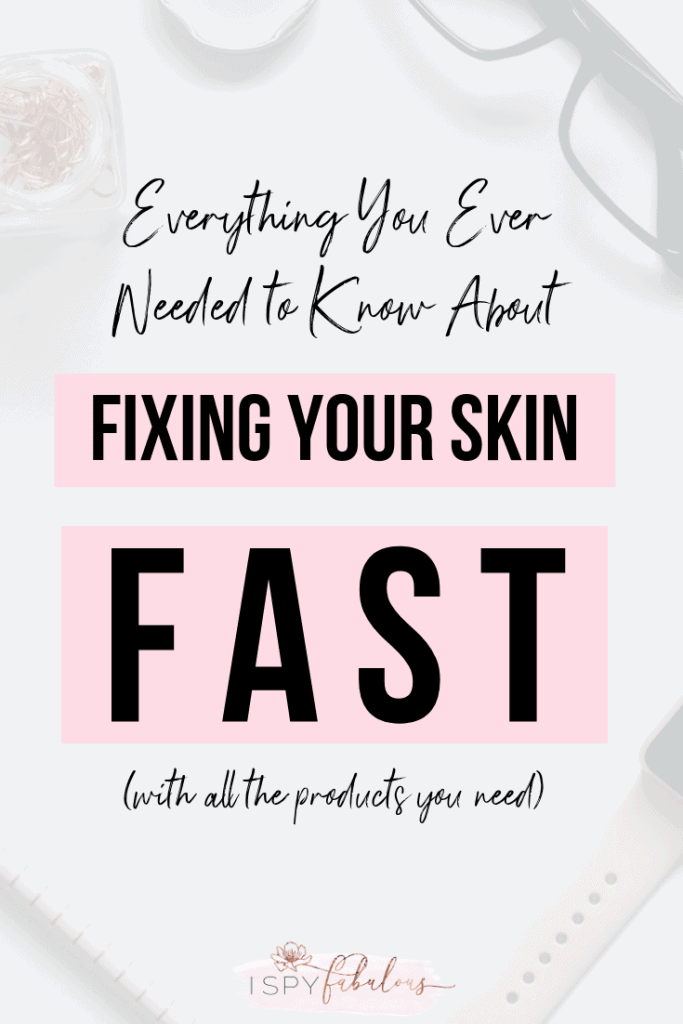 ****
This Fix Your Skin graphic has been a popular one on Pinterest, so if this is your first visit – thanks for stopping by.
I hope you'll stick around for awhile. Lots of great posts on beauty and skin care, too.
There's a little something for everyone here at I Spy. Welcome to the family.
Have a fabulous day,
E