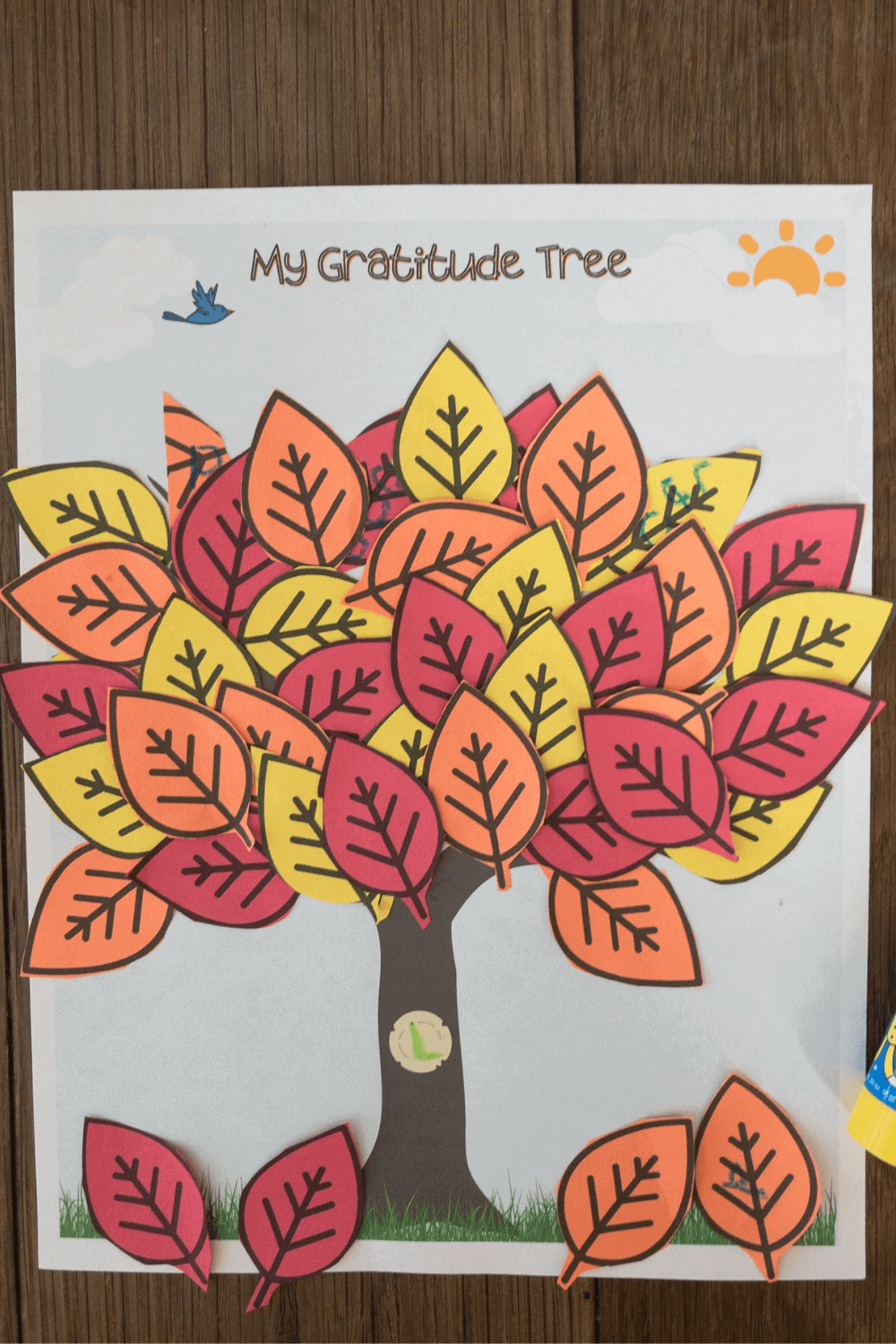 Being a parent is hard work. It can be easy to get frustrated when our kids don't seem to appreciate all that we do for them. Luckily, showing gratitude is something that can be learned and we can teach our kids as they grow up how to express gratitude and about the positive benefits of being grateful.
When we talk about gratitude, this is more than just teaching kids to say please and thank you. Those are more about manners than teaching our kids to have a healthy understanding of gratitude as they get older. This takes a lot more modeling and positive conversations as they grow up, but all that hard work will pay off.
Gratitude is just as good for kids as it is for us – and fun, easy exercises like the gratitude tree can help you teach them! Read more about the benefits of gratitude and ways to teach it – or just scroll down for the gratitude tree activity!
The Benefits of Gratitude: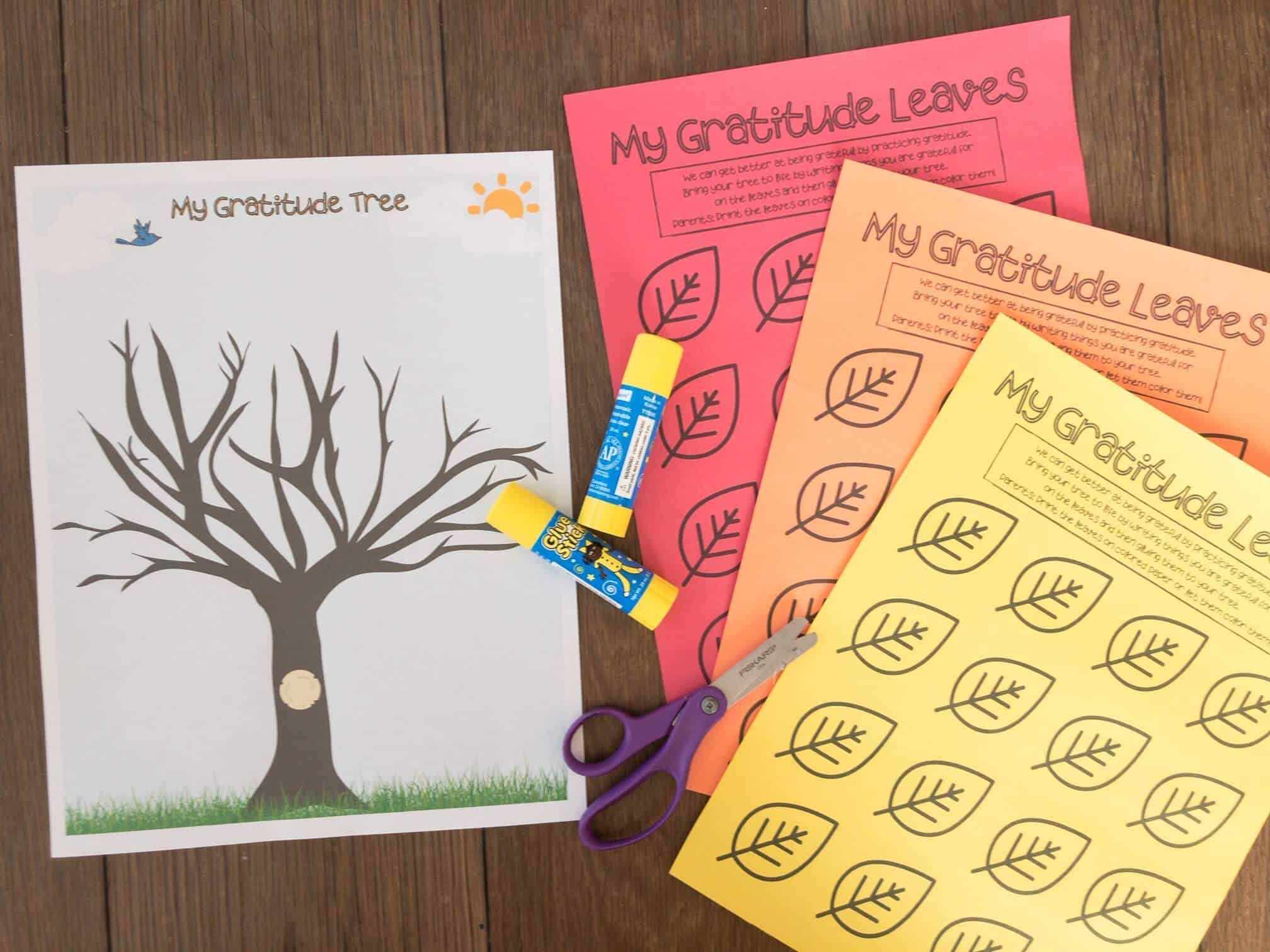 It's important to remember that our kids only know their own experiences, so to them – all those things we do for them is just… normal. As adults, we have a lot more life experiences and have seen all types of living conditions, so it's easy to assume that our kids have this same world perspective.
That's why teaching our kids how to express gratitude and sharing the benefits can really help. For kids, the benefits of learning to express gratitude is that it can help them learn the difference between feeling positive and feeling negative.
Also, it's a powerful way to teach them to control their mindset and emotions. Free meditation apps for kids can also really help them with this as well.
Over time, as they are able to learn tools to help redirect their attention, this can help with emotional regulation and resilience, too.
This positive energy will trickle over into all areas of their life, including: less stress, better sleep, less aggression, more self-esteem, reduced risk of depression, more emotional resilience and more.
How To Teach Kids Gratitude: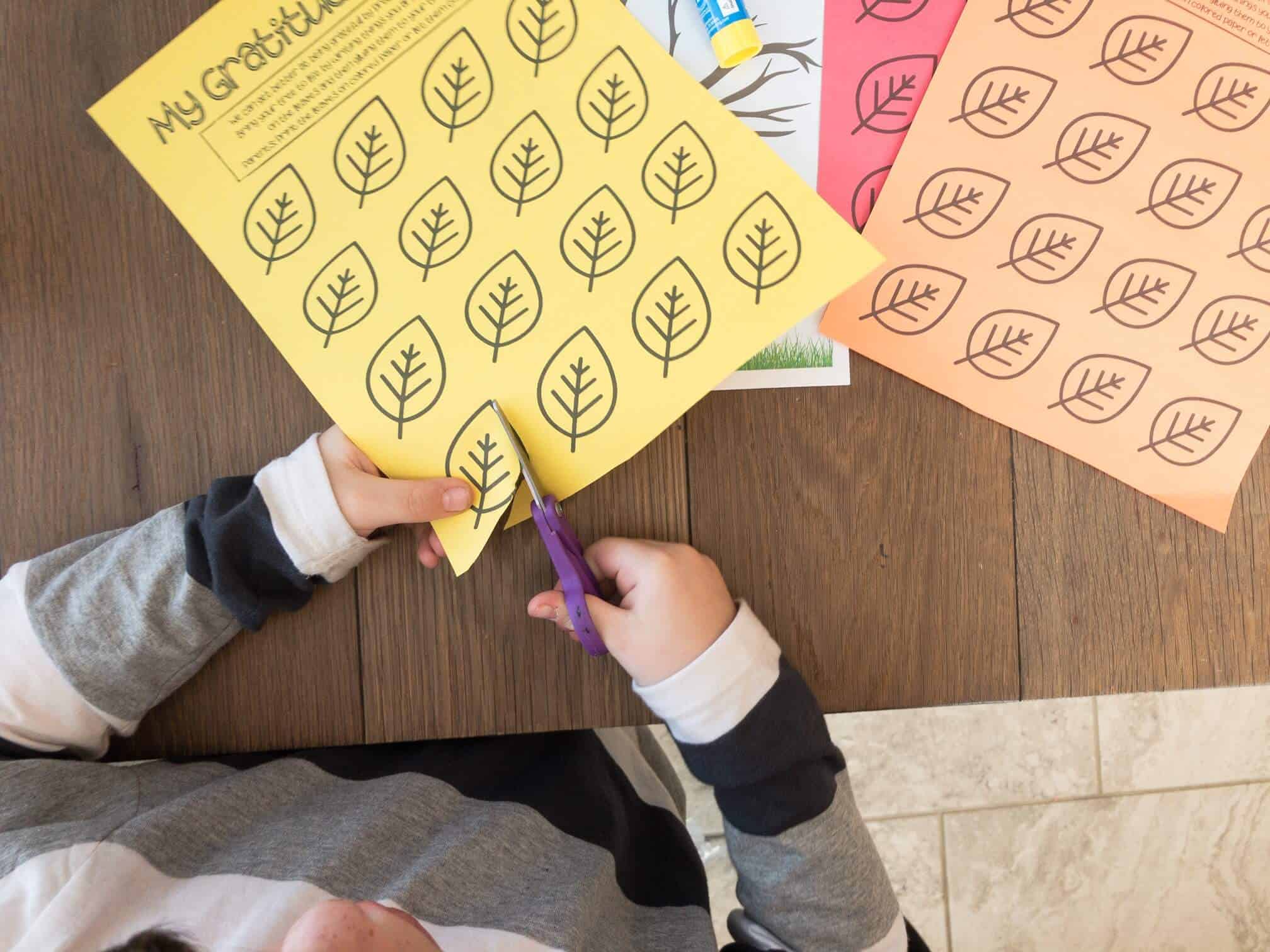 It is so much easier to teach kids new things than adults, so teaching kids about gratitude is not going to take much work. Here are some tips for teaching kids about gratitude:
1. Use Fun Activities:
Kids learn by doing. Look for easy, fun gratitude based activities, such as the free gratitude tree activity below! Or, you can do things like gratitude jars, gratitude journals for kids, kindness countdowns and more.
2. Model Gratitude:
If they see you modeling gratitude, they'll copy you. Kids are sponges and they squeeze out what goes in, so consider showing them how you practice gratitude, even during tough times. If you use a gratitude journal, let them see you – or use their own with you – so they learn that gratitude is something we can practice and get better at over time.
Talk out loud about things you are grateful for, so they can learn how someone might express gratitude in their daily lives.
3. Help Others:
Doing acts of service for other people will always increase our own gratitude. Look for ways to include your kids in acts of service, whether it's volunteering places when they are older or including them in collecting toys and clothes that they don't use anymore to donate to a local shelter.
Look for things like the Toys for Tots bins around Christmas or create little gift kits for the homeless and give them out. Use these opportunities to express gratitude for the things that we can easily take for granted.
4. Show Empathy:
When our kids see us show empathy for others, they learn to do the same, but also, they start to see all the ways that we can be grateful.
It can be easy to think that we have the lives we have because we work hard or really deserve it, but oftentimes, there are privileges we take for granted every day that helped shape our lives. Or, we had the ability to choose between good options in our life that led us on a clear path to where we are. Sure, bad things happen to everybody – that's just the human experience. But, if you've ever met someone who lived a very hard life, right from the beginning, and oftentimes only had very bad options to choose from, you know what I mean when I say there is a difference. It's heartbreaking to see people who really want to try or change their circumstances, but are the result of very sad life experiences. Or, so many things happened before they were even able to start making decisions for themselves – and this shaped and changed the entire course of their future.
By showing empathy, as well as modeling making good choices, our kids can learn that showing compassion and empathy is not a sign of weakness – it is a sign of strength. I love this quote from The Book of Joy (highly recommend – affiliate link):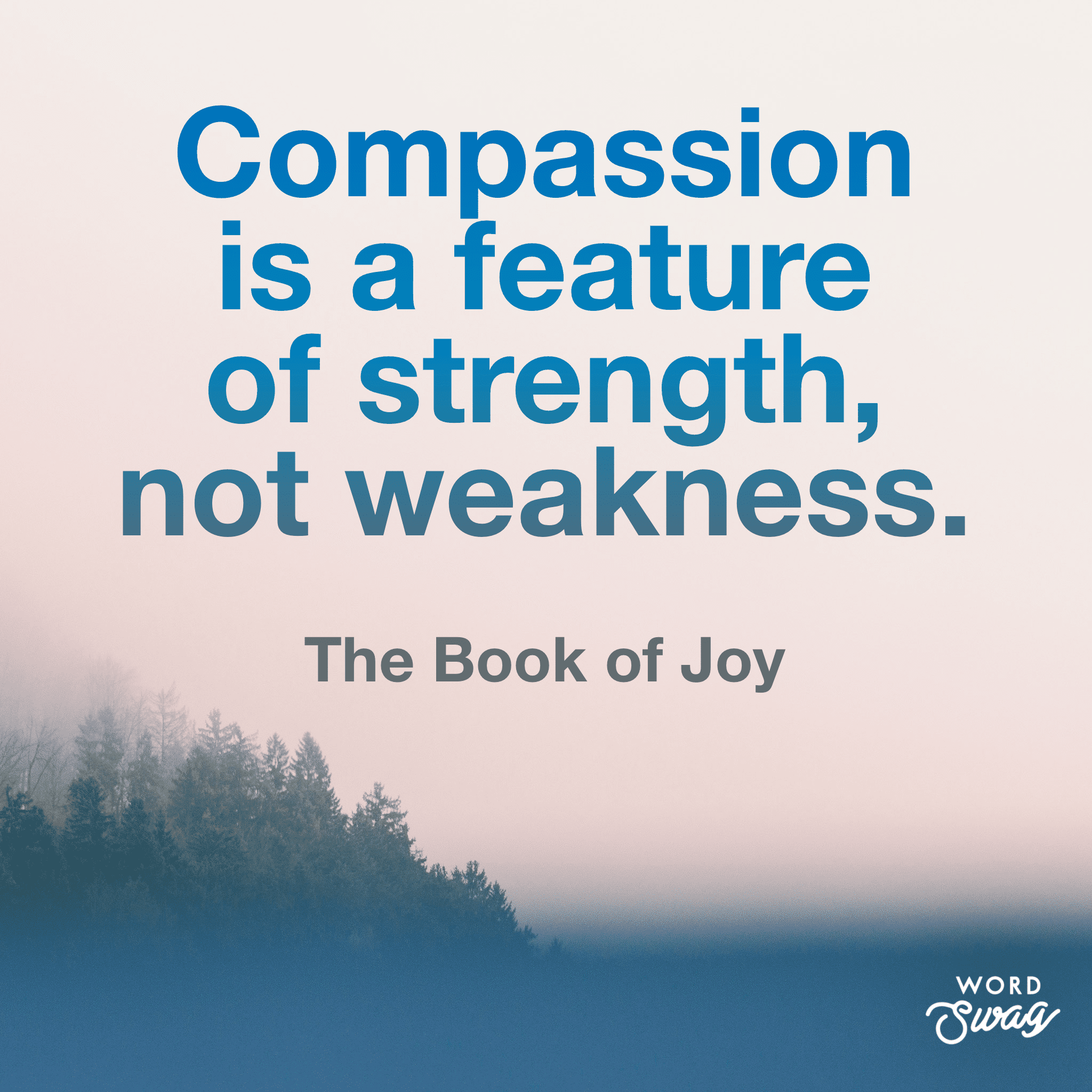 5. Share Gratitude Quotes:
I love quotes – they are such quick, powerful little nuggets of wisdom. I wrote a whole post with quotes on gratitude. Why not pick one every week to put on the fridge and have little discussions about over the week?
How To Use The Gratitude Tree: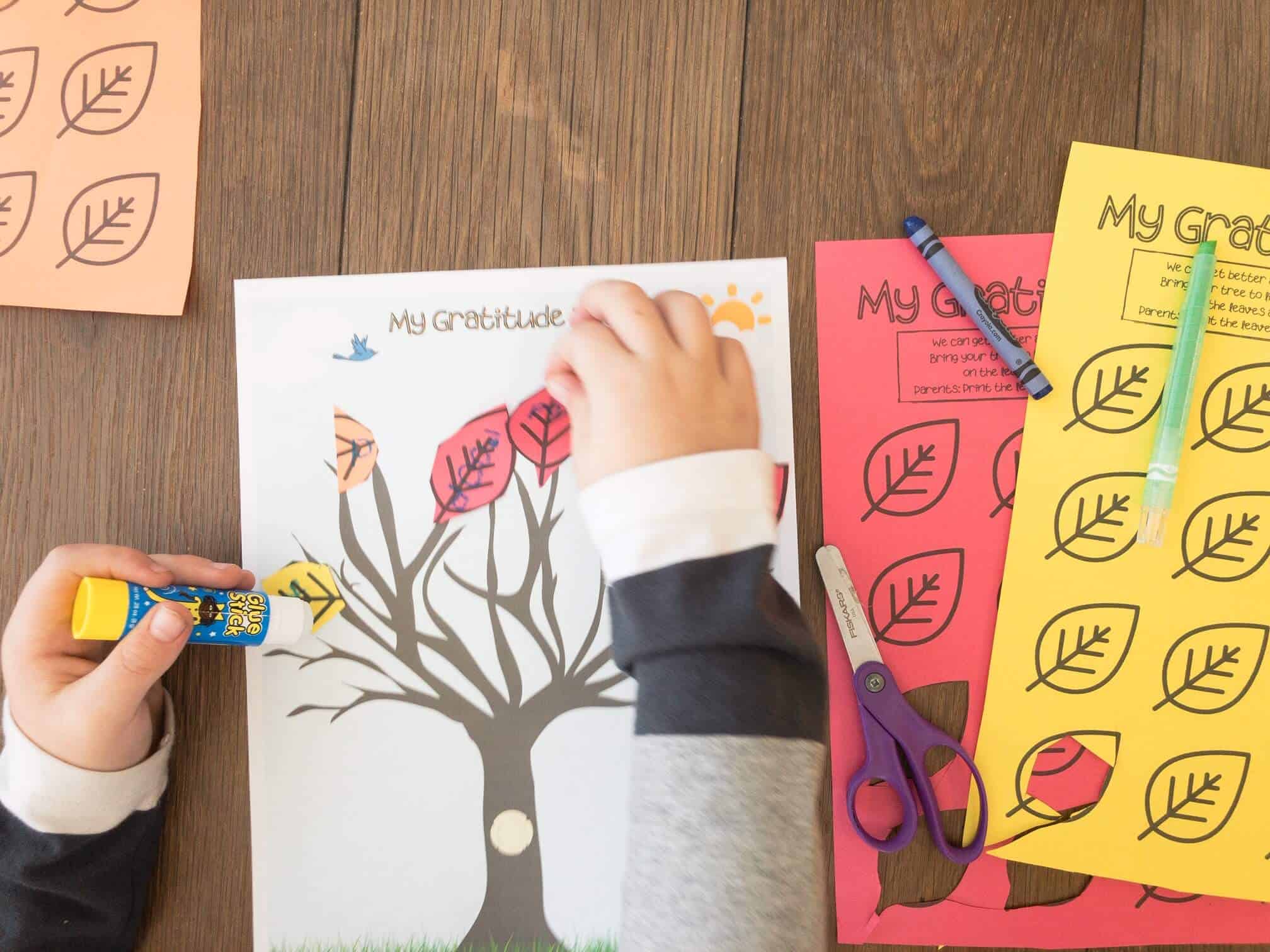 I was trying to think of ways to teach my kids about how gratitude improves our life and then one night I was reading the the book, The Giving Tree. That's when it hit me… a tree!
So, I whipped up a little activity where kids can visually see this tree transform by adding gratitude leaves to the tree.
This is something I have them do one leaf at a time over the month of November or something, so they can slowly see the tree transform.
I printed the leaf page on three different colors of construction paper for a fun fall look – but you can print black and white and let them color or even on green for a lush tree. The construction paper was bigger than typical printer paper, so I just trimmed it down so it wouldn't jam my printer.
I would have them cut the leaves and then keep them in a little container with a glue stick to make it easy every day.
My kids love gluing the leaves to the tree and watching it transform from just sticks to a full, colorful tree. If you are using this for a class, make sure to have them write their initials on the front of the tree.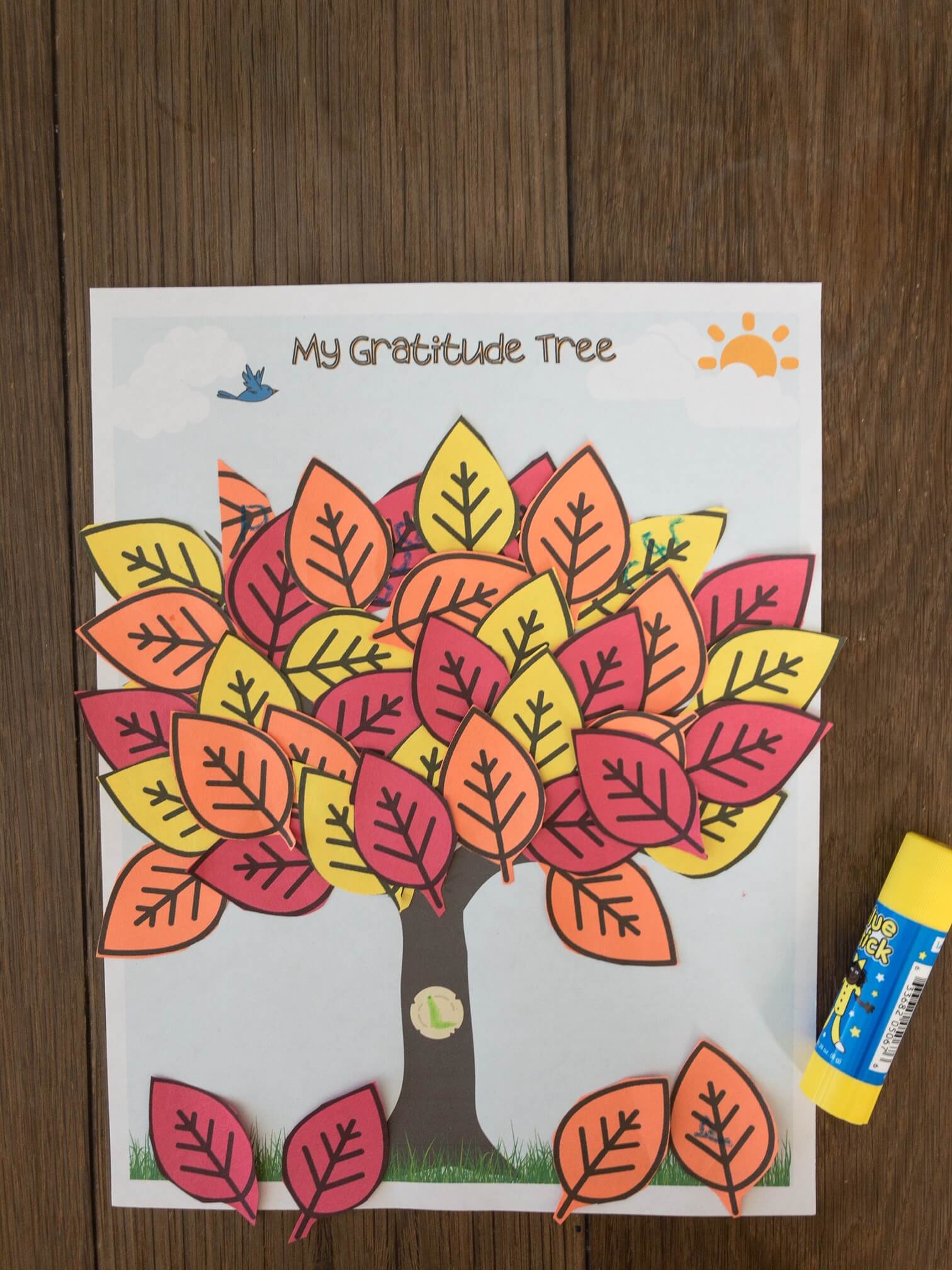 This is free to print! All you have to do is click on the image below and it'll open in a new window. I have the tree with a colored background as well as black and white for those that don't have color printers.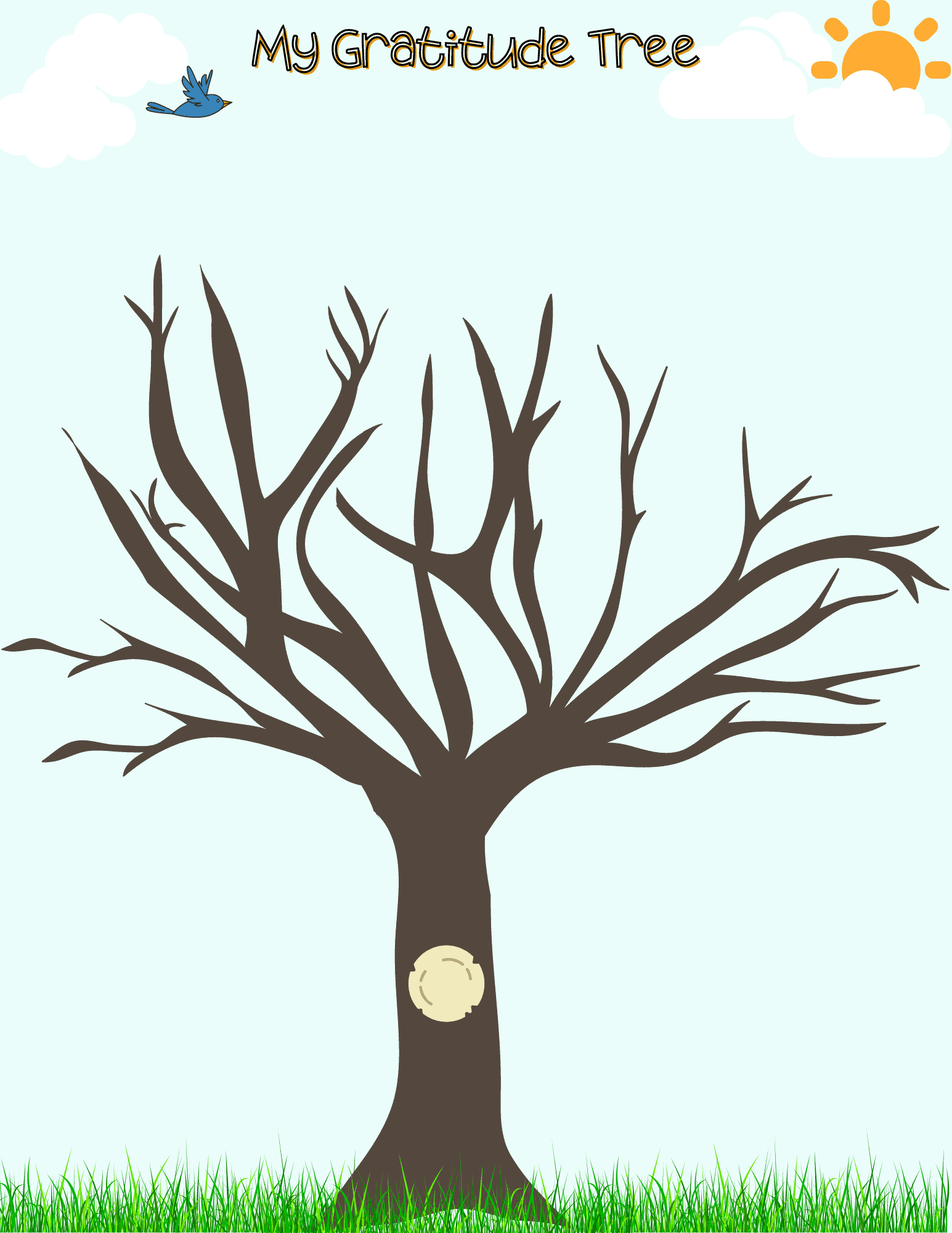 That's all! I hope you love using this gratitude tree printable and hope you'll share pictures of your finished trees! Tag me on social media at @ispyfabulous or share on Pinterest!
******
I love sharing fun, free activities to do with kids. There are so many on the blog, but here are a few that you might like:
Thanks for reading! I am grateful for you – my readers.
Have a fabulous day,
E