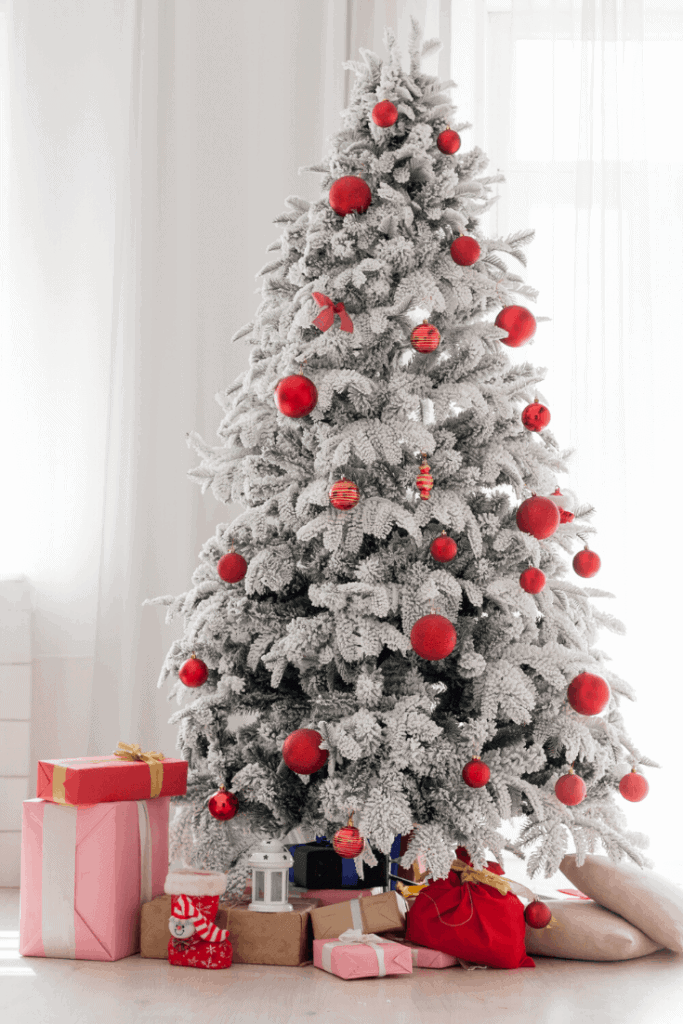 I love Christmas. Maybe that sounds cliche – but I revel in the imagination and magic of it all.
There are so many wonderful ways to celebrate the season without spending a ton of money, too.
Just takes a little creativity.
That's why I am sharing some of our favorite ways to celebrate the season – in the form of a 24-day countdown of activities.
24 Activities for a Christmas Countdown:
Some of these activities require a little more planning than others, so feel free to rearrange and make changes to suit your interests and family.
For example, it doesn't snow where we live – so for the snow day, we would either need to drive a couple hours to the snow or use those fun fake snowballs for an indoor snowball fight.
To download the free printable click here or just click on the image below.
Don't forget to scroll down and find some links to ideas for the activities, too.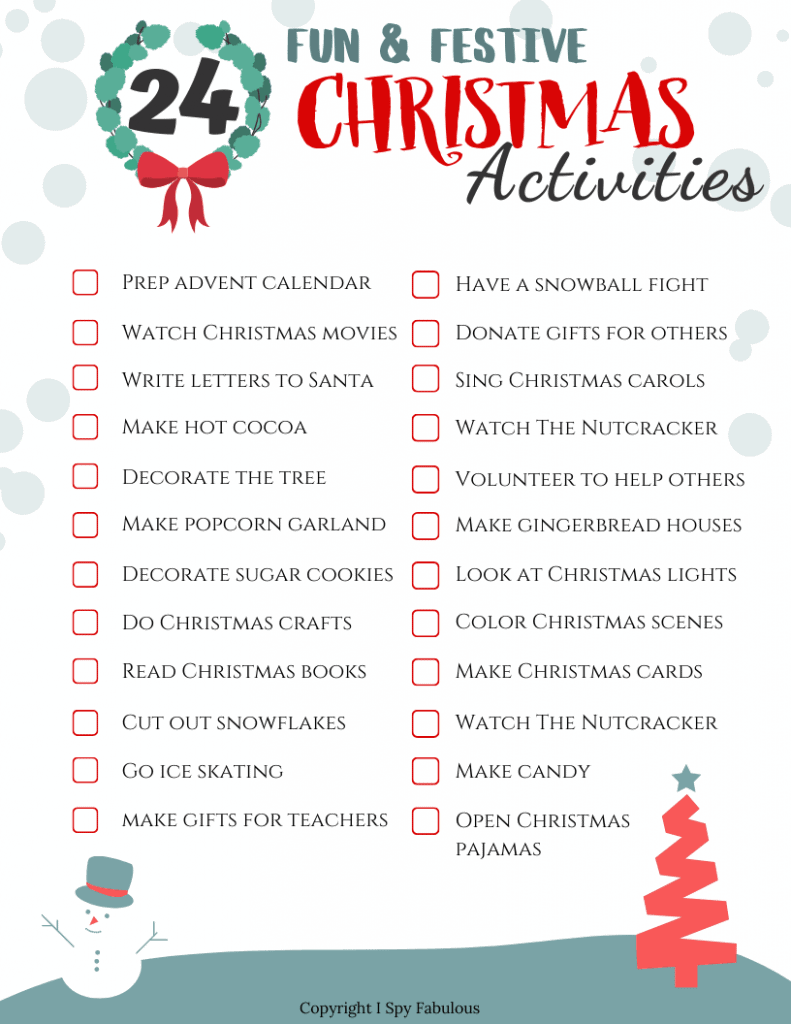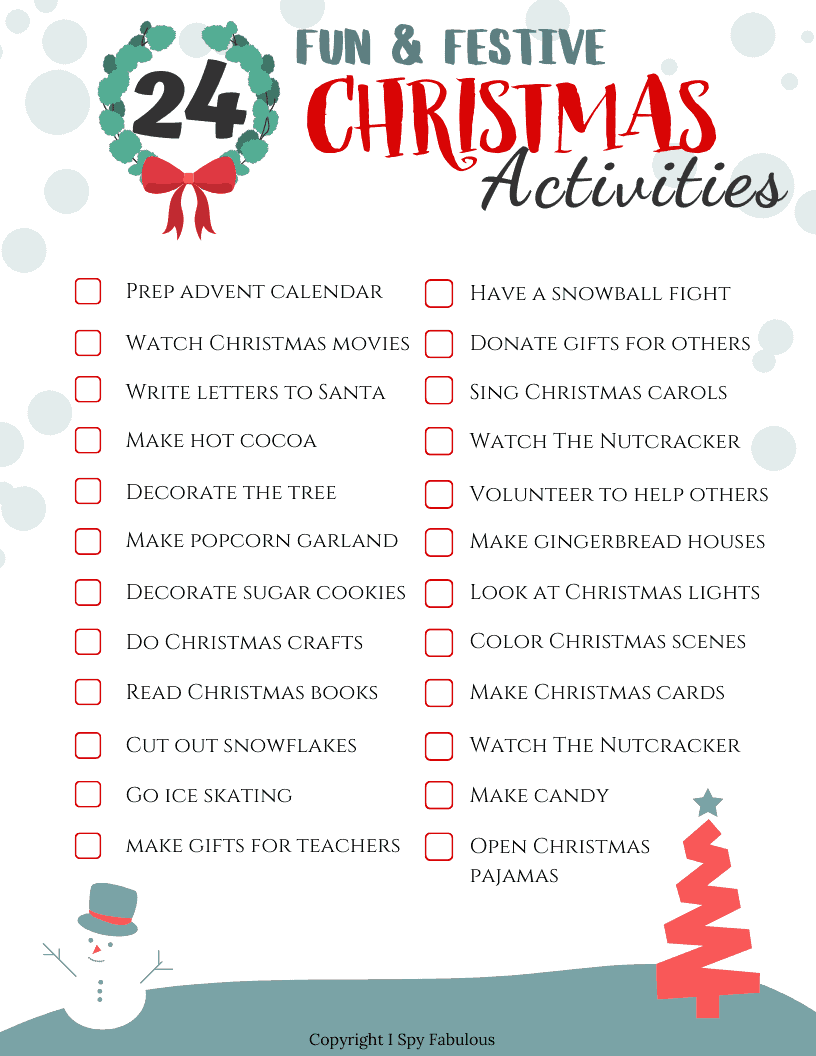 24 Fun Christmas Activities for Kids!
Prep Advent Calendar: Whether you do a countdown like this where you can tuck little treats or gifts, or this one that just tracks the numbers, the kiddos will love seeing the days until Christmas go down every morning.
Watch Christmas Movies: We love movies like Home Alone, the Santa Clause, Elf, Family Man and Four Christmases. (We don't watch all of those with the kids, fyi).
Write Letters to Santa: Visit my post with 2 free printable letters to santa, one with lines for older kids and a fill-in option for younger writers.
Make Hot Cocoa: So easy, so fun. Go big and add marshmallows, sprinkles, whip creams, and tuck in a candy cone to add some minty flavor.
Decorate the Tree: We went fake a few years ago and I'll never look back, but I sure do love stomping through a Christas tree ground for the perfect tree.
Make a Garland: Such a fun, affordable Christmas craft. Be careful with using needles for little ones. Here's a great post with 23 different types of DIY garland.
Decorate Sugar Cookies: I'll admit that making and decorating sugar cookies is exhausting for me, so I'll admit to cheating. You can always buy pre-made cookie dough and stamp out the cookies with cookie cutters, or you can buy pre-made sugar cookies at a store bakery and just make the frosting. Or, go all out. Here's our favorite recipe for doing the whole enchilada from scratch.
Do Christmas Crafts: I love this post with 50 craft ideas for kids.
Read Christmas Books: We have an embarrassing amount of Christmas books for kids. Check out all of these options on Amazon. Or, go to your local library!
Cut Out Snowflakes: Here's a great tutorial. Need a refresh? Me too.
Go Ice Skating: Most places have pop-up rinks if you're not close to a frozen pond.
Make Gifts for Teachers: Involve the kids in creating something special for the teachers in their lives. Looking for ideas? I love these super creative gift ideas for teachers.
Have a Snowball Fight: Hit up the local snow pile or grab these fake snowballs.
Donate Gifts to Others: This is a great season to share with others. Allow kids to donate gently used toys to a local family shelter or find a Toys for Tots or other charitable tree, grab some names and show them some love.
Sing Christmas Carols: Sing inside, or outside, or door-to-door, or sing along to my favorite Christmas CD ever.
Watch the Nutcracker: I'll admit I am partial to it live. Find a local dance performance, even if it's a younger performing cast. Or, some dance houses have a shorter version just for kids. Of course, you can always find a performance online, too.
Volunteer to Help Others: I love this list of Christmas service ideas that can be done as a family to bring some love and light to those in need.
Make Gingerbread Houses: I have a deep love for gingerbread house challenges. In fact, I wrote about them in my post on Epic Group Gifts You'll Remember Forever.
Look at Christmas Lights: We don't just do this once. A week or so before Christmas, we make it a routine to get in our pajamas and drive around looking at Christmas lights until the kids fall asleep. They love it as much as we do.
Color Christmas Scenes: Download some free Christmas coloring sheets and color together.
Make Christmas Cards: Christmas cards Do some crafting and make some . Deliver them to neighbors with a small gift or treat.
Play Christmas Games: Bingo game I am always a little surprised how popular just a simple, themed can be, but any family game will do.
Make Candy: Kids are out of school and you're probably trying to keep them away from the presents and distracted. Make some candy or treats to enjoy over the next few festive days!
Open Christmas Pajamas: this line of pajamas One of our favorite traditions is to open one gift on Christmas Eve – our pajamas. Lately, I have been totally loving how soft and adorable is for kids. Really impressed. I'll be buying their Christmas jammies this year!
MORE CHRISTMAS PRINTABLES:
There's tone of free Christmas fun on the blog that you won't want to miss! Just check out this post with 6 free Christmas printables linked, including: a Letter to Santa printable, Christmas gift tracker, Christmas I Spy, Christmas word search and more!
And, don't miss my brand new set of 10 winter/Christmas themed color by number – one of them free to download!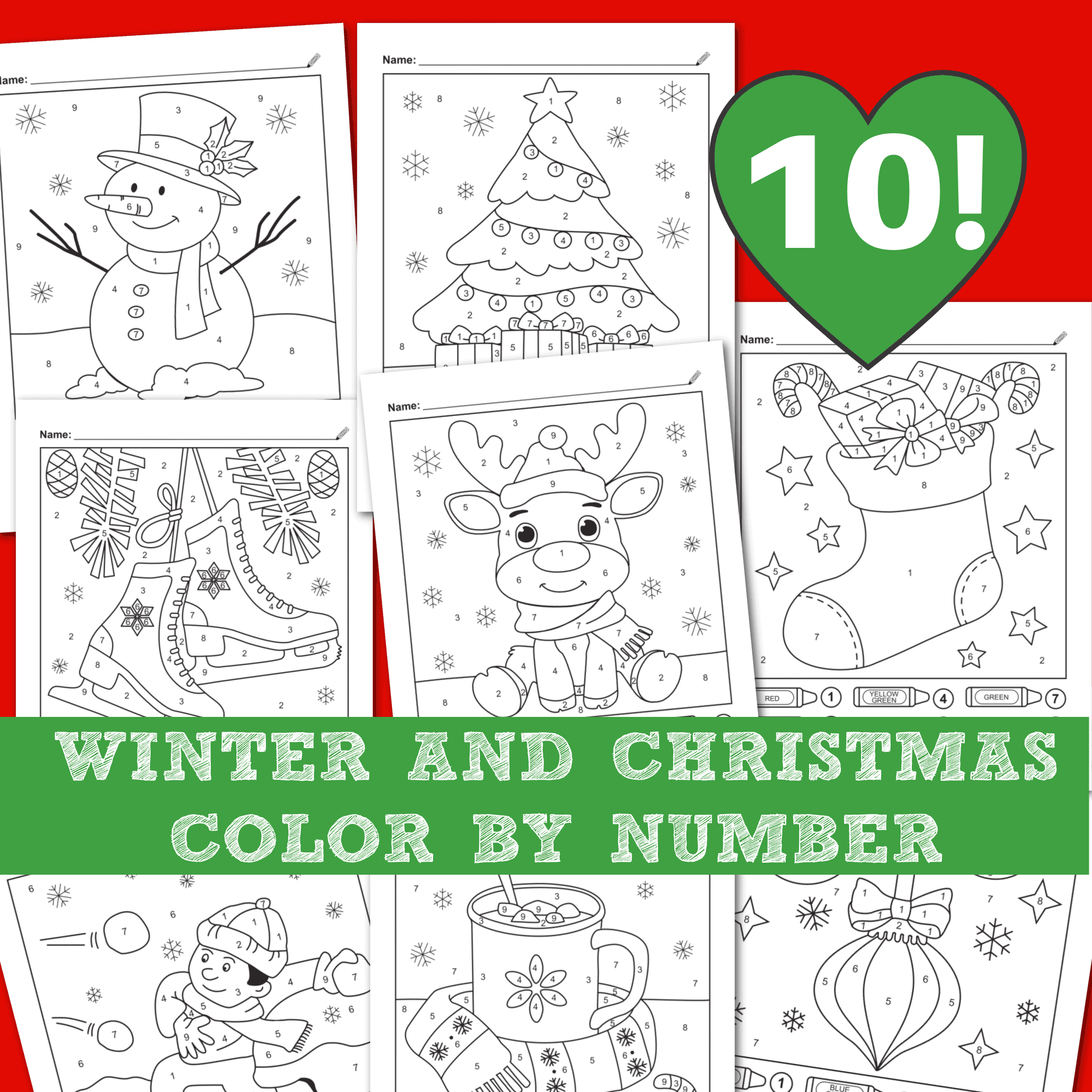 ****
Are you excited for Christmas yet? Just writing this post has gotten me in the Christmas spirit!
What's your favorite holiday tradition?
Share it in the comments below!
Have a fabulous day,
E