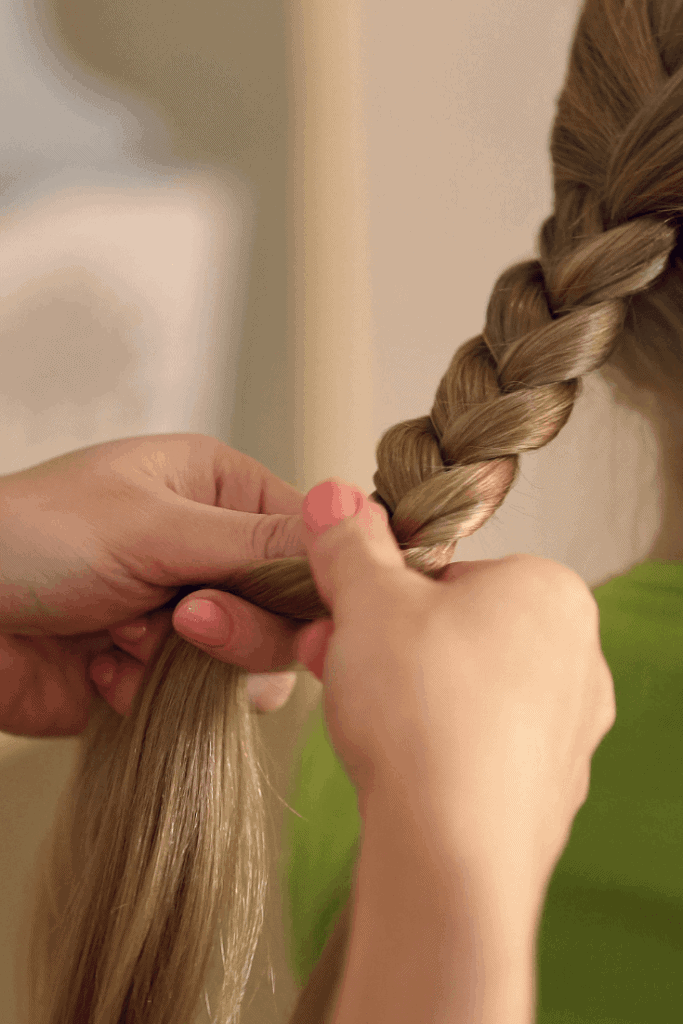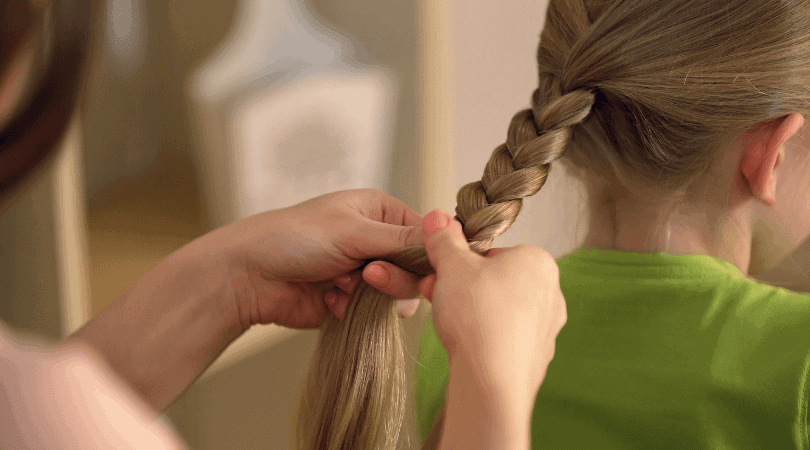 After I had my son, I thought I was destined to be a #BoyMom for life. Imagine my surprise when 3 years later, we had a girl!
I'm so grateful; having a daughter is such a delight. She's the perfect combination of princess and tomboy. She loves tutus and having her hair done, before running outside and bossing the boys around and beating them at games.
In honor of her and how quickly we are coming up on Back-to-School prep (#WOW), I wanted to do a fun compilation of the best quick, easy, and adorable hairstyles for little girls.
But first, let's talk a little bit about how you can prep for a really sweet hairstyling experience. It's no fun when she's screaming and bobbing around like a fish out of water.
How To Get Her To Sit Still While You Do Her Hair: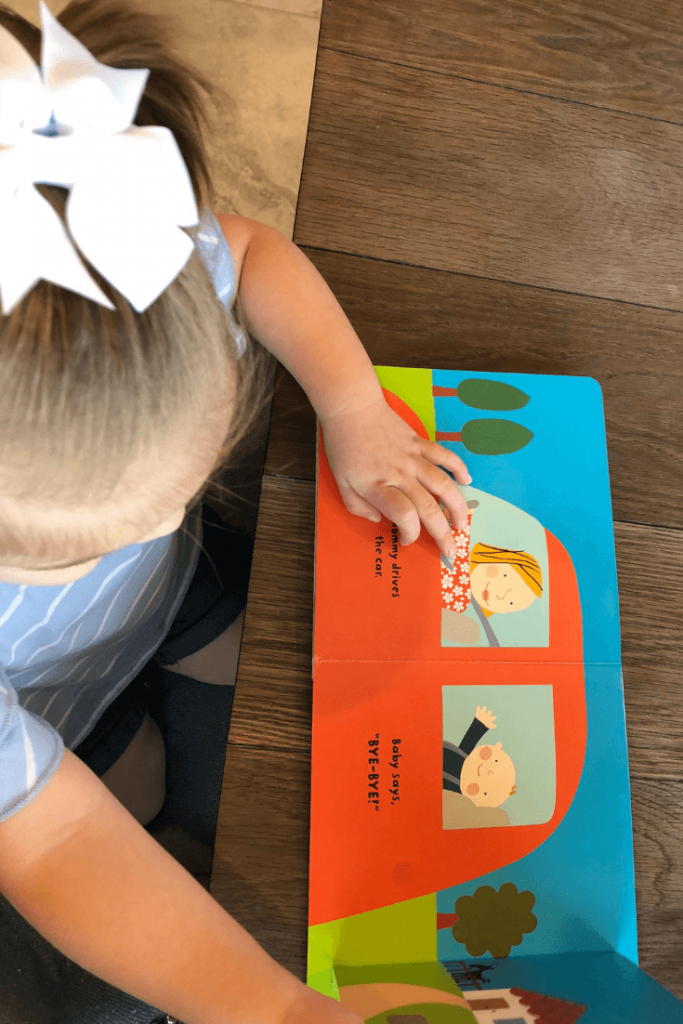 DISTRACTION: The name of the game here is distraction. And, maybe some bribing – considering how long you think it might take.
This is the time to bust out the tablet she rarely gets or put on her favorite cartoon. Put her favorite snack in a bowl and make it as fun as possible.
EXAMPLES: Find cartoons where the characters are doing each other's hair or buy her a doll that has hair you can style. If she is styling her doll while you are styling her hair, it'll be like your very own mini hair salon.
LOCATION: Choose a location that will allow both of you to relax and focus. Find a quite, comfortable spot where she's sitting in a comfortable position and you are at the right angle to reach her hair. Experiment with different places until you find your spot and then stick to it. That routine will help it go more smoothly.
PRACTICE: It'll take time to get better and for both of you to make it part of the routine. Start with basics and don't be afraid to stop a style that just isn't working for either of you. The more you practice, the better you both will get.
Expect that the style won't last forever and will get messed up with play and daily life. Let it go and look forward to your next style the next time.
The more enjoyable the experience, the more likely you both will want to do more of them in the future.
There's no reason for it to be a nightmare; plan in advance for ways to make it fun and memorable.
The Right Tools For Styling Little Girl's Hair:
You'll also want to think ahead to what you might need to do the style you've chosen.
I have a little hair basket that I keep next to a coffee mug with lots of different types of hair ties and bows. This stays in the same place every day and I just grab it to style my kids' hair and put it back.
These are the 7 tools I have on hand for hair styling. For tons of hair bow recommendations and how to organize them, check out this post. Affiliate links are used here.

We love this one. A light, natural fragrance that smells like those orange creamsicle popsicles and a nice spray that works just right. This detangler makes the hair workable, without becoming greasy, stuck together or limp. Plus, it's full of great ingredients, like shea butter, argan oil, jojoba protein, and quinoa extracts.
You'll want a comb with a straight edge to get nice lines. Use it gently, it could hurt if not used with care. You want to just slide it under the hair. It definitely works best when hair is a little wet.
This light hold hairspray has essential oils to guard from lice. I use it every day on all of my kids. The light hold is enough to help the style stay in place without becoming crunchy or unworkable.
Best Girl's Hair Elastics –
You'll want a few different types around, depending on style. I love these large bags from Amazon. Affordable and full of lots of colors.
I have used mousse on my nieces who have very fine hair to give it a bit of body and weight when trying to create a style. It works wonderfully at helping the hair hold the shape and stay in place. This is the mousse I happened to have around and it worked great.
This brush is great for brushing through wet hair with limited pain and breakage. The variety of Disney Princess art is just a bonus 😉
If your daughter is prone to tangles, consider grabbing this inventive anti-tangle brush. It is designed to help get tangles out without damaging hair or hurting them.
Also, remember that if they are prone to tangling, always do a quick, low braid before they go to sleep, so they wake up with less tangles and bedhead.
60 Easy Hairstyles for Little Girls:
Here we go! My favorite hair tutorials for little girls. All videos and images are cited with the original author. Feel free to click on them to check out more from any of them that you love.
1. 5 Easy Back-t0-School Hairstyles | Kait Nichole
This adorable little one is a great hair model for these 5 easy hairstyles.
Love these adorable braid and bow hairstyles.
Because if you can't incorporate a giant bow – really, what's the point ;)?
So cute and easy to do these part-braid, part updo looks.
7 more from Hair 4 Little Girls! She's is a hair master, I tell you.
I adore the sideways, part-fishtail braid in this set. Although, they're all cute.
And now I want that buffalo plaid bow, too. Hmm…
4. 10 Cute 1-Minute Hairstyles for Busy Mornings | Liza's Braids
BLOWN AWAY by these super adorable hairstyles that she whips into shape so fast!
And, can we all just take a moment to talk about this little one's GORGEOUS hair. My god.
That hair + her hair talent = a video that gets 13 plus million views. Obviously.
5. 6 Easy & Cute Summer Hairstyles | Liza's Braids
I really love this particular channel and highly recommend you follow her to see more of her amazing ideas. These super cute, summer updos are amazing and she puts them together SO, SO fast.
This reminds me of the post I did on summer updos for women, which was a huge hit.
Great ideas for all of us to start mixing up what we do each day.
6. 3 5-Minute Back-to-School Hairstyles | Tessi Wood
3 more super adorable hairstyles. I love the side ponytail/braid combo so much.
Some of these require longer hair than my little one has, but I could definitely make the half-up one work.
Just perfect.
7. 5 Cute 1-Minute Hairstyles | Daily Beauty
Just love these gorgeous styles for longer hair. The bubble braid is fantastic.
If your LO has longer hair – you've gotta try these out.
Beautiful.
8. Pigtail Hairstyle for Curly, Short Biracial Hair | MIXED
Just in LOVE with this braid, pigtail look for shorter, curly hair.
This is more the length I have to work with and I cannot wait to show this to my daughter and try it.
Adorable.
9. 4 Hairstyles for Toddlers | The Scotties
Okay, here we go. This is similar to my daughter's hair.
So, whether you have a little one with less patience, shorter or finer hair that won't do the longer styles, or any other combination, these 4 SUPER cute, fast styles will be a great starting point for both of you!
Love!
10. 18 Cute & Easy Curly Hairstyles | Narjejo
Look at these adorable looks for curly hair. Just so sweet.
I always wanted curly hair and would just adore it if my daughter had curly hair like this.
So cute.
If you're looking for more of a slower tutorial that will teach you a technique, you'll love this tutorial on how to dutch braid hair.
She makes it look SO easy – and with a little practice, I'm sure it would be 🙂
****
Wow, can you believe that's over 60 hairstyle tutorials for little girls?
Amazing!
I do not have a lot of original ideas for hairstyles, but luckily, with all of these videos to choose from, nobody needs to know that!
Do you have a favorite hair tutorial? Share it with us in the comments below!
Have a fabulous day,
E