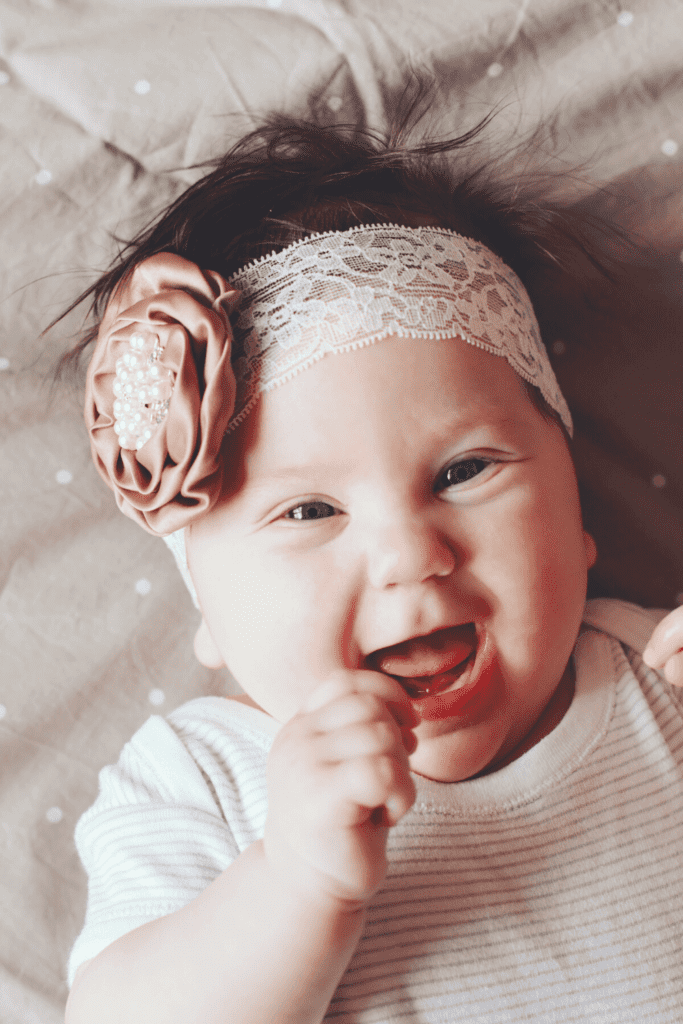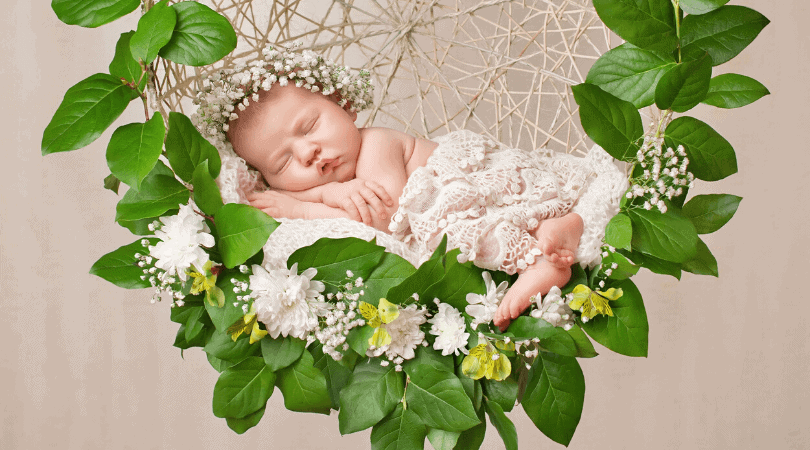 I had a friend years ago who actually grew up on a hippie commune.
Her stories of their free spirited life without some of the conveniences I consider essentials was enlightening!
It made me think about her name and the names of her family members.
Their names have the essence of their lifestyle – this love for nature, color, creativity and freedom.
In honor of her, I've added this hippie baby name list for your adorable boho girl.
The Best Hippie Baby Girl Names: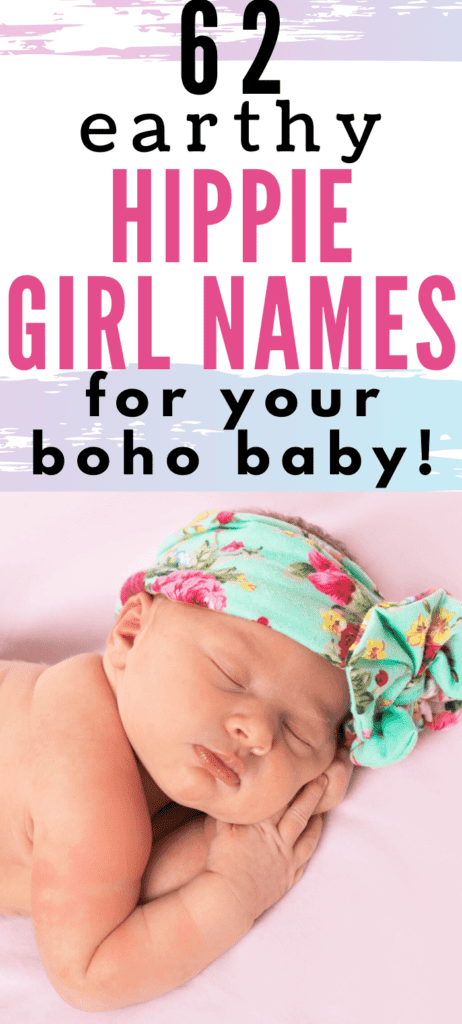 Amethyst – A violet gemstone with healing powers and a fitting name for your LO.
Aria – A songlike name that also means "melody", a perfect name for a flower child.
Aurelia – A unique play on more popular names like Aurora and means "golden one".
Autumn – This alternative to fall is gaining popularity for being unique and cool.
Blossom – Your daughter is sure to bloom just like the name implies.
Breeze – Bri is an adorable nickname, too.
Brooke – May she be as calm as the sound of a gentle stream.
Briar – A briar is a wild rose with a prickly thorn, fitting for a beautiful, strong girl.
Carly- If you are a Carly Simon lover, you might love this name.
Celeste – A sweet name with a nod to the celestial.
Clover – Gaining popularity, but still fresh and clever.
Crystal – I mean – obviously.
Dahlia – A gorgeous name for a beautiful flower. The nickname Doll and Dolly are cute.
Daisy – The daisy symbolizes new beginnings, perfect for the new mom and baby.
Dawn – A name that means first light of day, for the light of your life.
Eden – An earthy name for your child who will no doubt love to run through gardens.
Evie – A play on the name Eve, meaning life, and lively, which she surely will be.
Goldie – Yes, like Goldie Hawn, Goldie is a bohemian name for a girl as precious as gold.
Haven – Another word for safe place or refuge, Haven would fit any boho girl.
Hazel – While gaining popularity, thanks to some celebrities, Hazel is a sweet choice.
Helena – A classic Greek name meaning bright and shining light.
Henna – Think henna tattoos and a much less common version of Hannah.
Isla –

Isla means "island" and was given to the gorgeous red-haired actress Isla Fisher.
Jade – A green stone known to cure colic, perhaps this name will protect her from it.
Jasmine – Jazzy is such a fun, spunky nickname, too.
Jasper – A gender neutral name that means treasurer and is also the name of a stone.
Jewel – A beautiful name reminiscent of the earthy singer.
Journey – Life is a journey; This name takes this idea literally, but in a cute way.
Karma – The buddhist philosophy of karma aligns with your peace and love ideals.
Kaya – Often linked to Hawaiian origin, Kaia or Kaia mean "the sea".
Laken – A play on the name Lake and your love of water.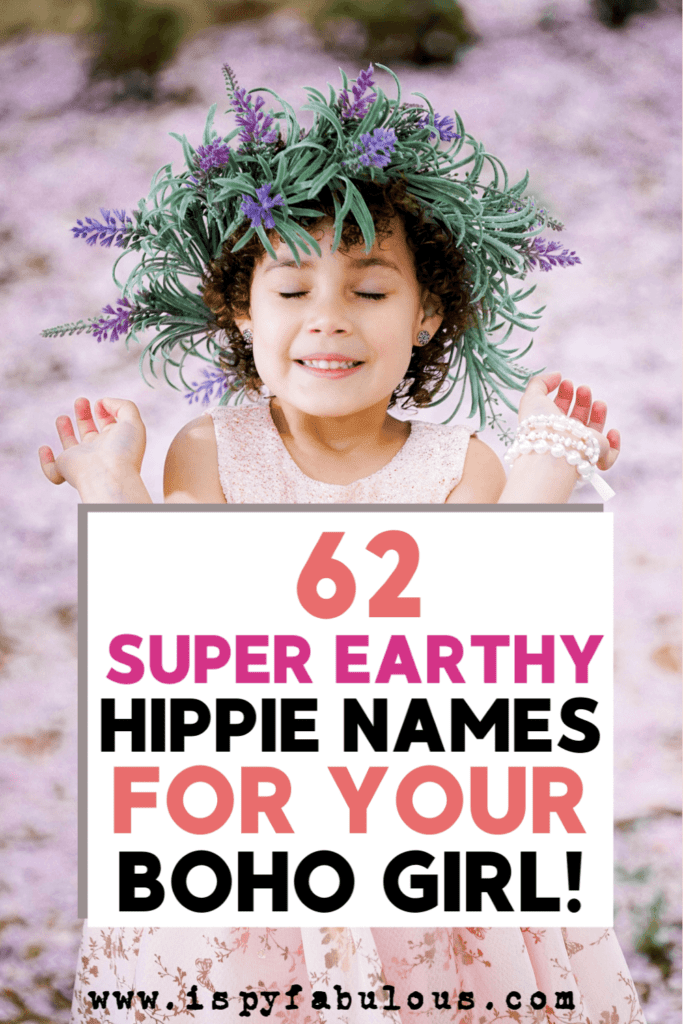 Lennox – A very cool, hippie name if you want something truly unique.
Liberty – A more direct way to show your love of freedom.
Lily – Flower names are so perfect for the free spirited girl and the lily means "rebirth".
Lorelei – The name of a feminine water spirit, Lorelei can be shortened to Rory. Cute!
Luna – Interested in the moon and moon signs? Luna actually means "moon".
Magnolia – Thanks to the Gaines, Magnolia and the Magnolia tree are gaining popularity.
Marley – After Bob Marley, of course.
Maya – Often connected to inspiring people, like Maya Angelou, Maya means "water".
Nova – Why limit her when you can give her a name that represents stars?
Ocean – A cool name for a baby who will flow her own way.
Olive – The olive tree is a symbol for peace, making this name a fitting choice.
Ostara – Dawn's first light or to shine
Poppy – Bright, happy, and evocative of the memorable flower by the same name.
Phoebe – Any Friends fans in the house? Enough said.
Phoenix – Great for boys or girls and a reference to the mythical bird.
Prairie – If you love nature, you might want to name your baby this nature name.
Rain – Another gender neutral name that reminds us of the soothing properties of rain.
Rainbow – A classic hippie name that ebbs and flows in popularity.
Raya – This name literally means "friend" – how cute is that?
Rebel – Gaining in popularity and showcasing your free spirited nature.
River – River has real boho vibe and is fitting for any child.
Rowan – A tree in Celtic lore with several healing properties.
Selena – Before you think this is too popular, Selena means "moon goddess". Yes.
Sierra – A name bestowed up on everything from mountain ranges to sodas.
Skye –

Short, cute, and a nod to your love of freedom.
Summer – Season names are excellent choices for your boho baby.
Tempest – This one reminds me of the Shakesperean play and a girl with a

fiery spirit.
Violet – The purple flower is rich in color and sweet in appearance.
Willow – Like the tree, your daughter may also be strong and graceful.
Winter – Prefer the cold? Why not go with this for your baby.
Wren – The Wren is a bird known for its charismatic personality. Surely, your daughter would be, too.
****
Do you love baby names? I am so obsessed! I even wrote an ebook with thousands of baby names. If you want to check it out, it's available on Amazon or click below – for less than the price of two coffees!

Or, check out all of the free baby names available here on the blog and track your favorites using the free baby name list printable.
Here are some of my favorite baby items too (affiliate links used):


Have a fabulous day,
E