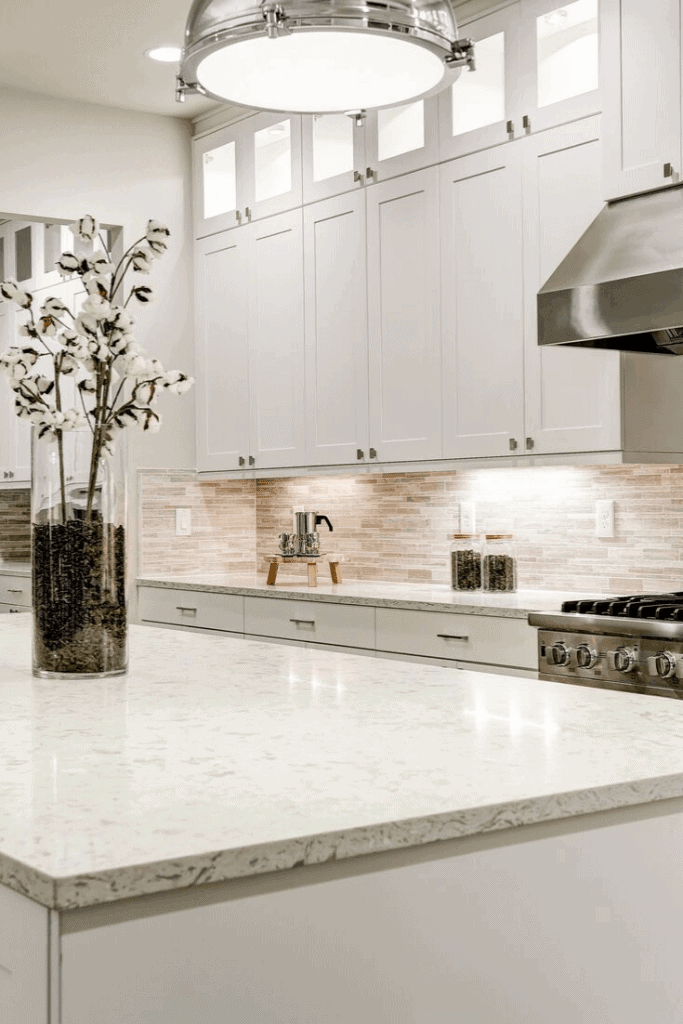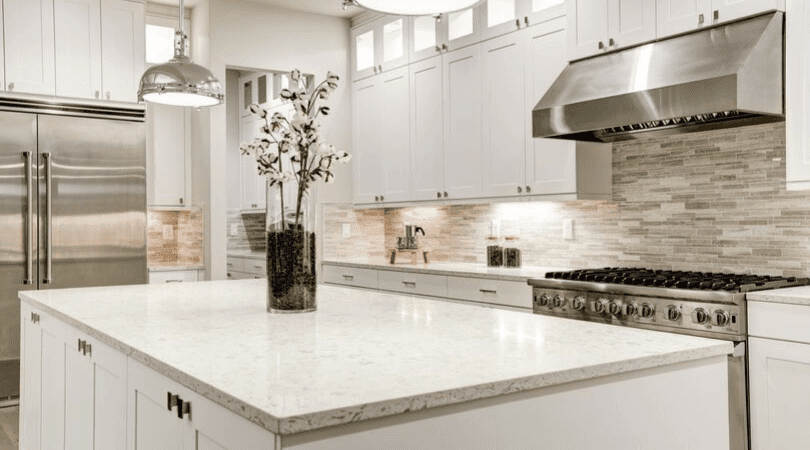 I'm gonna be honest: I am not the best cook. I was almost incapable of nourishing myself when I moved out on my own and relied on takeout, meals with friends and microwaveable lunches.
Somehow, I survived 😉
Luckily, I married a man that is a very good cook and even took cooking classes in France.
#BigShot
I love a man that can cook…
I'll have what he's having.
Anyway, while he doesn't cook professionally anymore, though, which means he has all of that creative cooking abilities ready to unleash on us for dinnertime.
It's a good place to live – not gonna lie.
The Perfect List of Kitchen Essentials:
So, I enlisted him to help me today in setting up the ultimate list of how to stock your kitchen like a chef!
These are all of his suggestions – for both items and the right brands to buy if you are looking to set up your kitchen to be able to cook anything and invest in pieces that will last you for the long haul.
In fact, this would even be a great list to work with when designing a wedding registry list.
Now all you need is the cooking chops to whip up some delicious meals with all these kitchen essentials.
Bon appetit.
How To Stock Your Kitchen Like a Chef: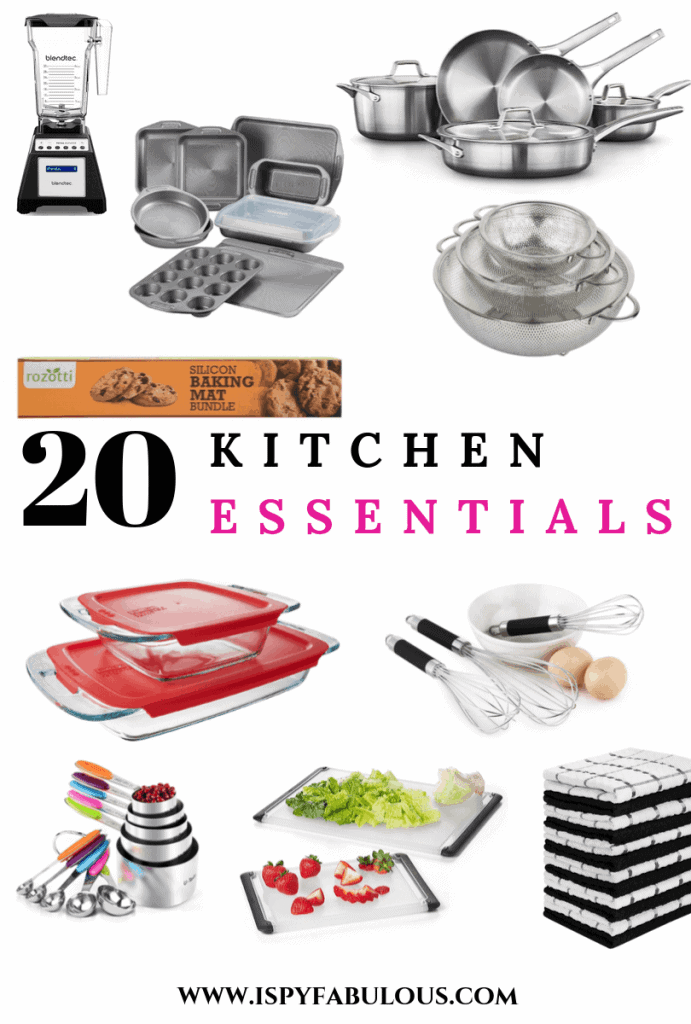 Let's take on these ones first! I'll share what he picked and why – so you know what to look for with your own selections.
Know that affiliate links are used here, so if you choose to purchase, we'll receive a small comish at no cost to you.
You'll need a blender. To blend things. It doesn't have to be Blendtec, although that is what we have and we do recommend it.
There is the mac daddy of blenders – the Vitamix.
And, a solid, but more affordable choice – the Ninja.
Check out my post on superfood smoothies to find out some more blender selections that are highly rated, too.
Invest in a great big set of baking pans, so you have everything you need for cakes, meals, roasts, etc.
This one is nonstick Circulon, which is made of heavy-gauge steel construction that will hold up over time and be easy to keep clean.
The man is very picky with his pots and pans. Here's the set we used to have and used for years and years. They are very well-made, distribute heat evenly, clean up nicely and will last you a long time.
When we moved, he finally convinced me to invest in copper pans. He loves them; I hate them. Luckily, he does most of the cooking.
I still say save your money and get these.
It's nice to have a selection of strainers for different sized meals and purposes.
With this set, you get three well-made strainers that will stack up and stow away easily.
These are going to last you a lot longer than a plastic strainer and we have a very short lifespan with glass strainers in our house.
#kids
#oops
This is an item that I bought after reading about it repeatedly everywhere.
The man wasn't convinced we needed it and now he says we can't live without it.
Basically, you use these silicon baking mats whenever you use a baking pan. This set has 4 baking mats and two cooking tools for under $20.
For under cookies, it helps them cook evenly and not burn on the bottom.
For savory dishes, it'll make the ban super easy to clean.
And, you'll cut waaaay back on your use of tin foil to line pans, which not only will save you money long-term, but also help you avoid the tin foil leaching into your food.
Research isn't totally clear on exactly how much leaches in your food – but I'm gonna go ahead and say I want 0% tin foil in my food.
You feel me?
We have a similar set of these and use them alllll the time.
Having that lid that you can pop on to the dish and quickly store leftovers in the fridge or take the dish with you to a get together is so amazing.
Seriously, a very affordable, worthwhile investment.
Well, the man says you really only need whisks.
On this, we disagree.
Sure, you need whisks. Whisks are important.
But, I also think you need at least a hand-mixer if you are baking often – and if you can possibly afford it or put it on a wedding registry, try to snag one of these stand-up mixers.
They will save your wrists.
I got mine as a hand-me-down when my grandparents moved into a smaller apartment and I love, love, love, love it.
But, regardless, you need something to mix things.
Get a complete set of measuring cups and spoons.
It's surprising how many cute ones don't come with all of the sizes and you're left eyeballing it when you need it.
This set has all the sizes you could possibly need for any recipe.
Plus, the stainless steel is going to be long-lasting and easy-to-clean.
I am a huge cutting board fan. The guy tries to sometimes go without one and I am always slipping these under wherever he is cooking.
USE. THE. CUTTING. BOARD.
These grippy ones are going to stay put and be easy to clean (read: DISHWASHER-SAFE).
I love kitchen towels. We use them until they are falling apart.
I mean, we are washing them regularly – but we just don't replace them until they've seen a lot of love.
Kitchen towels also helps us cut back on overusing paper towels – which saves money and is good for the planet.
See what I did there?
This super set of towels comes in a chic black and white and will last you a long time.
Get you some.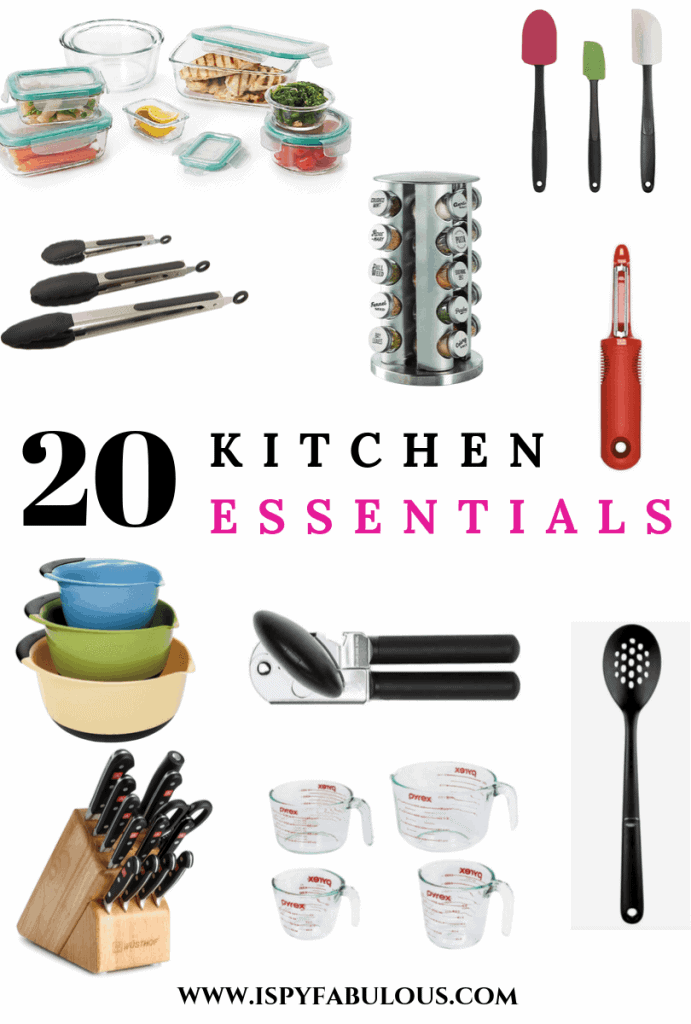 Okay, are we ready for the second set of 10?
Let's get cookin':
Don't let all that good food go to waste. Store it in glass containers. They can be put in the dishwasher when you're done, won't stain like other containers will, and they also are non-toxic.
We like this set. It has all the sizes you'll need.
For ideas on meal prep recipes – check out this post.
It's good to have a few spatulas around. I like the silicone ones, but honestly, they are all about the same. This set has a few different sizes, so you'll be covered.
We use tongs more than we use any of our other cooking utensils.
They're just so easy to turn food with and toss a pasta dish.
Make sure you have a few of these around, too.
While you don't have to have an entire spice rack, you do want a dedicated space for your spices.
Spices can get expensive and they will last a long time when stored properly.
We used to have a spice rack, but our new house has very limited upper cabinets. This means more essentials are on the counters, so spices needed to get stored.
Now, I line them up on drawer risers so they are easy to find and stay organized.
Here's the spice organizers we are using now.
Yes, you can use a knife. A vegetable peeler just makes it faster and easier, especially if you're a slow-poke like me.
This set comes with 3 different kinds for different types of peeling jobs.
When buying mixing bowls, you want a material that is going to hold up long-term, not stain and has a spout for pouring.
Seriously, that spout is going to make your life so much easier.
This set of three stacks up and stows away, but you can look for these qualities in any set you buy.
We go old school and use this guy. We don't open too many cans, so it works out.
But, before I married the big guy, I had an electric one like this.
Pick your poison.
Ah, the knife set.
Quite possibly one of the hottest debated kitchen essentials for a chef!
I don't even notice the difference. If it cuts, I'm happy.
But, no, the guy swears by Wusthof – and all those great reviews seem to agree.
Just make sure your set has all the knives you'll need and some steak knives, too.
This cup set is something you'll reach for again and again.
When your other measuring cups are not enough, this set comes in.
You can pour, mix, everything – all in these large measuring cups.
When a whisk or a spatula just won't do, you'll need some spoons.
This spoon set has 4 different kinds of spoons, from a ladle to a slotted pasta spoon. These are non-stick, heat resistant up to 400 degrees, dishwasher safe, won't scratch and made of nylon.
OXO is a solid, reputable brand, but there are certainly plenty of spoon sets out there.
Find the one that is right for you.
*****
Now that we have completed the 20 items that "the chef" deems necessary, I'd like to add a couple of my own.
First up – coffee.
One must have coffee.
Either you need a carafe, such as the options in my iced coffee post, or we also have this coffee maker and like it very much:
I've used the Nespresso, too, and love that as well.
I use that milk frother that comes with it all the time.
Second, I love our toaster.
I do not like using the oven or a pan to toast things. To me, a toaster is a kitchen essential.
****
There you have it! The list of kitchen essentials from a trained chef.
Do you have all of these items in your kitchen?
Is there a kitchen tool you can't live without? Tell us in the comments below.
Have a fabulous day,
E