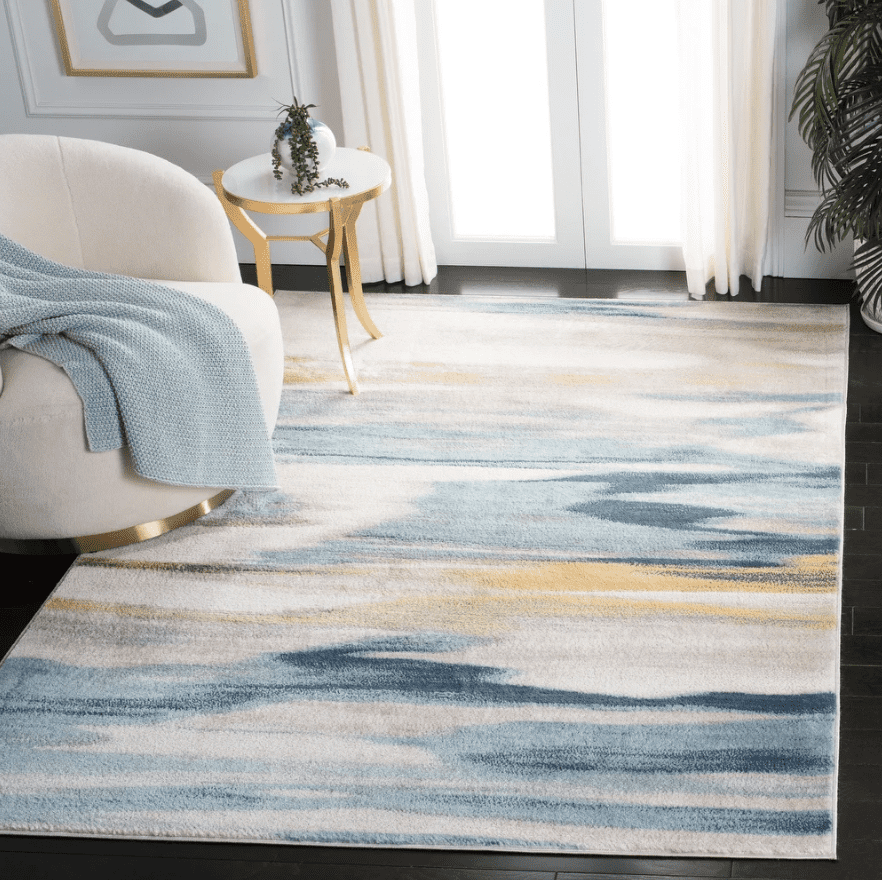 Awhile back, I shared 5 gorgeous West Elm rugs and similar lookalike rugs for each of them. That post has really resonated with readers and I get it: West Elm has incredible style. I can barely walk through their store without wanting everything, immediately. #AddToCart
So, I went on the hunt for lookalikes for 5 more of their stunning rug designs to share with you today. If you're looking for any of these 5 rugs: Colca, Stone Tile, Faded Floral, Soul Wool, or Braided Sweater Rug, head to the first post here.
For 5 more incredible West Elm rug dupes, keep reading!
1. West Elm Sun-Kissed Landscape Easy Care Rug: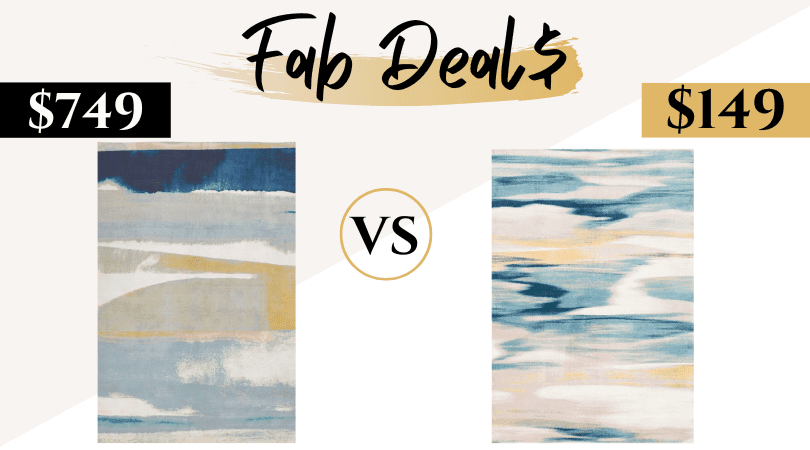 *Affiliate links are used below, which means at no cost to you, I may receive a commission if you make a purchase through my links! Thank you!
The watercolor rugs that WE puts out are stunners. They make it so easy to put a room together. Neutral (or not) furniture, some pillows that pull colors from the rug and you are ready to go!
2. West Elm Zahari Rug: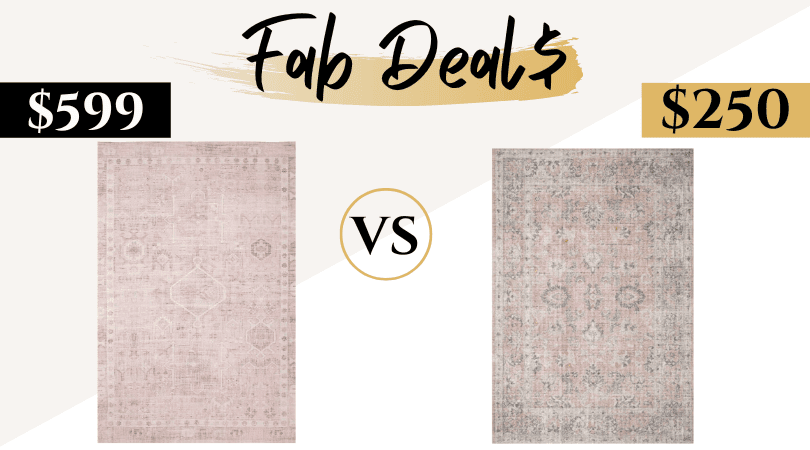 The infamous Zarahi rug is gorgeous and there are very few rugs on the market in the same color and design. The allure of this rug is that even though it's a sweeter color, the weave and depth of color makes it work universally well for kids and adult spaces. I could also see this juxtaposed with other colors like greens and blues for a real pop of color.
3. West Elm Cordoba Rug: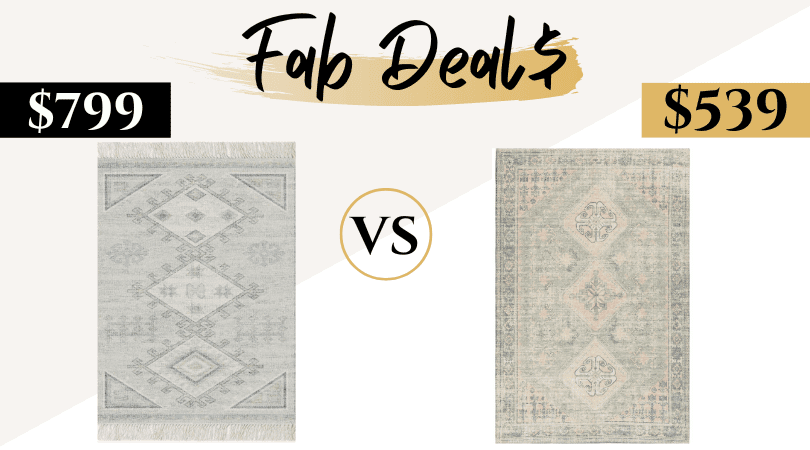 This was a hard one to find. If you love this rug, check out the pictures of the lookalike before brushing it off. I don't know why some of the pictures have a yellow-ish cast, but when you see closer pictures of the colors and see it in people's homes, it looks cooler in tone and more similar to the West Elm rug. It's not quite as cool as the West Elm colors, but it has a similar vibe.
4. West Elm Graduated Dot Rug: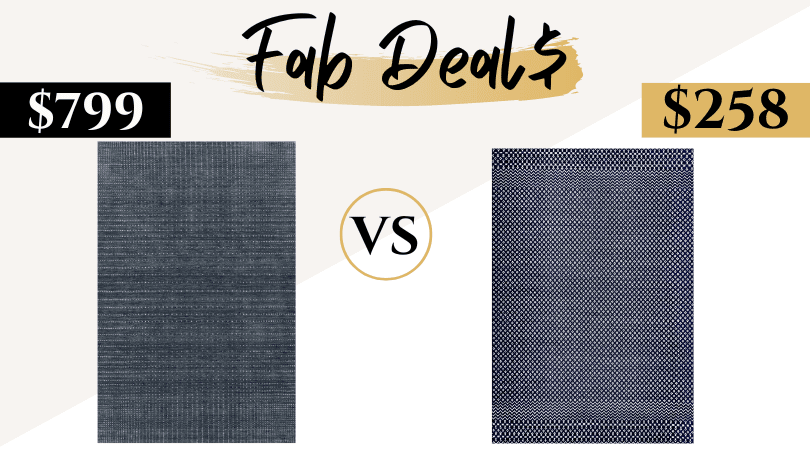 This rug combines all the things I love: navy blue, polka dots, geometric designs and softness. The alternative to this is going to be less soft as it is a 100% cotton flatweave so there's some raised texture to it, but I think it gives it even more personality.
5. West Elm Textured Arches Rug: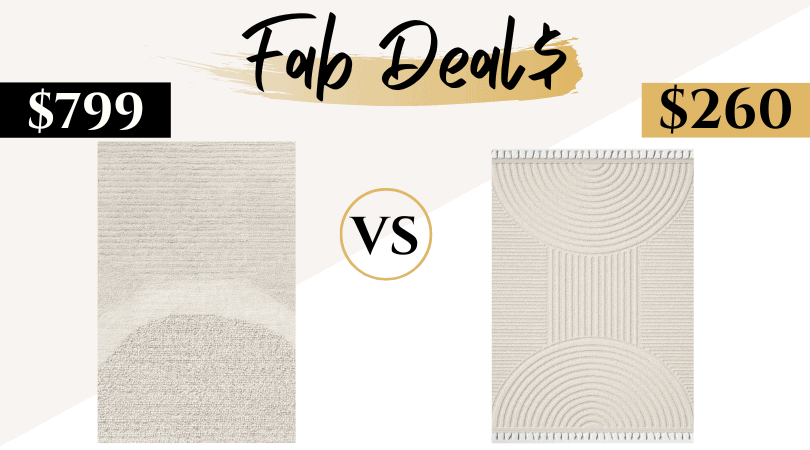 Arched cabinets, arched rugs, arched doorways, arched mirrors – arches are everywhere! The arched rug from WE is a textured, simple design that is really well done. If you want something more affordable, I found another one that has a similar look and feel, but is busier. If you've got furniture sitting on it, nobody will ever know.
More Area Rug Posts:
Are you still shopping for the perfect rug? Here are some more posts you might like:
WANT TO SAVE $3O ON YOUR RUG?
Don't forget to use Rakuten for all of your online purchases. I got over $400 in cash back just last year alone from using Rakuten. I seriously don't know why everyone isn't using it, especially on big purchases like rugs. Click here to get a Rakuten account and get $30 in cash back after your first purchase of $30.
*****
What do you think? Are you a fan of West Elm rugs and decor? You can get that look for less, friends. Check out more posts in the Fab Deal$ series or follow me on Instagram to see fresh deals in real time.
Have a fabulous day,
E