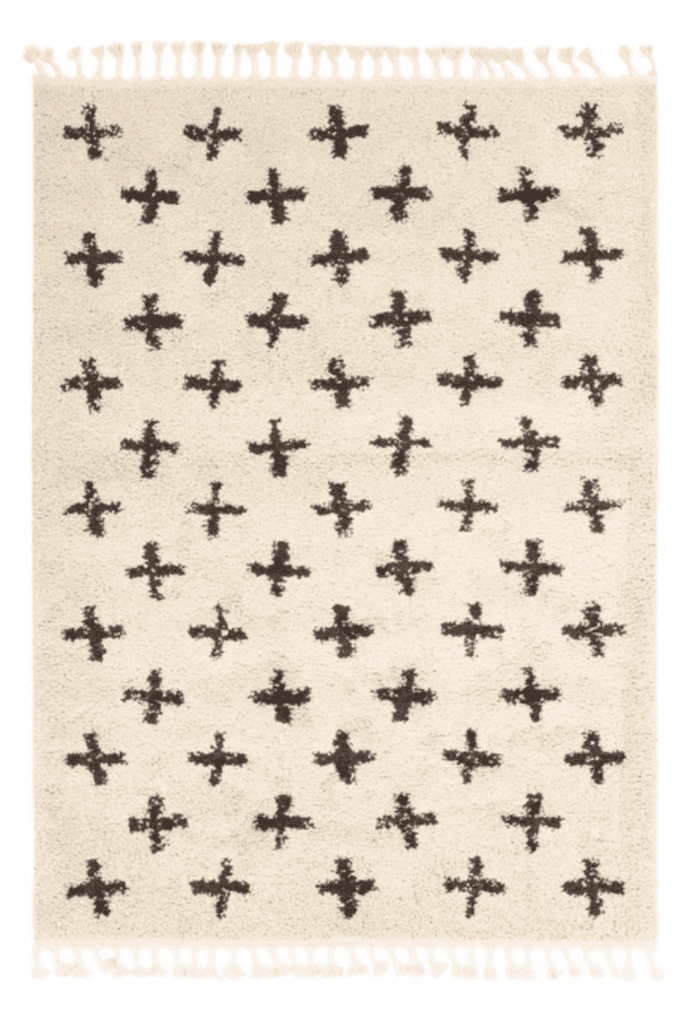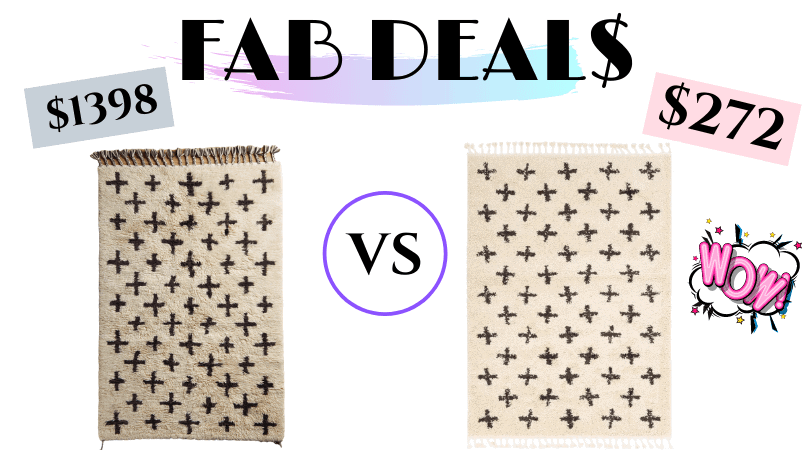 I wasn't even looking for this Fab Deal. It came to me like a thief in the night. I was just innocently researching moroccan shag rugs for an upcoming office makeover (Finally! My own office!) when I saw the infamous Anthropologie Cross Rug …. and then a dead-ringer lookalike made my jaw drop.
There she was. In all her glory. An almost exact look for a fraction of the price. It's so good, you won't believe it.
Let's look at the original, first and what makes her so special. Affiliate links used.
Here she is. The mama of Moroccan shag rugs. This shaggy, gorgeous, highly Instagrammable rug has been splashing across social media pages in home decor spreads that are so beautiful, they make you want to burn everything in your house and start over.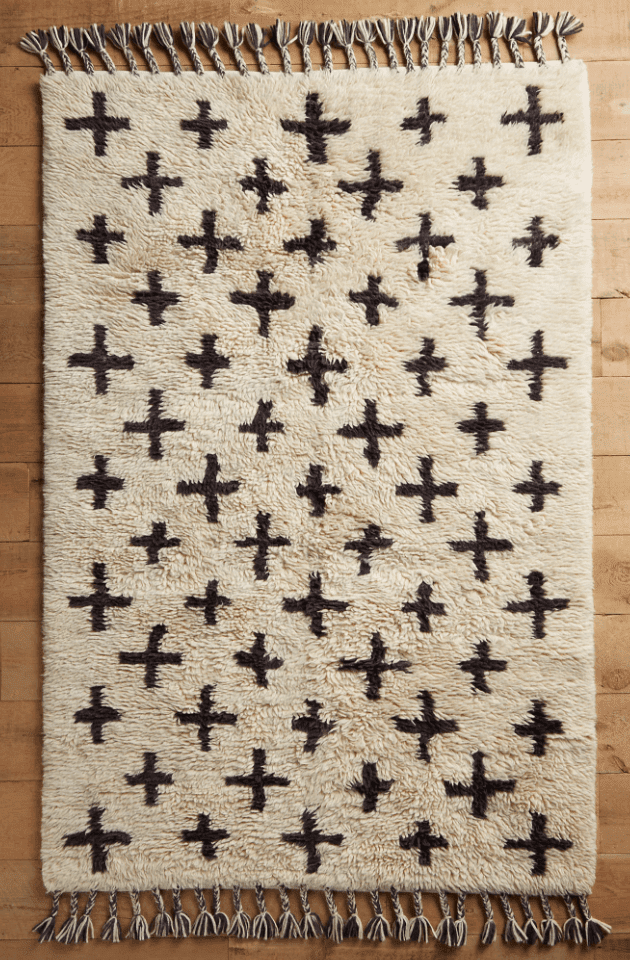 This lovely, handwoven Moroccan rug rings in at just under $1400 for a size 8×10.
Better cash out that 401k.
Except, you won't have to make those kinds of hard choices anymore, because look at this one right here…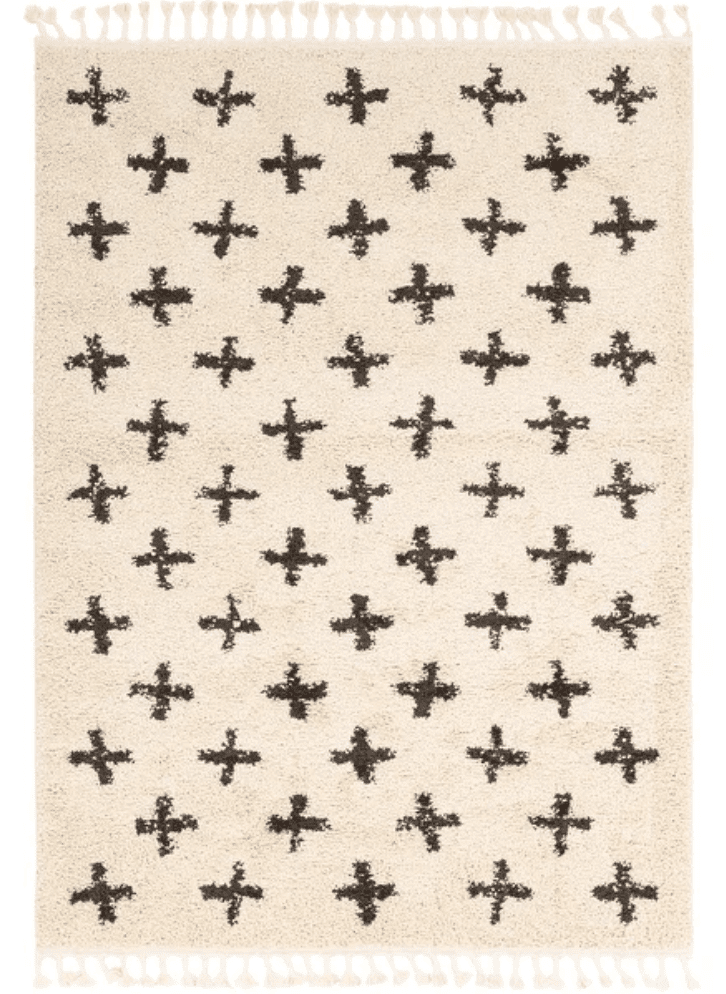 BAM BABY! That's what this column is ALL. ABOUT. What a close look!
Sure, the crosses in the Anthro are on the slightly purple-y side of the color wheel and these are more of a dusty, soft black, and sure the tassels have a little pizzazz in the other one, while these are just straight cream – but really, does it matter when you're literally saving over a thousand dollars?
It's a decision only you can make.
But I know which one I'm gonna order…
More Moroccan Rug Deals:
I love a good moroccan rug. They add so much texture and warmth to a space. If you're looking for more great rug deals – check out this post with a Lulu & Georgia Moroccan Rug Lookalike.
For something more colorful, you'll love these Caitlin Wilson rug lookalikes.
More Fab Deal$:
I just love this column. I have always had a knack for finding offbeat deals and dupes, so I can live a fabulous life without spending all my hard-earned dolla dolla bills.
Here are some more Fab Deal$ you may not want to miss:
Are you a deal hunter? Tell us your favorite find in the comments below!
Have a fabulous day,
E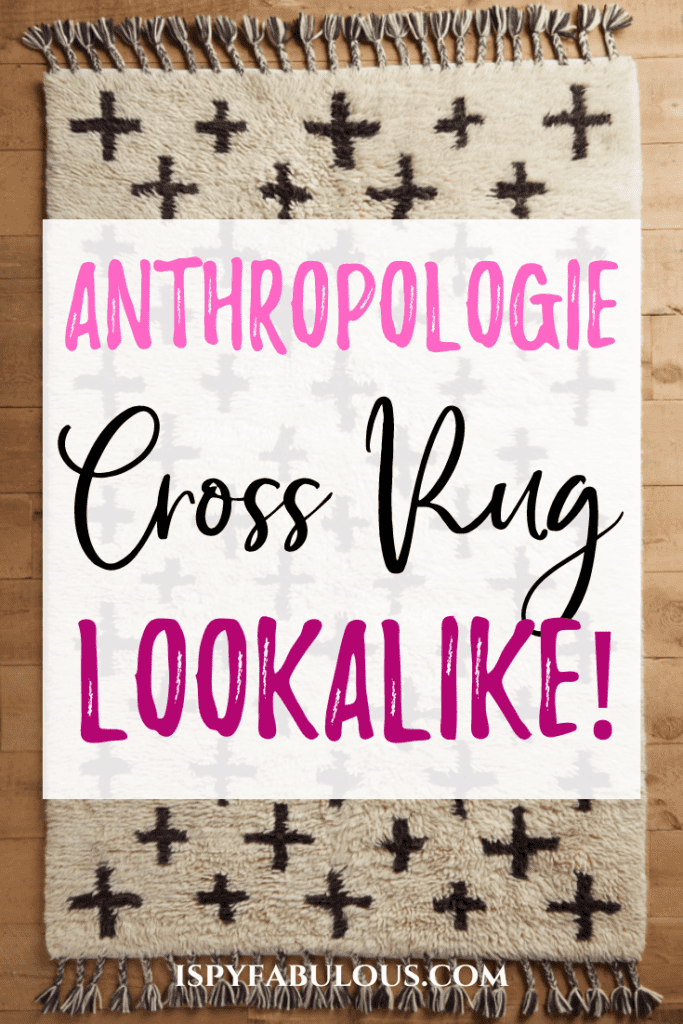 Alstead Area Rug 7'10 x 10'3
$272
Anthropologie Moroccan Cross Rug 8×10
$1398