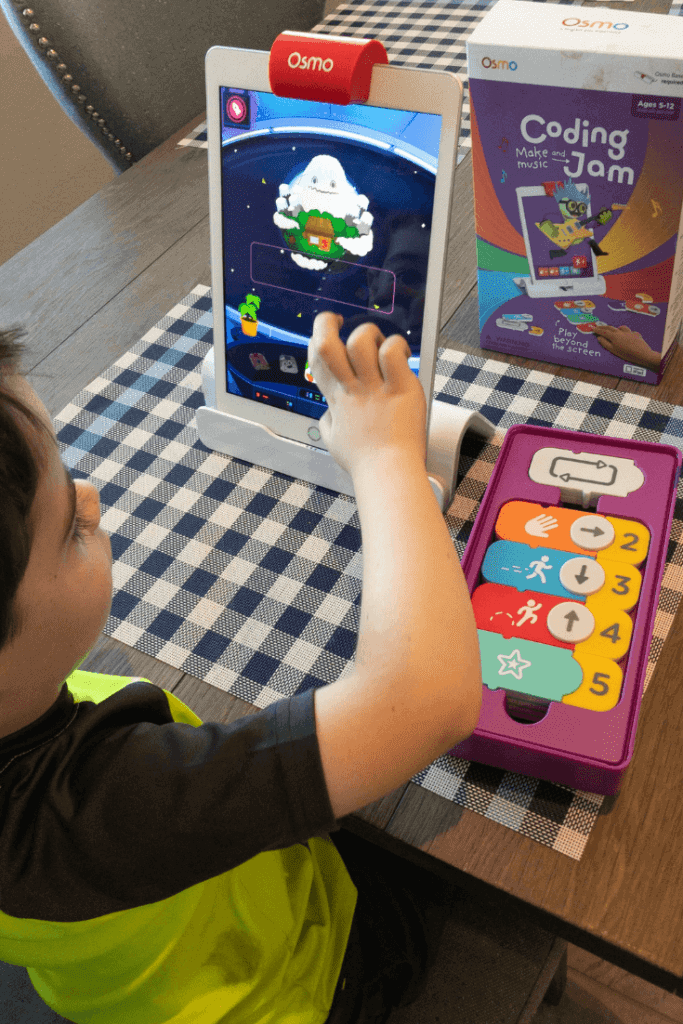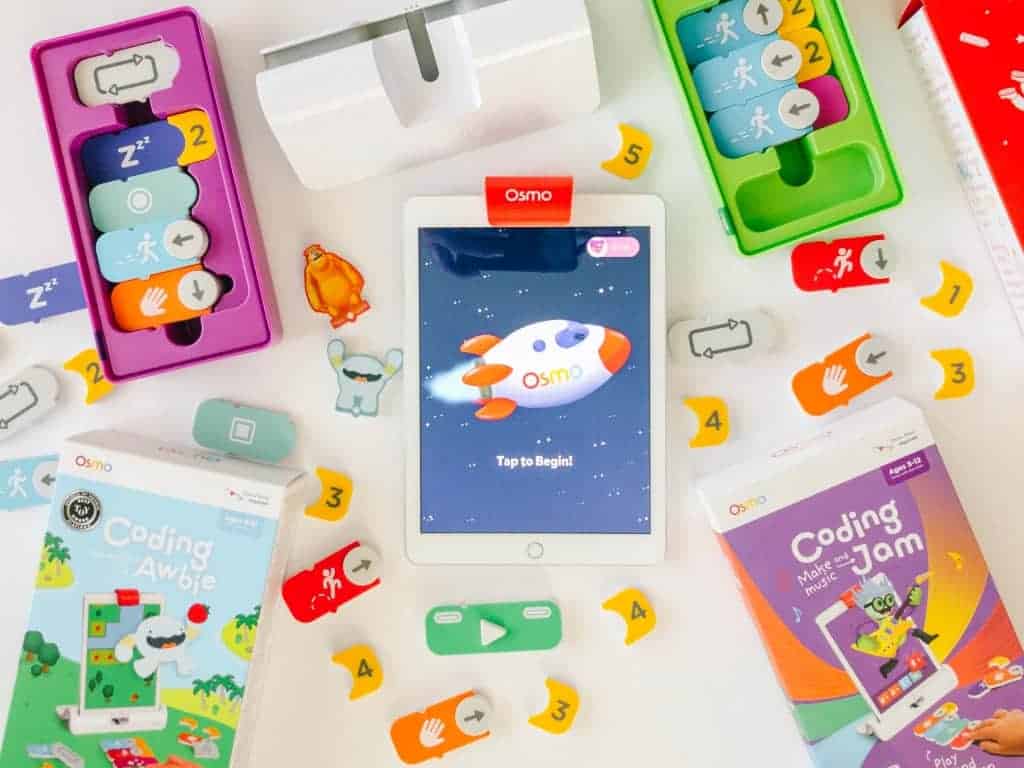 Is your kid obsessed with technology, but you're tired of the Tablet Zombies – the sight of your kids silently staring at screens, their eyes glazed over as they stare unblinkingly?
Same here.
Even though I'm a former teacher and pretty good at rotating activities, I still regularly lose the technology battle with my oldest as he becomes more and more obsessed with video games and tablet activities.
But, the reality is – technology isn't going away.
And, it is a real asset for our kids to be super tech literate.
That's why the other day I busted out one of my tricks from when I was a teacher: using technology to my advantage, rather than letting it continue to be a battle.
Enter Osmo – the award-winning learning and coding tablet based games for kids:
I first heard of Osmo on my friend's Instagram and watched in awe as her son, the same age as my own, was so focused as he solved shape puzzles and played basic coding games.
Of course, I immediately looked up Osmo and had to check it out.
With touch screens, innovative learning games, and harnessing the power (and obsession) with tablets – Osmo was exactly what I was looking for.
So, I reached out to see if they wanted to partner with me on this post and they kindly sent over these incredible games for my son to try out.
I am so grateful, because as soon as I told my son we were getting some games for the tablet, he did this every day until the package arrived: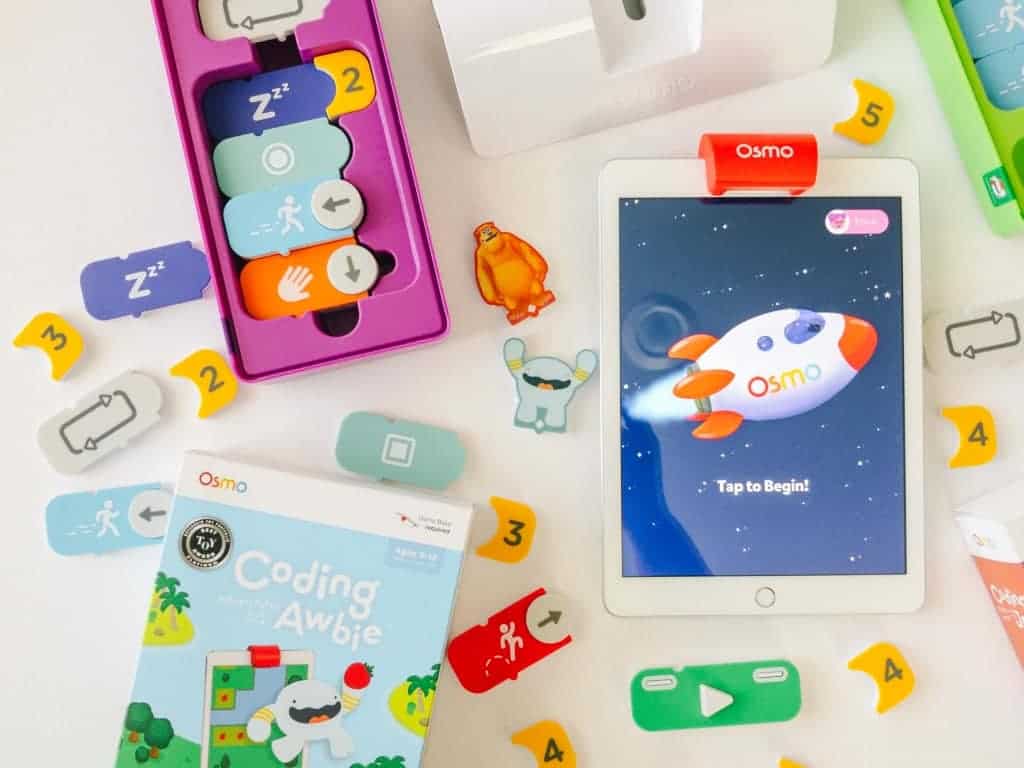 My son wanted to try this one first. As I was opening the box, I realized that it said ages 5-12. We are on the lower end of that age range, but my kid is pretty savvy – so I figured we would give it a go.
The setup is super easy. You do have to download the app onto your tablet, but it's very quick and painless.
Once you dock the tablet and add the red sensor to the top, the game is ready to go.
#SCORE
Then, the games have built-in tutorials and levels, starting with pretty basic instructions.
Literally, in minutes, my son was zipping through the game and figuring out how the pieces correlated with Awbie's movements.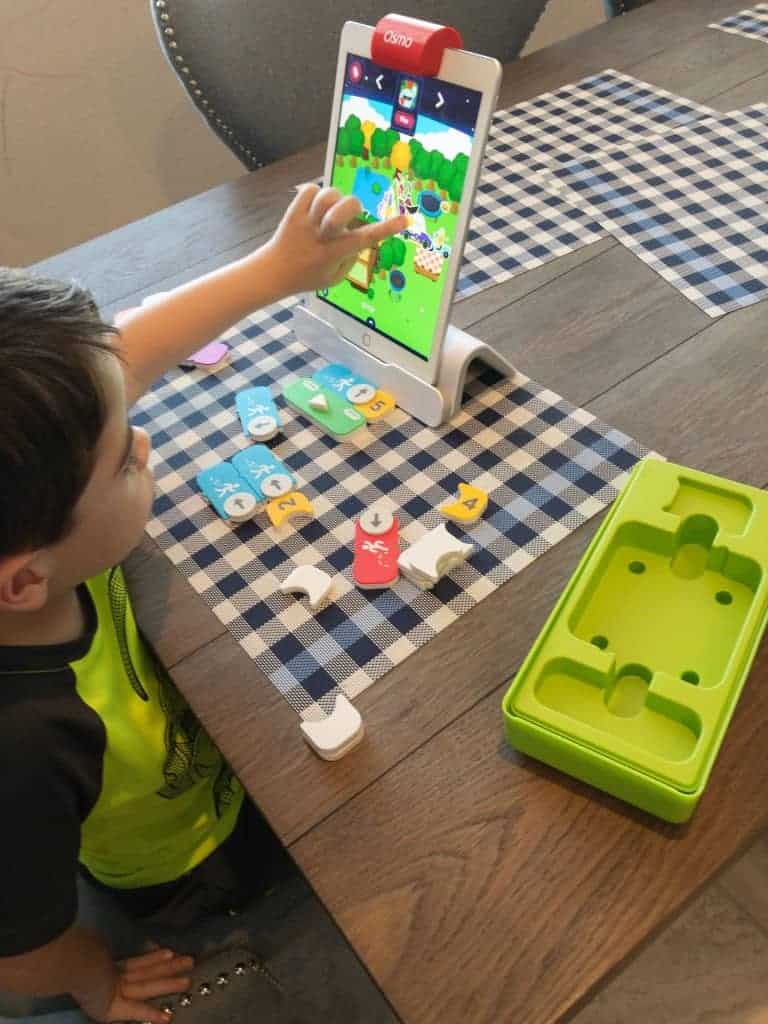 And, I got to watch his little brain work through each new challenge and listen to him talk himself through it out loud.
As opposed to some games where he just zones out, with Osmo he is engaged, learning and processing on the go.
When Awbie does or doesn't get to the desired goal, he has to figure out what commands he needs to fix it.
And, his excitement when he gets Awbie to the pie or makes it to the next level is infectious.
Plus, I know he's actually learning something useful – that can be a building block to more advanced coding and engineering activities – at the age of 5.
Pretty incredible.
Osmo: Making Music with Coding Jam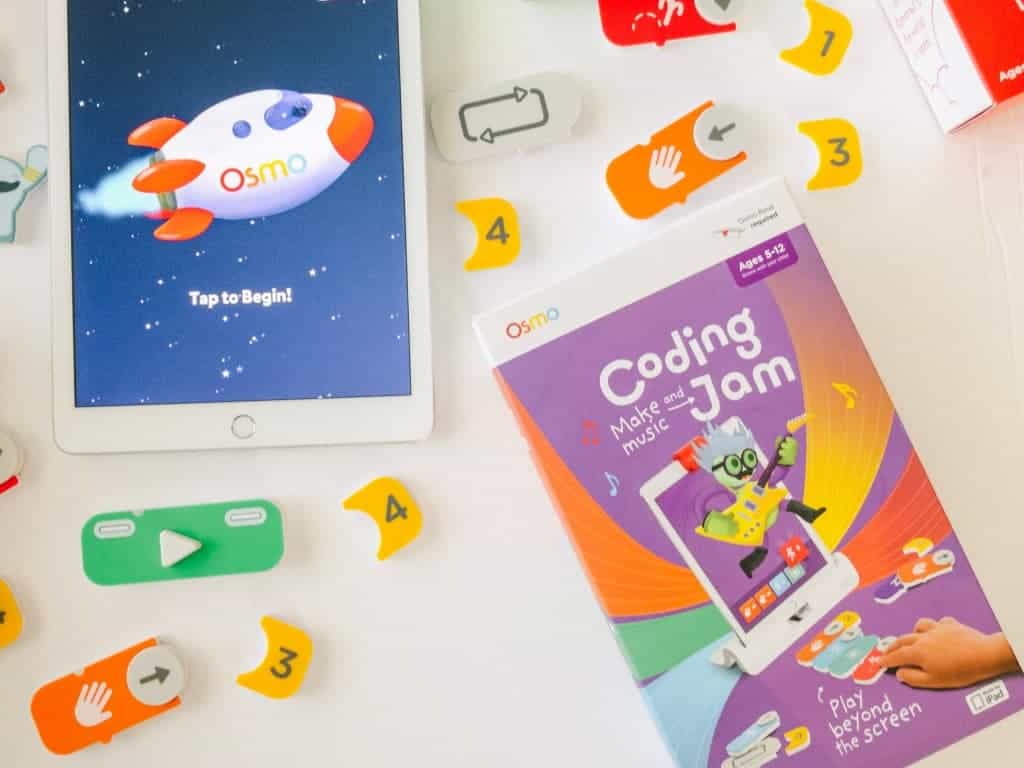 So, fun fact about me: I taught classical piano lessons for 20 years. I started as a teenager for family and friends and word got out that there was a new (super affordable) young teacher in town that was great with kids and loved piano.
Pretty soon, I had a thriving business. I phased it out after having my own kids as I didn't have room for all the jobs I was carrying at the time, but what a joy to watch a child experience the joy of learning an instrument.
Well, my son got a taste of that with Coding Jam.
This incredible game actually guides kids through the process of coding a melody and even layering melodies with different instruments (represented through different characters).
In less than 30 minutes, my son had made a 3-part harmony.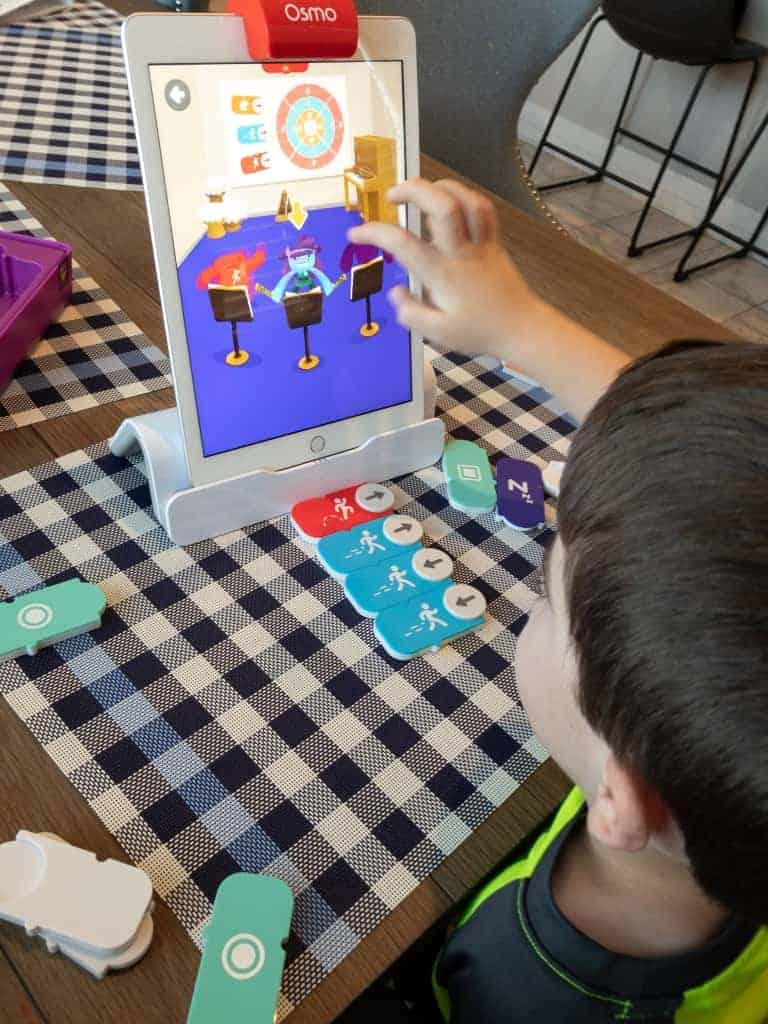 My son has had zero music lessons.
The music teacher and mom in me is 100% thrilled with the learning opportunities with Coding Jam.
#BIGWIN
Osmo Coding Duo: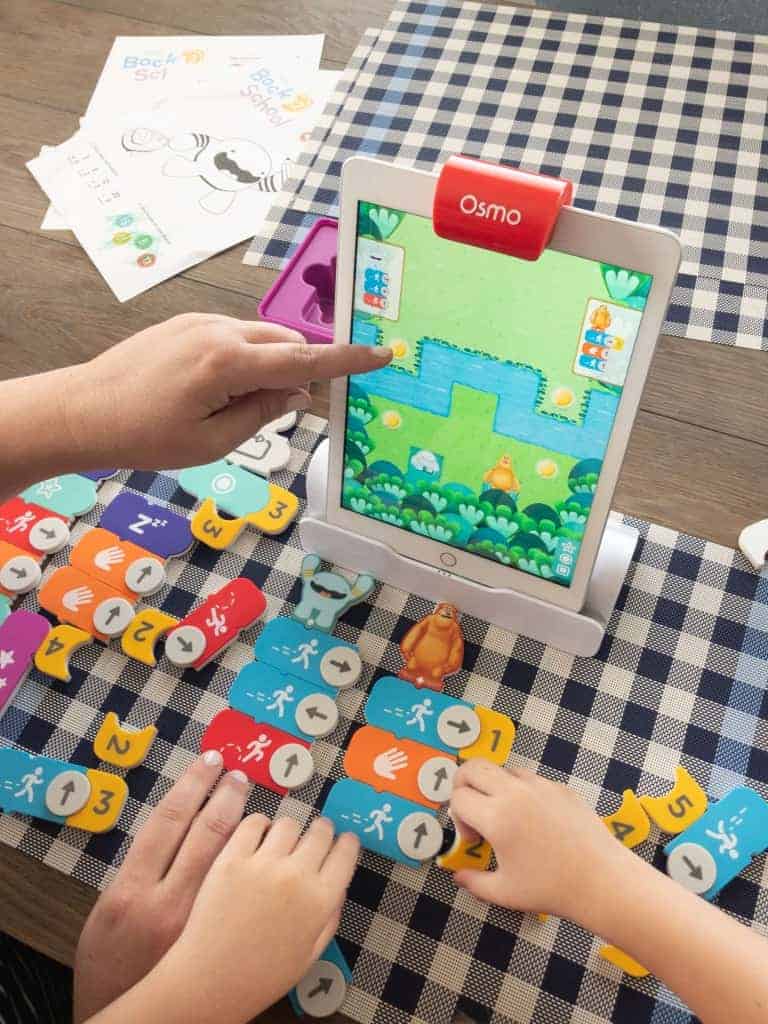 Alright, friends, this one is a BLAST.
Basically, you get these two little guys, Awbie and Mo, and you can play a two-player coding game.
While there can be a bit of a competitive bent to it, it's really more of a collaborative game where you have to work together to win.
Mo and Awbie have different skills, such as one can jump and one can push, etc. By combining these skills thoughtfully, you can pass any level together.
But, you cannot pass a level without the other character.
This reminds me so much of the new collaborative games I've bought for my son, such as Hoot Owl Hoot and The Chicken Coop.
I really love the idea of a game promoting teamwork and ingenuity, rather than just promoting one person "winning".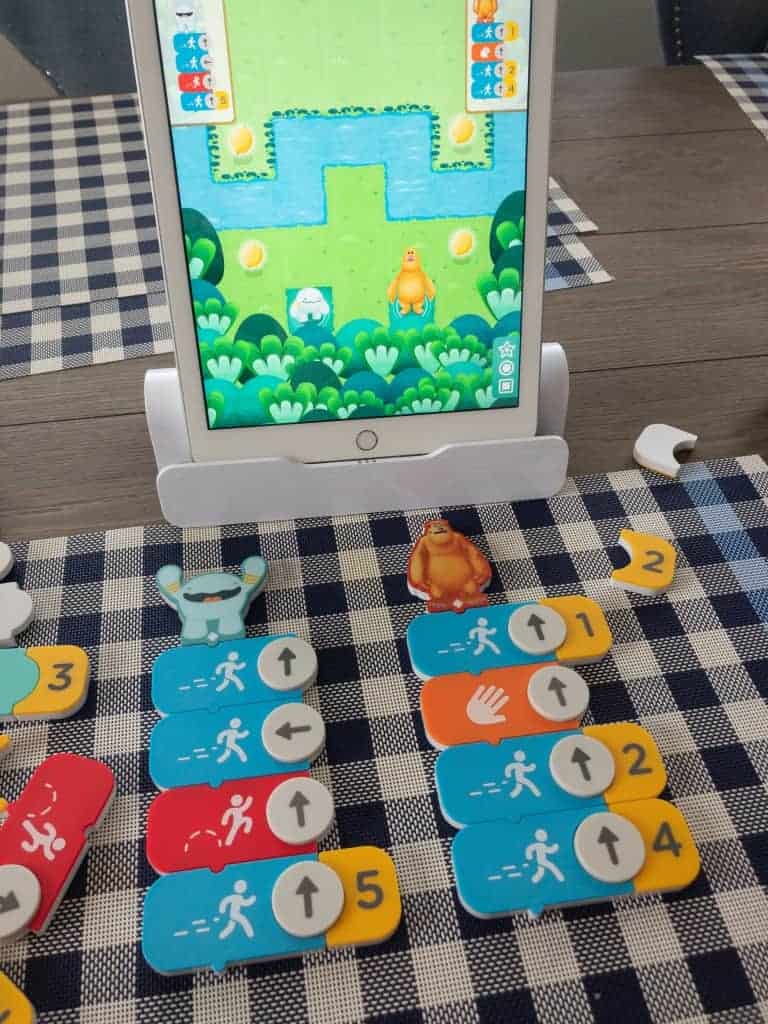 A rising tide lifts all boats, yes?
The Coding Duo comes with the complete family kit and uses all of the pieces for the other two games.
It's an absolute hoot and my son and I had so much fun working together to get our two friends through each level.
Quality time AND technology – who knew 😉
Osmo: The Real Deal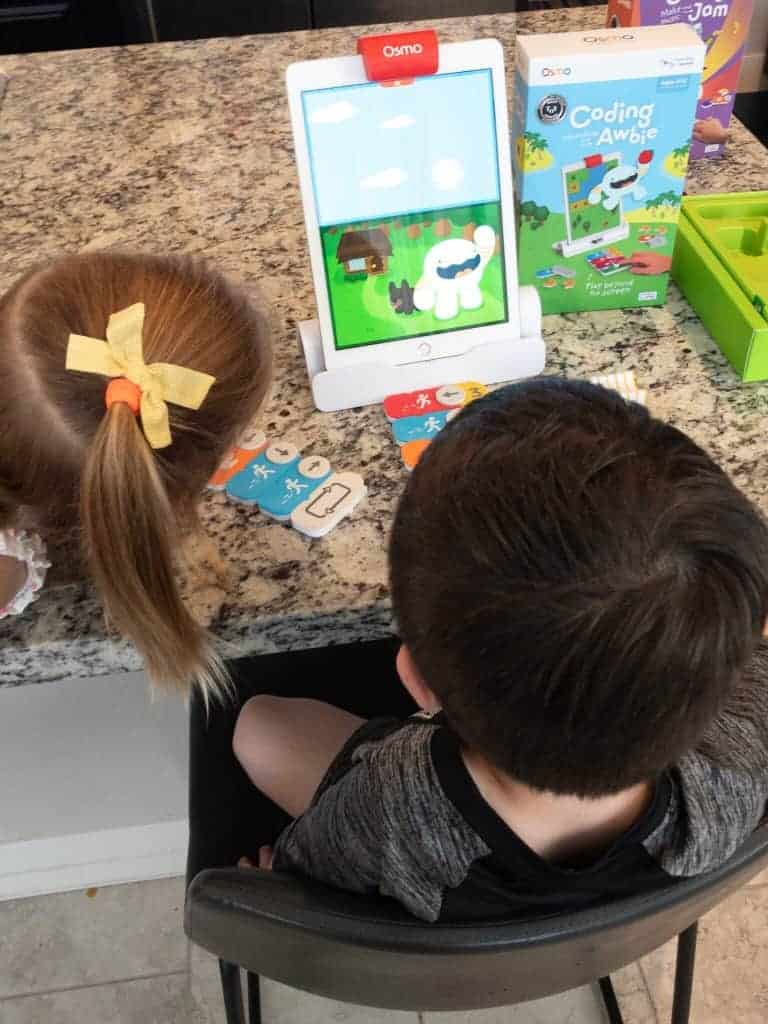 There are a few things you should know before investing in Play Osmo games.
First, you'll need an Ipad that is the correct vintage for the game you want to play. For example, ours is compatible with some games – but not others. Check the game details to make sure it's a match.
Two, you'll need a base for it. You only need one base and it goes with all a lot of the games, so it's a one time purchase.
Third, the pieces are magnetic, but they can get separated and small pieces can be hard to find. If you like, you can buy a case that will hold a lot of the games in one place.
Other than that, just prepare yourself to watch your child have a creative experience that will teach them useful skills, musical techniques, and so much more.
With other Osmo games incorporating Hot Wheels, Disney characters, coloring, shapes, numbers and more, there are Osmo's for everyone.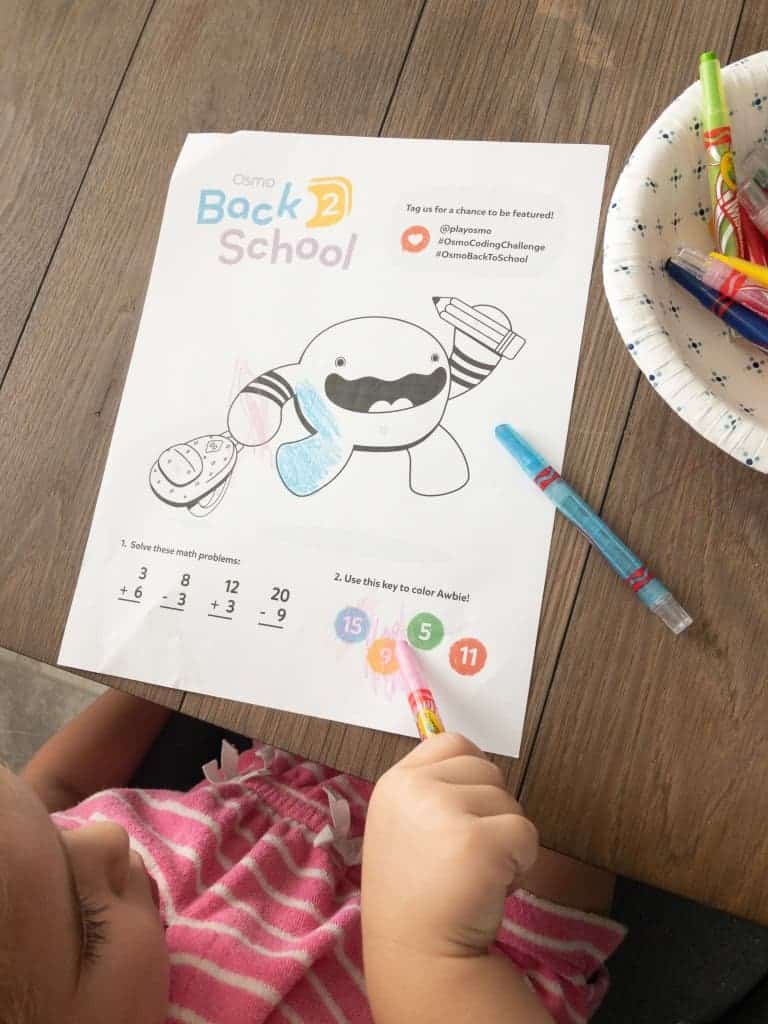 My friends at Osmo were also kind enough to send over this free printable coloring sheet for all of you to enjoy!
Seriously, just download it right here or by clicking on the picture below.
And, this one is just a fun printable of Awbie!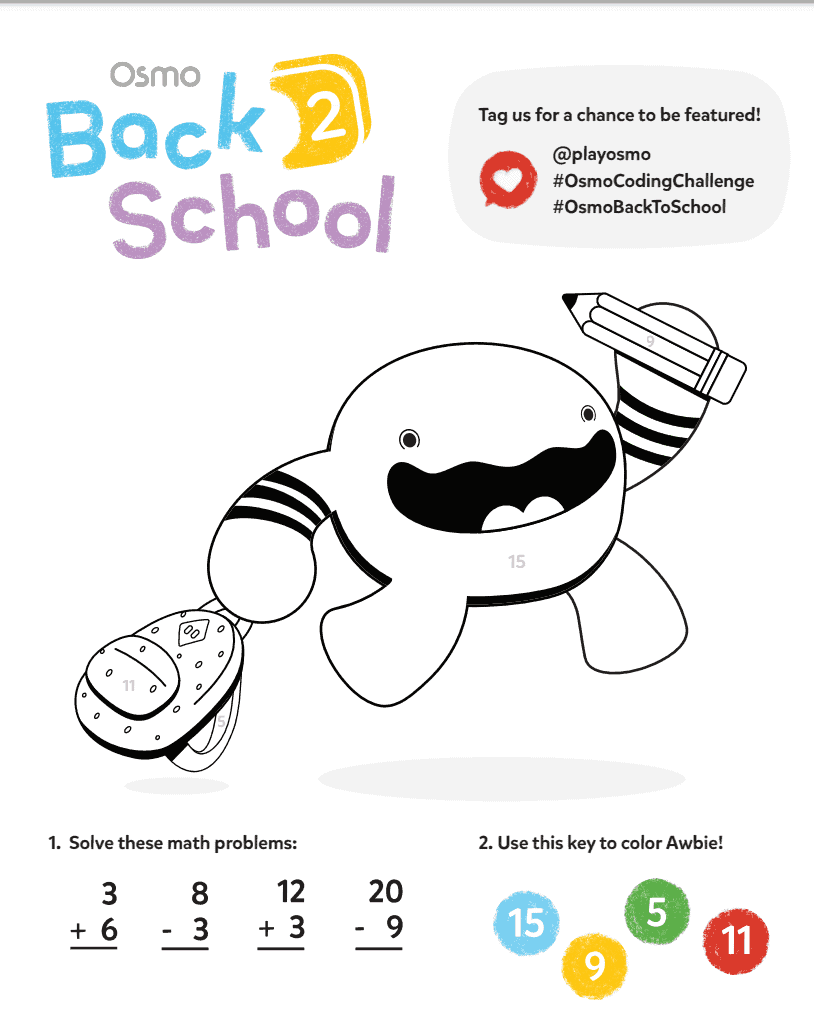 This one is a fun map your kids can use as part of the activity with Coding With Awbie.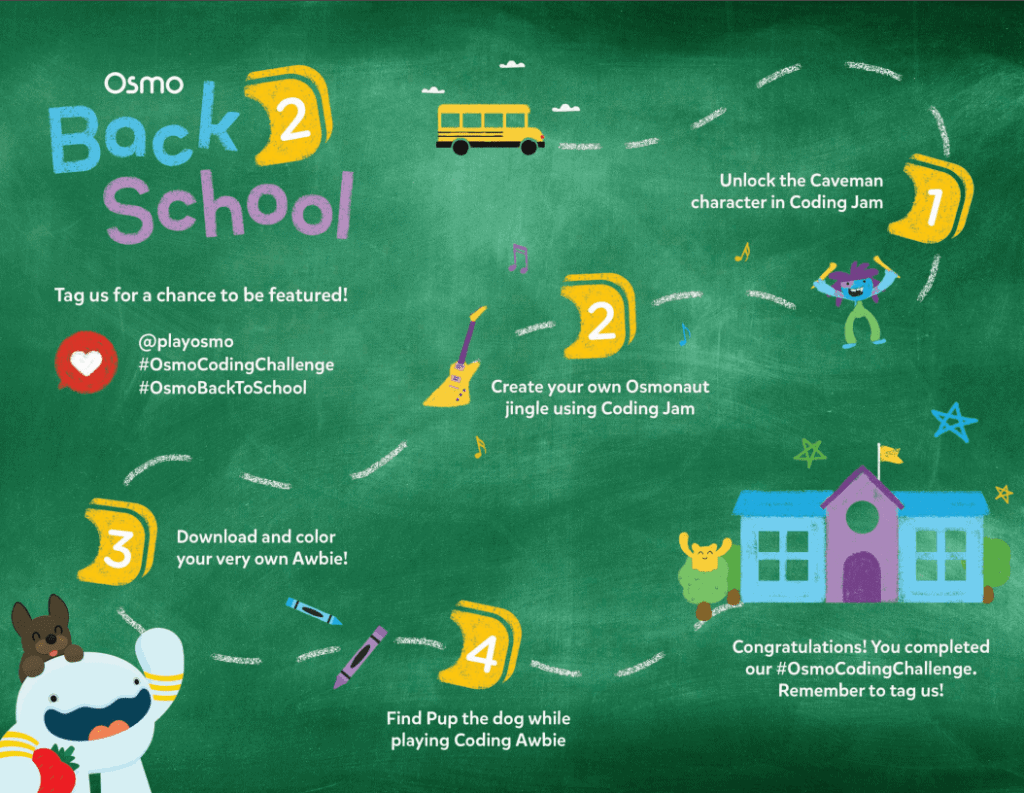 Print it here or click on the image.
How fun!
Final Thoughts on Osmo:
While I am so grateful that we were gifted these products, I am 100% sold on the Osmo systems and will absolutely be buying more for my kids.
These are exactly the kind of game that I love to find – educational, engaging, and easy to use.
Plus, I get to say goodbye to the typical tablet zombie.
These would also make excellent gifts for Christmas, birthdays, etc. for your own kids or even family members and friends.
Have you tried anything by Osmo? Tell us what you think in the comments below!
Or, read my other Osmo reviews:
Have a fabulous day,
E
P.S. Don't forget to print your free coloring sheet!