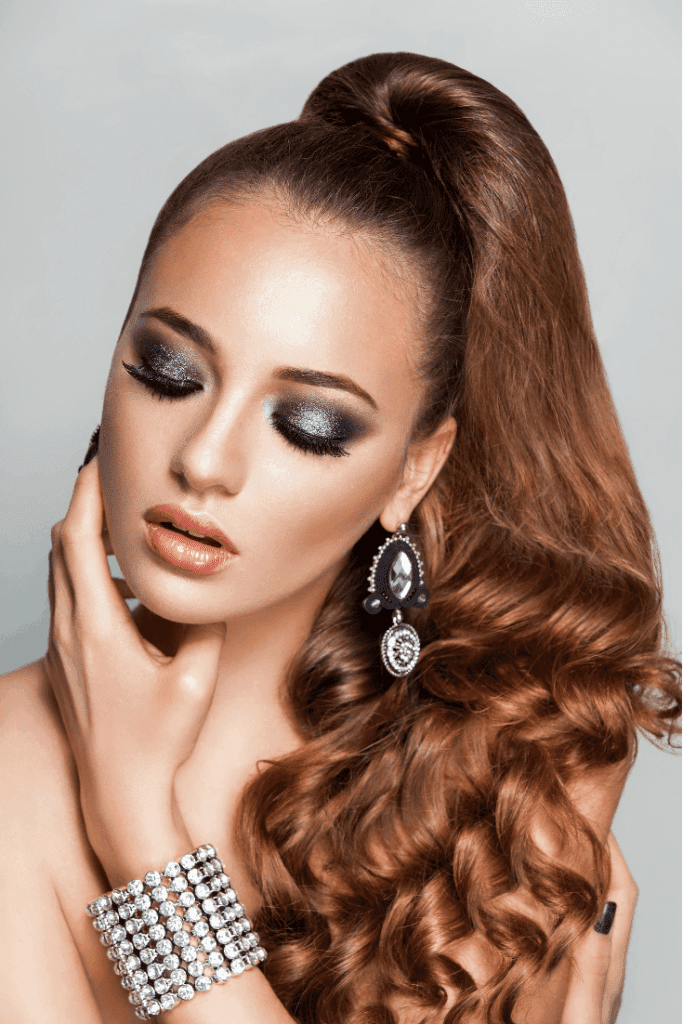 I've always been a huge fan of ponytails. But, the same basic, droopy ponytails get old and tired.
That's why I went on the hunt for the cutest ponytail styles on the internet and decided to share my list of what I like to call "power ponytails" with you.
The power ponytail is a ponytail with a little extra somethin' somethin'.
We're talking those perfect ponytails with a little volume, maybe some extra height, perhaps a quick tease at the crown, or even a little trick to boost the ponytail and make it look fuller.
Basically, these are not your everyday ponytails.
You can wear these to work, to an event, to look put together in the sweltering heat, to go grocery shopping.
Hey, you do you, booboo
The Best Ponytail Tutorials:
These are the best ponytail style tutorials I could find on the internet. There should be something for almost everyone here!
All videos are linked to the original source so you can head over, subscribe and show them some love for their incredible work.
1. 7 Easy Ponytails for Spring & Summer | Twist Me Pretty
Twist Me Pretty is one of the absolute best hair tutorial Vloggers and Bloggers out there.
Her blog also has a lot of great content and you can find the post with these tutorials here.
I really love how she takes a ponytail and gives it something extra – a little crossover action or a braid.
With some practice, I might even be able to do some of these fast enough to sub them in for a basic ponytail.
Maybe 😉
Kayley Melissa is adorable and these 7 days of ponytails even give you options of ponytails you can dow with wet hair, right out of the shower – HURRAH!
Her website was still under construction at time of posting, but I'm linking here in case it's ready to go when you find this post.
I particularly love the mix of high and low ponytails here, so you can find what works for your hair on the day you need it.
3. How To Get The Perfect Ponytail | SheKnows
First of all, can we all just agree that if we had 3 wishes, one of them would be to have gorgeous hair like her?
Um. Yes.
#GIMME
I know a lot of the comments share frustration that this style does require thicker hair – but a lot of people DO have thicker hair and struggle to get it all up in a ponytail without giving them a headache or falling out.
So, thick-haired girls – this one's for you.
4. French-Braided Ponytail | Raisa Naushin
This french-braided ponytail style is SO GORGEOUS.
Plus, I love that she has dark, STRAIGHT hair – since I feel like a lot of hair tutorials start with what looks like styled and curled hair.
I don't always have the time to style my hair (okay, I rarely do), so I need styles that are going to take the hair I already have – which is usually air-dried and coming out of a messy bun, and came turn them into this.
#SCORE
5. How To: Easy Ponytails | Alex Gaboury
I love Alex's personality and her creative hair tutorials.
These are 3 beautiful ponytail styles that could work for a variety of hair.
The sleek pony, in particular, is super appropriate for even a corporate, professional environment and could be done very quickly.
Check out her blog for more details and hair-styling genius.
I'm such a huge fan of The Small Things Blog and all of Kate's hair tutorials.
She also has shoulder-length hair here, which gives a really great example of how to get a fancy, full ponytail with this length.
You don't need to be Rapunzel to get a power pony.
Check out The Small Things blog here.
I used to call this the Barbie Ponytail – but now I have learned that is is also called the Bardot, after the actress.
Whatever you call it, I love this look.
The height and fullness, coupled with a ponytail with a bit of curl, is one of my favorite styles to wear.
Plus, I think it works for all hair types, many lengths, and is universally flattering.
Go get it, girl.
8. Sleek Ponytail with Extensions | AKA Roxxie
Such a great look – and a really fun video to watch.
She does this on herself, too, which I feel gives viewers a really good idea on how they can replicate a video at home.
Because, I don't know about you, but I don't have a glam squad.
Have you ever tried extensions? For some reason, it's one of the only hair trends I haven't tried.
#YET
9. Low Pony for Natural, Curly Hair | Jasmine Brown
This looks is adorable and shows how you can get a sleek, gorgeous ponytail with natural, curly hair.
Curly hair just adds so much personality and oomph to hair, in my opinion.
Growing up with stick straight hair, I guess we always want what we don't have, right?
Check out more from Jasmine Brown here.
****
There it is!
23 styles for a power ponytail that will keep your hair off your neck on hot days or give you a quick, fancy style when you wake up late.
Or, hey, if you just don't feel like washing your hair and doing the whole thing – you can extend the life of your style with a little dry shampoo or sea salt spray and bust out one of these textured ponytails.
The sky is the limit, friends.
Looking for more easy hairstyles? Check out these posts:
Do you rock the ponytail look? Share your favorite tutorial in the comments below.
Have a fabulous day,
E